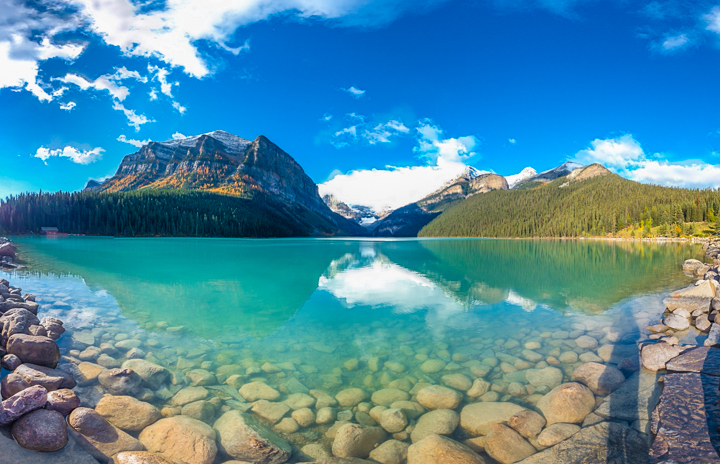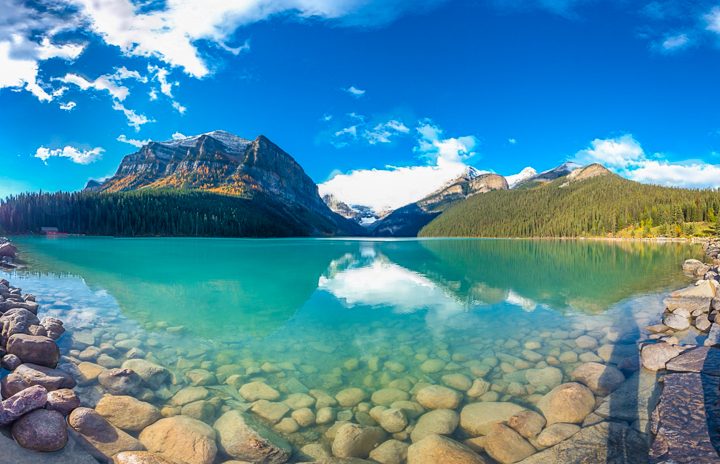 After three amazing days in Banff, we made our way to the Fairmont Chateau Lake Louise.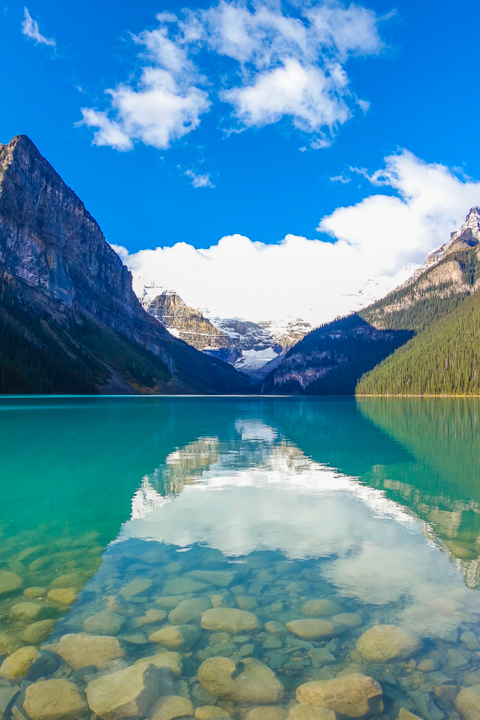 This is the view we woke up to every morning.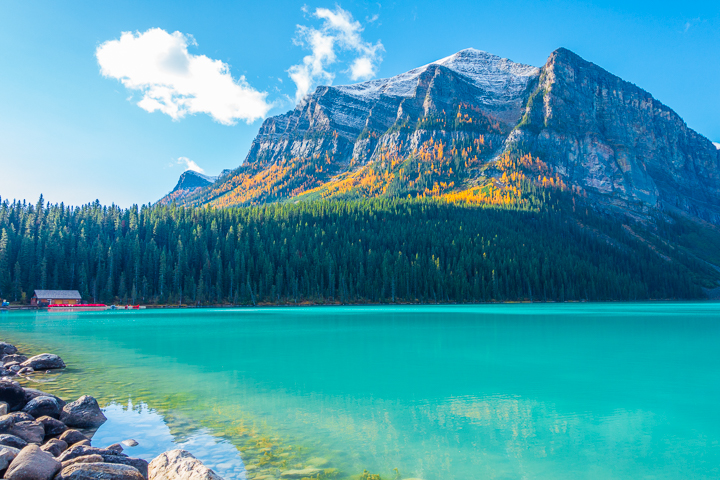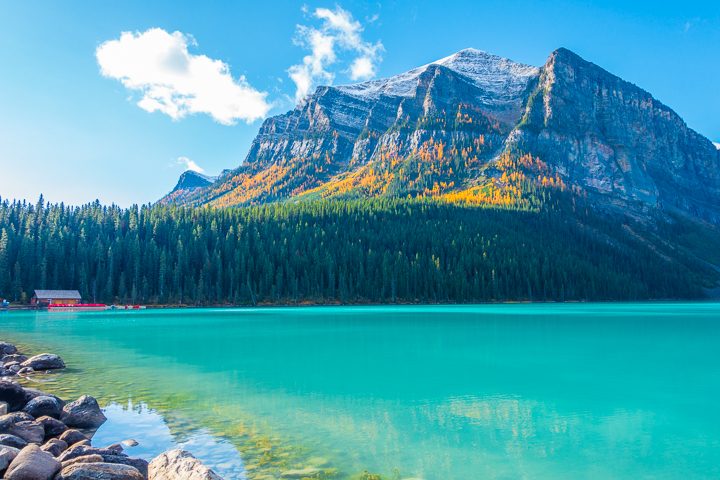 How can a place like this even be real?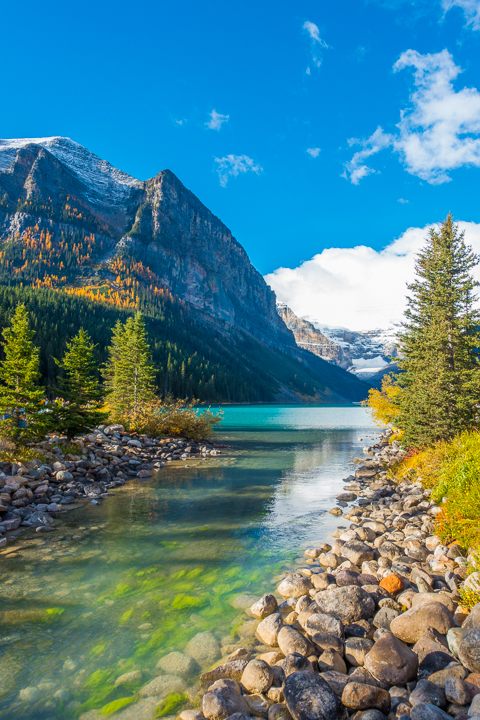 I never, ever wanted to leave.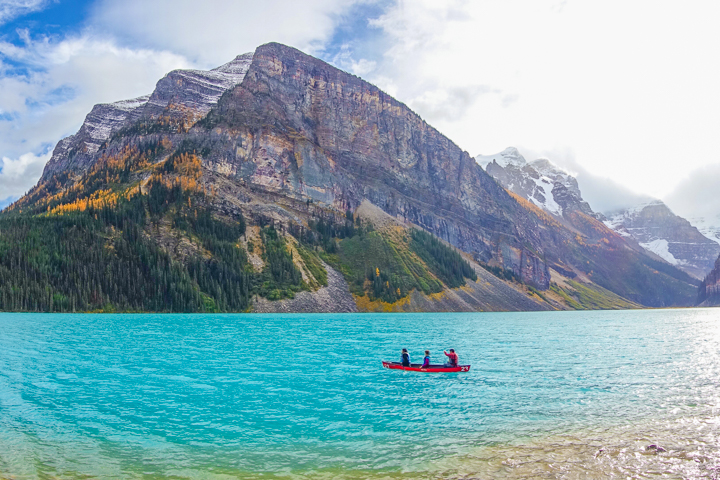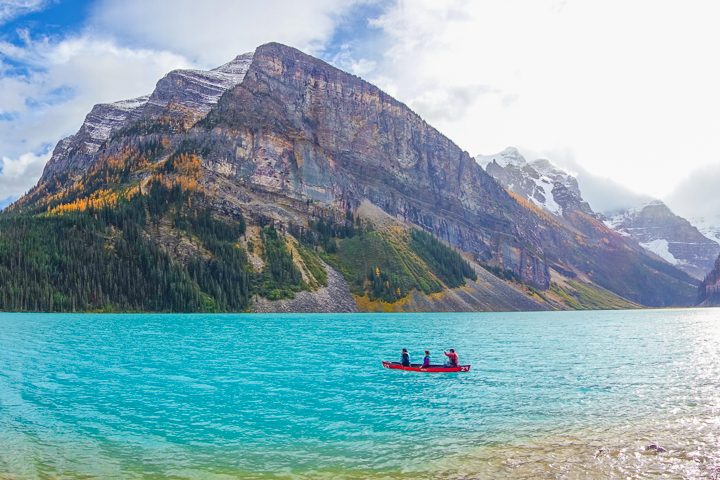 There's a paved hiking trail around the lake leading straight from the hotel.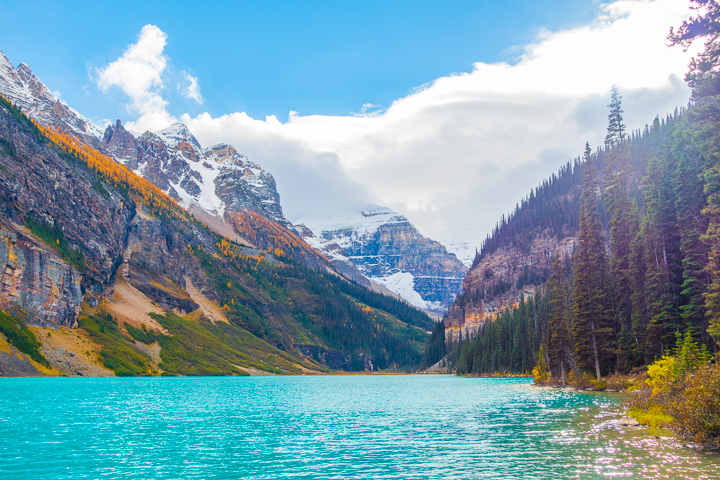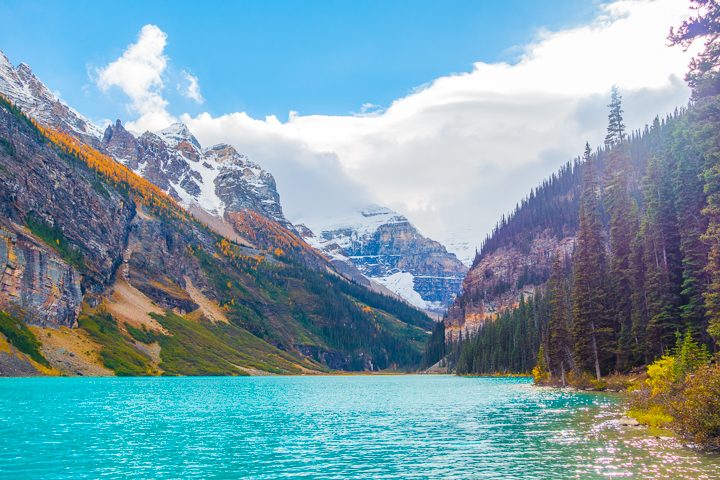 It's the perfect way to stretch your legs after checking in.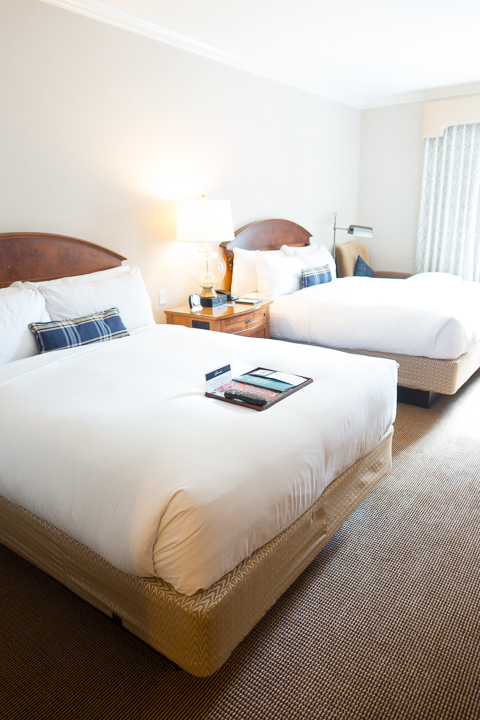 The rooms were amazing. Both the Fairmont Banff Springs and Fairmont Chateau Lake Louise have a seriously fantastic feature that EVERY hotel should have — you can text them for anything and everything you need. Need more towels? Shampoo? Need your car brought to the front by the valet? Just send a quick text and they will make it happen ASAP. No need to pick up the phone — you don't even need to be in the room. You can just text them and they will take care of everything for you. You can even text them to have an itemized receipt emailed to you after you check out. Seriously love not having to be an awkward weirdo on the phone! ;)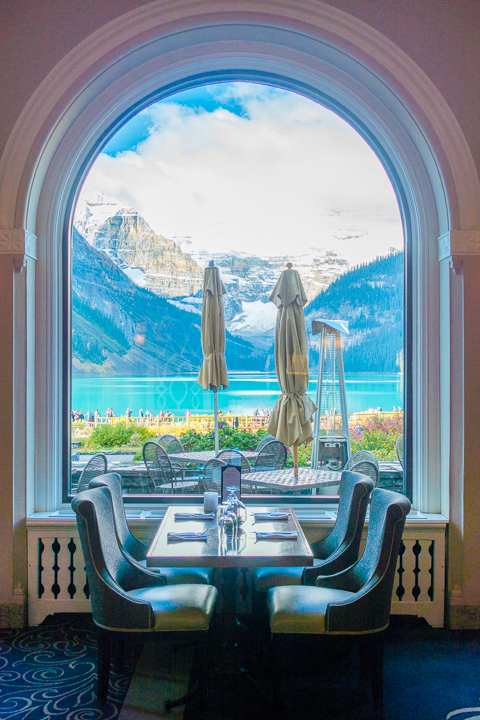 Can you imagine dinner with this view?? There are tons of shops and restaurants right in the hotel. If you had a day of bad weather you could definitely spend an entire day at the hotel and never get bored. We got to try two of the restaurants here — scroll down to the bottom for more!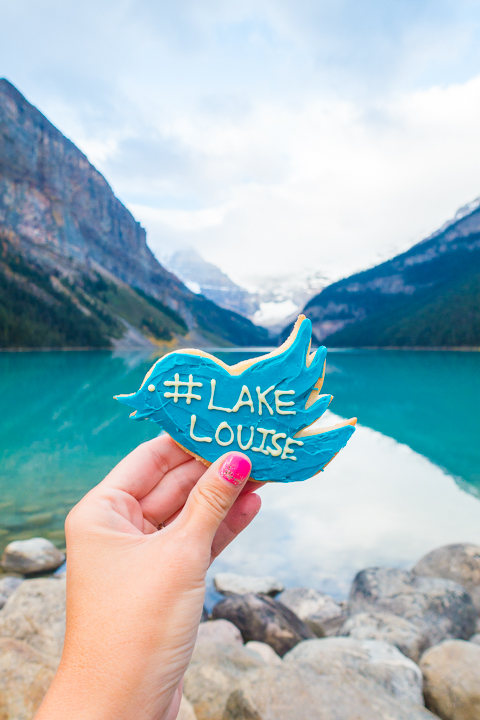 SO CUTE!! Honestly, we could've never left the hotel, but there are also some AMAZING views so close to the hotel.
Below I'm sharing everything you NEED to see and do in Lake Louise!
---
Moraine Lake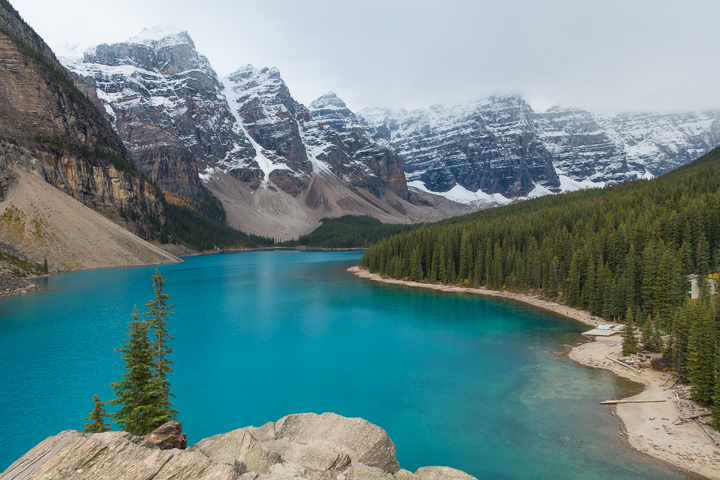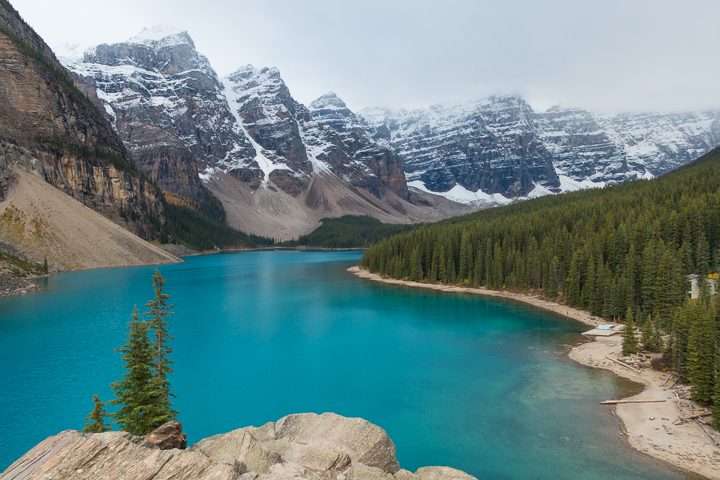 This is honestly one of the most amazing places I have ever seen. We were here on the yuckiest, grayest, cloudiest day ever… AND IT STILL LOOKS LIKE THIS. Can you imagine this place on a sunny day??! Yes, the water really is that color!!!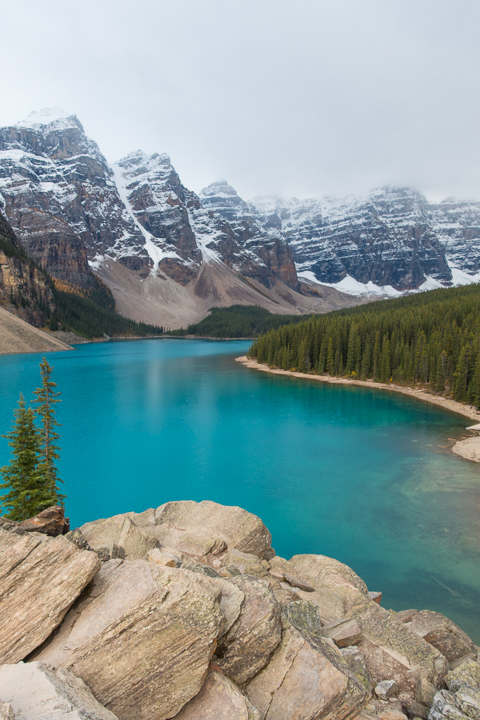 When you get there, you'll see a pile of rocks and you may see people climbing up the rocks to get a better view. But if you go around the left side of the rocks, there's a trail with a staircase. So much easier!
I definitely recommend that you go up though, the color of the water looks even more amazing from up high.
I also recommend coming here at either sunrise or sunset…. During the day (especially a nice day) this place gets SUPER CROWDED and the parking lot is tiny… Sometimes they will even close it completely and not allow anyone to enter until people have left. We went twice, once at sunrise and again closer to sunset and didn't have a problem getting in. We tried several times to go back during the middle of the day on a nicer day and it was closed every single time. Still… no matter when you go or what the weather is like… This place will absolutely take your breath away.
---
Peyto Lake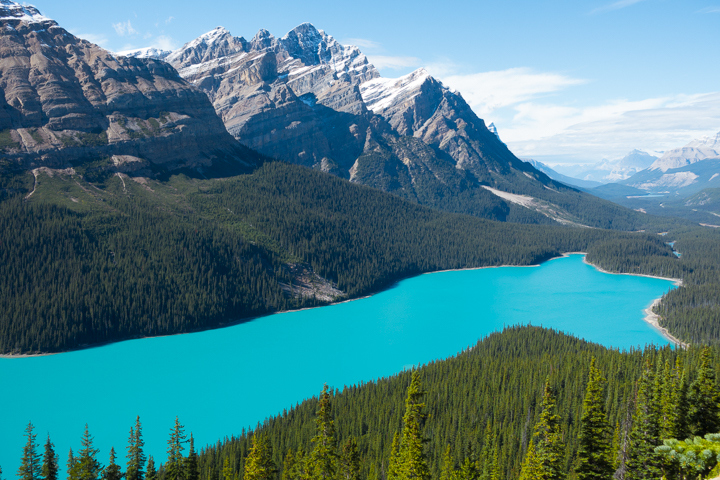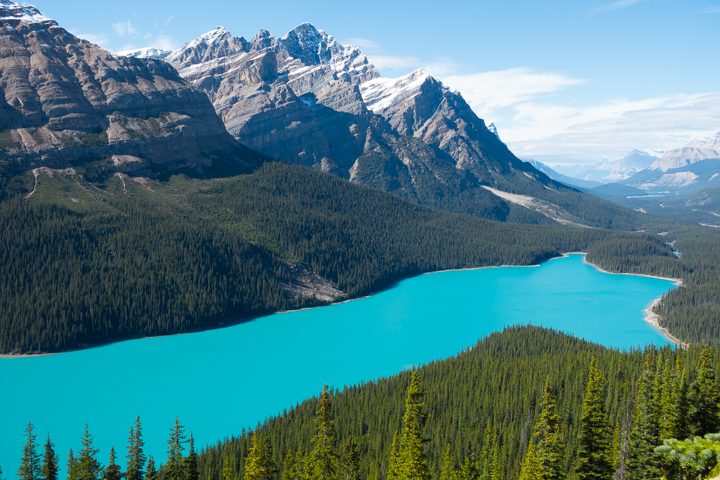 Oh. My. Gosh.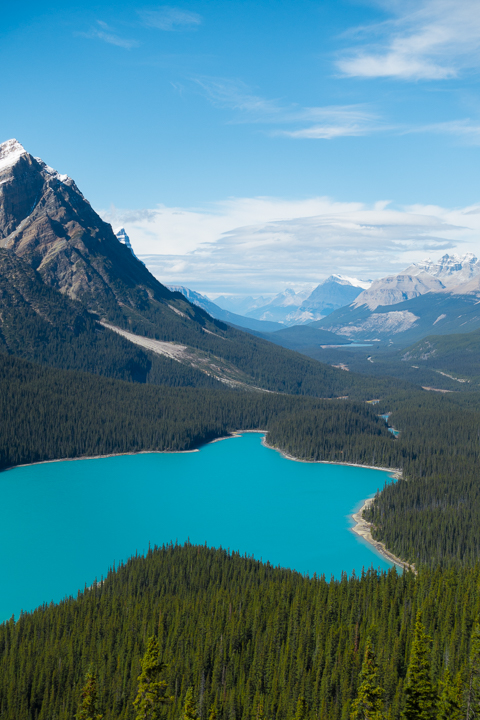 I just don't even have the words to describe this place.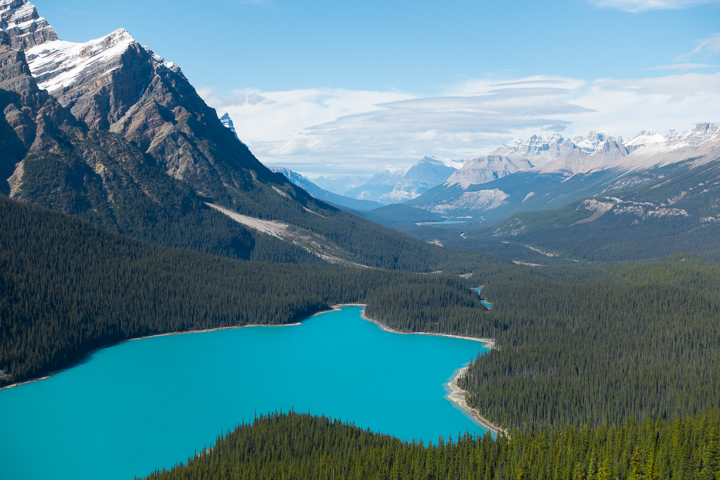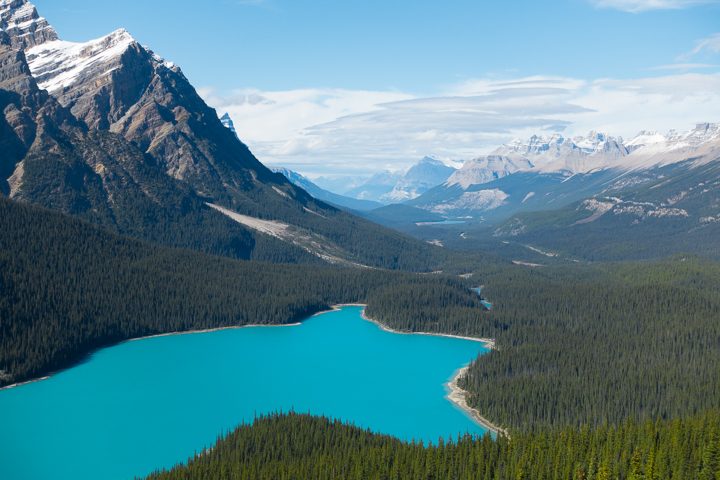 I can only imagine this is what Moraine Lake would've looked like in the sun.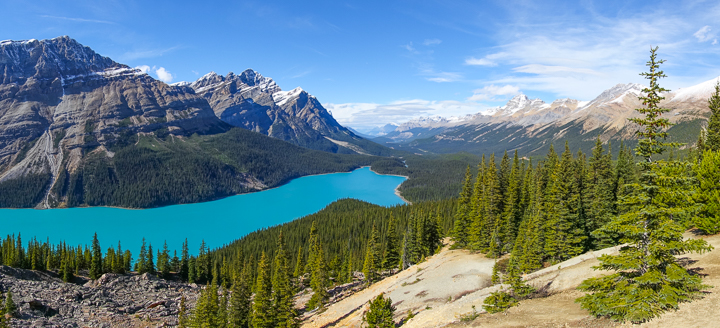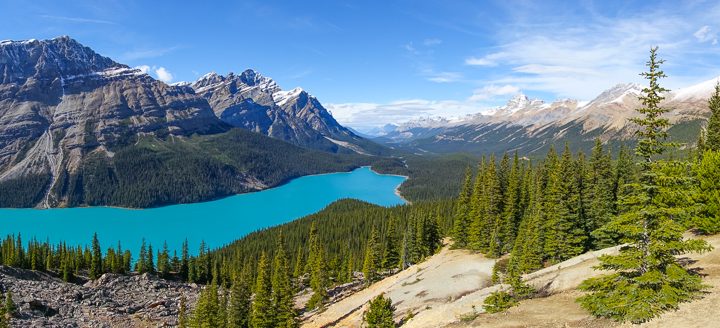 Seriously cannot get over that water!!! I have never seen anything like it. Peyto Lake is a MUST see!!
---
Emerald Lake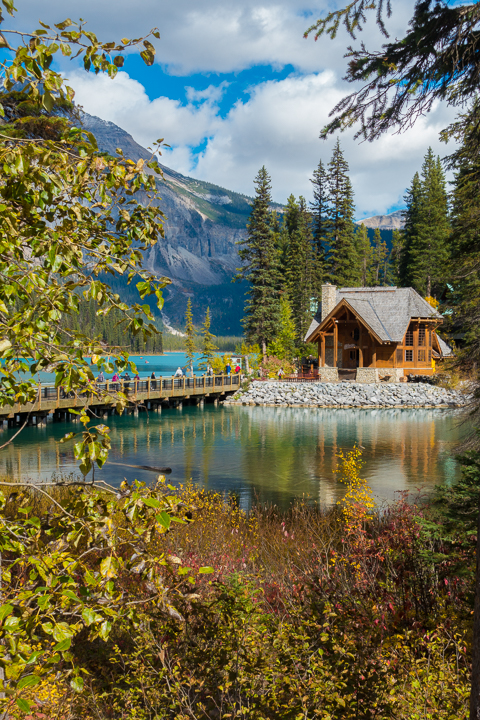 Such a beautiful spot!!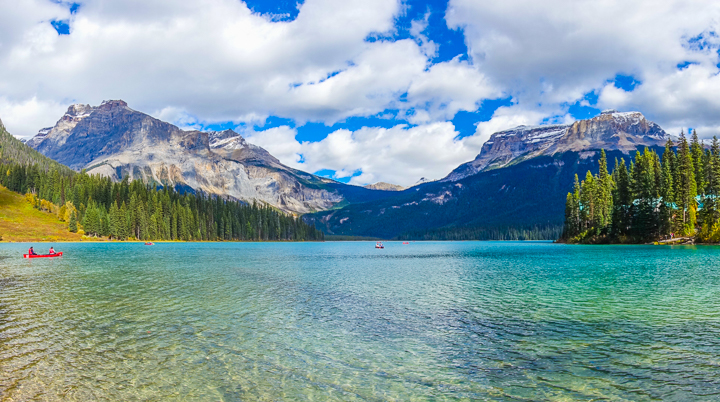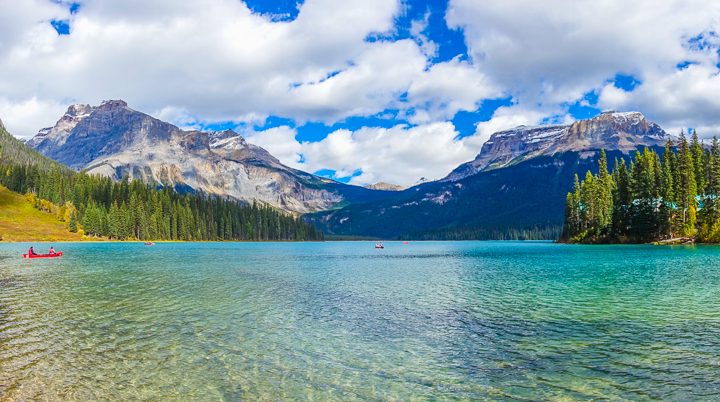 The water looks like a tropical ocean!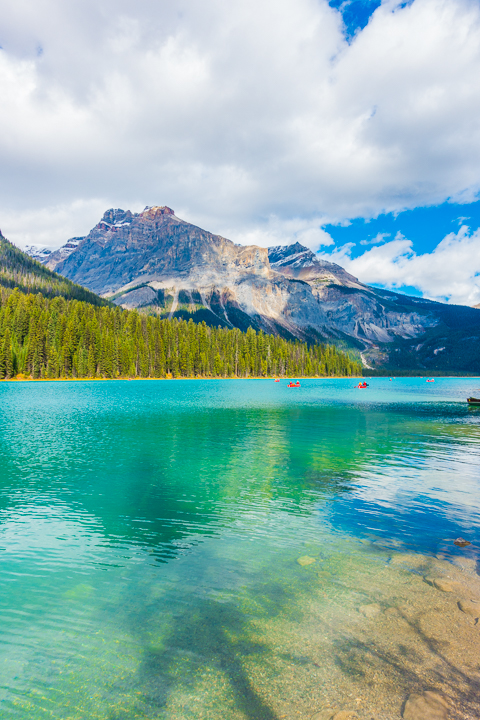 But with stunning  mountains in the background. How fun would it be to kayak around this lake for an afternoon?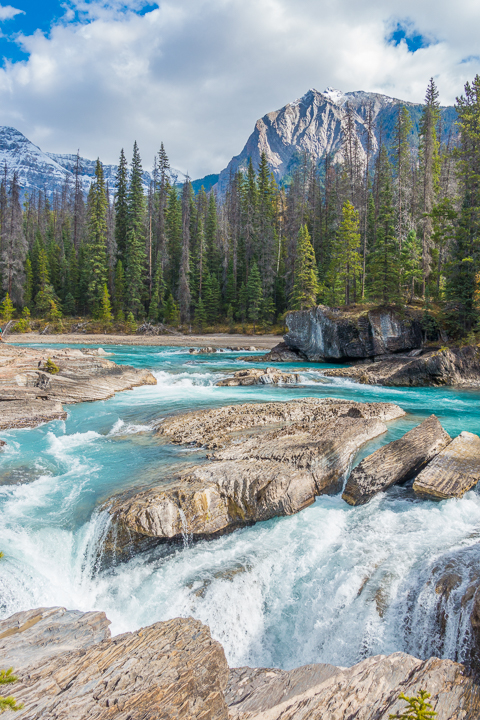 Nearby is the Natural Bridge. Gorgeous views here too!
---
Bow Lake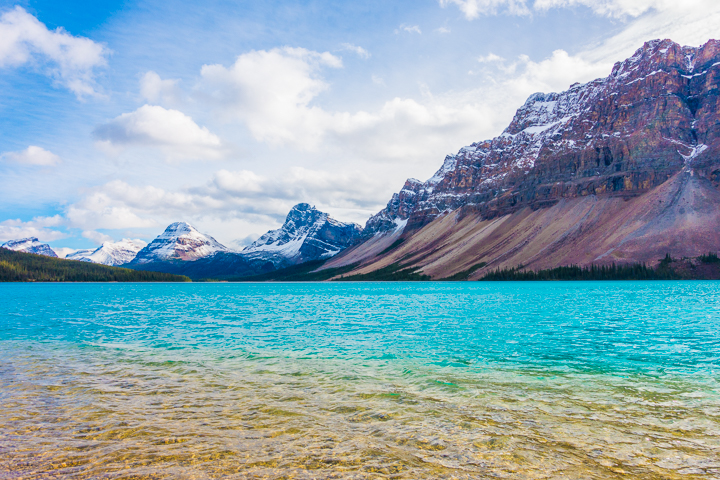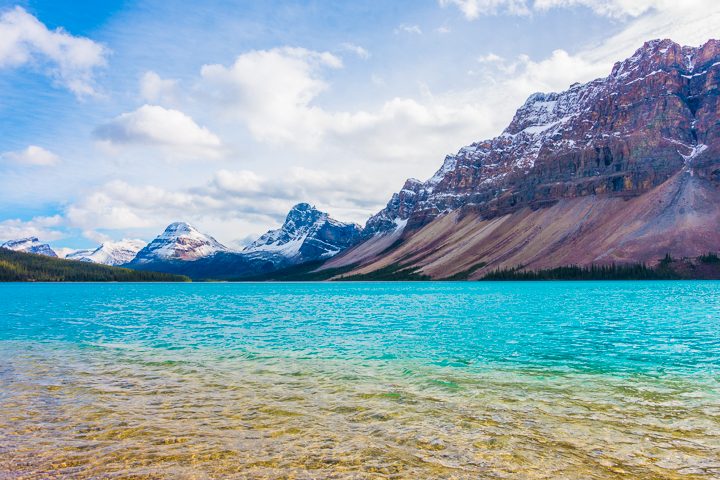 Can you handle another beautiful lake with vibrant turquoise water and snow-capped mountains in the background?? :)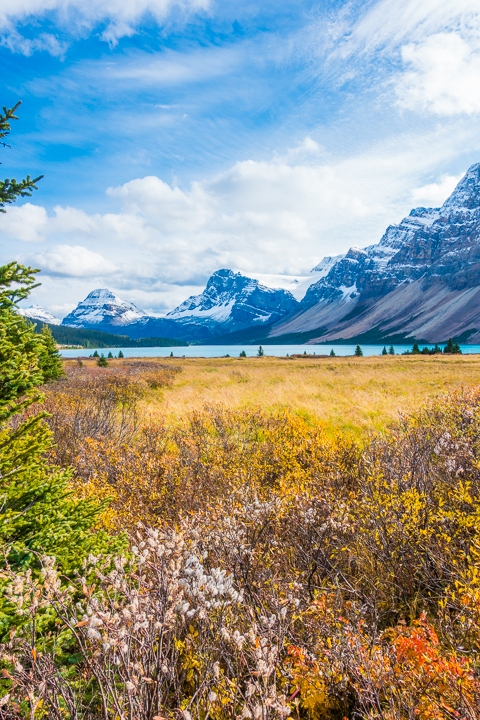 Bow Lake is right off Icefields Parkway on the way to Peyto Lake.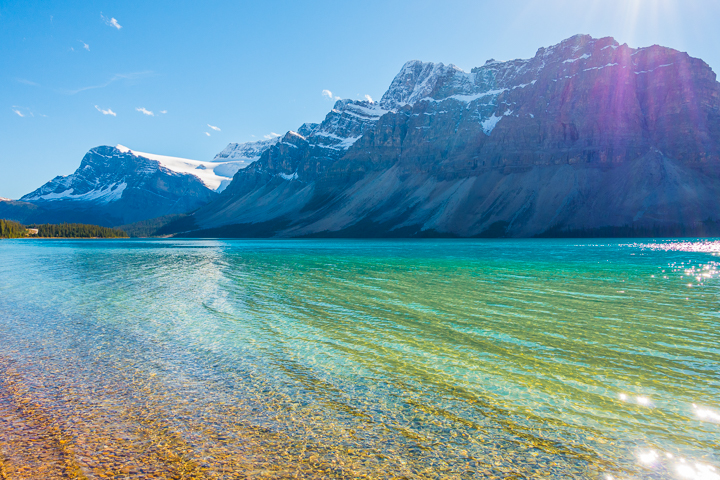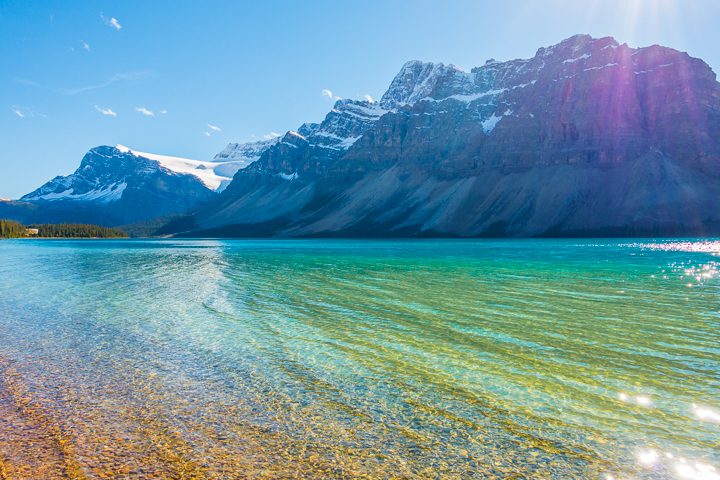 You'll definitely want to pull over and take a look!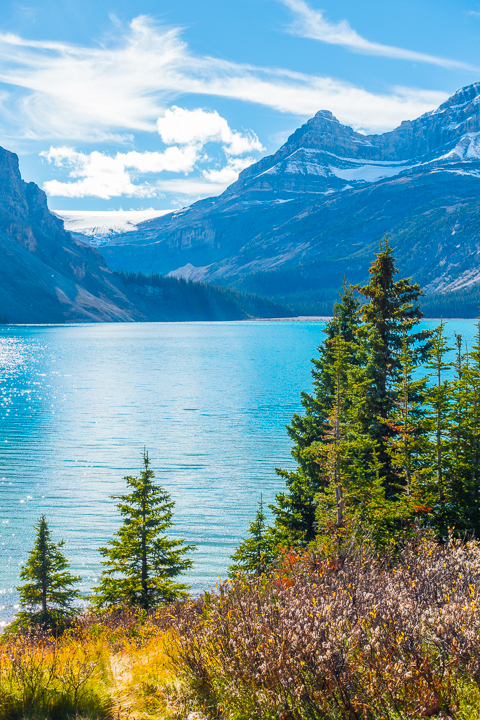 So beautiful.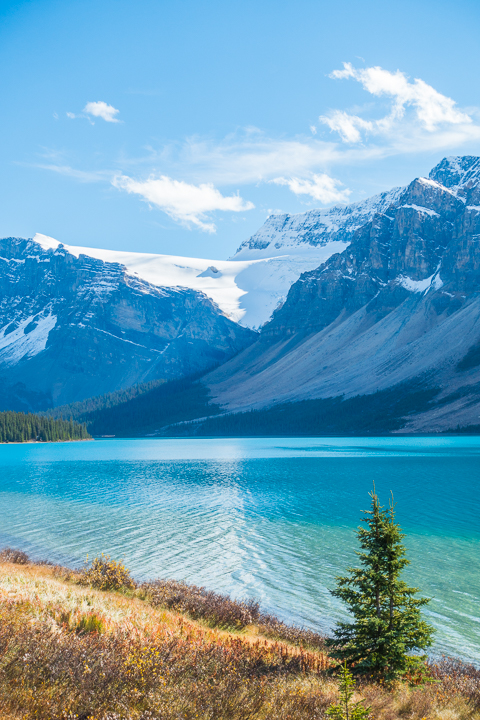 The snow.. the water… perfect.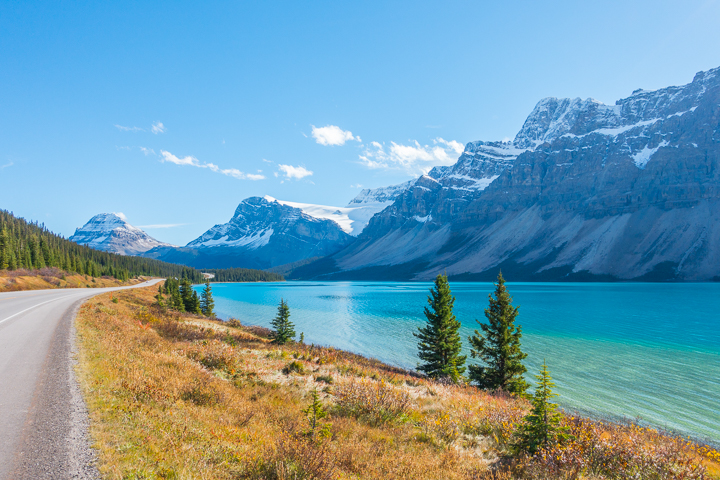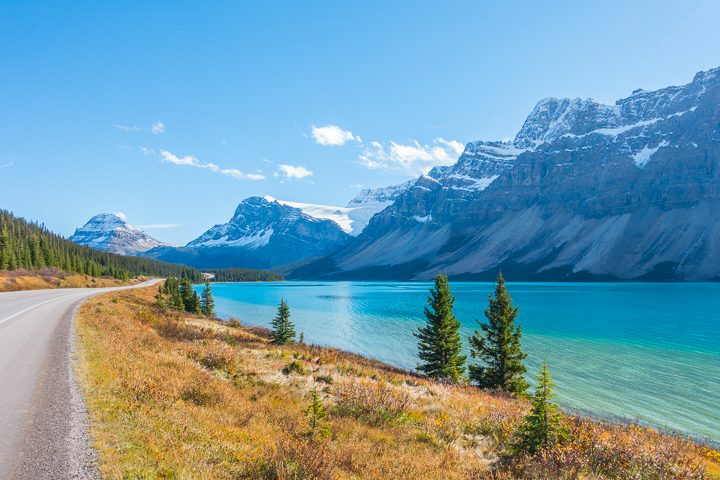 Cannot believe you get these views right off the highway. I wanted to pull over every 5 seconds!
---
Scenic Drives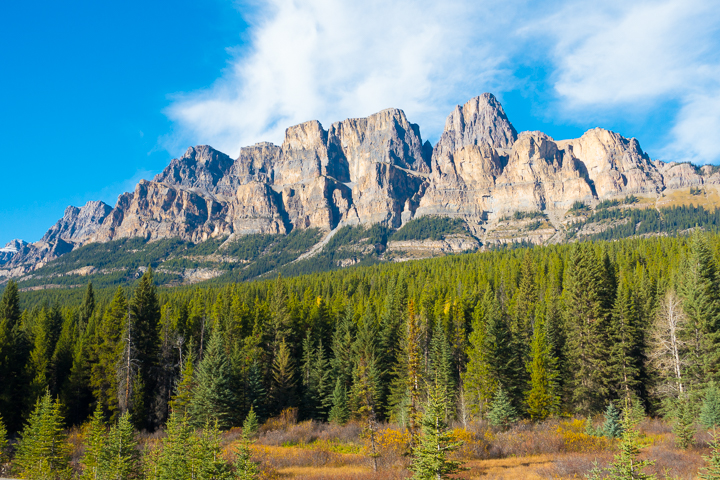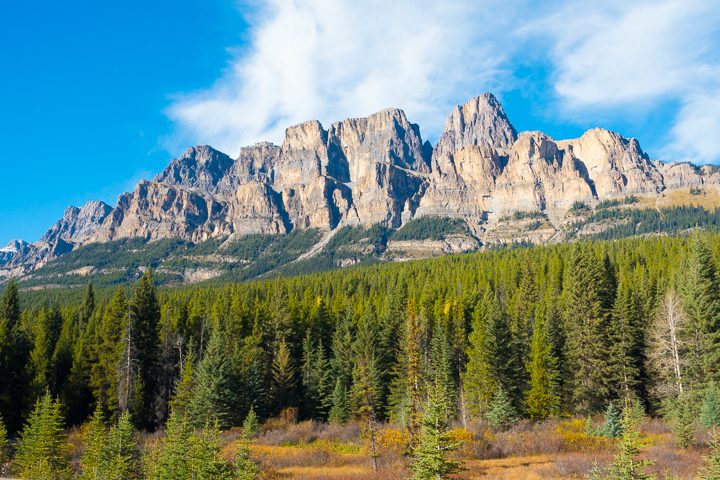 If you have extra time, take the scenic route (Bow Valley Parkway) on the way from Banff to Lake Louise.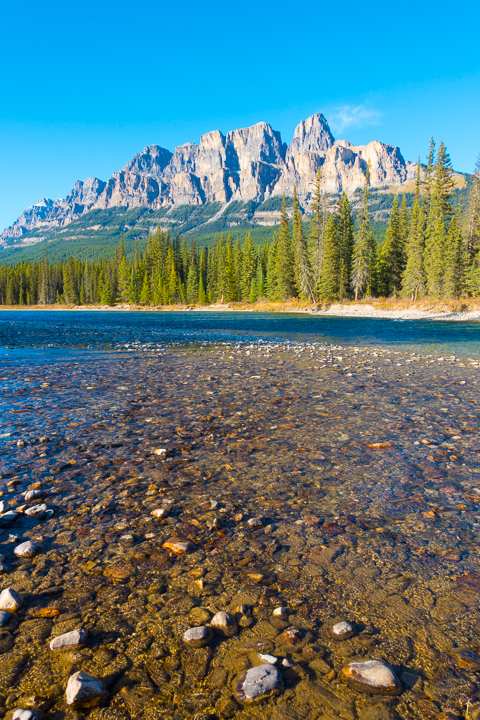 This view of Castle Mountain is worth the detour alone!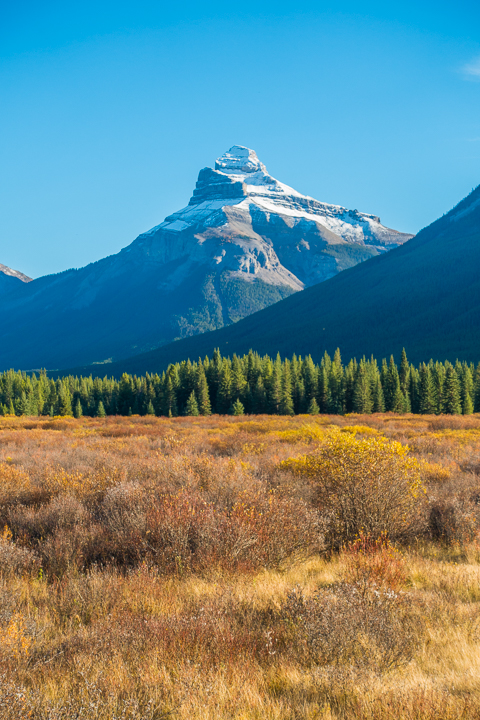 Here's more of what you'll see on the scenic route.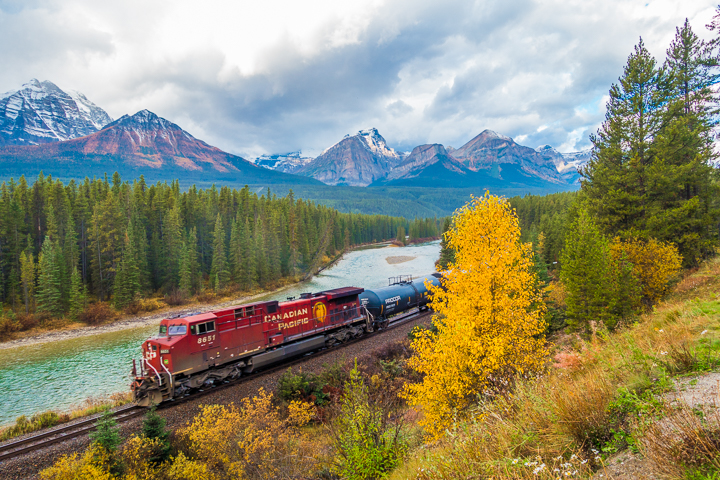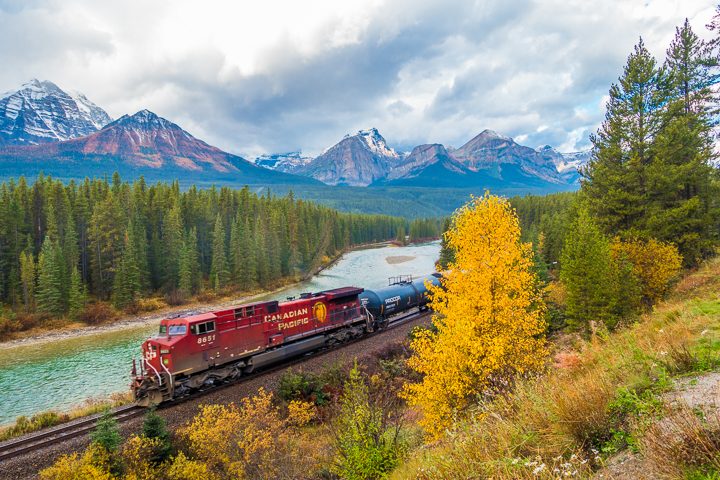 This overlook is called Morant's Curve.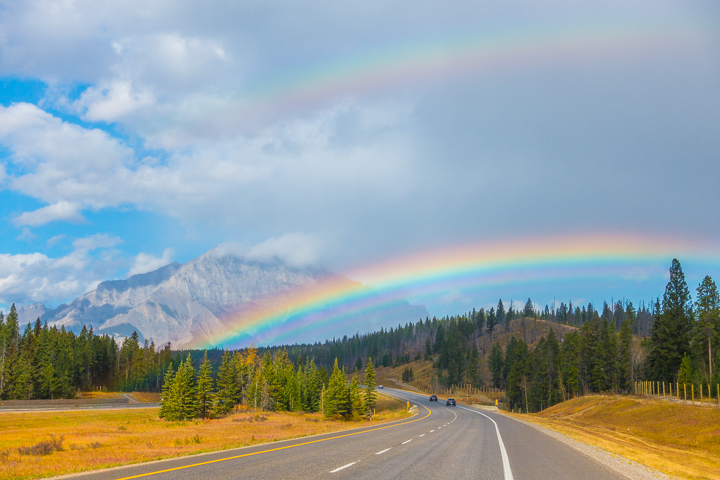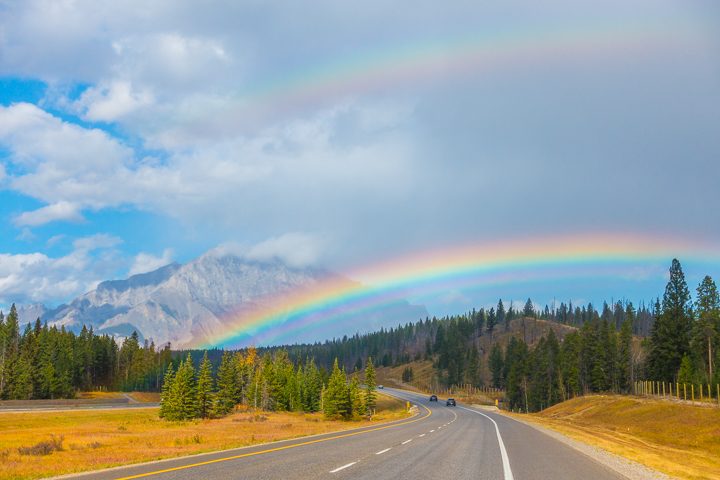 Or if you take the highway, you might get lucky with a rainbow!!!!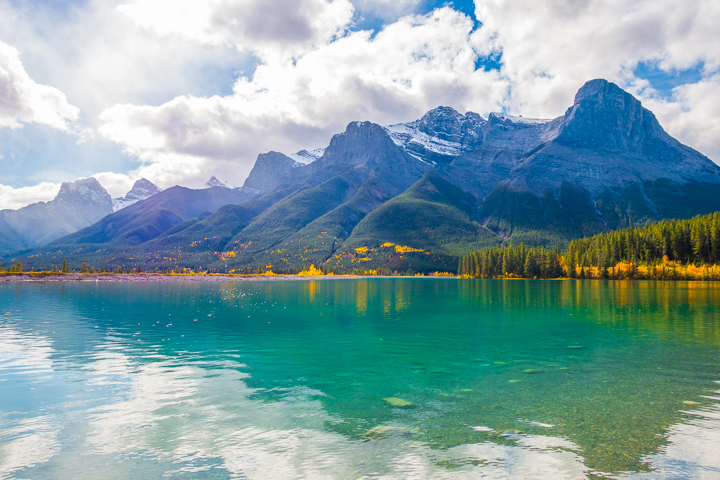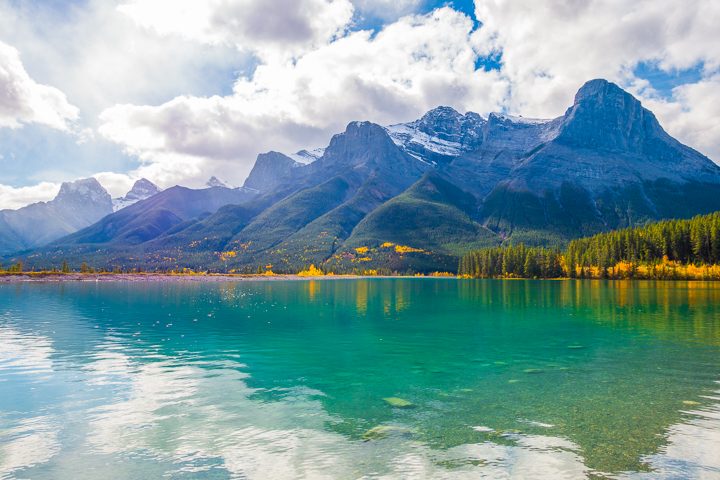 On the way from Calgary to Lake Louise, you'll go through Canmore, and there's a little spot off Three Sisters Parkway with a small lake and a beautiful view of the Canadian Rockies.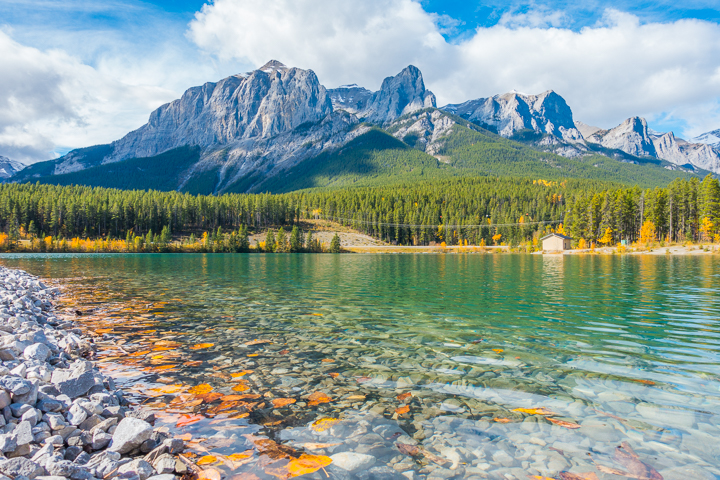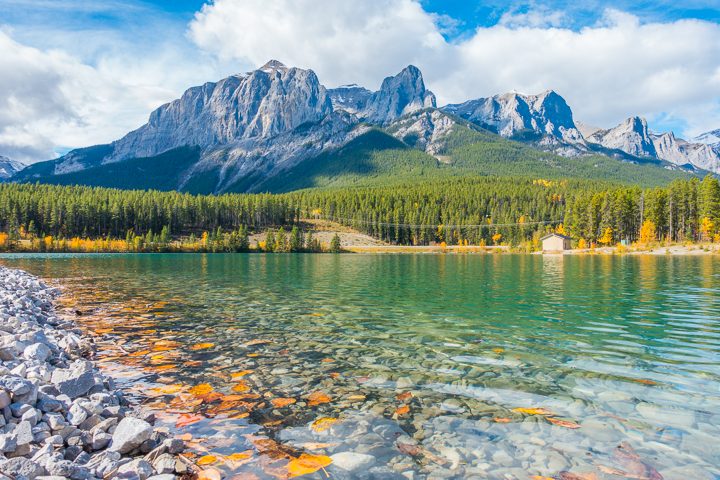 Pure heaven.
---
Lake Louise Gondola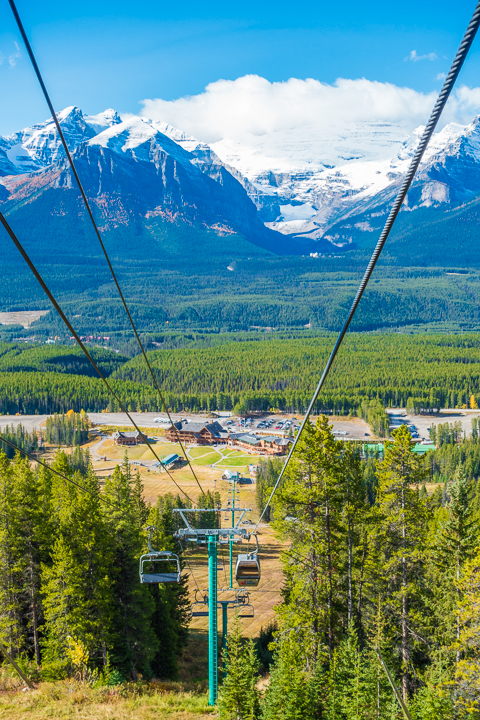 The Lake Louise Gondola is a 15-minute scenic ride in an open chairlift or fully enclosed gondola — your choice! Take it all the way to the top (altitude 6850 feet) for a spectacular overlook of Lake Louise.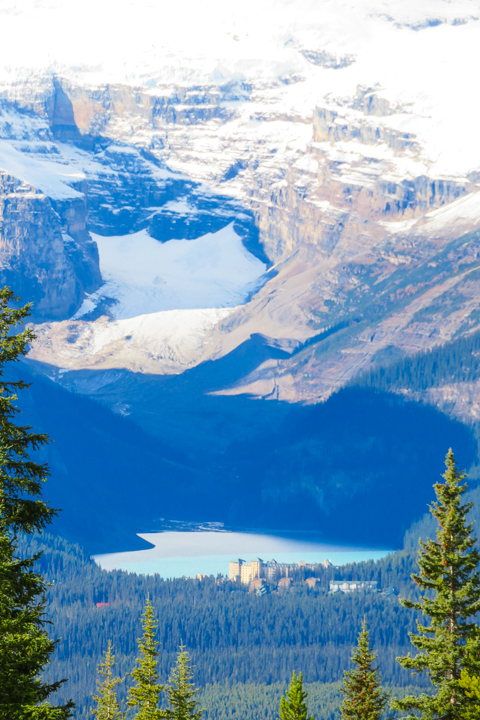 You can see our hotel down there! Looks straight out of a fairytale.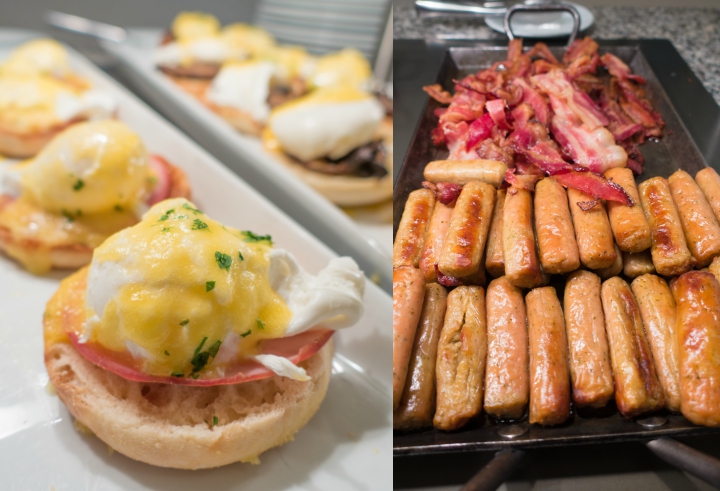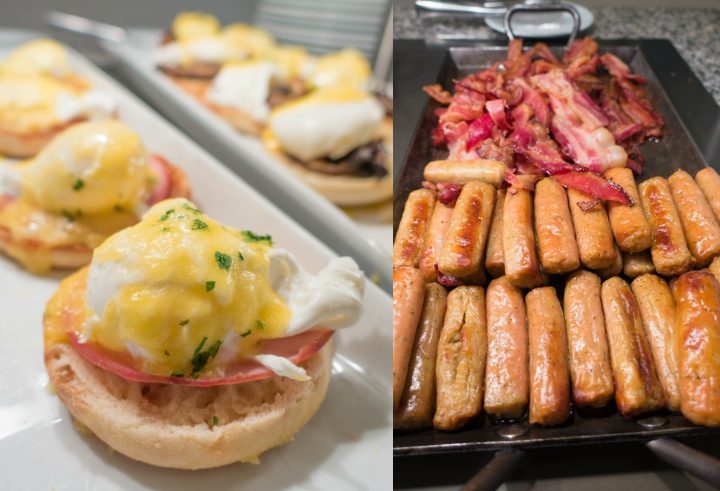 We were lucky enough to be able to try two of the restaurants at the Fairmont Chateau Lake Louise. The first was Poppy Brasserie for breakfast. For breakfast there is a buffet with a wide variety of options. You can order off the menu as well, but most everything on the menu is also on the buffet, so you might as well get the buffet and try one of everything! ;)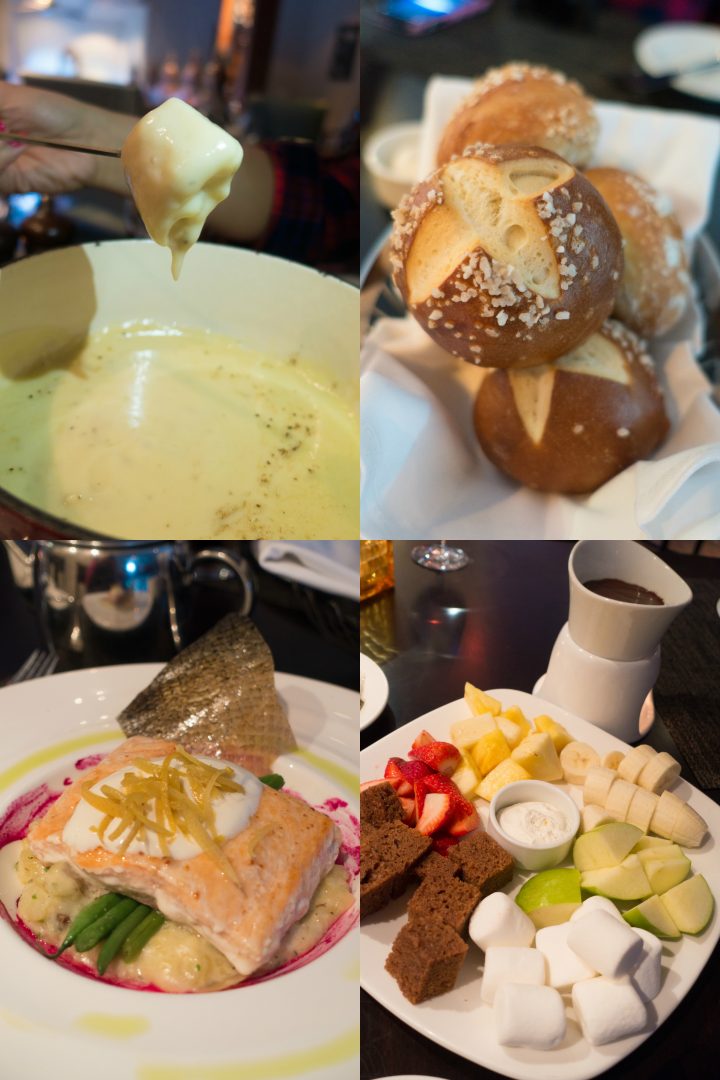 While we were tucked away in our fairytale castle in the mountains, we had authentic alpine cuisine at Walliser Stube. The Swiss Fondue is a must! Save your pretzel rolls so you can dip them in the fondue! :)
Seriously fell in love with Lake Louise. For more ideas and resources to help you plan the perfect trip to Lake Louise, be sure to visit these sites below:
Travel Alberta
Banff & Lake Louise Tourism
Fairmont Chateau Lake Louise