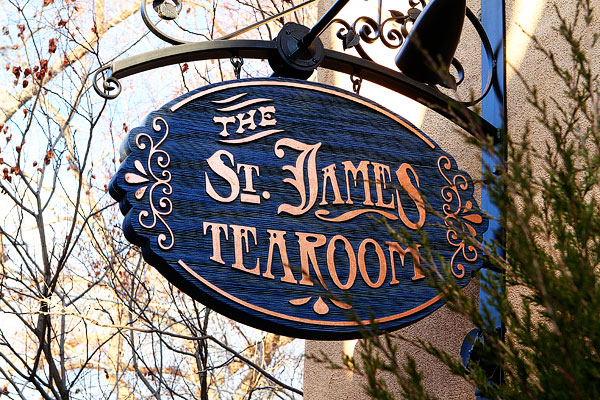 Hands down, The St James Tea Room was the absolute highlight of our trip to Albuquerque. Oh my gosh, I cannot tell you how utterly fabulous this place was. I positively loved every single thing about it. We came here for a traditional English afternoon tea experience — how fun is that? — complete with tea sandwiches, scones, and strawberry shortcakes. What we got was a luxurious, secluded, 2-hour escape from the world, with an unforgettable meal and a life-changing tea I will never forget.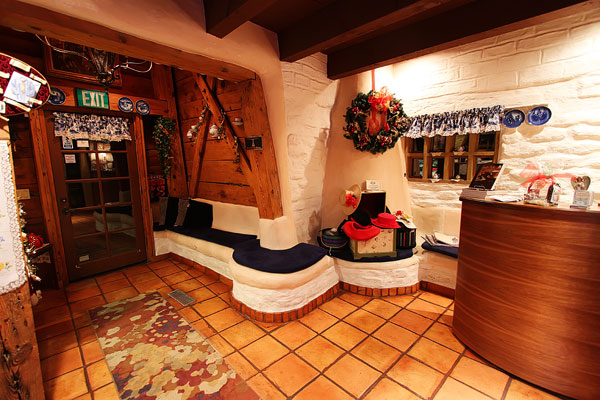 Here is the entrance when we first walked in. The tea room was beautifully decked out in English country decor, but I loved how the entrance had a little New Mexican flare as well.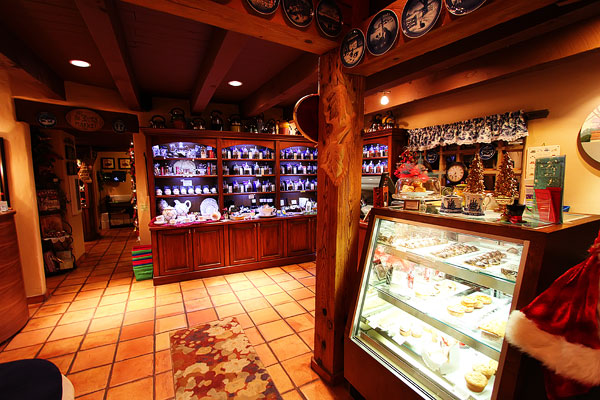 I had no idea what to expect of our tea, but I was really excited to find out. I had just finished reading a couple of light murder mystery novels set in 1860s London where the main characters sat down for tea every afternoon. Some of the descriptions in the book had my mouth watering! I was delighted to see several of the wonderful things I'd read about on our menu. Our tea made it all come to life.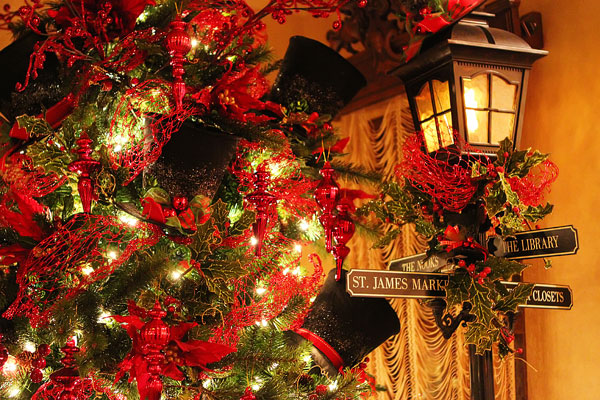 The tea room was all dressed up for Christmas. I loved this tree decorated with top hats! It perfectly set the mood.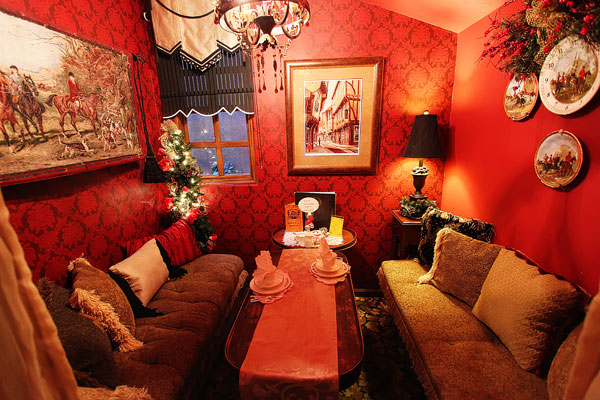 Can you believe this was our room for tea?? You could've knocked me over with a feather, I was so giddy at this room. All small parties at the St. James Tea Room get their own private nook for their 2-hour afternoon tea experience. Look at these plush couches!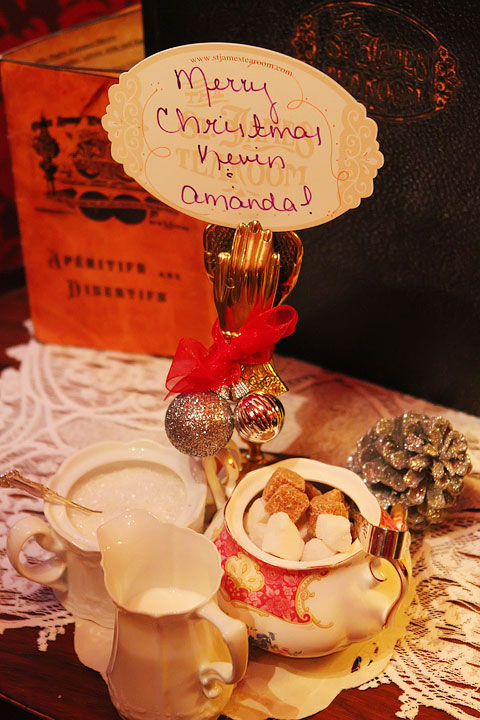 They even had a little welcome note along with our sugar and cream.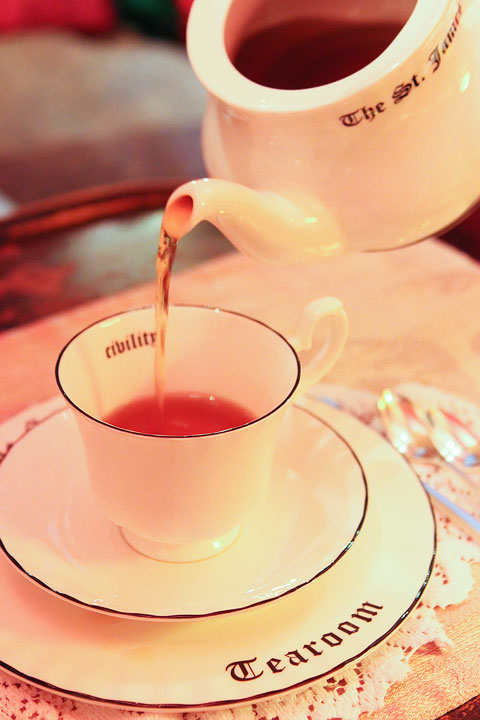 The wonderfully gracious manager of the tea room, Daniel — who is the sweet owner's son and who was also an exchange student at Oxford University —  knew we were coming. He had checked out Kevin & Amanda before we got there, saw our NYC Macarons post, and recommended a tea especially for us. It was called Picasso Soiree,  a medium bodied black tea with traces of — are you ready for this? — french vanilla, caramel, creme brulee, chocolate, and vanilla. Daniel just became my new best friend. This tea was so right up my alley, it couldn't have been more perfect had it been created specifically for me. It was absolutely perfect. I still can't get over how delicious it was. What I wouldn't do to get my hands on another cup of this tea, I am still dreaming about it!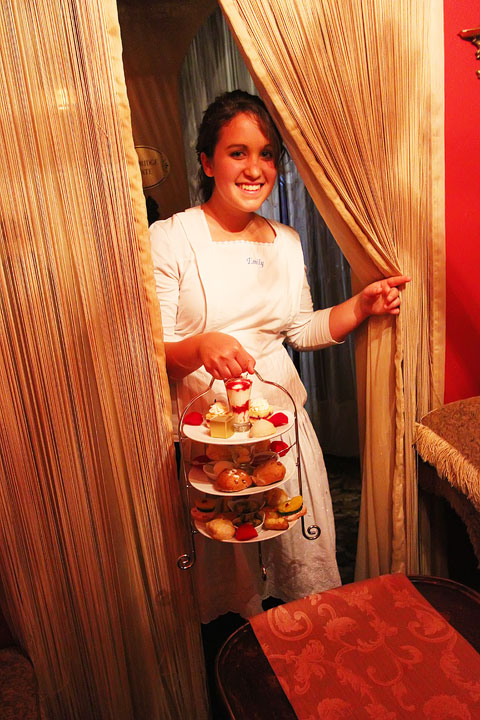 Our little nook had its own curtains to draw for quiet privacy, but oh how my eyes widened when I saw our tiered tray of sweets and savories peeking through!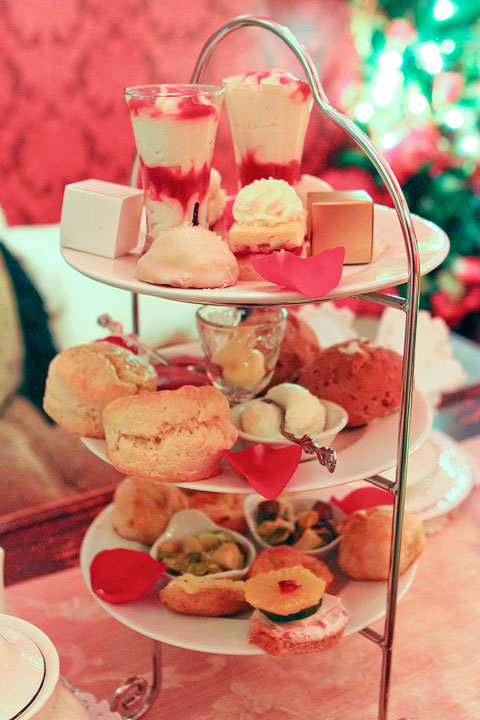 Check out this cute tray! Now I will admit, when I first saw it, I thought "No way is this going to be enough food. I'm starving!" But let me assure you, we left completely stuffed and satisfied.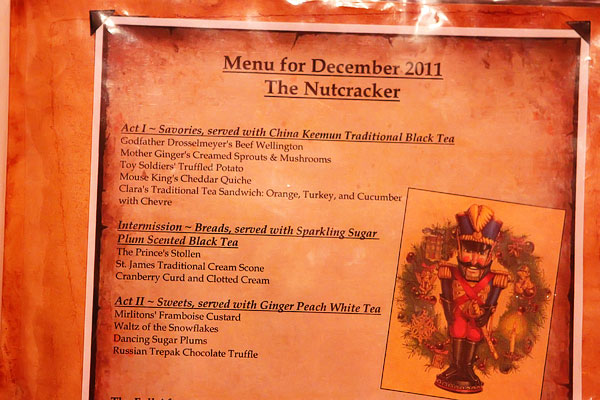 Here was our menu for the afternoon.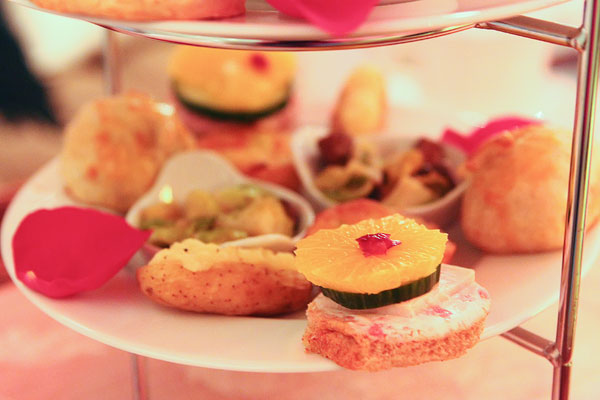 The bottom tray was our savories. Up front is Clara's Traditional Tea Sandwich of
Orange, Turkey, and Cucumber with Chevre. Oh my gosh, I loved every single bite. The delicious puff to the right of the sandwich was a luscious bite of beef wellington. Such a treat.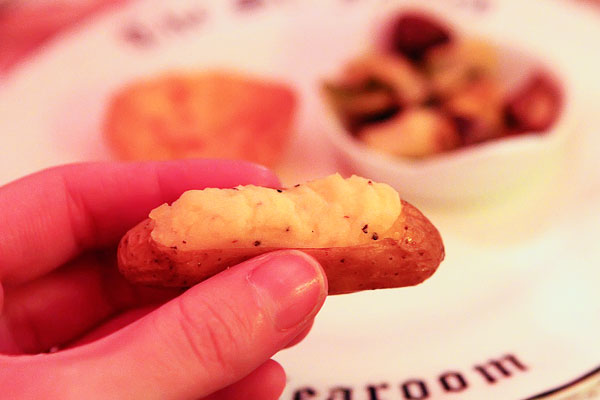 And oh my gosh! Will you look at this teeny tiny truffled potato?? This has got to be the cutest, tiniest potato I have ever seen! How did they get it so small?? I loved it.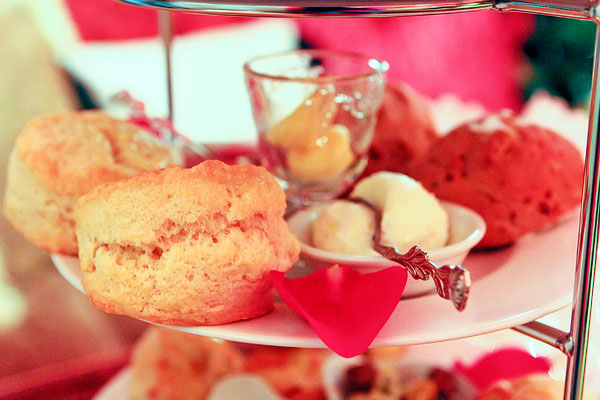 The middle tray was filled with delicious breads. Here we have the St. James Traditional Cream Scone, clotted cream, and stollen in the background. This scone was — how do I say this? — undeniably, unequivocally, absolutely, positively, one hundred percent… Life. Changing. I'm from the south. I've had a lot of good biscuits in my day. This scone was Life. Changing. How can a biscuit be this good?? I would get in my car right now and drive all day and all night and probably all day again just for one more of these heavenly, melt-in-your-mouth, Life Changing scones.
Okay, that's all I'm going to say about the scone.
Except that I had one bite of the scone and promptly forgot all about taking pictures for the rest of our tea. Can you believe it? Not even the sweets!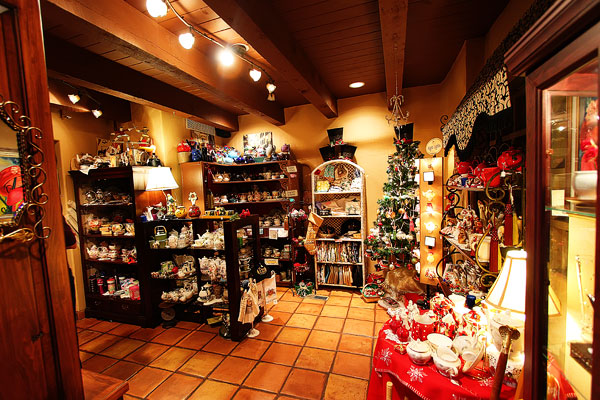 When we finished our tea, I had to check out the adorable gift shop we passed on the way in.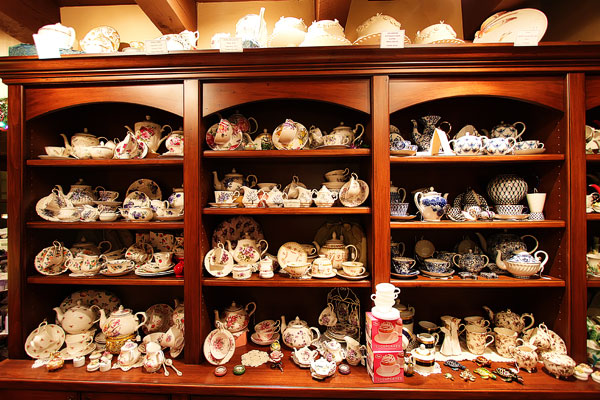 They had so many cute little tea sets, including one with cupcakes!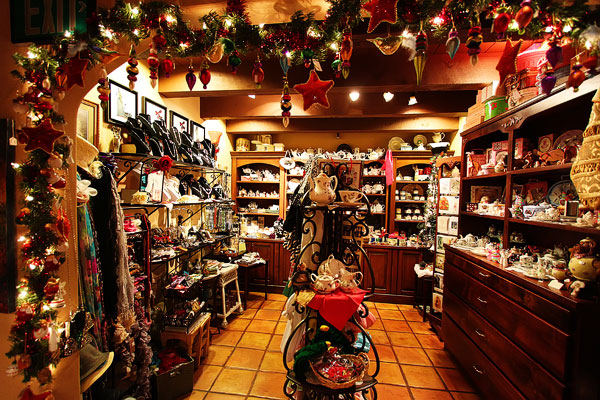 This room had gorgeous jewelry, some of the most unique I've ever seen. It was very hard not to spend my entire life savings here.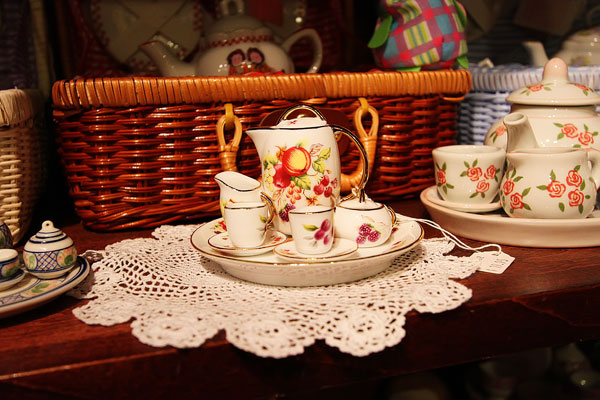 We left the St. James Tea Room utterly and supremely relaxed and rejuvenated, as well as completely stuffed with one of the most delicious and memorable meals of our lives.
If you are ever anywhere near the area, you absolutely must make a reservation for afternoon tea here. You will love it!
The St. James Tearoom
320 Osuna Rd NE, Albuquerque, NM 87107
(505) 242-3752 – stjamestearoom.com