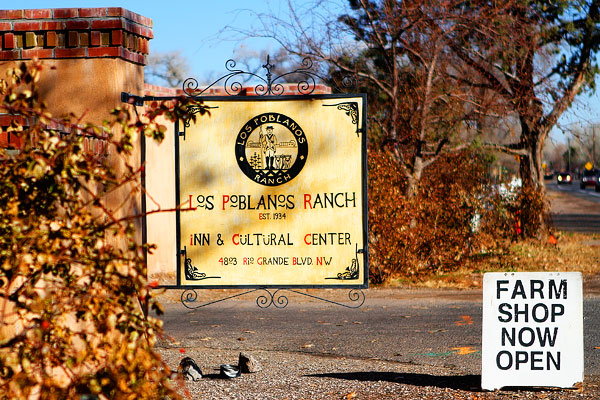 Welcome back, friends! I hope your Christmas weekend was filled with lots of love and joy. Kev and I had the wonderful opportunity to spend the weekend before Christmas in breathtaking Albuquerque, New Mexico. While we were there, we stayed at the Los Poblanos Ranch Bed and Breakfast. Guys, I am so excited to tell you about this incredible little inn! It was seriously one of the cutest places I have ever stayed. You've got to come check it out with me.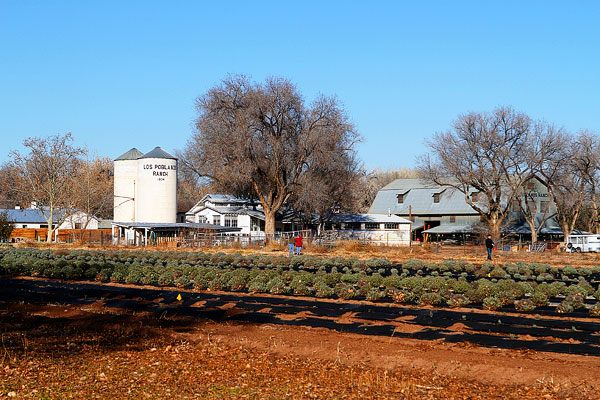 The cozy ranch offers 20 secluded guest rooms nestled within a working organic farm. This gorgeous, expansive lavender field greets you as soon as you drive up the dreamy tree-lined driveway.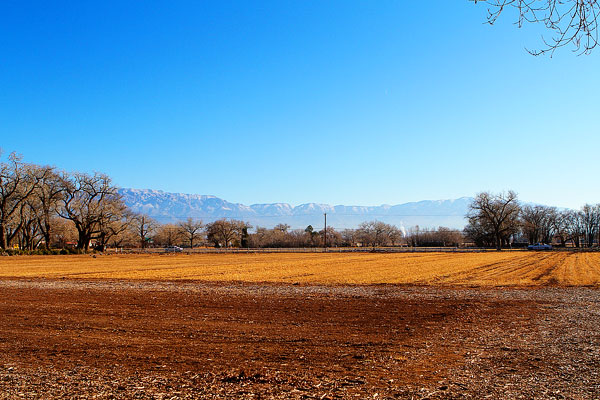 How beautiful is the view of the Sandia Mountains from the ranch? Los Poblanos is famous for their community supported agriculture (CSA) program, which offers over 75 varieties of fruits and vegetables to the Albuquerque community via weekly delivery, all cultivated right on the ranch.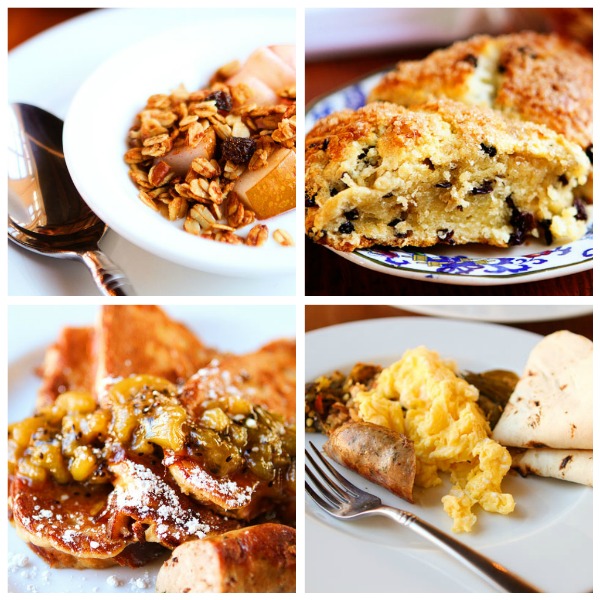 And what would a bed and breakfast be without breakfast?? A full gourmet breakfast for two is included when you stay at the ranch. The menu changes daily and always features fresh ingredients right off the farm. Here's just a peek at what we sampled during our visit. House made granola, delicious blueberry scones, chile rellenos with quinoa, turkey sausage, and scrambled eggs, and I got a huge kick out of the french toast with a caramelized kiwi compote made to resemble New Mexico's famous green chile.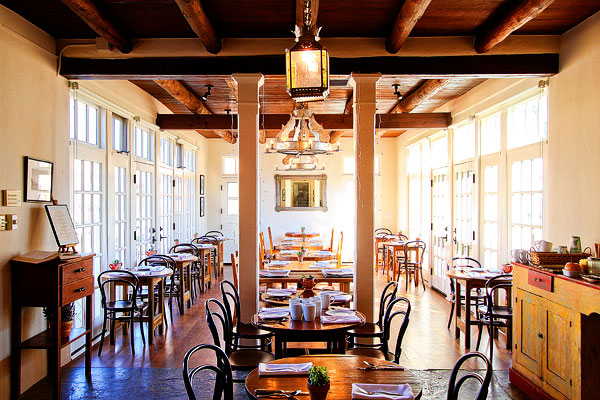 Isn't this a charming breakfast room?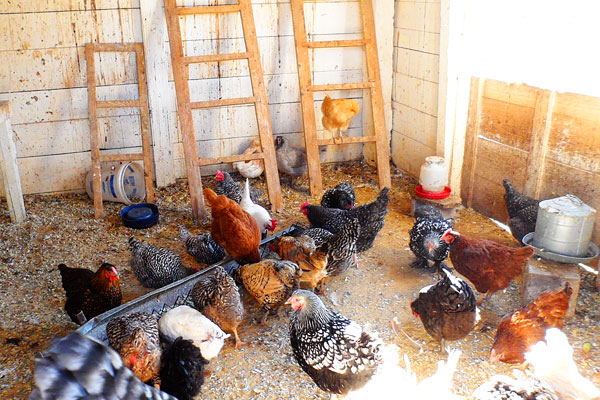 Ingredients for the inn's breakfasts are often harvested that very day, and include farm fresh eggs, honey from their own bees, and fruits and vegetables straight from the fields.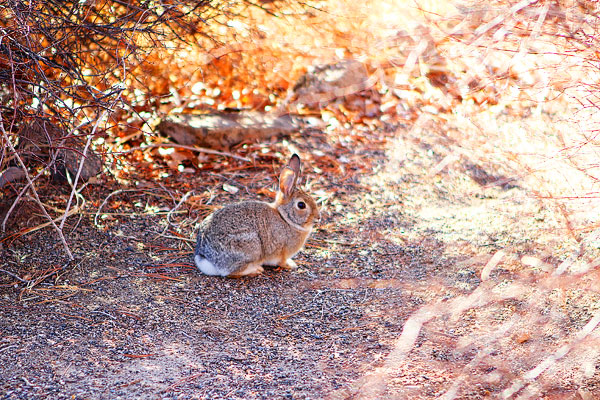 The ranch had so many fun animals just hanging out. We kept seeing this little bunny hopping around!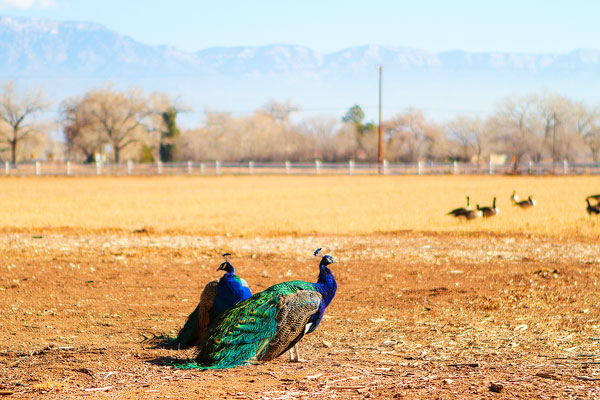 My favorite were the peacocks! They were just strutting around the ranch like they owned the place. Although I couldn't get them to show their feathers for me. They must've not been feeling too flirty. There was also a gorgeous all white peacock! I'd never seen one before, it was stunning. This one was camera shy though, it never came around when I had my camera out.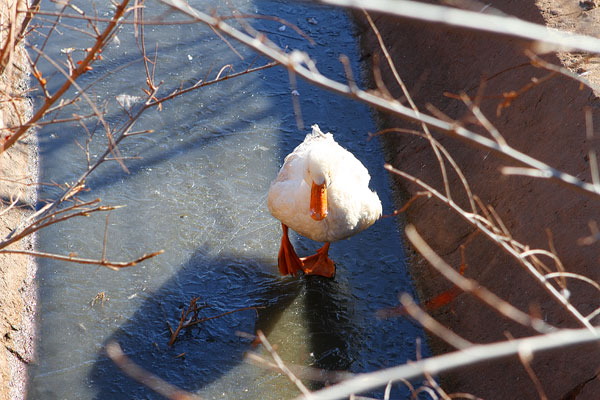 But I did manage to catch this cute little duck, ice skating on a tiny frozen stream!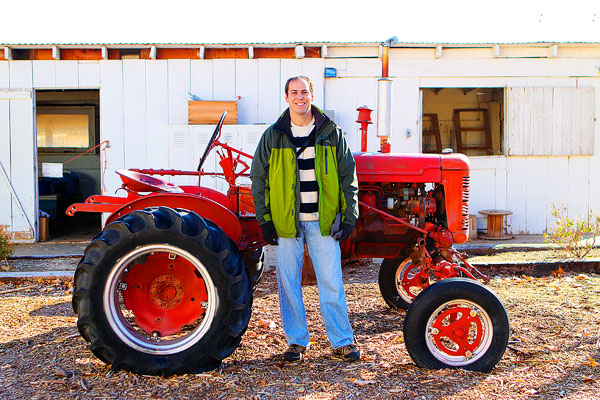 Kev enjoyed checking out the vintage farm equipment.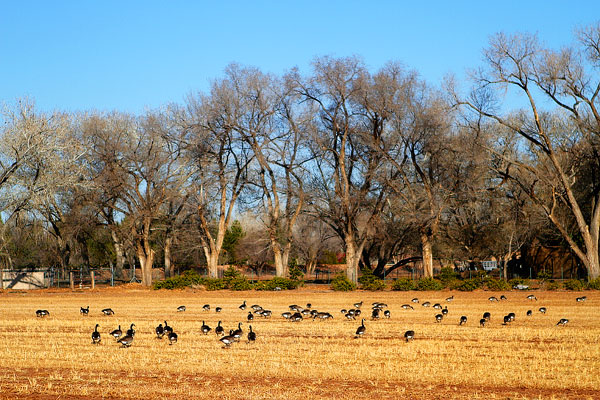 I think I could have spent all weekend just taking in all 25 acres of this gorgeous property.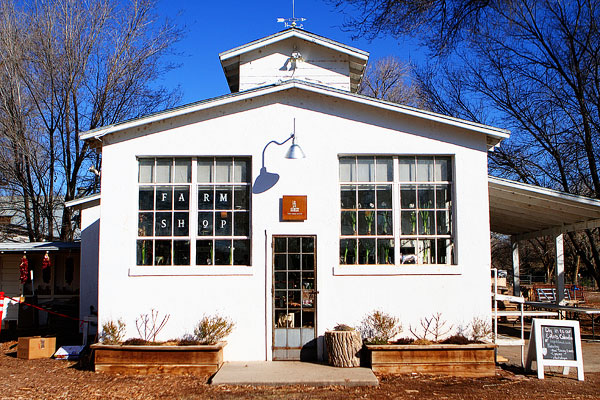 I think my favorite thing about the inn was the farm shop right on the ranch!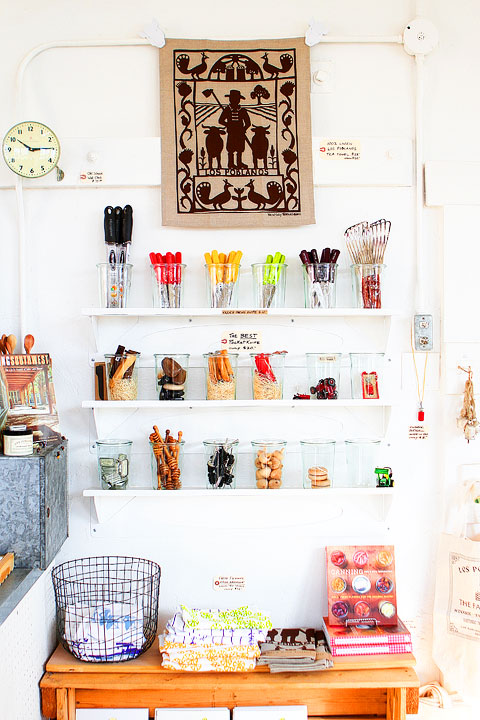 This was the cutest little shop for gifts, gourmet food, kitchen tools, apparel, and more.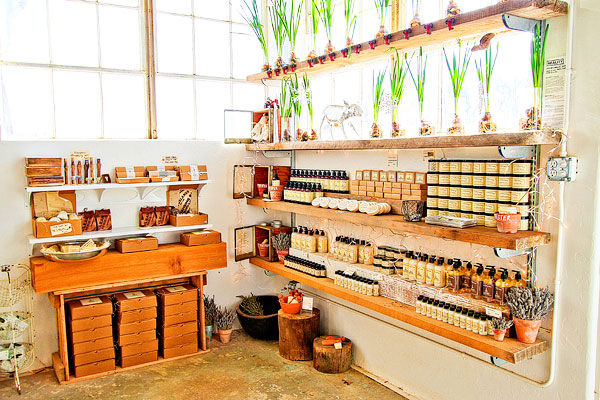 And of course the entire line of their custom lavender spa products, made from the lavender grown in the fields. The ranch uses a steam distillation process right on the farm to extract the essential oil from the lavender, which then goes into their specialty line of spa products and amenities (shampoos, conditioners, and lotions) offered in each guest room to give their guests a relaxing experience directly connected to the land itself. How amazing is that?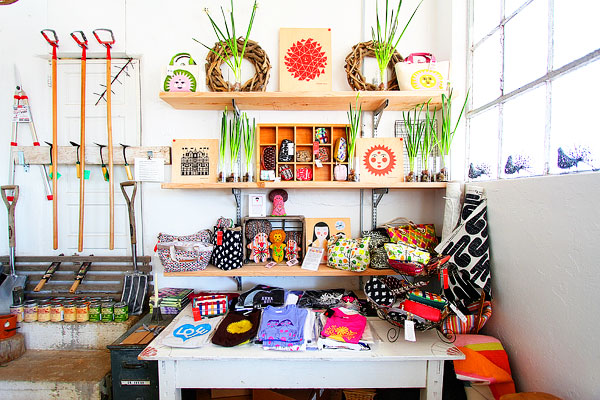 Gardening tools, cute t-shirts and tote bags here.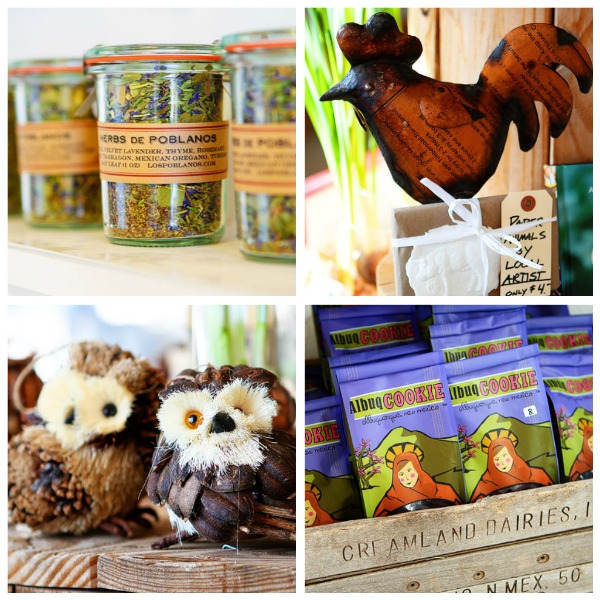 All of the cute little gifts were made from local artists. I about died when I saw these AlbuqCOOKIES! :)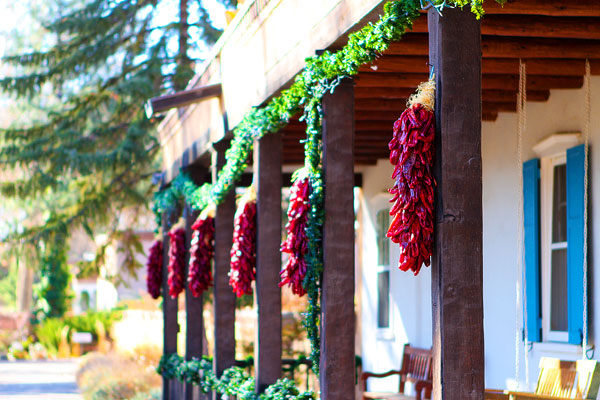 Now back to the ranch. Kev and I both loved these hanging chile peppers, or ristras as we learned they were called. Such a perfectly festive touch to cozy the place right up for the holidays.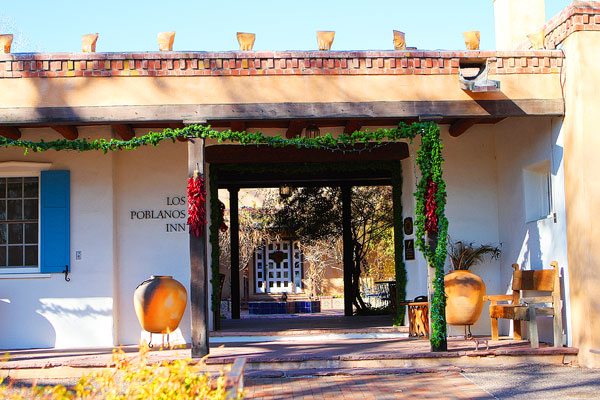 Okay, let's make our way to the room, so you can check out where we actually stayed!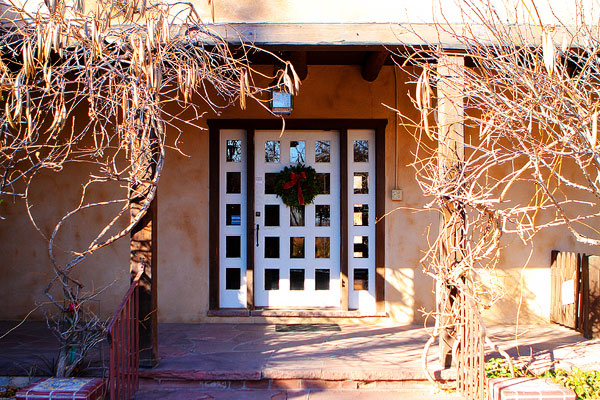 Through the gorgeous doors to the office…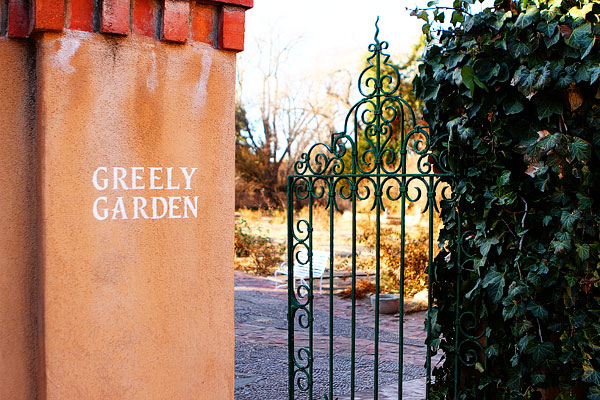 Past the private gate to the garden…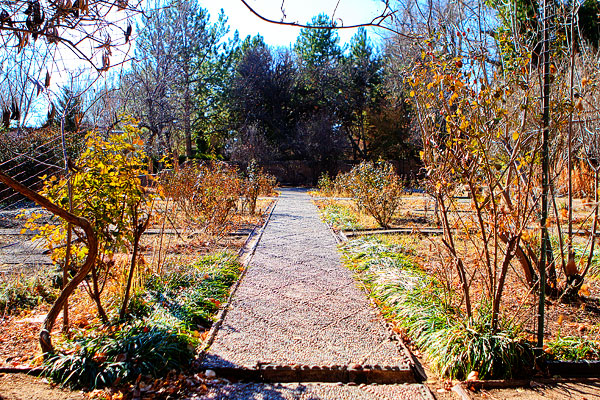 Down the garden path…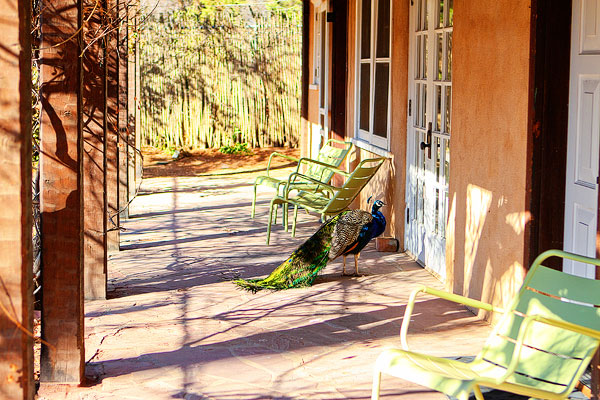 Here's our room! But who do we have here?? Mr. Peacock was just hanging out, right in front of our door!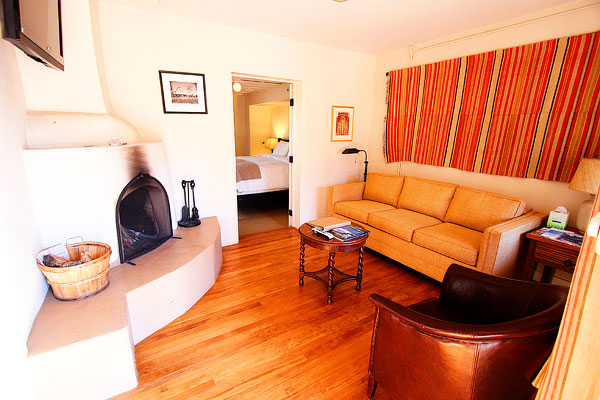 I absolutely loved our room. When you first walk in the door, there was this wonderful seating area with a supremely inviting wood burning kiva fireplace.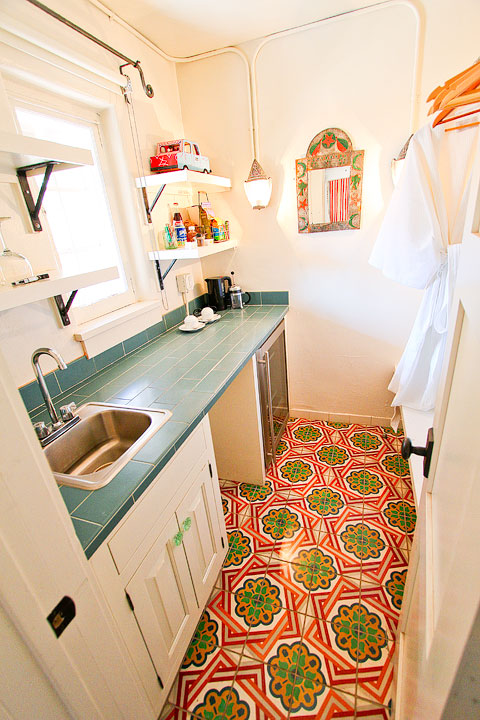 Just to the left was this little kitchenette with a bench, refrigerator, and plenty of hanging space for coats and robes.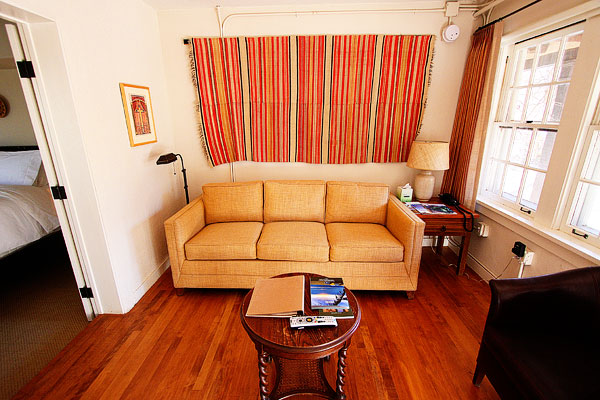 Here's where we'd crash after a day of fun in Albuquerque.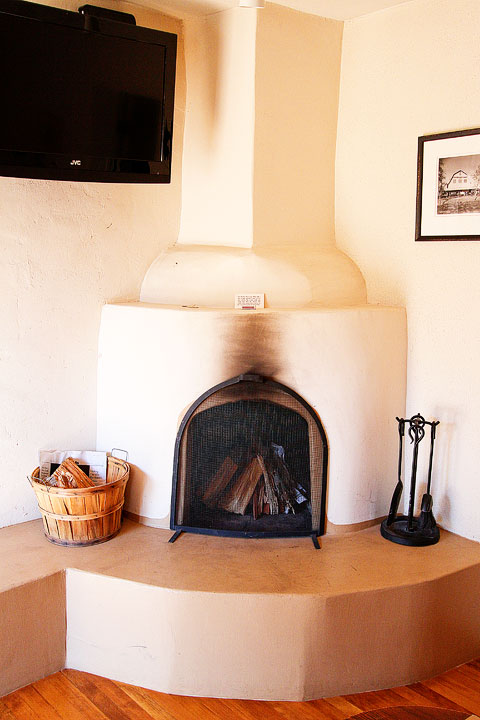 This fireplace. I loved it. When we came back to the room after spending all night outside at the River of Lights, Kev built a fire and I pulled the chair right up to the kiva, propped my feet up on the hearth, and read the second book of The Hunger Games until I was as nice and toasty as a marshmallow. Kevin had to drag me away kicking and screaming.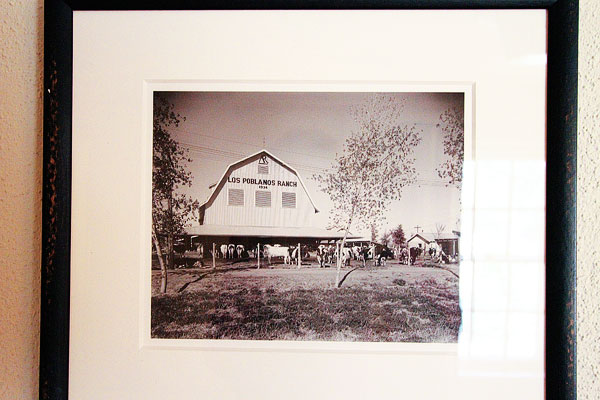 I liked this old photograph of the ranch, hanging right by the fireplace. I wonder how long ago this was taken.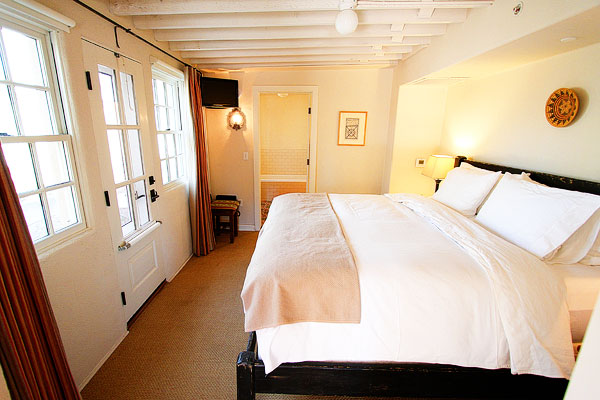 And our room. Oh my gosh, this bed. So luxurious.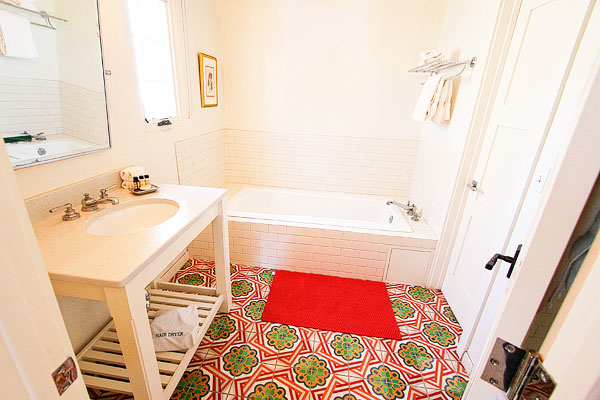 Here's a peek at the bathroom. I loved the funky tile in here! I would so put this in my bathroom at home. In addition to the huge soaking tub, there was also a standing shower behind the door.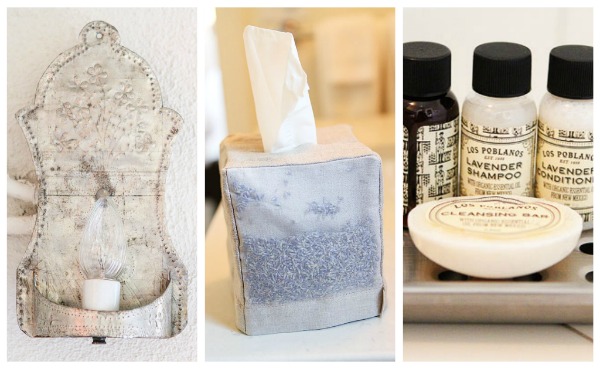 Our room had so many lovely, unique touches from the rustic punched tin sconces to the lavender-filled hemp tissue box covers. I thought these were the neatest things! Not only did they beautify the place up, but they also smelled heavenly. Heavenly. I was so excited to see them available in the farm shop. I brought several home with me for myself and to give as gifts. By the way, can someone tell me why I made sure the lavender shampoo and conditioner were facing the camera, but not the lotion? Doh.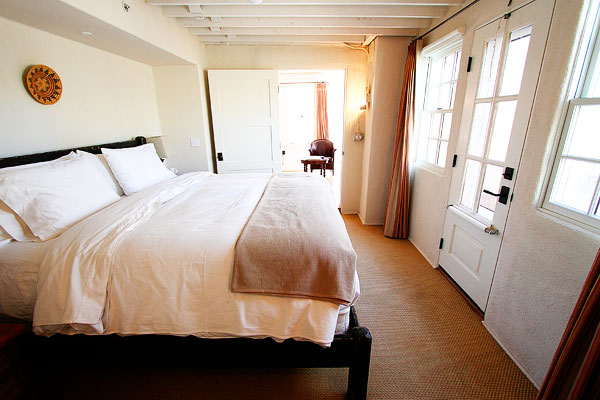 I loved every single minute in our room, it was hard to leave!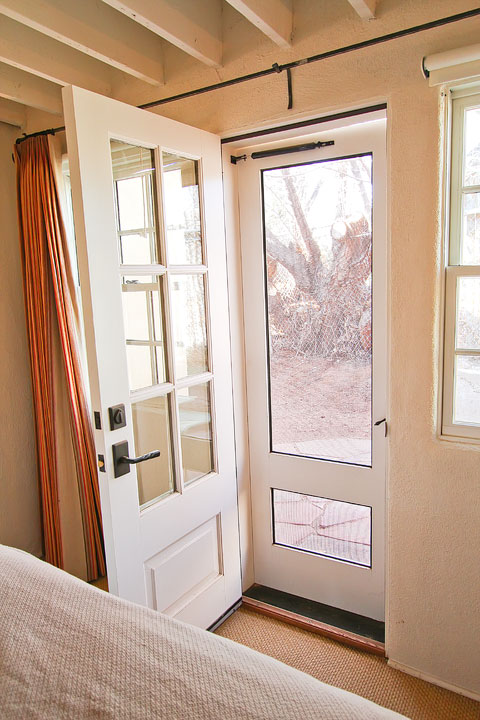 We even had a back door leading to our own private patio with a sweet little table and chairs.
If you need a romantic weekend getaway, this is so it. I would come back here in a heartbeat. I even have the perfect place for you to eat. I was seriously blown away by the fabulous little spot. I'll be back on Wednesday to tell you all about it! See you soon!