My LA posts are coming to a close, but here's one last post highlighting the very best of my trip to LA: What I'll never forget, where I'll definitely go, and where I'll definitely eat again… next time! :)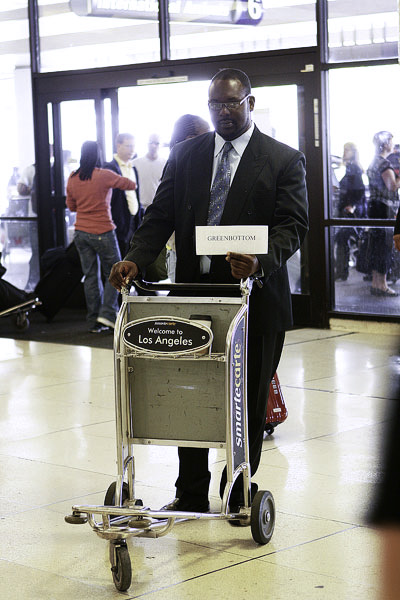 Arriving in style… Being picked up at LAX by a driver, holding my name on a sign!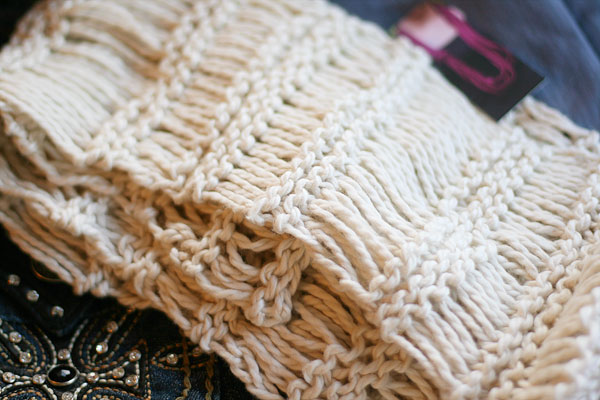 My Sneaky Husband… When I got to the hotel, my guest Jenny and I were chatting about what to do with our afternoon. But I kept getting distracted and glancing over at my open suitcase- there was some kind of tissue paper sticking out that kept catching my eye. I hadn't packed anything with tissue paper? It was right next to the TSA inspection notice.. did they leave something in my bag?? Finally I stopped, mid-conversation, and walked over there. I tugged on the tissue paper and discovered a neatly wrapped present tucked underneath my jeans. It was this scarf. This soft, delicate, hand-knit, organic cotton scarf. Sometime, between 4 am and 5am on Monday morning, between getting ready to leave for the airport and loading my bags in the car, my sweet husband hid this thoughtful gift for me to find in LA. It was perfect for the breezy weather we had that week. You may remember me tweeting about this scarf a few weeks ago… I think I have a sneaky new follower on Twitter! ♥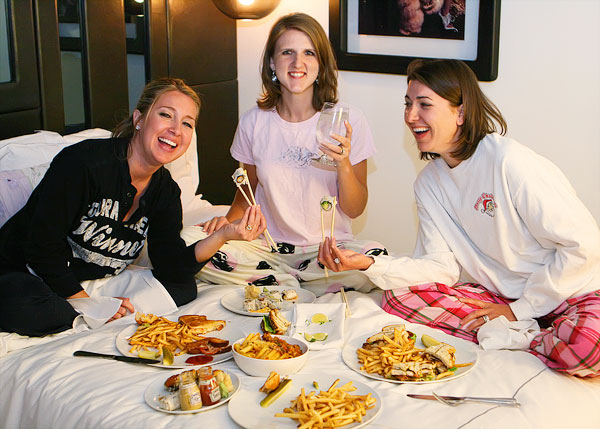 Room Service Pajama Party… THE best pajama party I have ever attended! Hands down! :) Pajama Parties are SO much cooler as an adult- I'm convinced! No drama, just fun & FOOD! ;) And oh, the food… :) I'm totally craving another grilled cheese with tomato & basil right now! ;)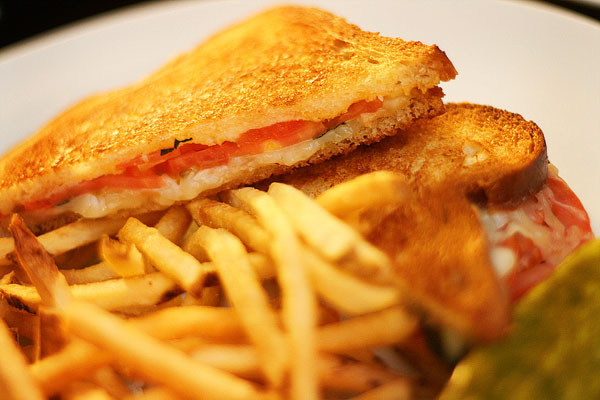 Meeting new friends and fellow bloggers… Not too many people I know in real life blog, so it was really awesome to just be able to spend some time with fellow bloggers – sharing ideas and inspirations, highlights and vents, hearing their stories and learning from their experiences! On Tuesday, after dinner with Rocco DiSpirito, we all met back in my room and swapped memory cards from our cameras- so we could all have a copy of each others pictures! They got so many awesome pictures, views, and angles that I would've never thought to get. Coming home and looking through all their pictures and seeing LA through someone else's lens made me feel like I was there all over again. :)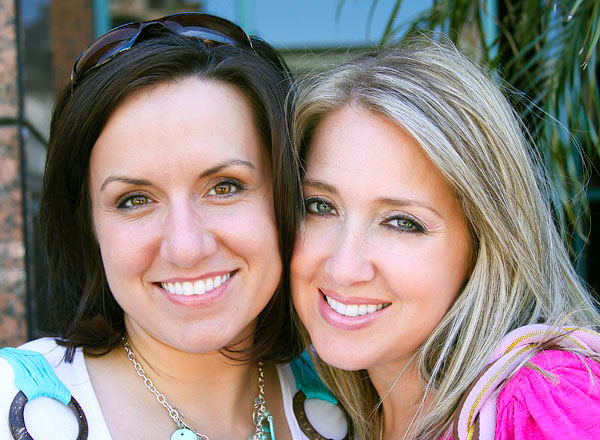 This is Mandy, on the left. She was the winner of Picky Palate's giveaway. I am so honored I got the opportunity to meet her! She got in late Monday night, right as we were wrapping up our pajama party. I had not talked to her at all before the trip, but she came bearing gifts- she brought Jenny and me these adorable matching muffin tin and measuring scoop necklaces! I had seen them on her blog and thought they were the cutest thing ever- what a precious gift.

On Tuesday, she had on the cutest, most stylish outfit- complete with a flower in her hair! :) And she had the COOLEST bracelet I have ever seen- I couldn't get over it! :) I even took a picture! *blush* It came from H&M, a store we don't have where I live, but I knew I'd be going to Atlanta soon- and they had one there. I totally had to get one for myself! :) On Tuesday night, right before bed, there was a soft knock on my door. It was Mandy… with the bracelet!! She wanted me to have hers. I couldn't! …But she insisted. I gave her the biggest hug ever. Thank you, thank you, thank you, Mandy! :) I am totally humbled by your generosity. And I have to be honest- I have hardly taken them off! :) They go with *everything* I own. :)
Oh! And guess what. :) Mandy is a professional opera singer! :) On the way back to the hotel, after dinner with Rocco, and our long day in LA, Mandy serenaded us with the most beautiful Italian aria I've ever heard. We were all completely mesmerized- she has the voice of an absolute angel. Mandy- it was an honor! :)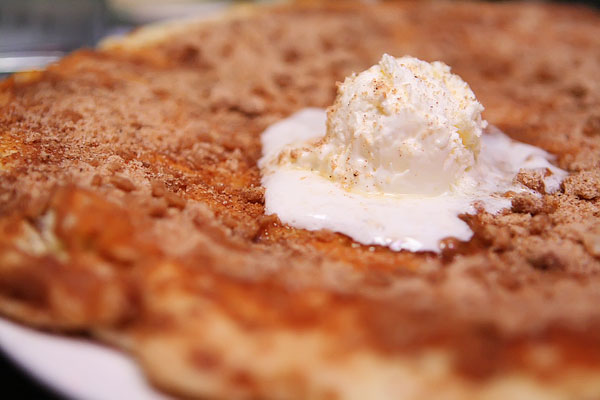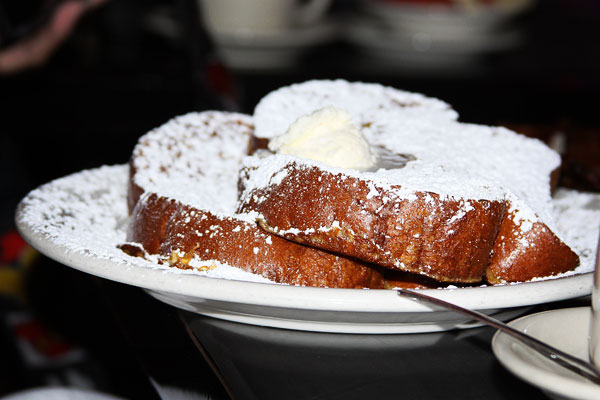 The Best Thing I Ever Ate – Part 1… Breakfast at The Griddle Cafe!! Pictured above are the Recess Time Buttermilk Hotcakes (a huge, indulgent cinnamon streusel topped pancake) and Mom's French Toast. Next time I go back- I am totally ordering both. No doubt. :)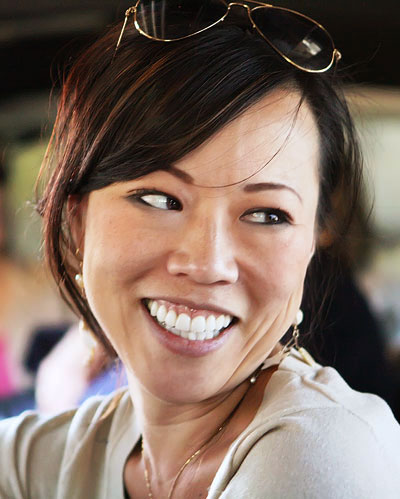 Meeting Sarah… So glad we got to meet Sarah from Tastespotting and The Delicious Life! She helped Bertolli plan our day in LA and it completely rocked. I couldn't have imagined a more perfect day! As we were riding around in the limo, Sarah was pointing out all the other awesome landmarks and points of interest. Jenny and I asked for some suggestions on what to do on our couple extra days out there, and Sarah took the time to plan a complete, 2-day itinerary for us, with several options and suggestions, hitting all the highlights of LA. Best trip to LA ever. Thank you so much, Sarah! :)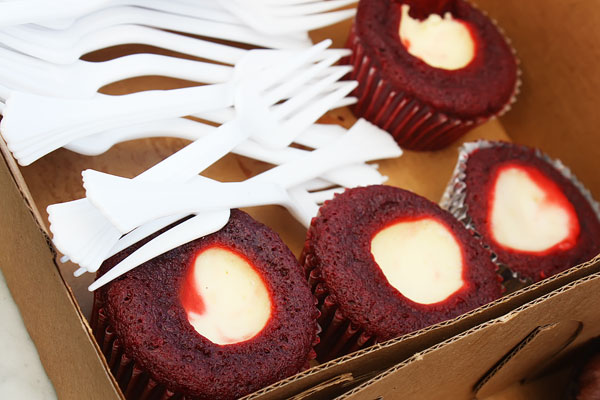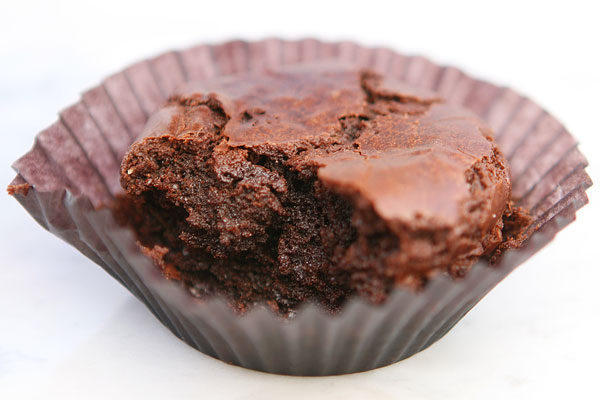 Desserts from the World Fare busTAURANT! The brownie & red velvet cupcakes were incredible! Outta this world. So soft, so chewy, so decadent. Wishing I could ship these in by the truckload!

The Best Thing I Ever Ate – Part 2… And OMG. The Butterscotch Bread Pudding from World Fare. We were all completely shocked by this bread pudding- totally speechless! It was SO good. I have had some good bread pudding in my day, but this. Wow! It was rich, and soft, and melt-in-your-mouth… Incredible!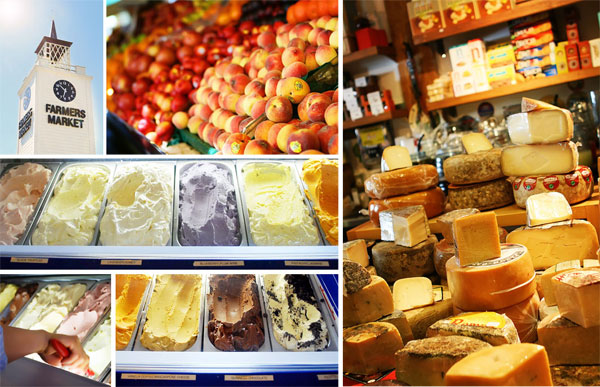 LA Farmers Market, The Cheese Store of Beverly Hills & Scoops! I want to spend an entire day at the Farmers Market and The Cheese Store- with a stop at Scoops in between! I'd have "the best coffee and doughnuts in LA" at the Farmers Market for breakfast, souvenir shop at all the little stores (like the hot sauce store and Three Dog Bakery!), have some Korean BBQ & gumbo for lunch, stop at Scoops for some afternoon ice cream, then spend my entire life savings at the Cheese Store. ;)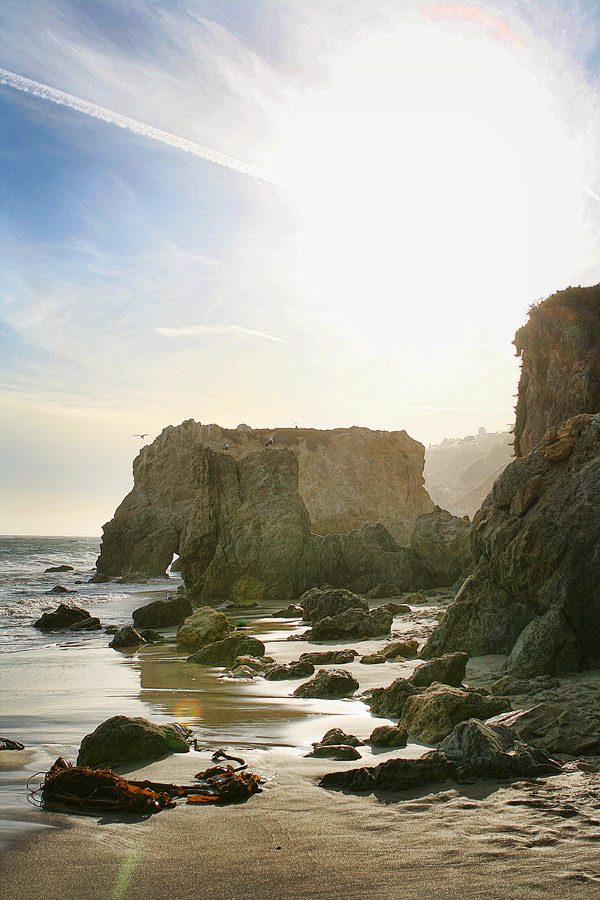 El Matador Beach… Gorgeous. Definitely want to go back here when I have two full batteries and two full memory cards! ;)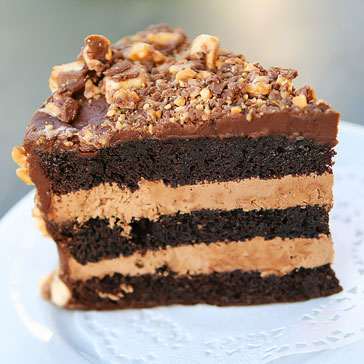 The Best Thing I Ever Ate – Part 3… Snickers Cake from Joan's on Third. I'm still having dreams about this cake. Rich, chocolaty, delicious dreams.
The Best Thing I Ever Ate – Part 4… Peanut Butter & Jelly Shortbread Cookie Bars. I didn't know what good was until I had one of these. And the awesomest (or should I say most dangerous!) part ever? I can make them at home- any time I want! :D Try them. Try them, try them, try them. :D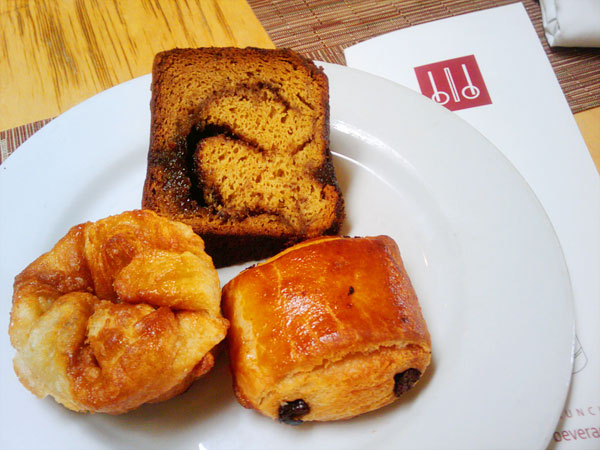 The Best Thing I Ever Ate – Part 5… Kouign Amann from BLD. I'm sorry I didn't get a very good picture of it- it's that delicious little cake in the bottom left-hand corner. I went on Saturday for brunch right before my flight left LA to take me back home. So I just snapped a quick pic with my cell phone. It's a sugary, buttery, caramelized cake with insanely chewy, flaky layers. I wish wish wish I had gotten a picture of the layers for you! But seriously, after I took one bite, I just went to this whole other place…. Oh, the chocolate chip croissant and coffee cake were pretty good too! ;)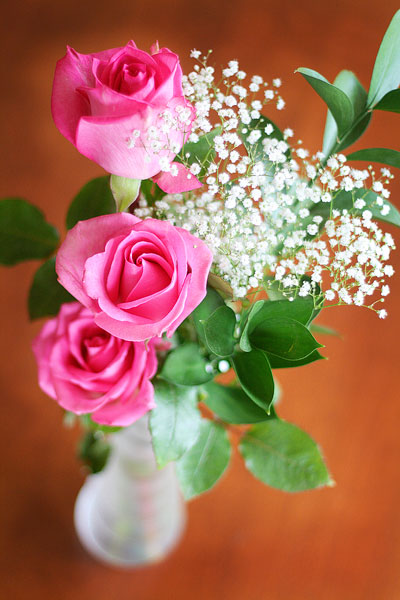 Coming home… :) The plane was so tiny, it didn't even pull up to the tunnel to de-plane. We just used the stairs! Kevin was waiting for me at baggage claim and grabbed my luggage. When I got home, these were on my desk. :)
You.. Keeping in touch via Twitter and Facebook, and reading your comments, feedback, and suggestions while I was away was definitely my favorite highlight of LA. If it weren't for you guys I wouldn't never been given this opportunity. I owe you just as much gratitude and thanks as I do Bertolli. Thank you, thank you, thank you.
Next time I'll just have to insist that you all come with me. ;)
Thanks so much for looking! :)