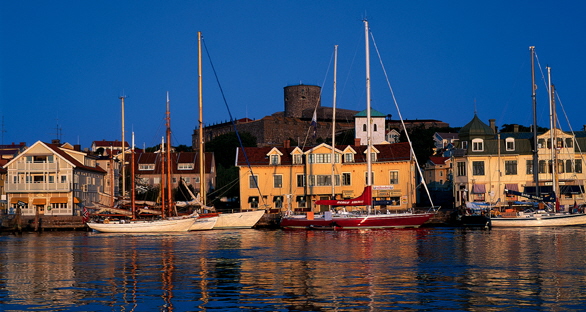 This is crazy you guys. Today I am on a plane headed for Sweden! Yes, Sweden! I never in a million years dreamed I would ever get to go here, but I am beyond thrilled and can't wait to see what's in store. I got the news just days after returning from Italy, and my jaw nearly dropped to the floor, but I was so excited I thought I would burst. Okay, so get this. Evidently there's this program where  if you buy a Volvo through their Overseas Delivery Program, they will send you on a free trip to Sweden. Yeah. Really. They will provide you with two complimentary roundtrip tickets with Scandinavian Airlines System (SAS) and one free hotel night in Gothenburg, Sweden, where the Volvo factory and museum is located. You can then pick up your new car from the Volvo factory and head out on a road trip through Sweden! When you're done, they'll ship your car back home to you for free. How awesome is that? And you can actually save up to 8% off the U.S. MSRP when purchasing a Volvo through this program.
Volvo, SAS, and the West Sweden Tourism Board invited me to come experience the program so I could tell you guys more about it when I get back. No, I don't think I get to keep the Volvo, drats! :) Unfortunately Kevin had to work for this trip, but I am taking my dad along with me. He loves to drive, and I get my love of travel and adventure from him. Some of my favorite childhood memories are our summer road trips though the US. He loves planning road trips and I'm so excited to go on this adventure with him. I can't wait to pick out our Volvo, and they've got so many fun things planned for us in Sweden — From a crab and mackerel safari in the tiny, tucked away fishing village of Fjällbacka, to shopping with our own personal fashion expert and stylist in Malmö, Sweden's third largest city! We'll be with the Volvo program through Wednesday of next week, but we're staying in Europe through the weekend and spending a few days in Berlin. I am so excited. I've been wanting to go to Germany for awhile now. We both love WWII history.
Check out CarPlusVacation.com to learn more about the Volvo Overseas Delivery Program, and use their interactive trip planner to discover just how much fun and beauty West Sweden has to offer. You can pick out your car, choose your activities, and submit your itinerary to their Roadtrip of a Lifetime sweepstakes to be entered to win the roadtrip you just planned! How fun would that be?? :)
I've got a few posts scheduled for when I'll be gone, but follow me on Facebook, Twitter, and Instagram to keep in touch while I'm in Sweden. I'll be sharing lots of photos! :) If you're not on Instagram yet, go get on it! :) My username is kevinandamanda. I love sharing photos and keeping in touch on Instagram. Send me a message once you're there so I can check out your photos too!! :)
Thanks so much for reading, guys. Ya'll are the best. Talk soon!!