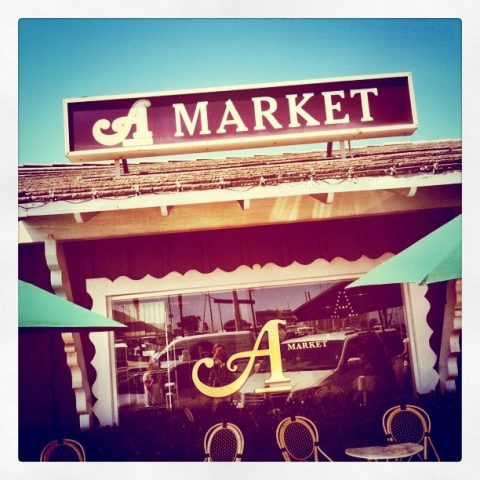 Hey guys! Yesterday I shared some photos of all the treats Jenny and I managed to find during our quick weekend in San Diego. On Sunday we left sunny San Diego and continued our informal SoCal bakery tour up the coast to Orange County and Newport Beach. Newport Beach is lucky enough to have Jenny as a full-time resident, and she knew all the places we should hit. Our first stop was her new fav, A Market.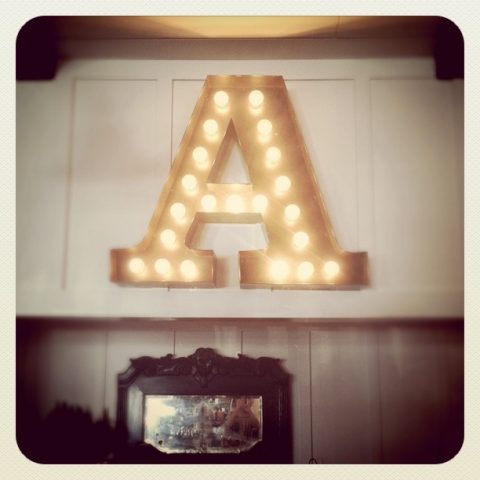 By the way, sorry for the Instagram overload these past two posts. It's an addicting new toy and I can't stop playing with it! I personally love the photos, but I love the big camera photos too. Thank you for indulging me.  I promise I'll be taking my big camera back to California soon and it might even need a passport later this month. But more on that later!
We got some delicious cookies here, including a giant homemade Oreo. My favorite was the peanut butter cookie, so yum!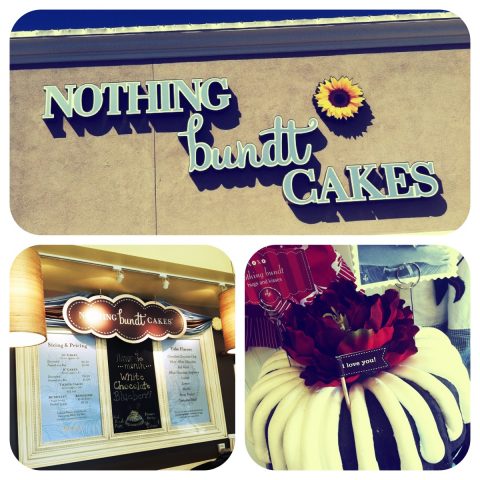 Okay, this was the cutest little place. As the name suggests, they have mini, personal-sized bundt cakes in a variety of flavors, all with a cream cheese based frosting. You guys know I'm more of a buttercream frosting fan, but the red velvet cake we had here was out of the world, I've never tasted a red velvet cake as yummy as this one.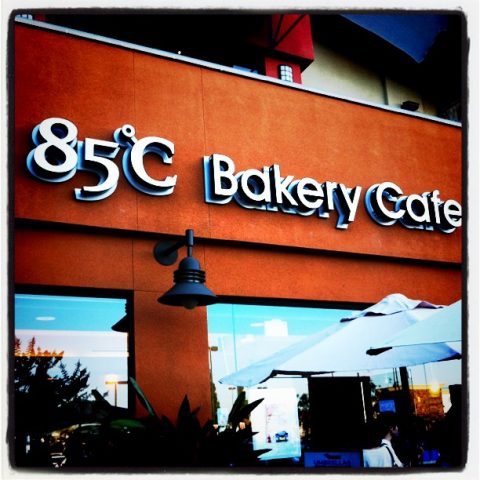 Now. Jenny and I have been to a lot of bakeries, but I can honestly say that 85°C was a first.

Click me!
Check out the insane line for this place, I've never been to a bakery with a bouncer at the door!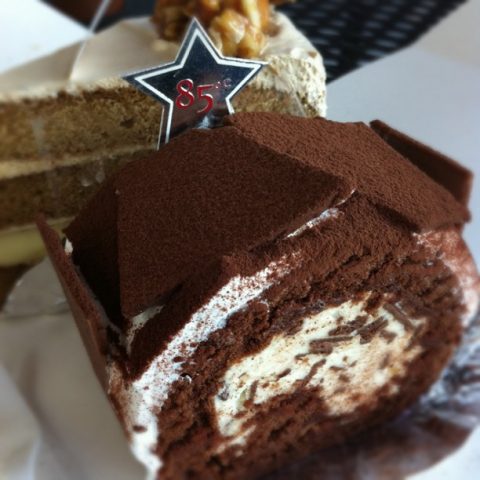 When we finally made it inside, we loaded up our tray with tons of goodies like this swiss roll and coffee creme brulee cake.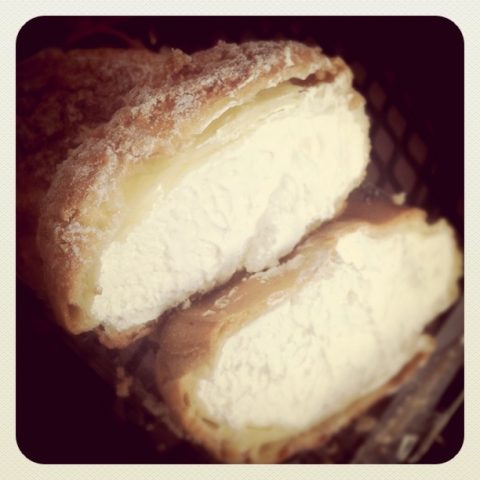 And this massive cream puff! We also got a few savory things, and if I went back, I'd definitely go for the savory. Not sure the sweets we tried were worth the wait, but just their plain, giant slice of toast was life changing. This place is definitely a carb-lovers dream come true!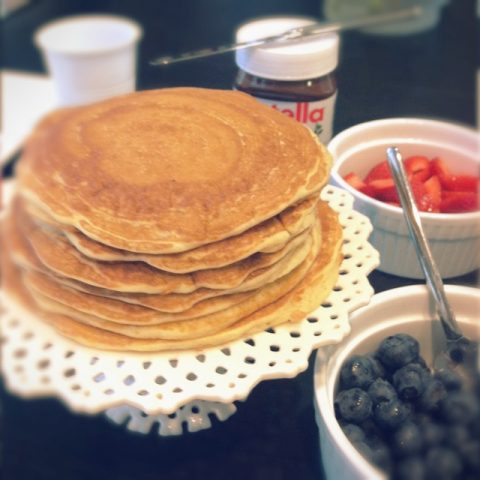 On Monday morning Jenny treated me to a huge stack of her fabulously fluffy buttermilk pancakes with Nutella and homemade buttermilk syrup. Both of these recipes will be in her new cookbook which hits to stores next year, and I seriously cannot wait to get it in my hands.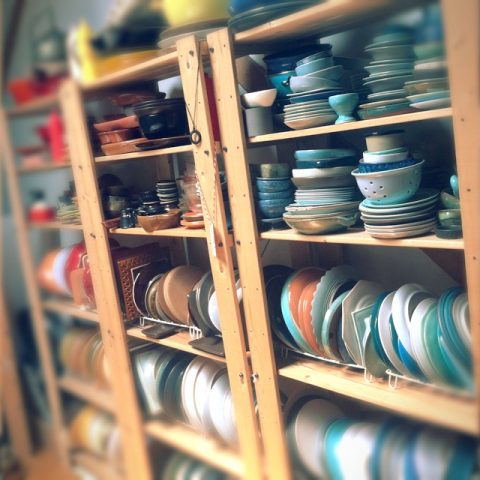 Speaking of Jenny's cookbook, after breakfast we popped by Matt Armendariz's studio in Long Beach — they're shooting Jenny's cookbook this week — for a quick peek behind the scenes of her cookbook shoot. I even got to sample a few of the recipes they were photographing that day. Did I mention how much I cannot wait for this book to come out? Loved their gorgeous, organized prop room!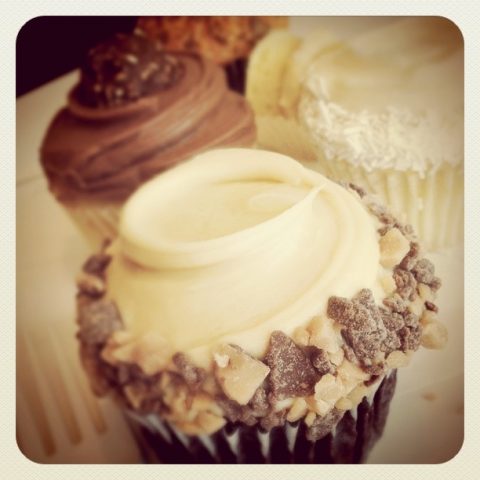 After the shoot we stopped by Frosted Cupcakery in Long Beach. We're never sure what to expect, but all I can say is wow! We loved every single one of these cupcakes. That does not happen often! Up front is the salted caramel toffee cupcake and it blew me away. Way in the back was a chocolate cupcake with peanut butter frosting topped with crushed Butterfingers. Knocked my socks off. We also ordered two vanilla cupcakes — one with Nutella frosting and the other with vanilla buttercream — the vanilla bean cake for these two cupcakes might be my favorite ever.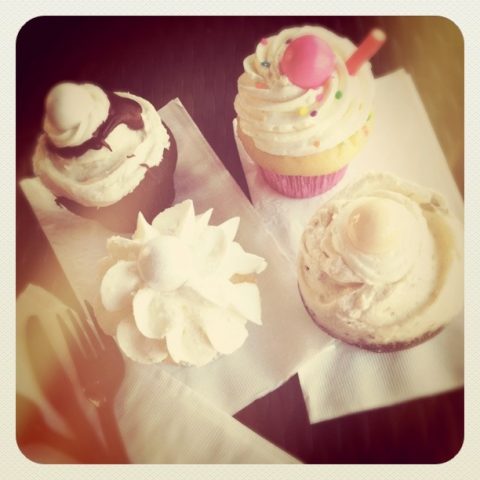 We had one more cupcake stop for the day, The Cupcake Store in Mission Viejo. Last November Jenny and I met up at Downtown Disney and they had a cupcake kiosk set up. Here are the photos from our day there. The funfetti cupcake was seriously one of my favorite cupcakes ever. I was so excited to go to the bakery in Mission Viejo and sample more from them.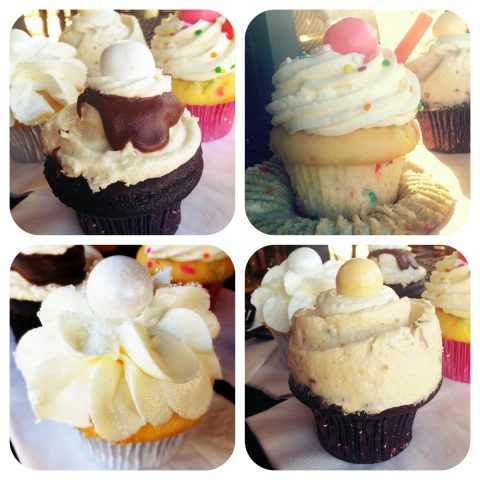 Here we have Night and Day, Celebration (funfetti), Vanilla Bean, and Peanut Butter. These cupcakes definitely rank up there in my top favorites. Loved this cute shop.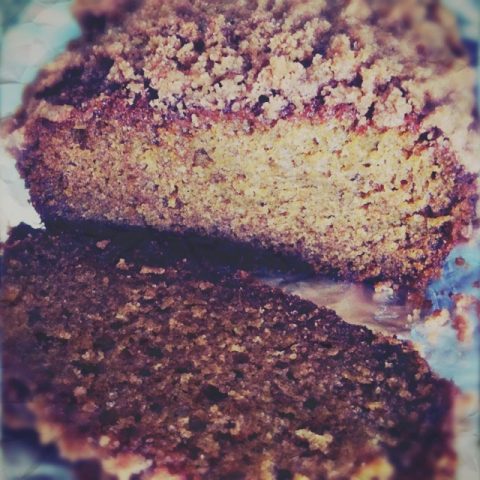 On my last day in California I woke up at Jenny's to the smell of her cinnamon streusel topped pumpkin bread baking in the oven.
Let me just linger on that for a moment.
I woke up to the smell of cinnamon streusel topped pumpkin bread baking in the oven.
Oh my word. Talk about the most incredible aroma ever. The most delicious bread ever. The most life altering experience in my pitiful carb-loving existence. I was rendered speechless and left with nothing but moans and groans upon inhaling this slice of pure ecstasy.
Sorry. But it's true.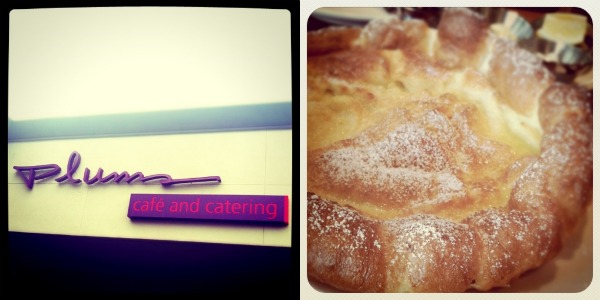 And yet somehow we still had room for brunch before I left for Alabama. Can you see what I loved about Plums Cafe? The font, of course! We split the Santa Fe eggs benedict and this massive dutch-baby pancake. My favorite was the savory again, the chipotle cilantro hollandaise sauce on the eggs benedict was fabulous! I need this in my life. I guess I am used to my southern upbringing and savory breakfasts, every morning my mom fixed eggs, grits, toast and bacon before school.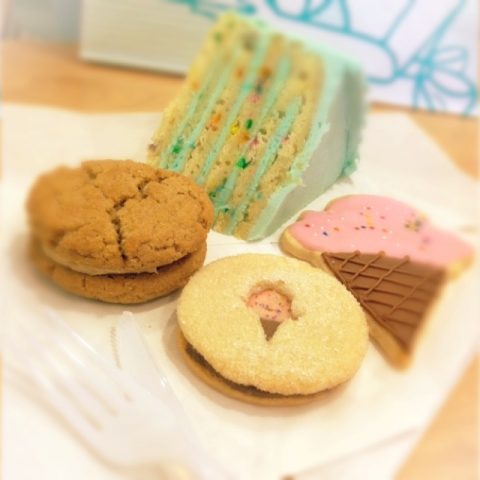 We had time for one last quick bakery stop before I had to head back to Alabama. They had to pry me out of California kicking and screaming. Susie Cakes was absolutely adorable. There were too many fun treats, I wanted to try them all. The peanut butter cookie sandwich with peanut butter buttercream frosting was divine. The funfetti cake was heaven. The ice cream cone shaped frosted sugar cookie was perfection. And the sugar cookie up front with the little ice cream cone cut out — the pink frosting was strawberry flavored and the other was chocolate — was glorious.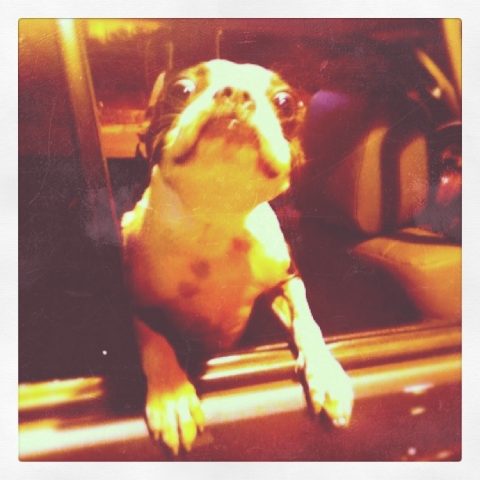 This sweet, crazy face was waiting for me at the airport when I landed back home. I missed this little munchkin.
Here's a list of all the places we visited in the Orange County area:
A Market
3334 West Coast Highway
Newport Beach, CA 92663
Nothing Bundt Cakes
270 E. 17th Street #4
Costa Mesa, California 92627
85°C Bakery Cafe
2700 Alton Parkway, Suite # 123
Irvine, CA, 92606
Frosted Cupcakery
4817 E. 2nd Street
Long Beach, CA 90803
The Cupcake Store
24002 Via Fabricante, Suite 401
Mission Viejo, CA 92691
Plums Cafe
369 East 17th Street
Costa Mesa, CA 92627
Susie Cakes
2043 Westcliff Drive #104
Newport Beach, CA 92660