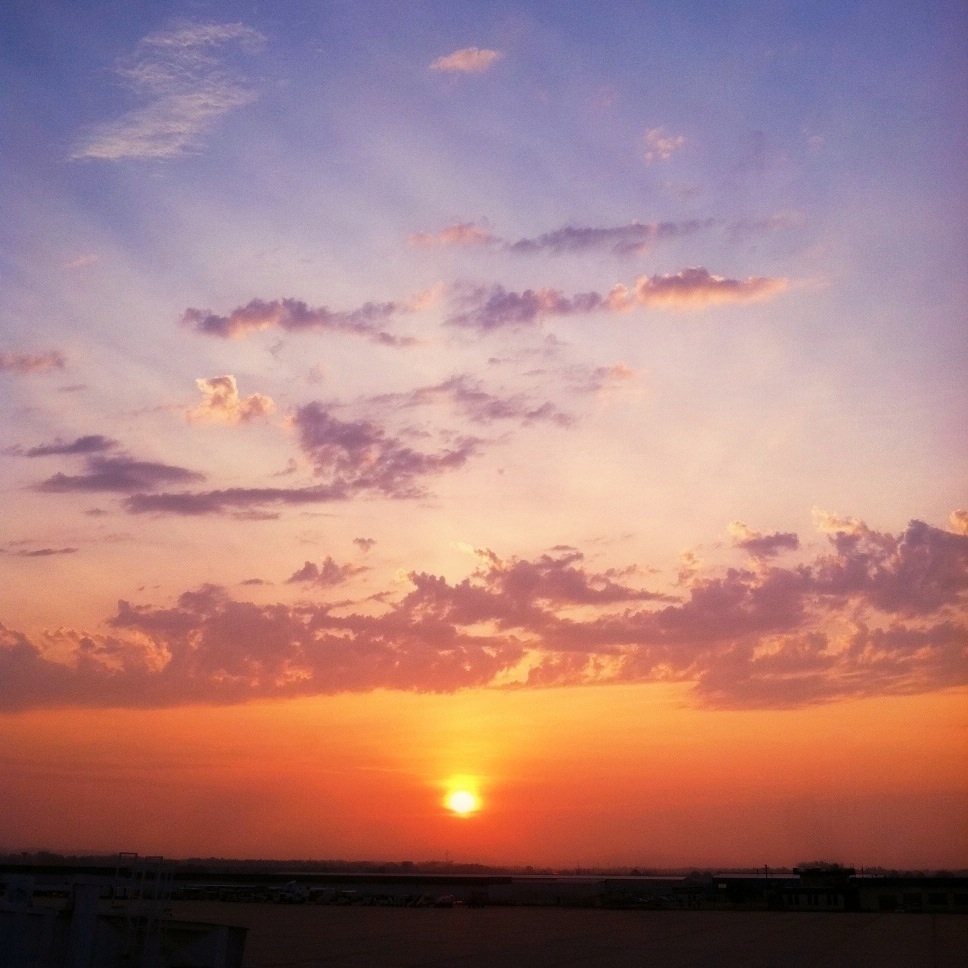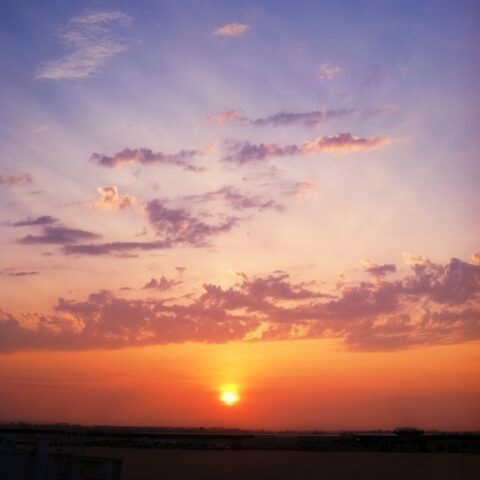 Last Friday I met up with my sweet blogging buddy Jenny for a weekend of sweets in southern California. We hit up bakeries from San Diego to Orange County, ate more cupcakes than I can count, and over the course of five days we somehow managed talk ourselves into two trips to the spa for massages. My flight left early Friday morning and by the time I boarded the plane, the sun was just starting to rise over Alabama. California, here I come!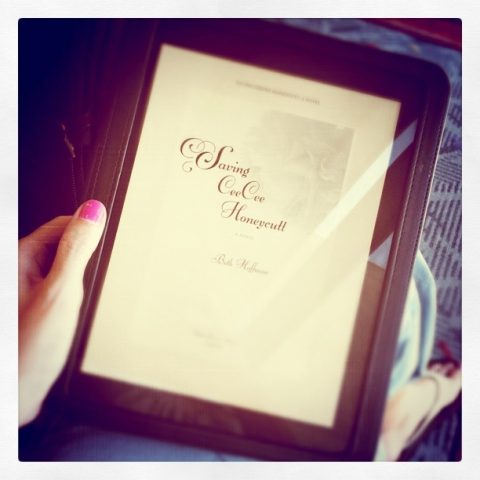 I always pick up a new book for the plane, and this trip I started Saving CeeCee Honeycutt. A friend recommended it to me as a cute read since she knew I loved The Help. However, no one warned me that I would be bawling my eyes out through the first five chapters. I was a mess during my layover at the Denver airport!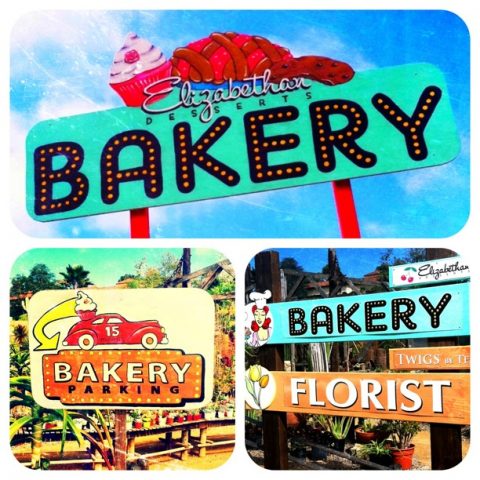 When I landed in California, Jenny picked me up at the Orange County airport and we drove down to San Diego together. Before we even made it to the hotel we knew we had to stop at Elizabethan Bakery for their fabulous mini cupcakes. How cute is this little bakery? It's nestled right in the middle of a beautiful garden and nursery.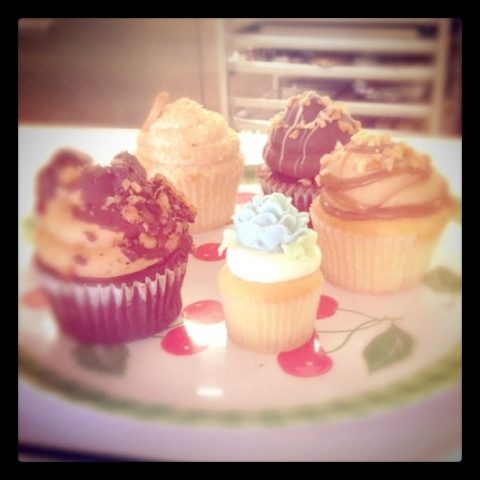 Jenny and I visited Elizabethan back in January and I posted tons of photos from our visit here. They are worth a quick peek if you missed them the first time around. Elizabethan definitely ranks up there with our favorite cupcake bakeries. The cupcakes are adorable, they have tons of amazing flavors available every day, and they have mini versions so you can try them all without the guilt. I for sure had to get another churro cupcake and coffee toffee cupcake on our second visit.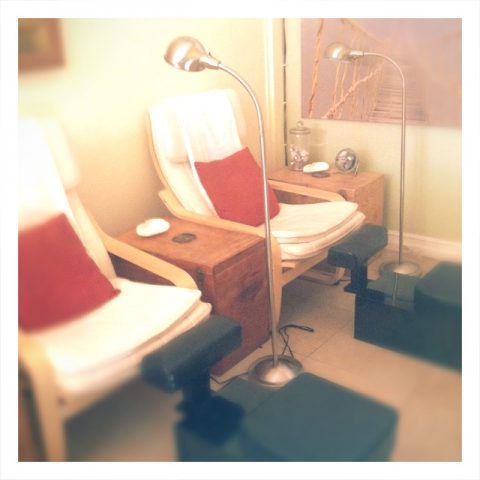 After cupcakes we popped into this little spa right by our hotel and treated ourselves to a massage to kick start our weekend in San Diego. I got a fabulous neck and shoulder massage that completely worked out all the kinks I'd accumulated on the plane. Let the vacation begin!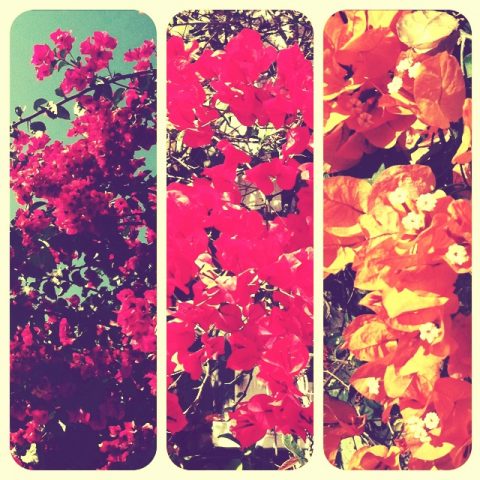 Saturday morning Jenny and I went for brunch at The Mission in San Diego. This was a cute little breakfast spot — they've got several locations around San Diego. These flowers outside were so bright and colorful I had to snap a quick photo.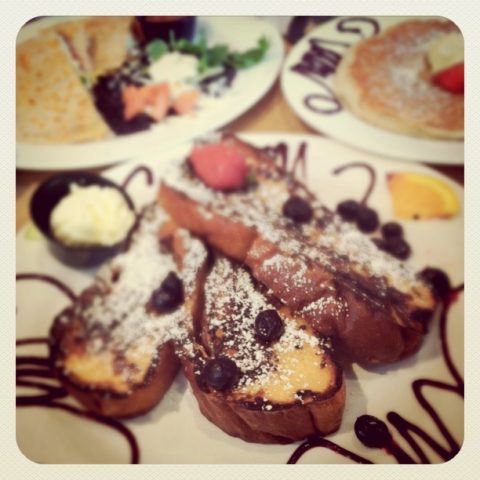 I love vacationing with Jenny because we like the same food — and she always lets me split everything! We ordered the french toast and breakfast quesadilla for a little sweet and a little salty.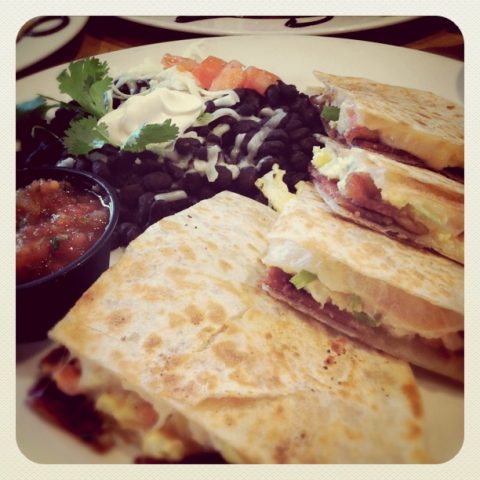 Photo via Jenny
Believe it or not the breakfast quesadilla was my favorite, it was incredible. Yum.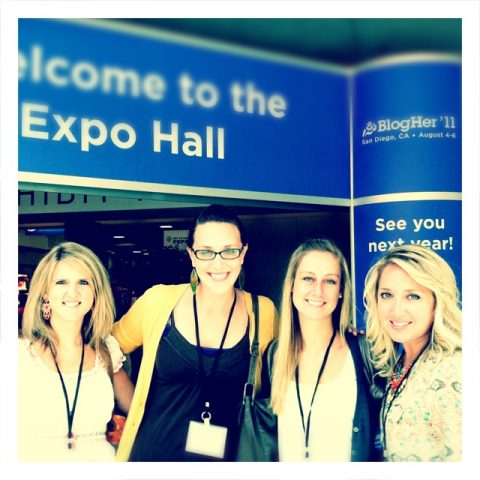 After breakfast we popped over to the BlogHer Expo and ran into our pal Amy and her friend Hailey. It was great to catch up with these two.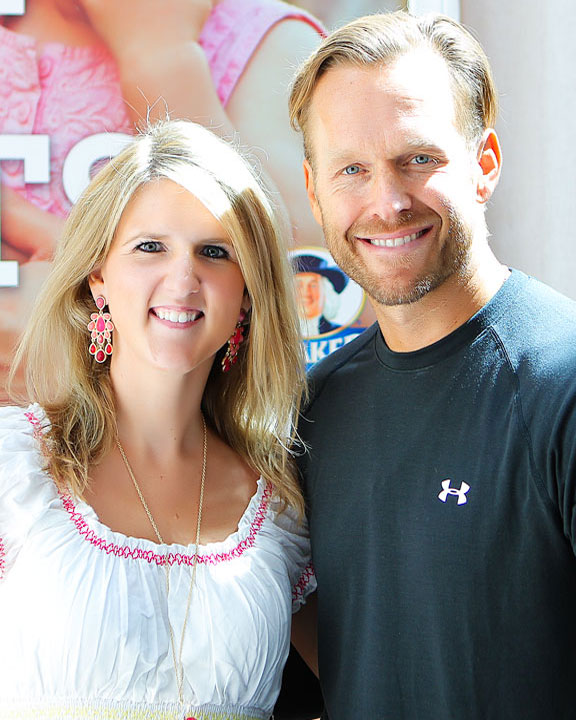 Guess who else was there… Jenny and I nearly fainted when we saw Bob Harper from The Biggest Loser hanging out at the Quaker Oats booth. We are huge fans and had to stop and say hi.
My hair is wild and unmanageable here, and that's what I get for not flat-ironing it that morning.
I love the BlogHer Expo. If there is ever a BlogHer conference in a city near you, the expo is definitely worth checking out. I call it trick-or-treating for adults. It's set up in a huge ballroom with booths from every brand imaginable. You can wander around from booth to booth and each booth hands you a reusable grocery bag full of products and samples. Go hungry because there are lots of treats!
As we were making our way through the expo, I — not surprisingly — made a huge fool of myself. I quickly glanced up and saw a sign that said Brawny, so I started rambling on to the gal in the booth about Brawny. When she asked if I was looking for the Brawny booth and I got a blank look on my face she said, "Oh! This is the GLMPS booth. Brawny is over there."
Doh.
But I am so glad we stumbled into this tucked away booth because I am not sure we would have seen it otherwise. GLMPS is a new iPhone camera app and Jenny and I seriously had way too much fun with this app over the weekend. When you snap a photo with GLMPS, it automatically captures the moment right before you snapped the photo, giving you a peek at what happened in the few seconds before you took the photo. From there you can easily share to Twiter, Facebook, or email. Click the image above to see our first photo, and a peek at what happens right before Jenny and I snap a photo together. The first one is kind of dorky, we had no idea what we were doing yet! Don't worry. We get better. There is also sound in the "glimpse".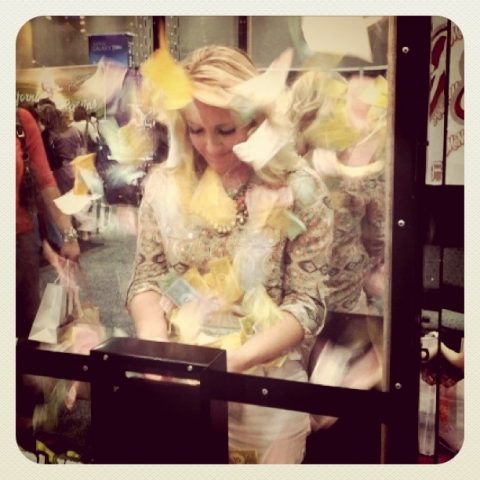 The RetailMeNot booth was another fun stop. Retail Me Not — in case you haven't been there yet — is a site with coupon codes for online stores. I always pop over there before buying anything online. They had a small booth with Monopoly money flying through the air. You could step in the booth and attempt to stuff as much money into the tiny slot as possible in 15 seconds. The money had stamps on the back that corresponded to cash amounts and prizes. Whatever made it into the slot, you won! I won $16 and Jenny won over $20. We splurged on valet parking that day.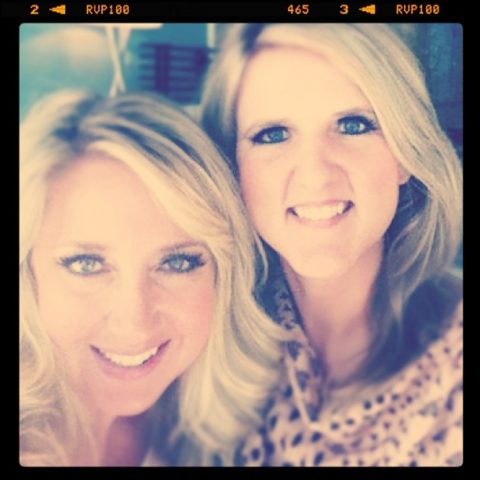 The Skinny Cow booth was offering false eyelashes, and I couldn't resist trying them. They were fun, but oh my gosh they were extreme! Check out these loooong lashes, they felt ten miles long on my lids.
Here's our second GLMPS photo before heading out to dinner Saturday night. We're getting better! Oh dear, I can see myself doing this way too often.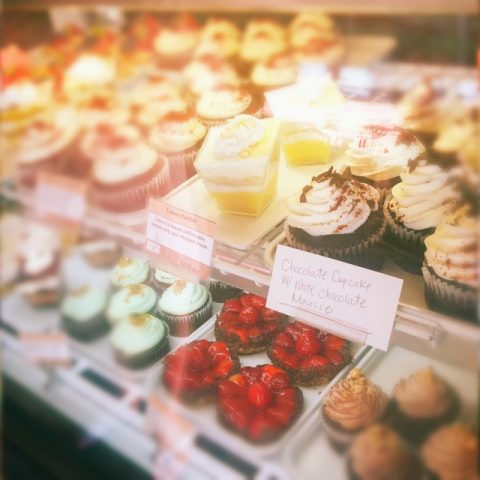 For dessert I took Jenny to Heaven Sent Desserts. I went with Lori back in January and it was absolutely resplendent. I posted some photos from our visit here. We grabbed a few treats to take back to our room for a PJ party later.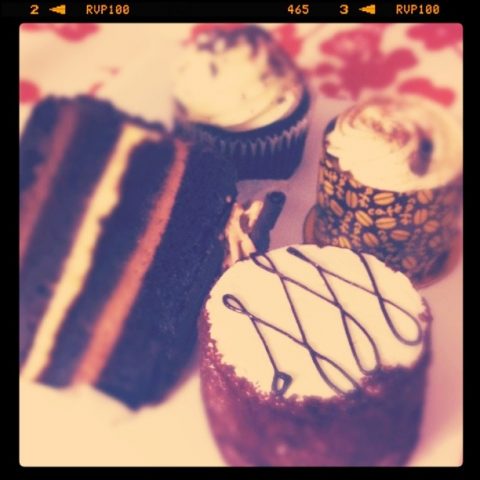 Here's what we ended up with: Chocolate Trinity Cake, Irish Angel (a chocolate cake with layers of Bailey's Irish Cream creme brulee), tiramisu cupcake, and a chocolate cupcake with white chocolate mousse frosting.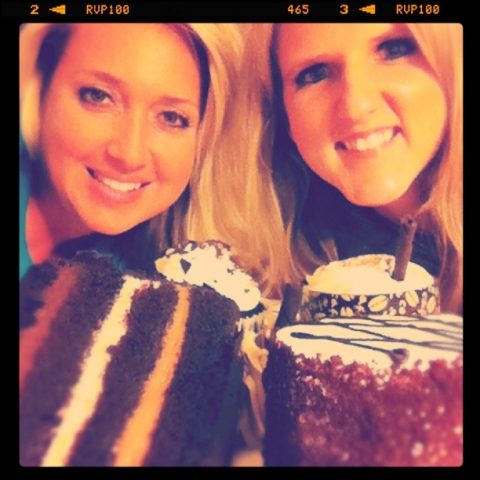 I can easily say that the chocolate trinity cake is probably the most incredible cake we've ever had. All I can say is wow. Loved every single bite.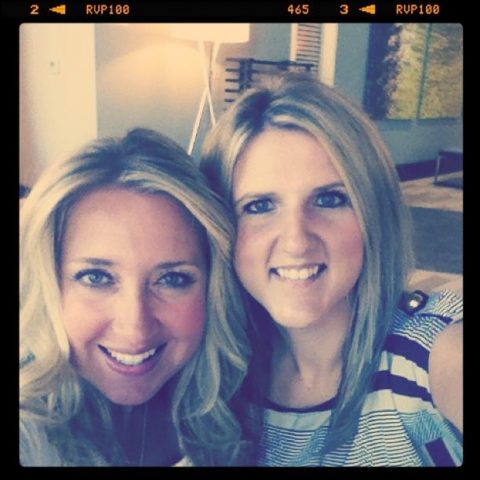 On Sunday I learned my lesson. I flat-ironed my hair.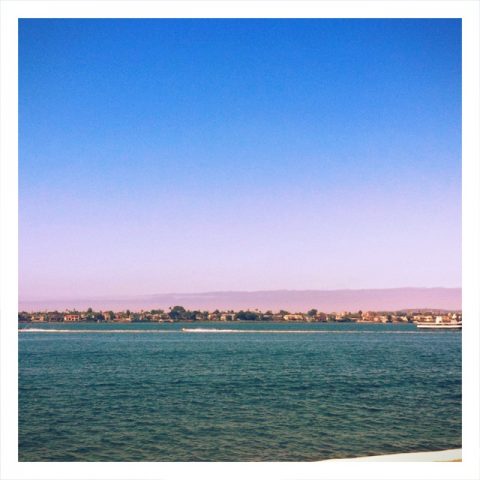 We had a quick breakfast on the water at Seaport Village before checking out the new cupcake shop there.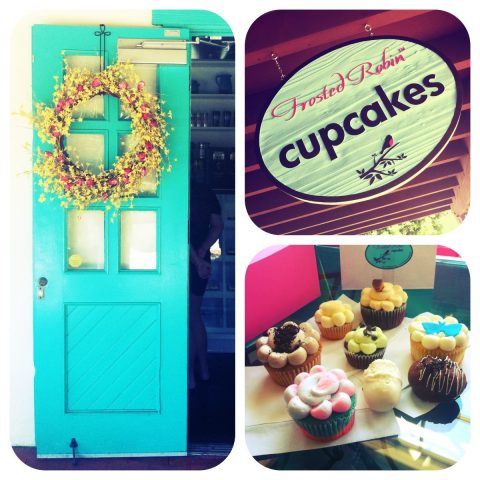 This place was so cute, and their cupcakes were adorable.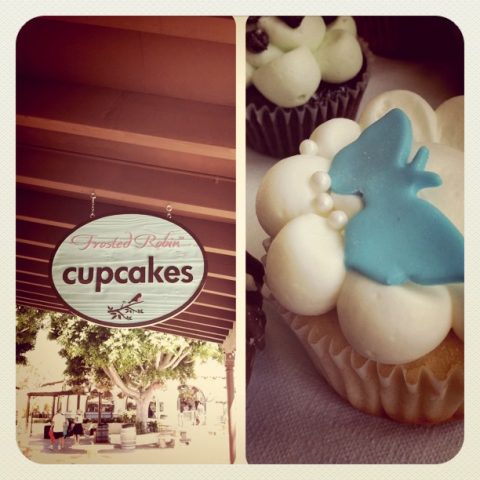 Photo via Jenny
After a beautiful weekend in San Diego, we were on our way back to the OC so Jenny could show me around all her favorite bakeries in Newport Beach. I'll be back tomorrow with all the treats we found there!
I'll leave you with this quick "glimpse" of our last moment in San Diego.
Oh! And here's a list of all the places we visited that are mentioned in this post. Have a great Thursday!
Elizabethan Bakery
155 Quail Gardens Drive
Encinitas, CA 92024
The Mission
1250 J St
San Diego, CA 92101
Heaven Sent Desserts
3001 University Ave
San Diego, CA 92104
Frosted Robin Cupcakes
859 W Harbor Dr # B
San Diego, CA 92101