Planning a trip to Prague? When you're on vacation and visiting a new city for the first time, you want to make sure every meal is amazing! If you're looking for the best Prague restaurants, here's where to find the best traditional Czech food (and more!) in Prague!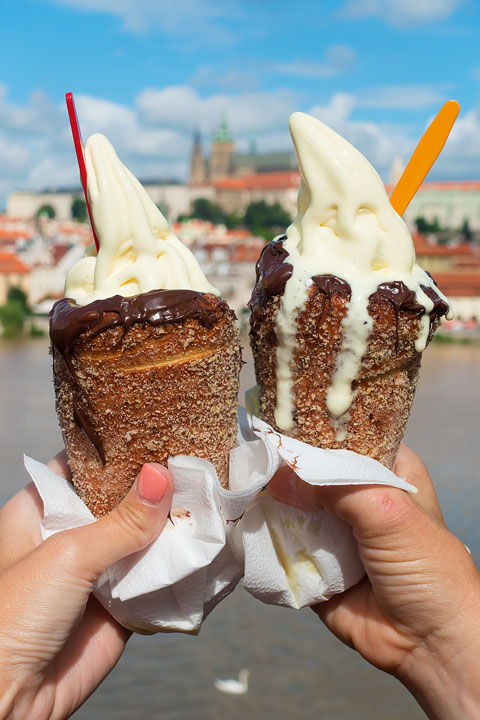 In additional to amazing architecture, colorful streets, breathtaking sunsets, and a fairytale castle on a hill, Prague also has incredible food. Here are the best Prague restaurants for breakfast, lunch, dinner, and of course, dessert!
---
Breakfast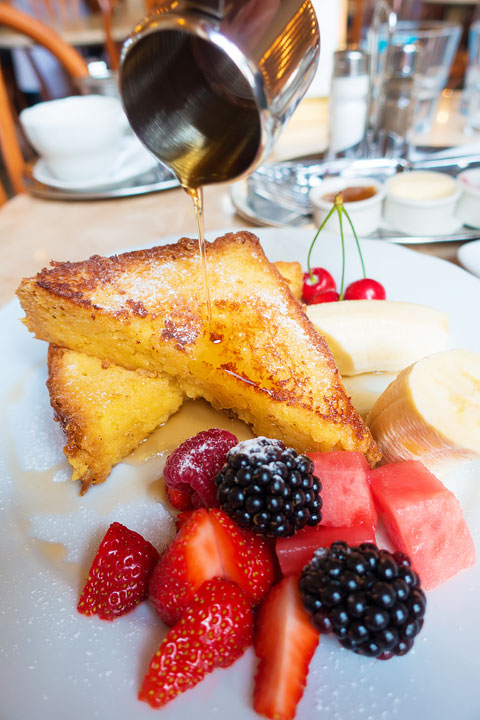 Our favorite breakfast in Prague was hands down at Cafe Savoy. The French Toast was amazing!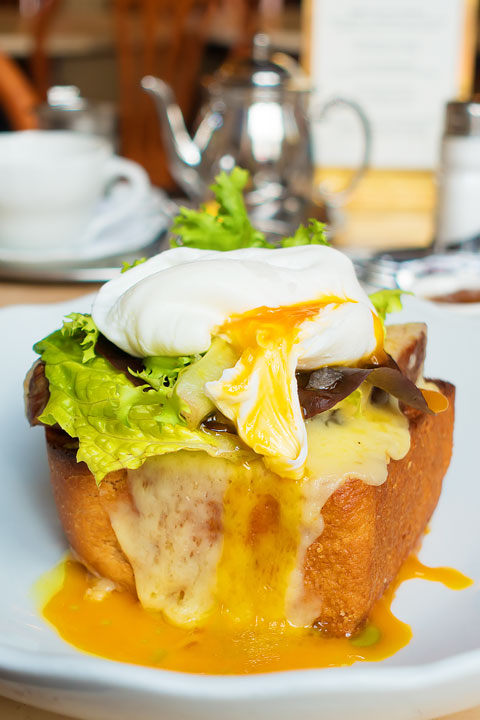 So was this giant slice of brioche with baked ham, Gruyère cheese, and a poached egg.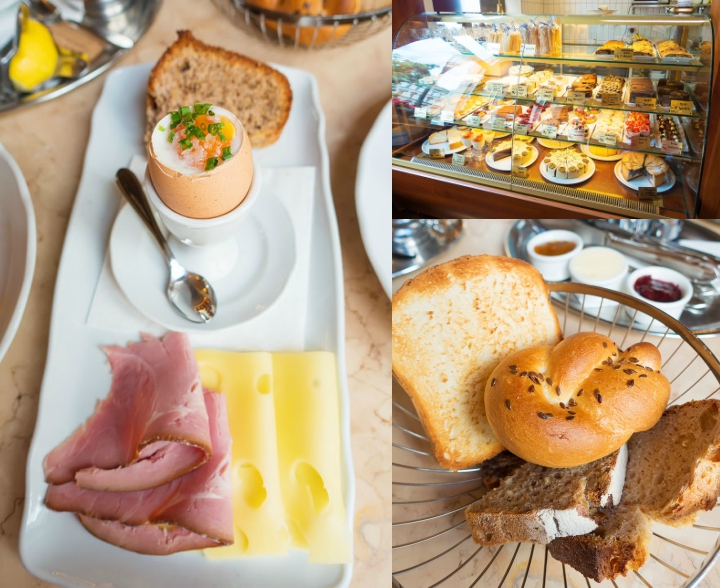 Cafe Savoy has a bakery on-site making fresh bread and pastries daily. I highly recommend breakfast at Cafe Savoy one morning!
---
Lunch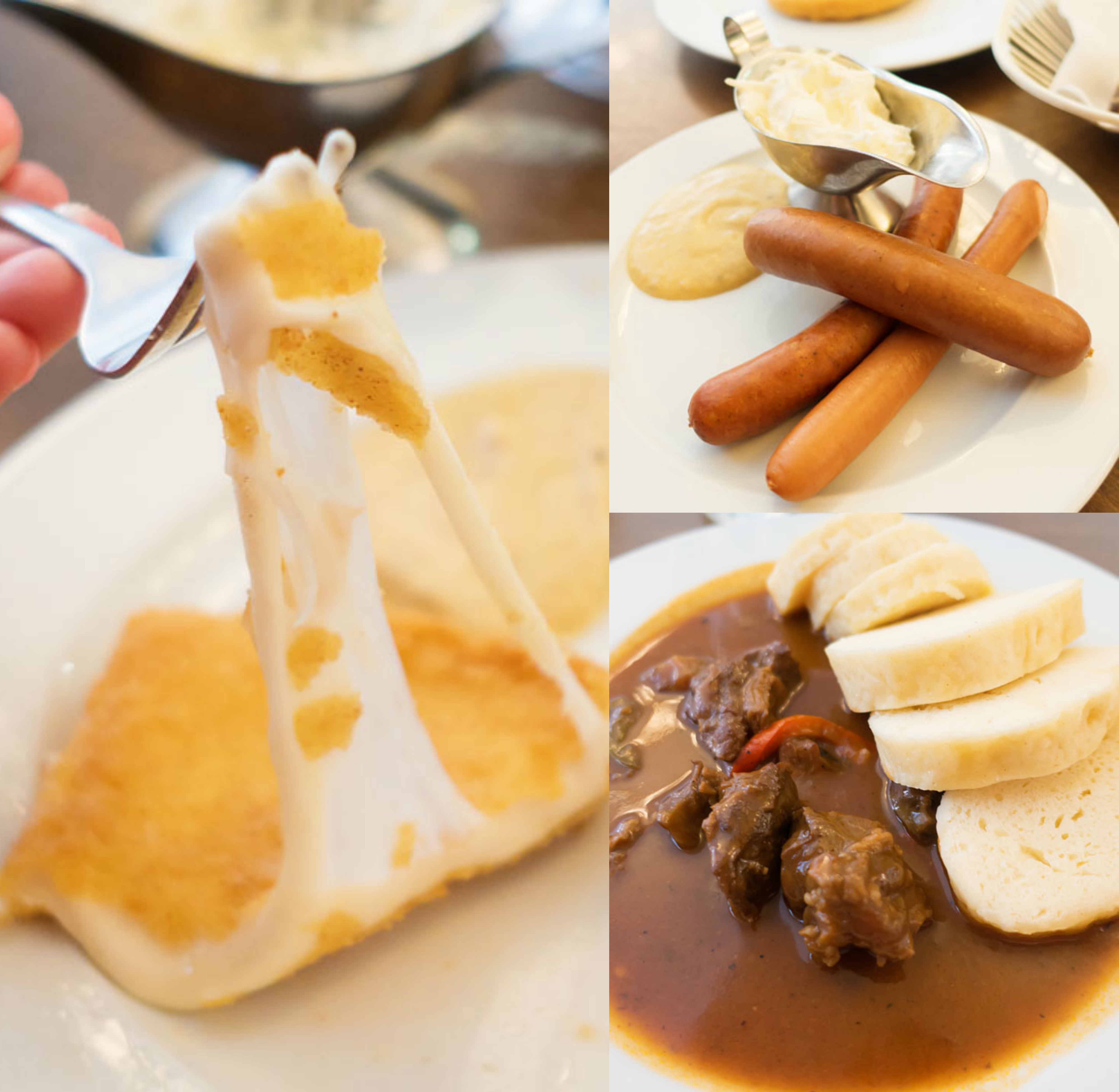 What is traditional Czech food? Unlike Italy, Mexico, or Greece, when you think of Prague or the Czech Republic, you probably can't really think of a specific cuisine to go along with it. The reason for that is, after World War II, Prague was under the communist regime for the next 40 years (until 1989). Under the communist era, all restaurants were regulated. All restaurants served the exact same menu, in the exact same portions, for the exact same price. There was no room for creativity or experimentation with food. It would be like if every single restaurant in America was McDonalds.
If you'd like to experience a typical restaurant with a typical menu from that time period, Lokal Dlouha serves classic Czech dishes, prepared using only fresh, locally sourced ingredients. I'm not even a potato salad fan, but the potato salad here was to DIE for. It's a very interesting spot to stop for a quick lunch in Prague!
---
Dinner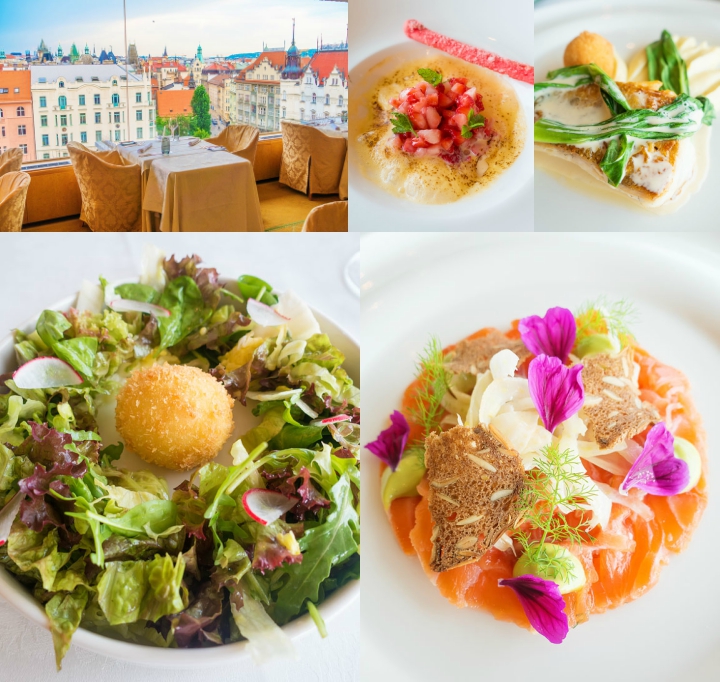 For a romantic dinner in Prague with fine dining and a beautiful overlook of the city, check out Zlatá Praha at the top of the InterContinental in Prague.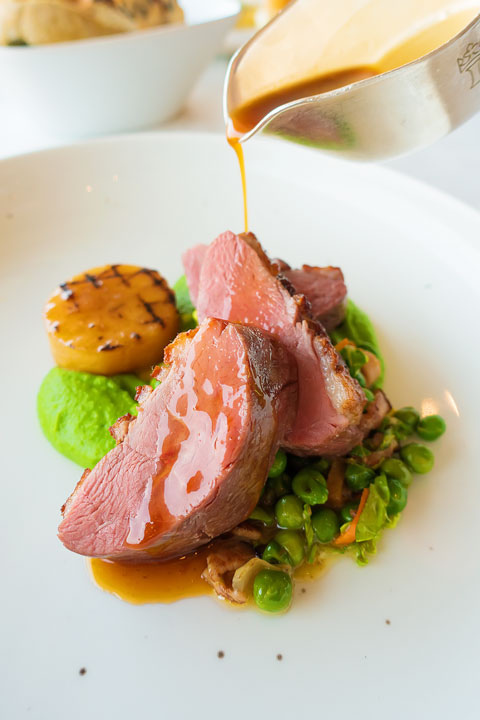 If you want a special night out, this is the place to go.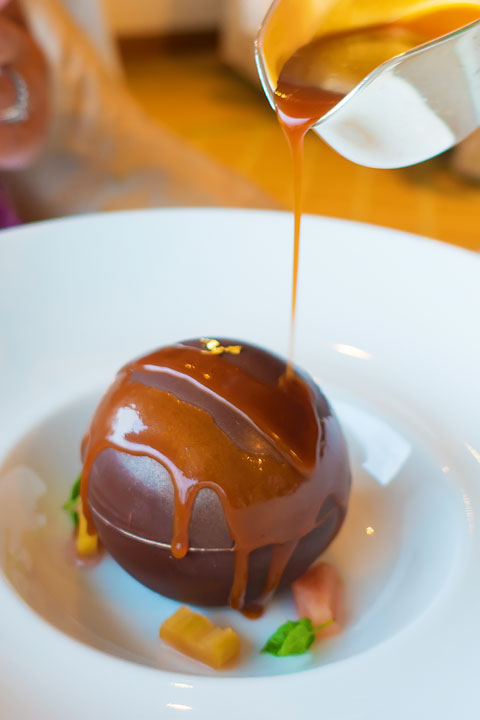 I loved this fun dessert! You may have seen it on Instagram… The warm caramel melted the chocolate to reveal vanilla ice cream inside!
You have to watch this video with the sound on! Just listen to our squeals of delight, lol!!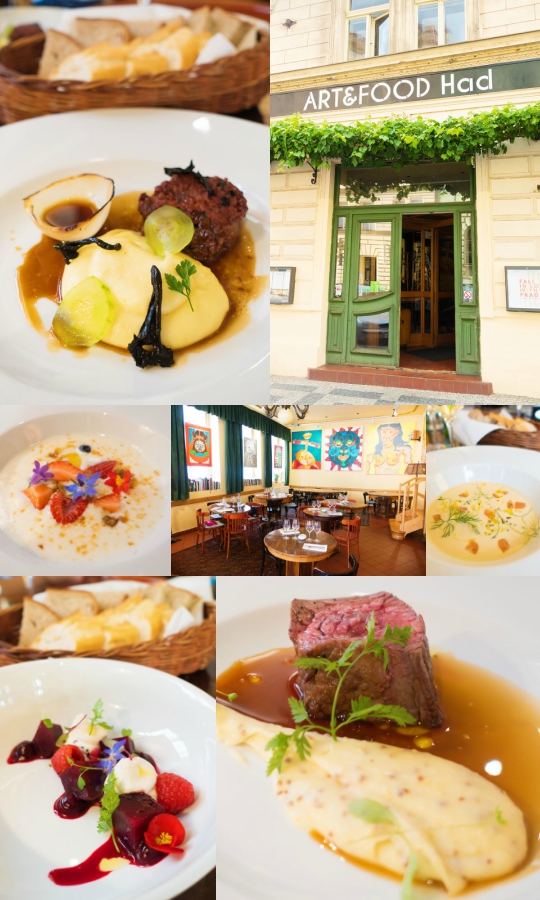 This was probably one of my favorite Prague restaurants. Art & Food serves fresh, seasonal, farm to table cuisine. We had the 5-course tasting menu. It was a seriously incredible meal. I highly, highly recommend dinner at Art & Food. If you only have one night in Prague, eat here!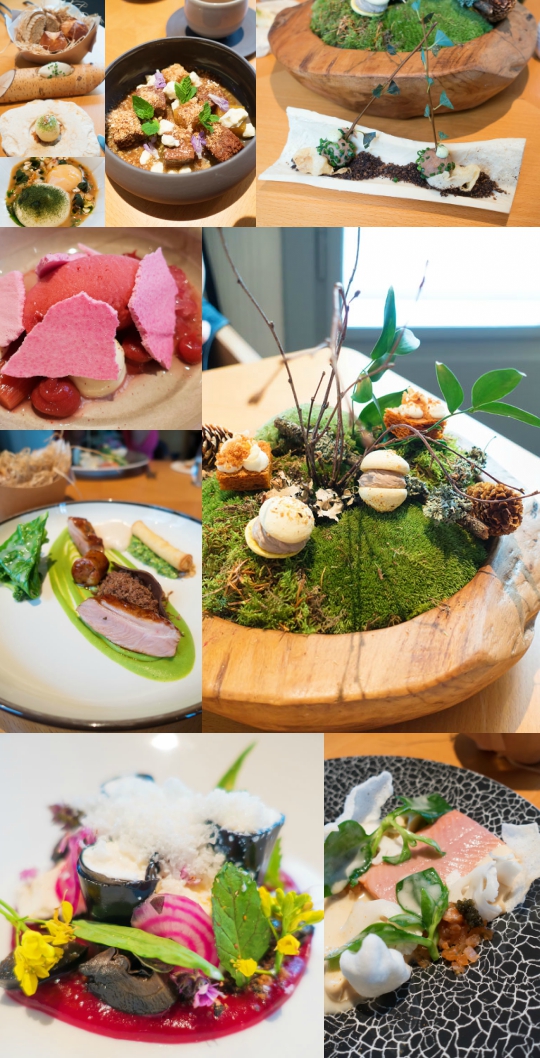 Every dish at Field is a work of art. Gorgeous, delicious, adventurous dining. Be sure to make a reservation.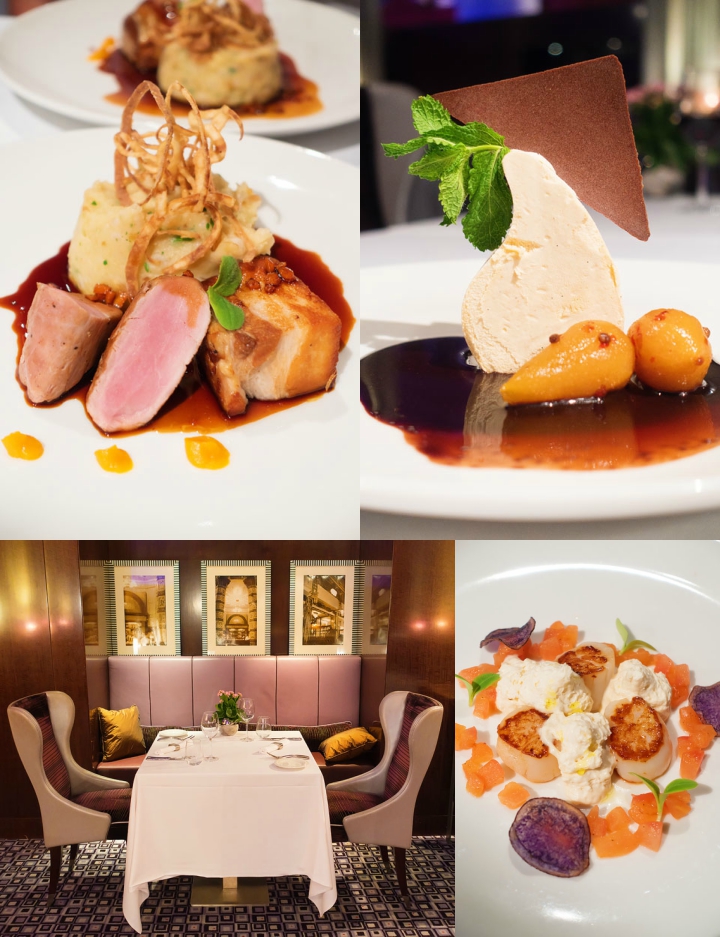 Beautiful gourmet restaurant in Prague. Loved the delicious pear dessert!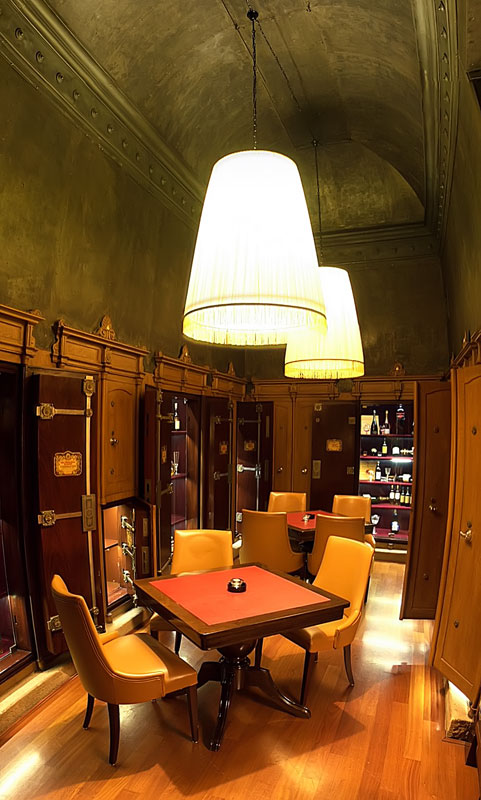 The Boscolo Hotel in Prague used to be a bank. They converted one of the old bank vaults into a cigar lounge. Where gold and other valuables used to be locked away, the vault now holds some of the finest cigars and alcohols. Even if you don't want to drink, you can still pop in and check out the vault!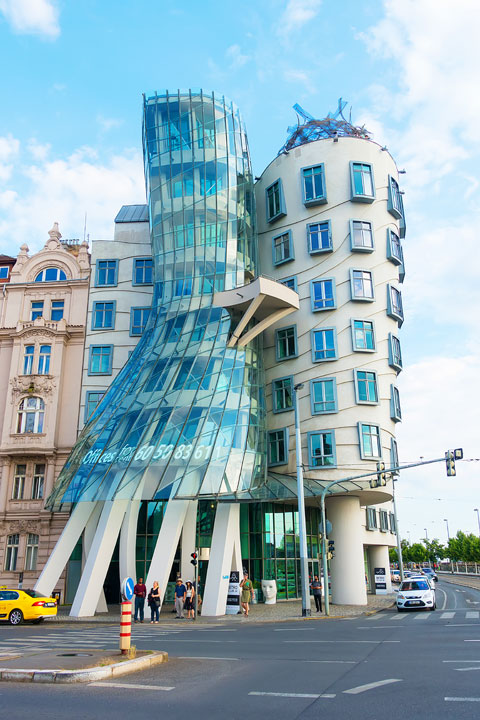 This building in Prague is nicknamed The Dancing House. The architect called the building Fred & Ginger, after Fred Astaire and Ginger Rogers. There's a restaurant at the top with a beautiful view of the city. I'm a huge Fred Astaire fan, so I wanted to eat there one night. The restaurant serves an international menu and is a little on the expensive side for Prague, but if you're looking for good food, a casual atmosphere, and a gorgeous sunset view, you'll definitely find it here.
---
Dessert / Snacks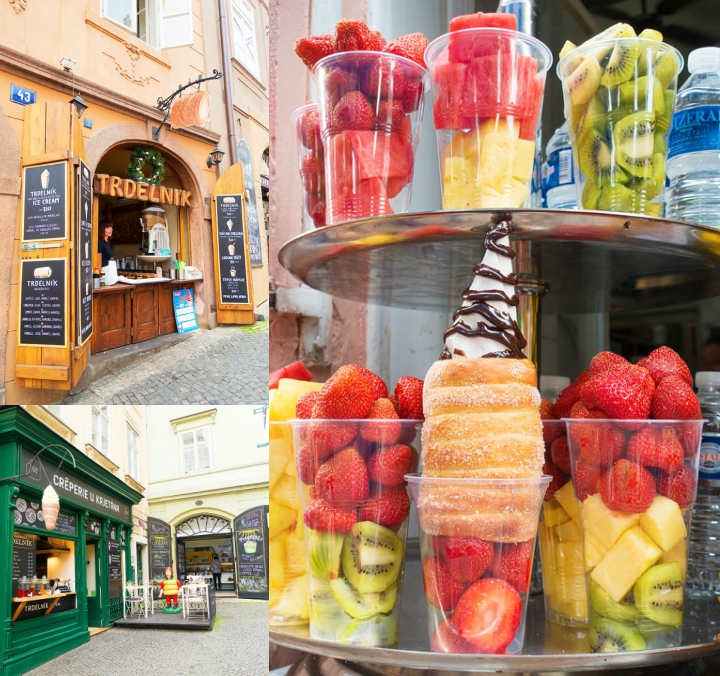 Trdelnik / Chimney Cake
When you're in Prague, you have to get a Trdelnik! You'll see Trdelnik stands everywhere in Prague. A Trdelnik is a sweet dough shaped like a cone and rolled in cinnamon sugar. It's then grilled over an open charcoal flame until the sugar caramelizes on the outside. The outside is sweet and crisp and the inside is soft like a cinnamon bun! It's SO good!!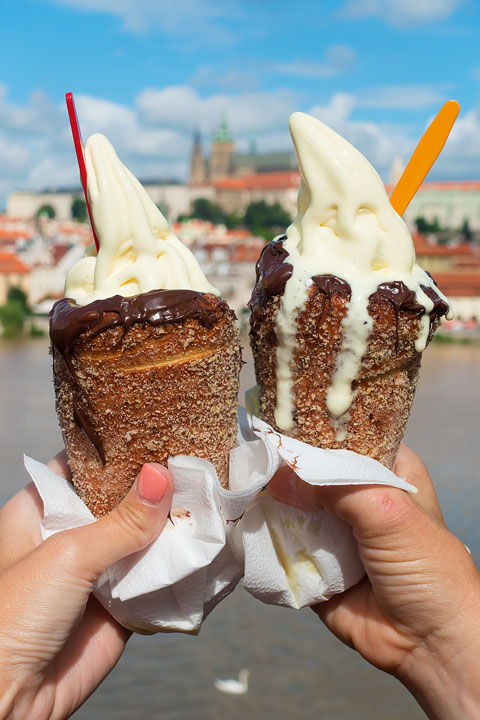 You can even get them filled with NUTELLA and ICE CREAM.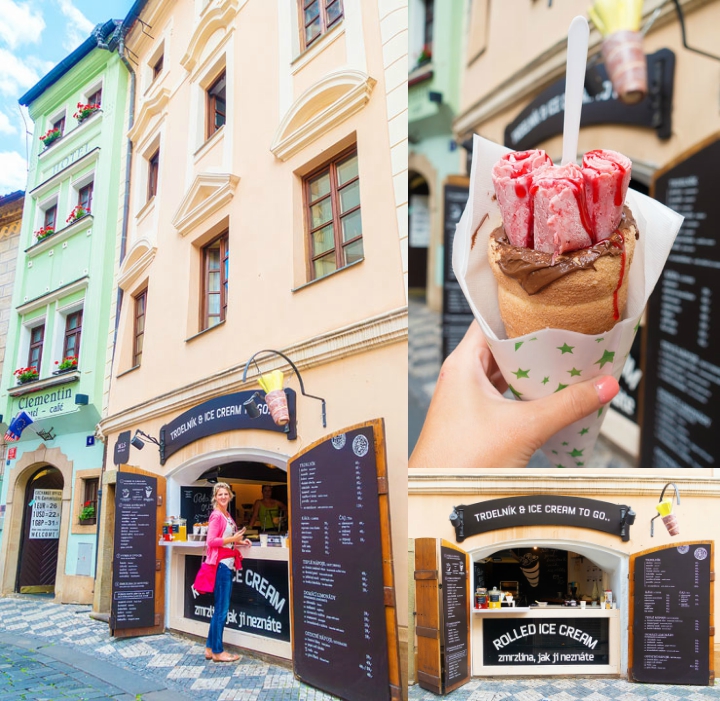 We got a different kind every day!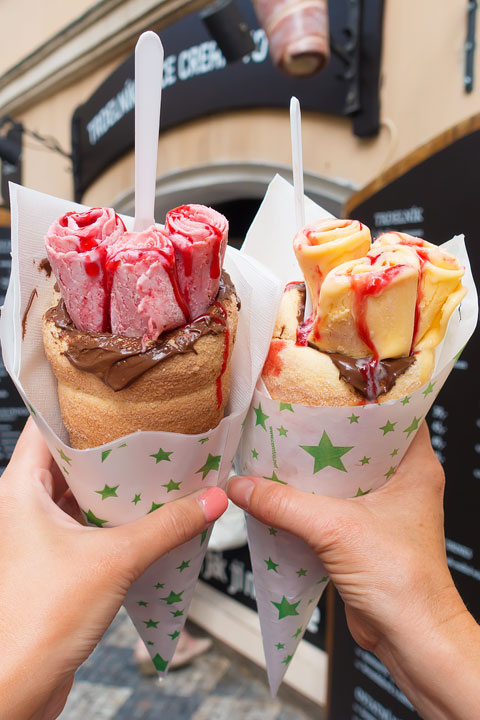 You can even get rolled ice cream in a Trdelnik!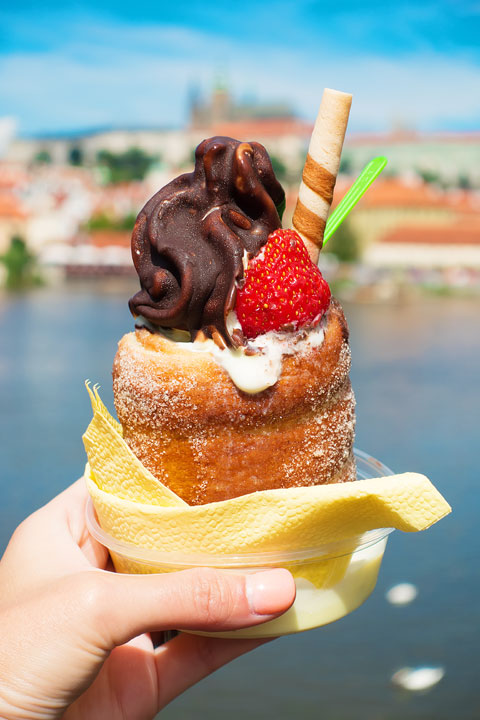 They even have Trdelnik dip cones!!!!! Ahh!! Loved finding fun Trdelniks all over Prague! :)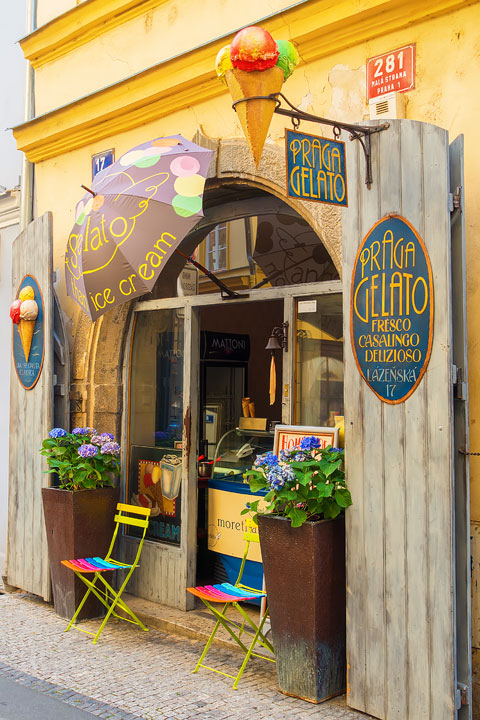 Angelato
Angelato is the cutest little gelato shop!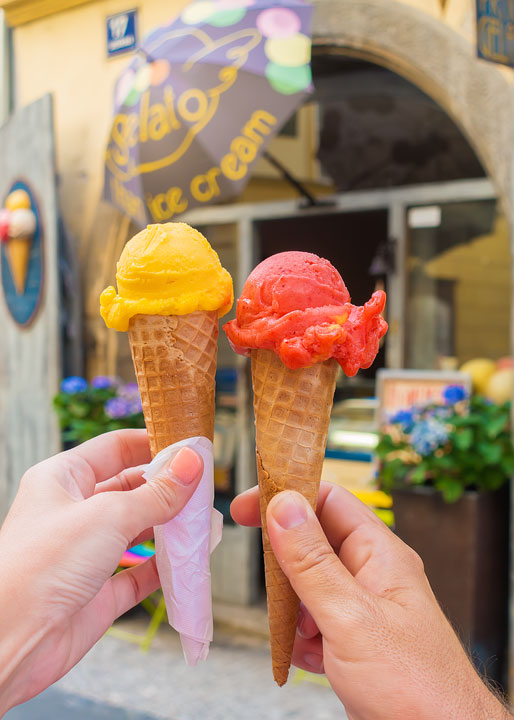 We had to stop for a tiny scoop!  So good!
---
Czech Food Walking Tour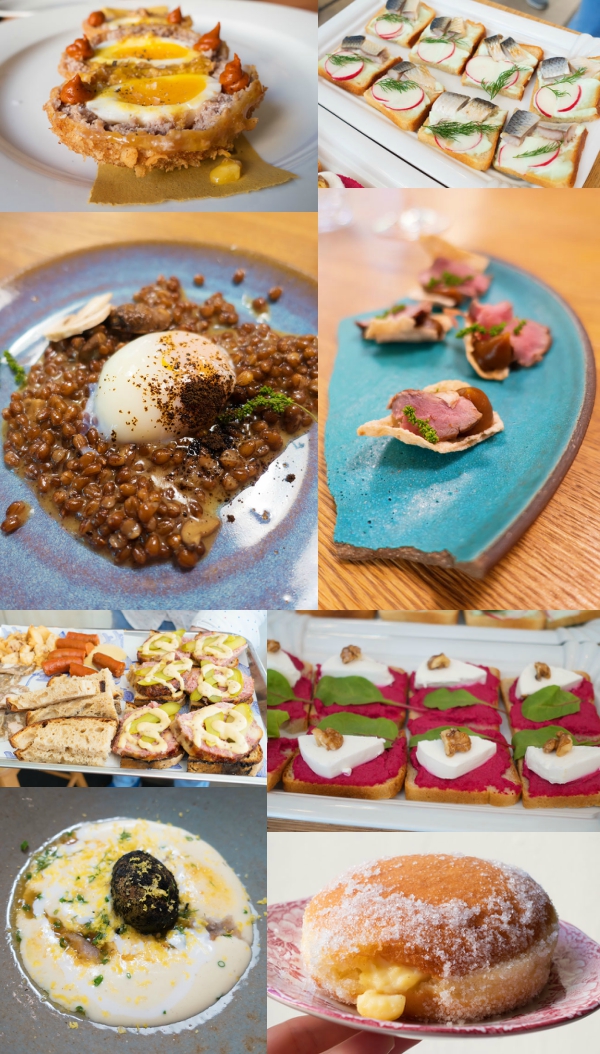 If you even remotely like food, I highly recommend a Foodie Walking Tour with Taste of Prague. We got to sample all the best dishes from the most popular Prague restaurants. It was also the most informative tour we took the entire time we were in Prague! I learned more about the history of Prague and the Czech Republic on this tour than on the non-food tours we took! If you want an intro to Prague while eating amazing Czech food, definitely do this tour in Prague.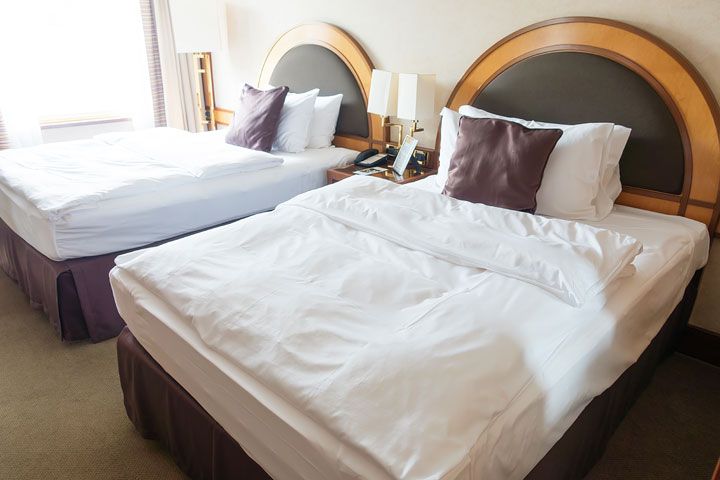 Prague Hotels
The InterContinental Prague is in an amazing location right in the heart of Prague. It's just a short walk to Old Town Square, the Prague Astronomical Clock, and Charles Bridge.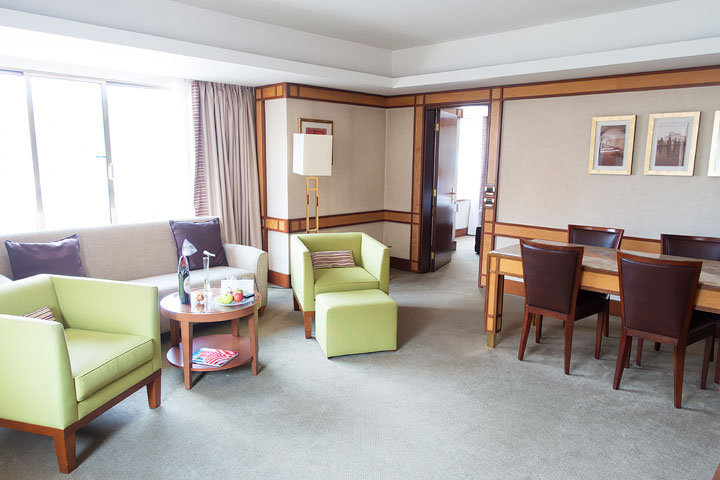 Our room was absolutely gorgeous and so spacious. We had a beautiful view of the river.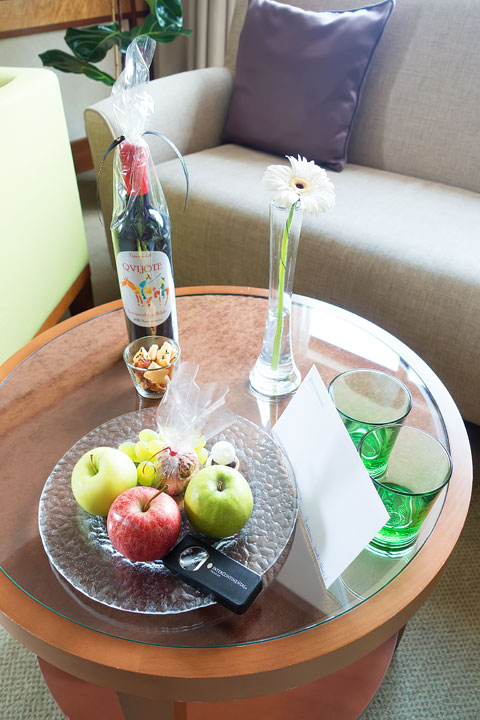 There were even some fun treats waiting for us when we checked in!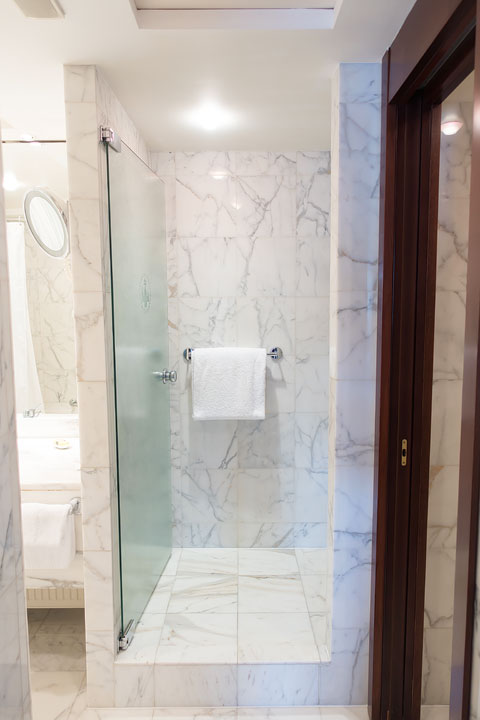 One thing I LOVED about our room… There were two bathrooms and two showers!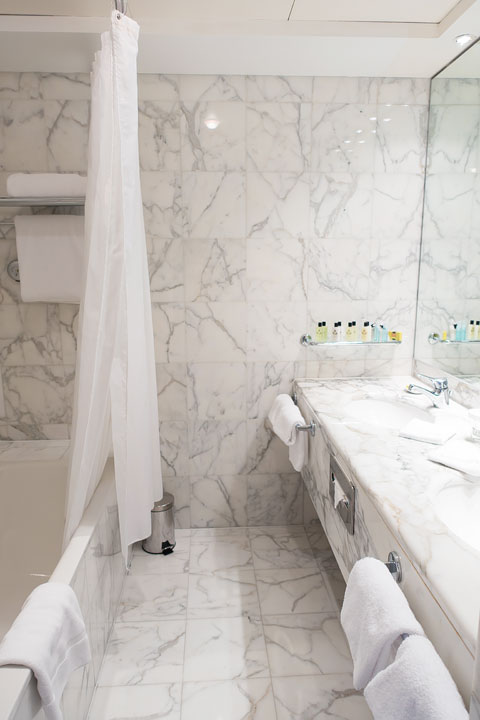 The shower was huge with amazing water pressure and plenty of room for toiletries.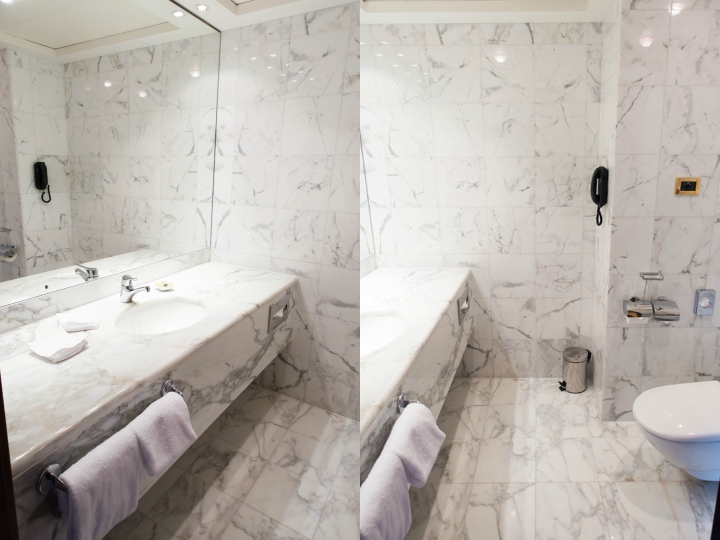 So much counter space! We loved every single minute at the InterContinental Prague. I would highly recommend staying here in Prague!
---
Like this post? Save it on Pinterest!