If you're planning a trip to Budapest Hungary and looking for the best Budapest restaurants, here are some of our absolute favorite restaurants and Hungarian food you MUST try if you visit Budapest!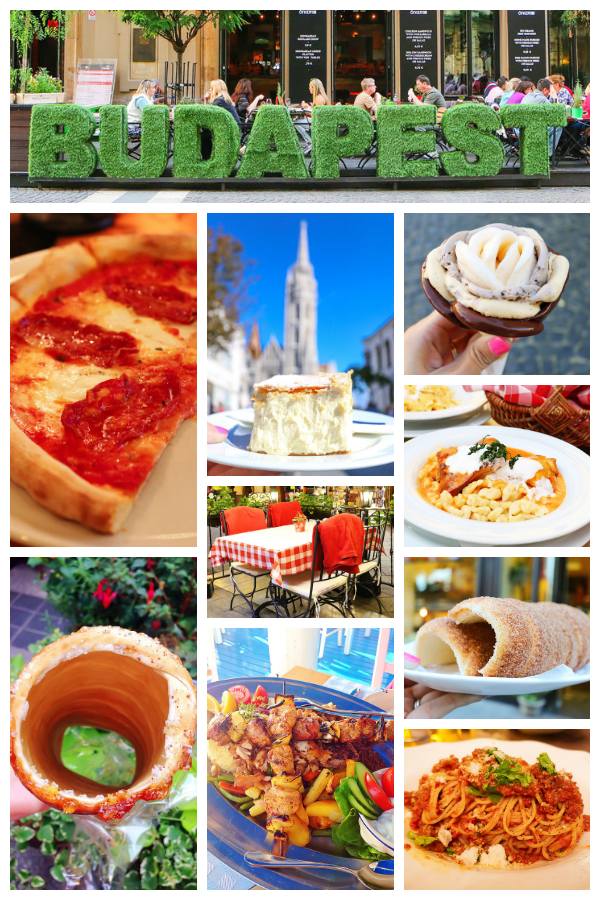 Our Favorite Budapest Restaurants
If you've only got a few days in Budapest, you want to make sure every meal is amazing! Here's what you need to try in Budapest Hungary: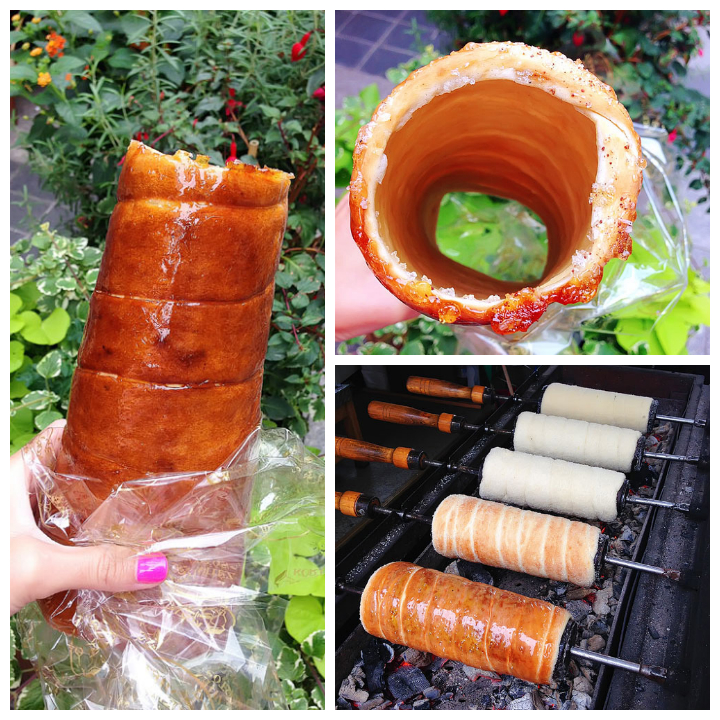 Kürtoskalács
Kürtoskalács are a popular Hungarian pastry found at festivals and outdoor markets. They're made from a sweet, yeast dough which is cut into long strips, then wrapped around a cylinder and rolled in sugar. It's then baked over hot coals while being slathered with butter so the surface gets golden brown and the sugar caramelizes to forms a shiny, crispy crust.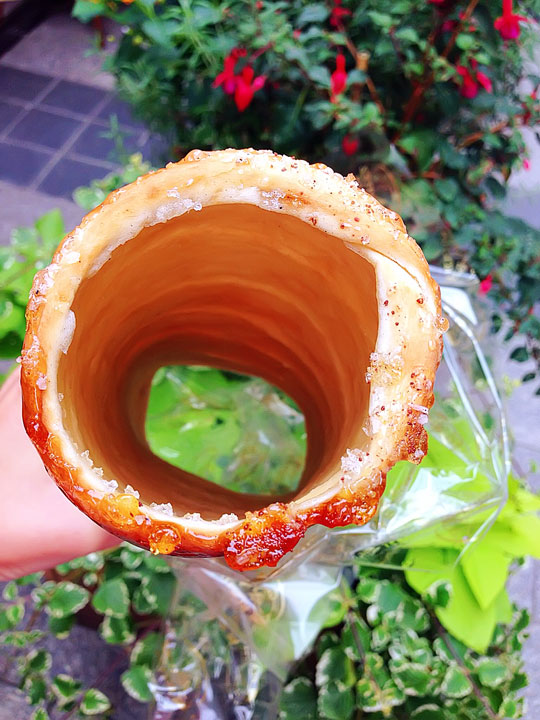 Seriously dying over this crunchy, caramelized, sugary crust!! I could eat one of these every single day!
You might not find Kürtoskalács in typical Budapest restaurants, but they are definitely traditional Hungarian food!
They also have them in Prague! They're called Chimney Cakes, and you can even find them lined with Nutella and filled with ice cream!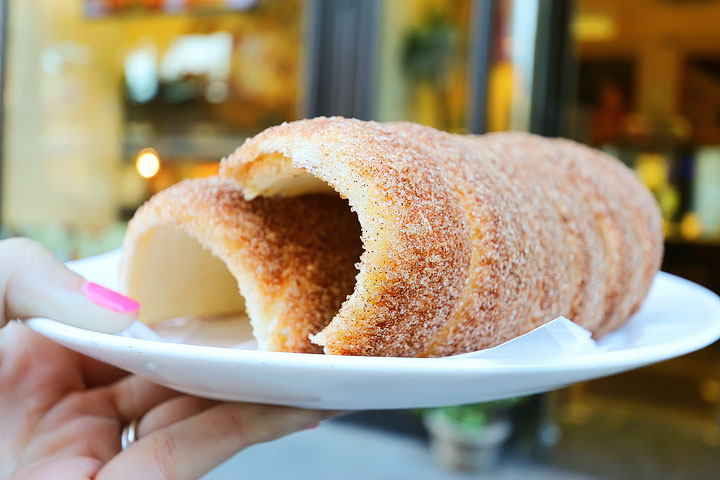 You can also get them with different toppings like cinnamon, coconut, cocoa, and almonds. We loved the cinnamon one!!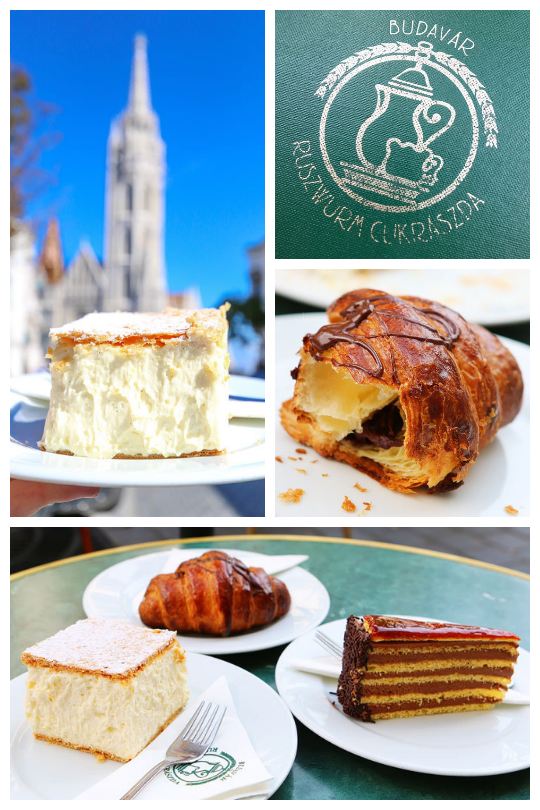 Cafe Ruszwurm
Cafe Ruszwurm is one of the oldest traditional cafes in Budapest. It's also one of the best! It's only a 2 minute walk from Matthias Church and Fisherman's Bastion so you should definitely not miss it.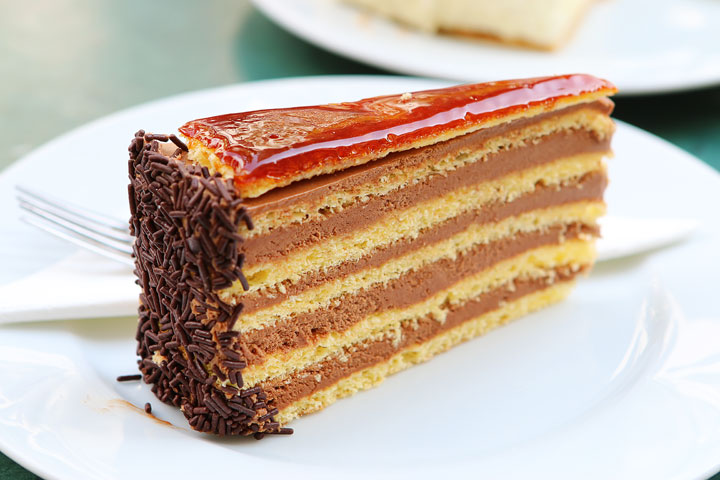 They offer a wide range of tempting treats and pastries, like the traditional Hungarian Dobos torta pictured above. This soft cake is layered with chocolate buttercream and topped with caramel.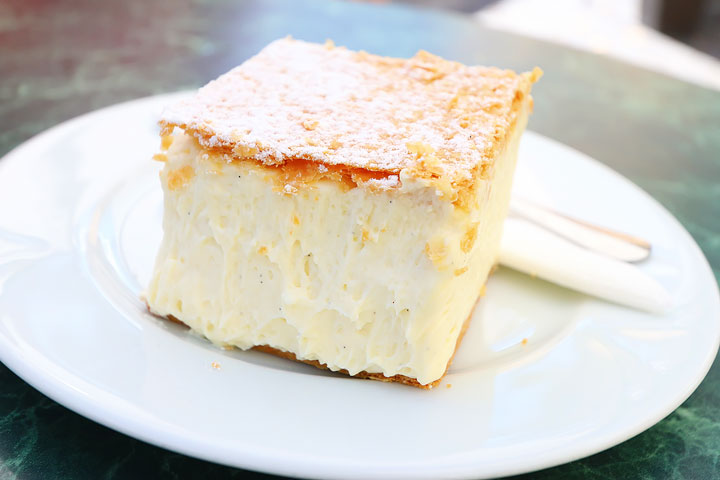 However, if you only get one thing, I highly, highly suggest you get the Ruszwurm Cream Cake. This cake is out of this world! A heavenly, light vanilla cream is sandwiched between two layers of decadent puff pastry, then topped with a dusting of powdered sugar. One of my favorite things we ate in Budapest. I am still dreaming about this cake!
Ruszwurm Cukrászda — This Budapest restaurant (cafe) offers traditional Hungarian food and pastries
Address: Budapest, Szentháromság utca 7, 1014 Hungary
www.ruszwurm.hu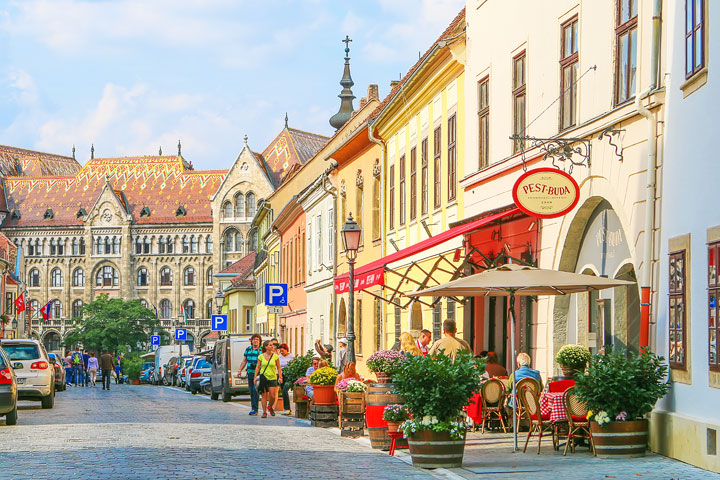 Pest-Buda Bistro
Pest-Buda Bistro is a traditional Hungarian restaurant, just a short walk from Matthais Church, and the perfect place to pop in for lunch after visiting Fisherman's Bastion and the church.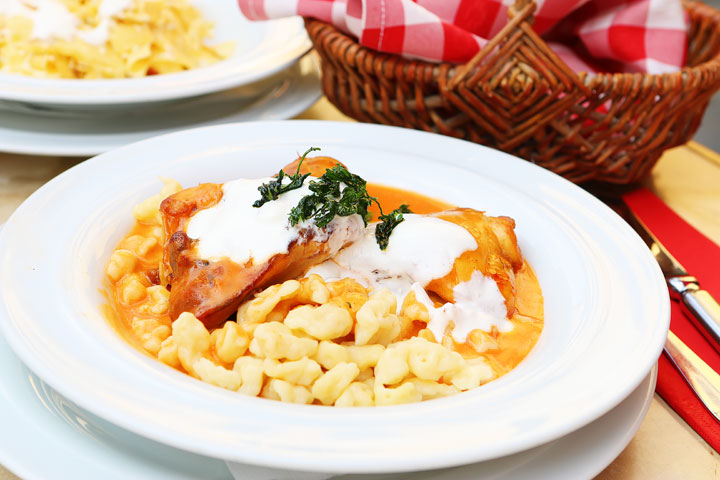 I had the Chicken Paprikash, a typical Hungarian food featuring roast chicken in a creamy red pepper sauce with buttered, homemade noodles. Fabulous!
Pest-Buda Bistro — One of of our favorite Budapest restaurants with classic Hungarian food!
Address:Budapest, Fortuna utca 3, 1014 Hungary
www.pestbudabistro.hu/en/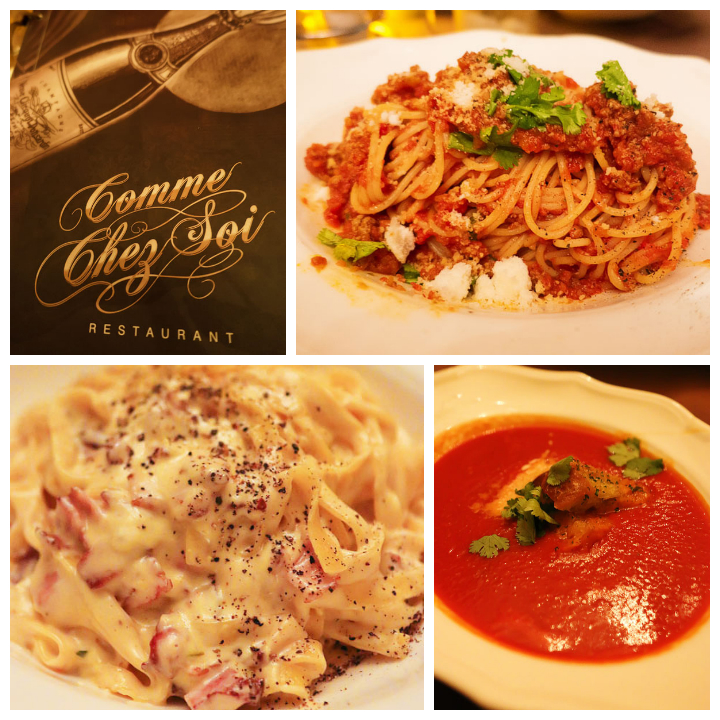 Comme Chez Soi
Comme Chez Soi was one of our favorite meals in Budapest. The food was delicious and the service was out-of-this-world incredible. As soon as we sat down, we were immediately brought two complimentary glasses of champagne. After we ordered, they brought out a complimentary caprese appetizer while we waited for our food. We each ordered a bowl of tomato soup, and I got the Pasta Carbonara while Stephanie got the Spaghetti Bolognese. We could not stop eating.
After dinner they brought out a complimentary glass of dessert wine and THREE desserts! (Sorbet, a chocolate truffle, and a mini chocolate lava cake.) Finally, they served us a shot of limoncello. When the bill arrived, the whole meal (for both of us) was only about $41 US dollars. After we paid they brought us each a box of six Belgian chocolates.
It was incredible. They are a very small restaurant with only 8 tables, so be sure to make a reservation. We tried to go our first night (around 7pm) but were turned away. Fortunately we were able to make a reservation for our last night in Budapest and it was so worth the wait!! Definitely add Comme Chez Soi to your must list for Budapest!!
Comme Chez Soi — This Budapest restaurant is definitely worth making reservations for!
Address: Budapest, Aranykéz utca 2, 1051 Hungary
www.commechezsoi.hu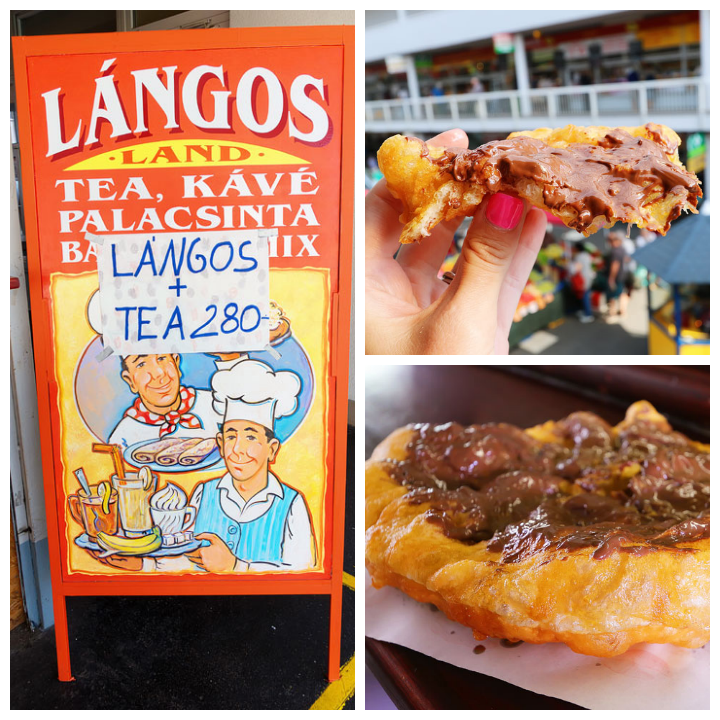 Lángos
Lángos are a Hungarian specialty! It's deep fried dough in the shape of a personal sized pizza. They're a favorite street and festival food. They're usually served with savory toppings, like garlic butter, cheese, and ham. But we were in the mood for something sweet, so I talked them into putting Nutella on ours. If we'd had more room I would've totally gotten a sweet and savory! Either way, this Hungarian treat is not to be missed in Budapest!
A classic Hungarian food!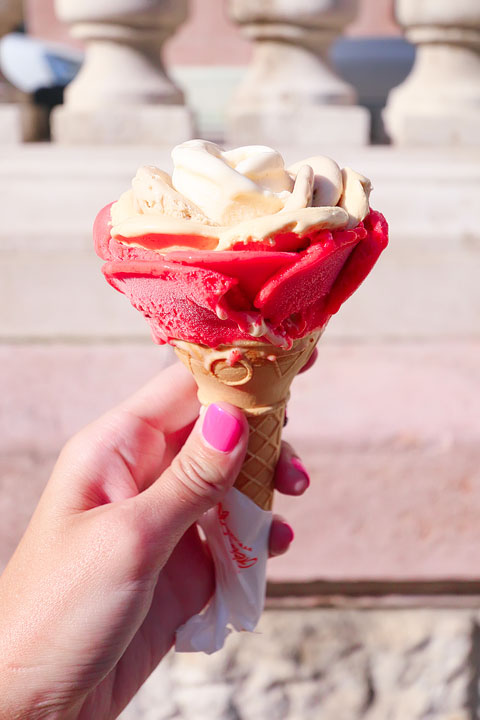 Gelarto Rosa
How gorgeous is this rose gelato??! Right at the corner of St. Stephen's Basilica is Gelarto Rosa, serving up amazing authentic Italian gelato in the prettiest cones ever. It was so pretty everyone was taking pictures of their cones, not just crazy food bloggers! ;) People were even stopping on the street asking us if they could take pictures of our ice cream!! Crazy!!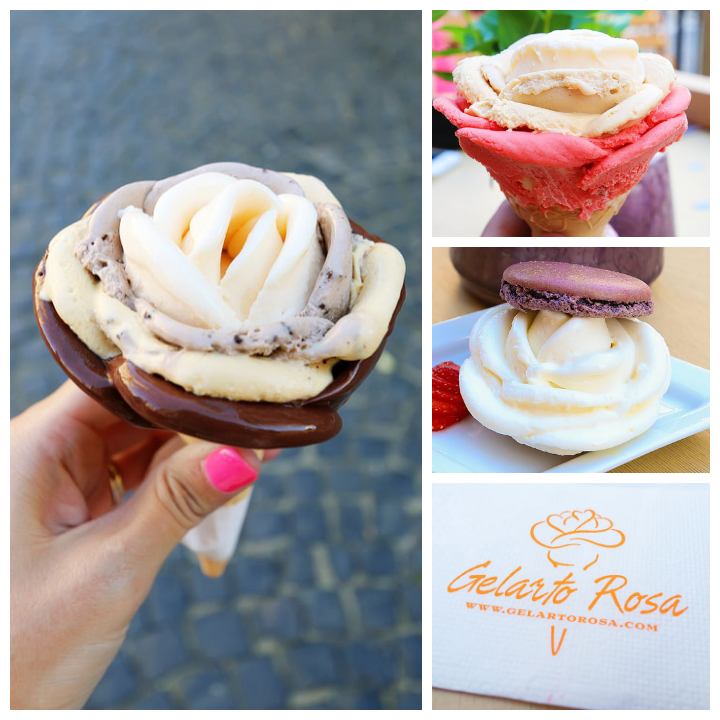 Not only is it pretty, the gelato is incredible!! They had flavors like vanilla bean, sea salt caramel, hazelnut, dark chocolate, and cookies and cream. They even have rose gelato macarons!! This was a lavender macaron with lavender gelato. Swoon!! There's always a line, but it moves quickly and is well worth the wait. Truly a work of art!
Gelarto Rosa
Address: Budapest, Szent István tér 3, 1051 Hungary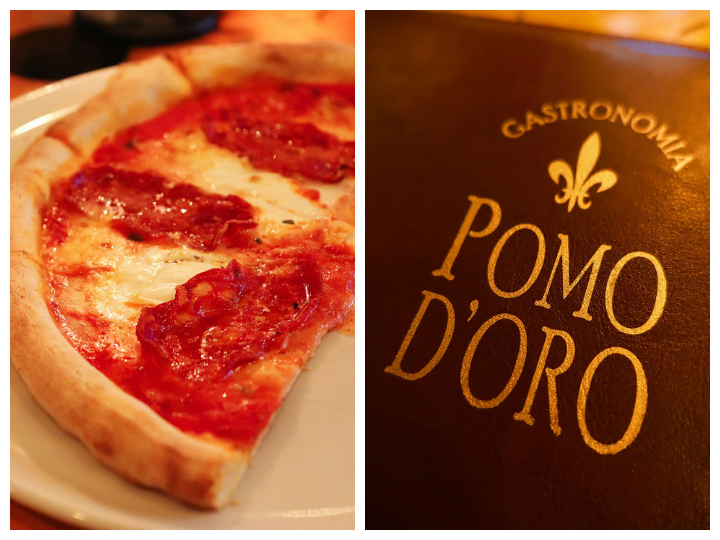 Pomo D'oro
One of my favorite things about Budapest was that it was truly a melting pot of cultures. We had our pick of authentic cuisines! I had some of the best pizza of my life at Pomo D'oro. The crust was thin and chewy. We got fresh mozzarella di Bufala and pepperoni. Be sure to ask for mozzarella di Bufala! I fell in love with it when we were in Italy a few years back, and this is some of the best I've had since. We split it, but could've easily eaten a whole pizza each. I would definitely go here again!
Trattoria Pomo D'oro — One of the best Budapest restaurants for traditional Italian cuisine
Address: Budapest, Arany János utca 9, 1051 Hungary
www.pomodorobudapest.com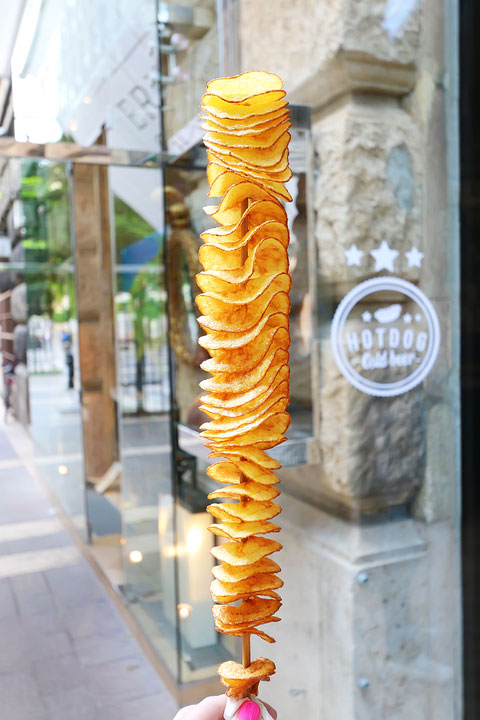 Hot Dog Cold Beer
Chips on a Stick!! How fun are these??! We saw everyone in Budapest walking around with these and had to try them for ourselves. They were delicious! What is it about food that makes it so much more fun to eat it off a stick??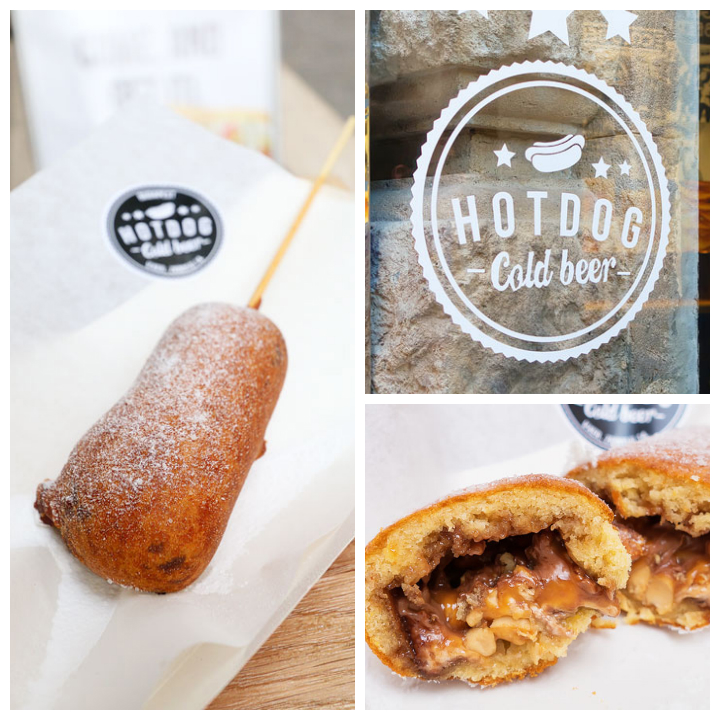 They also had a fried snickers bar!! Too fun! This place is also very near St. Stephen's Basilica. Stop by for a snack after going up to the top of the dome! :)
Hot Dog Cold Beer
Address: Budapest, Zrinyi 14, 1051 Hungary
http://www.hotdogcoldbeer.com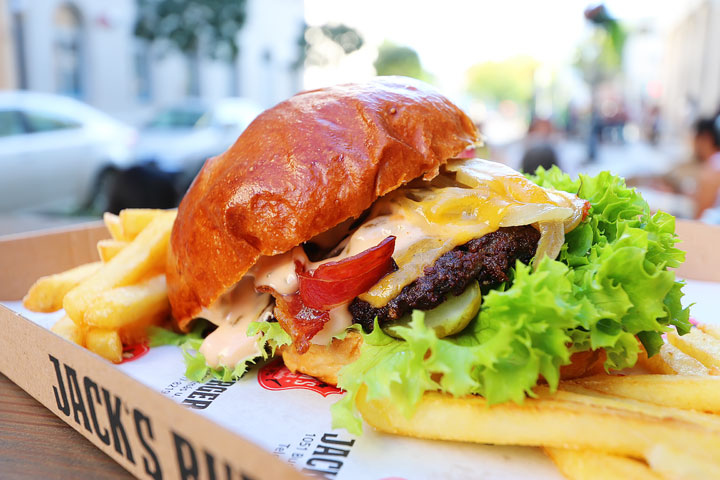 Jack's Burger
Just a couple doors down from Gelarto Rosa is Jack's Burger. We walked by one day around lunch time and could not resist this saucy bacon cheeseburger on a brioche bun. It was fabulous!
Jack's Burger — One of the best Budapest restaurants if you just need a good burger!
http://www.jacksburger.hu/en/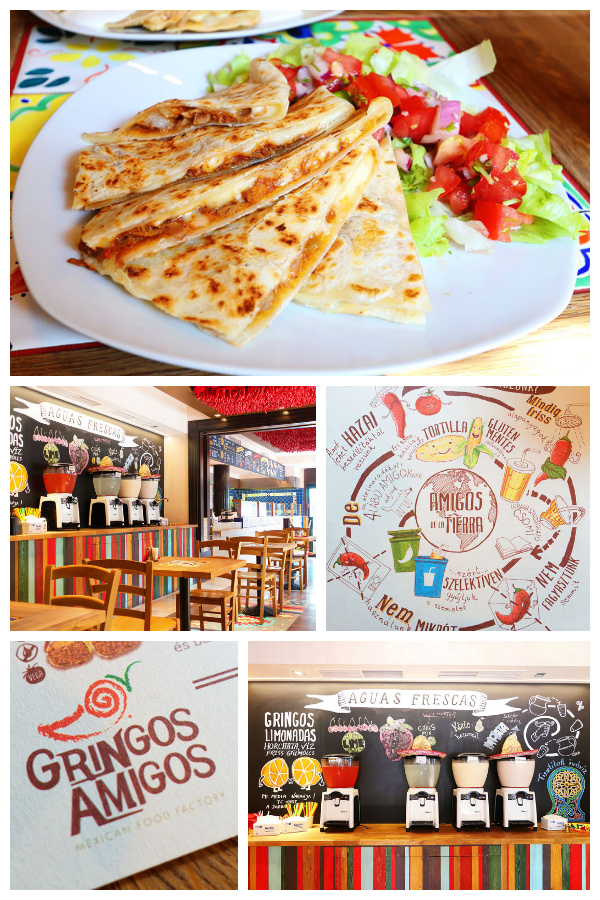 Gringos Amigos
In the mood for Mexican? Gringos Amigos is kind of like a Chipotle, where you order your food at the counter and they assemble it in front of you. Homemade tortillas, pulled pork, roasted chicken, guacamole, everything is made fresh in store. How cute are the complimentary Aguas Frescas with the little sombreros?? I got a quesadilla and it was great! The pulled pork definitely had a unique (and good) flavor I've never had before. However you could totally get something similar at Chiptole or any Mexican restaurant so if you've got a limited time in Budapest, don't make this a priority unless you're a Mexican food fanatic. :)
Gringos Amigos — If you want a break from Hungarian food and need a Mexican fix!
Budapest, Alkotás utca 47, 1123 Hungary
gringosamigos.com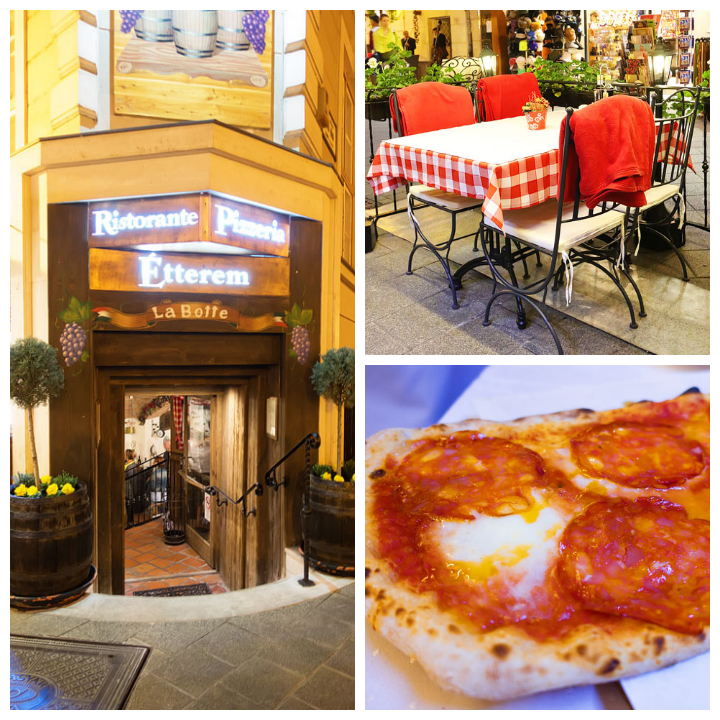 La Botte
Okay, Stephanie and I both love pizza so much, we went out for it twice while we were in Budapest! And because it's just that darn good, we ordered the exact same thing at both places– Mozzarella di Bufala with Spicy Pepperoni. We're not even sorry!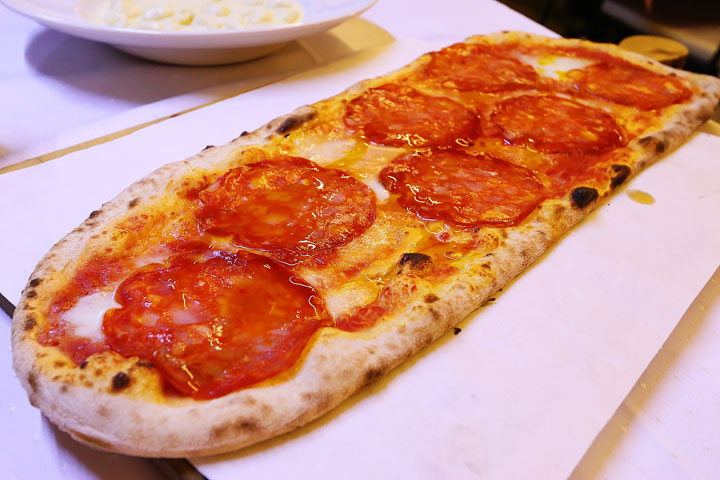 I LOVED the crust here. It was amazing. I may have even liked it better than Pomo D'oro. (Even though overall, out of the two, I preferred Pomo D'oro.) However, the spicy pepperoni was VERY spicy. Unfortunately it over-powered the subtle flavors of the mozzarella. I like spicy food, but in my opinion, this was too spicy to be enjoyable. However, I would TOTALLY go back here and get just a cheese pizza, a caprese pizza, or another topping. That crust is totally worth trying again!
Ristorante La Botte
Address: Budapest, Váci street 72, 1056 Hungary
www.labotte.hu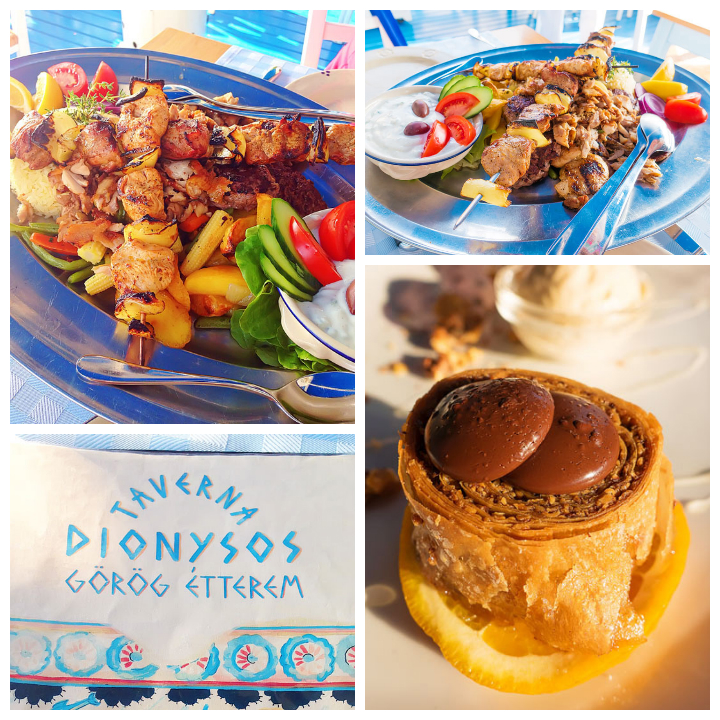 Taverna Dionysos
A delicious authentic Greek experience. This is the cutest Greek cafe with a gorgeous view overlooking the Danube river. The food was delicious and the service was wonderful. We split a sampler platter so we could try a bite of everything. They brought us out a true Greek feast!! Of course we had to try dessert too. This restaurant was right by our hotel, and it was the perfect first meal of the trip.
Taverna Dionysos Étterem — One of the best Budapest restaurants for Greek food!
Address: Budapest, Belgrád rakpart 16, 1056 Hungary
www.taverna-dionysos.hu
---
Hungry for more?
See our best restaurant guides for:
Scotland
London
Paris
Amsterdam
New York
---
Like this post? Save it on Pinterest!