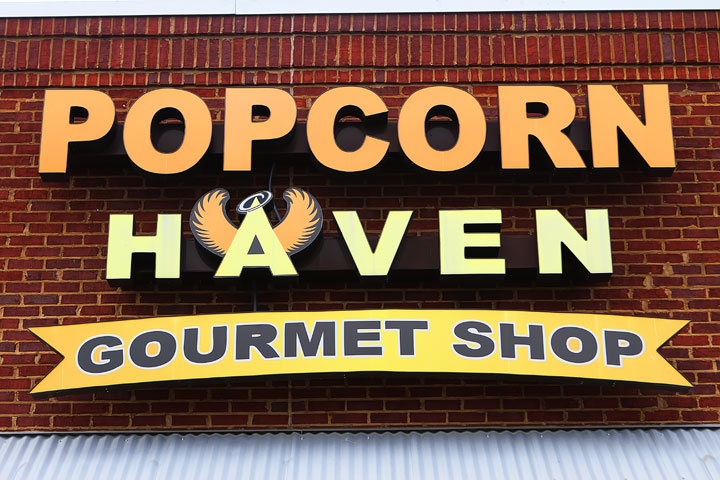 A few weekends ago, Kevin and I were cruising down the interstate when we saw a billboard that stopped us in our tracks.
Gourmet Popcorn! Over 250 Flavors!
Well that is a no-brainer for us! :) We both looked at each other and knew we had to pull over and check it out right then and there.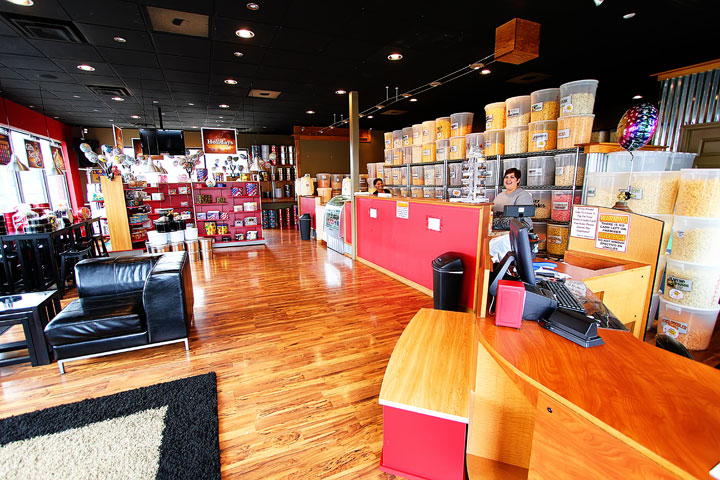 We found out they specialized in fresh, gourmet popcorn with TONS of flavors! I seriously wanted to try one of each. They all sounded amazing!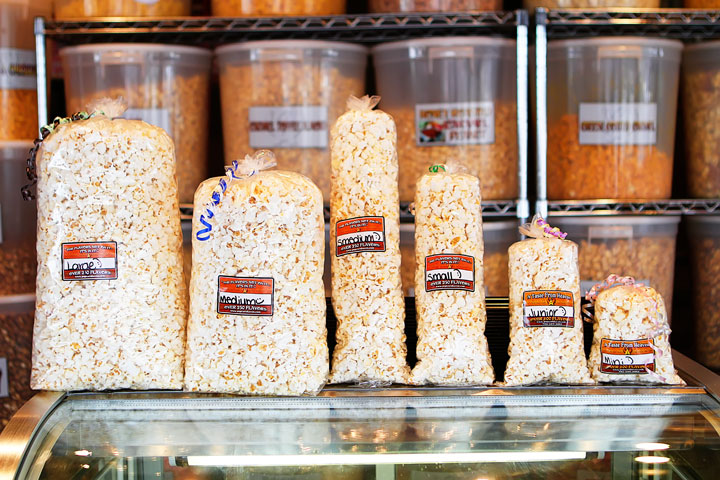 They had all different size bags to satisfy any popcorn craving. The best part was that they had Mini bags, so you could get a small taste of any flavor. You could also put up to two flavors in one bag to mix and match for even more sampling. The Mini bags are still a good size to share, though. If I had to guess I would say they held at least 4 cups of popcorn. Definitely enough so I couldn't eat the entire bag in one sitting. I did try though! :)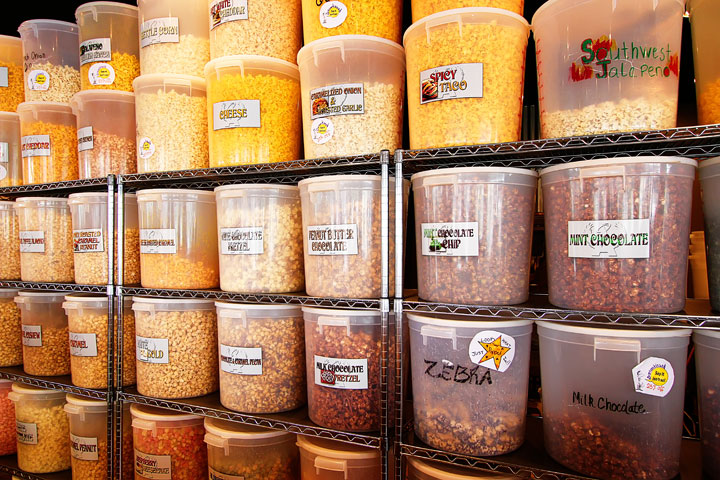 They had every flavor imaginable. Cheesy flavors, caramel flavors, chocolate, candy bars, hot and spicy, sweet, savory, and salty — if you can dream it up, they had it!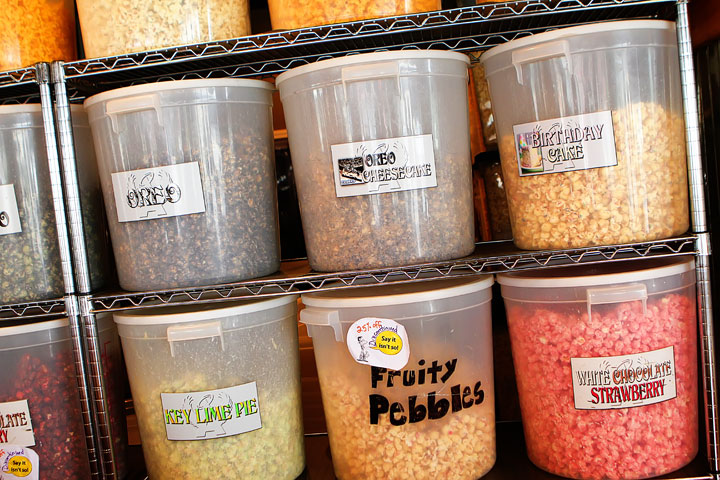 They had fruit flavors, cereal flavors, and candy flavors…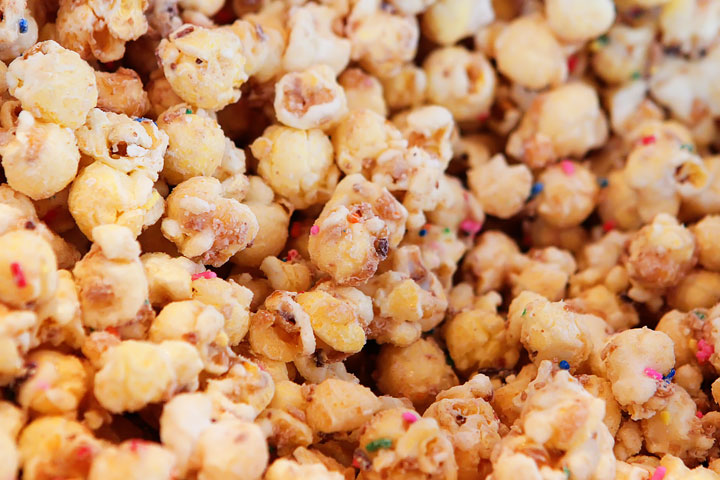 Fun Birthday Cake Batter Popcorn!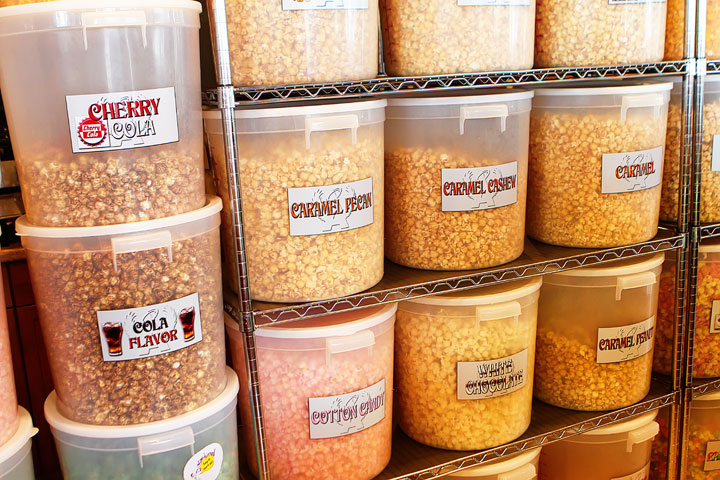 Tons of caramel flavors…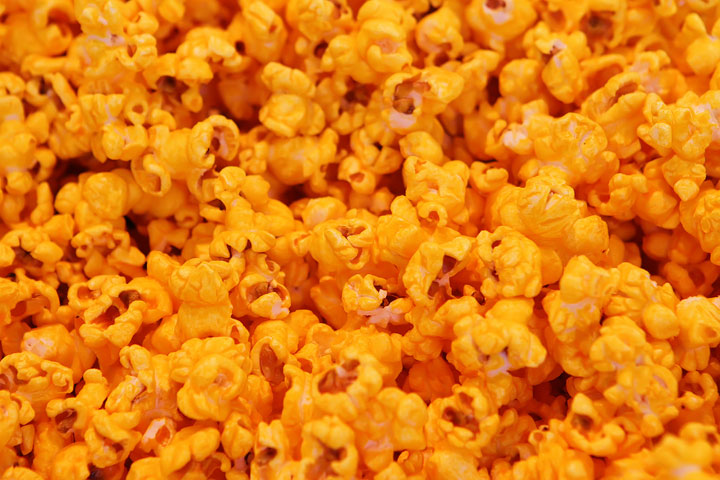 TONS of cheese flavors! :)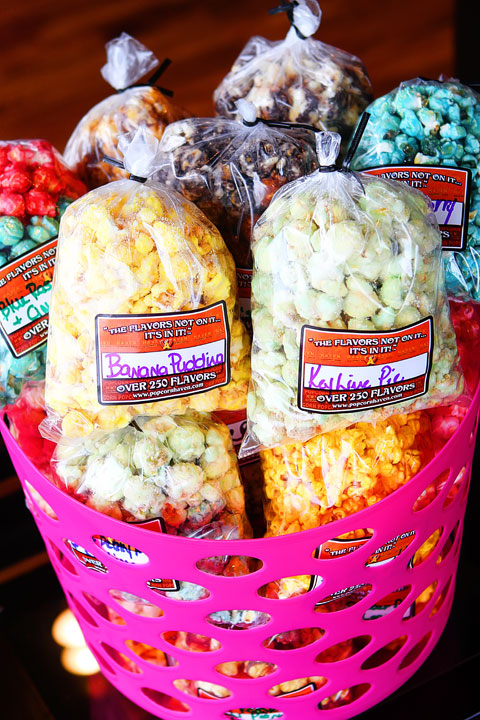 It was a tough choice, but here's what we finally picked. Banana Pudding (of course! Guess who got that one!) and Key Lime Pie. I've been obsessed with Key Lime Pie ever since this summer when my neighbor made me this Praline Key Lime Icebox Pie.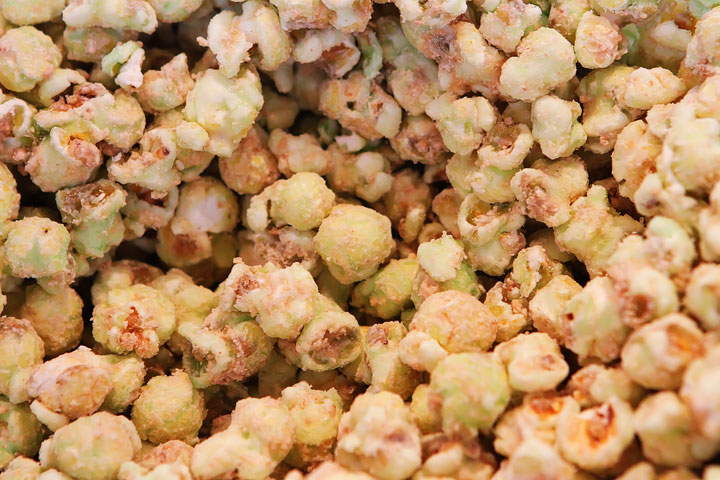 It's even coated in crushed graham crackers. It's like a little bite of key lime pie!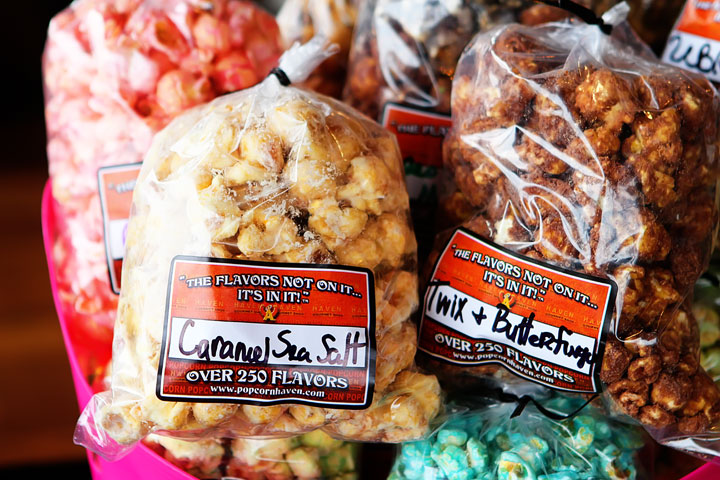 Caramel Sea Salt, and a combo of Twix & Butterfinger popcorns.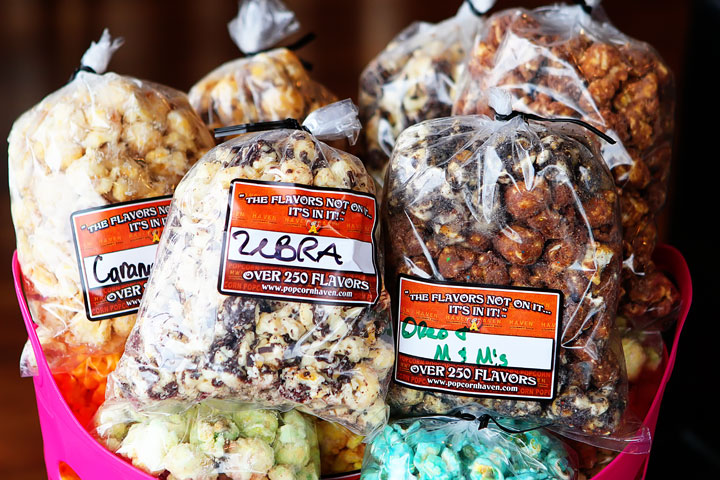 Zebra, which is white and dark chocolate popcorn. This was one of our favorites! Along with a mix of Oreo and M&Ms.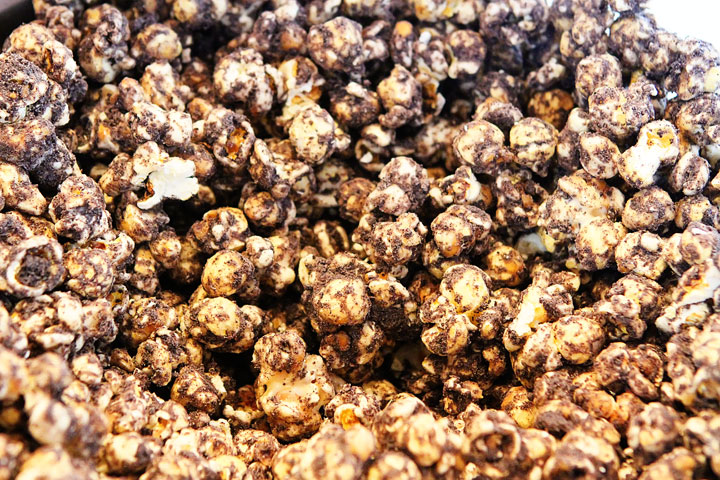 The Oreo was another winner! I loved this one.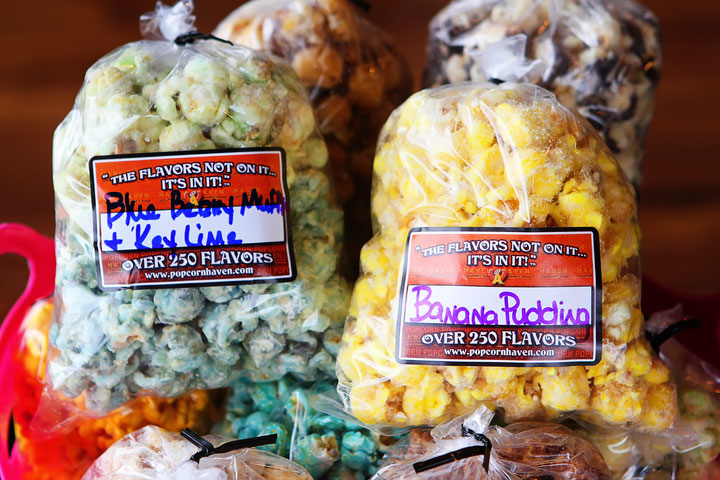 I got another bag mixed with Blueberry Muffin and Key Lime Pie. Oh my goodness, this one was so good!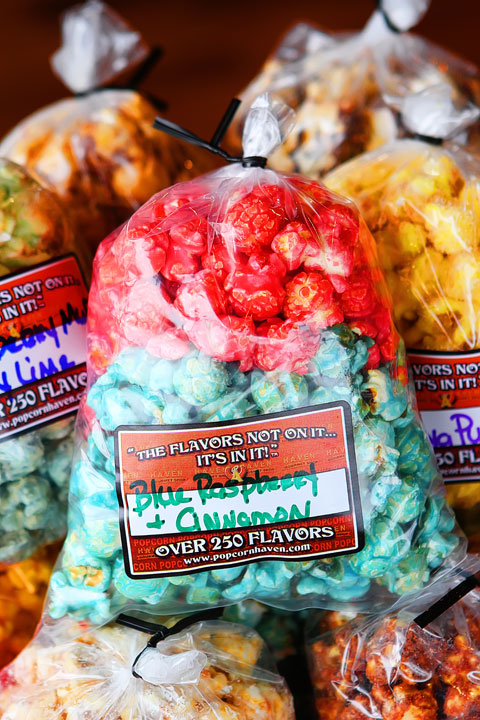 This one was Kevin's — Blue Raspberry and Cinnamon. The cinnamon tasted just like like Big Red Gum. And I loved the Blue Raspberry!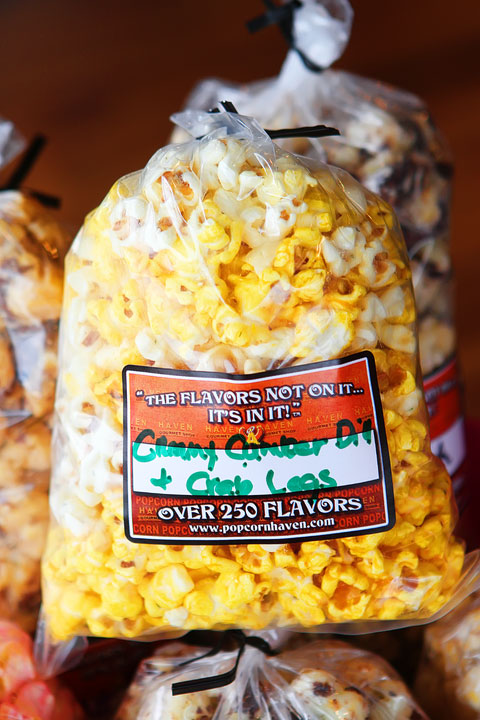 But oh my goodness you guys. This is going to sound so crazy. But this is the one that still has me dreaming of this popcorn. Can you believe my absolute favorite flavor was not even a sweet one??!
How weird does this sound??
Creamy Cucumber Dill. And Crab Legs. Yes. Crab Legs. Crab Legs popcorn. I don't know what I was thinking. That one was just for fun, but I liked it!
But let's go back to the Creamy Cucumber Dill. I wasn't even going to try it. I'm not the biggest fan of pickles. And cucumbers? Meh. I could take 'em or leave 'em. I do love dill though. The gal behind the counter set a sample out on the counter for us, but I resisted for the longest time. I was too busy with the other flavors! But I finally caved. And oh my gosh. It was the best one I'd tried all day. It was so, so good. I seriously should have gotten a massive bag of just this one! If I ever go back, the first thing I will be ordering is Creamy Cucumber Dill.
I was so excited to find out you can order it online! I cannot wait to get some of these for Christmas! :) The bags are the perfect shape for stocking stuffers, or you can create your own gourmet popcorn tins filled with any flavors you want. I always get Kevin popcorn for Christmas, and I know where I'll be getting it this year. I want to try their PB&J popcorn!
If you have someone that's hard to buy for on your list this year, I hope this makes your holiday shopping a little easier.
Here's where you can find Popcorn Haven. Take a peek around their site and just look at all those delicious flavors. Swoon.
Popcorn Haven
171 West Belmont Drive, Calhoun, GA
(706) 659-4004 ‎ · popcornhaven.com