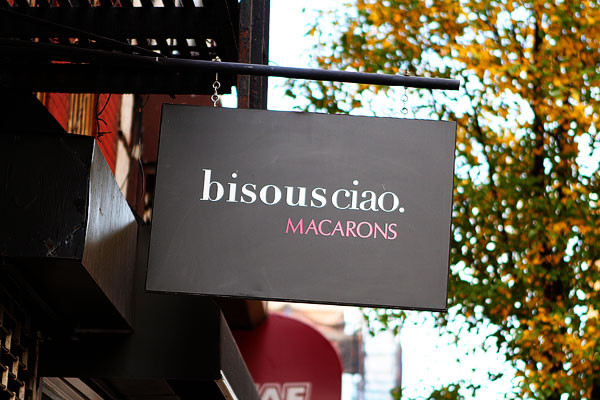 Dahling, you simply know we couldn't go to New York without finding some fabulous sweets and treats! I got such a kick out of walking all over NYC and keeping an eye out for my newest obsession: macarons. And much to my glee, just about everywhere we went we spied a cute little macaron shop. I just couldn't resist popping into each one!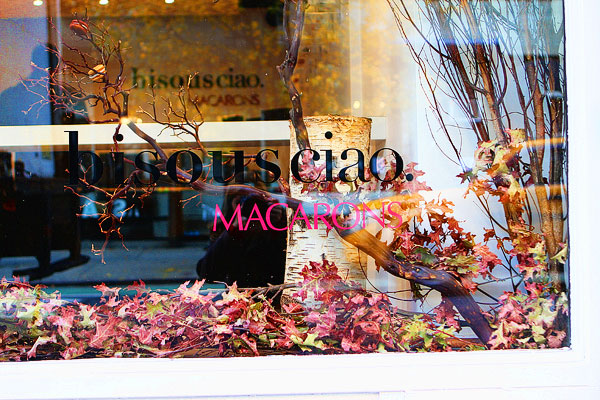 bisous, ciao. MACARONS
101 Stanton Street, New York, NY
(212) 260-3463 · bisousciao.com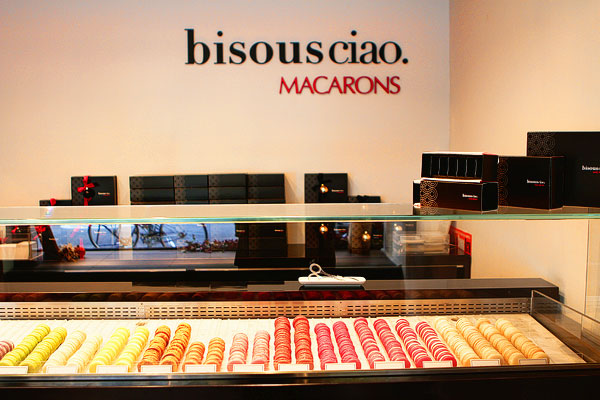 Our first stop was Bisous Ciao Macarons on the Lower East Side.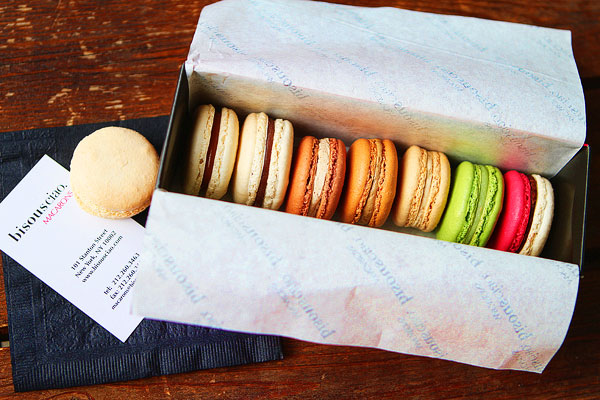 What a gorgeous shop this was! So many fun flavors and brightly colored macarons.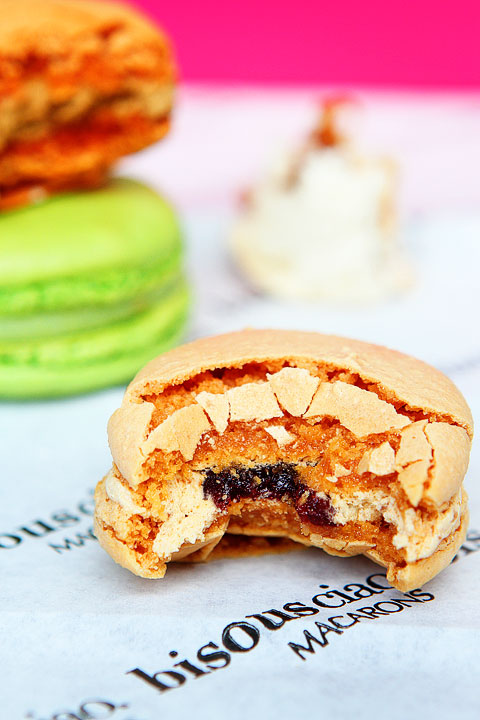 This one was a salted peanut buttercream with a concord grape jelly center. Oh how I love PB&J macarons!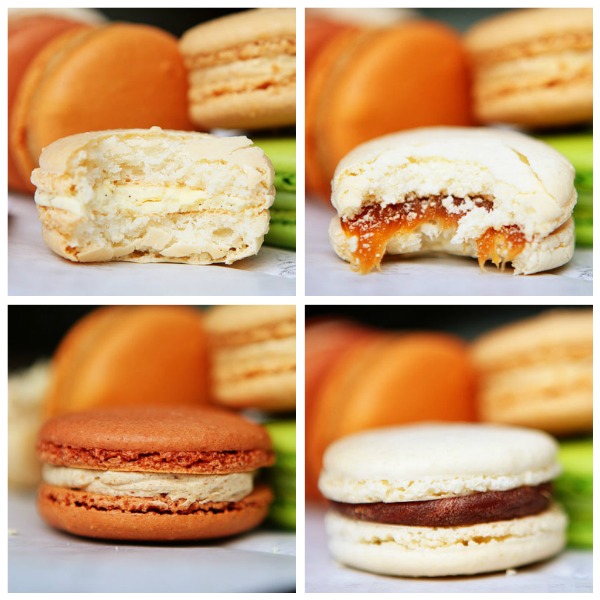 Look how soft and cupcakey these are. Bisous Ciao macarons are made via the Italian Meringue method, as opposed to the french macarons I make. As you can see, they look (and taste) very similar, but the texture is a little more soft and soo pillowy. Here we have Tahitian Vanilla, Salted Caramel, Espresso, and Gianduja (hazelnut and milk chocolate). Yum!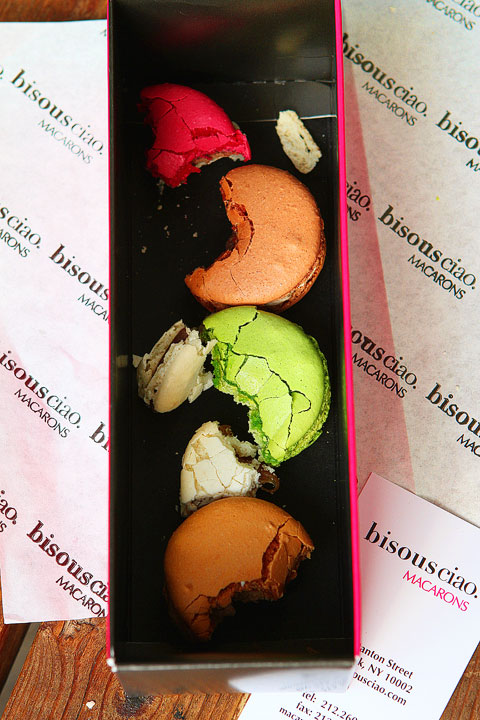 I loved these! I'm definitely inspired to give the Italian Meringue method a try.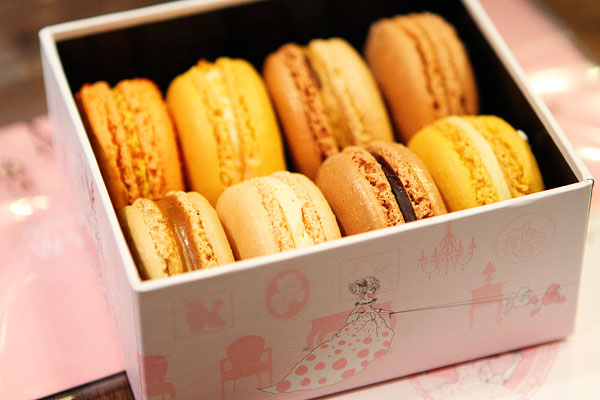 Macaron Café
161 West 36th Street, New York, NY
(212) 564-3525 ‎ · macaroncafe.com
Next up was Macaron Café on West 36th Street near Macy's, and boy were these macarons gorgeous! This place was so cute with cozy little booths in the back to curl up and nosh macarons.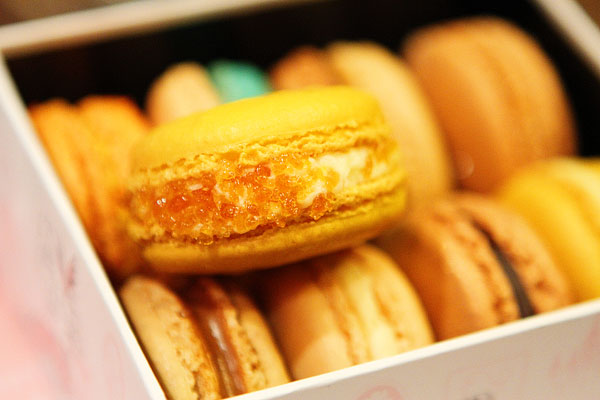 I cannot tell you how excited I was to find this gorgeous creme brulee macaron! Oh how fabulous is that caramelized sugar on the outside of the macaron? To die.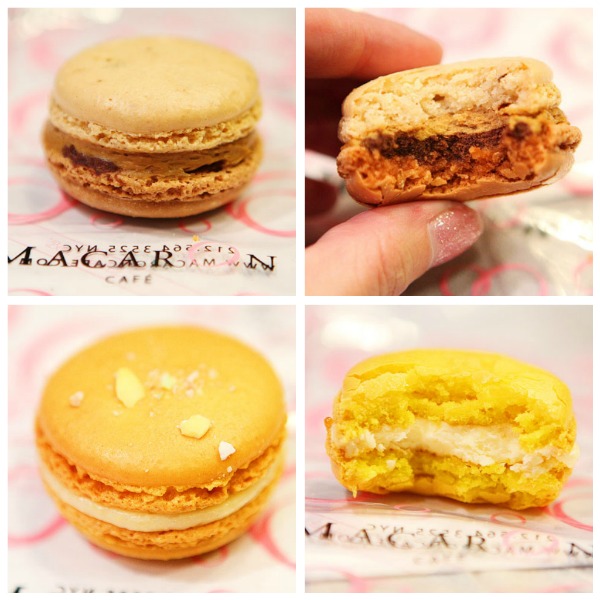 Here we have Mocha and Almond Wedding Cake. The Mocha one tasted just like peanut butter & chocolate, so yummy.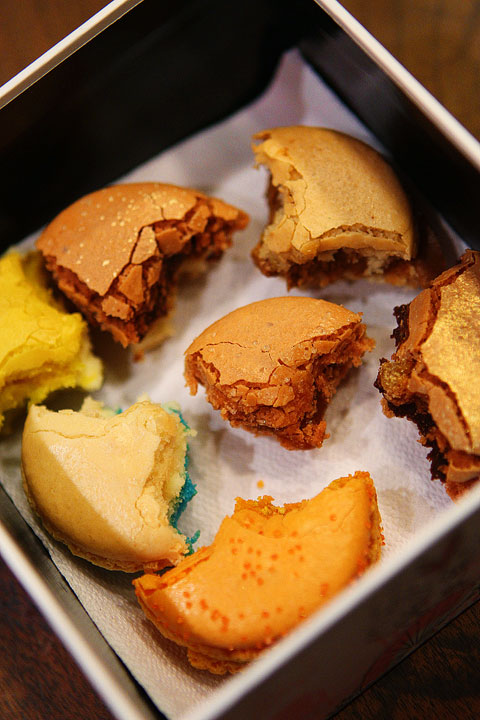 We also tried a few fun flavors here such as Chocolate Ginger, Pumpkin Cinnamon, and Honey Lavender. Mama mia. Macaron Café has some absolutely stunning macarons!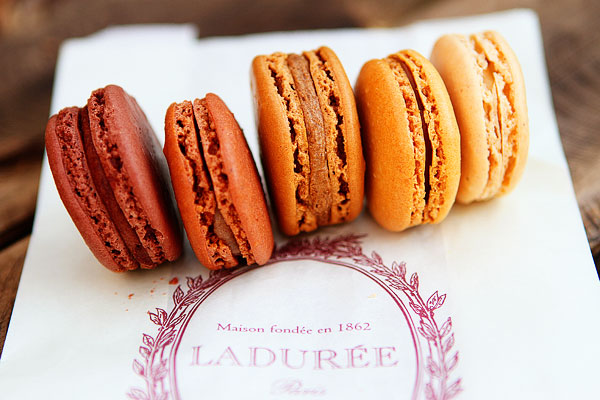 Ladurée
864 Madison Ave
Manhattan, NY 10021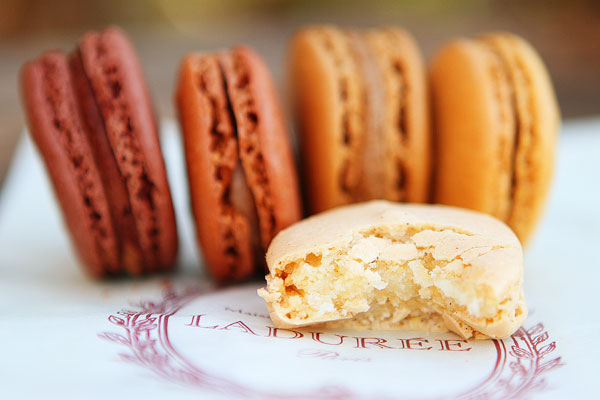 Oh, you know we had to try macarons from Ladurée.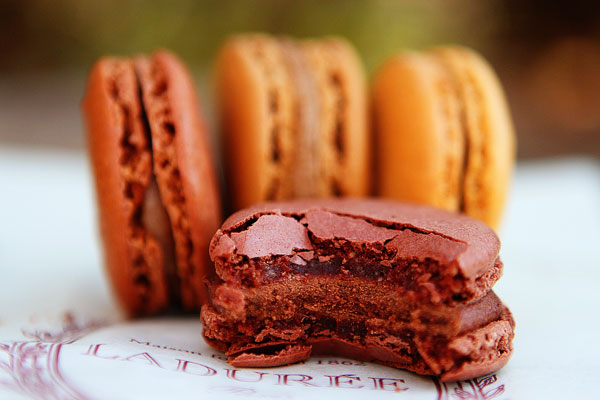 Ladurée is the famous french macaron bakery in Paris that just recently opened a shop on the Upper East Side in NYC.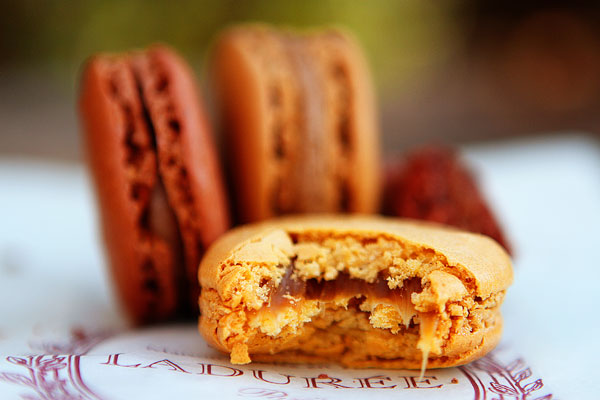 Okay, I am loving gooey caramel as a macaron filling.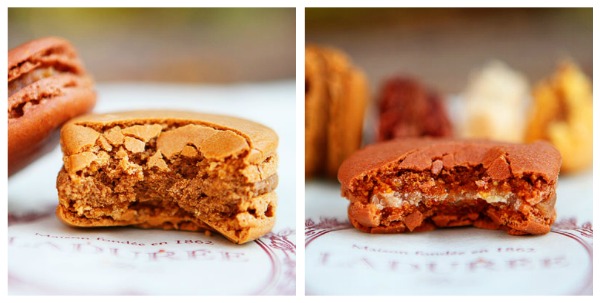 I was just tickled to discovered that out of all the macarons we sampled in New York, these — the ones from Ladurée, the famous french macaron bakery — taste the most like the ones I make. How neat is that. You can find my step-by-step recipe here.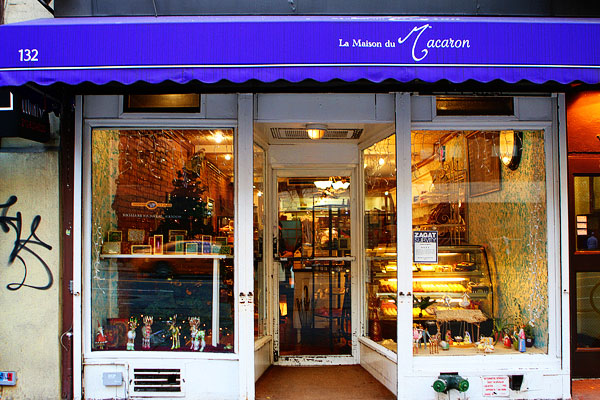 La Maison Du Macaron
132 West 23rd Street, New York, NY
(212) 243-2757 ‎ · nymacaron.com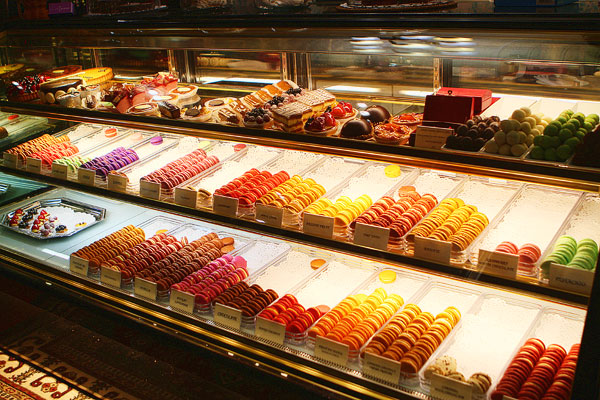 Oh. My. Gosh. La Maison Du Macaron in Chelsea was completely and totally drool worthy.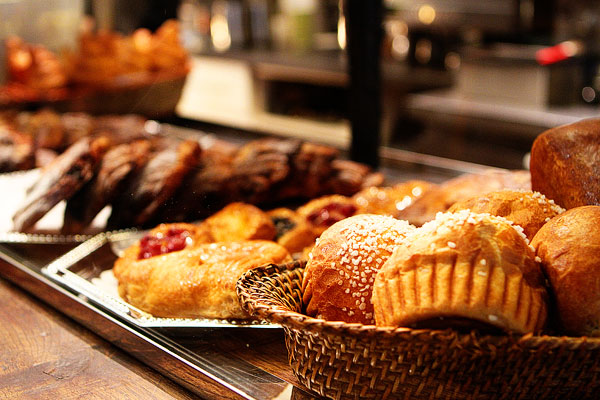 Not only do they have a huge variety of colorful macarons but they also offer a wide selection of gorgeous breads and pastries.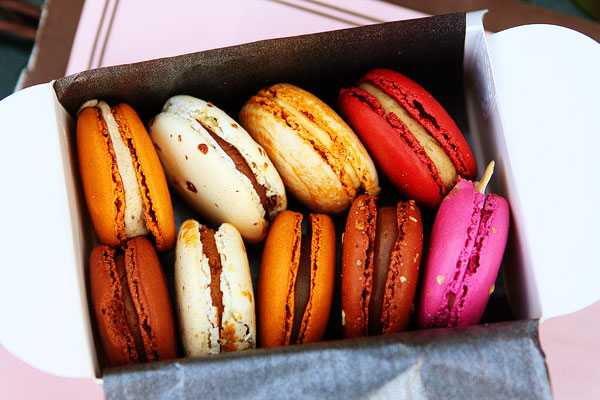 La Maison Du Macaron has a super cozy seating area in the back with couches and tables, but since it was a beautiful day, we opted to take ours to-go and ended up walking all the way up to the park to sample these treats.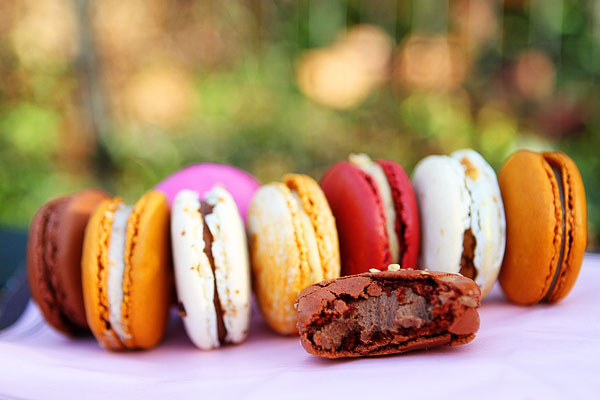 This one was Nutella with little crushed hazelnuts on top.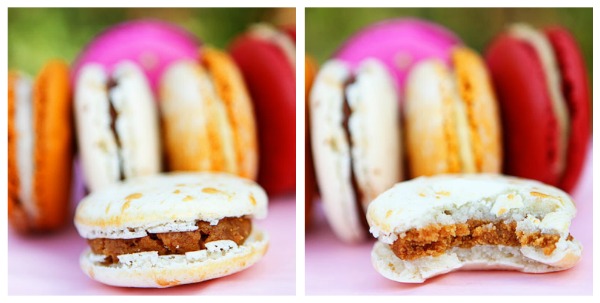 Loved the gold flecks on this Tiramisu macaron!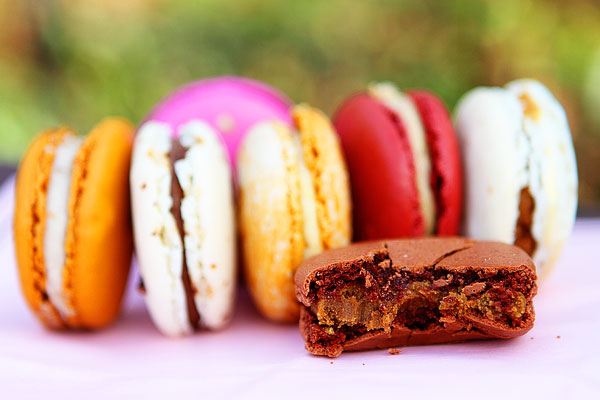 Somehow we ended up getting a chocolate and vanilla macaron everywhere we went! Even though Kevin's usually a chocolate fan, while I prefer vanilla, we both agreed that just the simple, original vanilla macaron was our favorite everywhere we went. Gotta love the classics.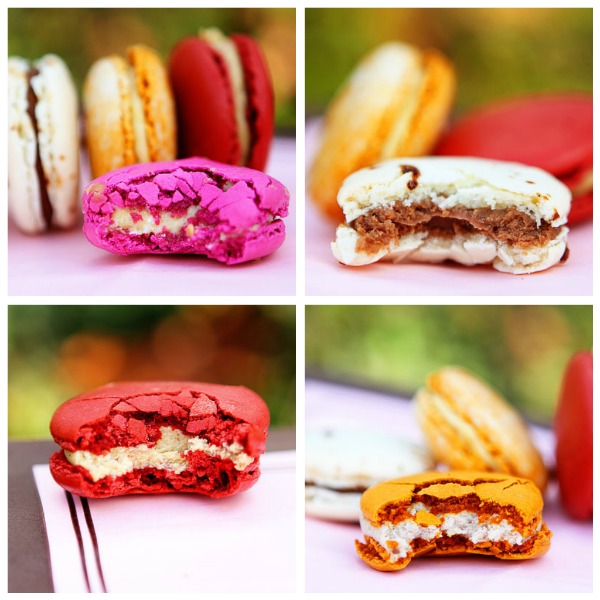 But oh no, that did not stop us from sampling. Check out these flavors, clockwise from left: Lavender Nougat, Milk Chocolate Caramel, Candied Chestnut with Creme Fraiche, and yes… Speculoos. Better known as Biscoff Spread in the US. :)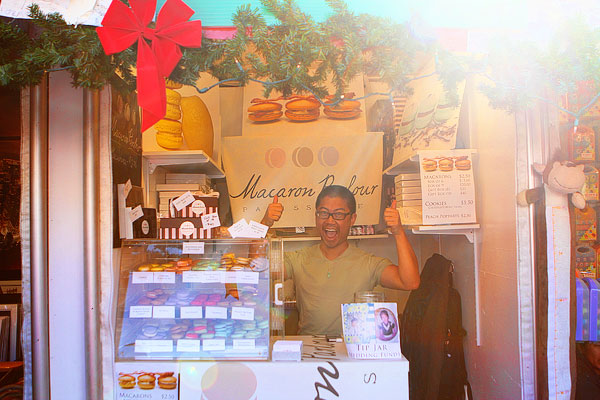 Our last stop in NYC was Macaron Parlour in the little Christmas shops set up in Union Square. Oh cute little Macaron Parlour guy. I feel exactly the same way.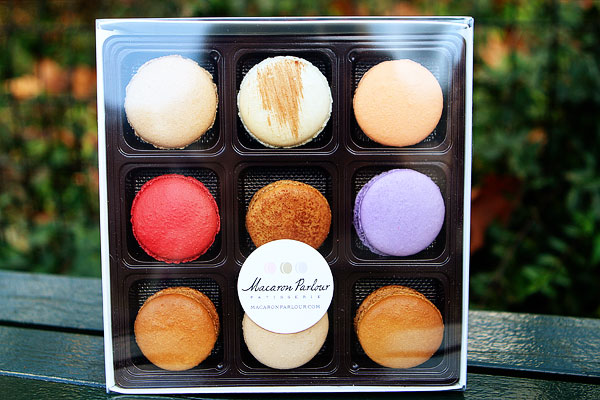 I do believe we saved the best for last.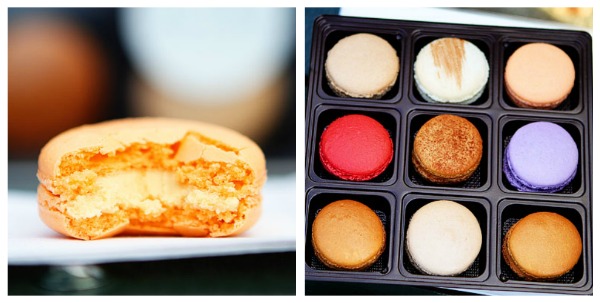 Loved the build-your-own macaron gift box here. Perfect for transporting macarons. After delightfully sampling all the fun flavors here, I went back and got another one for my neighbor and fellow macaron partner in crime, All Artful.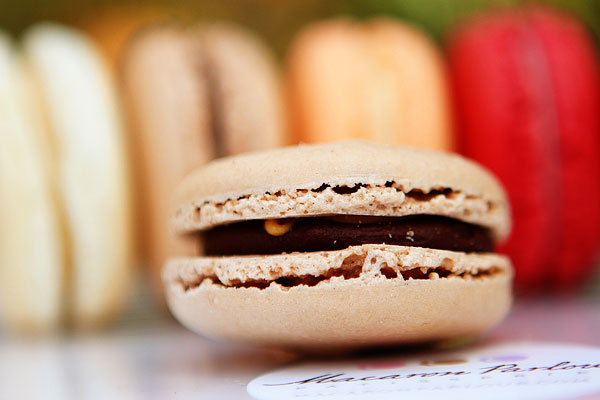 Peanut Butter Cup. Loved the drizzling peanut butter here!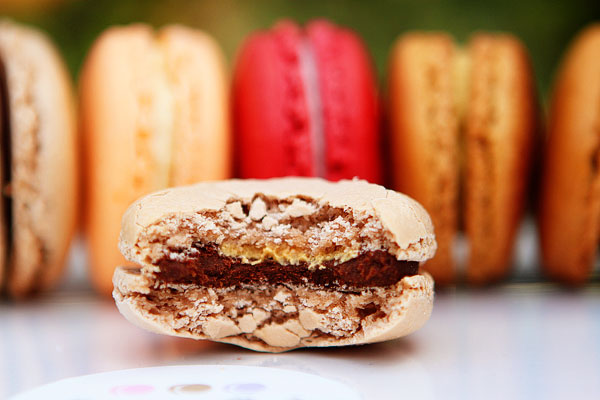 And the fun peanut buttery surprise inside!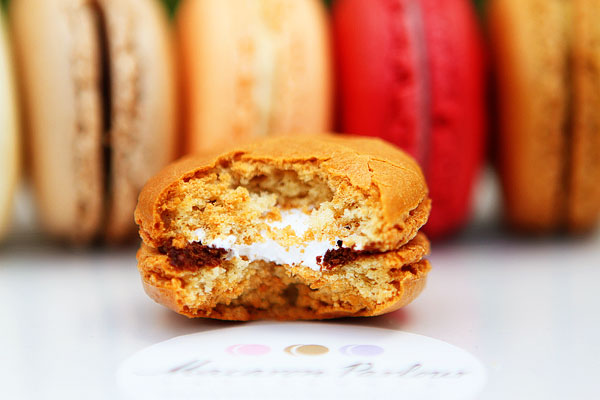 Smore's! This graham cracker macaron with chocolate and marshmallow filling rocked my face off.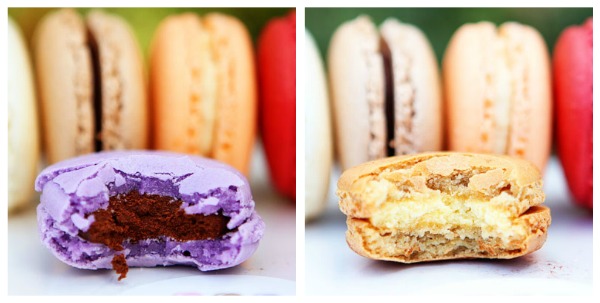 Oh, but the fun doesn't stop there. We also have Nutella and Tiramisu, here.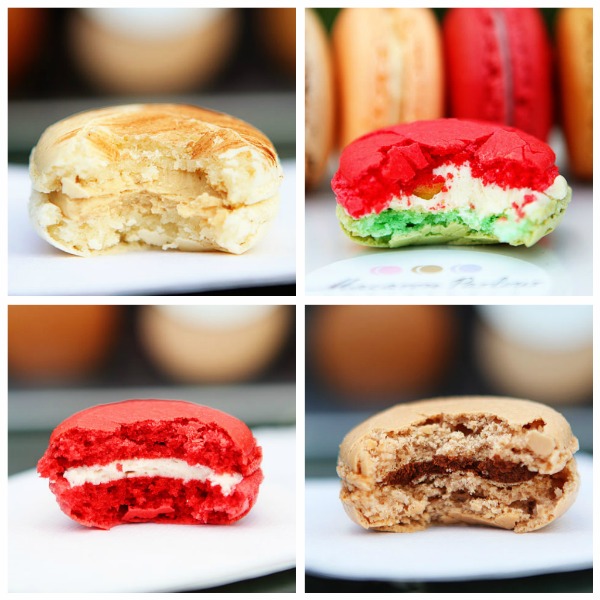 As well as coffee, apple caramel, dark chocolate, and red velvet. Oh how I loved the red velvet macaron!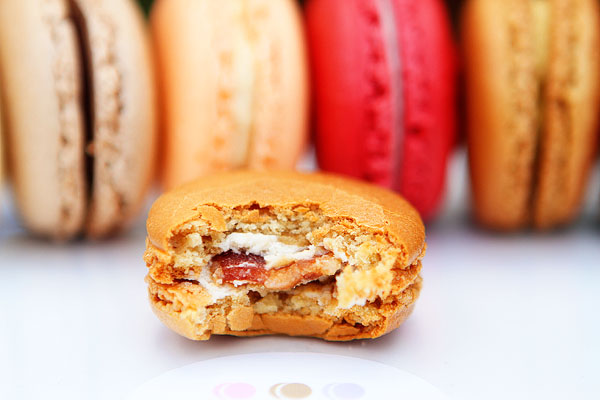 They even had a candied bacon macaron with maple cream cheese frosting. Their signature macaron.
Macaron Parlour will be at the Christmas shops in Union Square every day until Christmas, or you can always find their macarons here.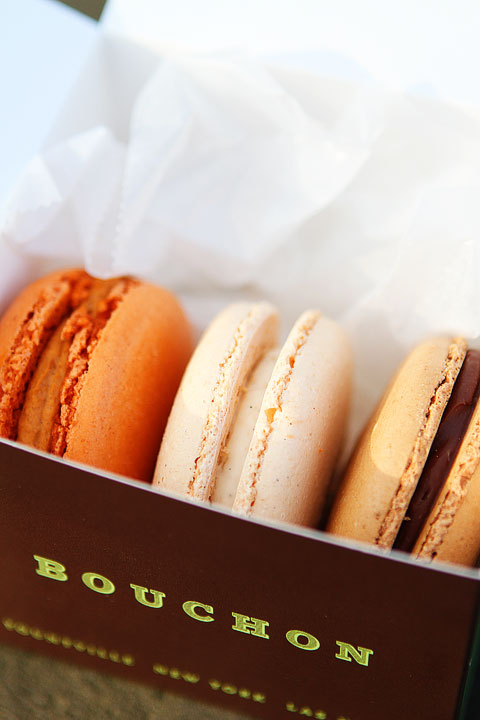 Bouchon Bakery
10 Columbus Circle, New York, NY
(212) 823-9366 ‎ · bouchonbakery.com
Okay, just one more — I couldn't resist! No macaron post would be complete without mentioning Bouchon Bakery. I've spoken of my love for Bouchon many times — the beautiful bakery where I had my first macaron — and it still holds a special place in my heart. My favorite Bouchon macarons are Vanilla, Caramel, and PB&J. When we visited last weekend we picked up a vanilla, chocolate, and their seasonal pumpkin spice macaron.
That giant vanilla macaron. Be still my heart.