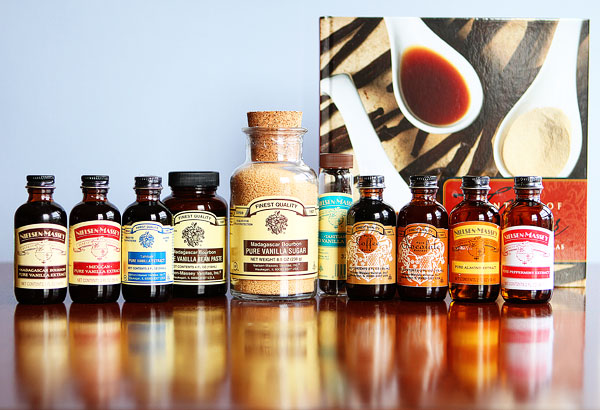 Time's up!
The winners of the Nielsen Massey Vanilla Giveaway are:
#361 Lindsay: "Plain, for sure.  No sense in ruining what is already delicious! :)"
#601 Erin: "i just ran across your blog last weekend, and i am hooked!!! :)"
#1086 Stacie M: "I would eat the vanilla ice cream on top of apple crisp or topped with chocolate, peanut butter and crushed up pretzels!!  YUM, wish I had some now  :)"
Congratulations girls! I love all of your sweet smilies. I've sent ya'll an email. Happy baking!
Oh guys, I've got such a fun giveaway to share with you today! Just look at all these fabulous pure vanilla products from Nielsen Massey. We've got three different kinds of vanilla extracts, vanilla bean paste, vanilla sugar, whole vanilla beans, exotic extracts to spice up your baking, and a cookbook filled with bakery and pastry recipes, along with new ideas for using vanilla as an essential ingredient in savory dishes. I got to go through the Neilsen Massey catalog of pure vanilla products and hand pick my favorites to share with you guys, and Nielsen Massey would like to offer this assortment to three (3) Kevin & Amanda readers today.
Nielsen Massey offers three different types of vanilla extracts processed from vanilla beans grown in three different regions across the globe. What a huge difference it made in my baking when I figured out which type of vanilla was best to use in which recipe! Here's a quick description of the three vanillas, and how to best utilize them.
Madagascar Bourbon Pure Vanilla. The most popular, classic, all-purpose vanilla that is perfect for a wide range of foods from baked goods to barbeque sauces.
Mexican Pure Vanilla. A creamy, spicy vanilla that's perfect for recipes that contain chocolate, cinnamon or other warm spices. A perfect vanilla for the holidays!
Tahitian Pure Vanilla. This is my favorite of all the vanillas. The flavor is so pure and sweet, and I can definitely tell a difference when I use this vanilla. This vanilla is susceptible to heat, so it's only for recipes that will not be cooked. It's perfect for ice creams, fruits, sorbets, frostings, and vanilla butter.
The Giveaway
Three (3) Kevin & Amanda readers will win the following products from Nielsen Massey.
2 oz Pure Almond Extract
2 oz Pure Chocolate Extract
2 oz Pure Coffee Extract
2 oz Pure Peppermint Extract
2 oz Madagascar Bourbon Pure Vanilla
2 oz Mexican Pure Vanilla
2 oz Tahitian Pure Vanilla
Madagascar Bourbon Pure Vanilla Bean Paste
Madagascar Bourbon Pure Vanilla Sugar
2 Madagascar Bourbon Vanilla Beans
2 Tahitian Vanilla Beans
A Century of Flavors cookbook
To read more about how to get the most out of these products, visit the Nielsen Massey product information page. You can find Nielsen Massey vanillas at Williams Sonoma, Sur La Table, and online at Amazon.com
How to Enter
To be entered to win the Nielsen Massey Vanilla Giveaway, all you have to do is leave a comment on this post:  Imagine you have a bowl of vanilla ice cream in front of you. Do you eat it plain or load it up with toppings? Me? I'd leave it plain but turn it into a milkshake! Yum! Kevin would add chocolate and peanut butter for sure.
Contest ends Sunday, December 11, 2011 at 8 pm CST. One entry per person, please. Winners will be chosen by Random.org and notified by email. Giveaway provided by Nielsen Massey.
Good luck!