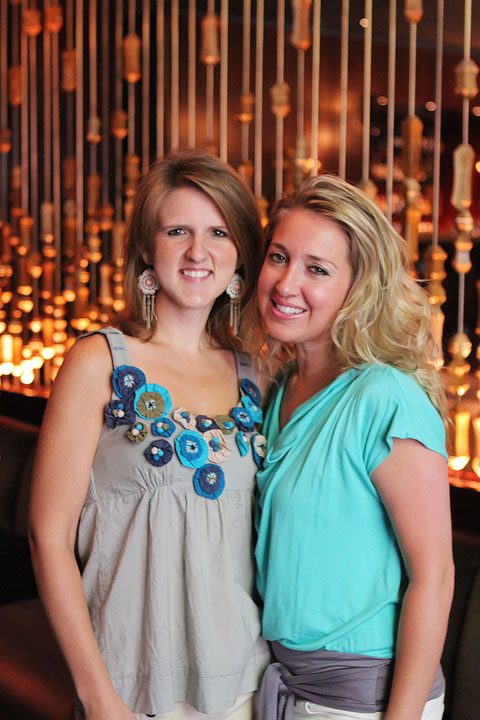 Good morning, friends! This is a pic of me and Jenny bright and early on Friday morning in the hotel lobby. Our first full day in NYC! Unilever invited us to stay at the Royalton during the big blogging conference that was going on in NYC that weekend, BlogHer '10. But Jenny and I didn't have tickets to the conference, so we just got to run around Manhattan all day! We shopped, did some sight-seeing, and ate a whole lot! :) In the morning and evenings, Unilever had their very cool events going on in the penthouse suite that we could attend. Everyone at BlogHer was talking about them! In the morning they had celebrity hairstylists and makeup artists that they *flew in* from LA that would style your hair and get you ready for the day. And in the evenings, they had reflexology massage therapists who would massage your feet and arms after a long day of walking! There were also some really cool people there. I got to meet Rosalind Wiseman, author of Queen Bees and Wannabes. That's the book the movie Mean Girls was based on! Oh, and of course the events were catered! :) Oh my goodness, there was so much food, I can't even remember what all we had! I definitely remember the blueberry muffins and scones in the morning, and the lavender chocolate truffles we had during our foot massages! Oh, and PF Changs was there!
But more on that later! :)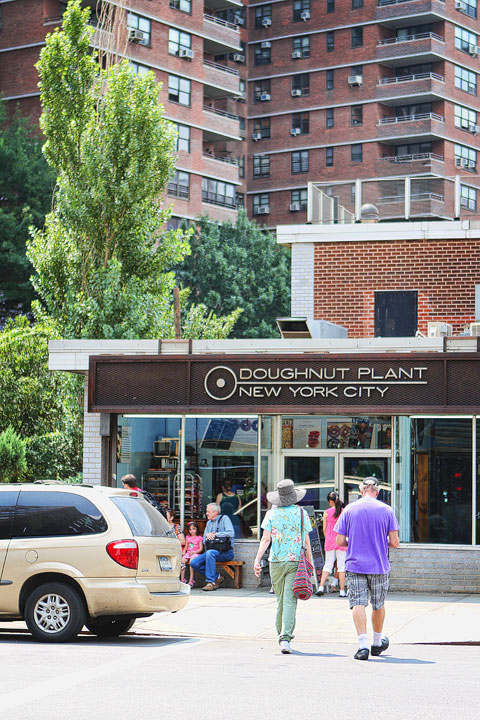 Our first stop was the Lower East Side for breakfast at Doughnut Plant!
BTW, why do I always type doughBUT when I mean doughnut? Is my keyboard trying to tell me something??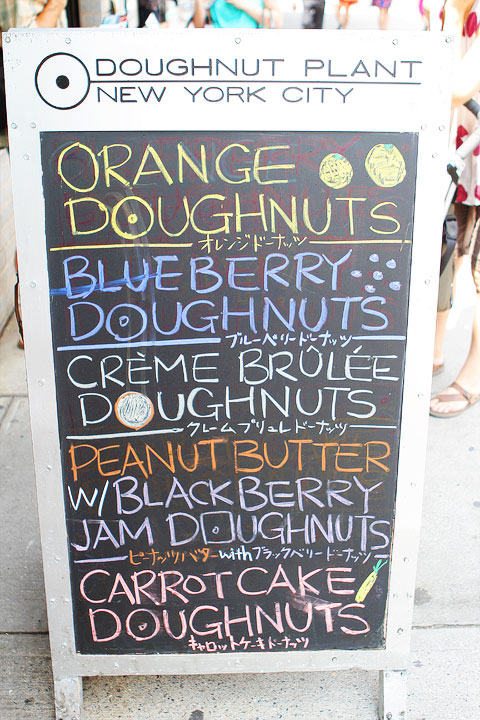 Nevermind that. Look at this cute sign with their fresh "doughnuts du jour"…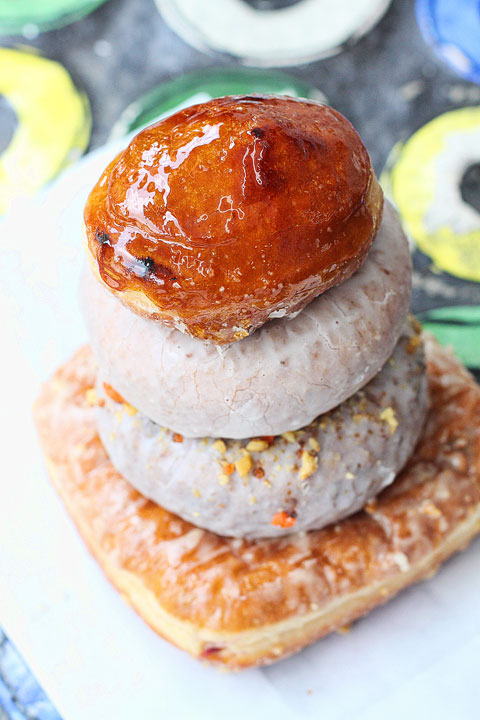 Photo via Jenny
Oh yeah, you know we had to try a bunch. I love traveling with friends who have excellent taste and will split everything with you. :D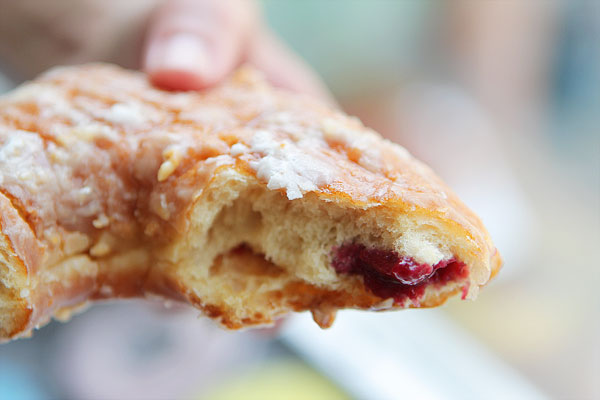 Oh my gosh. The Peanut Butter & Jelly doughnut. The doughnut was peanut butter. Yes. A peanut butter doughnut. With an incredible, peanut-buttery glaze. And blackberry jam piped throughout the square shaped doughnut. Perfect!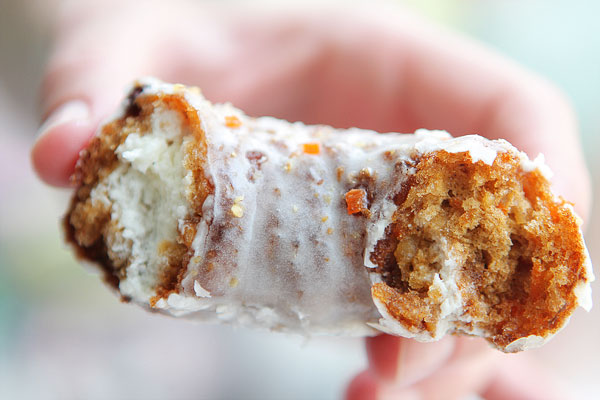 Oh, the Carrot Cake Doughnut with cream cheese icing filling. I loved this one! And I'm not even a huge carrot cake or cream cheese frosting fan. What is up with that?? And the sweet little doughnut man accidentally gave us two instead of one. Score!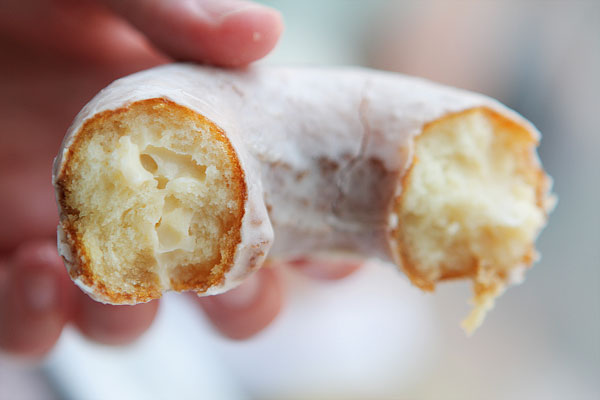 The Tres Leches Cake Doughnut was sweet, buttery, and extremely indulgent. Loved it!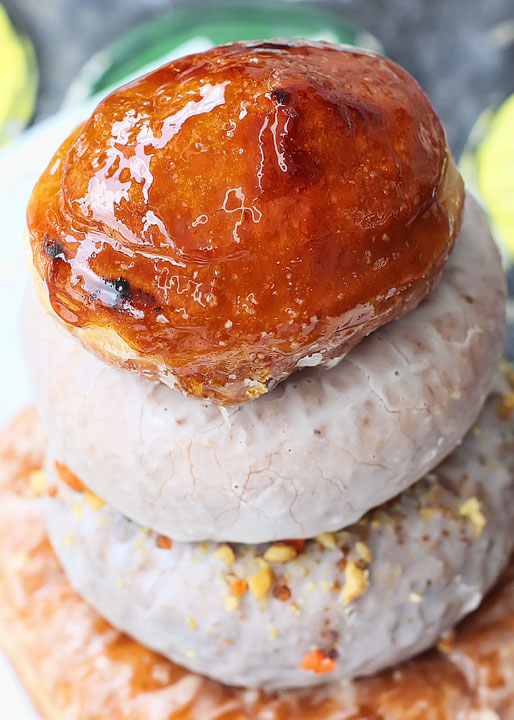 Photo via Jenny
And the tiiiiny Créme Brûlée Doughnut. Sorry! I snarfed it down too quickly to get a pic of the silky vanilla custard inside. You'll just have to take my word for it. :D But just look at that incredible, crackly, sugary crust! *crunch!*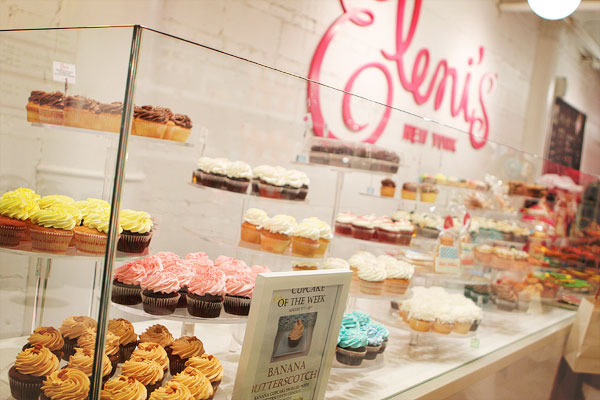 After completely filling up on doughnuts, what do you think we wanted to do next? Eat cupcakes of course! ;)
Just kidding! We headed over to Chelsea Market and shopped off all our doughnuts first! :) The had the most incredible Anthropologie store there and I wanted to buy one of every. single. thing. I refrained. But since I'm addicted to strawberry jam, I definitely picked up this yummy-sounding Strawberry Raspberry jam from Sarabeth's Kitchen.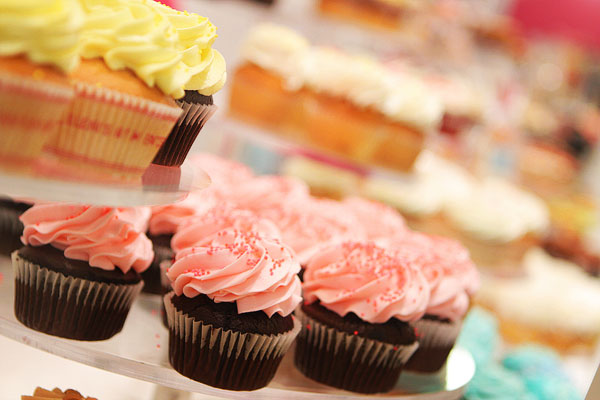 But eventually the cupcakes from Eleni's were calling out to us!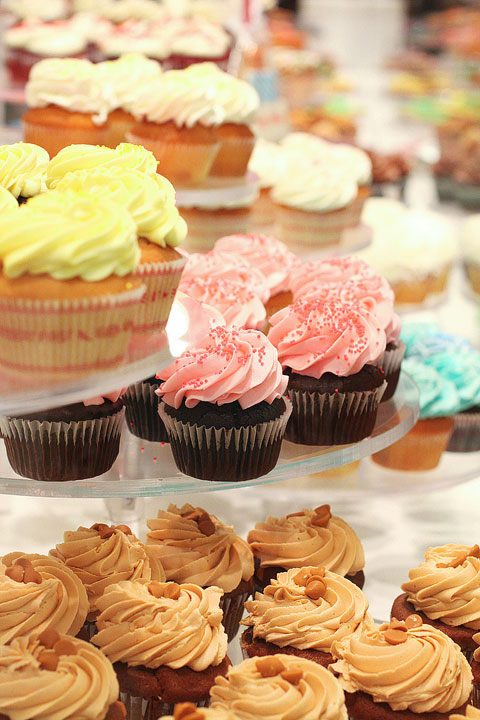 Photo via Jenny
How could we not stop in this adorable bakery?? :)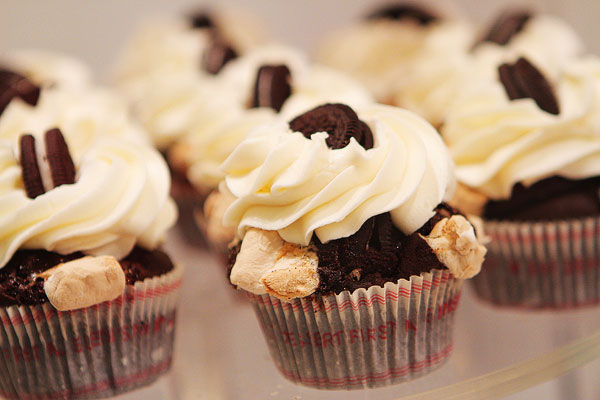 We decided on the Oreo Cookie Madness Cupcake… (look at those tiny toasted marshmallows!)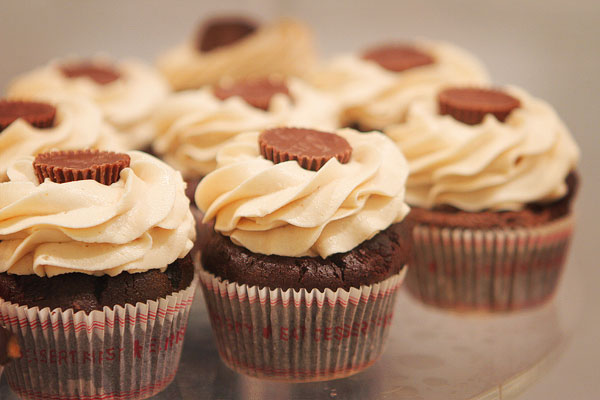 And the Reese's Peanut Butter Cup Cupcake.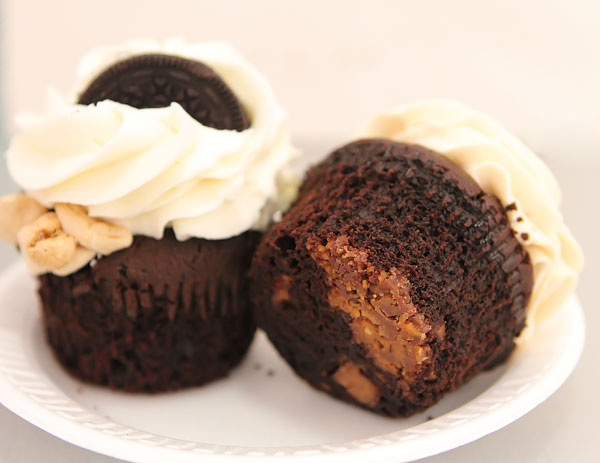 Okay, first let me say, we went to 2 other well-known cupcake bakeries while in NYC, including Magnolia Bakery. Should I tell you the Battle of the Cupcakes verdict now or wait until the end to announce the winner??! :)
Okay, I will at least tell you this! :D Oh my gosh. This icing? Was incredible. Unlike anything I have ever tasted. All icing will now be held to this standard, and I'm afraid I'm going to be very, very disappointed from now on! :) The vanilla buttercream on the Oreo cookie cupcake was just totally outta this world. And the peanut butter buttercream on the Reese's cupcake??
I think my mouth is watering right now.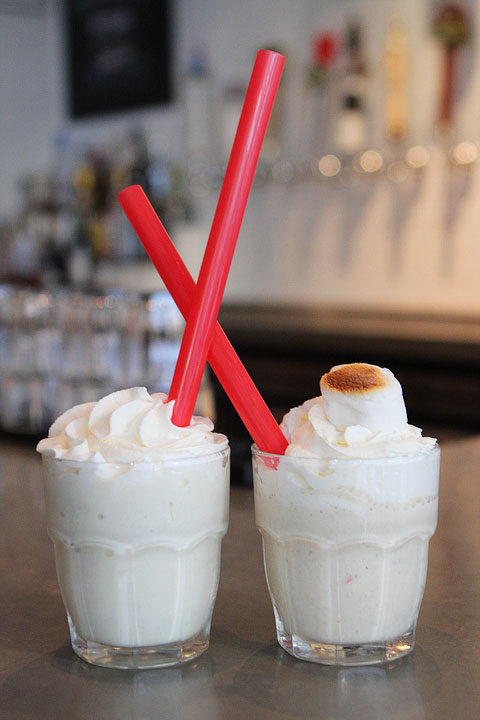 So, after doughnuts and cupcakes, what do you think we chose to finish off our trifecta of sweetness?? Gelato Milkshakes from Stand of course! Okay, I promise we had a real lunch and did lots of walking in between all these sugary confections! :D And look how tiny they are… they did have a larger sizes available. We totally could've gotten much larger gelato shakes. But it's all about making healthy choices. Right?? ;) Jenny had the honey lavender milkshake, and let me just say it tasted *just* like lavender smells. Just in case you have ever wondered what this new honey-lavender thing is about?? It tastes just like lavender! lol! :) And I had the famous toasted marshmallow gelato milkshake. Delish!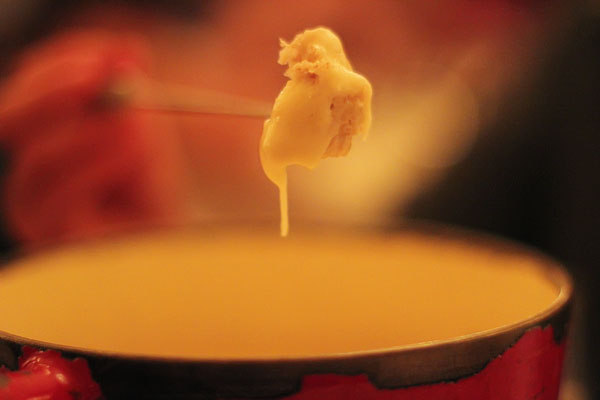 Okay. Real food time! :) Jenny had been telling me about Artisanal Fromagerie and Bistro and their life-changing mac and cheese for weeks before our trip.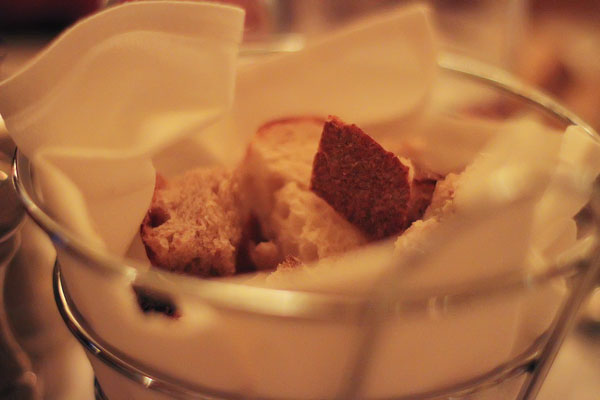 I was pumped. We started off with some very yummy fondue…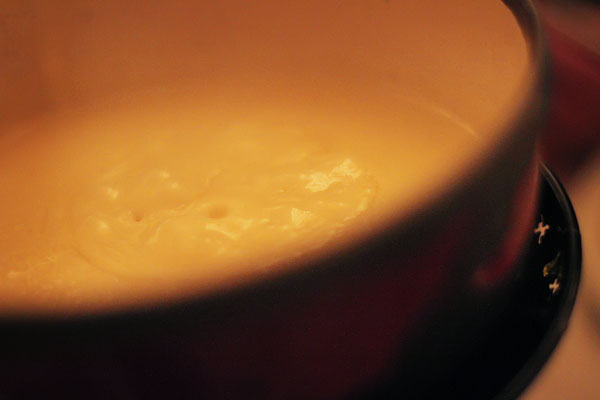 My gracious, look at that bubbly goodness!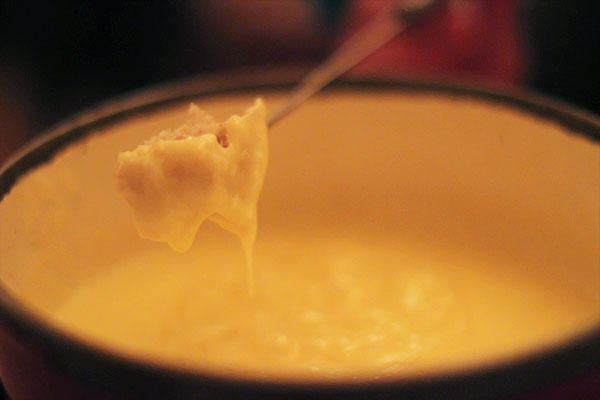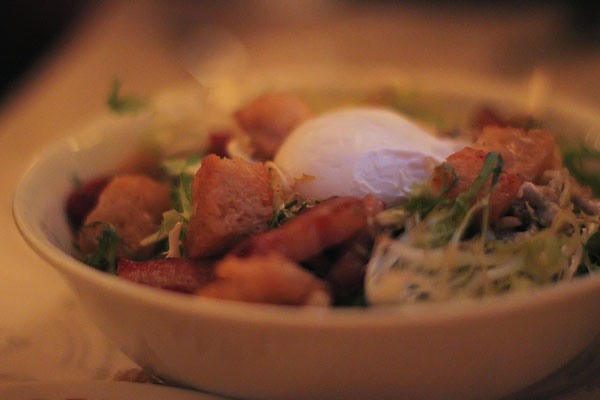 And the Salade Frisée. Let me tell you about this salad. If I could only have salad for the rest of my life, I think I could handle it. I would totally eat this salad every day for the rest of my life! Oh, the bacon. It had super thick crumbles of bacon- see that bite right in the middle?? That's not a crouton.. that's bacon!! :) And that beautiful white dollop in the middle is not sour cream… it's a poached egg, folks. Oh yes. Indeed.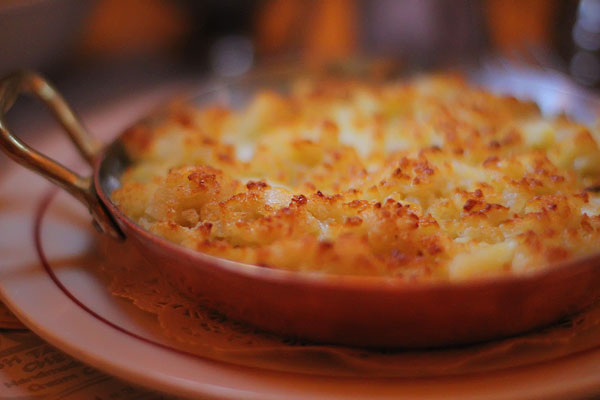 The mac & cheese was definitely the star of the show.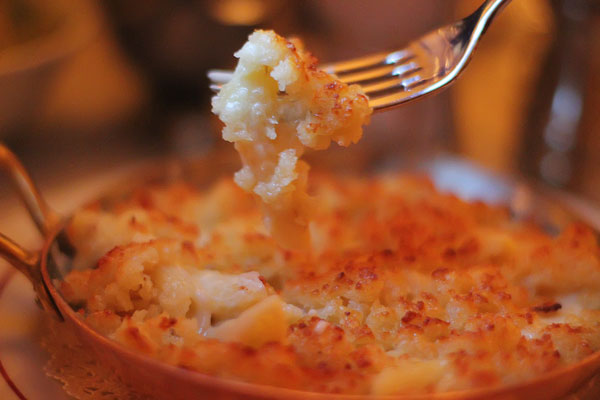 So smooth & creamy, with a buttery panko crust. And guess what! Jenny has this famous gourmet mac and cheese recipe from Chef Brennan himself up on her blog! Artisanal mac and cheese at home? I will totally be trying this.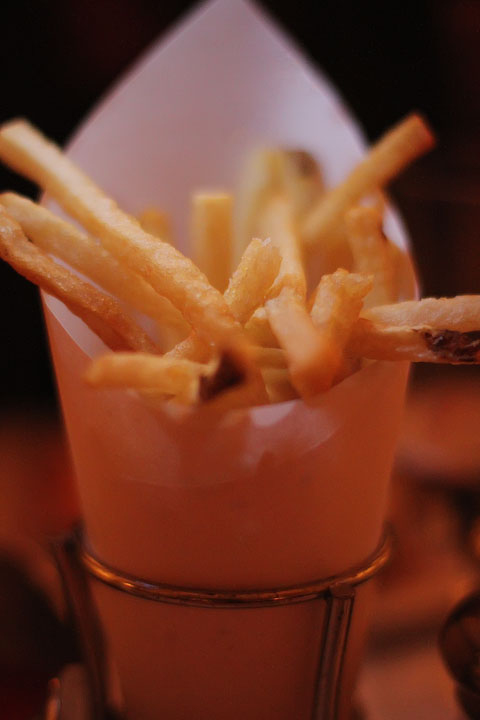 Can't forget our side of pomme frites. :)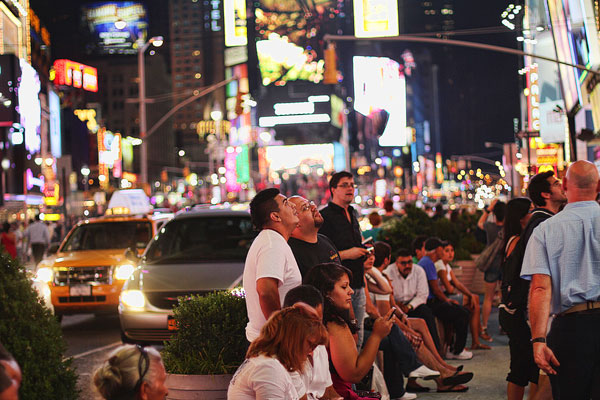 After dinner we walked around Times Square before heading back to the hotel. So gorgeous and magical at night! It was about 11 o'clock at night and everything was still open and packed with people!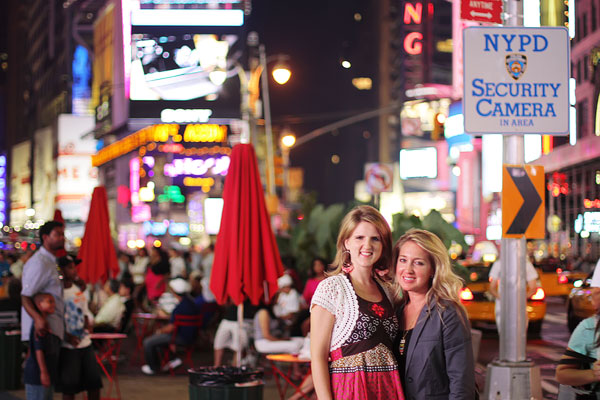 More soon!
Kevin has the day off so we're starting our weekend early. Woohoo!
Definitely check out this super sweet post from Jenny on our adventures in NYC.
See you Monday! :)