We had a really fun Labor Day weekend. Three-day weekends are such a treat, and we tried to make the most of this one by fitting in as many activities as possible! :)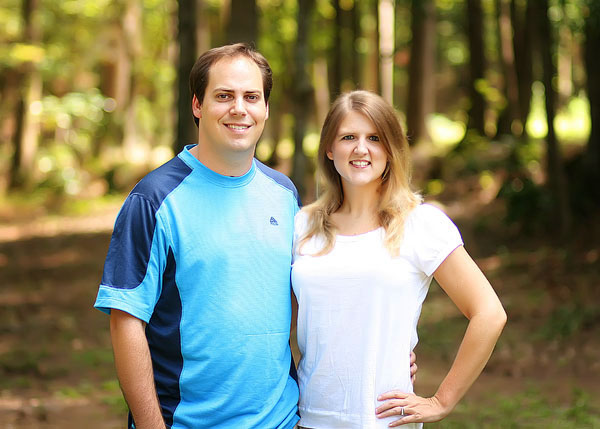 Saturday was the first Auburn football game of the season, so on Friday after lunch we loaded up and headed straight for Auburn! :)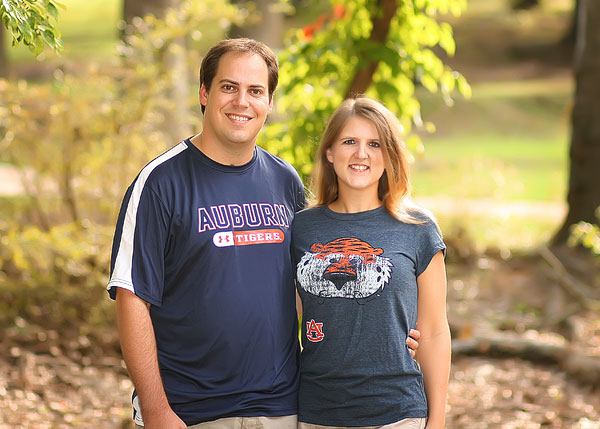 Before the game we went to "Tiger Town" to find new Auburn shirts for us to wear to the game. This is my new Aubie shirt! Isn't he cute? :)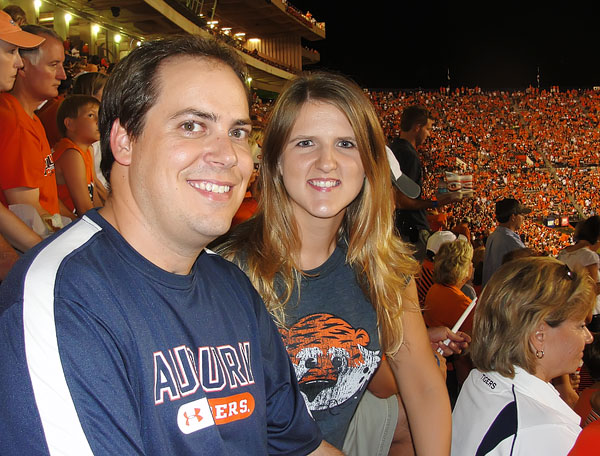 I love, love, love Auburn football games. The traditions, the band, the game, the cheering, the CROWD! :) The first game of the season is always special because, I don't know, I guess in the months during the off season I forget how much I love it? But then I get to that first game. And I'm always overwhelmed at just how much I've missed it! I always miss it. I love Auburn football! :)
I'm getting old though, because my hiney is STILL sore from sitting in those bleachers for 4 hours!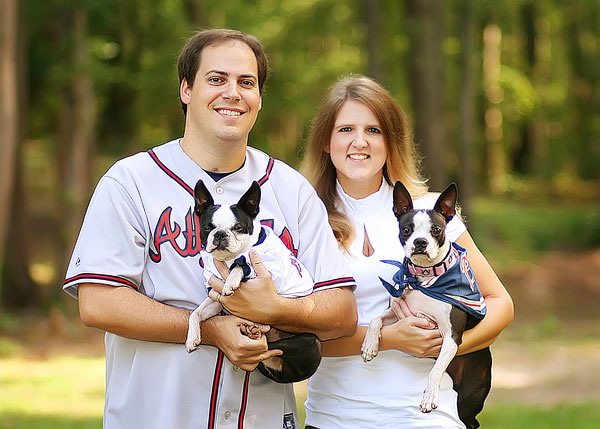 On Sunday we went to an Atlanta Braves game! :) Yes, that is Miley and Howie all dressed up in their Atlanta Braves gear! :) That's because it was a special "Bark in the Park" dog day at Turner Field where dogs were allowed to go to the game! :)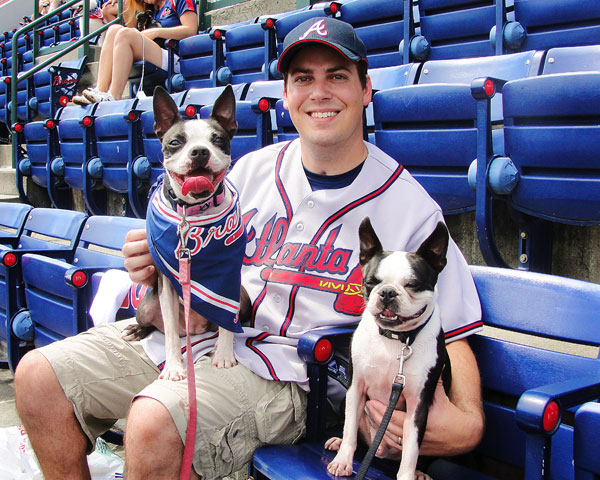 Here's Miley and Howie at the park, getting ready to cheer on the Braves! :)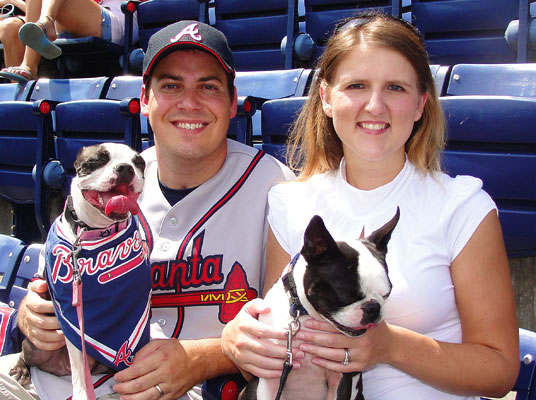 We were very excited when we found out that Tim Hudson would be pitching at the game- he's Kevin's favorite pitcher and he used to pitch at Auburn too! :) That's how Kevin and I got to know each other, you know- before we started dating. Have I ever mentioned that? I have a friend, who shall remain nameless ;), but she had a huge crush on one of Kevin's friends. Kevin and his friend would always go to the Auburn baseball games in the spring of 2001. So my friend and I would go to the games together and try and work it out so she could sit next to Kevin's friend. Well! Kevin would never let that happen because *he* was trying to work it out so *I* would sit next to *him*! :P We would always lament how he was "messing up our plans!" ;) Little did I know! Well, my friend and his friend never did get together. But it all worked out because her Mr. Right came along not too long after that. And I will always be grateful to her for dragging me to all those baseball games! :)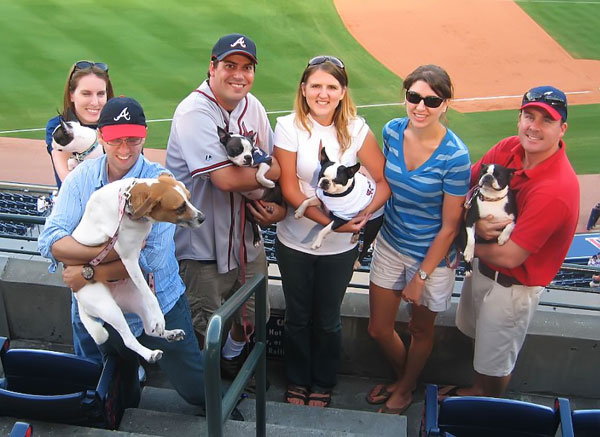 But back to the Braves game! Not only did we get to bring Miley and Howie to the game, but the day was twice as nice because we got to meet up with a few of our friends and fellow boston terrier owners! :)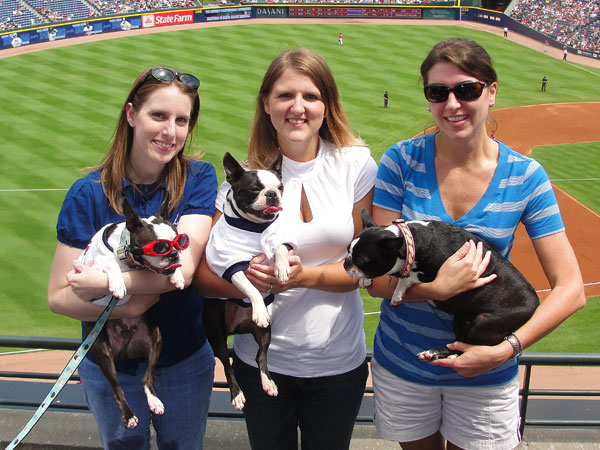 This is Shelby and Rupert B. Puppenstein, me and Howie, and Jenny and Bella.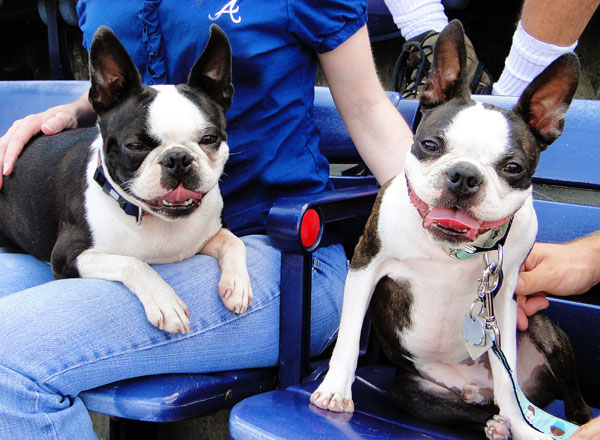 It was also like a mini-family reunion for Miley and Howie! Miley and Bella, while not directly related, are from the same beautiful and sweet breeder in Tennessee. Miley's breeder is awesome- I love her! Miley is 3.5 and we still keep in touch. She always leaves the sweetest comments on Miley and Howie's pictures! :) This is Howie and Rupert in the picture above. After we got to the game, we saw the amazing resemblance between them! We got to looking at their pedigrees and found out they are actually pretty closely related! They share the same great-grandfather, Ch. Sunwoods Repeat Performance, ROM, "Pete". So does that make them third-cousins? haha. :)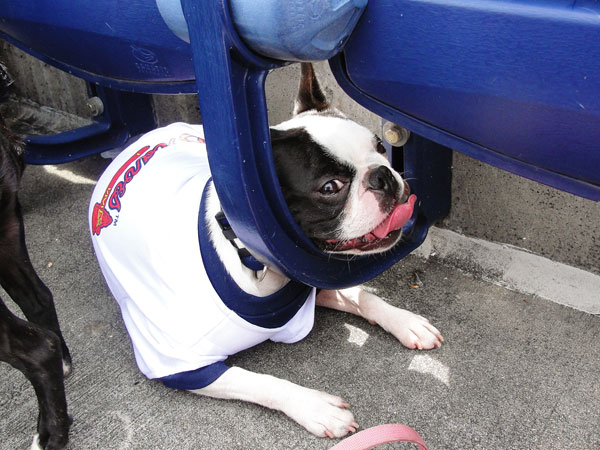 Howie's favorite spot during the game was hanging out under the chairs, in the shade, with his head rested on the seat. What a lazy boy! :)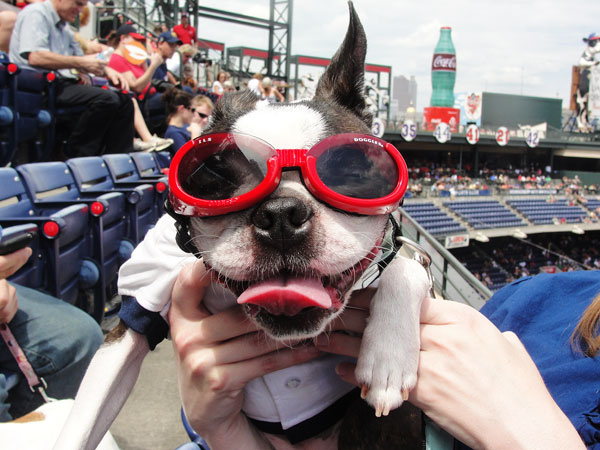 It was really sunny at the game, so Rupert had to sport his super-cool shades! :)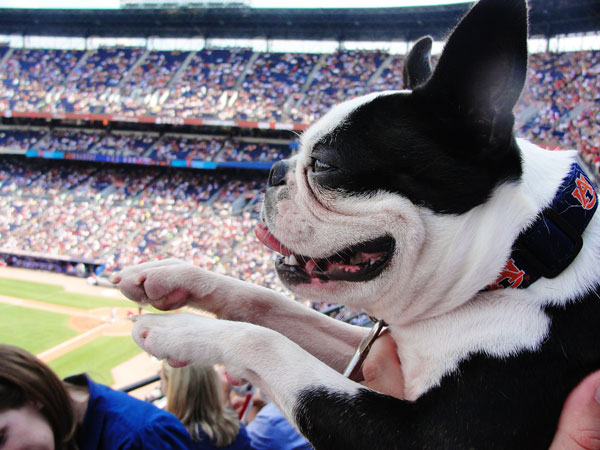 Howie had a blast watching the game and cheering on the Braves! ;) They didn't win, but it was still a fun time for all. :)
Thanks so much for looking! :) How was *your* weekend?? :)