It's a doodle font update explosion!! It was about time for a new font update, and this update is DOODLECENTRIC!! :) There are 9 new doodle fonts, just posted today, along with 8 more of the cutest handwriting fonts ever! :)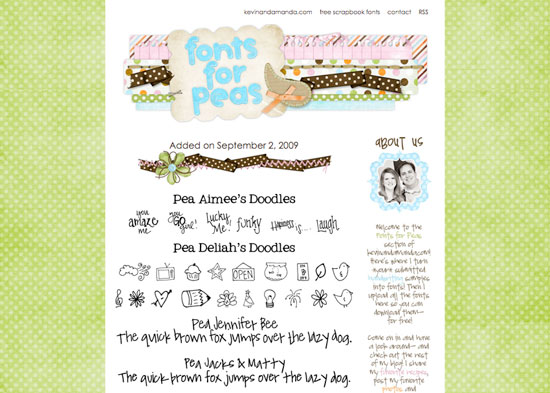 Check them all out on the new Fonts for Peas blog!
Another feature that's been added to some of the doodle fonts that you might like is a doodle chart that shows every doodle included in the font along with what key to press to get it to show up! Like this one below: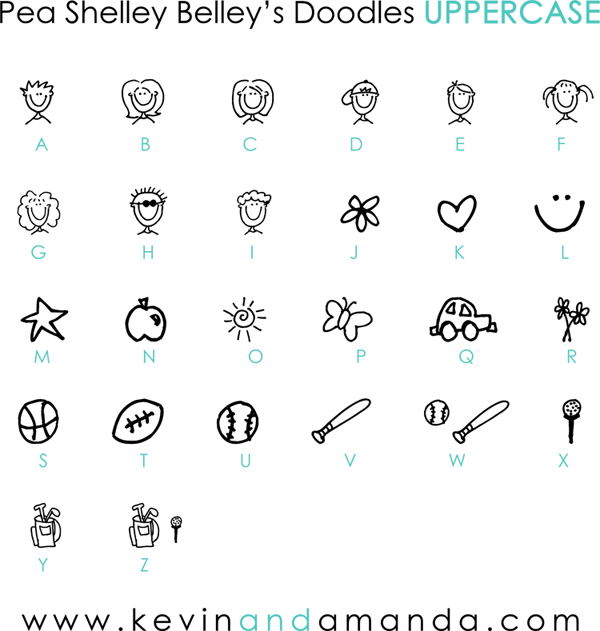 You can see this chart on the font page, under the Download button, so you know exactly what you're getting before you download it.
Unfortunately, after making a few of these charts, I realized I won't have time to do this for every single font. But I do love them and I think they are very helpful! Sooooooo…. if you are:
1. Familiar with Photoshop, Paintshop Pro, or another image editor and….
2. Want to be the first to get new fonts, as soon as they are made, before they are released! and/or….
3. Want to advertise your site/blog for free on kevinandamanda.com
Please feel free to contact me! I'll send you the blank, doodle chart template and all you have to do is fill in the doodles for each letter. There's a place down at the bottom for you to put an advertisement for your blog- a link, an image, whatever you want. It'll be on the chart template so if that image gets posted somewhere else, your blog will be advertised there too! :) As a THANK YOU SO MUCH, I'll also send you ALL the new fonts I have made that haven't been released yet- doodles, regular Fonts for Peas and Free Scrapbook Fonts. This is a big job, so as many people who are interested can apply! :) I have plenty of old doodle fonts that can be converted and plenty of new, still unreleased fonts to share so please contact me if you are interested! :)
But enough about that. Let's talk about the FONTS more!! :)
Be sure and check out Pea Aimee's Doodles! Remember Pea Aimee? The girl who brought you this font?

She now has a new doodle font just for us! :)


If you loved her font, you'll love her doodles! Click the pic to go grab it now.
I'd also like to introduce you to Jennifer, owner of HerSouthernCharm.com. Jennifer makes the CUTEST charms, accessories and jewelry- just check out this necklace she made for me! :) It has our initials, k & a, and a little pearl charm! :)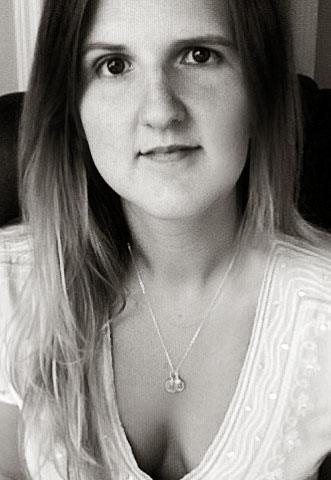 Isn't it cute?? Can you see it?? Sorry about the quality of the pic, I took it with the webcam on my Mac. No makeup- aughhh!! Sheild your eyes!
Anyway! Jennifer has THREE awesome fonts for us today!!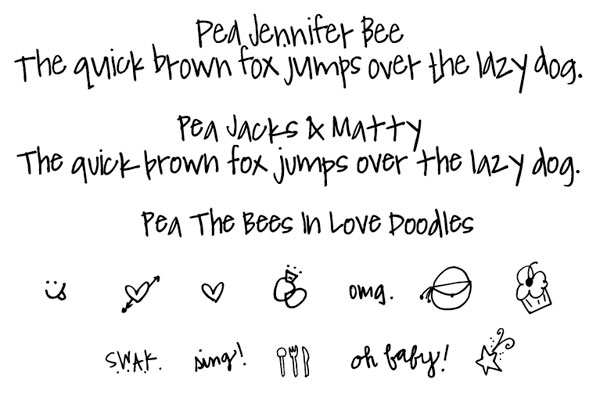 Jacks and Matty are her puppies! Isn't that cute?? ;) And I'm not sure what The Bees in Love is all about! You'll have to ask her! ;)
Not only is Jennifer giving us 3 wonderful fonts, she's also giving away one of her AMAZING necklaces just for kevinandamanda.com readers!!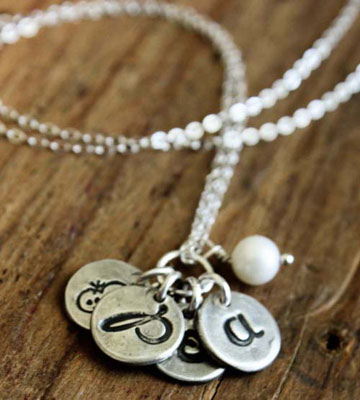 This Anniston Littles Necklace giveaway comes with the necklace chain, one Anniston Littles charm (your choice! custom made just for you!!) and one pearl charm!
Entry time has ended!
Thanks so much for all the lovely comments! The winner of the Anniston Littles Necklace is #165 Marty Philpot!! :) Congratulations, Marty!! :)
To be entered to win this necklace, all you have to do is leave a comment on this post. Check out Her Southern Charm and leave a link to your favorite design! :) There are so many to chose from! :) One entry per person please! The winner will be chosen by his or her comment number which will be picked by Random.org. But hurry! This contest ends Friday, September 4, 2009 at 11:59 pm! :)
Thanks for looking! Go grab the rest of the fonts and GOOD LUCK!!! :)