Looking for Gate 1 Travel Reviews? If you're thinking about taking a Danube River Cruise with Gate 1 Travel, read all about our experience here!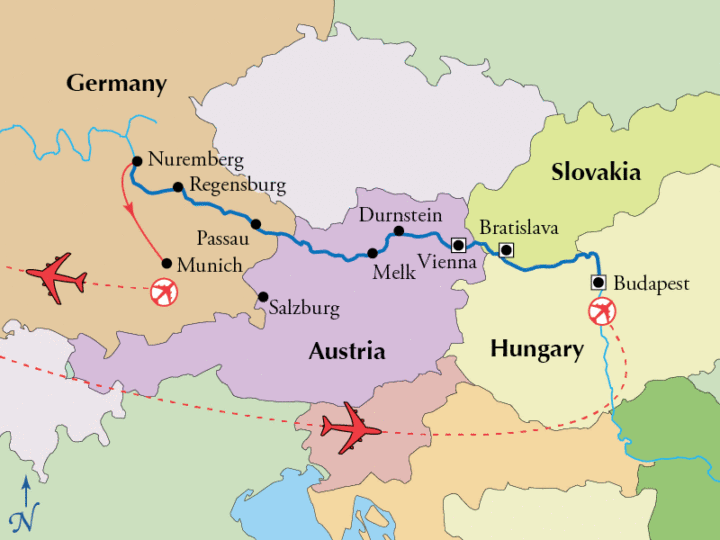 Gate 1 Travel Danube River Cruise Itinerary
We recently took a 9-day river cruise with Gate 1 Travel from Budapest Hungary to Munich Germany. We saw 4 countries and 7 cities. I loved waking up in a new place every day! We explored fun cities like Vienna and Salzburg, and wandered through quiet Bavarian villages along the river.
See below for our cruise itinerary and what we did on each day of our cruise.
---
Gate 1 Travel Day 1 – Travel to Hungary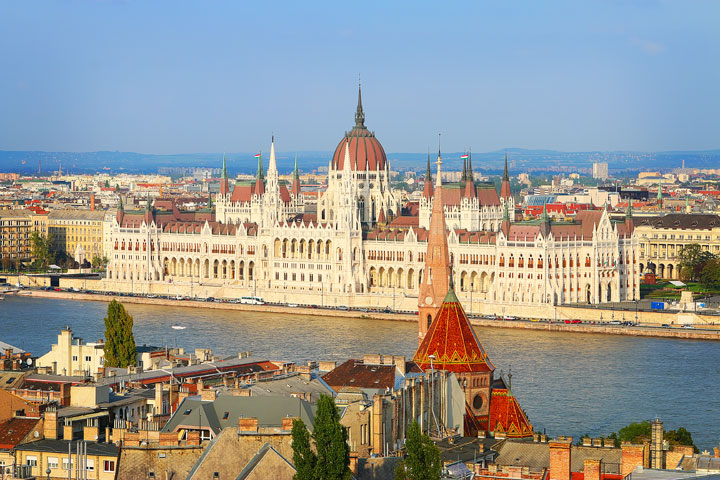 The first day of the cruise is a travel day. However we arrived to Budapest a few days early so we could explore the city on our own. If you have time  I highly recommend arriving to Budapest 1-2 days early so you can experience of Europe's most beautiful cities!
---
Gate 1 Travel Day 2 – Budapest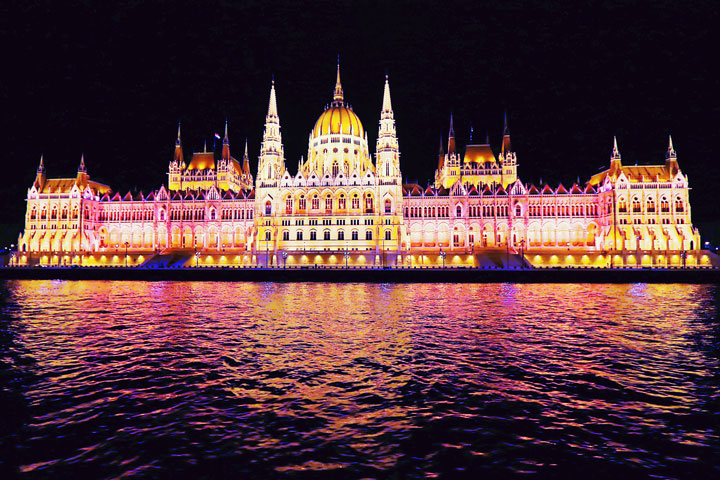 The cruise begins with incredible nighttime views of Budapest as you sail out of the city.
---
Gate 1 Travel Day 3 – Bratislava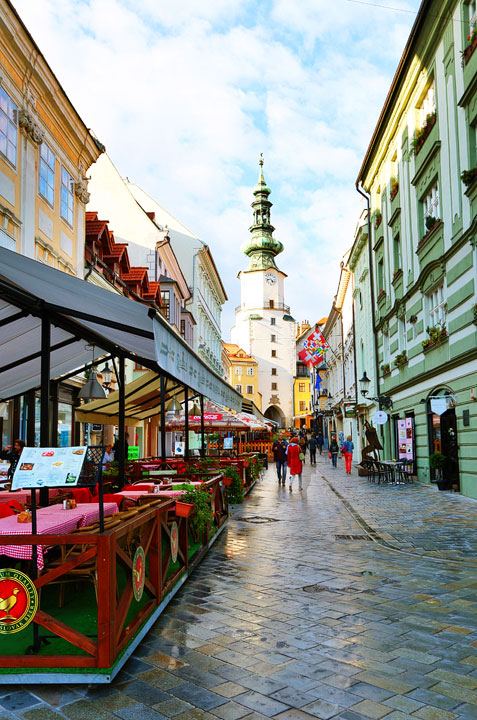 The next morning we woke up in Bratislava. We had a tour of the city with a local guide and had free time to explore on our own.
---
Gate 1 Travel Day 4 – Vienna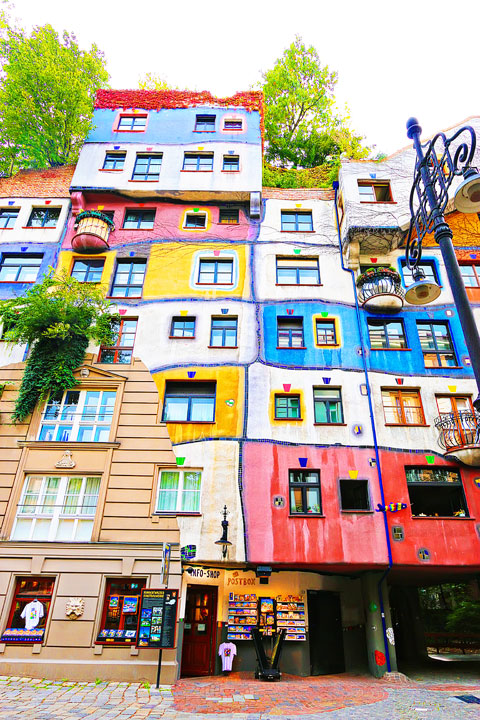 Gate 1 Travel provided us with a very informative tour by a local tour guide in the morning. It was extremely helpful in getting us oriented with the city. We also had free time to explore on our own.
---
Gate 1 Travel Day 5 – Wachau Valley / Melk Abbey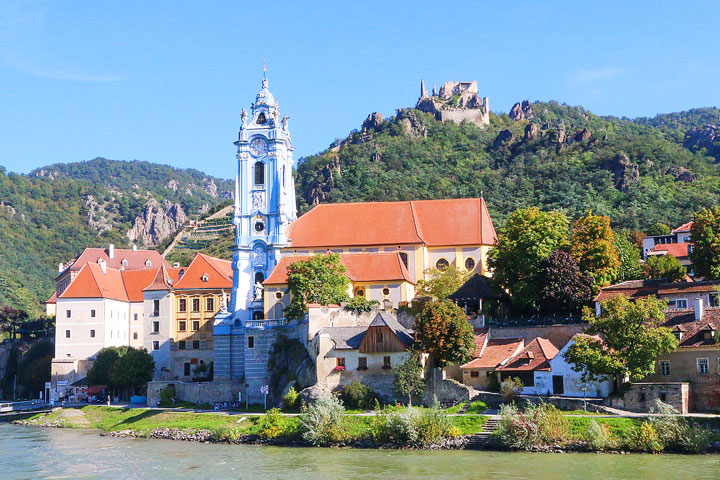 This was one of my favorite days on the cruise! In the morning we visited the tiny Bavarian village of of Durnstein, one of the prettiest villages on the Danube River. In the afternoon we cruised through the scenic Wachau Valley with spectacular views of vineyards, castles, hilltop ruins, and monasteries. Later we visited Melk Abbey, one of the world's most famous monasteries.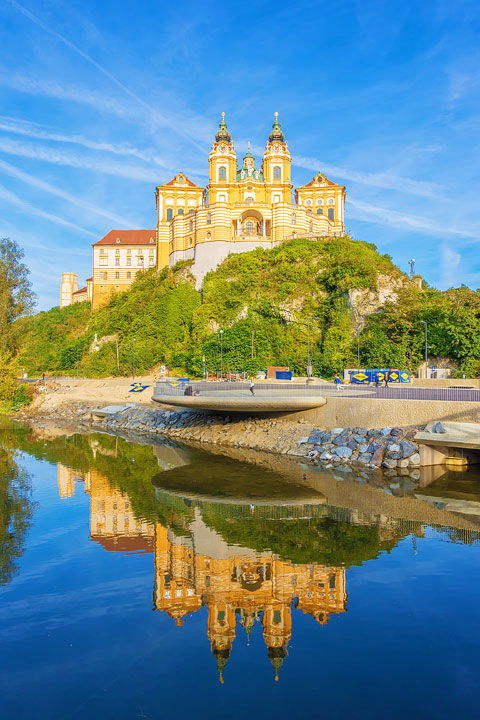 ---
Gate 1 Travel Day 6 – Salzburg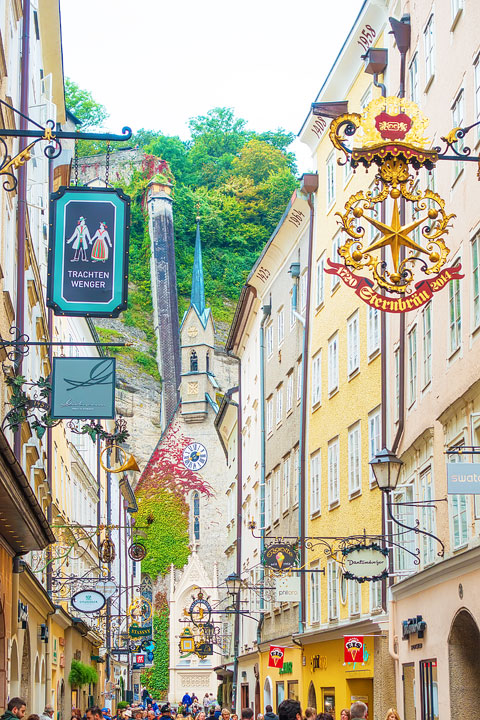 In every city we visited we had a local guide who gave us a tour of the city. They were all very good and informative, but our guide in Salzburg was my favorite!! Our guide was fast-paced, to the point, told us all the exciting stuff, and skipped the boring stuff.
---
Gate 1 Travel Day 7 – Nuremburg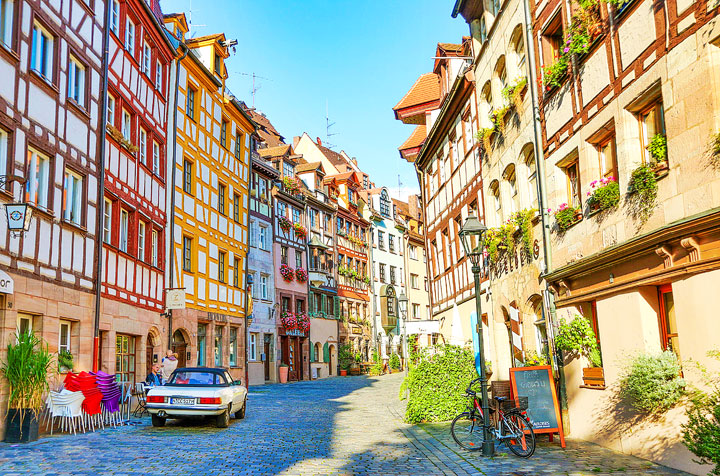 Nuremberg is located right in the heart of Bavaria, one of the most beautiful regions of Germany. The most famous Christmas market in Germany is hosted in the main square of Nuremburg!
---
Gate 1 Travel Day 8 – Regensburg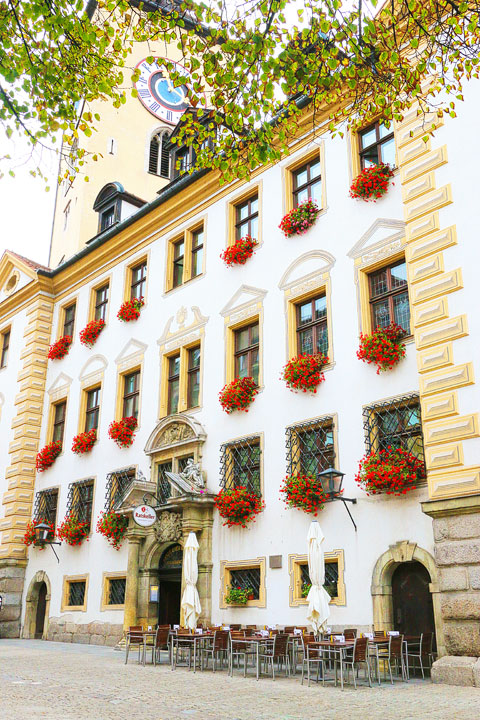 Regensburg is one of Germany's largest and best preserved medieval cities. You can see ancient Roman ruins in Regensburg that are over 2000 years old!
---
Gate 1 Travel Day 9 – Munich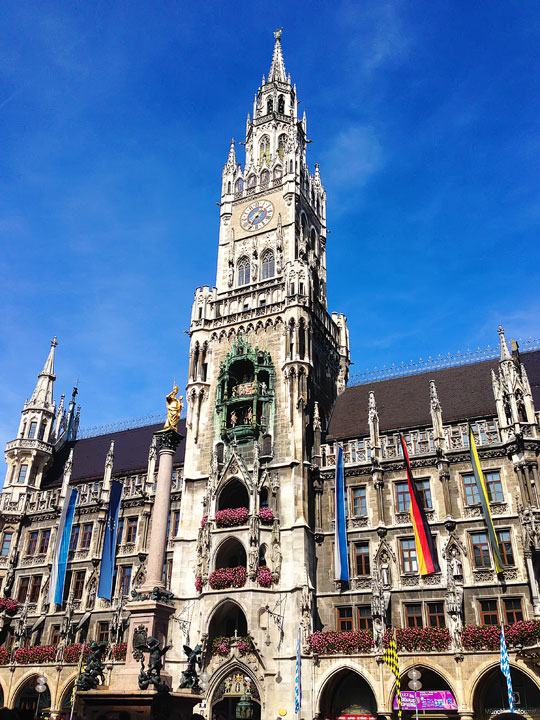 On the last day of the cruise you will be dropped off at the airport in Munich Germany. We decided to extend our trip in Munich and go to Oktoberfest!
---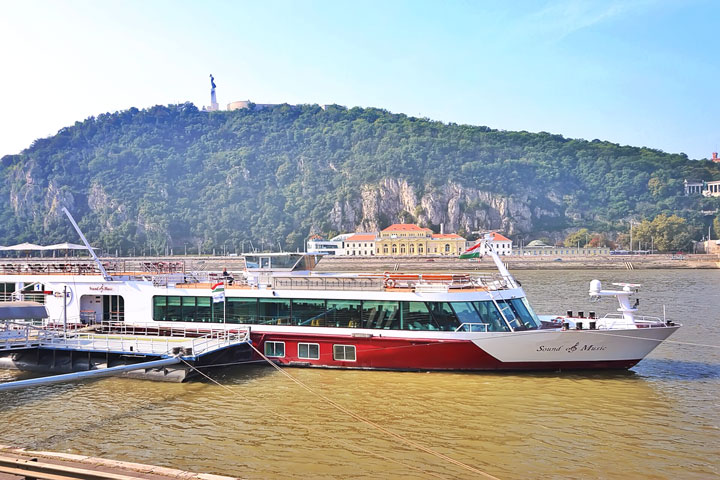 About Our Gate 1 Travel Cruise Ship
Now I'll take you on a tour of the ship! Here were are embarking our ship in Budapest Hungary.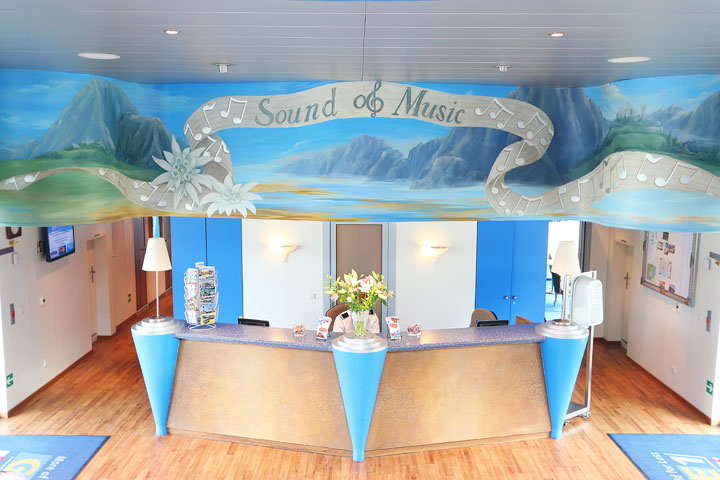 Our ship was called the MS Sound of Music.

The Lounge
The ship felt very cozy and not too big. There were only about 120 passengers on the boat. This was the lounge, with panoramic windows all around.

The Dining Room
And this was the dining room. The dining room was very fancy!
Spa & Gym
There was even a spa on the ship!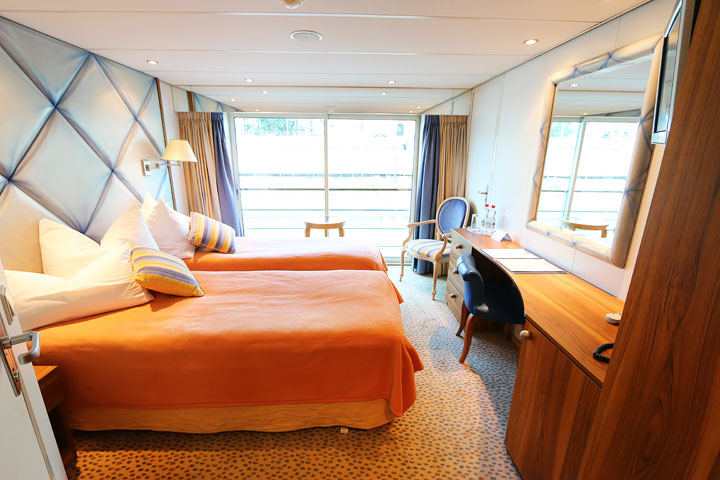 Our Stateroom
This was our room for the week. We had an Outside Cabin with French Balcony on the Danube Deck. There was plenty of room for two people, even with our two giant suitcases! The room was in a great location (on the main floor, near the restaurant) and I loved being able to relax in the comfort of our own room with an amazing view of the scenery as we cruised by.
Gate 1 Travel Cruise Tip:
If you have multiple electronics you want to charge at night (phones, camera, laptop, iPad, Kindle, etc) be sure to bring a power strip with multiple outlets. There were only 2 outlets in the room, both on the desk. If you like to have your phone on your nightstand when you sleep, you may want to bring an extension cord as well. Make sure they are just plain, cheap power strips and not surge protectors. Surge protectors could short out because of the voltage difference when traveling internationally.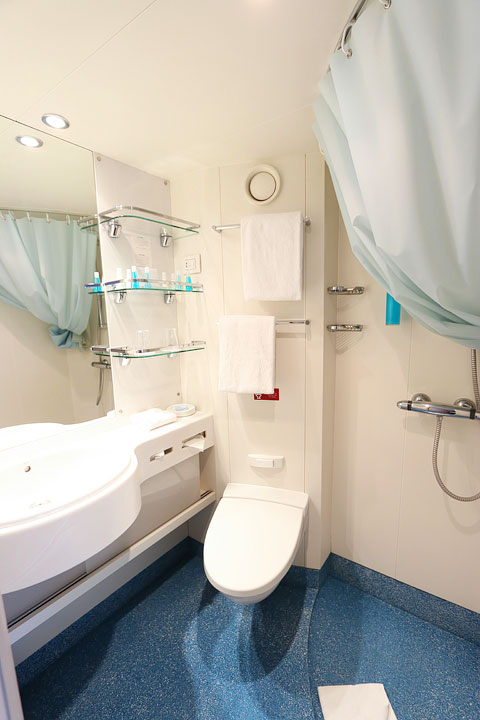 The Bathroom
And here's a peek at the bathroom! It had surprisingly good lighting, water pressure, and counter space, and it came with all the amenities, like shampoo, conditioner, body wash, lotion, bar soap, liquid hand soap, sewing kit, vanity kit, hair dryer, etc.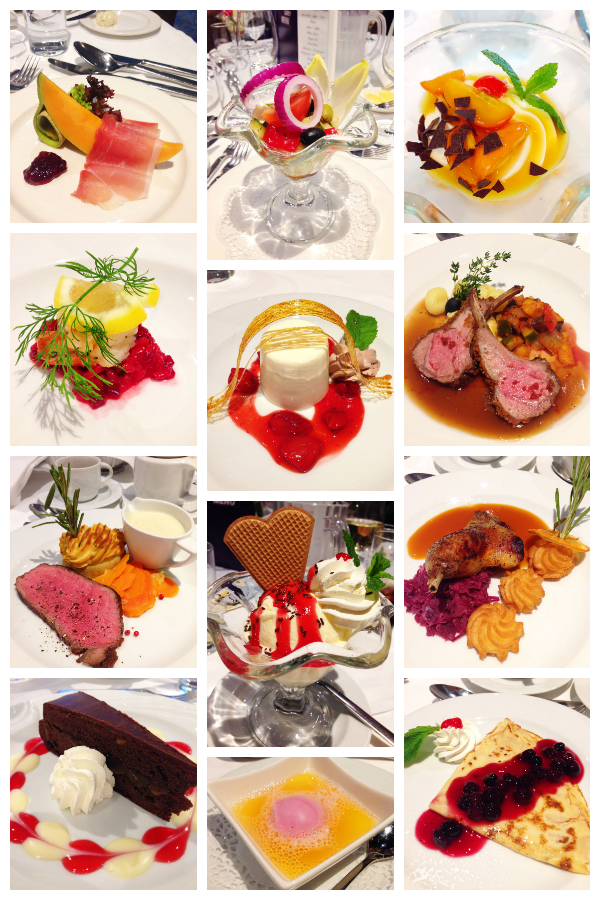 The Food
All the food on the cruise was GORGEOUS!!! Just look at some of the beautiful, locally inspired dishes we were served! Lamb, prime rib, crepes, fried mashed potatoes, and some of the most beautiful desserts I've ever seen.
---
Gate 1 Travel Reviews
If you have any questions about our Gate 1 Travel cruise experience, please let me know in the comments! Have you taken a Gate 1 Travel cruise? How was your experience?
---
Like this post? Save it on Pinterest!