Planning a trip to Vienna? Use this guide to make sure you don't miss any of the best things to do in Vienna Austria. We went to Vienna on a Gate 1 Travel cruise.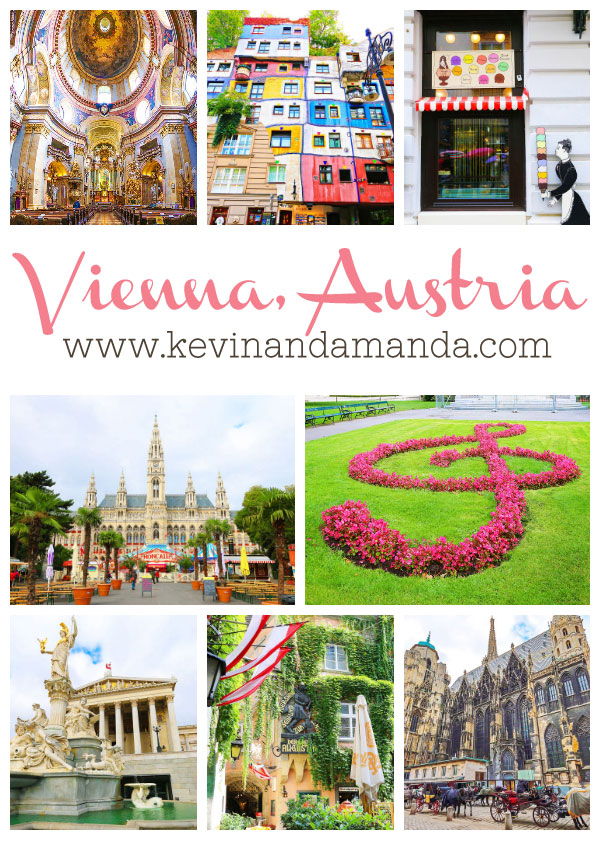 Best Things To Do in Vienna Austria
Vienna Austria is such a colorful, charming city! If this is your first time to Vienna, here's what you'll definitely want to see and do in the capital of Austria: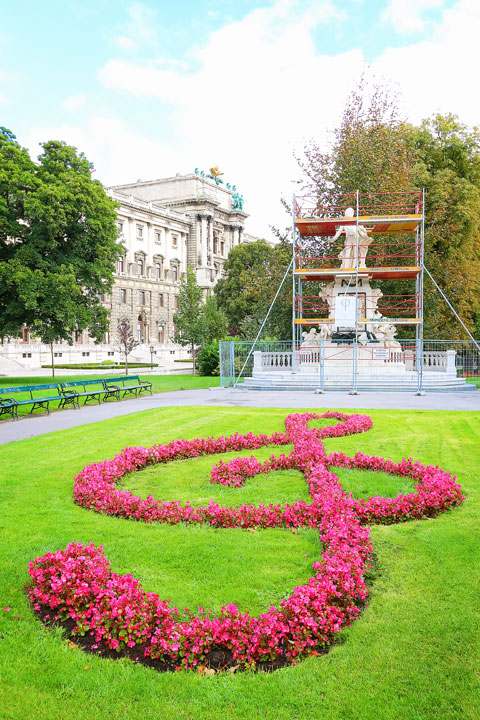 Mozart Statue in the Burggarten Garden
I loved these fun pink flowers planted in the shape of a treble clef in front of the Mozart Statue in the Burggarten Garden. Unfortunately the Mozart Statue was being renovated when we were there!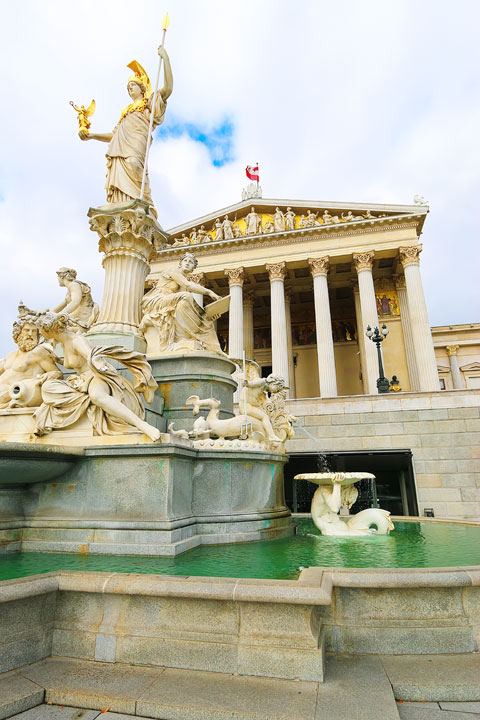 Austrian Parliament Building
This Greek architecture style house of parliament comes complete with fountains and a statue of Athena out front. Not only does this building have committee rooms and libraries inside, but there are also lavish dining rooms, bars, and even workout gyms!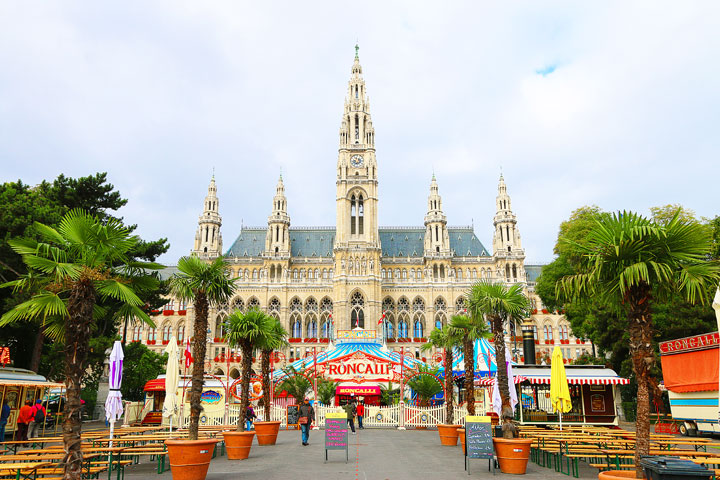 Vienna Austria Town Hall
The circus was in town in Vienna Austria!! There are often festivals and markets set up in front of Town Hall. There is always something fun going on! Around the holidays there is a huge Christmas market here.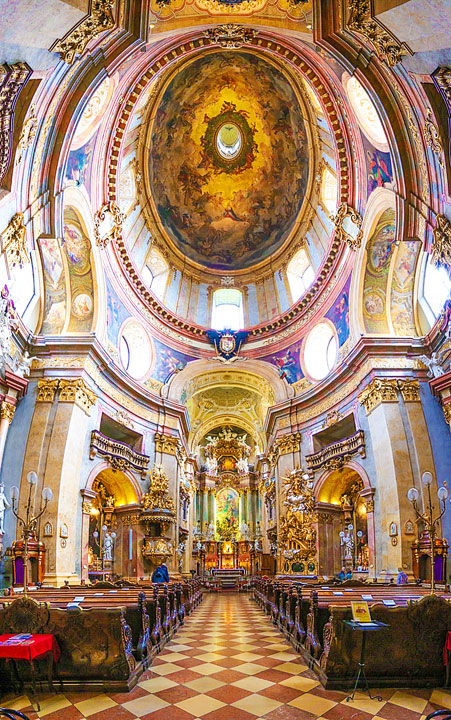 St. Peter's Church
How breathtaking is St. Peter's Church in Vienna Austria? It's so quiet and not crowded at all here because everyone is over at St. Stephen's Cathedral. But St. Peter's is definitely worth seeing too, and it's free!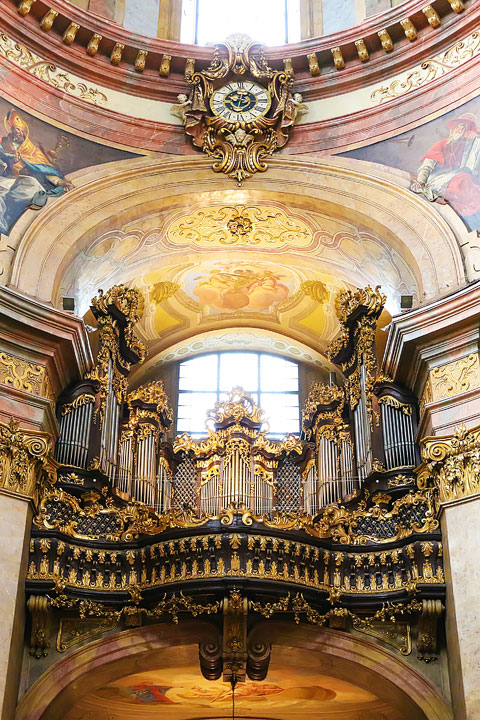 Be sure to turn around and look at the organ and clock!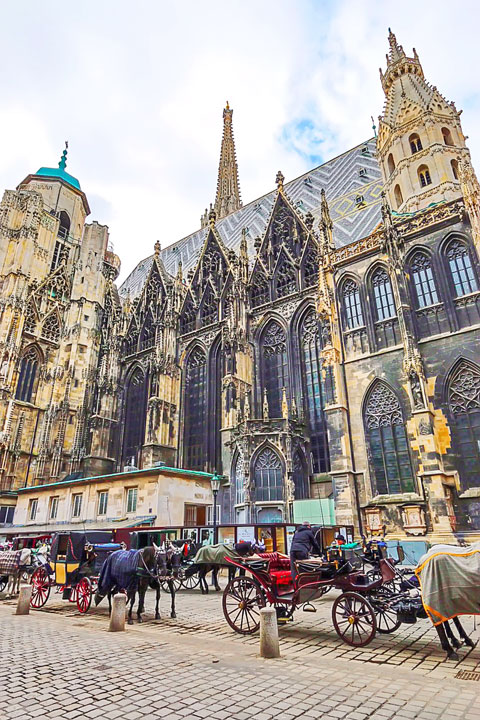 St. Stephen's Cathedral
St. Stephen's Cathedral is a gothic style Catholic church located right in the heart of Vienna. The ornate spires can be seen from all over the city, and are a major sight and symbol of Vienna Austria. I loved the horse drawn carriages out front!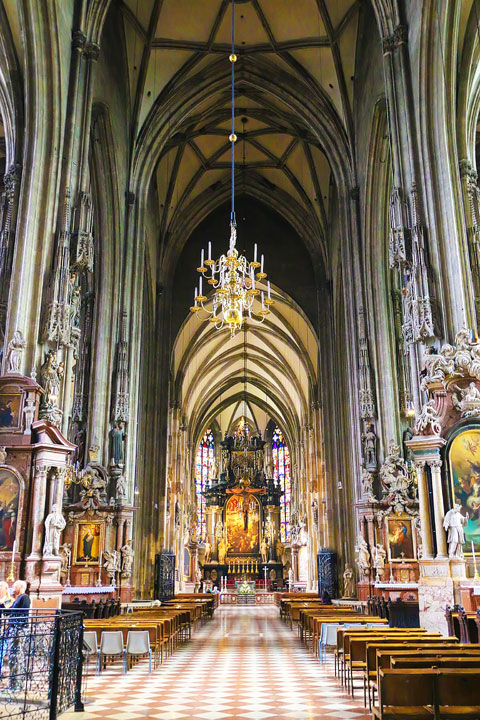 There are definitely more people here than at St. Peter's Church, but we got right in with no line (it's also free, with an optional donation box), and it didn't feel too crowded inside.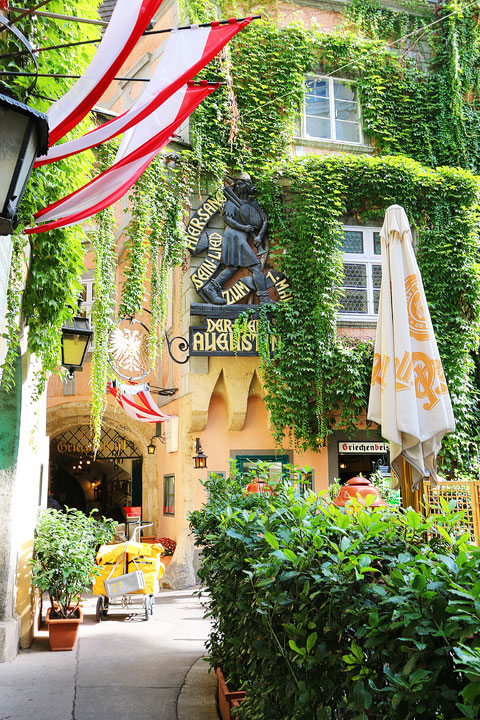 Der Liebe Augustin — Cafe in Vienna Austria
Loved this lush courtyard in Vienna Austria.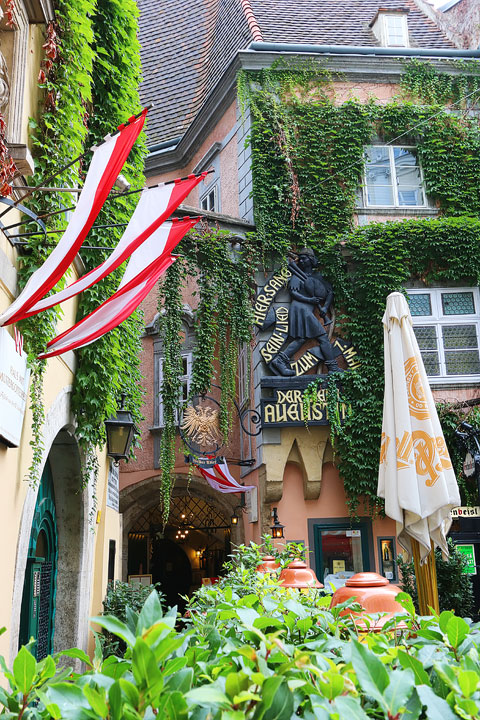 So much charm here. The ivy, the flags.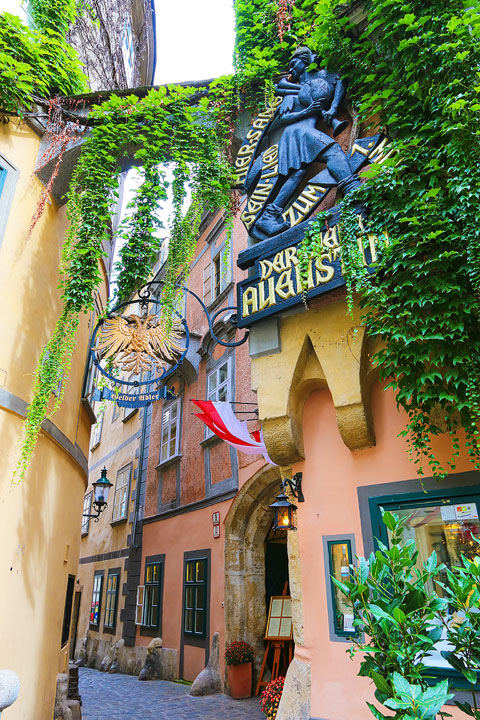 And this narrow, secluded passageway.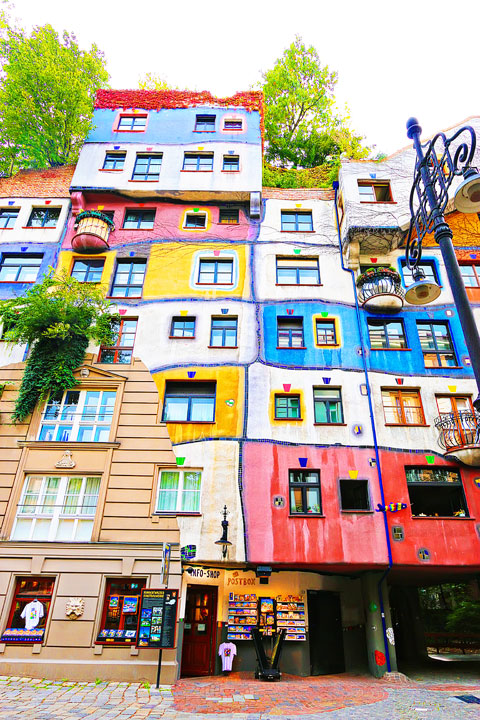 Hundertwasserhaus
How funky is this apartment building in Vienna Austria?? Young, hip residents of Vienna apply to live here, and once accepted, are allowed to live here for a few months at a time.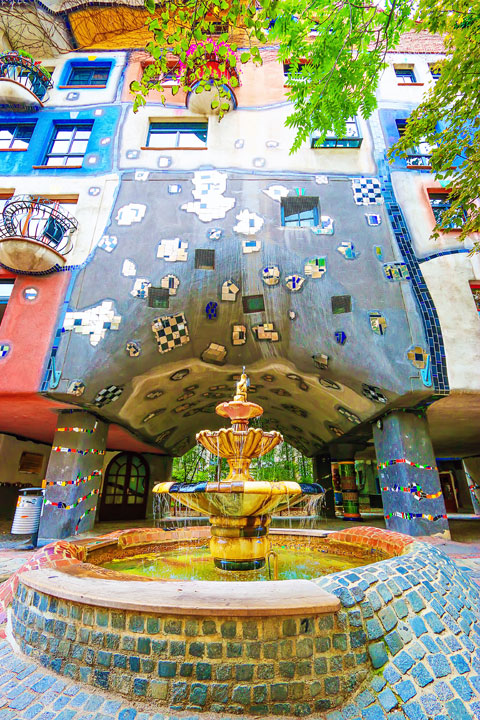 Hundertwasserhaus Fountain
How fun would it be to live here?? There is not a straight line in the entire architecture inside or out! I wonder what the rooms look like??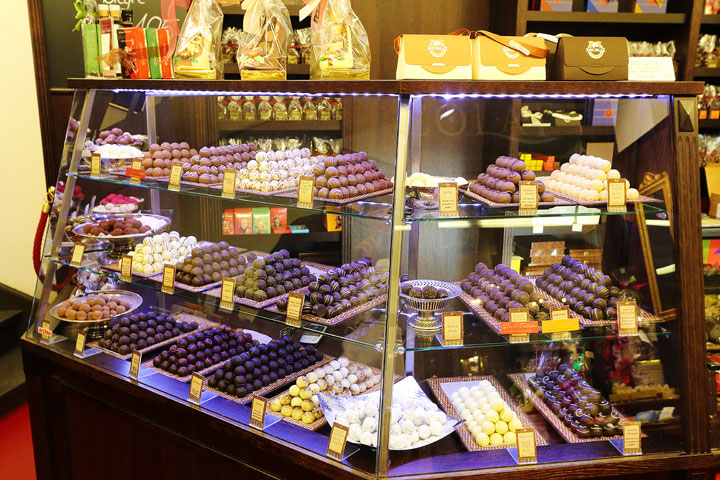 Xocolat
Xocolat was voted one of the Best Desserts Around the World by Travel + Leisure for their chocolates, truffles, and pralines. Of course we had to try some! I loved their creamy hazelnut truffle!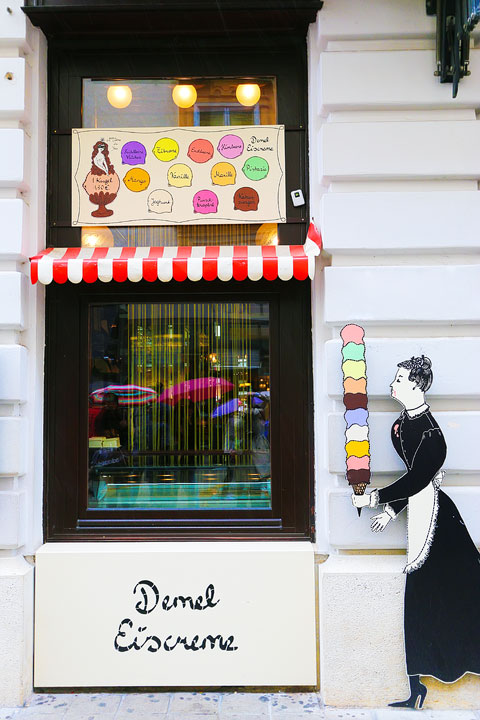 Demel Eiscreme Shop
How cute is this cafe in Vienna Austria? This traditional European cafe is perfect for popping in for a treat. Be sure to get the hot chocolate with whipped cream!!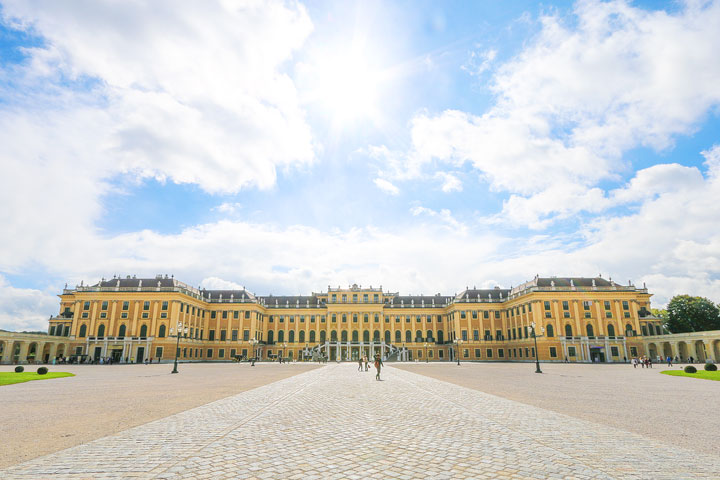 Schönbrunn Palace Vienna Austria
Schönbrunn Palace was the 1,441-room summer home to the Habsburg emperors of Austria. This wasn't even their regular palace, ya'll. This was just their summer place. It's modeled after Versailles, and even has it's own Hall of Mirrors. Marie Antoinette grew up here, before moving to Versailles.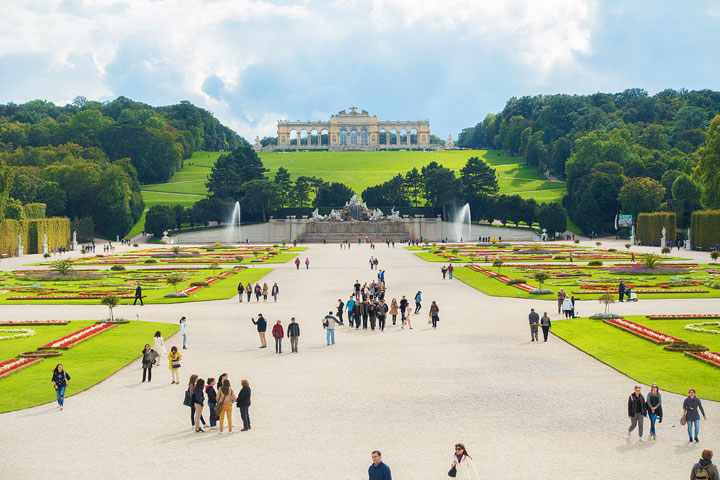 Photo via Stephanie.
Like Versailles, Schönbrunn has large, beautifully sculptured gardens in the back.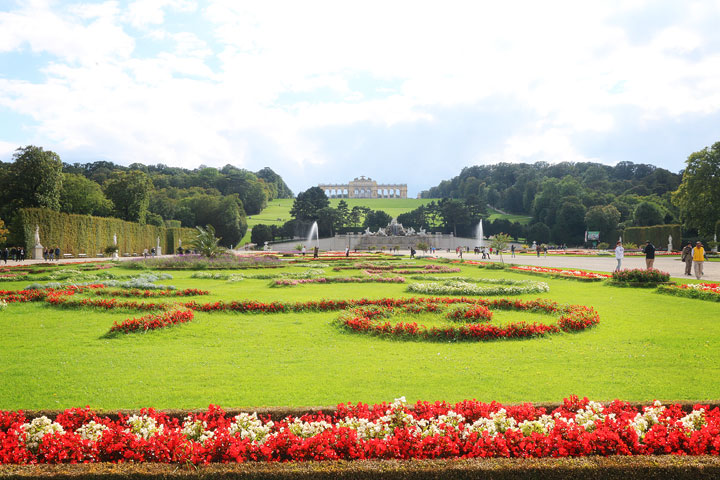 The sun sets directly behind the fountain for the perfect summer evening view. The structure at the top of the hill is the Gloriette, which houses a cafe with panoramic views of Vienna Austria.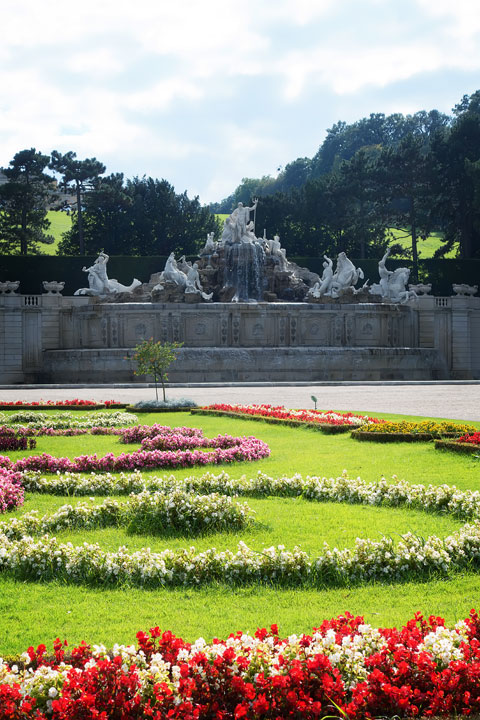 Photo via Stephanie.
Neptune Fountain
Another notable fact about Schönbrunn: Napoleon used the palace as his headquarters in the early 1800s when he occupied Vienna. He also married a member of the Habsburg family.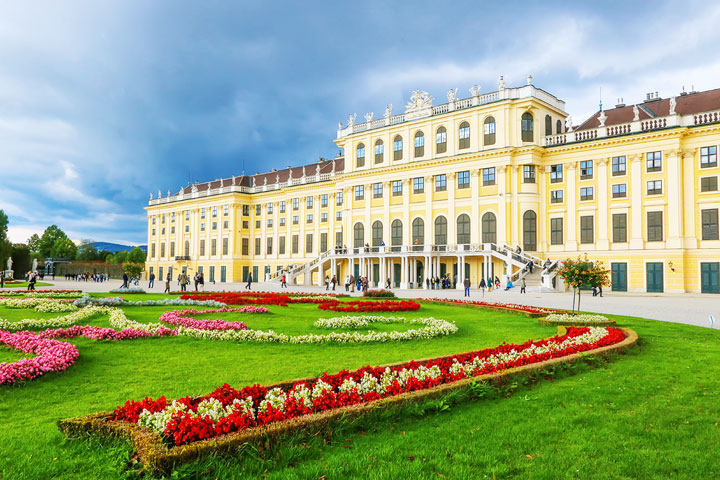 The rooms and apartments inside are gorgeously decorated and are very similar to those at Versailles. It's definitely worth seeing if you are ever in Vienna Austria!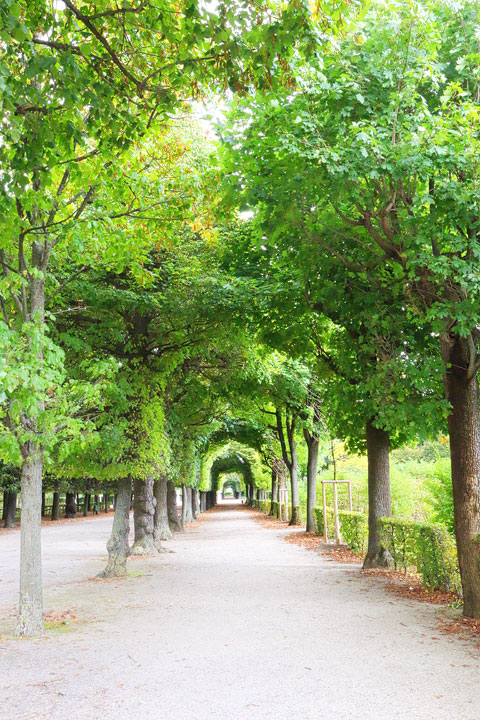 Tree Tunnel, Schönbrunn Gardens
The gardens are the perfect spot to spend an afternoon wandering and exploring in Vienna Austria.
---
See more posts from our Gate 1 Travel cruise!
---
Like this post? Save it on Pinterest!