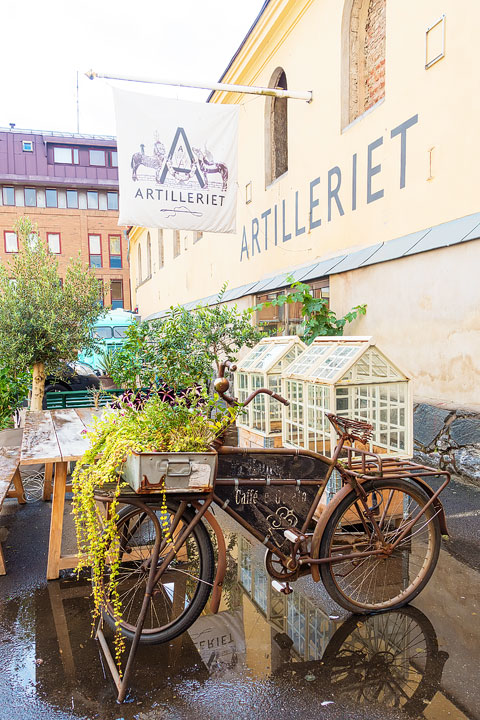 Two weeks ago my friend Stephanie and I took an incredible road trip through Sweden. We started in the big city of Gothenburg, drove up the stunning west coast, explored the quiet countryside, and came back to the city again. We experienced unique and fabulous food, fun shopping, and explored some of the most picturesque and charming villages I've ever seen in real life. I could not get over how beautiful Sweden is!
Photo above via Stephanie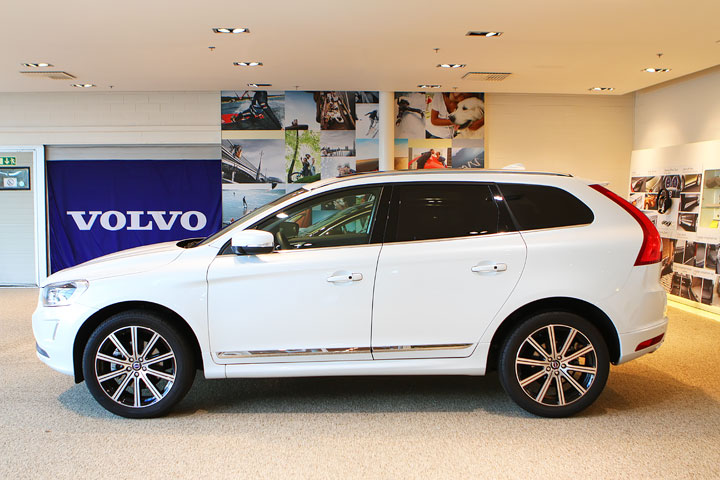 Our adventure started at the Volvo factory in Gothenburg, Sweden. Did you guys know if you buy a new Volvo they'll send you on a free trip to Sweden? Yes, it's true! They'll give you two complimentary roundtrip airline tickets to Sweden and one night at a hotel in Gothenburg. You can tour the Volvo factory and museum, pick up your actual car, and drive it on your own road trip through Sweden. When you're done, they'll ship it back to your local U.S. Volvo retailer for free. You can take an unforgettable vacation in gorgeous Sweden with free airfare and no need for rental car expenses. Volvo will also include 15-day European Car Insurance coverage and temporary Swedish registration so you'll be all set to drive in Sweden.
Volvo and the West Sweden Tourism Board invited us to come take a sample road trip and drive this super swanky Volvo through Sweden so I could help spread the word about their Overseas Delivery Program when I got back. Over the next few posts I'll be sharing how we fell in love with the car AND Sweden, as well as the delicious food we found, beautiful villages we explored, and some of the cutest shops ever — all the highlights you HAVE to see if you're ever  in Sweden! :)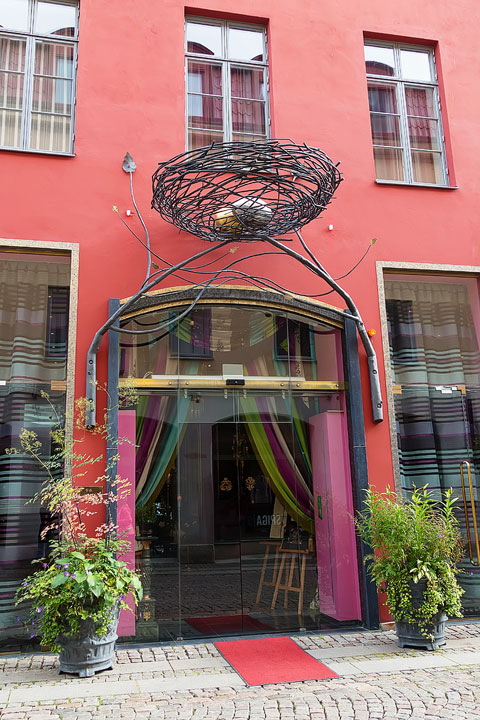 Photo via Stephanie
Our first day started in Gothenburg, Sweden. Gothenburg is the second largest city in Sweden (after Stockholm) with a population of about half a million people. It's located on the west coast of southern Sweden off the North Sea, about halfway between Copenhagen and Oslo. Gothenburg is a major hotspot in Sweden for fabulous restaurants and chefs, fun shopping, museums, and sight-seeing.
On our first day we took a "Foodie Walking Tour" through downtown Gothenburg to orient ourselves in the city and find Gothenburg's unique and hidden gems. Our first stop was the show-stopping Dorsia Hotel and Restaurant. Yes, that is a bird's nest above the door!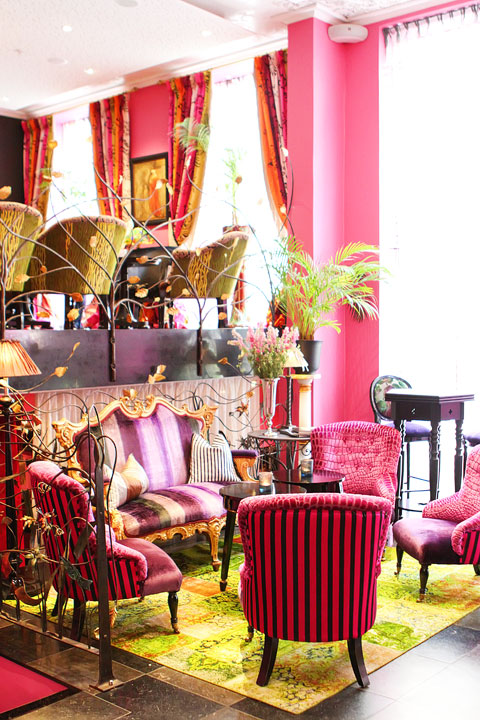 This place is the cutest EVER on the inside!! It reminded me of Alice in Wonderland. This would be the perfect place to come for brunch, afternoon tea, or champagne before dinner.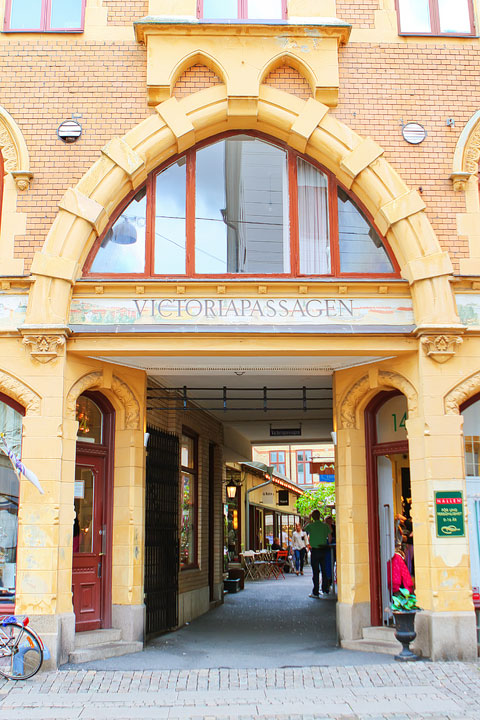 Our next stop was a beautiful hidden alley, the the Victoria Passage, lined with colorful shops, flowers, coffee, and chocolate.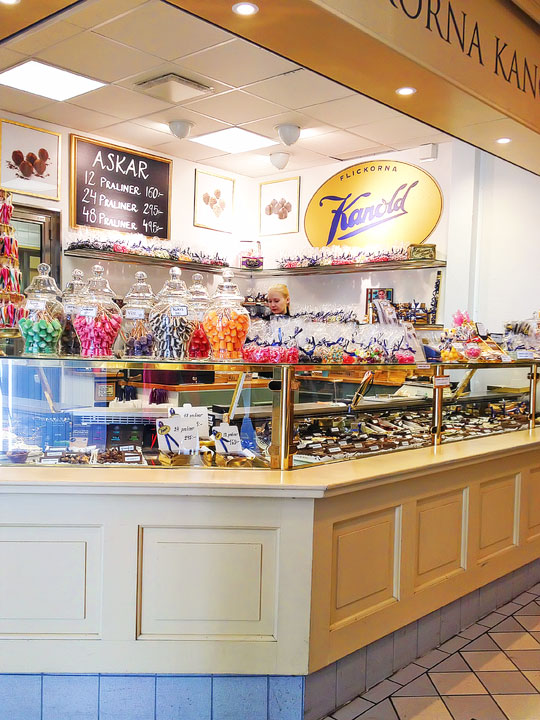 Photo via Stephanie
Flickorna Kanold in the Victoria Passage is a must-see in Gothenburg for handmade gourmet chocolates.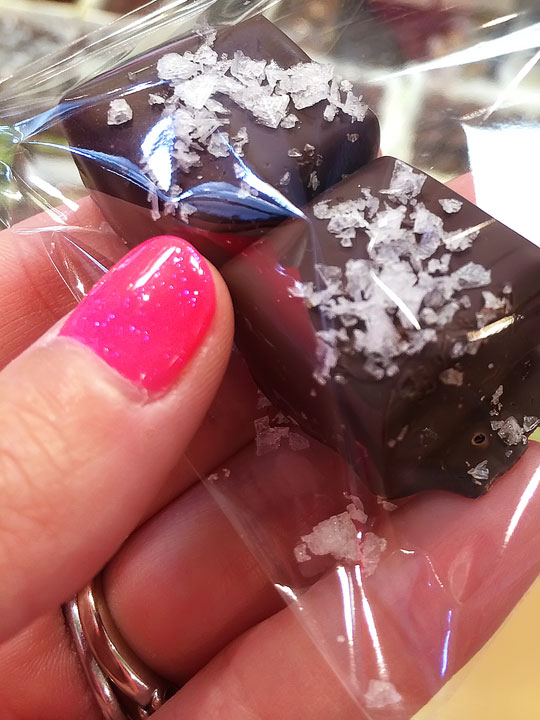 They have more flavors to choose from than you could possibly imagine, but I had to get the Gothenburg Sea Salt truffle, topped with salt made from the sea off the coast of Gothenburg. Love!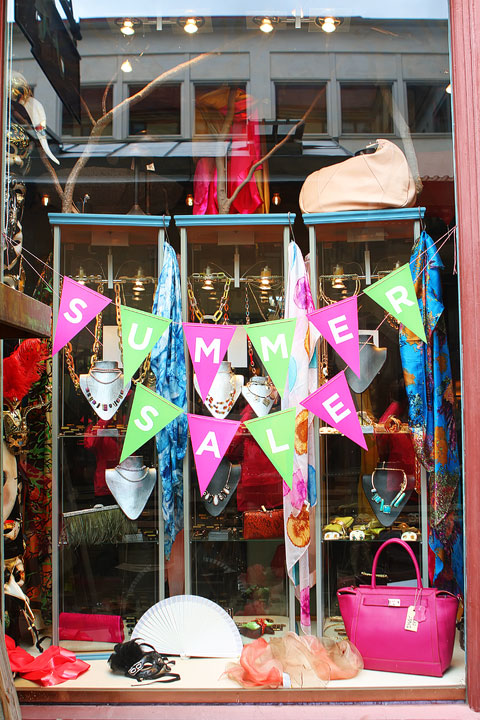 We passed so many colorful flowers and shop windows as we made our way through the passage.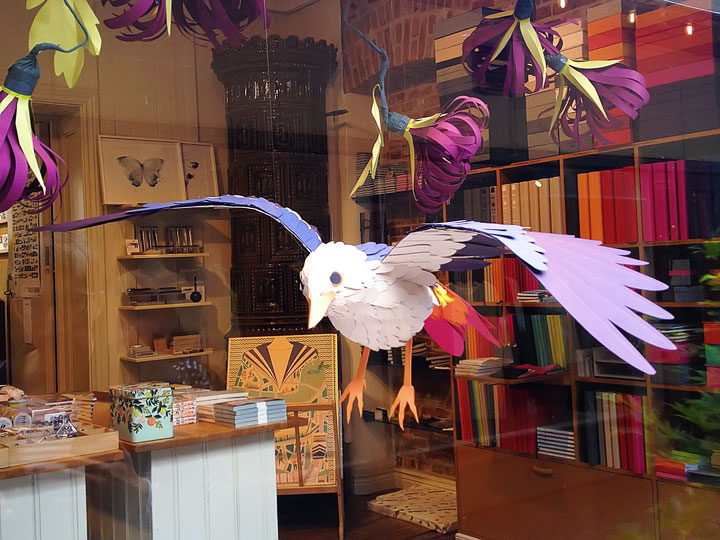 Photo via Stephanie
Loved this little paper and notebook store!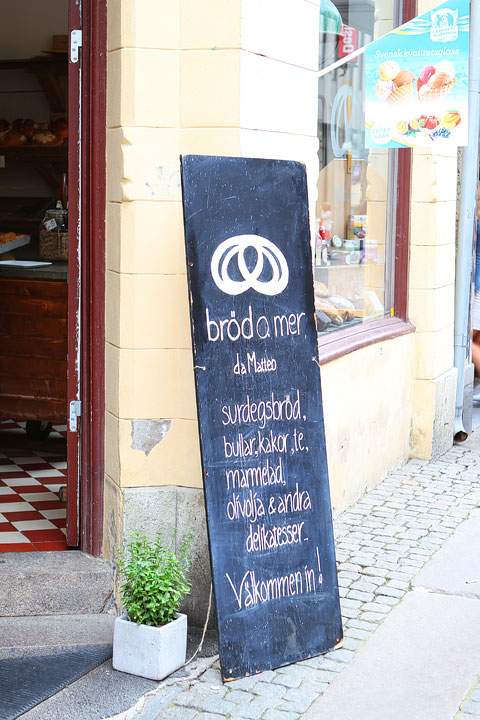 At the other end of the alley is Bröd o. mer, which in English means Bread & More.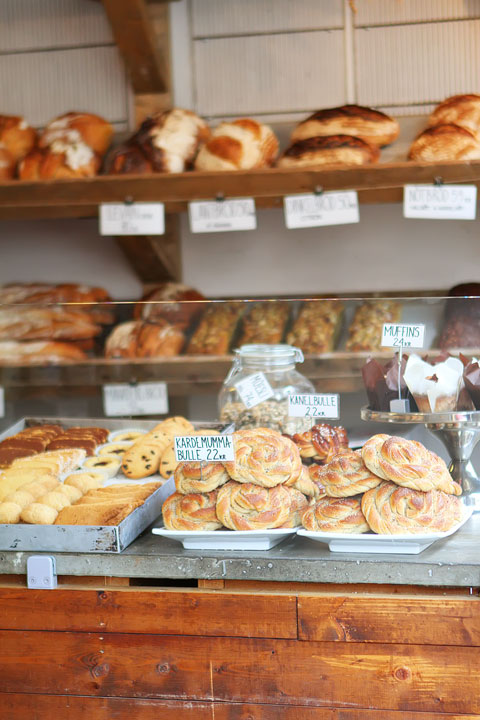 One thing I should mention is that everyone in Sweden speaks English! So you don't have to worry about that. :) However the one Swedish word you should definitely know is "fika" (pronounced fee-ka). Fika basically means taking a break to drink coffee (or tea, juice, etc) and eat something sweet!! Our guide told us that people generally take a morning fika AND an afternoon fika!! I seriously need to implement this at home!! :) And Bröd o. mer is THE place to go to get your fika fix.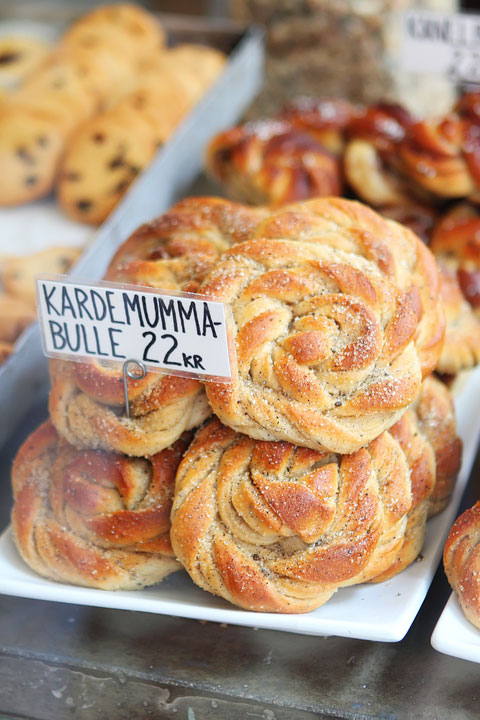 Sweden is famous for their bread and buns, especially their signature cinnamon bun and cardamom bun.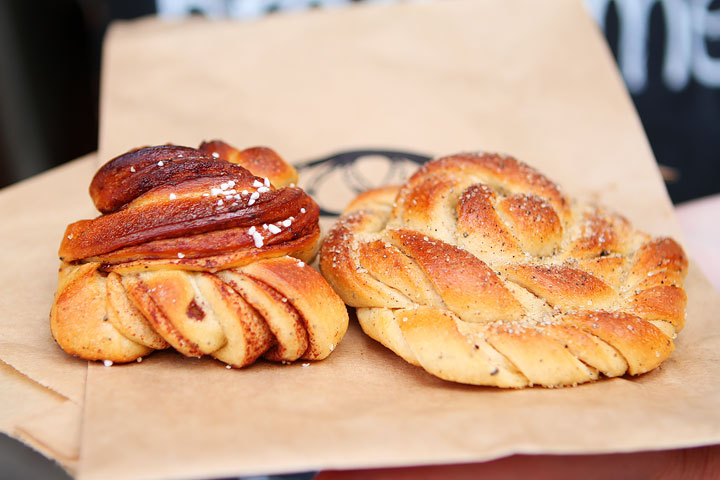 So you should totally get one of each for your fika!! Look how flaky and sugary these beauties are!! This is an absolute must in Sweden! :)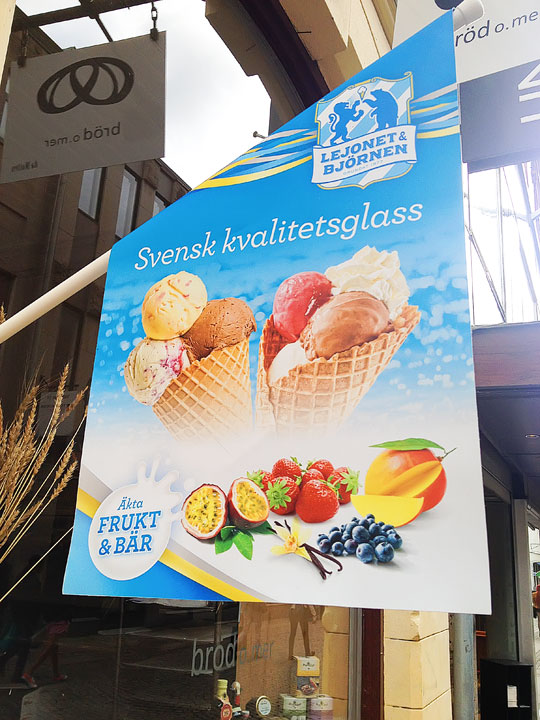 Photo via Stephanie
You guys. It's time to get serious. Anytime you are in Gothenburg, BE ON THE LOOKOUT for this blue sign! That means that this ice cream brand, Lejonet & Björnen (The Lion & The Bear), is sold here. And there just happened to be a sign at Bröd o. mer!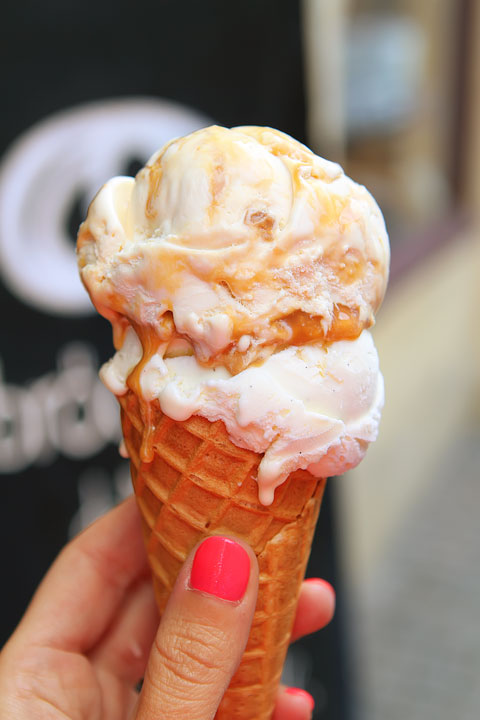 If you see it, you HAVE to try their Sea Salt Caramel ice cream. Hands down, this is the BEST salted caramel ice cream I have ever had anywhere. I don't normally like caramel ice cream. I can't really put my finger on why… sometimes it's too hard, sometimes it just has an artificial flavor…   But THIS was like they had just freshly made the best homemade salted caramel sauce in the world, and then swirled it into the best homemade ice cream in the world, right there in front of you. Honestly some of the best ice cream I've ever had. I'm still dreaming about it!! I have got to go back to Sweden for this ice cream!! :)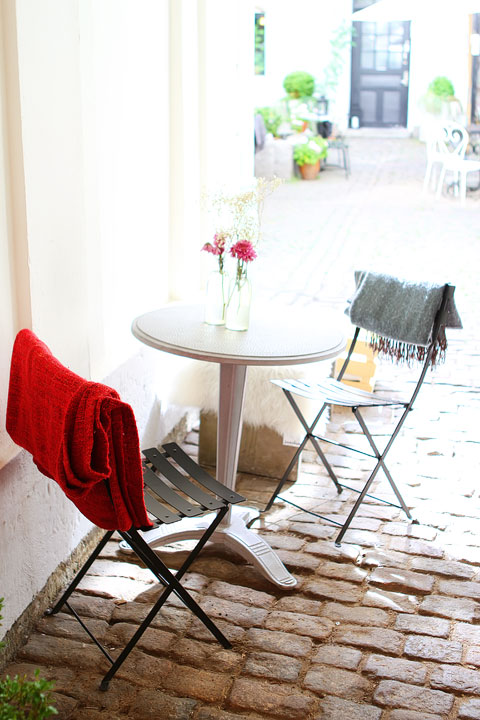 Our next hidden gem was Juicekällan. It is located in another beautiful, tucked-away courtyard you'd never find if you didn't know about it. One thing I loved about Sweden is that many of the chairs and outdoor seating areas had soft blankets to wrap up under in case you got a little chilly at night. How sweet is that??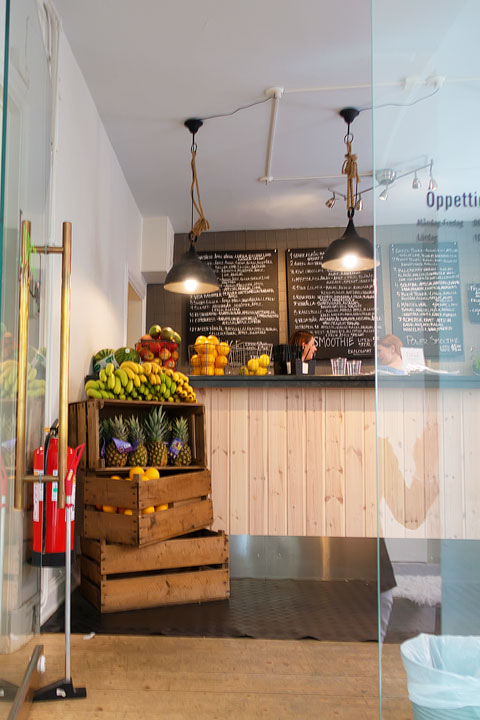 Photo via Stephanie
Juicekällan is an AMAZING juice bar in Gothenburg!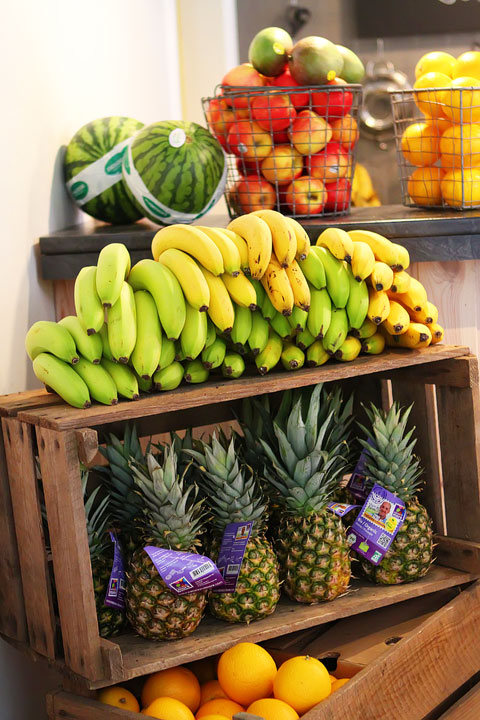 They had so many unique flavors and combinations that I'd never seen before. I wanted to try one of each!!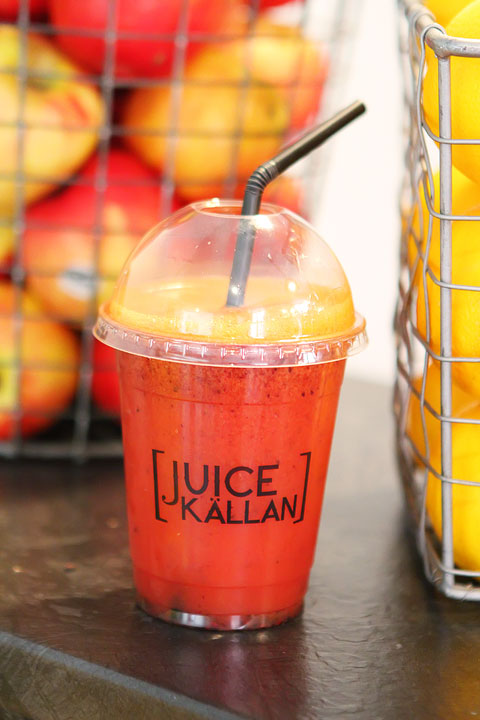 After MUCH deliberation, I finally decided on a juice with aronia berry (which is kind of like a super healthy and antioxidant loaded blueberry), carrots, apple, lemon, and ginger. Loved it!! I could've seriously had breakfast and lunch here every day!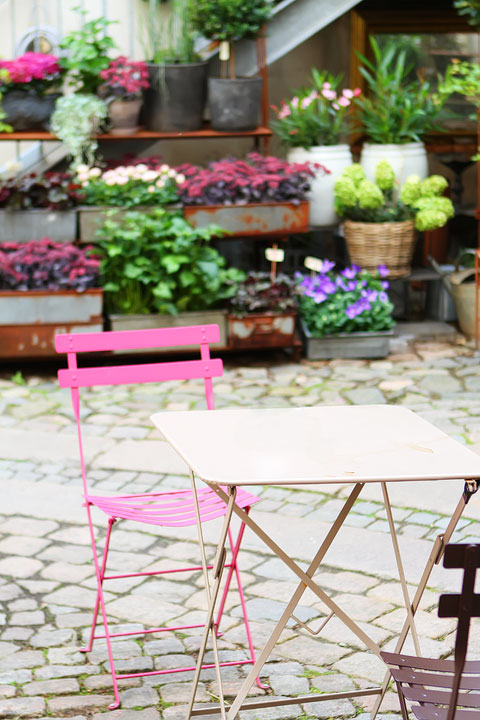 We continued strolling through Gothenburg and came to another hidden courtyard at Floramor & Krukatös.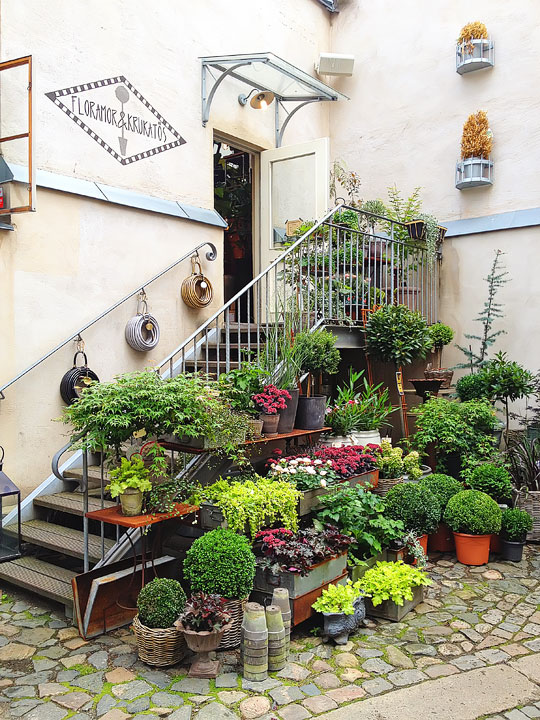 Upstairs is a super cute home store. I totally picked up a few small souvenirs here!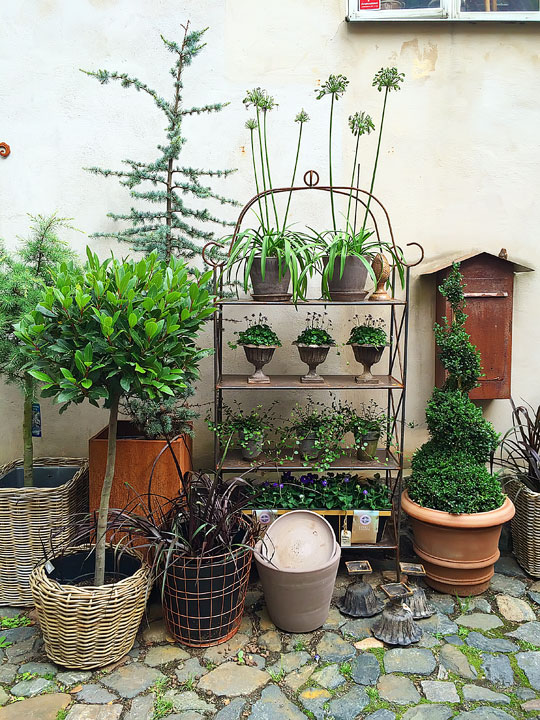 The courtyard is filled with flowers, tables, and chairs, and is the perfect spot for fika! Especially considering da Matteo bakery is right downstairs! Da Matteo is where all of the breads and buns at Bröd o. mer are freshly baked every morning. They also roast all their coffee there as well so you can get your coffee and sweet and have it in the courtyard surrounded by flowers. :)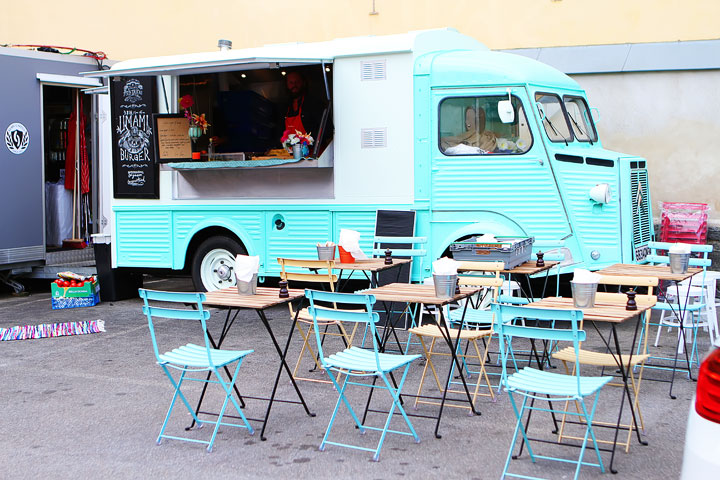 From the courtyard, cut through da Matteo and you'll come out at a little food truck station, where you can get an Umami burger from one truck, or a classic Swedish dish from another: fried herring with lingonberries and mashed potatoes.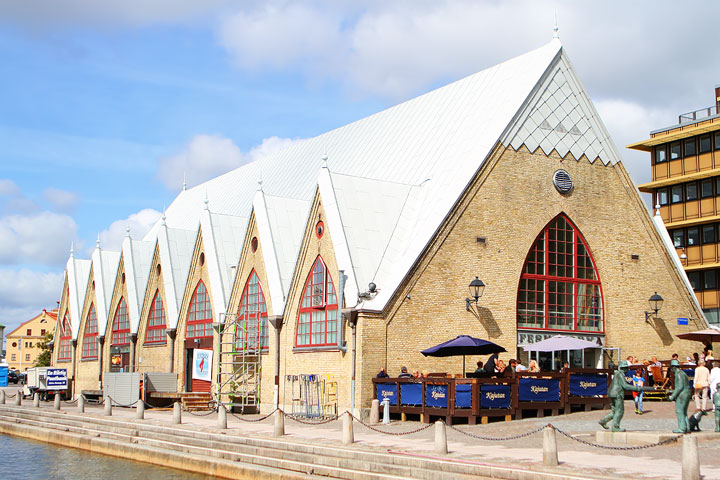 For lunch we walked along the canal and made our way to the Fish Church!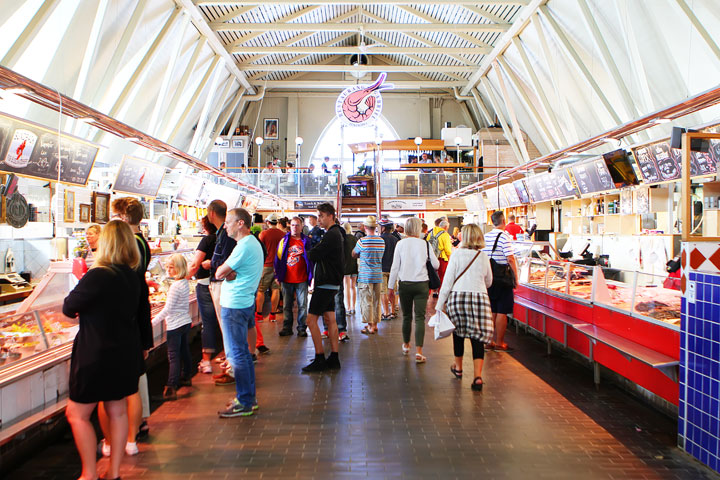 The "Feskekörka" is an indoor fish market that looks like a Gothic church on the outside.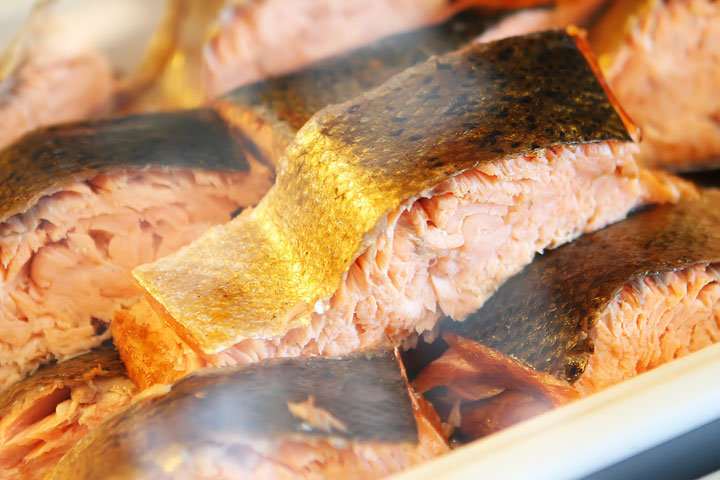 It's the perfect place to pop in for lunch and check out their fabulous selection of seafood, like this amazing gold-skinned salmon!!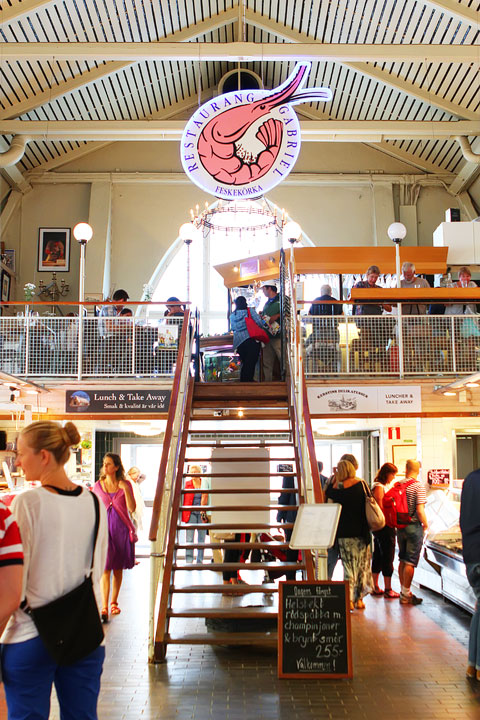 We had lunch upstairs at Restaurant Gabriel.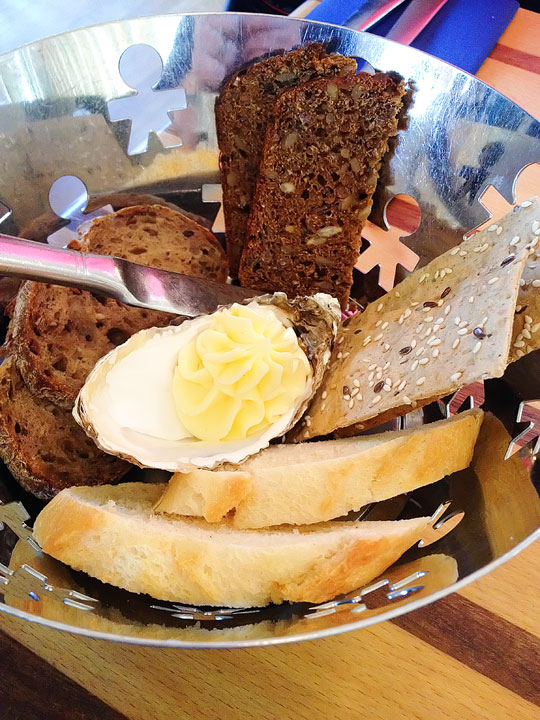 Photo via Stephanie
How cute is this butter in an oyster shell??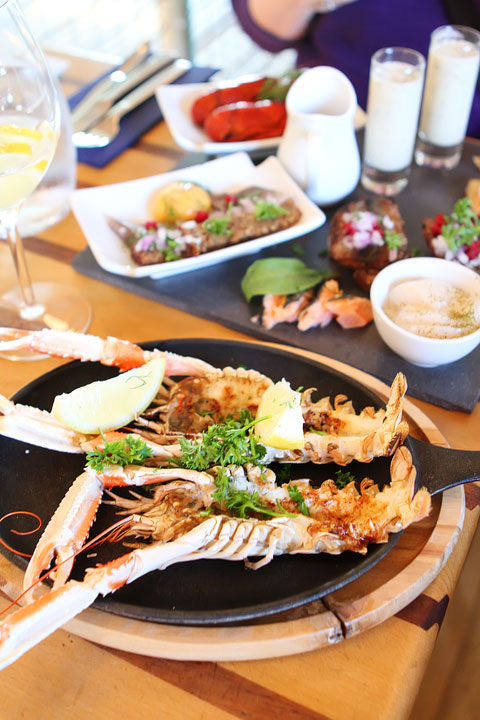 They brought us a huge sampler platter showcasing their finest fresh caught seafood and best dishes. An incredible meal.

View Gothenburg Sweden Foodie Walk in a larger map
Here's a map of everywhere we went on our Gothenburg Foodie Walk if you want to take one for yourself! :) Click here to see a larger version of this map, with a list of everywhere we went.
More to come soon!! :)