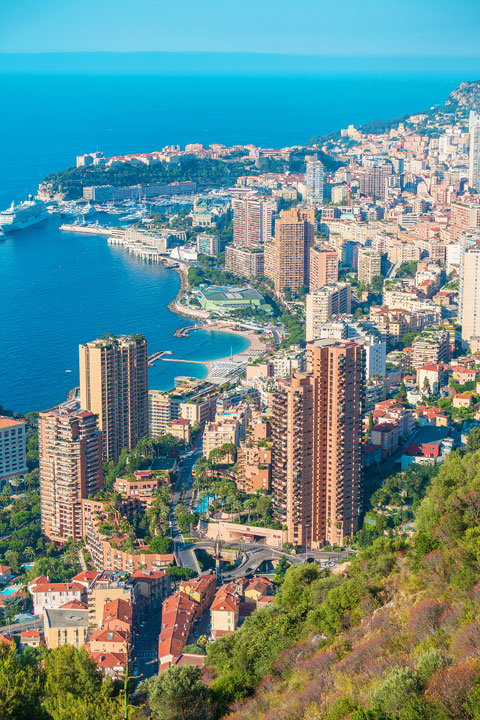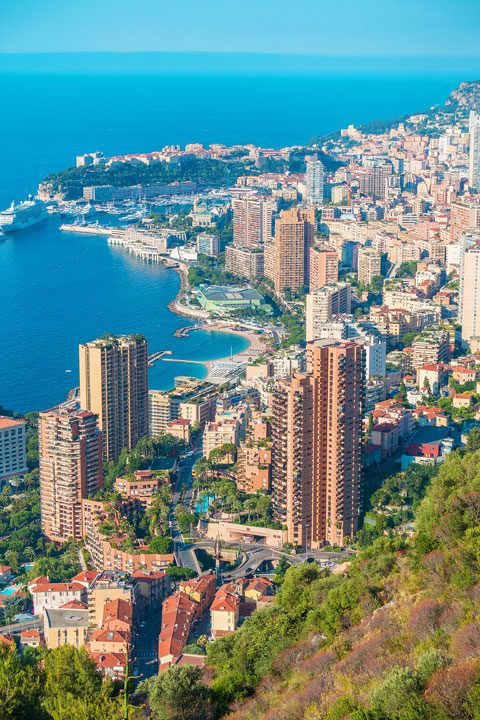 After two fun-filled days in Monte Carlo, Sommer and I got up bright and early to make our way to the next stop on our French Riviera tour.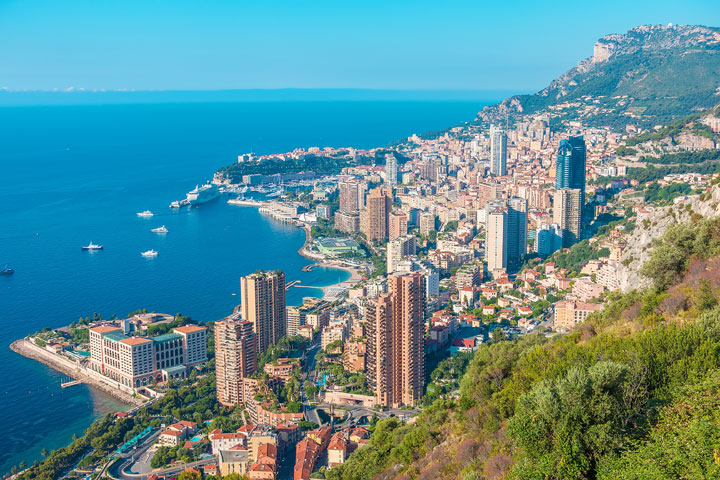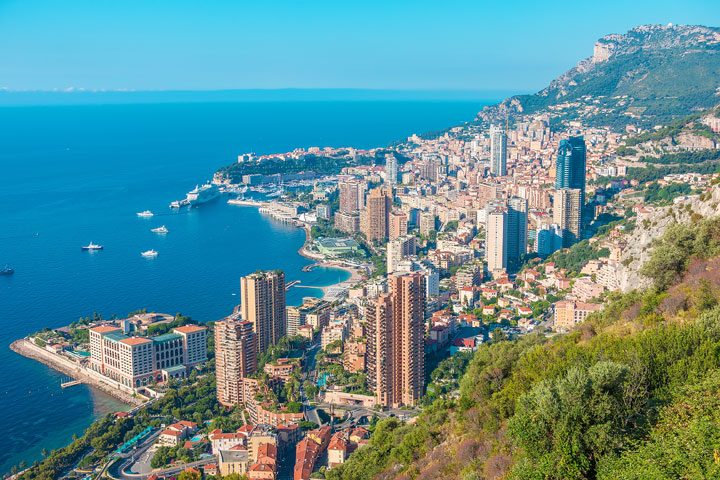 We took a half-day tour with Friend in France. They picked us up at our hotel in Monte Carlo, and dropped us off at our hotel in Nice. Our guide was Cyril, and he was amazing. He knew all the best places to take photos! As we were leaving Monte Carlo, he took us to this amazing overlook of Monaco.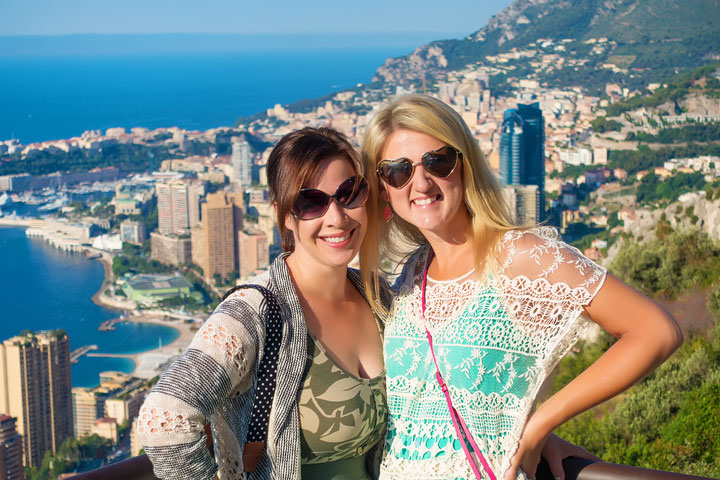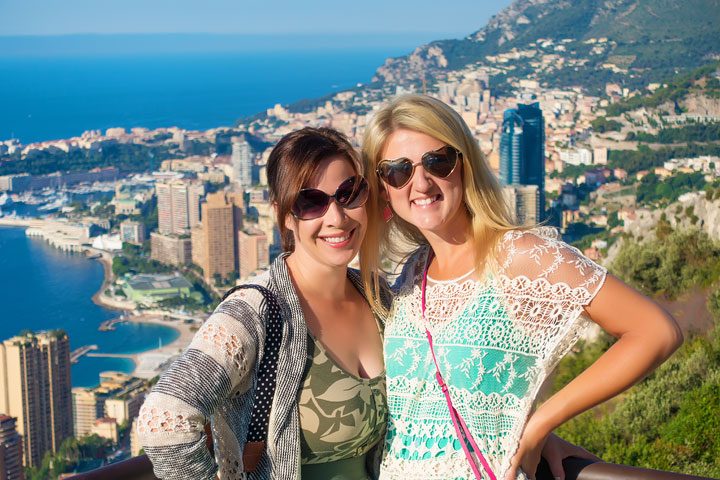 My gorgeous travel buddy for the week!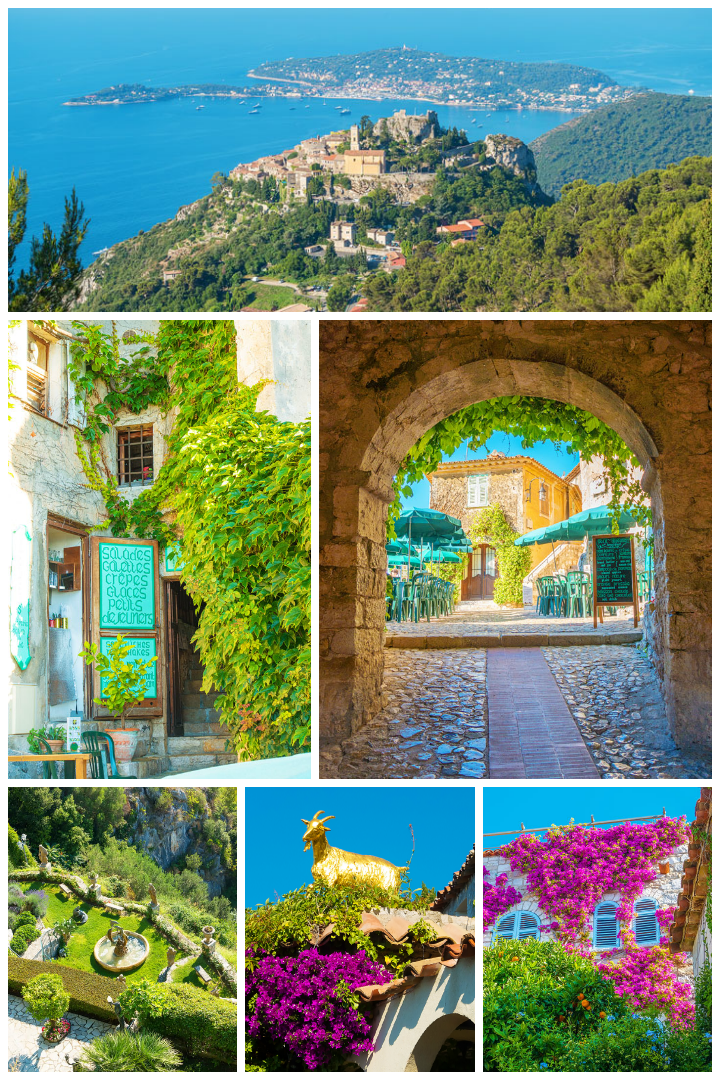 Cyril then took us to the hilltop town of Eze. We spent a quiet Sunday morning exploring this picturesque medieval village.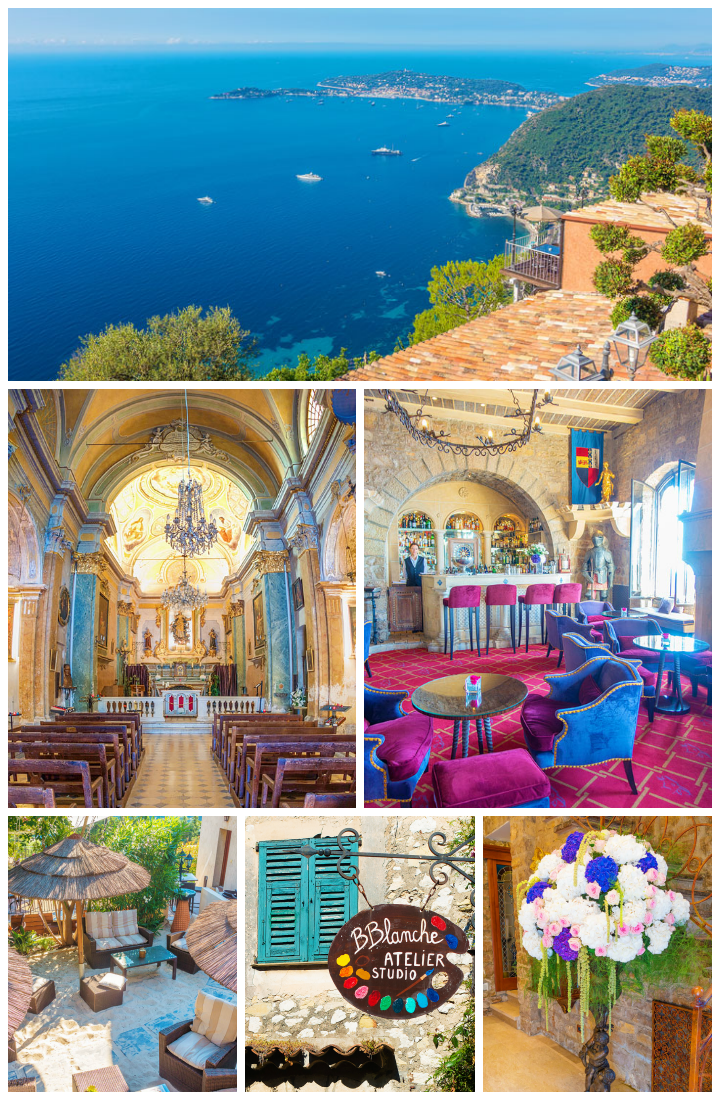 Eze sits high on a cliff with a panoramic view of the Mediterranean Sea all around. Cyril told us all about the city and took us to all the hidden spots. He pointed out fun things we would've never noticed on our own. Eze was such a lovely village to explore. If you are looking for fun tours and day trips from the French Riviera, be sure to check out Friend in France. And if you want to get the best photos, be sure to ask for Cyril!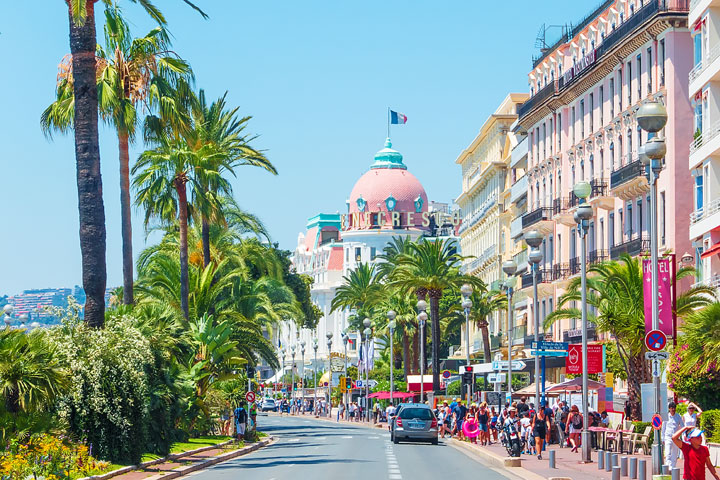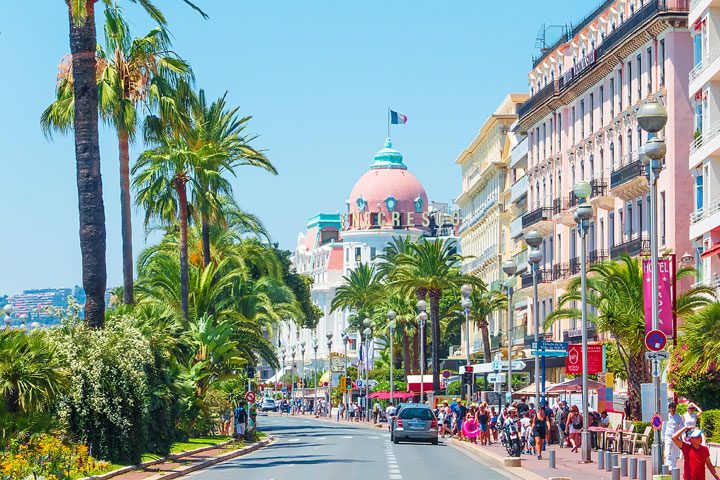 After Cyril dropped us off in Nice, we made our way to the iconic Le Negresco for lunch. For over 100 years the Negresco's signature pink dome has been a highlight of the Nice skyline overlooking the beautiful beaches of the French Riviera's capital city.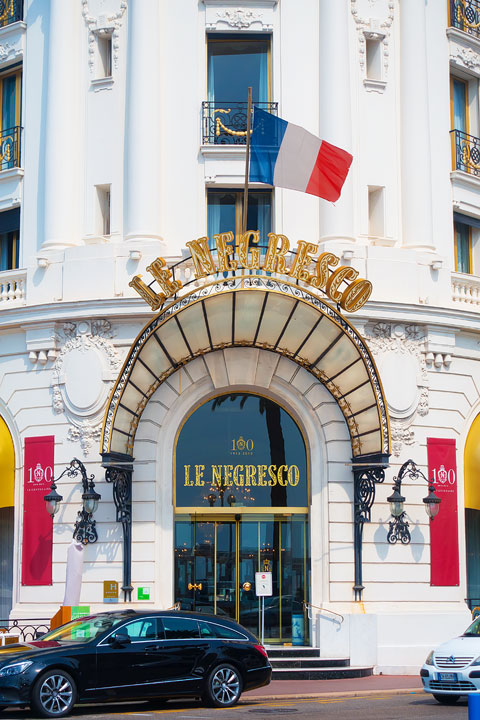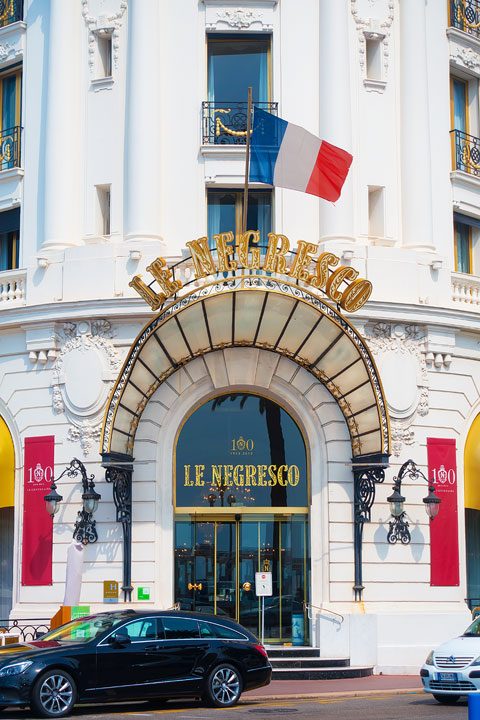 The Negresco Hotel is almost like a museum. It's home to a large art collection with over 6,000 unique pieces.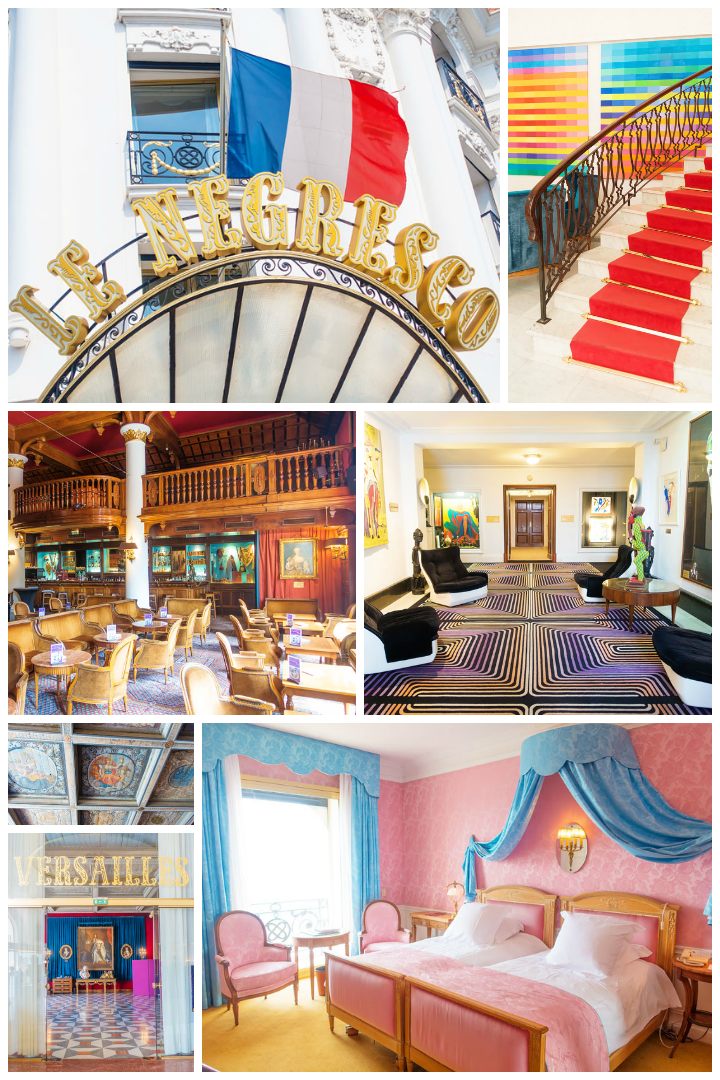 The Negresco offers 117 unique rooms — each one is decorated differently. The styles of the rooms range from the period of Louis XIII to modern day. I fell in love with this pink princess room! This room is an example of Louis XVI style. Even if you don't stay at the Negresco, it's fun to pop in and take a peek at all the art. I recommend taking the vintage elevator (walk past the reception area and it's on the left) up to the top floor, then taking the stairs down. Each floor is different. Also definitely be sure to check out the bathrooms while you are there! Go past the reception area, and when you get to the big art area, take a right and turn down the hallway to the right. Take a peek in the men's room too if it's open. Hah!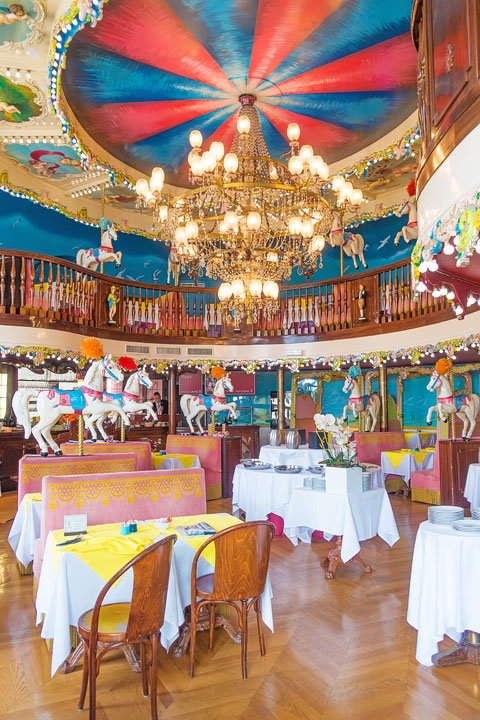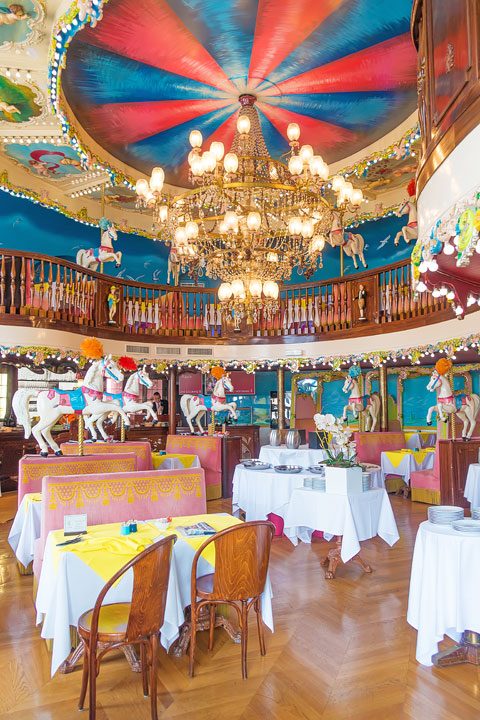 After checking out the hotel, we made our way to La Rotonde for lunch.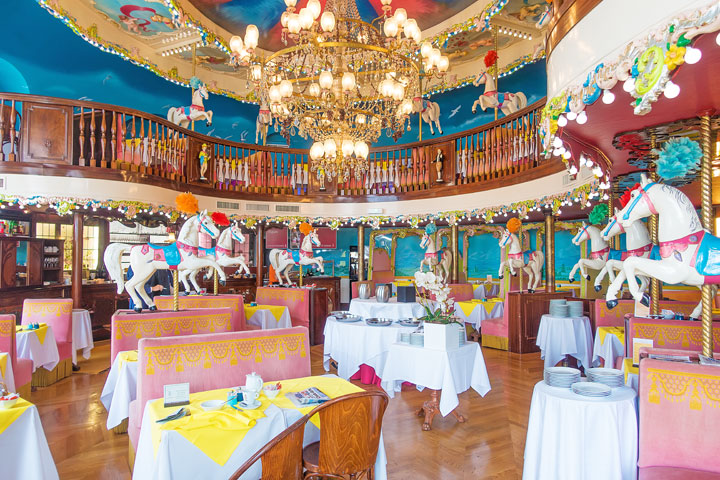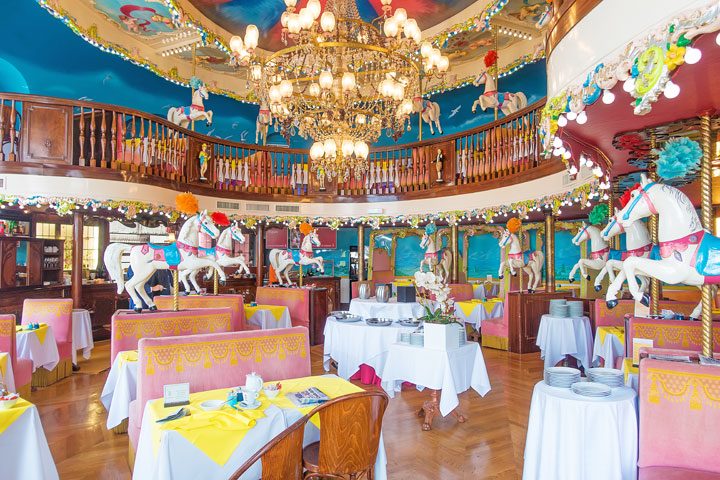 How amazing is this restaurant! We were in heaven!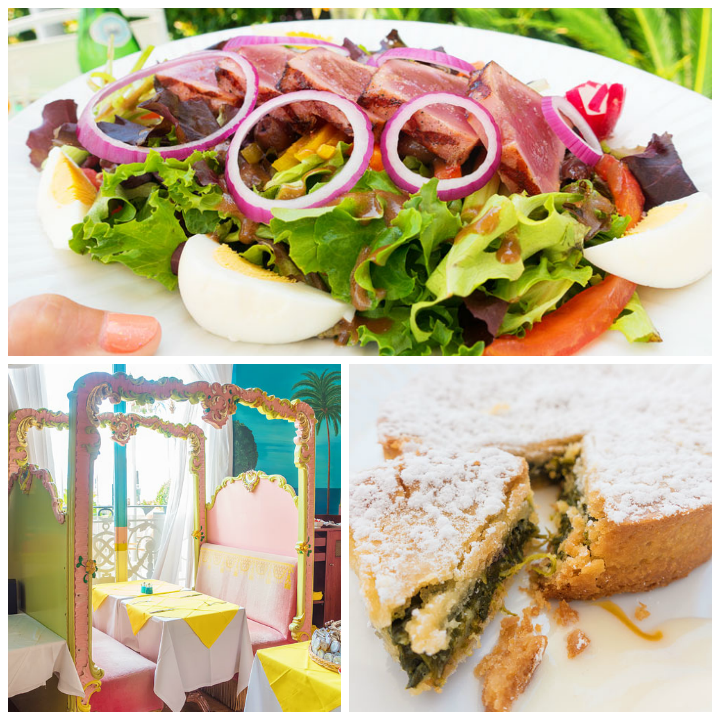 How cute is this pink booth?? Since we were in Nice, I of course had to get the classic Salad Nicoise. It was incredible. And you guys will NEVER guess what I got for dessert. Check it out in the bottom right picture. Go ahead and guess.
That is a swiss chard pie with orange blossom ice cream. Yes, swiss chard. Like the vegetable. I had to get it because I just had to know what it would be like. It was actually very delicious and it did not taste like a vegetable at all! It tasted like pie. You have to trust me on this. I would totally order it again.
If you are ever in Nice, I highly recommend lunch at La Rotonde!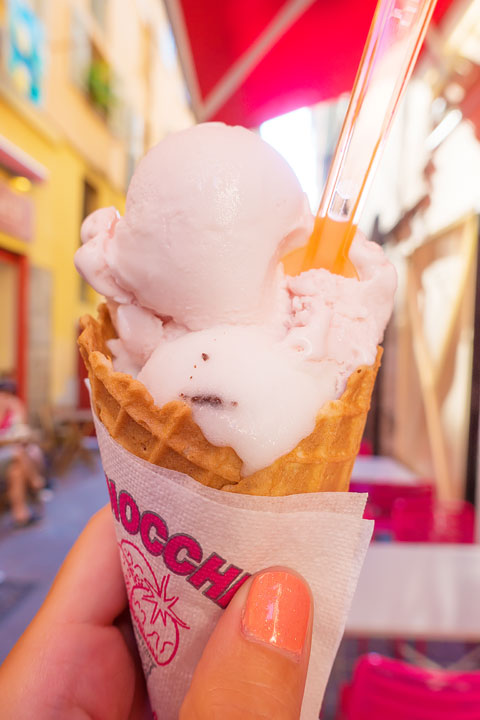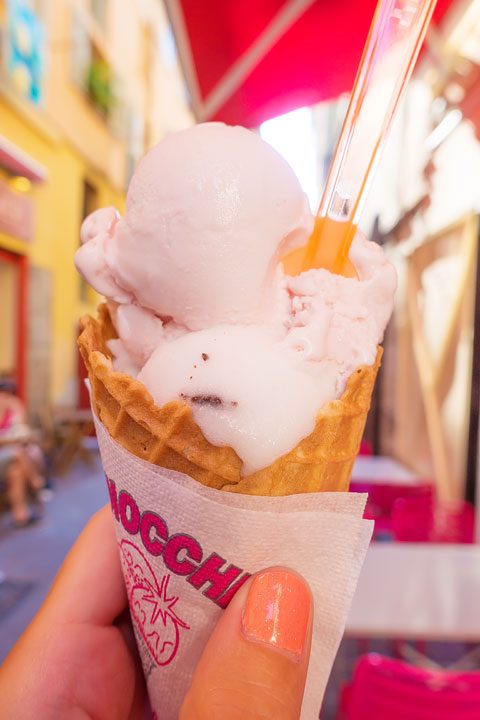 We spent the afternoon exploring the markets and cobblestone streets of Nice. Cyril and a few of our awesome readers had recommended Fenocchio for ice cream, so when we stumbled across it, we knew we had to try it.
It was at this moment that my life forever changed. That scoop you see on top is lavender ice cream.
The summer is peak season for lavender in Provence, very close to where we were in the French Riviera. Everywhere we turned in Nice there was fresh lavender. Heavenly-scented lavender satchels, culinary lavender, lavender oil, lavender soap. So when we saw lavender ice cream, I had to try.
It was honestly one of the best things I have ever had in my entire life, and I am basically obsessed with lavender ice cream now. I dream about it. Day and night.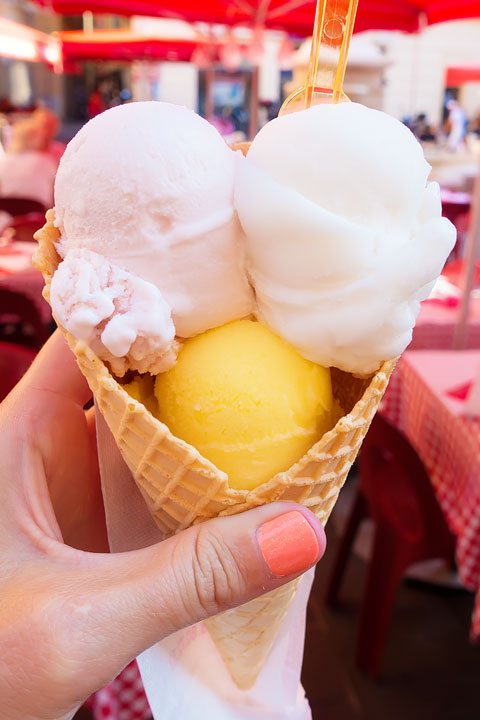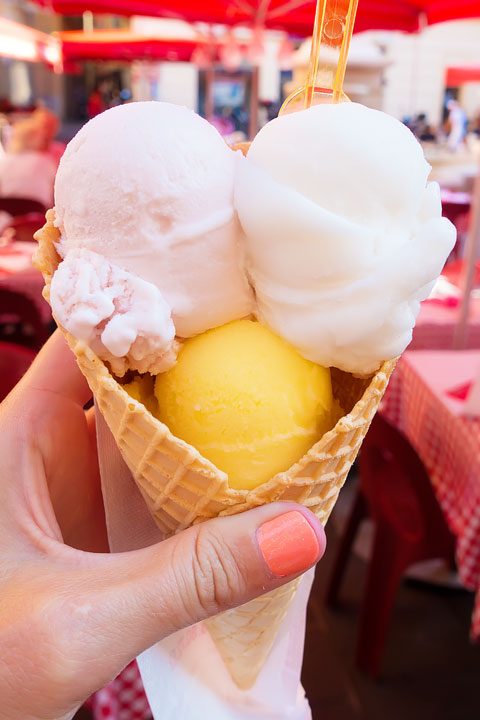 After a PERFECTLY ACCEPTABLE AMOUNT OF TIME (and NOT 5 minutes later, I don't care what Sommer says!!) we stumbled across another Fennochio. We looked at each other and knew we needed more. I had to get lavender again, because I basically want to marry it now, and on bottom was orange blossom. SO good. If you are ever in Nice, be SURE to go to Fennochio and get lavender and orange blossom ice cream!!
And if you aren't going to be Nice anytime soon, I HIGHLY recommend you make Sommer's Lavender Ice Cream Recipe. I made it as SOON as I got home from France. Literally the day I got back. Her recipe is SO easy. It doesn't even call for eggs. But it is the smoothest, creamiest ice cream ever. I bought culinary lavender while I was in France, but you can also get it on Amazon. And guys. I may even like Sommer's better than what I had in France. (I did leave out the chocolate because I just wanted the pure taste of lavender, like what I had there.) It is phenomenal. I ate the entire quart over the course of 2 days and did not share a single bite. I hoarded that thing. It's literally amazing. Make some as soon as you possibly can!!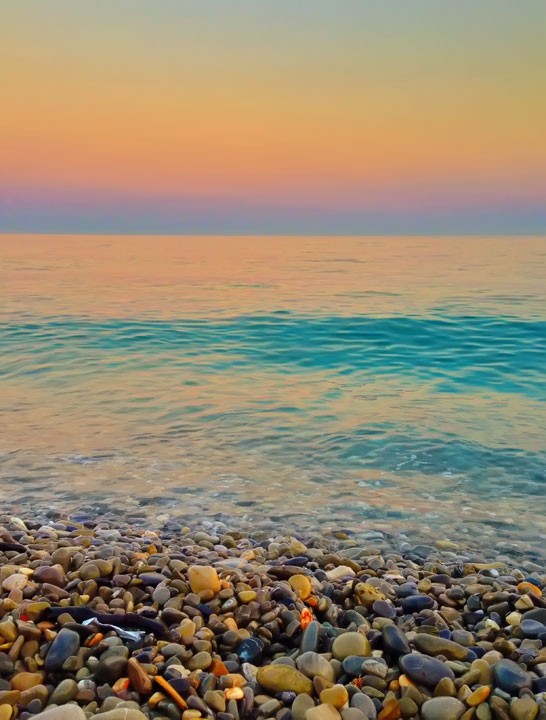 That night we took a sunset walk on the beach. The "beach" here is all rocks – no sand like I'm use to on the Gulf Coast. People bring mattresses instead of beach towels to lay out on the beach.
The rocks are polished smooth like sea glass, and the most amazing sound in the world is when the waves crash against the shore, and the water recedes back into the sea, dragging some of pebbles back with it. If you'd like to hear, turn on your volume and press play above.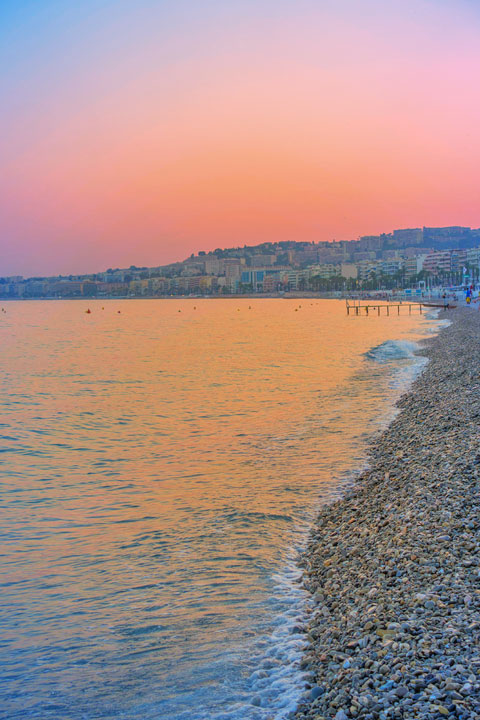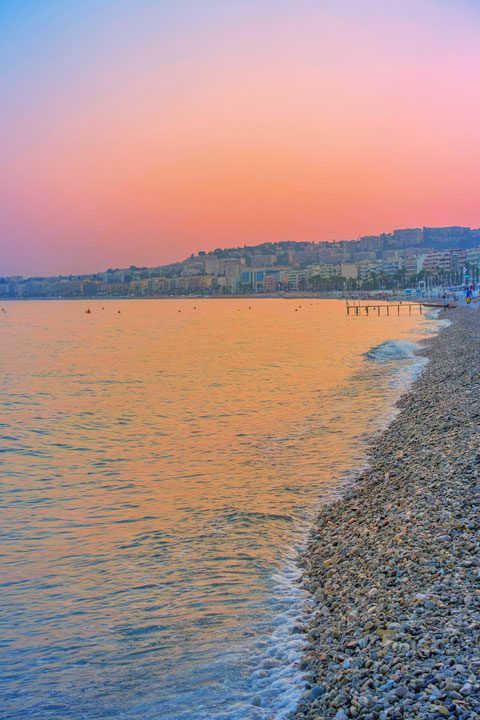 I could sit here and listen all night.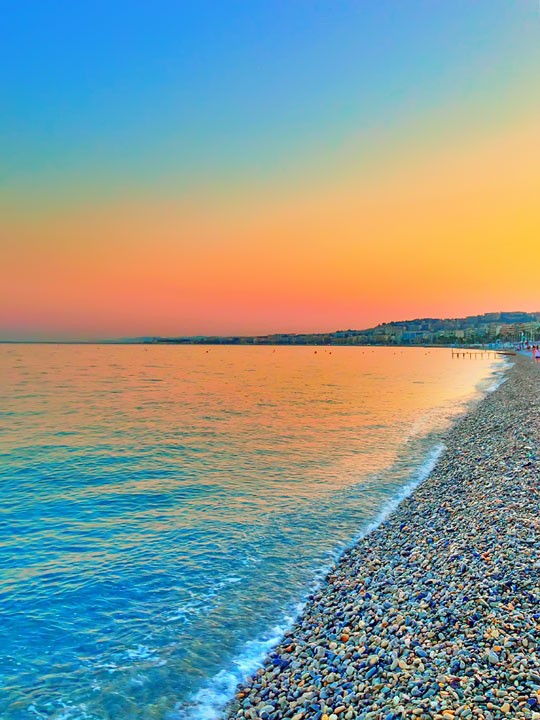 Such an amazing sunset view in Nice.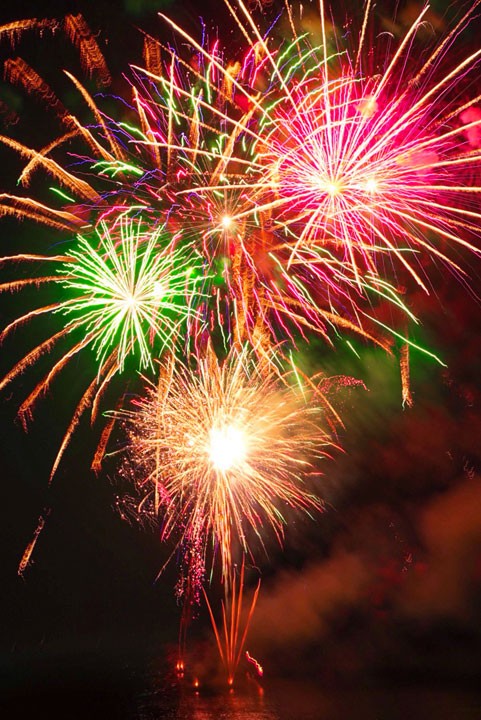 That night we were treated to another fireworks show over the water as we sat on the beach. The French Riviera knows how to do its fireworks, that is for sure. Another amazing show!
Stay tuned for our second day in Nice… :)
Until next time!! xoxo