This Italian Sausage Tortellini is made with cheese tortellini and fresh Italian sausage in a homemade tomato cream sauce. It's one of our favorite tortellini recipes.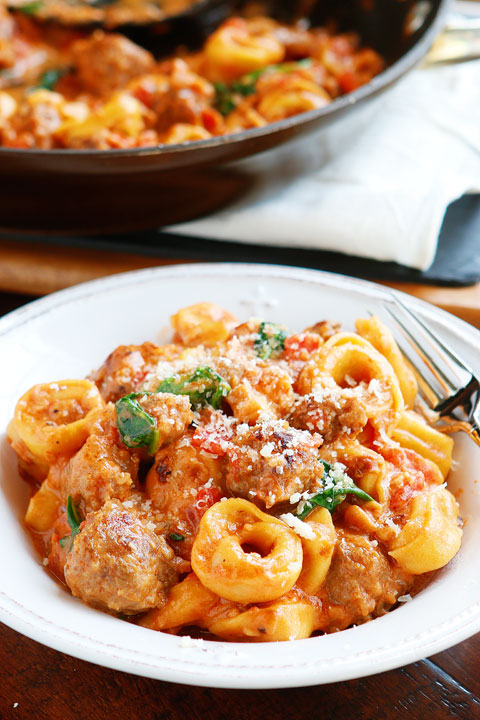 This Italian Sausage Tortellini is bursting with flavor. It's definitely one of those recipes that everyone would rave over at a restaurant — but you can make it at home! Make this the next time you want everyone to RAVE over your cooking!!
My favorite thing about this tortellini recipe is that it's another one of our signature One Pot Meals. It's so easy to make, and everything cooks in one pan so you only have one dish to wash at the end of the night!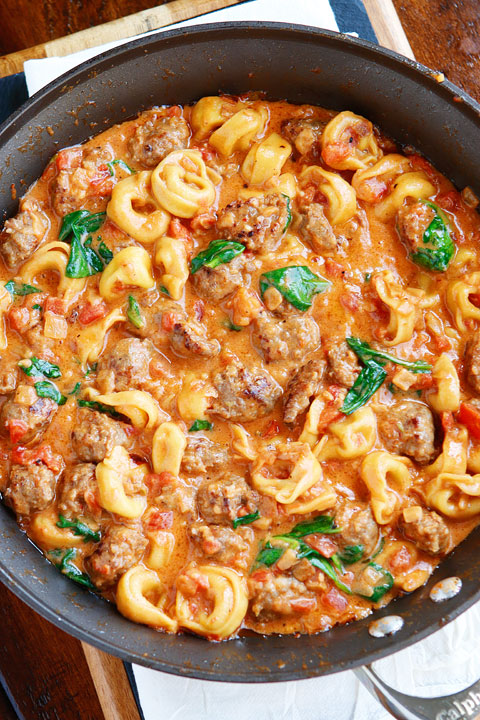 What is the difference between tortelloni and tortellini?
They're the same shape, but tortelloni is a little bigger!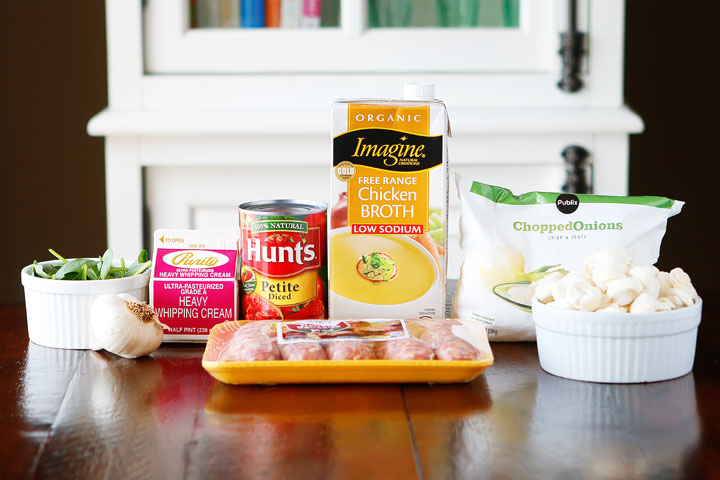 Italian Sausage Tortellini Ingredients
Here's all you need to make one of our favorite tortellini recipes: Italian sausage, tomatoes, chicken broth, diced onions, cheese tortellini, cream, garlic, and fresh baby spinach.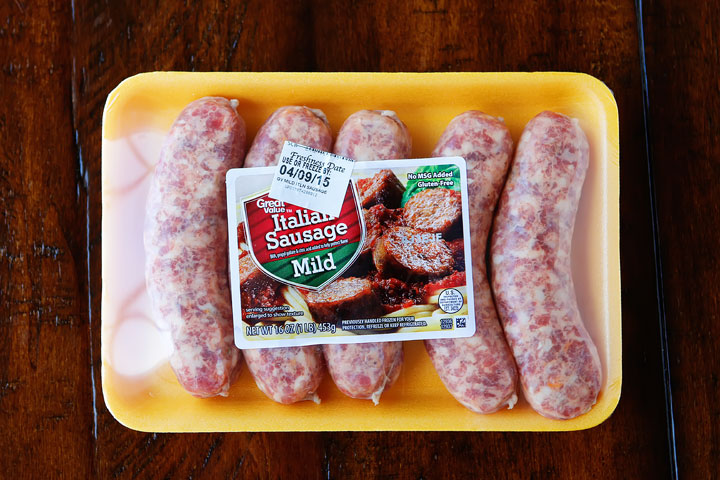 Here's what the Italian sausage looks like. You can usually find it in Mild, Hot, or Sweet. Johnsonville is a popular name brand that we love! I'm using mild today, but any version would work well here. Try Hot if you like a little spicy!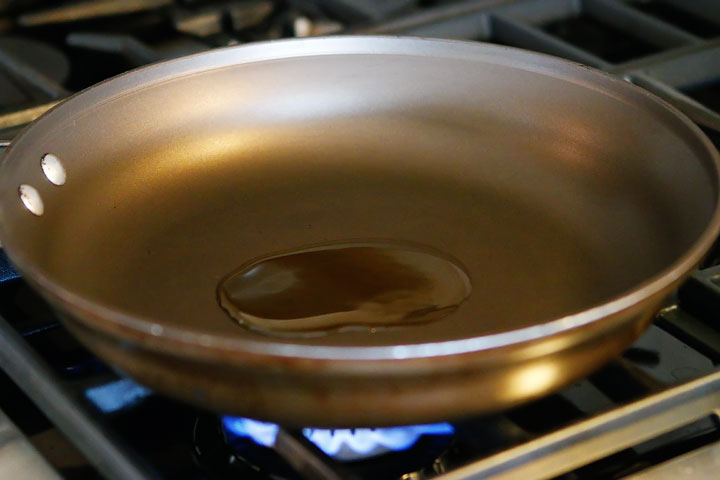 How to Make Italian Sausage Tortellini (Step by Step)
Start by heating a bit of olive oil in a very large (at least 12-inch) skillet. You could also use a Dutch oven.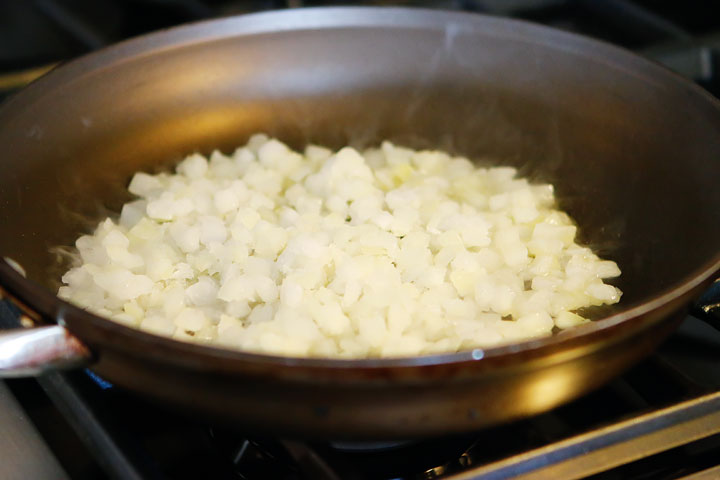 When the oil is very hot, add the diced onions.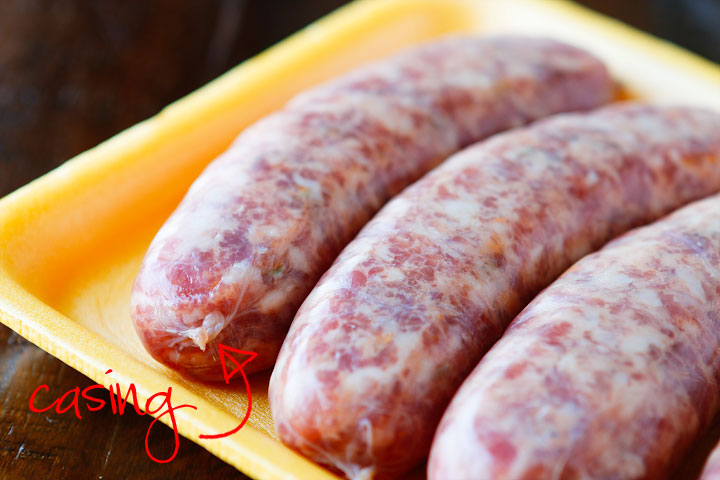 Next you'll want to immediately add the Italian sausage. See the casing on the sausage here? For a long time I avoided cooking with Italian sausage because I didn't want to deal with removing the casing. It just seemed like a pain. But I'm going to show you a trick that makes it SO ridiculously easy. Like so, so easy. I wish I had discovered this years ago!!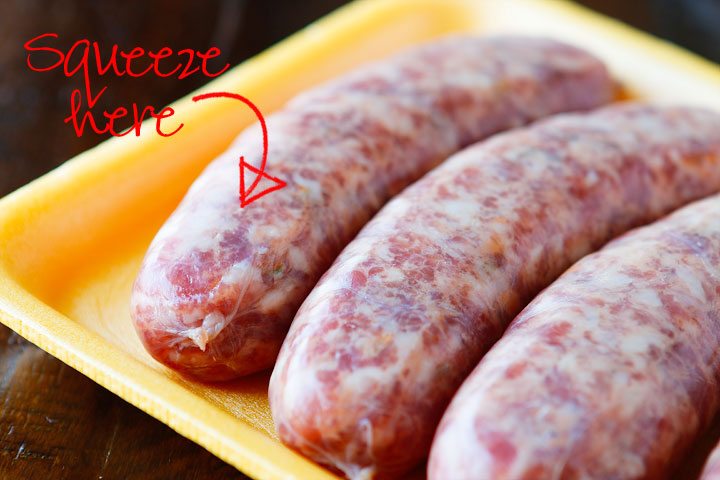 Just start near the end and squeeze.  It comes right out. So easy. You can squeeze it directly into the pan. No muss, no fuss.
Now, I took a picture of me doing this, to show you exactly how easy it is, but let's just say… It did not go well. It ended up looking…. uh… less than family-friendly. So, needless to say (since my mom reads this blog) I will not be subjecting you to that picture here. However, you'll not be surprised to learn that I did immediately text it to all my friends and we very maturely dissolved into a fit of uncontrollable giggles.
It was pretty bad. Kevin just shook his head and rolled his eyes, but I could tell he was mortified.
ANYWAY. Hopefully the picture above is sufficient. It really is easy.
Oh, and I'm sorry I said "squeeze" while pointing at a sausage. SORRY!!!
Please still make this recipe.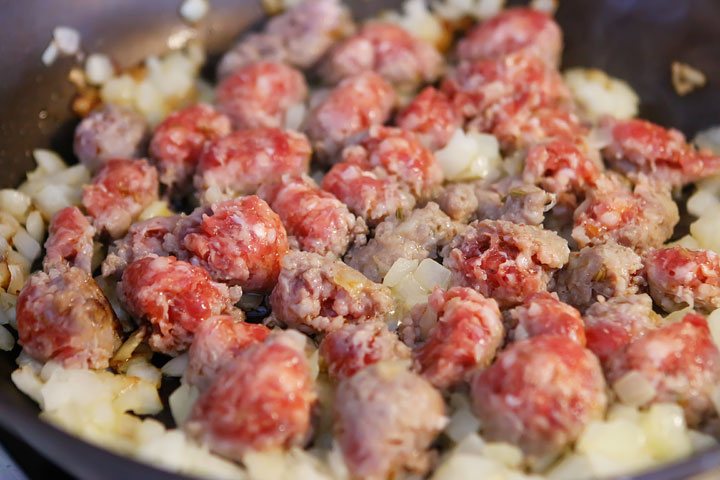 Use a spatula to break up the sausage into bite-sized pieces. I made mine about meatball size here, but you can them chop them up to any size you want, even crumbles.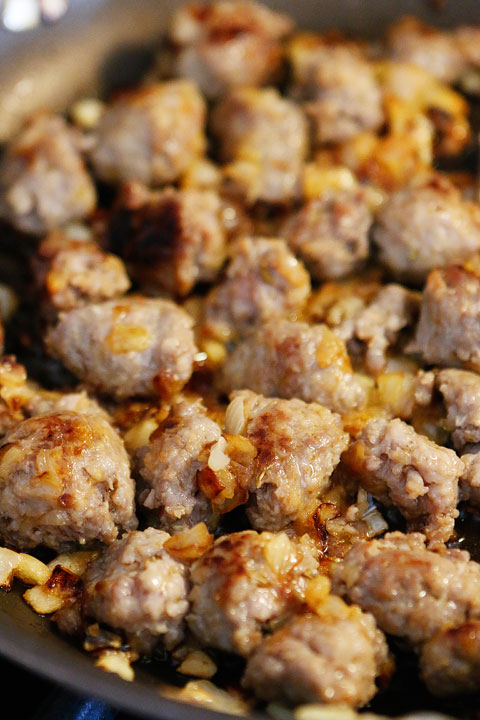 Cook, stirring occasionally, until the sausages are browned.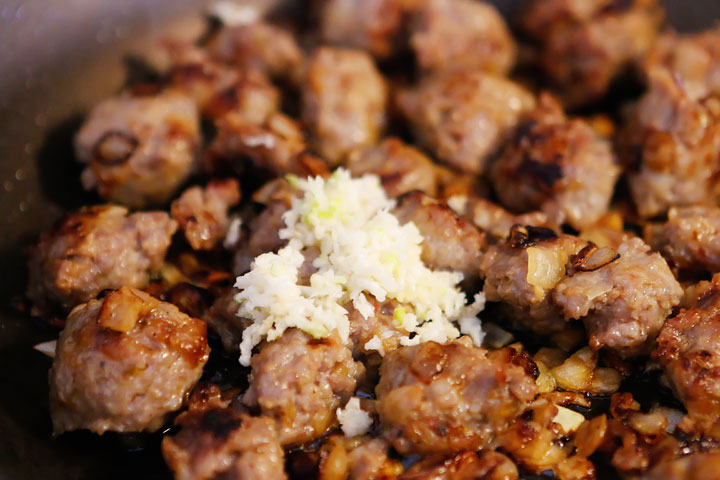 Add the garlic and stir for 30 seconds until fragrant.
What kind of sauce to put on tortellini?
Personally I think a tomato cream sauce is the best for cheese tortellini! Add Italian sausage and you have honestly one of the best tortellini recipes!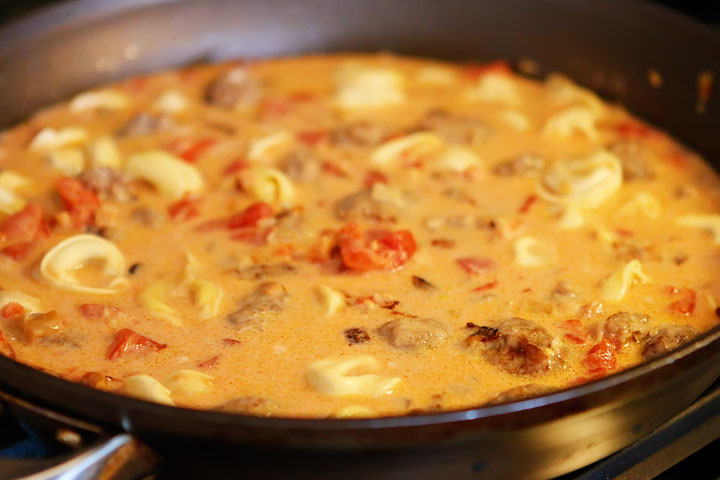 How do you make tortellini sauce?
Add the broth, tomatoes, cream, and tortellini to the skillet. For this tortellini recipe you can use fresh or frozen tortellini. If the tortellini is frozen, you don't even have to thaw it first.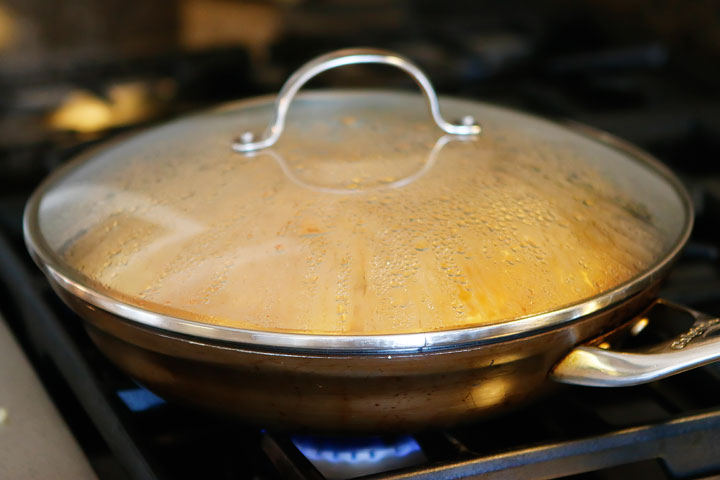 Bring it all to a boil, then cover, reduce heat, and simmer for 15 minutes.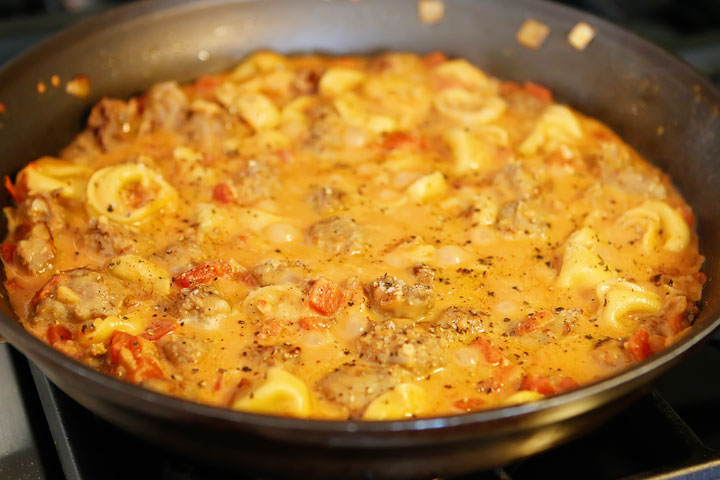 After 15 minutes, the tortellini should be soft and plump, and the sauce slightly thickened. Taste the sauce and add plenty of salt and pepper as desired. I used 1 teaspoon of salt and 1/2 teaspoon of pepper.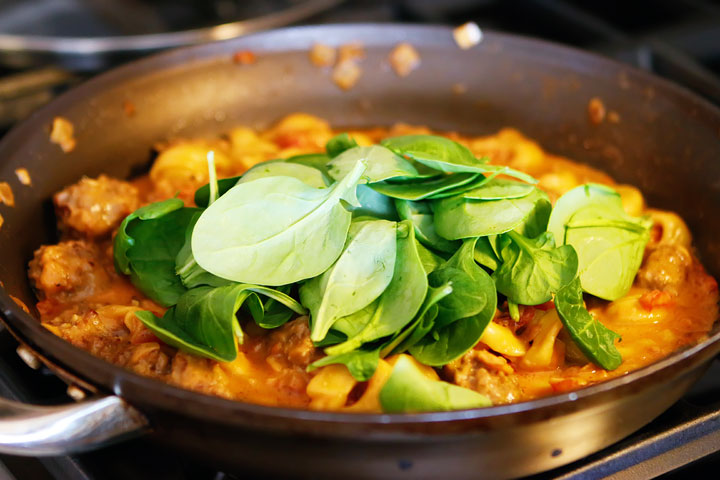 Finally, add a couple big handfuls of fresh baby spinach. If you're skeptical about the spinach, it's totally optional, but gives the dish a nice bright green color. I promise you won't be able to taste it at all.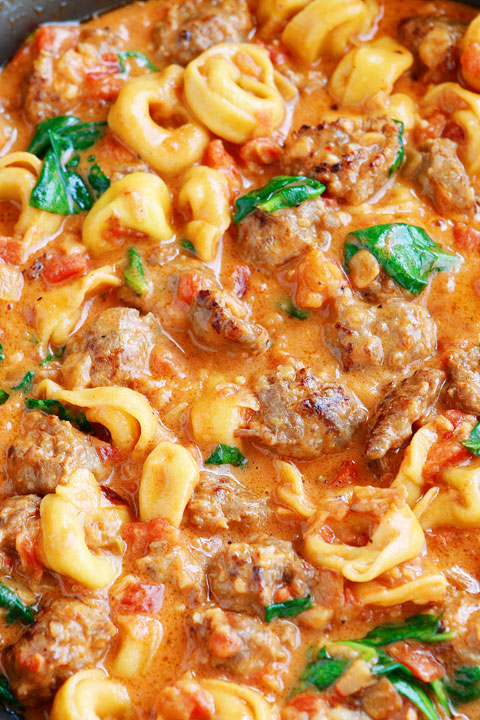 Gently stir just until the spinach is softened and wilted.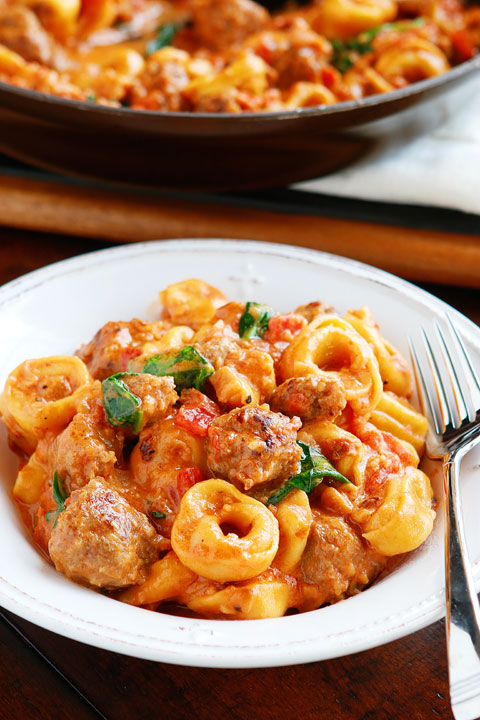 Serve it up and enjoy!! Hope you love this Italian Sausage Tortellini!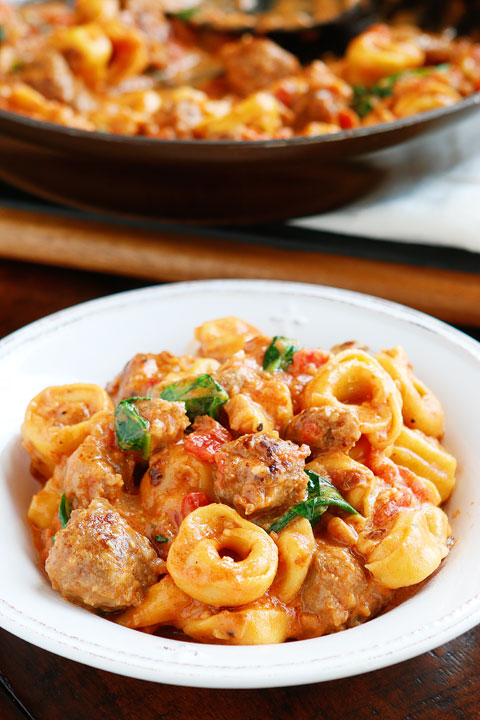 Print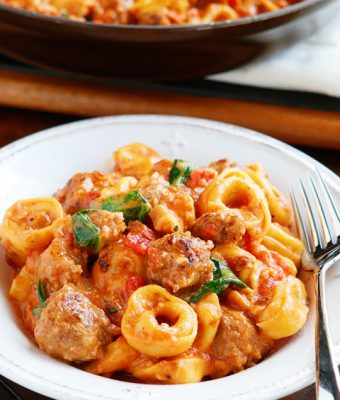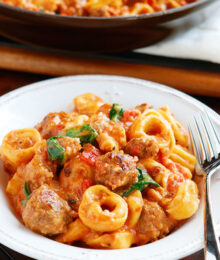 Italian Sausage Tortellini
Prep Time:

10 minutes

Cook Time:

15 minutes

Total Time:

25 minutes

Yield:

4

servings

1

x
Category:

Dinner

Cuisine:

Italian
Description
A quick and easy tortellini recipe with cheese tortellini, Italian sausage, and a creamy tomato sauce.
Scale
Ingredients
1 tablespoon

olive oil

2 cups

diced onions

1

lb mild Italian sausage

2

–

3

cloves garlic, minced

3/4 cup

chicken broth

1

(14.5 ounce) can petite diced tomatoes

1/2 cup

regular or heavy cream

9 ounces

tortellini (fresh or frozen)
salt and pepper to taste

2 cups

fresh baby spinach, loosely packed
Instructions
Heat olive oil in a 12-inch skillet over medium heat. When the oil is very hot, add the onions. Squeeze the sausage from the end of the link to remove it from its casing and add directly into the pan. Use a spatula to break up the sausage into bite-sized pieces. Increase heat to medium-high and cook, stirring occasionally, until the sausage is browned. Reduce heat to low, then add the garlic and stir until fragrant, about 30 seconds.
Add broth, tomatoes, cream, and tortellini to the skillet. Stir to combine. Increase heat and bring to a boil.
Cover, then reduce the heat and simmer for 15 minutes until tortellini are tender and heated through. Taste the sauce and add plenty of salt and pepper to taste. I used 1 teaspoon of salt and 1/2 teaspoon of pepper. Add spinach and stir until softened and wilted. Remove from heat and serve
Keywords: tortellini recipes, cheese tortellini, tortellini pasta, cheese tortellini recipes, tortellini sauce, spinach, 20 minute meals, buitoni, sausage
More Quick And Easy Recipes To Try: