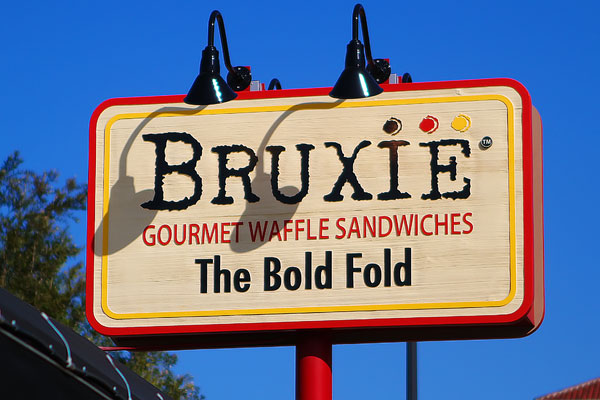 When you have a blog dedicated to sharing all your favorite things, it's hard not to start every post with "Oh my gosh, you guys!"
I really, really wanted to start this post with "Oh my gosh, you guys!"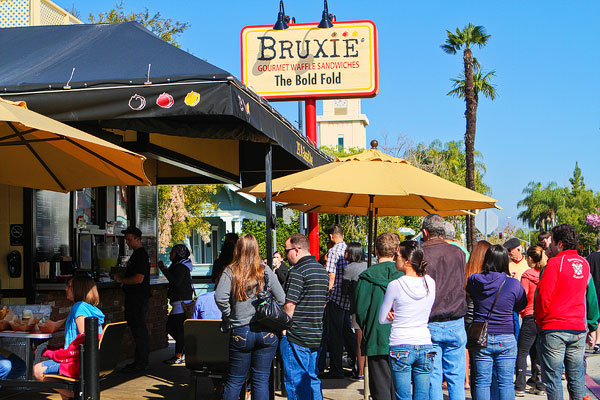 Also hard: Limiting the number of times I use words like Fabulous! Life changing! and Gorgeous! per paragraph.
I do try. But it's a challenge.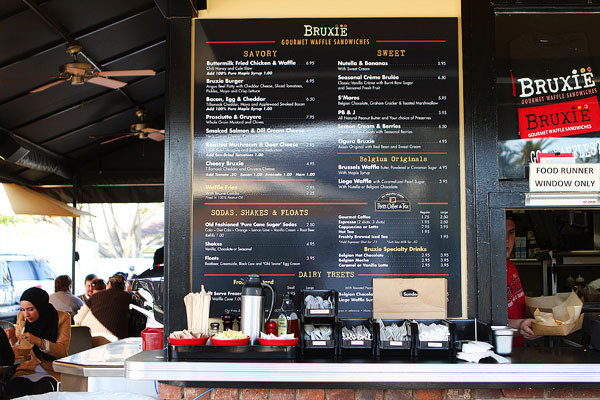 When I was visiting Jenny in California a few weekends ago, she showed me the menu for this seriously fun waffle stand.
They have sweet waffles, savory waffles, and waffles for breakfast, lunch, dinner, and dessert.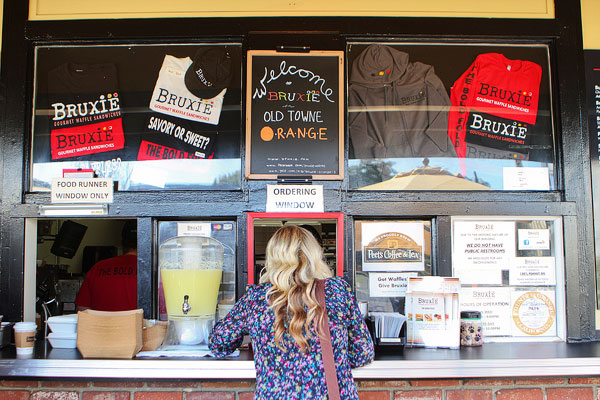 I knew immediately that we were going to need one of everything on the menu.
Just check out this small sample of their fun offerings.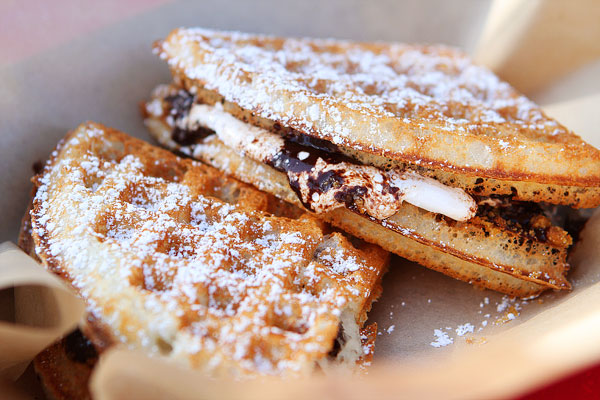 I mean really. They had a S'mores Waffle. It was sprinkled with crushed, sweet graham crackers, drizzled with warm, melted chocolate, and topped with gooey, oozing perfectly toasted marshmallows.
You know there's no way I wasn't saying yes to that!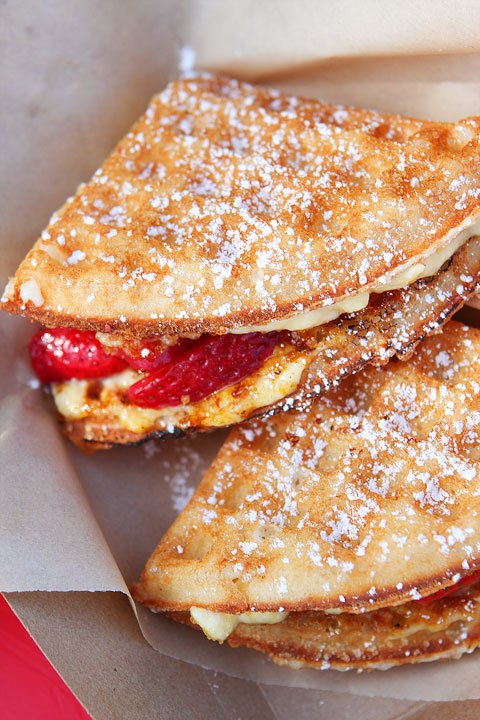 Next was the Creme Brulee Waffle. It was:
A perfectly toasted waffle.
Covered with decadent creme brulee custard.
Topped with sugar and bruleed, so it had that wonderfully crisp, crackly topping, and…
Stuffed with impossibly gorgeous red strawberries that, I kid you not, were absolutely bursting with sweetness.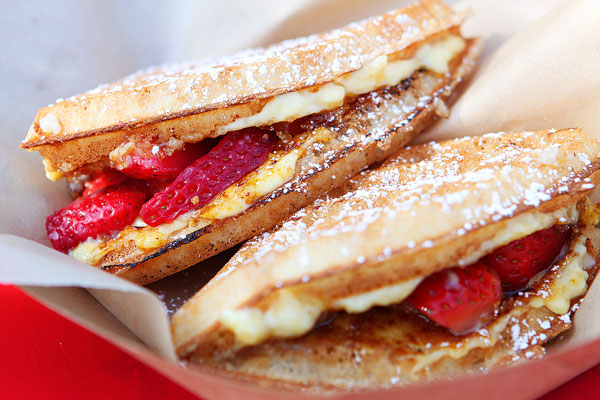 I don't know if you know this about me, but fruit (and nuts) in dessert stand for everything I'm against in the world. I love fruit. I love nuts. But I don't want them in my dessert. It's a texture thing. And a sweetness thing. And probably a weirdo thing.
But this. Was. Fabulous. I can't imagine it without strawberries. I needed those strawberries. As hard as it is for me to admit, I don't know which one was my favorite — the S'mores or the Creme Brulee!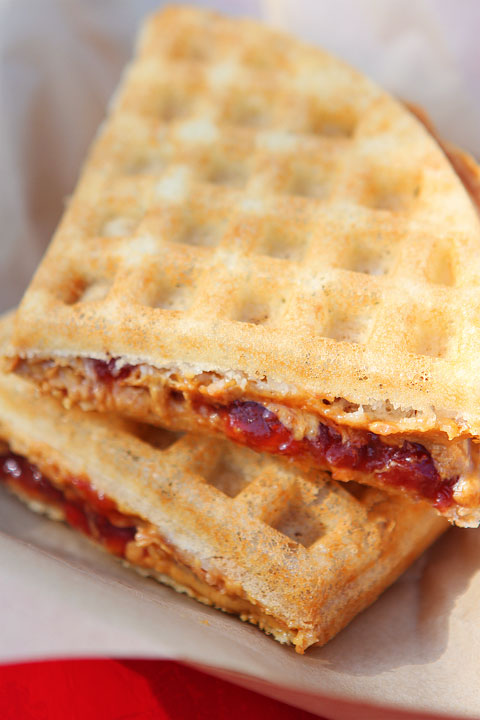 Next was a PB&J Waffle. How fun is this waffle? Tasted just like a toasted PB&J sandwich. Loved it!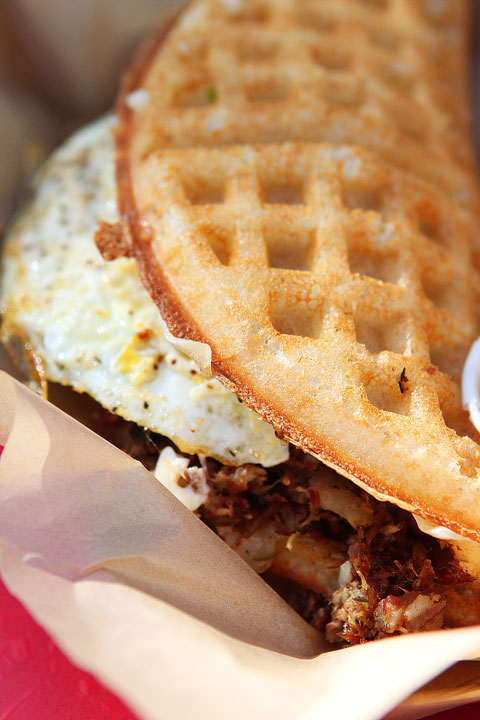 Of course, we had to try one savory waffle as well. This is the Bruxie Hash and Eggs. It was a special of the day, and sold out in one hour! Good thing we got there right when they opened! It's a prosciutto and pastrami hash topped with gruyere cheese and a jumbo fried egg. All wrapped up in a waffle.
Yes. Please.
If you are ever anywhere near Bruxie, any time of day, make sure you stop by. Fabulous food, generous folks, and seriously fun waffles.
Bruxie
292 North Glassell Street
Orange, CA 92866
(714) 633-3900 ‎
bruxie.com