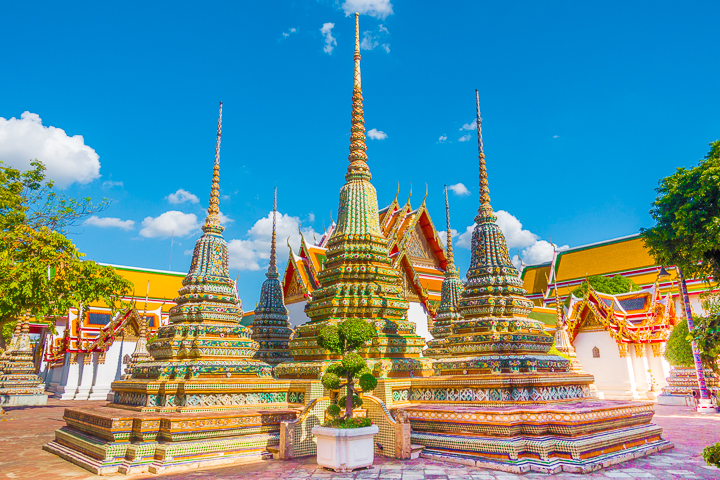 After traveling our way north through Singapore and Malaysia, we were so excited to spend the next 15 nights in Thailand with Centara Hotels & Resorts. Hello Thai food! Our first stop was the capital city of Bangkok. We only had 3 nights here, so we had to make the most of our time. We spent one day visiting as many of the main sites in Bangkok as possible. The other 2 days we took day trips outside the city to see some of the most popular historical sites nearby.
If this is your first time in Bangkok, here are our recommendations for the best things to do and see in Bangkok, plus the most popular day trips from Bangkok so you don't miss any of the highlights when you're in this amazing city.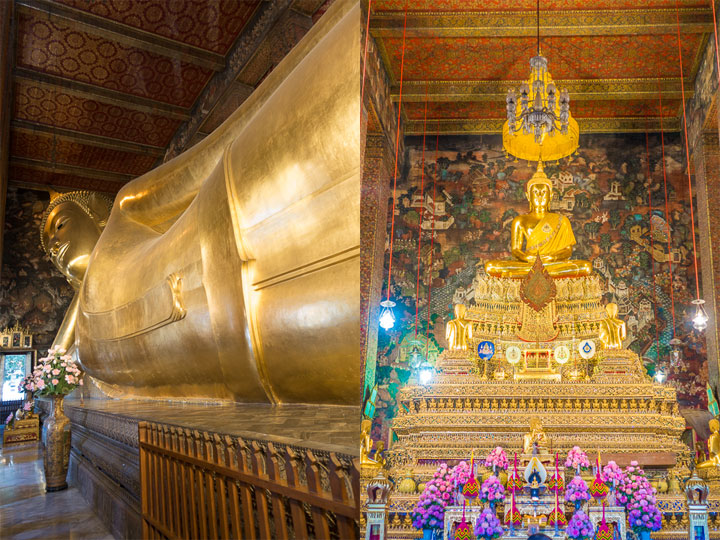 Wat Pho — Temple of the Reclining Buddha
Wat Pho is one of the oldest and largest temples in Bangkok. The temple is most famous for its giant gold-plated Reclining Buddha statue. The statue is 151 feet long and 50 feet high. The temple is also known as the birthplace of Thai massage. The temple was a center for knowledge and study of traditional Thai medicine. A massage school was founded here that still exists today.
Also nearby are the Grand Palace and Wat Arun. We were unable to see the Grand Palace because we were there during the funeral for the king. But I highly recommend you add both of these to your itinerary when you're in Bangkok. These three sites can easily be seen together.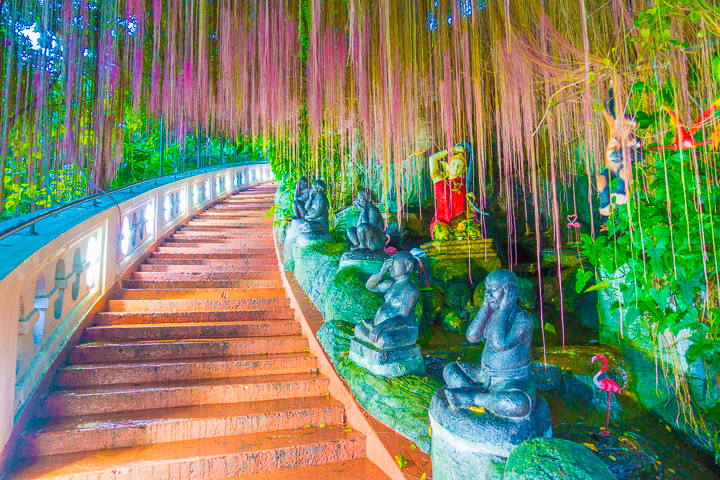 Wat Saket — Temple of the Golden Mount
Wat Saket is located at the top of a high hill known as the "Golden Mount". There are 318 steps to reach the top. It was once the highest point in Bangkok. Somehow climbing all those stairs didn't seem that bad when they were this beautiful! :)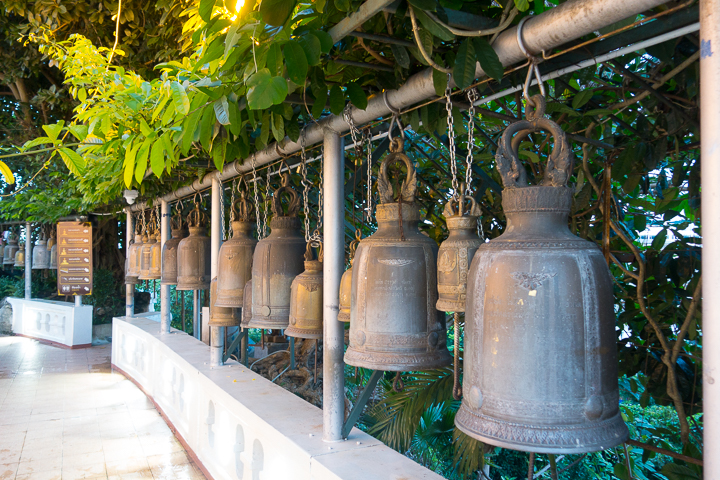 On the way you'll pass a line of large prayer bells. Once at the top, you'll have panoramic views of Bangkok in all directions.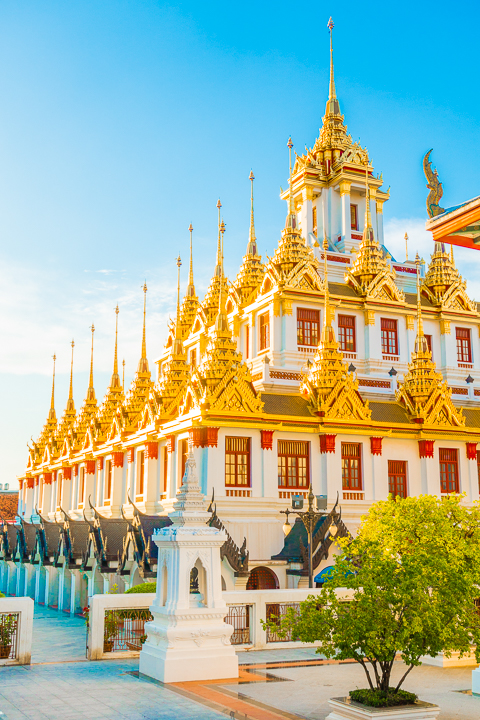 Loha Prasat — The Metal Castle
The Metal Castle is a unique structure in the Bangkok skyline. This style of temple is the only one of its kind in the entire world. The 37 spires symbolize the 37 virtues that are required to reach enlightenment in Buddhism.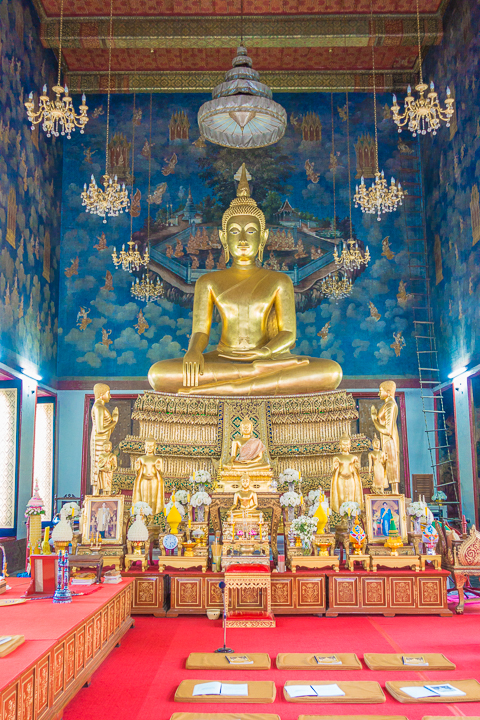 A Buddha statue at Loha Prasat.
The Metal Castle and the Golden Mount are right next to each other, so plan to visit these two temples together.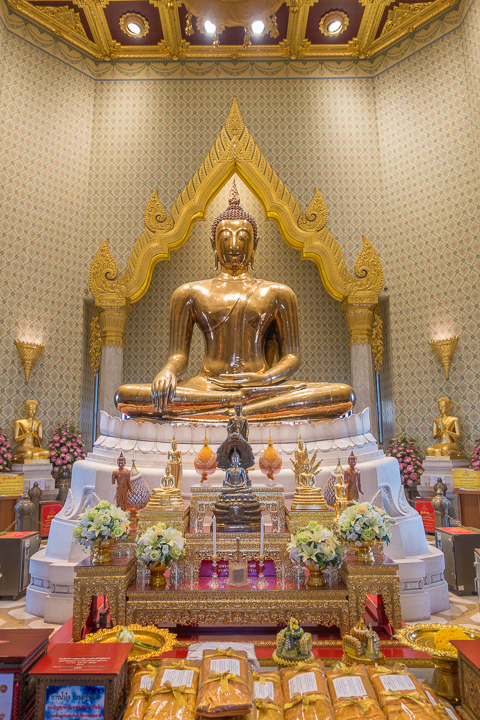 Wat Traimit — Temple of the Golden Buddha
Wat Traimit is a royal temple famous for its giant, pure solid gold Buddha. It's the largest solid gold Buddha statue in the world. The statue is nearly 10 feet tall, weighs around 5.5 tons, and is estimated to be between 700-800 years old. The most interesting part of the story is that for centuries the true identity and value of the statue was not know. Originally the statue was covered in plaster to disguise it and prevent it from being stolen. It was only in the 1950s when the statue was being moved that its true identity was discovered. A cable snapped and the statue fell, chipping off a piece of the plaster and revealing the solid gold statue beneath.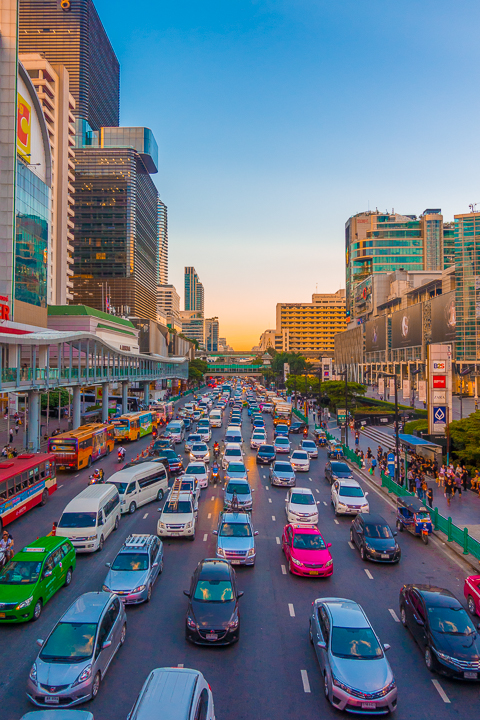 ---
Getting Around in Bangkok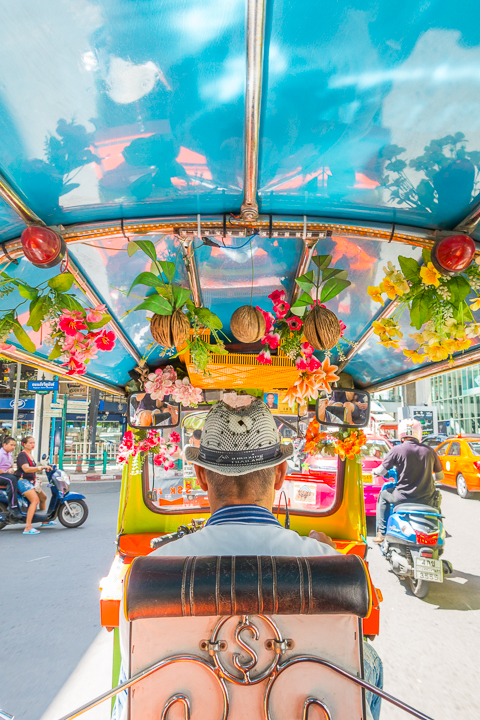 Tuk tuks are everywhere and are fun to take at least once just to say you did it! Some have bright colors and upbeat music playing. During rush hour it may even be faster to get where you're going in a tuk tuk because they're smaller and can weave in and out of traffic.
The tuk tuks are notorious for trying to overcharge you, so be sure to ask up front how much it will cost and make a counter offer.
Our trick for knowing about how much the tuk tuk should cost: we'd look up the destination on Uber and see how much an Uber would be to take us there. We offered lower than that — after all, Uber is safer, more comfortable, and air conditioned. I would never pay more for a tuk tuk than Uber, but usually the price wasn't too much cheaper than an Uber.
Use this link to sign up with Uber to get your first ride free!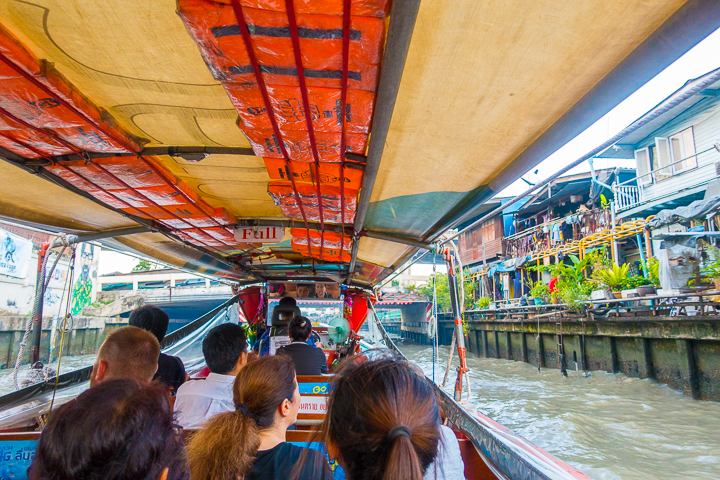 OH MY GOSH you HAVE to take the water taxi in Bangkok at least once!!!!! If you don't take, AT LEAST go there and watch people get on and off!! This was seriously one of the highlights of our trip!! :)
We were trying to find our way to the Golden Mount temple, and I pulled up the directions on Google Maps. It showed there was a water taxi nearby. I had no idea what a water taxi was, but I have complete faith in Google Maps, so I followed the directions it gave me. It led us to narrow, dark alley… I'll admit for a brief moment I feared we were about to get human-trafficked.
I kept following the directions, and a man came up to us and asked, "Water taxi?" in a hushed tone, like he was trying to sell us a fake Rolex. I'm always very cautious of people who approach me asking if I need transportation, but we hesitantly said yes, and he then lead us behind a wall where it opened up revealing the river, a sign that looked like a bus stop, and several people waiting on the taxi. Whew! We were in the right place.
We waited by the water, and not 60 seconds later the water taxi comes flying down the canal. It barely slowed down at all as it flew towards the dock — as soon as the boat got even remotely close to the edge, people starting jumping on and off the boat as it was still moving. We looked at each other in shock, I said a prayer, grabbed the rope, and hopped on. I think I'm officially a local now. ;)
Seriously do this at least once in Bangkok! :) We got on at Hua Chang and off at Phanfa Bridge, right by the Golden Mount and the Metal Castle. On your way to the Golden Mount or after you finish, definitely put taking a water taxi on your list! You pay after you get on the taxi, so be sure to have a small amount of cash on you. Or just head to Phanfa Bridge and watch people get on and off.
---
The Floating Market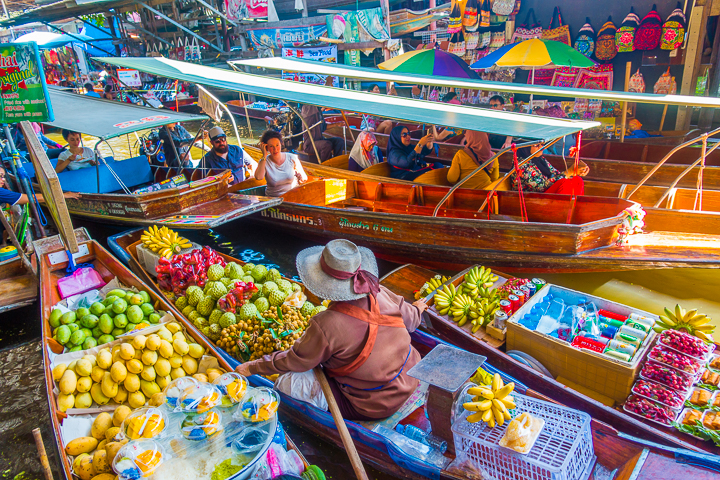 The unique, lively, colorful floating markets are one of the most famous attractions in all of Thailand. There are several floating markets around Bangkok, but we chose to visit Damnoen Saduak, the best known and most-visited.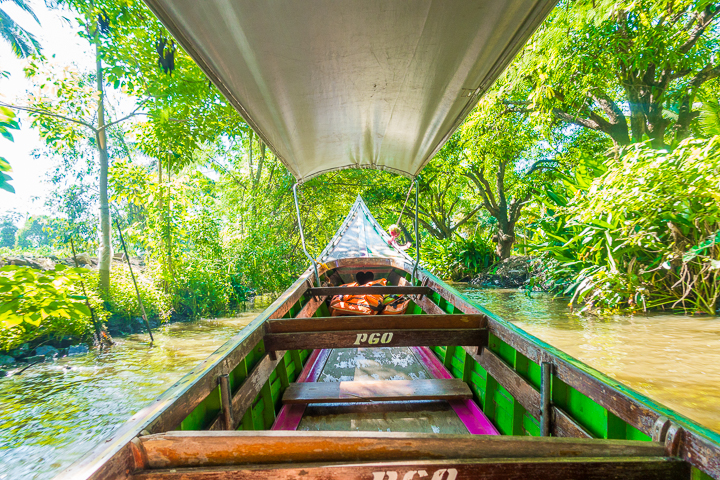 We booked a private tour with our hotel in Bangkok which included a longtail boat ride down the canal to reach the market.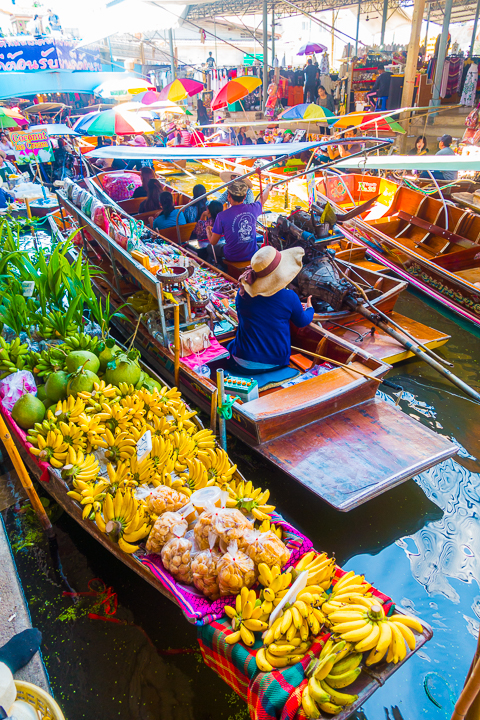 Damnoen Saduak is a large, colorful market packed with boats. The vendors' boats are full of a wide variety of fruits and vegetables.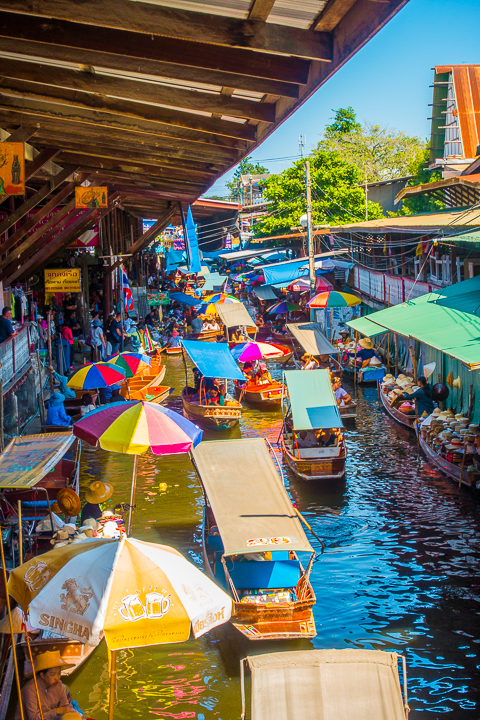 However the market is not really authentic anymore, as almost all buyers are exclusively tourists. The tourists boats vastly outnumbered the boats of fruits and vegetables.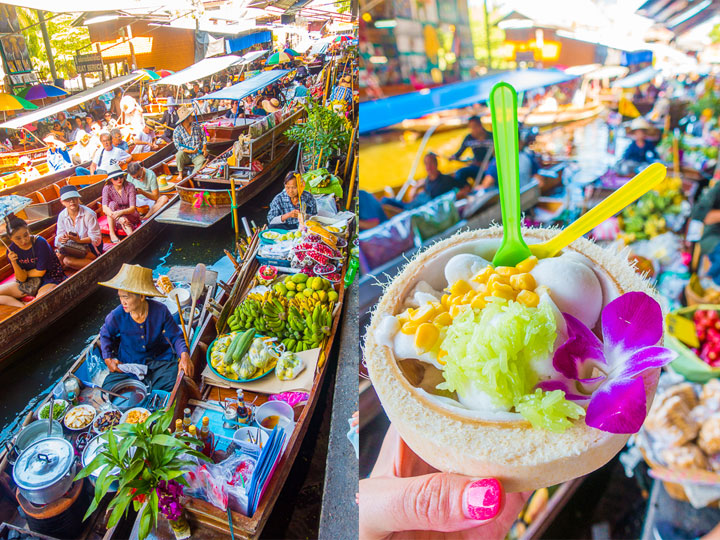 I'm still super glad we went though — I loved it!! And of course I had to buy coconut ice cream from one of the boats!
---
Bridge on the River Kwai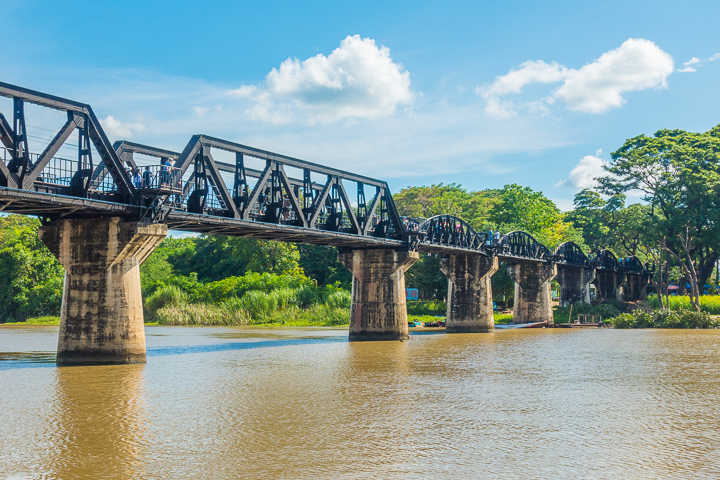 Our tour included a morning at the floating market and afternoon at the Bridge on the River Kwai. Many people are familiar with this bridge from the 1957 Academy Award winning movie starring Alec Guinness and William Holden.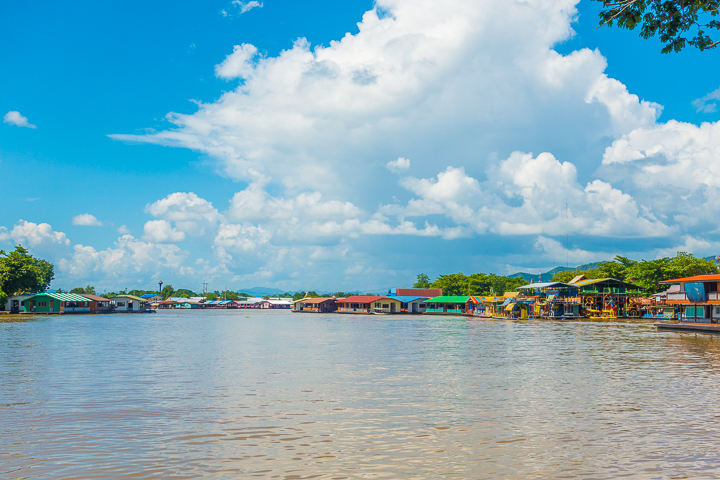 The bridge was constructed as part of the infamous Death Railway which was built during World War II to connect Thailand to Myanmar and support the Japanese war effort.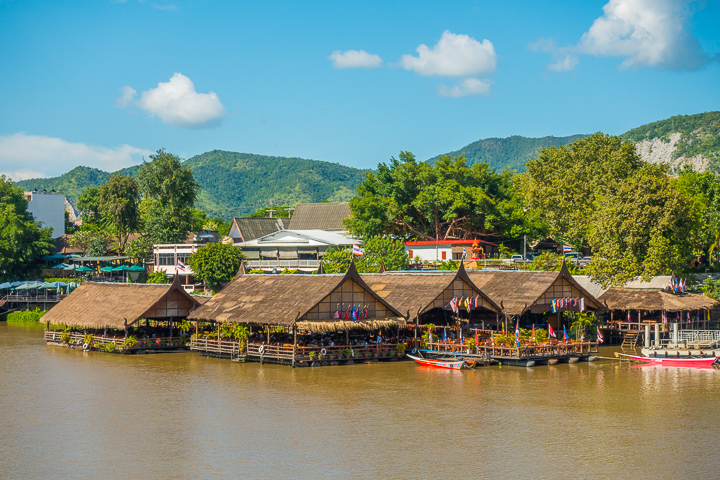 The railway was built by 61,000 allied prisoners of war and 200,000 Asian forced laborers. The area where the railway was built was mountainous, deep in heavily forested jungle, and crossed the river multiple times, making the construction a very arduous task.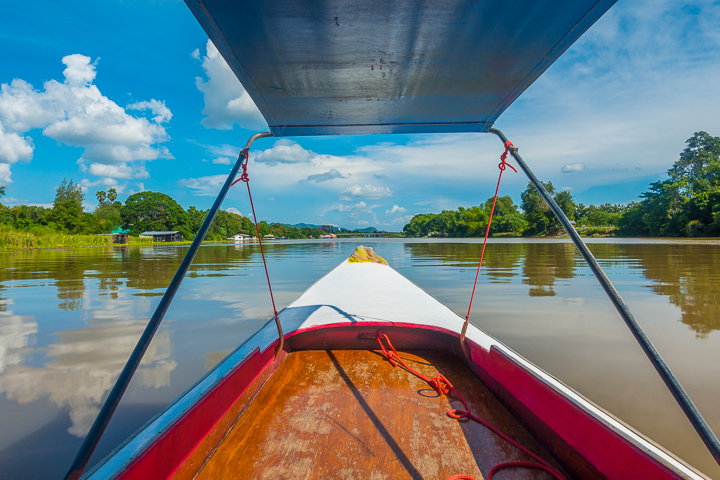 There was no proper equipment to move the heavy supplies, so all the work had to be done by manual labor. It is estimated that 13,000 prisoners of war and 80,000 forced laborers died during construction of the bridge.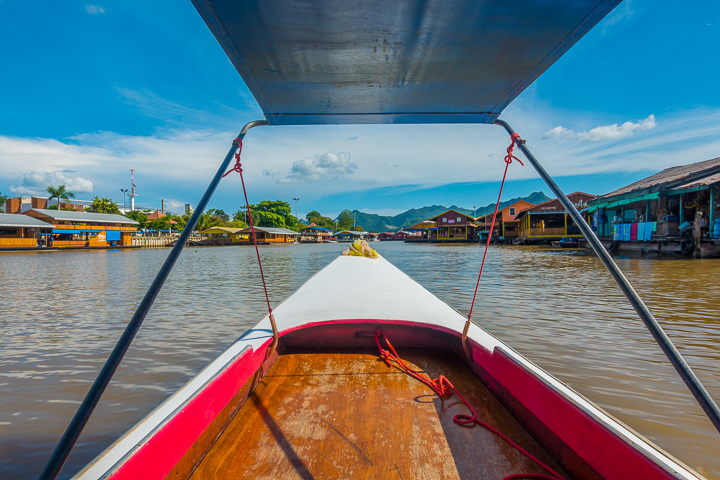 As part of our tour, we had the opportunity to take a longtail boat ride on the river, under the bridge, and through the beautiful, lush Thailand countryside. There are also some tours that take you on a train ride on the Death Railway through a very scenic area in Thailand if that is something you're interested in.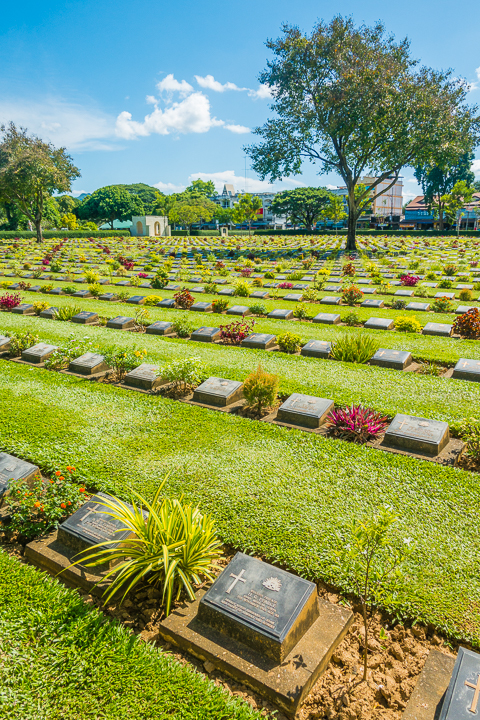 Our tour included a visit to the war memorial cemetery in Kanchanaburi where some of the allied prisoners of war were buried.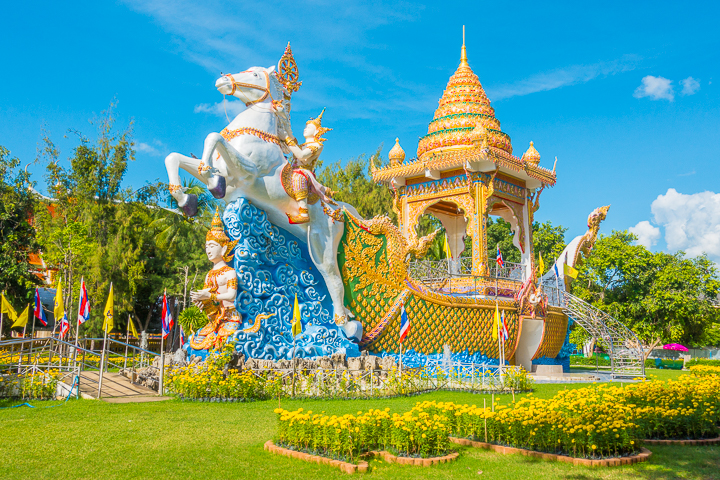 We also visited the JEATH War Museum, a small, but powerful museum which displays artwork, personal effects, correspondence, and war relics from the prisoners of war who were forced to build the Death Railway. There is a replica of the bamboo shelters where the prisoners of war were kept that demonstrates their harsh living conditions.
The museum is run by the monks of the nearby Wat Chaichumphon temple. It has many interesting statues and shrines, including one created from an authentic WWII-era boat that was dredged out of the Kwai river.
---
Bang Pa-In (Summer Palace)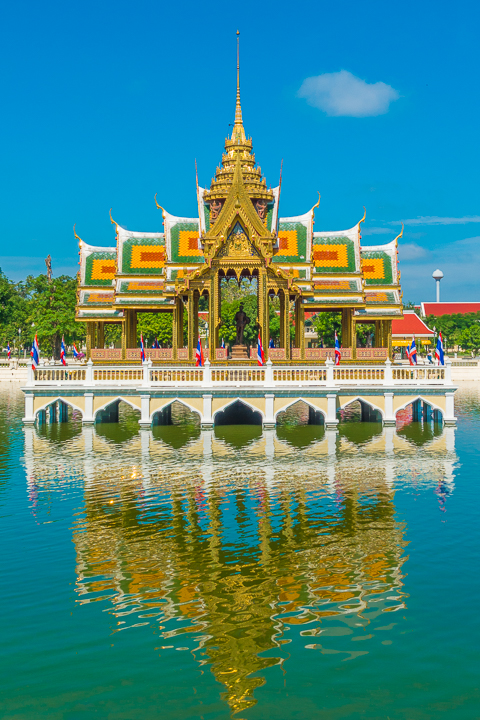 For our second day trip, we spent the morning at Bang Pa-In, also known as the Royal Summer Palace. It was originally built in 1632, but the palace as it looks today is attributed to King Rama V. From 1872-1889 he constructed many European-style buildings and expanded the area to emulate the Gardens of Versailles.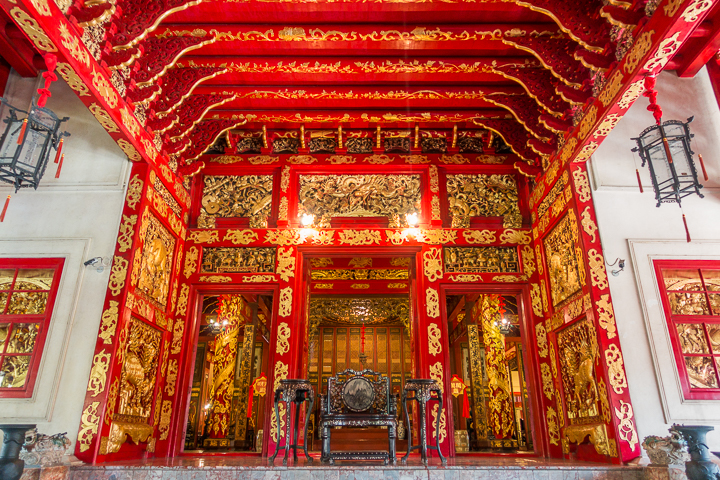 Over the years many buildings from various eras and kings have been constructed with unique architectural styles. One of my favorites was the Chinese-style palace full of red and gold wood with mother of pearl details.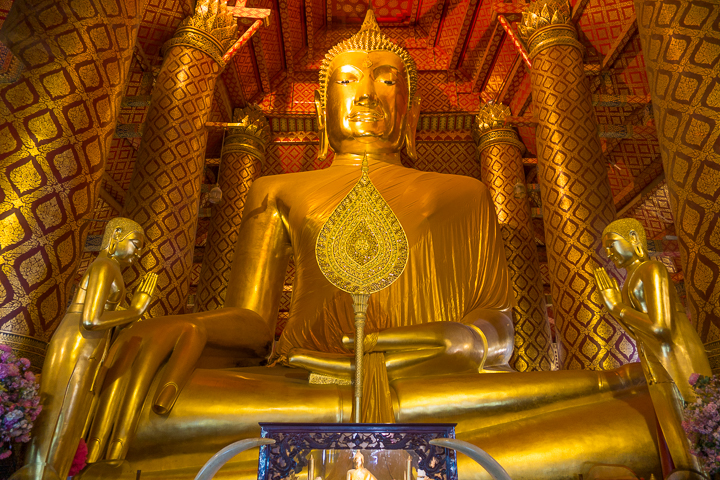 After the Summer Palace, we made a quick stop at Wat Phanan Choeng, famous for it's giant 62-foot golden Buddha statue. It's considered to be one of the most beautiful Buddhist statues in Thailand.
---
Ayutthaya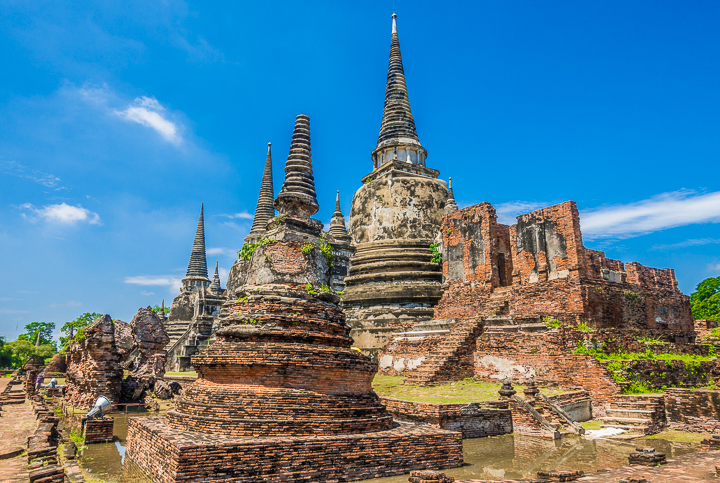 Without a doubt, the highlight of this day trip were the ancient ruins of Ayutthaya.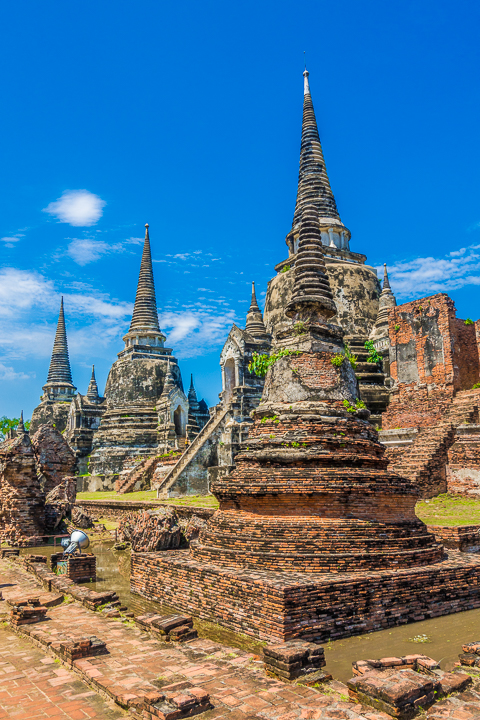 Founded circa 1350, Ayutthaya was once the capital of Thailand and one of the most prosperous cities in the world.
Because of its ideal location between India and China, Ayutthaya became the trading capital of Asia. Merchants came from all over the world came to trade in Ayutthaya, even as far as Japan, Portugal, the Netherlands, and France. Many wrote that Ayutthaya was the most opulent city they had ever seen. Ancient Dutch and French maps of Ayutthaya show lavish grandeur with golden palaces.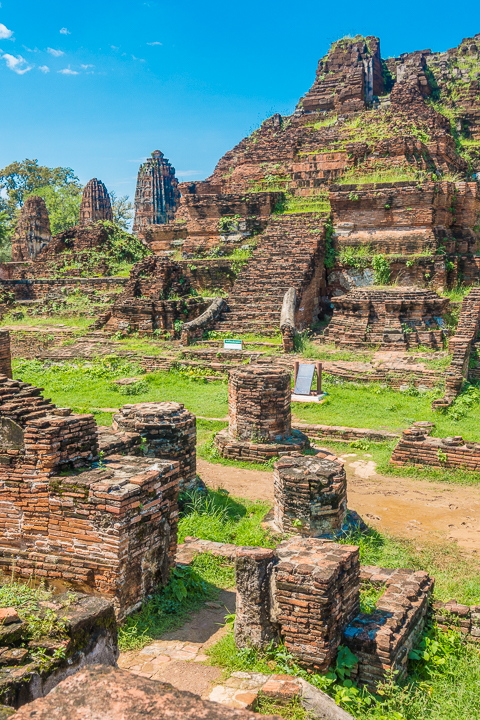 By 1700 Ayutthaya was the largest city in the world with 1 million residents.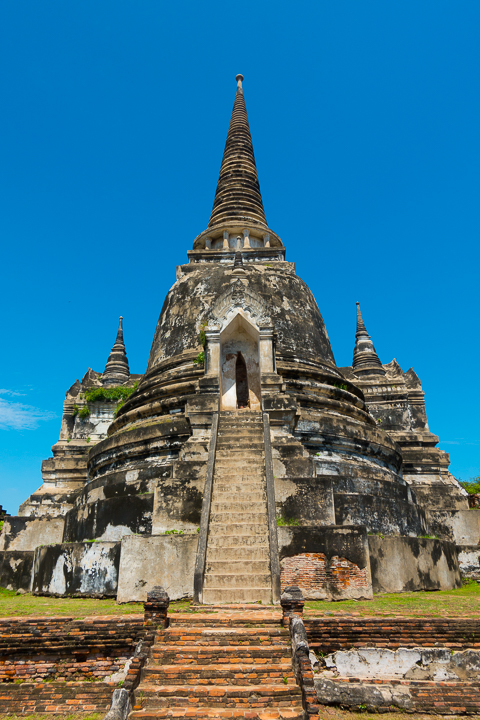 This all came to an end in 1767 when the Burmese invaded and almost completely burnt the entire city to the ground. Ayutthaya was destroyed.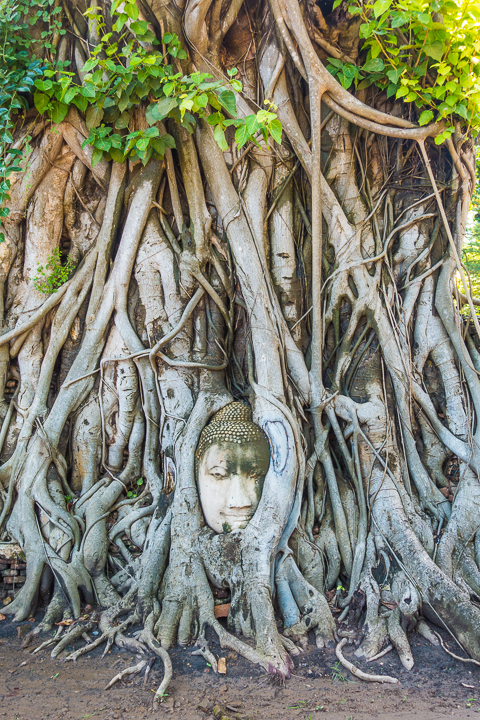 During the invasion many of the Buddha statues were beheaded. Above is a Buddha head that was cut off during the invasion and later became entwined in the roots of a tree when the city was abandoned and left in ruins.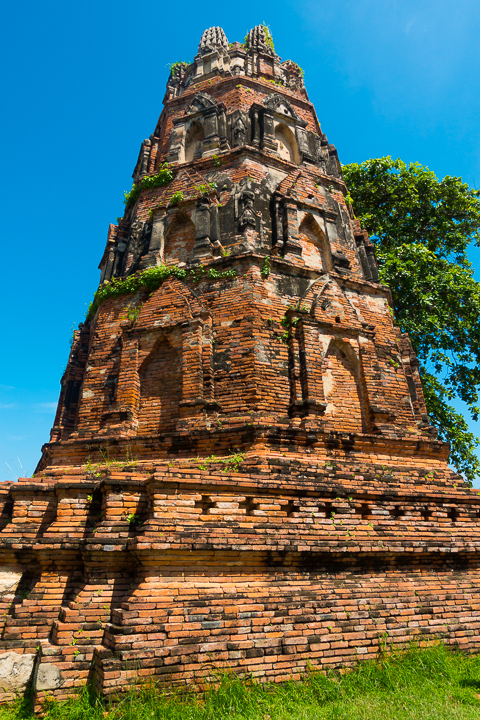 Today only a few remains give us a glimpse of what an impressive city Ayutthaya must have been. The  ruins of this historic city have been declared a UNESCO World Heritage Site.
---
Where to Stay in Bangkok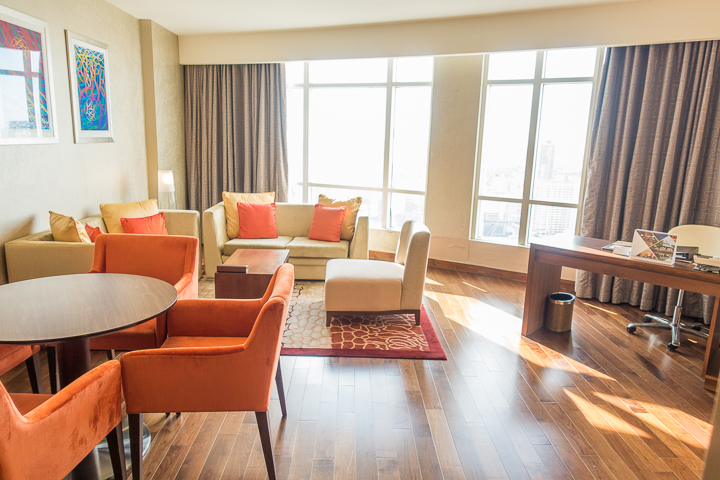 We stayed at the Centara Grand at CentralWorld. This modern, high-rise hotel is well-located with lots of shopping, restaurants, and fun night markets nearby.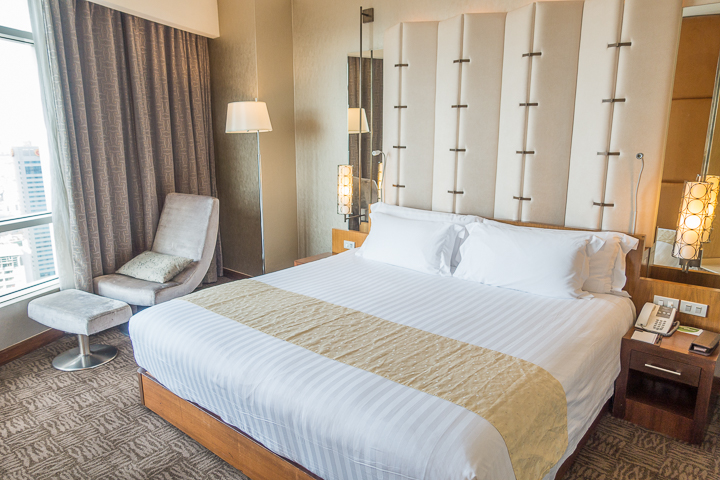 Centara Grand Hotels & Resorts offer a collection of luxury family friendly resorts and historic, boutique, award-winning hotels all over Thailand.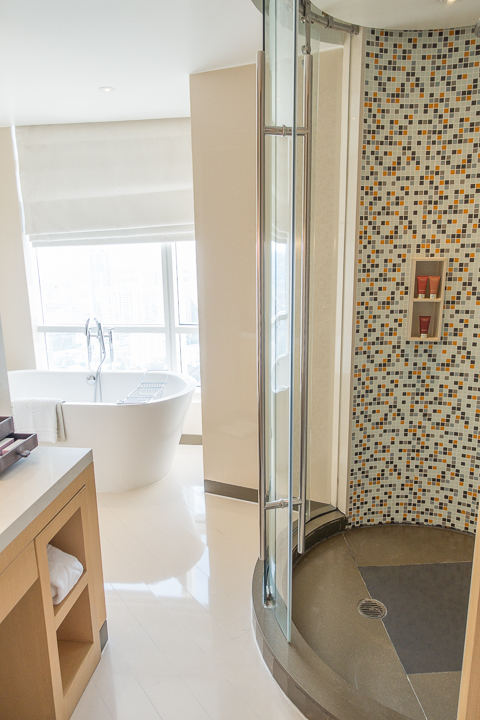 The hotel's many amenities include a spa, a tennis court, fully equipped gym, and an outdoor pool with a sundeck and amazing views.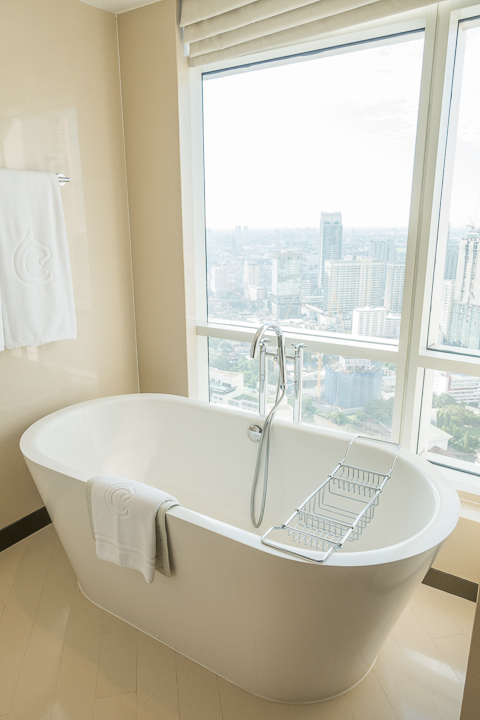 The rooms are bright, spacious, and have spectacular views of the city! Even from the bathtub! :)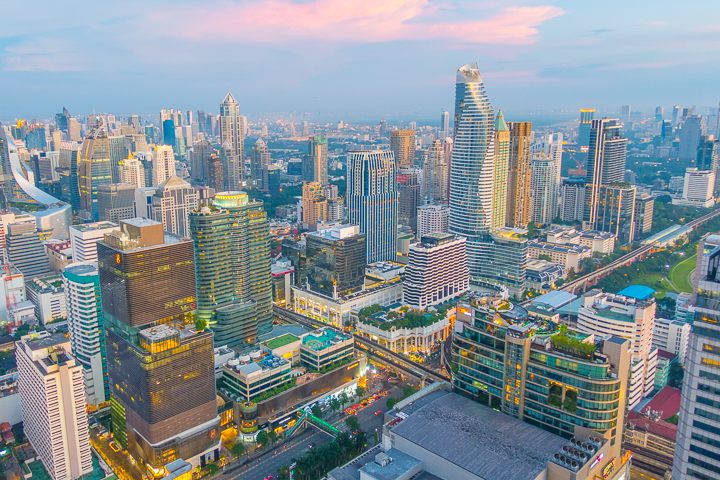 There are 4 restaurants and 4 bars, including a rooftop bar with breathtaking 360 degree panoramic views of Bangkok.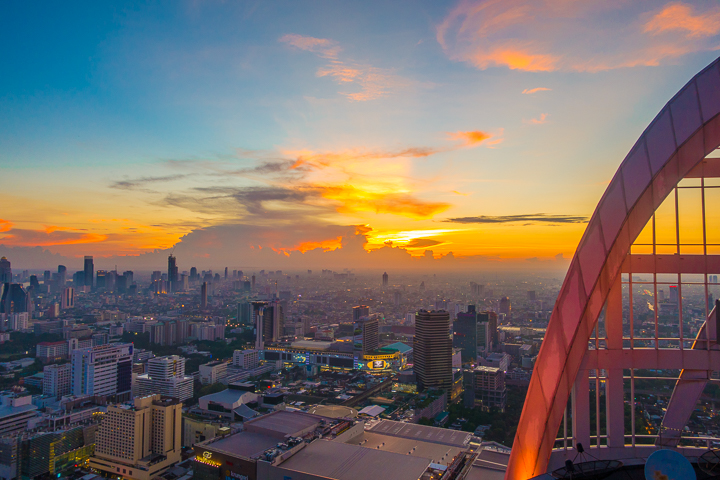 Definitely plan to watch the sunset from CRU Champagne Bar one night.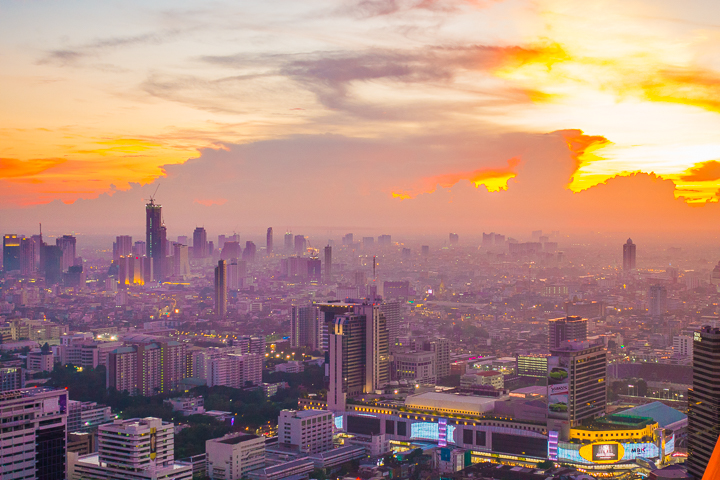 This intimate rooftop bar is one of the highest outdoor champagne bars in the world!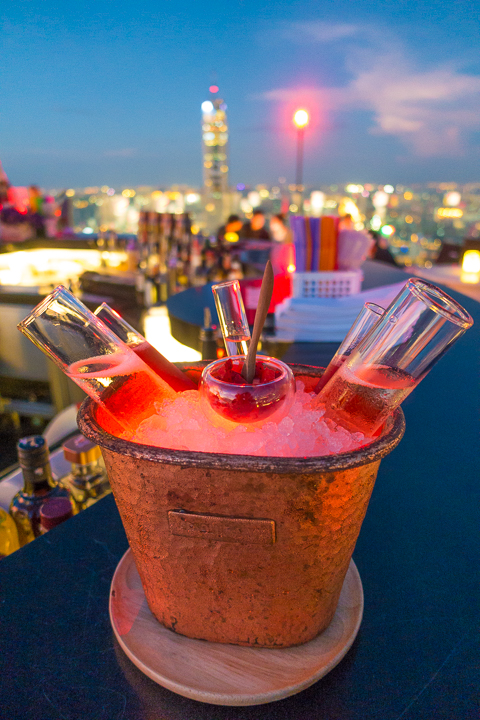 Definitely try one of their signature champagne cocktails. Pictured above is the La Vie En Rose with raspberry and strawberry. Next time I'm totally trying the Bangkok Bellini with mango purée, vanilla syrup, fresh ginger, and champagne.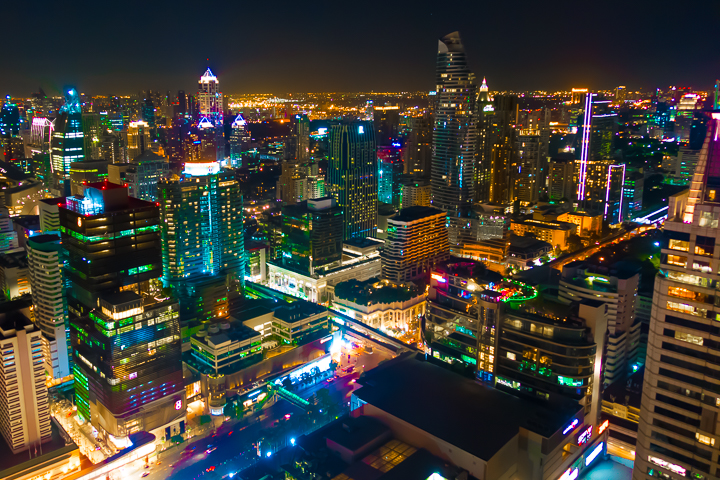 The views of Bangkok from CRU are so magical at night!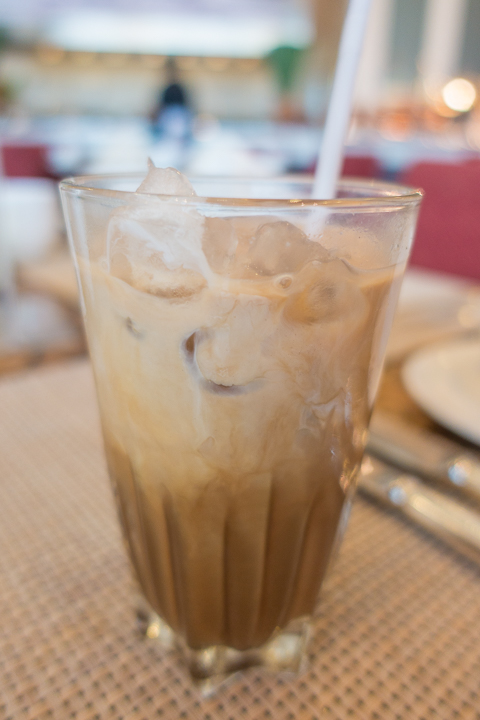 Breakfast at Centara Grand at CentralWorld is amazing! You HAVE TO GET THE THAI ICED COFFEE!!! I'm sorry for yelling but it was honestly that amazing. I am still dreaming about it!!! I had way too many of these in Thailand and yet not enough…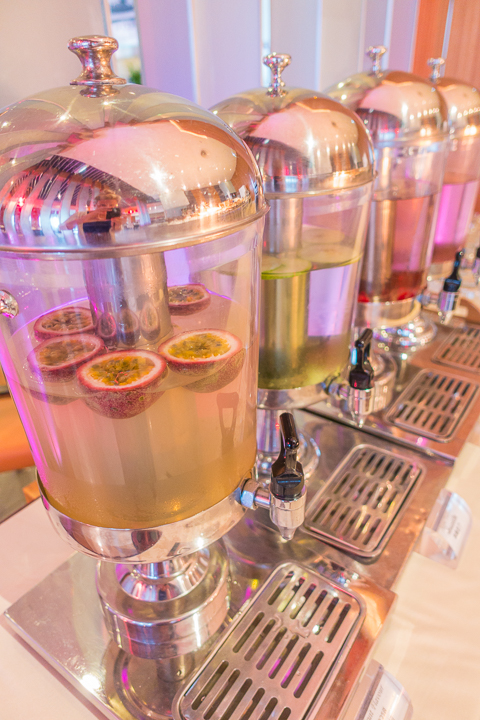 One of the things I absolutely loved about Centara hotels was the fruit-infused water at breakfast. I started every day with a giant glass of passionfruit infused water. So delicious!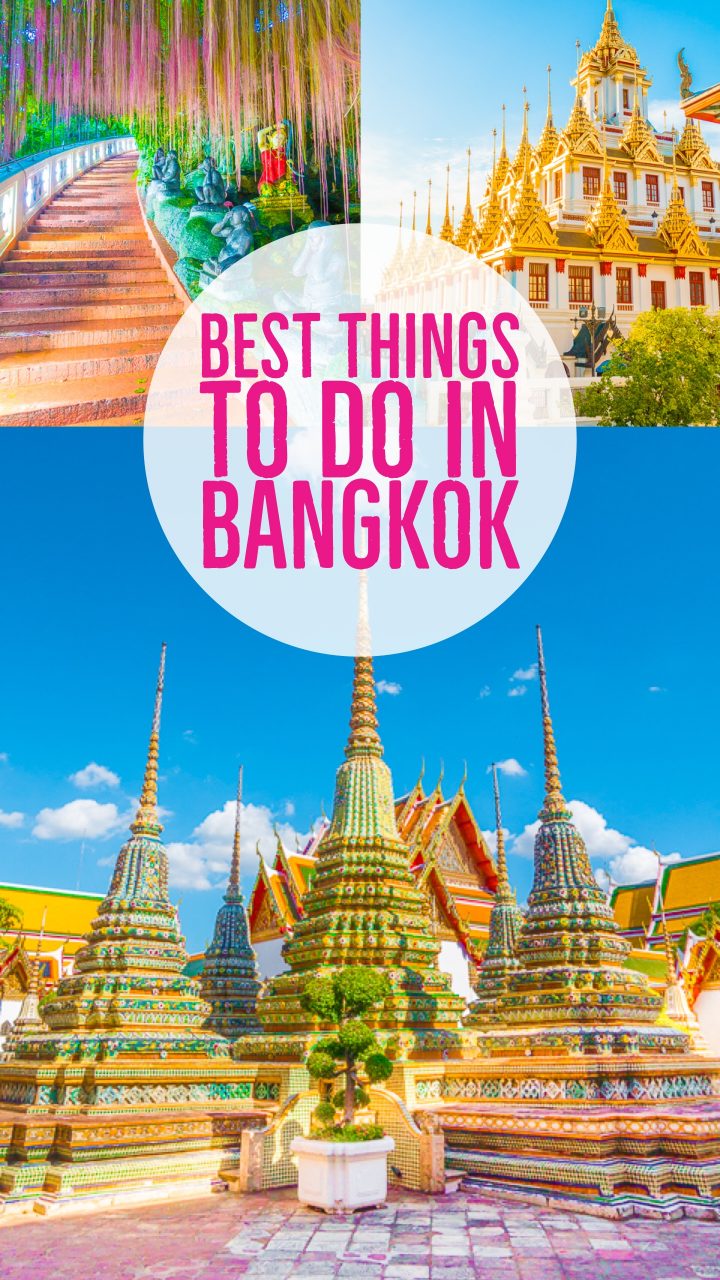 Thanks so much for reading! Stay tuned for more from our adventure in Thailand!