Planning a trip to Southeast Asia? You must make a stop in Bagan, Myanmar! Take 2 days to visit The Land of 3000 Pagodas and use this guide to craft the perfect itinerary. You don't want to miss any of the best things to do in Bagan, Myanmar!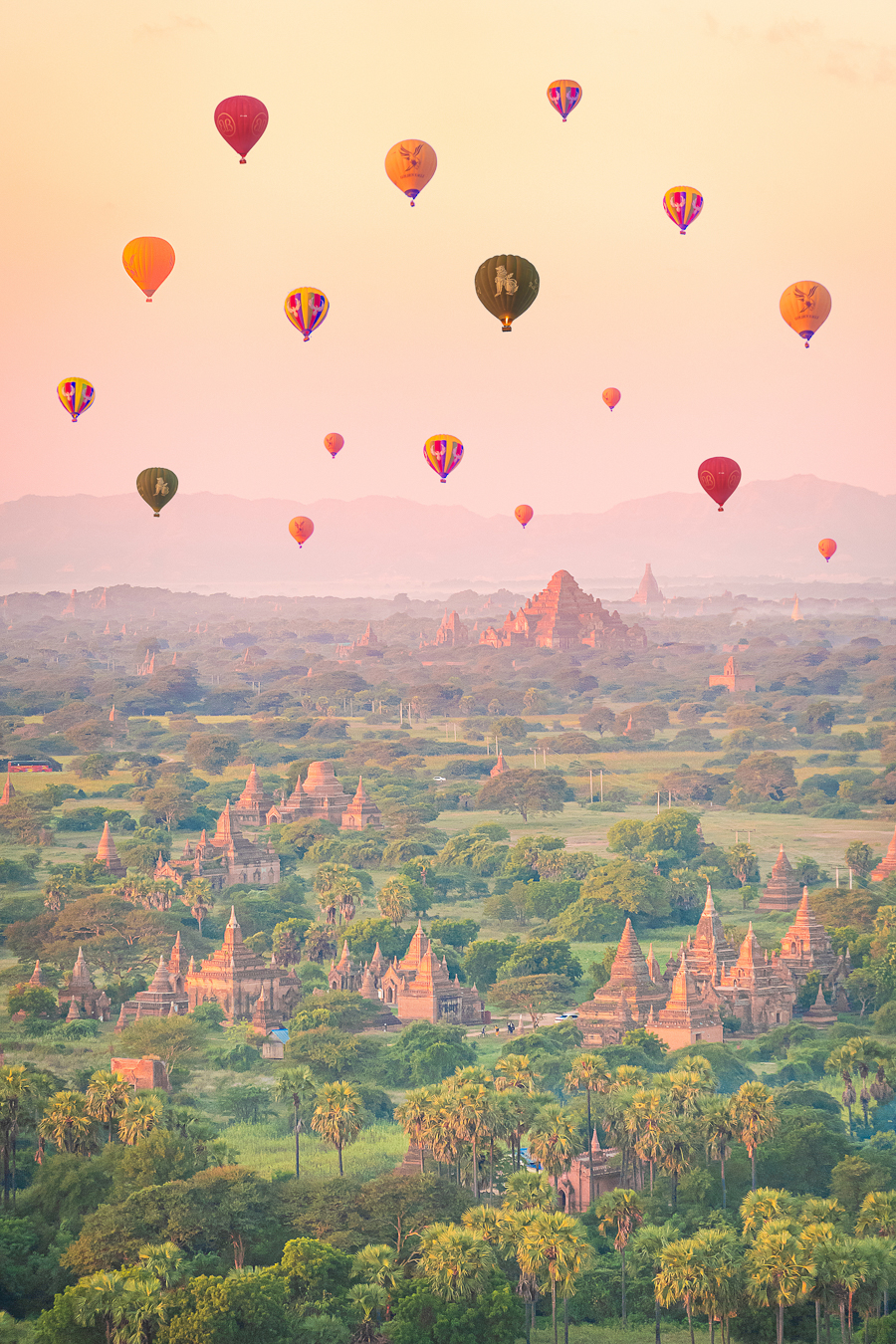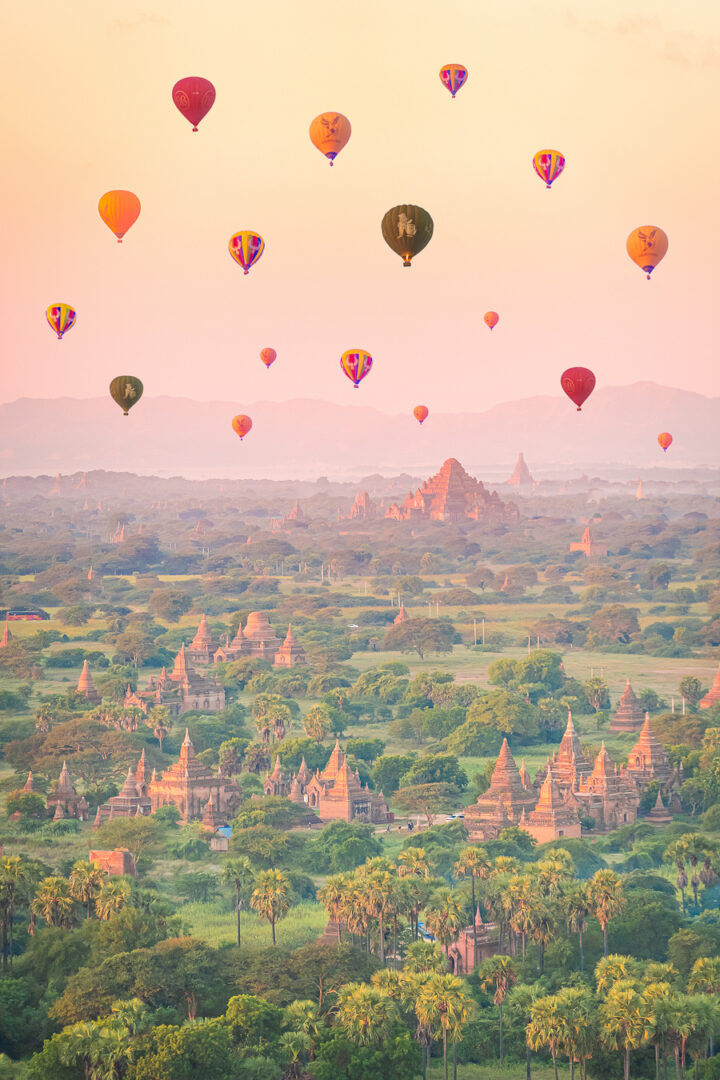 Where is Bagan, Myanmar?
Myanmar, formerly called Burma, is located in Southeast Asia. It shares a border with India, China, Thailand, and Bangladesh. Myanmar has multiple mountain ranges and a long coast line.
Bagan is an ancient city located in the Mandalay region of Myanmar. The city is located slightly to the Southwest of the center of the country.
Is it safe to travel to Bagan, Myanmar?
Yes, totally! The people of Myanmar were some of the sweetest, nicest, most welcoming people I have ever met. Myanmar is super tourist friendly and the hotels, restaurants, bathrooms — even gas station bathrooms — are definitely up to Western standards.
A cool bonus, unlike traveling in Europe, Myanmar has US outlets for charging your devices so you don't need to buy an adapter. SIM cards are super cheap and the cellular data service is super fast.
If you're planning a trip to Southeast Asia, I highly recommend adding Myanmar to your itinerary!
How do you get to Bagan?
Bagan is fairly easy to reach by plane or car. You can fly into Bagan-Nyaung Airport from Yangon, the largest city and the largest international airport in Myanmar. Or, you can fly into Mandalay, the second largest International airport and then drive 4-hours to reach Bagan. Many car services provide private transfers between Bagan and Mandalay for around $100.
Read More: The Most Incredible White Temple in Myanmar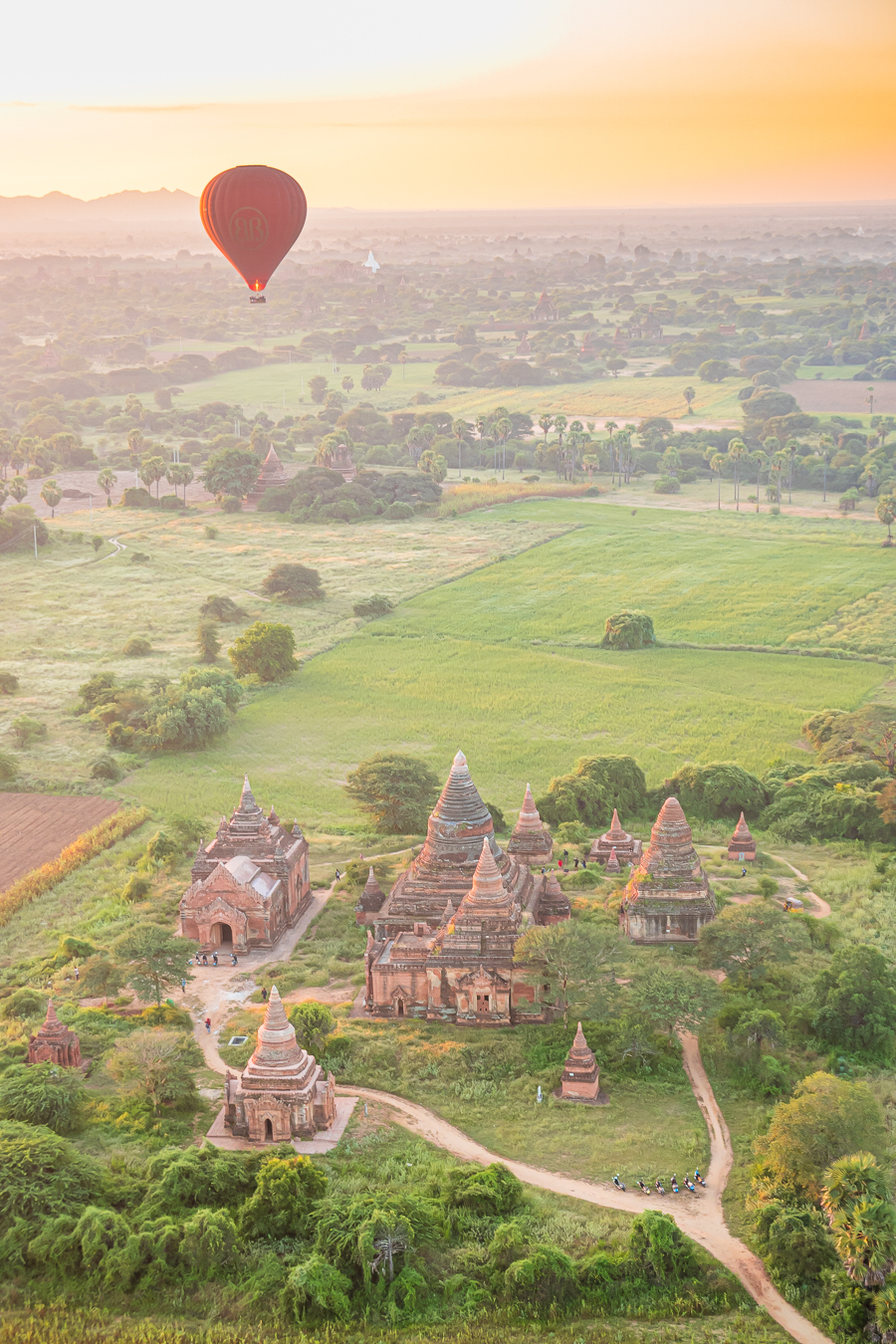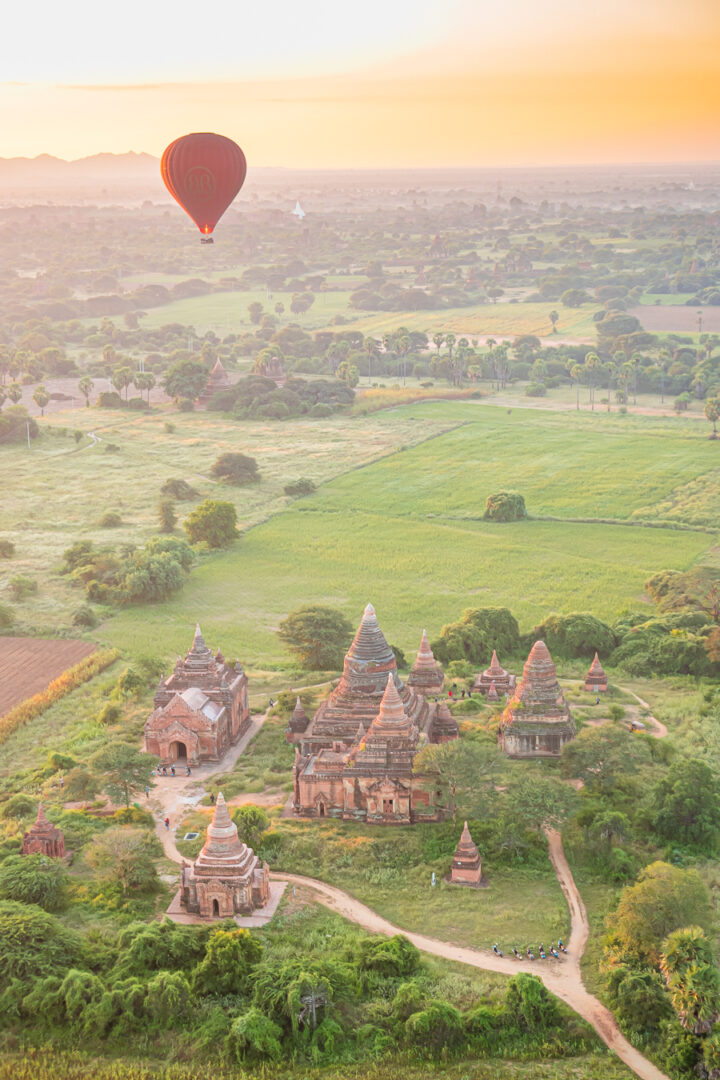 Why is Bagan famous?
Bagan is called the Land of 3000 Pagodas because of the 3822 Buddhist temples, pagodas, and monasteries located on the plains.
From the 11th through the 13th centuries, Bagan was the capital and cultural center of the Pagan Empire. Due in large part to the abundance of religious monuments, the city grew in size and grandeur and became a hub for religious and secular learning.
The ancient city of Bagan is now, as of July 2019, a UNESCO World Heritage Site. You're going to want to visit this gem before word of it's beauty gets out and it becomes an overly crowded tourist destination.
What are the best things to do in Bagan, Myanmar?
Below I have put together a list of the most popular things to do in Bagan, along with some tips for visiting each place. These are the places you absolutely don't want to miss if you go to Bagan, Myanmar. Use this guide to help plan your itinerary so you don't miss any of the best things to do in Bagan!
How long do you need to see everything on this list?
If you're wondering how many days to spend in Bagan, 1-2 nights should be enough. You can do everything mentioned in this article in one long day — from before sunrise to after sunset! If you want your days to be more relaxing, you'll want to split this itinerary into 2 days.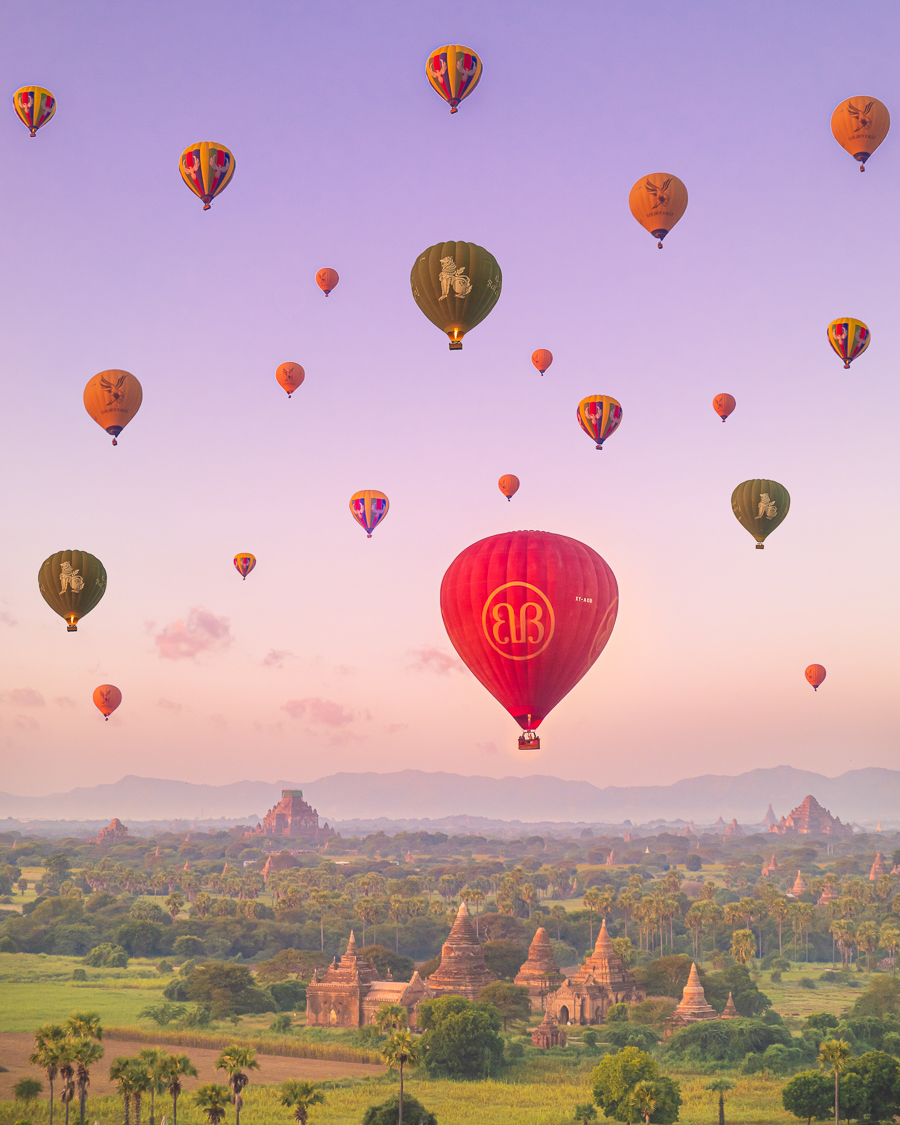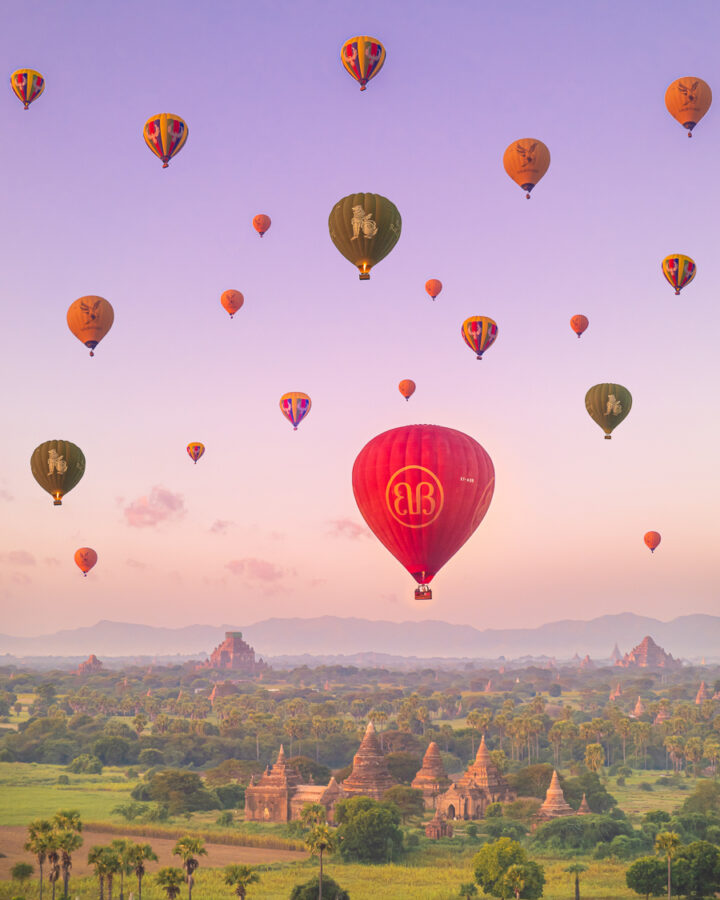 Best Things To Do in Bagan, Myanmar #1
Sunrise Hot Air Balloon Ride
Start an unforgettable day in Bagan with a sunrise hot air balloon ride over the Land of 3000 Pagodas. You can watch the sunrise over the plains as the 3000+ temples and pagodas below begin to glimmer in the early morning misty sunlight.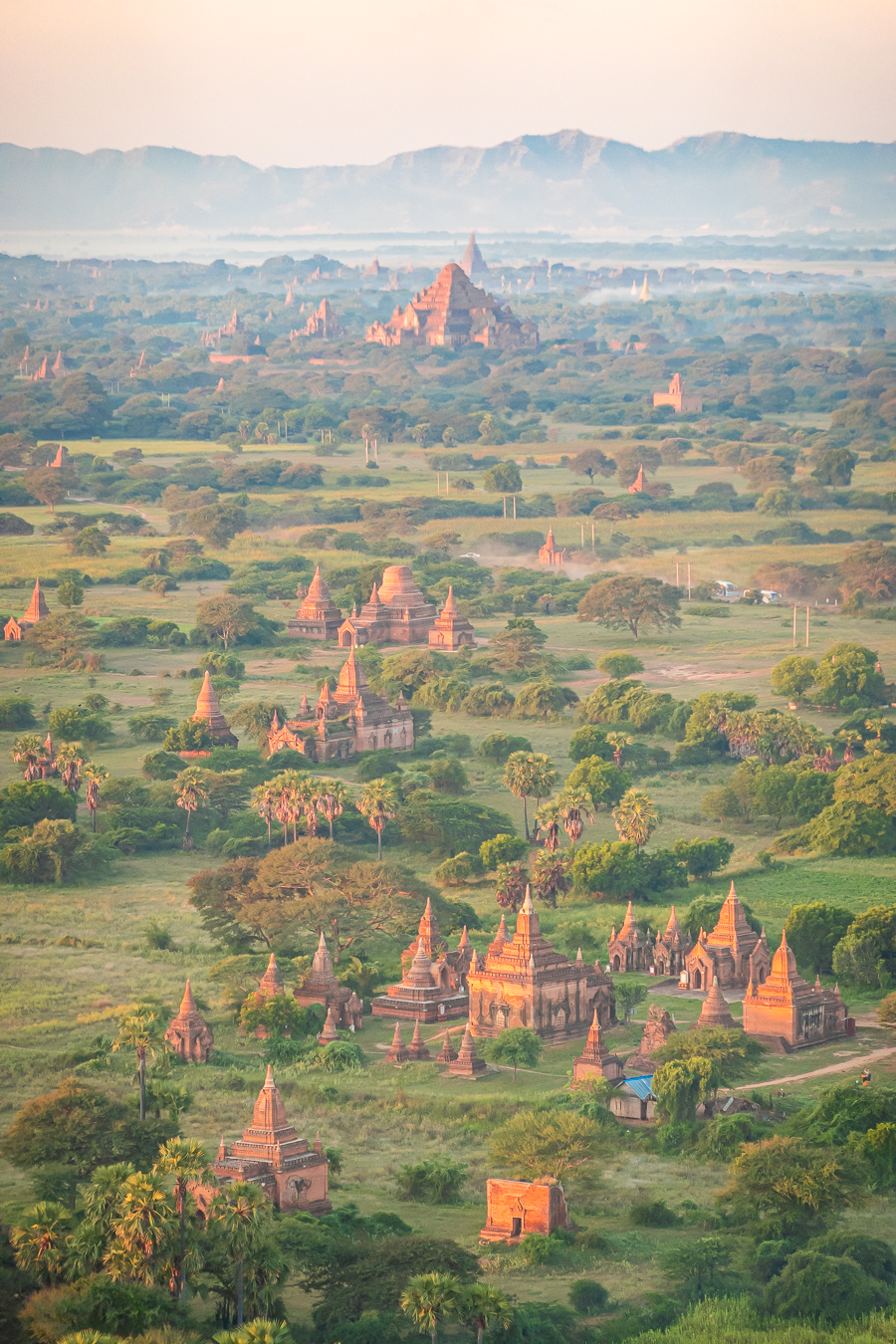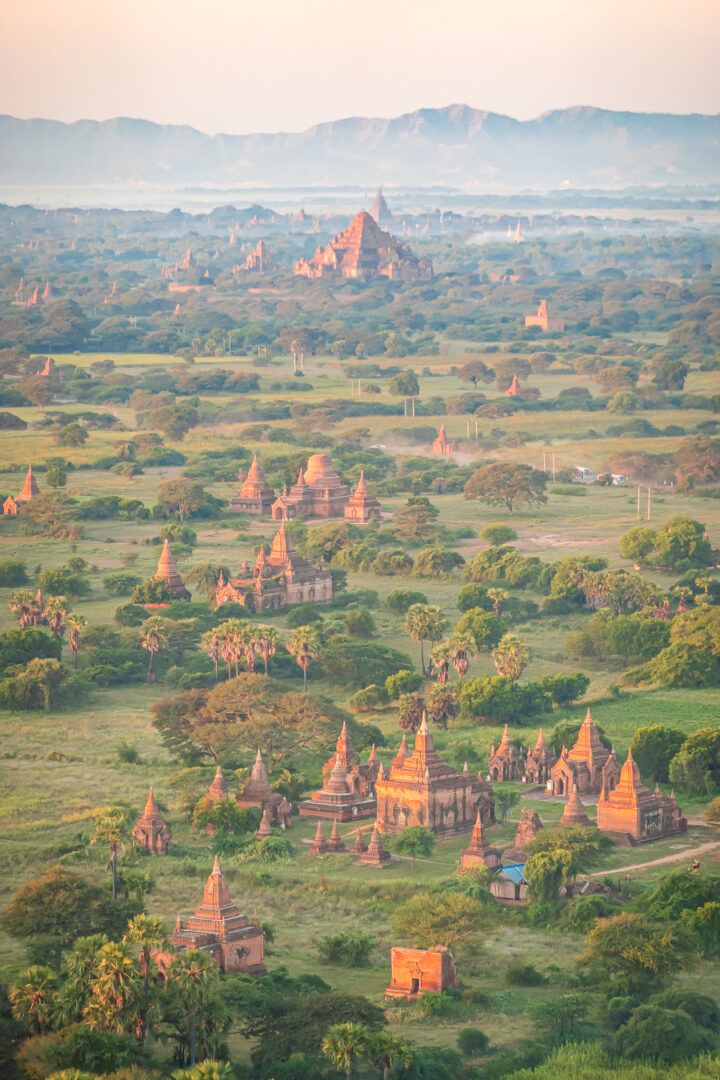 In addition to the temples below, you'll also have a great view of the palm trees, cotton and peanut fields that line the plains with mountains in the distance.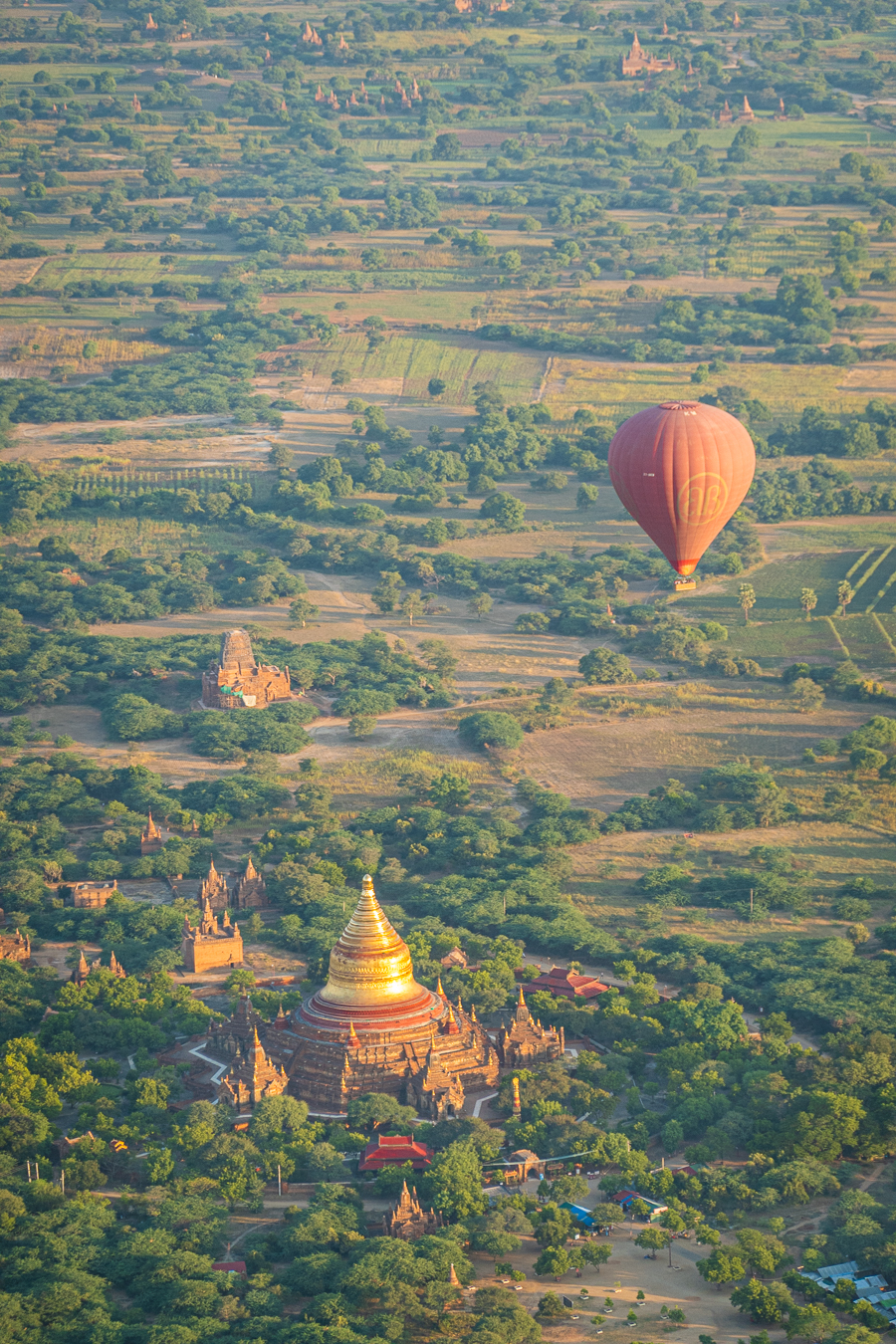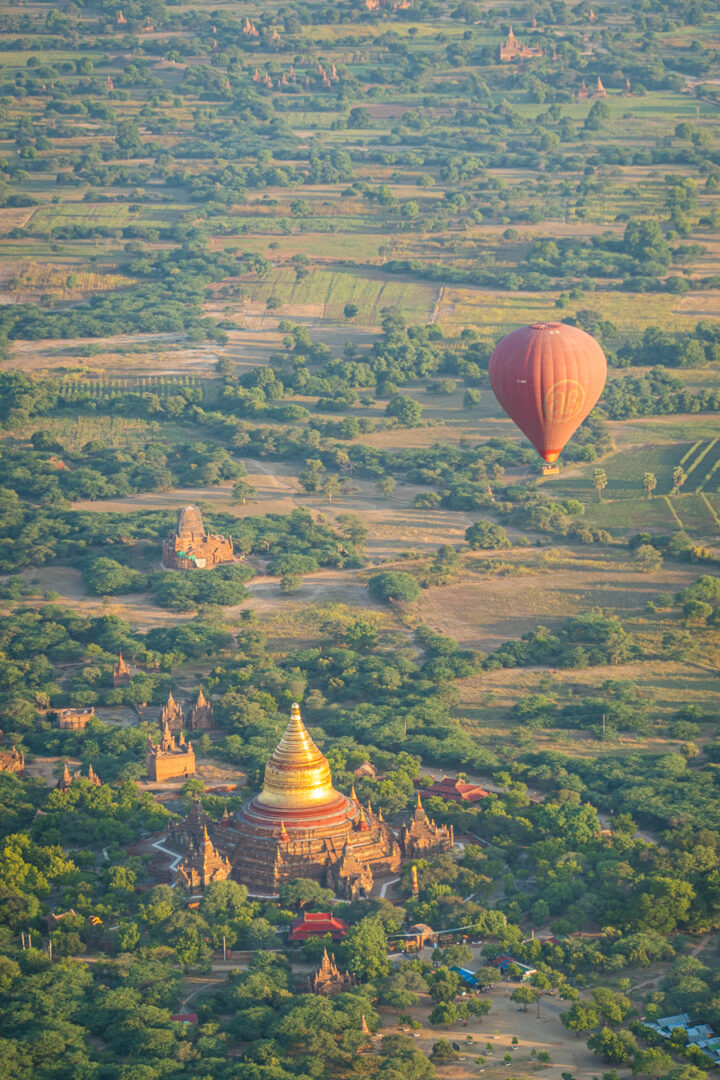 I can't think of a better place to watch the sunrise than from a hot air balloon! Just look at all the gorgeous views we saw!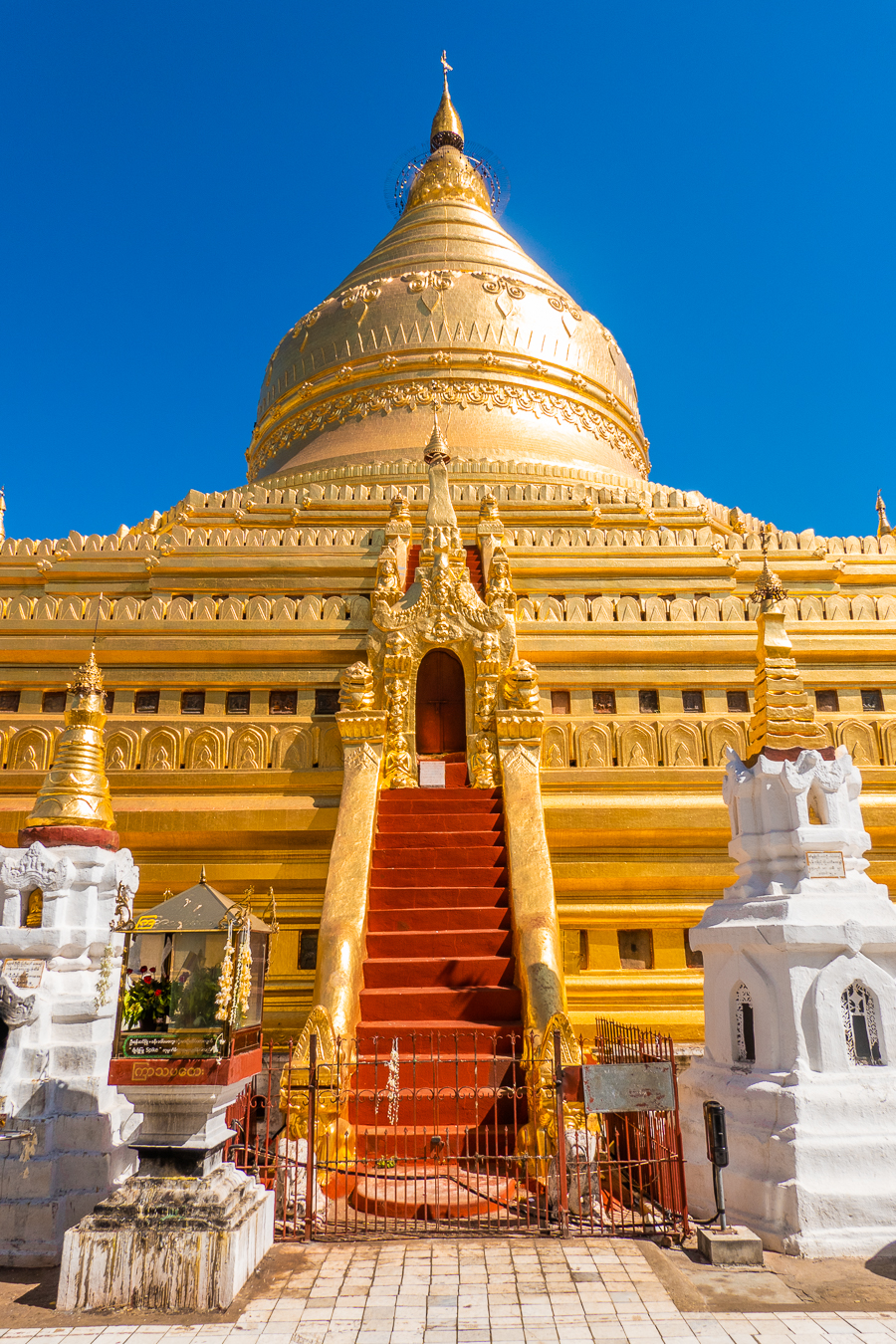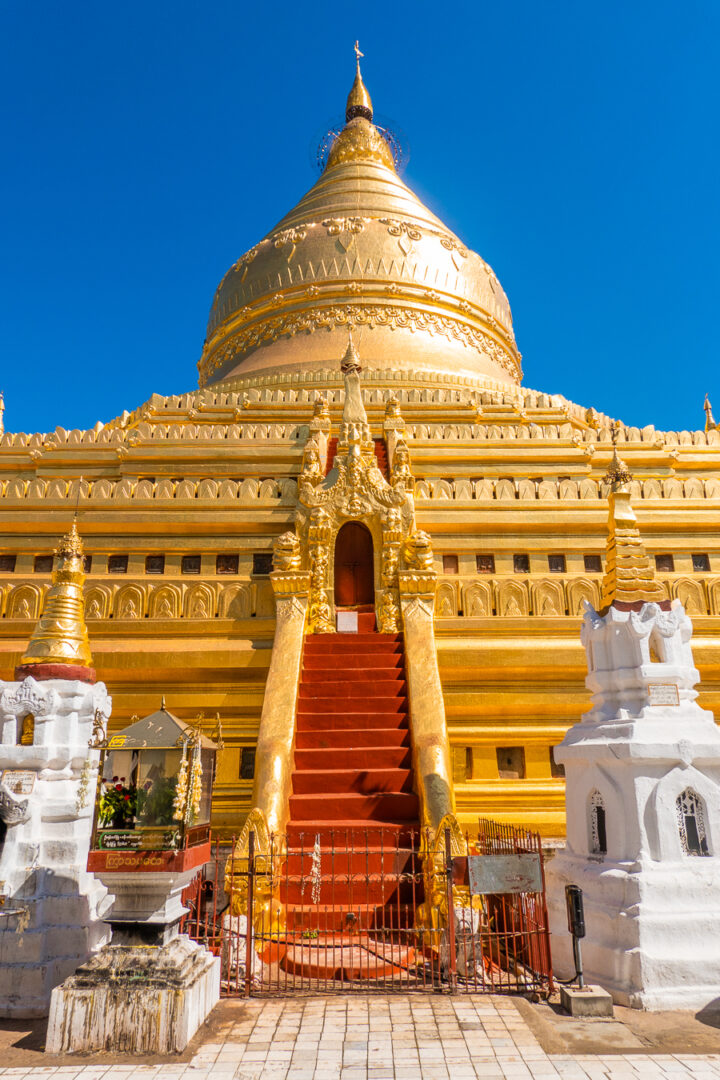 Best Things To Do in Bagan, Myanmar #2
Shwezigon Pagoda
The Shwezigon Pagoda is really something you have to see to believe. It is one of the oldest and most impressive pagodas you'll find in Bagan. That's because it is completely gold plated!
This pagoda was easy to spot on our hot air balloon ride because the gold glimmered in the sunlight. When we were back on land, it was even more impressive!
On the day we visited, the gold temple looked luminous framed by the deep blue sky. The golden plated pagoda is surrounded by several smaller pagodas and shrines. Inside, you'll find brightly glazed terra-cotta tiles and four bronze statues of Buddha.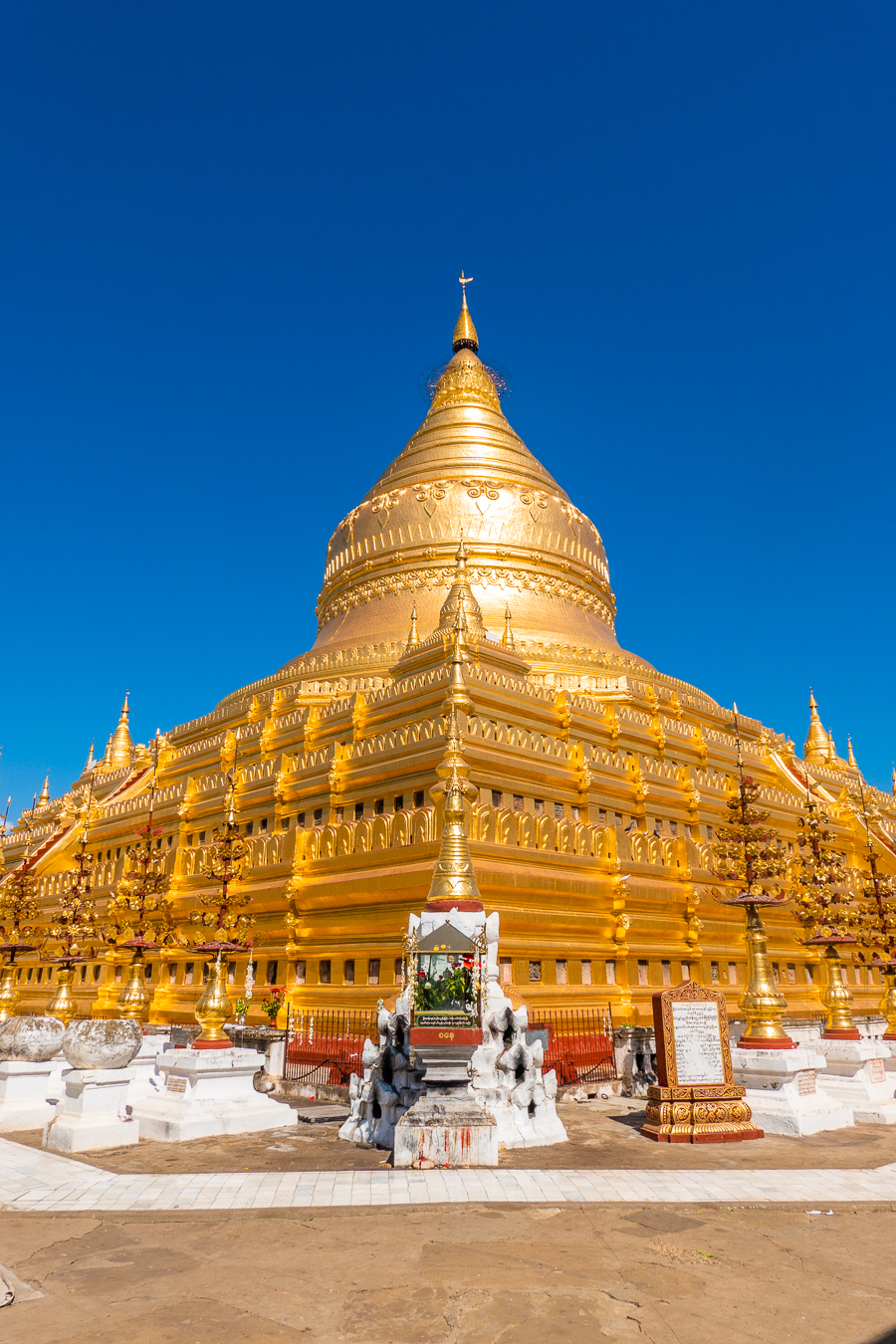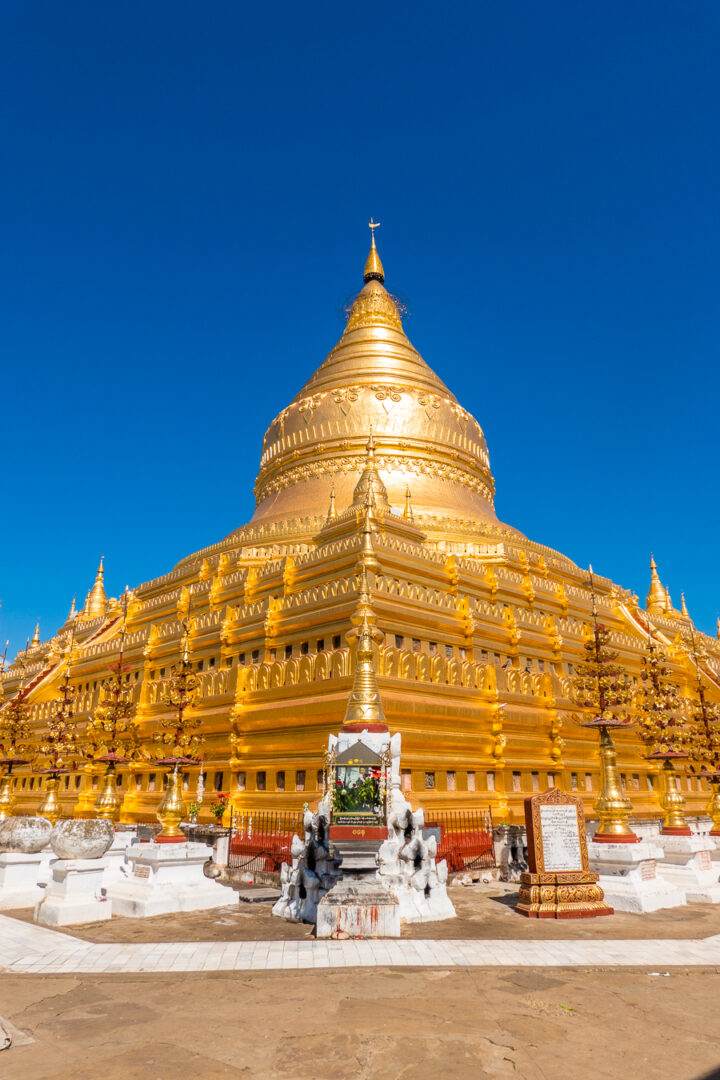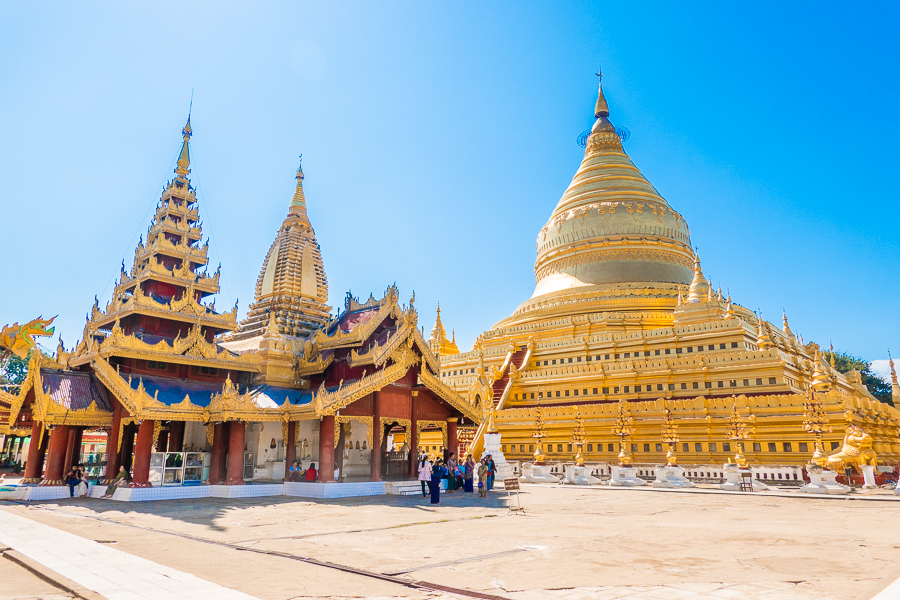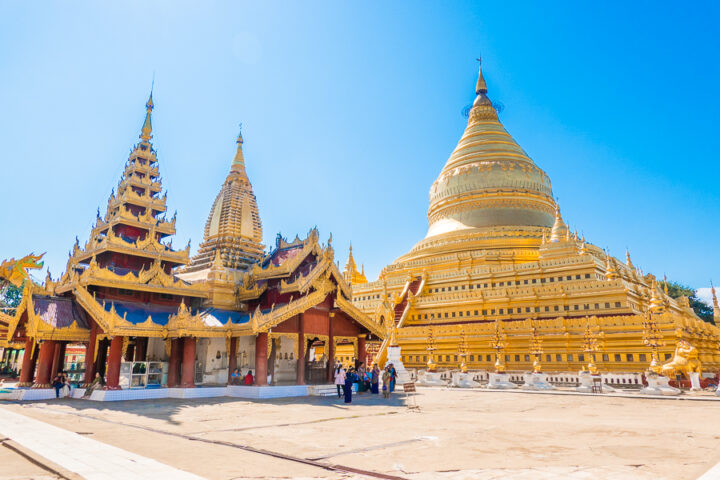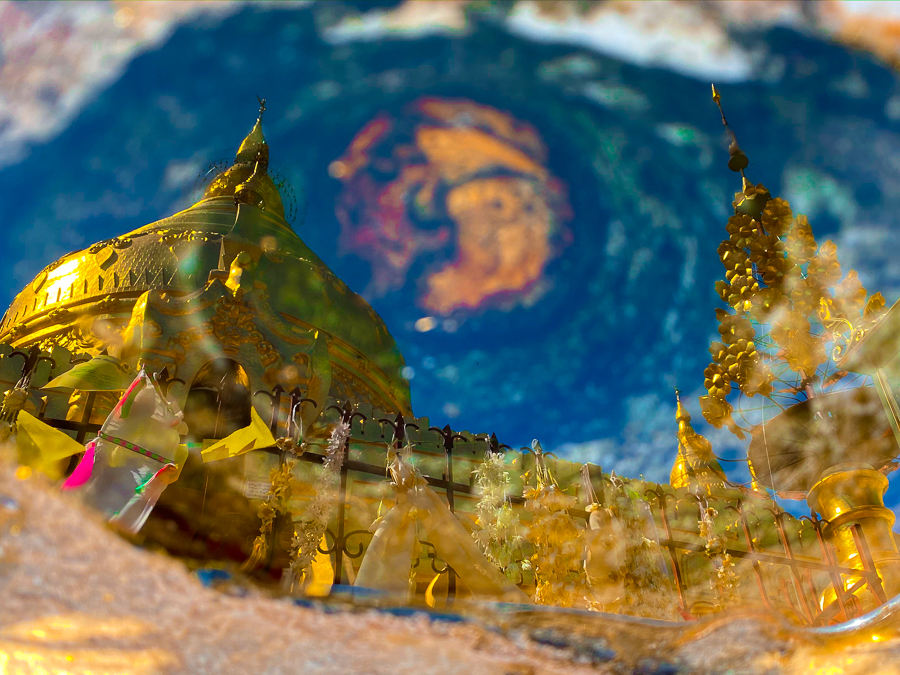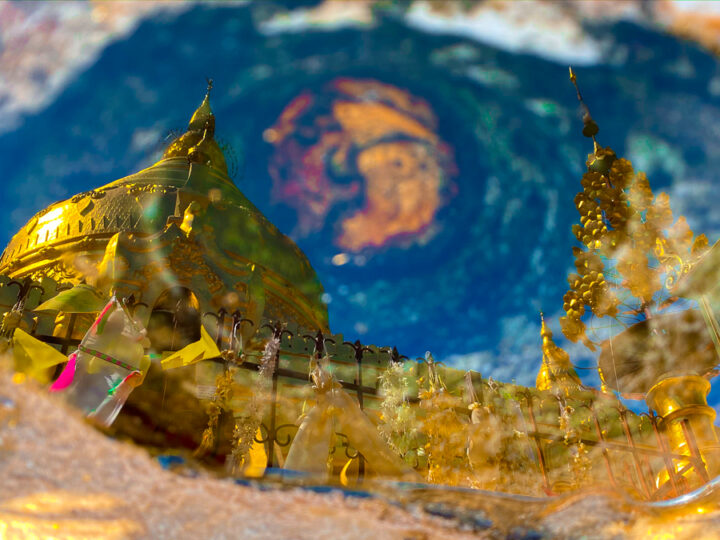 Don't miss the tiny reflecting pool in front of this pagoda! It's small and easy to miss, but you can take some really interesting pictures with the reflection of the golden temple in the water.
Best Things To Do in Bagan, Myanmar #3
Htilominlo Temple
Now that you're back on solid ground, you're going to want to go inside and explore some of those temples and pagodas you saw from above! A great one to check out is the Htilominlo Temple. It's a large, two-story temple located in the northern portion of the plain.
This temple is most known for its decorative stucco designs, especially on the ceiling and arches.
Inside, you'll find the four statues of Buddha surrounded by umbrellas. That's because this temple is said to have been built on the site where King Narapati Sithu used an umbrella to determine which of his five sons would be his successor.
Best Things To Do in Bagan, Myanmar #4
Visit Long-neck women village market
Directly in front of Htilominlo Temple, you'll find the Long-neck women village market.
The ladies at the market make exquisitely colored hand-woven scarves. They come from a region in Myanmar where the women wear brass collars to lengthen their necks.
You can also find brightly colored umbrellas and traditional Burmese clothing.
Best Things To Do in Bagan, Myanmar #5
Taste exotic fruits at Nyaung-U Market
Nyaung-U Market is the main market in town, but you'll find it on Google Maps under the name Mani Sithu Market. It's a permanent market housed under a light structure made of wood. It takes up about 1 square block in the middle of town.
At this market you can find fresh fish, delicious vegetables, but most notably, brightly colored exotic fruits.
Take your time perusing this market, taste some of the exotic fruits, and take some colorful photos of the abundant and varied offerings.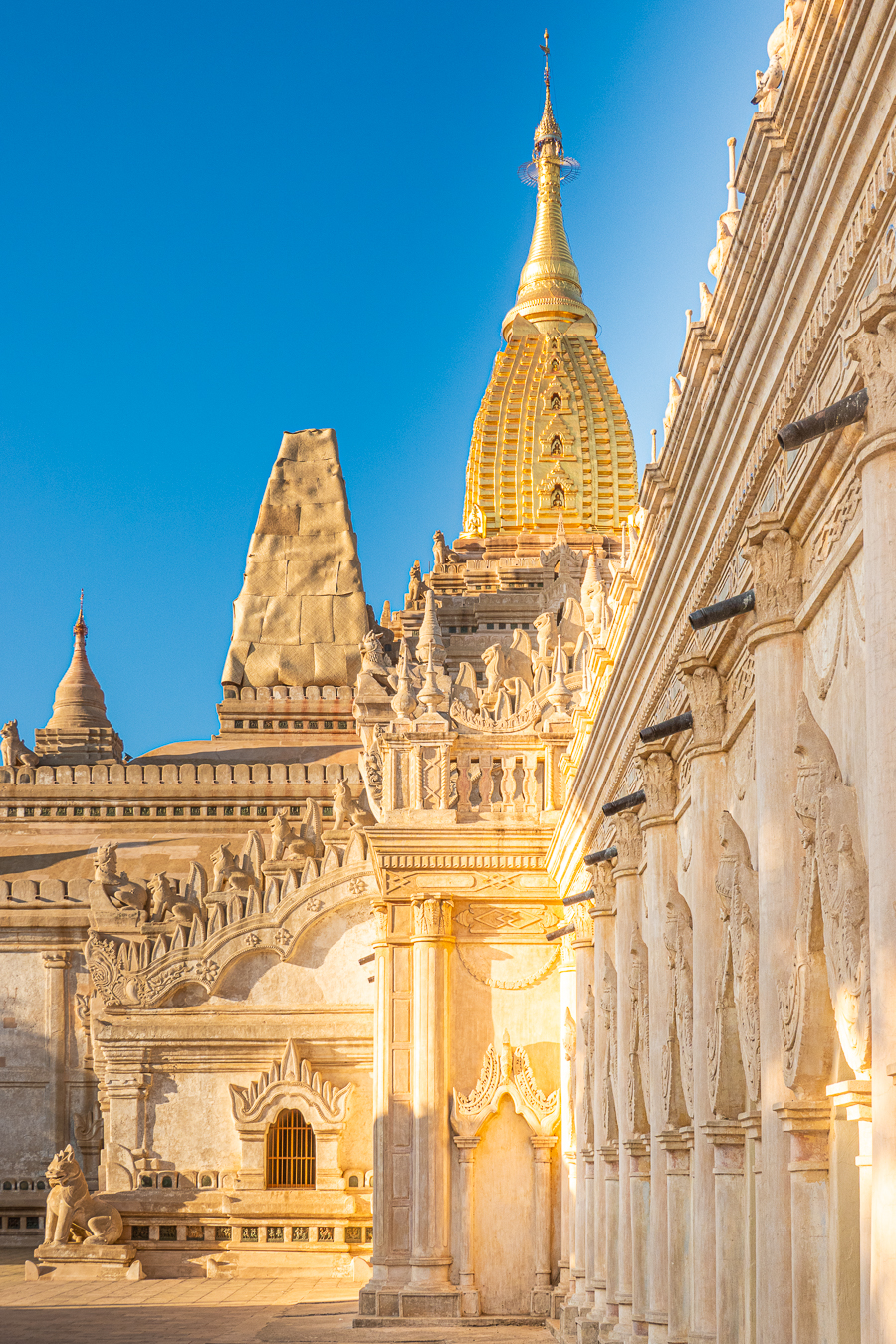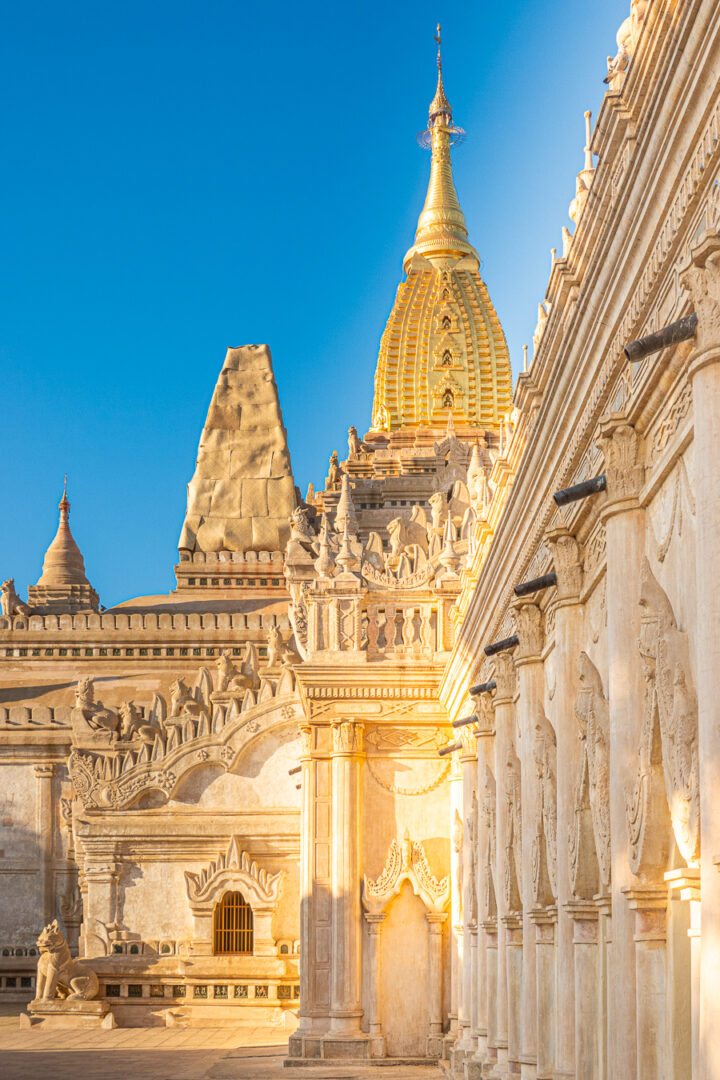 Best Things To Do in Bagan, Myanmar #6
Ananda Temple
The Ananda Temple has been nicknamed the Westminster Abbey of Burma. It's built in the Indian architectural style and is made up of multiple terraces leading to a small pagoda at the top. With a cruciform layout, the structure is made of plaster covered bricks and is perfectly dimensioned.
Inside the temple, you'll find four different Buddha statues. One facing each of the four cardinal directions: north, south, east, and west.
The four standing Buddhas are not identical. Take time to note the different hand placements. Each hand placement represents a different quality like meditation, enlightenment, and fearlessness.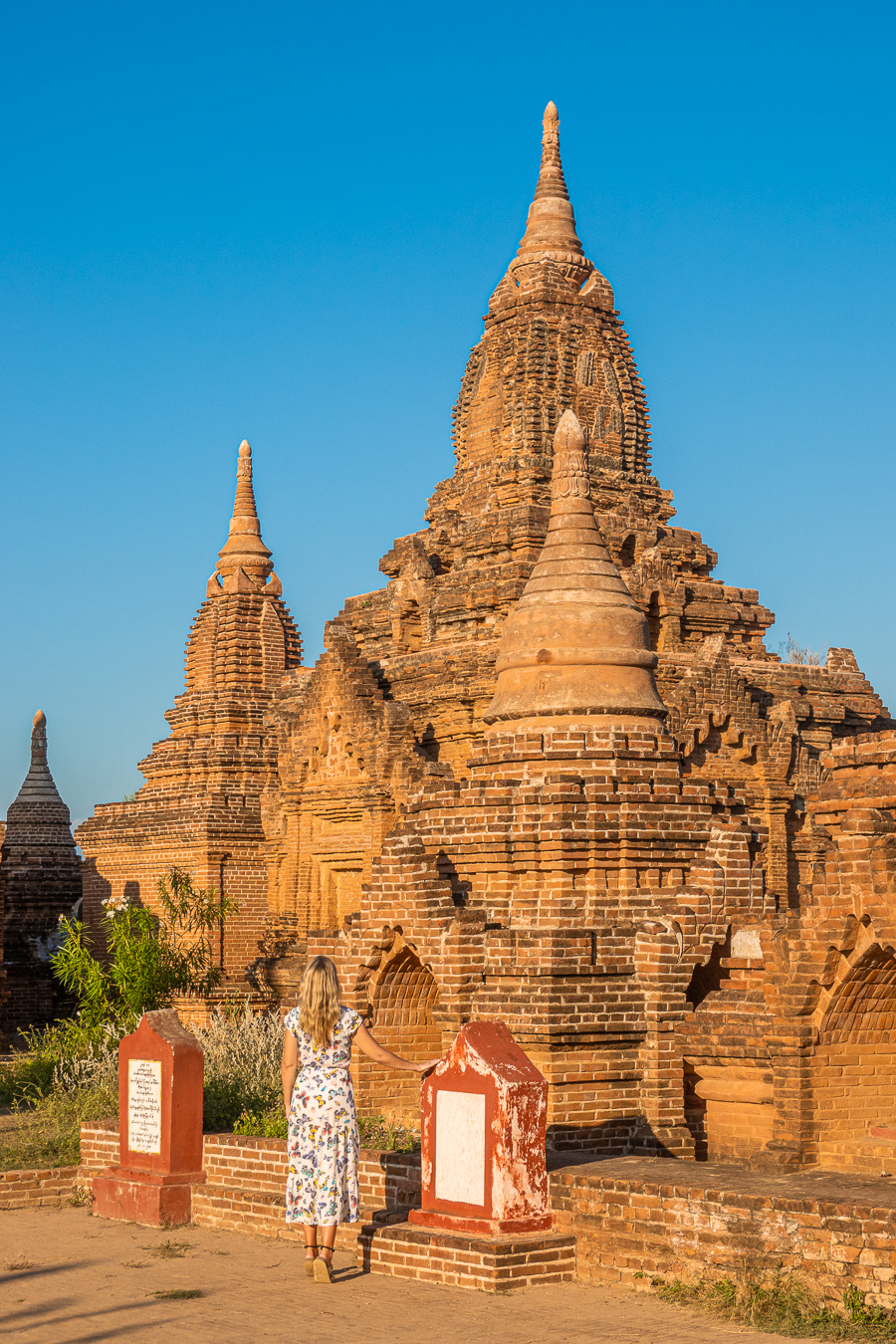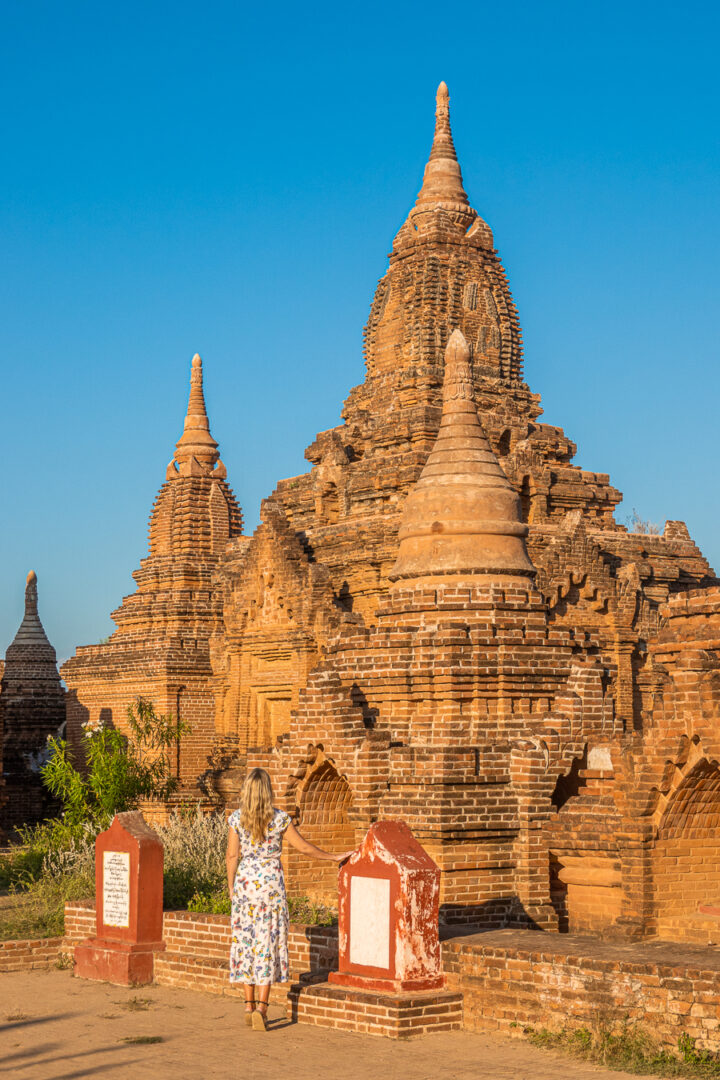 Best Things To Do in Bagan, Myanmar #7
Yin-ma-na-hpaya Temple
Yin-ma-na-hpaya Temple is a lovely little group of pagodas made of red brick. It's a popular spot from which to watch the sunset.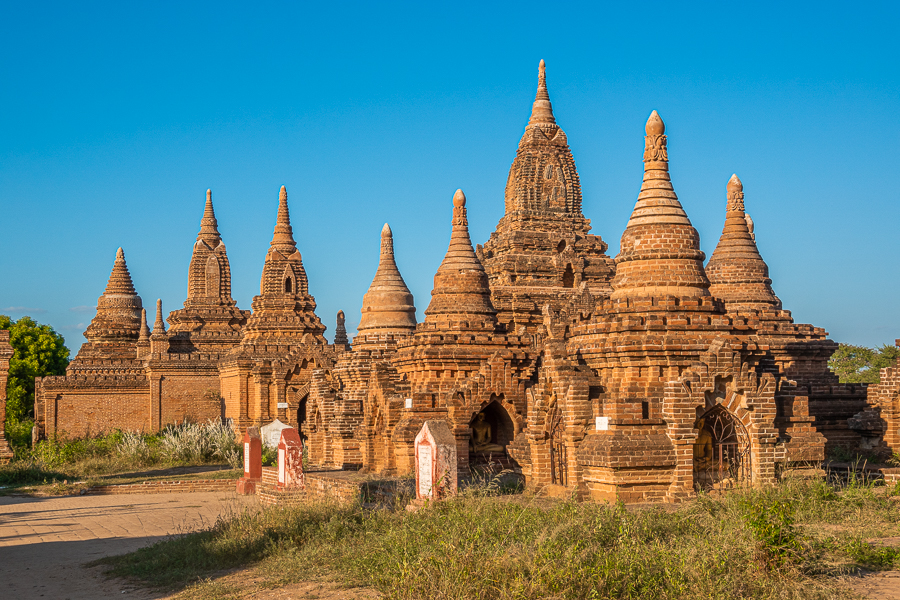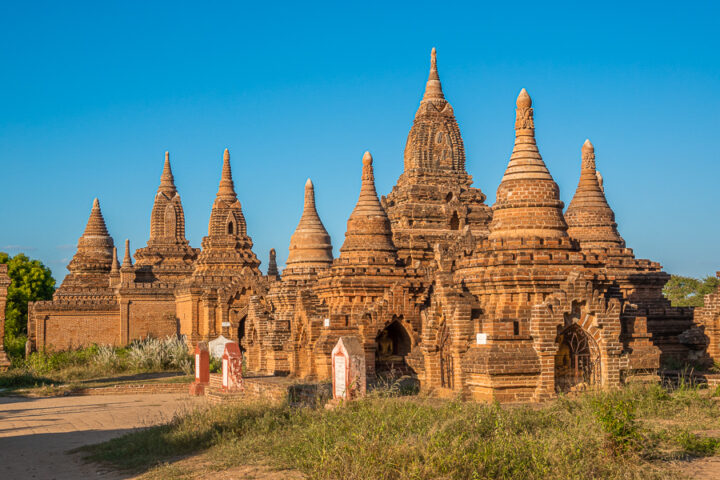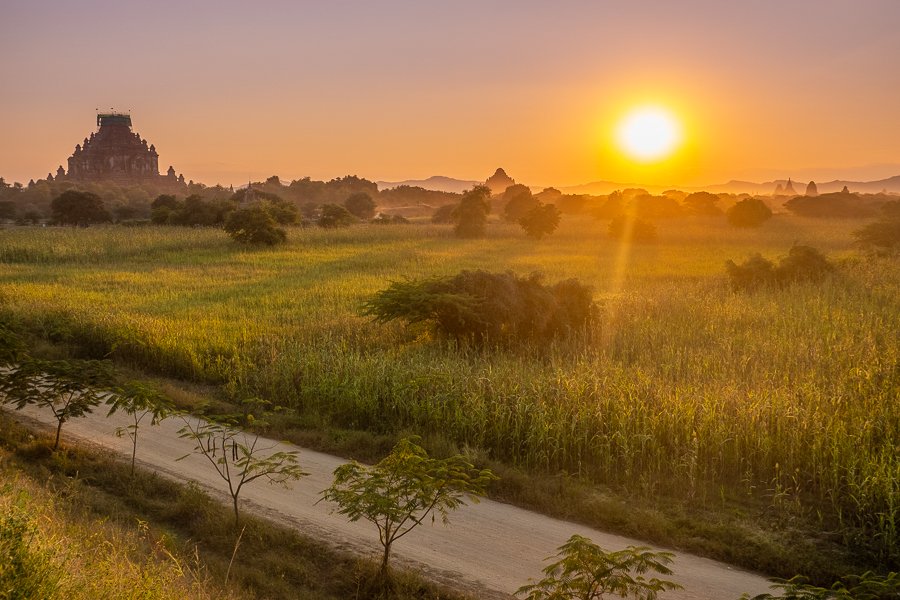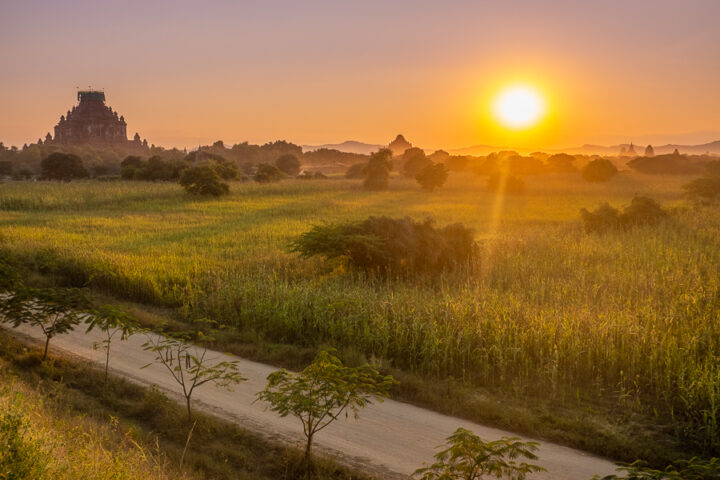 Best Things To Do in Bagan, Myanmar #8
Nyaung Lat Phet Sunset Viewpoint
Second only to the stunning sunrise over the Bagan plain is watching the sunset over the land of 3000 pagodas at the Nyaung Lat Phet Viewing Mound. This is also commonly known as the Sunset Viewpoint.
This location offers a beautiful sunset view over the pagodas. The only drawback is that it's a very, very popular spot and gets quite crowded.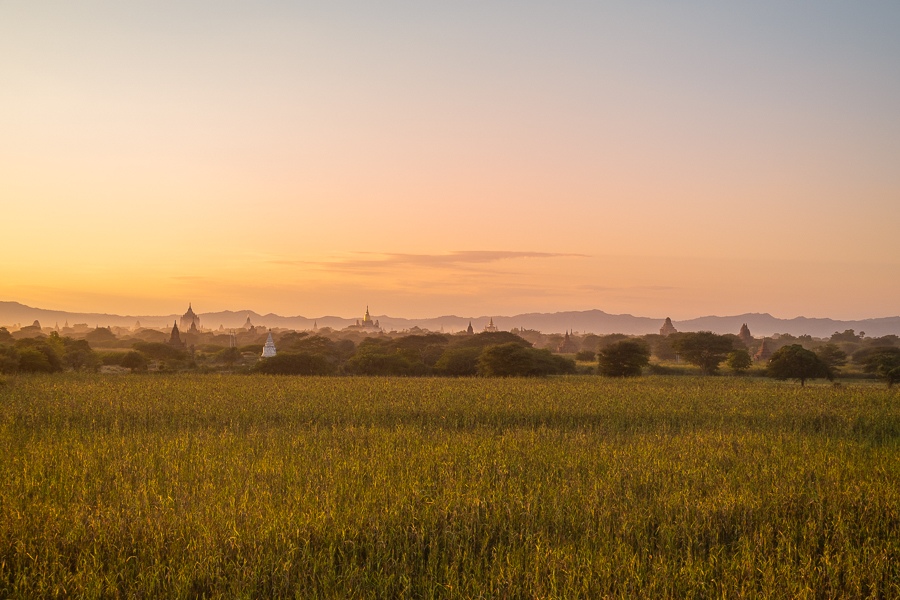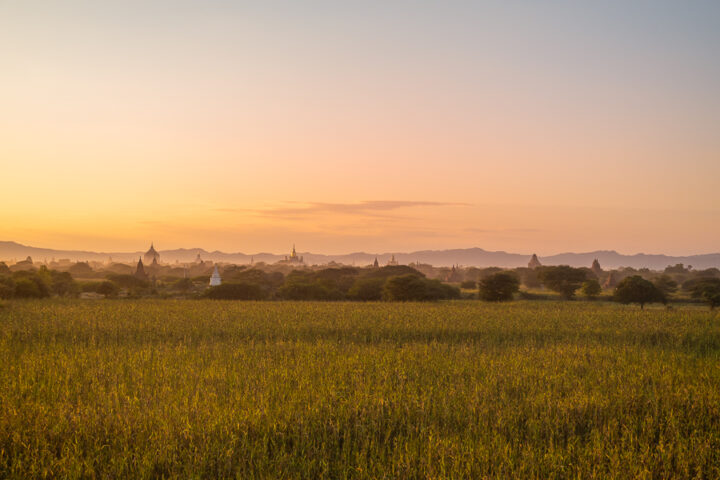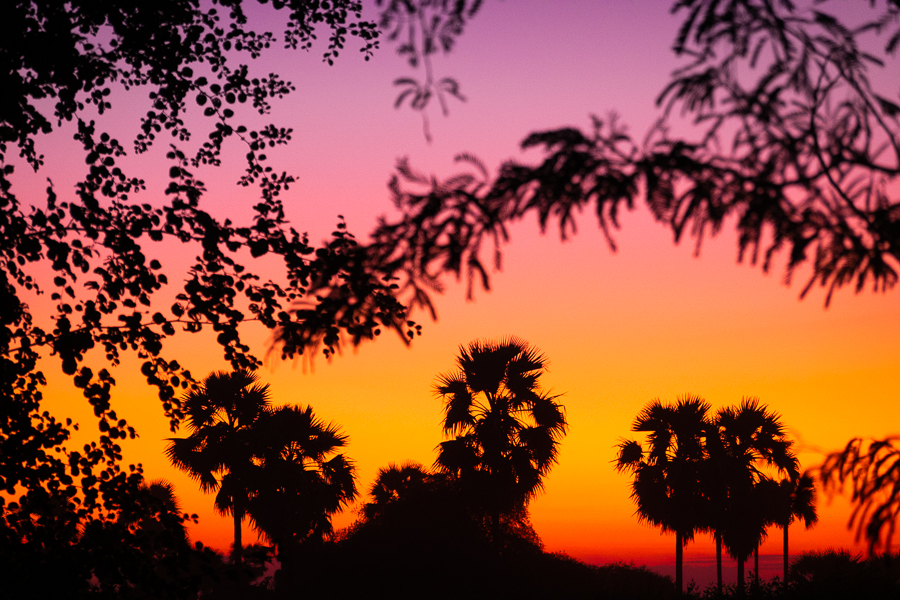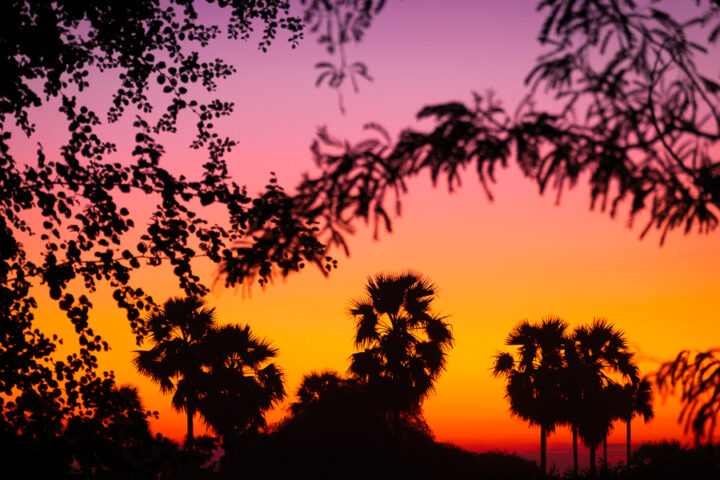 Hang around until after the sun completely sets to watch the colors get even more rich and vibrant!
What is the best way to get around in Bagan?
I've found if we only have a short amount of time in a city, the best way to get the most out of our visit and see as much as possible is to book a tour.
We had an amazing tour in Southeast Asia with Indochina Voyages. We did a lot of research before booking a tour company for our 3-week trip in Southeast Asia. Indochina Voyages stood out because they were the most organized, the most responsive, the most informative, and the most willing to customize our tour experience.
I told them where we wanted to go, and they took care of everything else. They took all the stress out of planning a long trip!
We would highly recommend Indochina Voyages if you want a reliable driver with friendly, knowledgeable, English speaking guides who will make sure you see and do all the best things in each city.
The tour in Bagan includes all the sites above with a private driver and a private guide, entry fees, hotel, and they'll even help you book the hot air balloon ride!
The tour isn't too expensive. When you consider the entry fees and taxi fees to visit all of these places, it really starts to add up if you do it by yourself. Plus you'll have a guide with you to explain the history and help you get the most out of your visit. You can't beat that!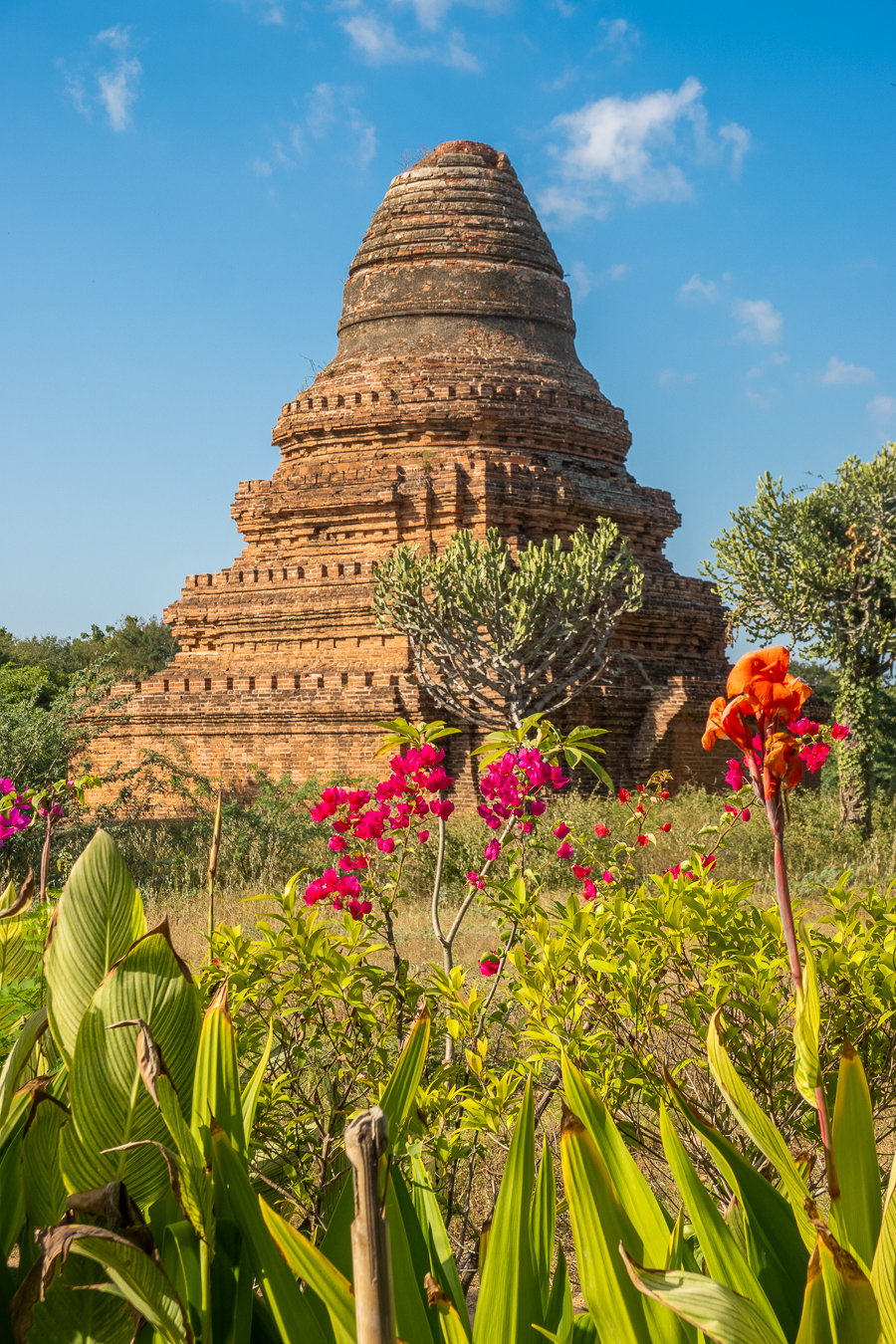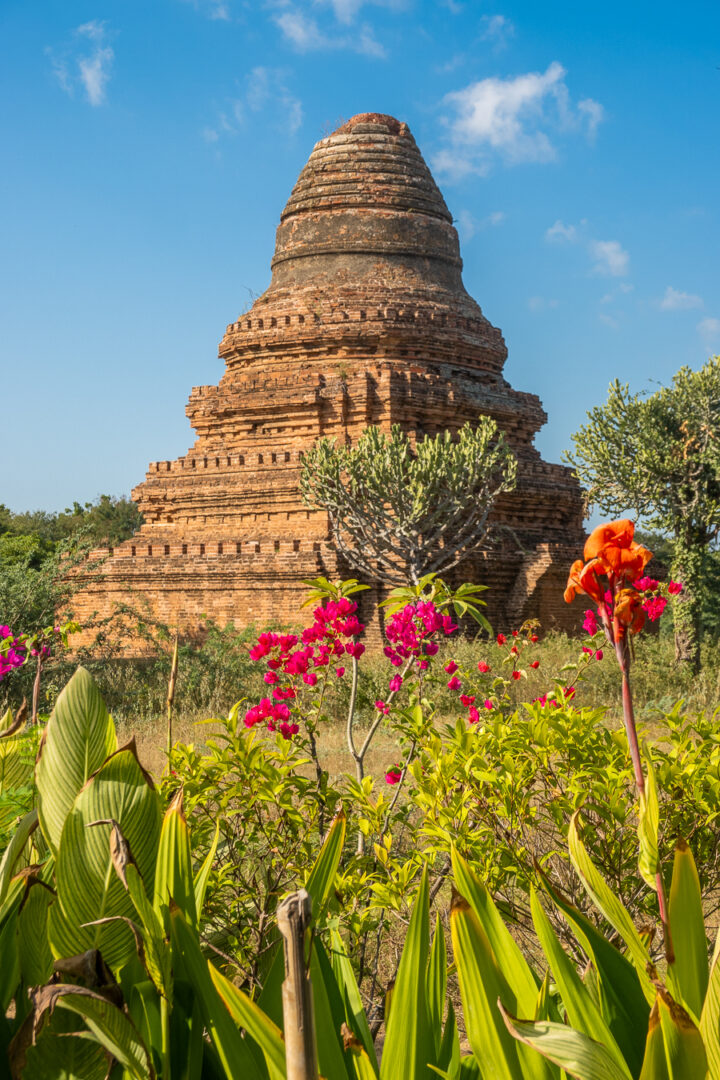 Where is the best place to stay in Bagan, Myanmar?
Villa Bagan
I loved the Villa Bagan because the hotel and rooms are very modern, upscale and clean. This hotel is literally right next to an ancient temple – how cool is that?! You can have breakfast outside on the terrace right in front of the temple. The rooms offer amazing views. You're so close to the temple, it feels like you can reach out and touch it.
---
Questions about Bagan, Myanmar?
Do you have any questions about going to Bagan? Please let me know in the comments below, and we'll do our best to help.
---
Like this post? Save it on Pinterest!