Here's how to plan an unforgettable trip to Hanoi, the capital of Vietnam! Follow this guide and use our sample itinerary so you don't miss any of the best things to do in Hanoi.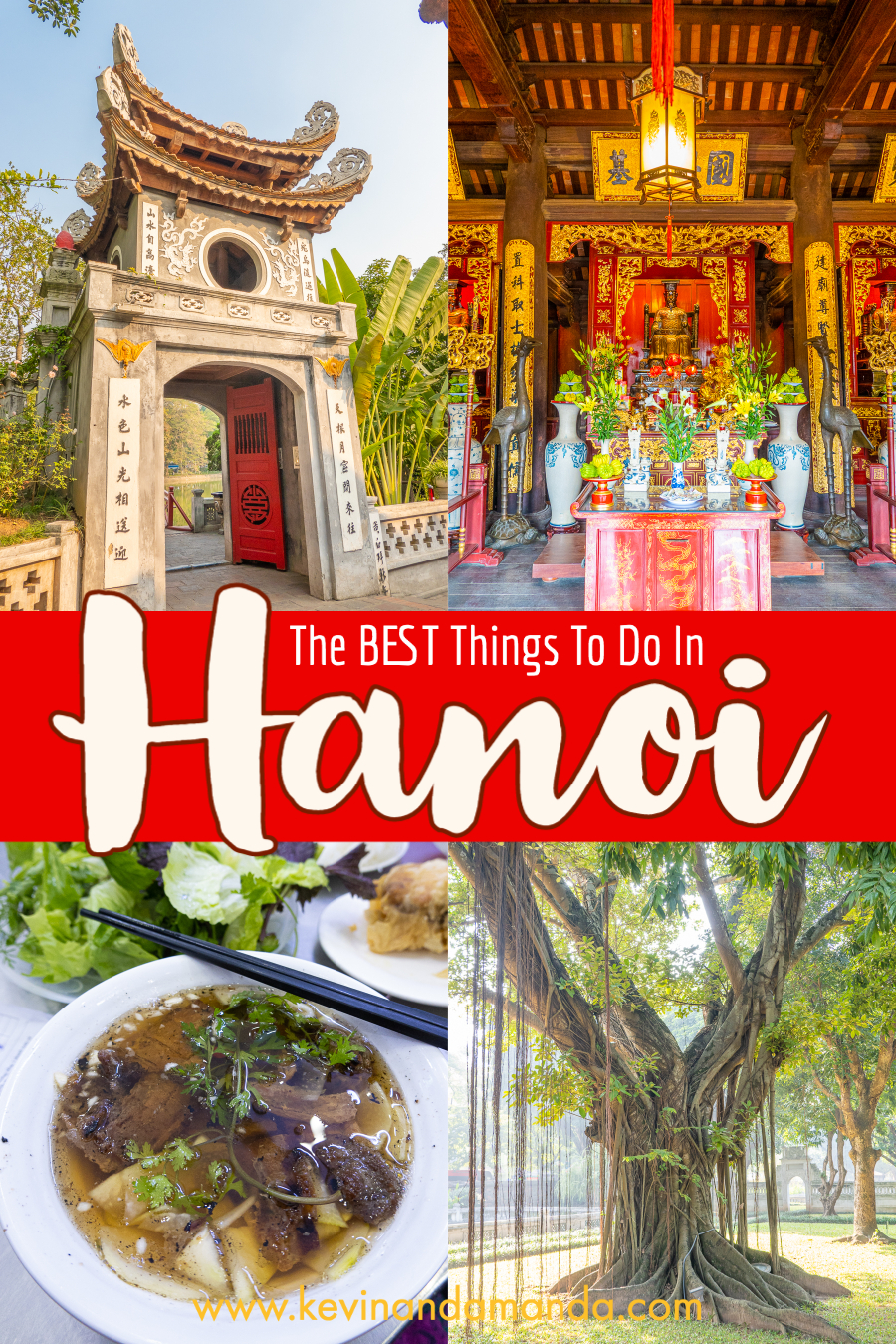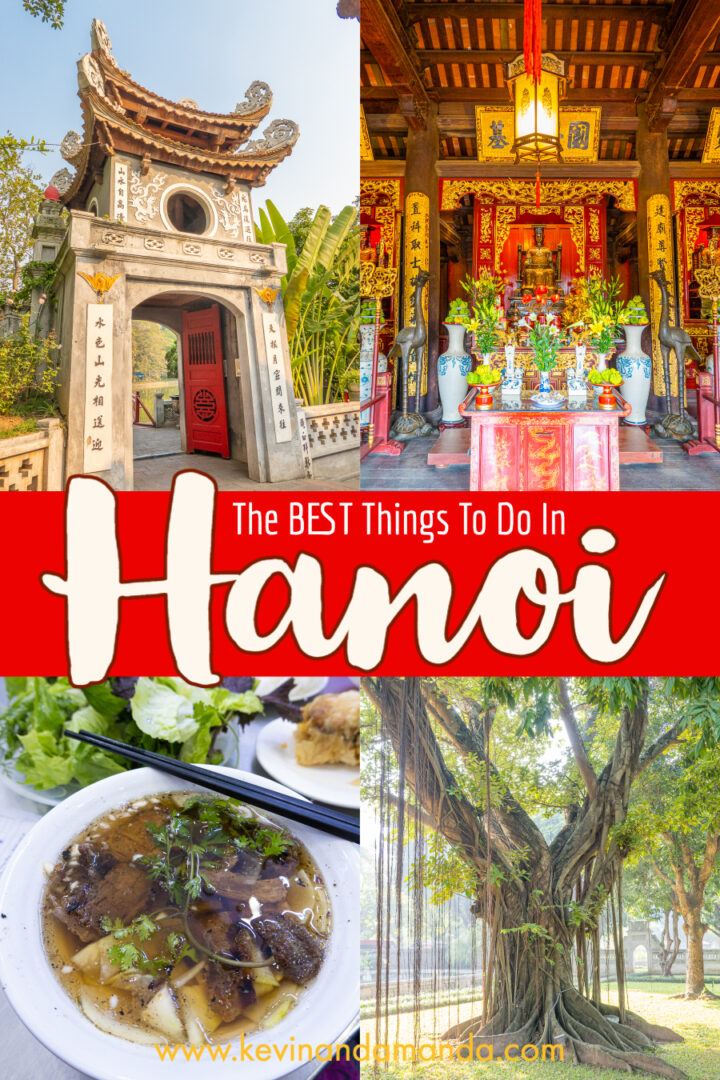 Where is Hanoi?
Hanoi is a city in northern Vietnam, a country in South East Asia. Hanoi is about a 2 hour drive from the southern border of China.
Is Hanoi safe?
Yes, Hanoi is generally a safe city for travellers to visit and explore. There are rarely reports of serious crimes against tourists, such as muggings, robberies, or sexual assaults. However, it's always a good idea to exercise some caution when visiting a big city like Hanoi. There are over 8 million people living in Hanoi, and crime is something that comes with any city that has such a large population.
What is famous in Hanoi?
The most famous landmarks in Hanoi are the Temple of Literature, Ethnology Museum, Ho Chi Minh Mausoleum, Presidential Palace, the Old Quarter, Temple of the Jade Mountain on the Hoan Kiem Lake, and Hanoi Train Street.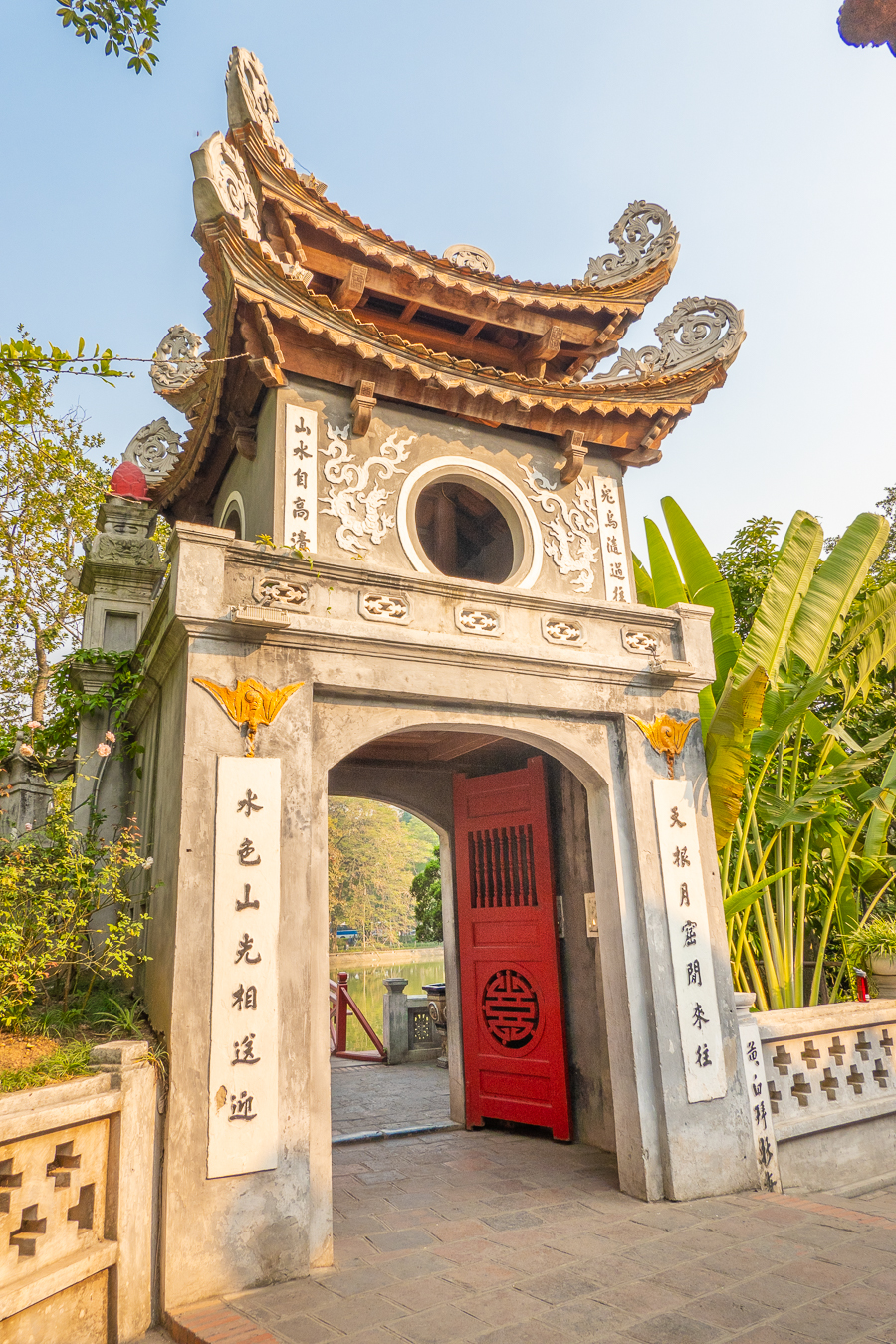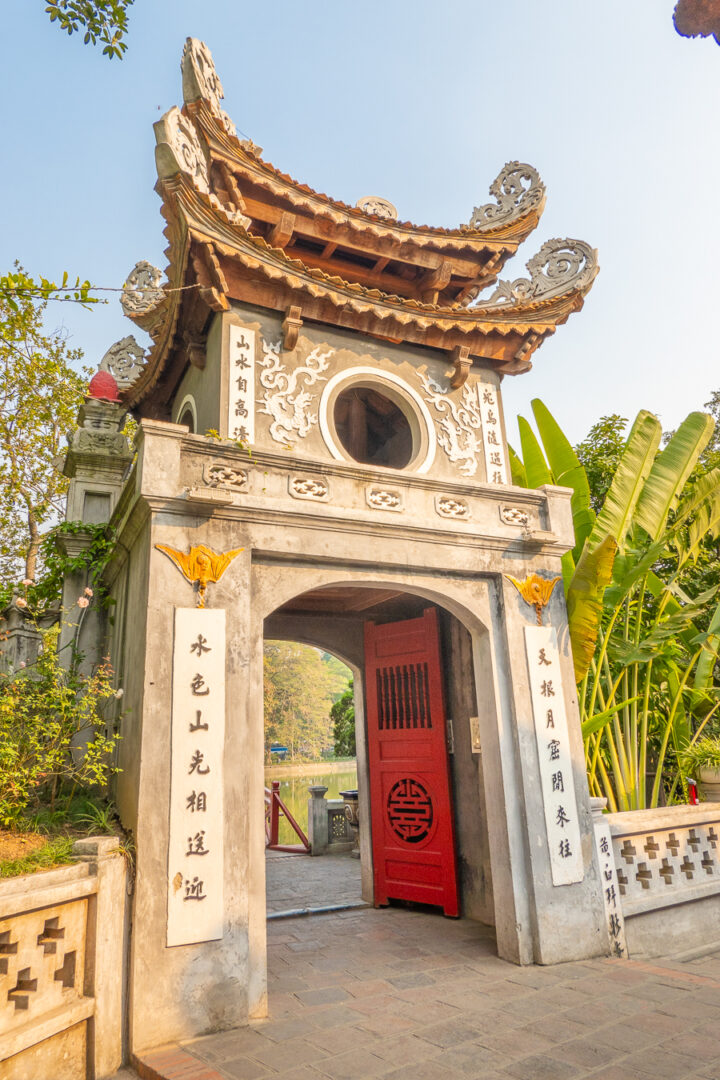 Is Hanoi worth visiting?
Yes, Hanoi is one of the oldest capitals in the world, so you definitely shouldn't miss it if you're planning a trip to Vietnam. Hanoi is home to the second largest airport in Vietnam, so it's a great place to start or end your trip since many international flights go there.
What are the best things to do in Hanoi?
Below is a list of the most popular things to do in Hanoi, along with some tips for visiting each place. These are the things you absolutely don't want to miss if you go to the capital of Vietnam. Use this guide to help plan your itinerary so you don't miss any of the best things to do in Hanoi!
If you're wondering how many days to spend in Hanoi, you can do everything mentioned in this article in one full day. If you want more relaxed days, I recommend splitting this list into 2 days. You may also want to add a 2-3 extra days for the day trips mentioned at the end of the article.
Best Things To Do in Hanoi #1
Temple of Literature
The Temple of Literature in Hanoi is a temple dedicated to Confucius, knowledge, and learning. It was built nearly 1,000 years ago in the year 1070, and is the site of the first national university in Vietnam. For reference, the University of Oxford in England is the oldest English-speaking university in the world and was founded in 1096.
Plan to spend about 1 hour exploring the Temple of Literature.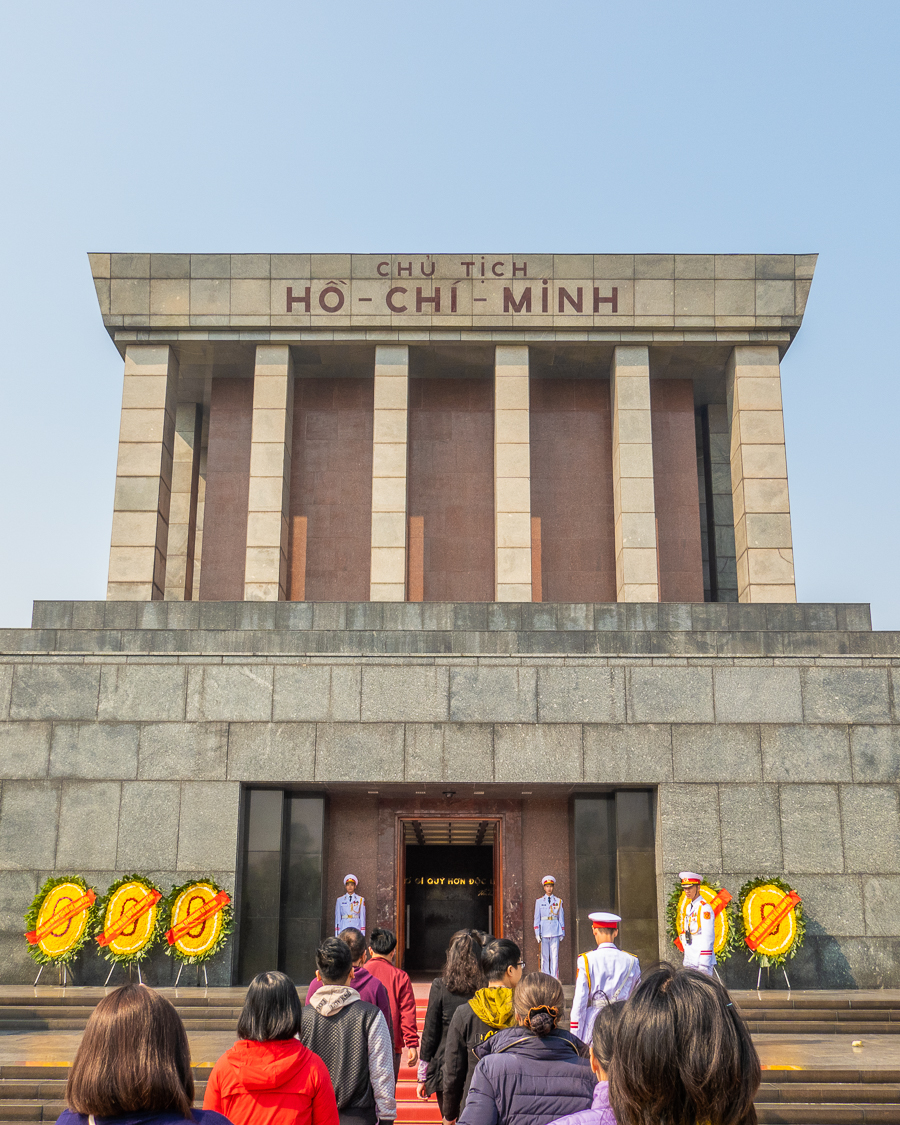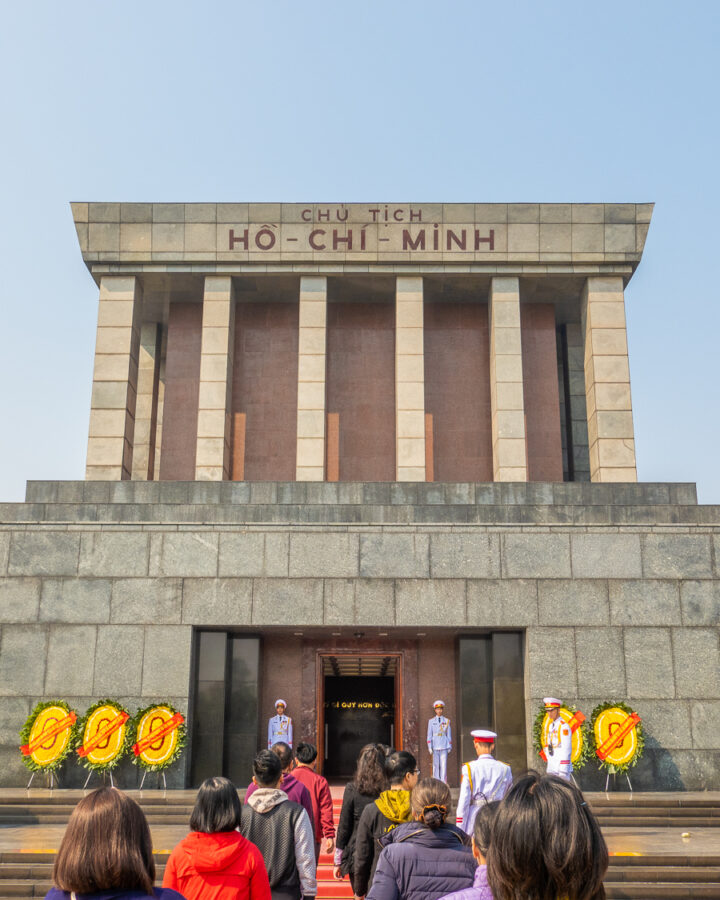 Best Things To Do in Hanoi #2
Ho Chi Minh Mausoleum
The Ho Chi Minh Mausoleum is probably one of the most interesting and unique tourist attractions I have ever visited. Ho Chi Minh (the former President of Vietnam) died over 50 years ago, but thanks to modern technology from Russia, they have been able to perfectly preserve his body so it shows absolutely no signs of decay.
His body lies in a glass case in the central hall of the mausoleum. It is protected 24 hours a day by 4 military guards — one at each corner of the case.
Tourists are allowed to view the body in a single file line that makes its way around the case. However you don't get to look for very long as the line is not allowed to stop moving and no photos are allowed.
Ho Chi Minh's perfectly preserved body has been on display here since 1975 — almost 50 years!
I highly recommend you don't skip this this if you are in Hanoi. I've never seen anything else like it in all my travels. If you go early the line doesn't take very long and entrance to the mausoleum is free. Just remember to dress respectfully (no shorts, sleeveless shirts, or short skirts) as the mausoleum is one of the most sacred sites in Hanoi.
Best Things To Do in Hanoi #3
Presidential Palace
Located right next to the mausoleum is the Presidential Palace complex. The Presidential Palace is a 3-story yellow building that was intended to be Ho Chi Minh's official residence. However he preferred to live in a more modest, traditional Vietnamese stilt house, which you can also see on the complex.
Surrounding the palace is a large garden with a pond. Be sure to notice the tree roots around the pond. These unique roots grow upwards and stick out of the ground like fingers! I had never seen anything like it before.
Plan to spend about 1 hour for both the mausoleum and the Presidential Palace gardens.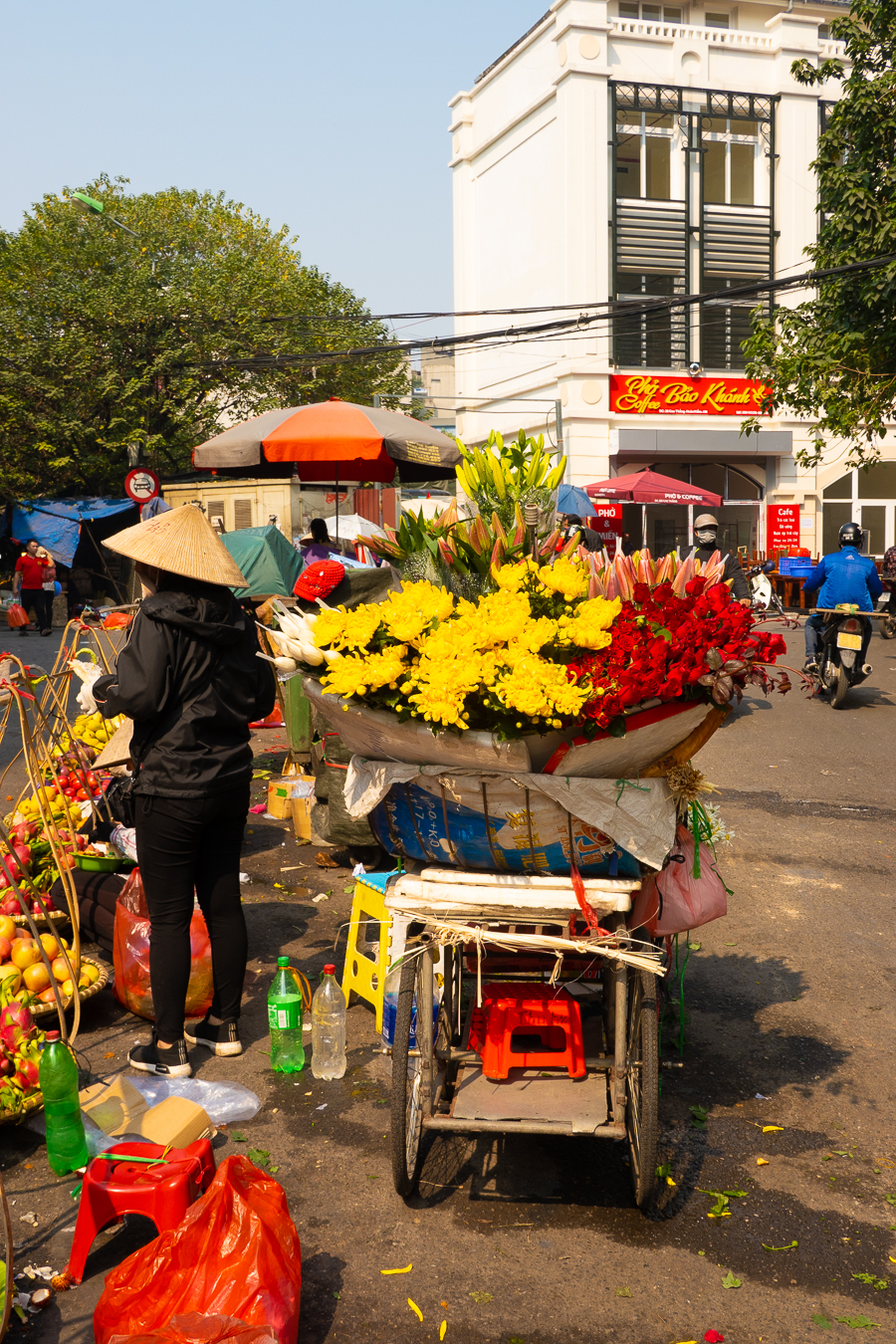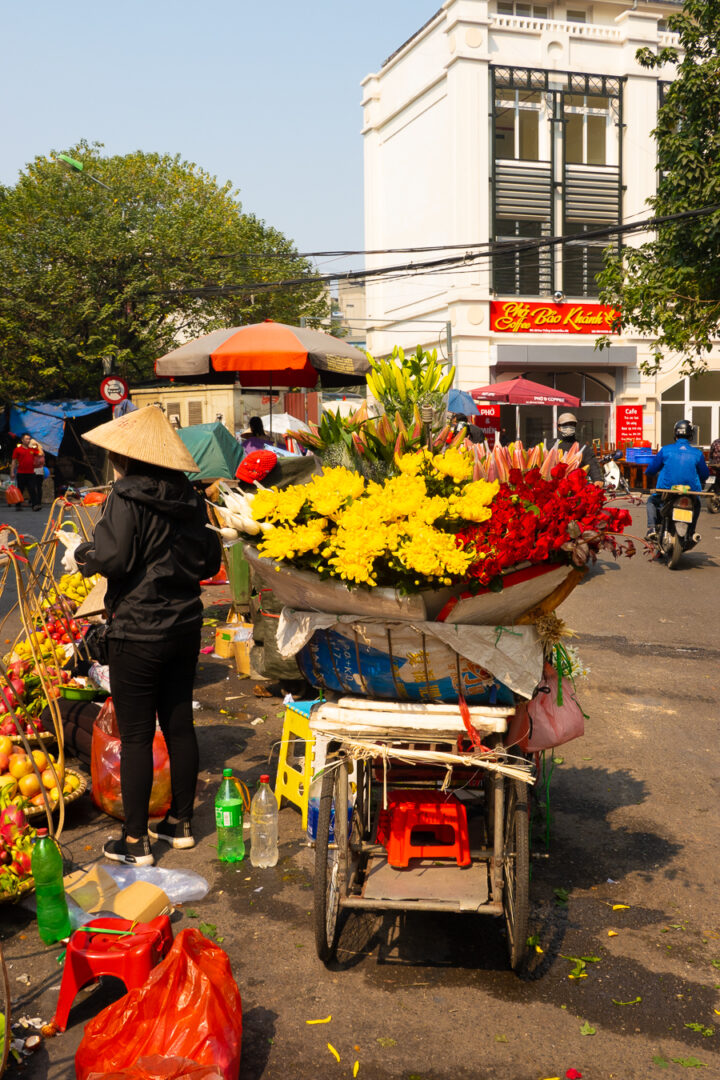 Best Things To Do in Hanoi #4
Explore the Old Quarter
The Old Quarter is a well-preserved historic district in Hanoi. It's a bustling maze of narrow alleys lined with street food, sidewalk cafes, small shops, and more. It's a great place spend a relaxing afternoon getting lost while you wander around and explore.
You definitely need to try Bun cha and egg coffee in the Old Quarter. Keep reading for our recommendations!
Best Things To Do in Hanoi #5
Taste Authentic Bun Cha
Bun cha is a traditional Vietnamese dish that originated in Hanoi. It's made with grilled pork, rice noodles, broth, and fresh herbs. If you go to Hanoi, you absolutely have to try Bun cha.
When President Barack Obama visited Hanoi in 2016, he met with Anthony Bourdain, the famous celebrity chef and travel documentary host. Anthony wanted to introduce President Obama to one of Hanoi's most authentic and traditional meals, so he took him to get Bun cha.
They visited a restaurant called Huong Lien, and the restaurant has preserved their table, chairs, plates, and utensils in a glass case to memorialize the visit.
We recommend Chien Loan in the Old Quarter
We tried Bun Cha at 3 different restaurants in Hanoi, (including the one President Obama visited) and our absolute favorite (by far) was at Chien Loan in the Old Quarter. If you only have one Bun cha in Hanoi, I highly recommend you try the one at Chien Loan.
The Bun cha at Huong Lien isn't bad, but it's not life changing. If you want to eat there just because Anthony Bourdain and President Obama did, go for it! We did! Just don't let it be the only Bun cha you try in Hanoi, or you'll probably be wondering what all the hype is about. We were worried Huong Lien would be super crowded because of the TV show, but there was no wait at all when we visited on a Friday night.
Whatever you do, don't forget to add the crushed garlic and crushed chili to the broth. They're usually already on the table when you arrive and you can add however much you want.
Best Things To Do in Hanoi #6
Try Egg Coffee
Egg coffee was created in Hanoi in the 1940s when fresh milk was limited due to the war. A inventive bartender at a 5-star hotel in Hanoi whipped egg yolk with sugar into a creamy concoction, then poured the hot coffee on top. The result is a thick, ultra smooth, creamy coffee. The hot coffee cooks the egg so it's safe to drink.
It sounds a bit weird, but if you like coffee this is a must-try in Hanoi! You won't find it anywhere outside of Vietnam.
The bartender opened his own cafe in the Old Quarter specializing in egg coffee, and now his son runs it. The name is Giang Café and it's the best place to try egg coffee in Hanoi.
You can also get an egg coffee with chocolate, which was my favorite. Whichever kind you get, just be sure to mix it very well before drinking.
Best Things To Do in Hanoi #7
Temple of Jade Mountain
In the heart of the Old Quarter is the Hoan Kiem Lake, and in the middle of the lake is the Temple of Jade Mountain Pagoda. Before you leave the Old Quarter, cross the red wooden bridge and spend 15-20 minutes exploring this small temple.
Best Things To Do in Hanoi #8
Ethnology Museum
The Ethnology Museum features tribal art, artifacts and everyday objects from all the different ethnic groups in Vietnam. Outside of the museum there are life-sized examples of traditional village stilt houses that you can go in and explore.
Plan to spend 1-2 hours inside and outside the museum.
Best Things To Do in Hanoi #9
Take a Day Trip to Ninh Binh
Ninh Binh is a region in northern Vietnam with one of the most unique landscapes in the entire country. It's less than 2 hours away by car from Hanoi, so you can easily take a day trip here.
Although you could arrange your own transportation, the best way to experience Ninh Binh is on a private tour. The tour includes a private boat ride through the striking landscape of the Tam Coc region and a hike to the Hang Mua Peak.
When you consider all the taxis and entry tickets you'll have to arrange yourself, it's really not that much more expensive to have a private driver and guide in Vietnam. And your day will be so much easier and stress-free knowing there is someone there to make all the arrangements for you. We recommend booking a tour with Indochina Voyages.
Best Things To Do in Hanoi #10
Book an overnight cruise in Ha Long Bay
Ha Long Bay is one of the most iconic landscapes in Vietnam, famous for its bright emerald waters and thousands of towering limestone islands. One of the best things to do in Vietnam is take a 1, 2, or 3 night cruise in Ha Long Bay.
The bay is about a 3 hour drive from Hanoi, and most cruise operators will provide transportation to and from Hanoi. We booked a 1-night cruise, but if you have more time you could book a longer cruise. We booked with Indochina Voyages and highly recommend them — the boat was super nice!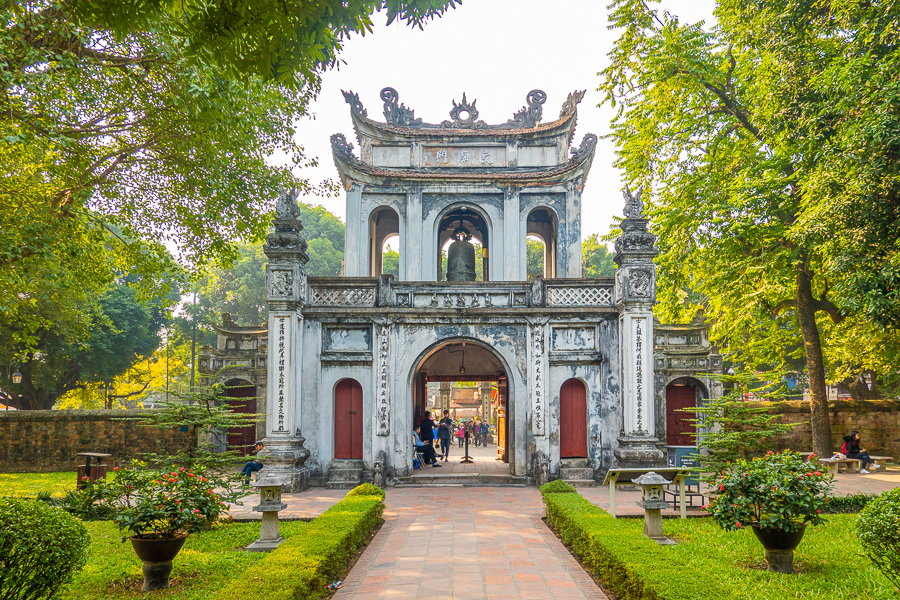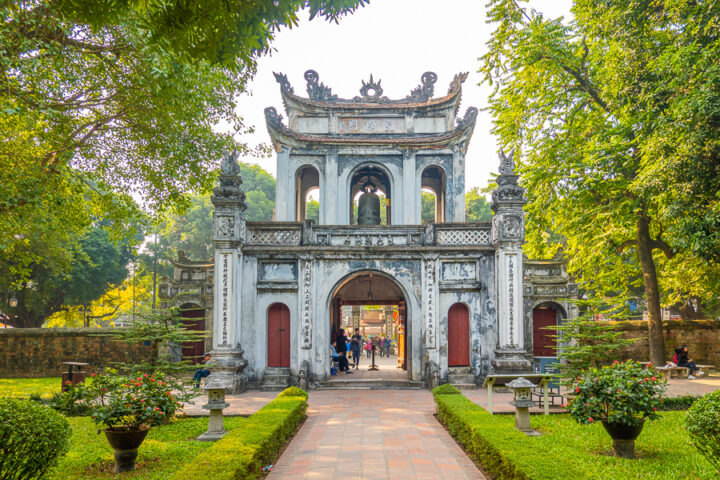 What is the best way to get around in Hanoi?
I've found that when I only have 1-2 days in a city, the best way to see many attractions in just one day is to book a tour.
We had an amazing tour in Hanoi with Indochina Voyages. They took us on a one-day tour and showed us all the best things to do in Hanoi.
The tour includes the Temple of Literature, Ethnology Museum, Ho Chi Minh Mausoleum, Presidential Palace, a food tour in the Old Quarter, and the Temple of the Jade Mountain.
The tour isn't too expensive when you consider the entry fees and taxi fees to visit all of these places would add up if you do it by yourself. Plus you'll have your own private driver and guide with you to explain the history and help you get the most out of your trip.
The Best Hanoi Hotel:
InterContinental Hanoi Landmark72
If you're looking for the best place to stay in Hanoi, we highly recommend the InterContinental Hanoi Landmark72.
One of the reasons we loved staying there is because the InterContinental Hanoi Landmark72 is the tallest building in Hanoi. Every single room in the hotel features floor-to-ceiling windows with breathtaking panoramic views of Hanoi.
There was even an amazing view from the shower!
We highly recommend upgrading to a room with Club Lounge access. In the lounge you have access to a private breakfast area, daily afternoon tea, and happy hour with drinks and appetizers, all included. The afternoon tea and happy hour are amazing. It's not just a few light snacks, it could definitely be a full meal. Then menu changes every day so you get to try something new every day.
The club lounge at the InterContinental Hanoi Landmark72 is amazing. The room is so comfortable and spacious. It's the largest Club InterContinental Lounge in South East Asia
It's so nice coming back from a busy day exploring the city to a quiet, relaxing space with free drinks and delicious snacks. Overall, you get so much out of the lounge. It makes the vacation feel like SO much more of a vacation!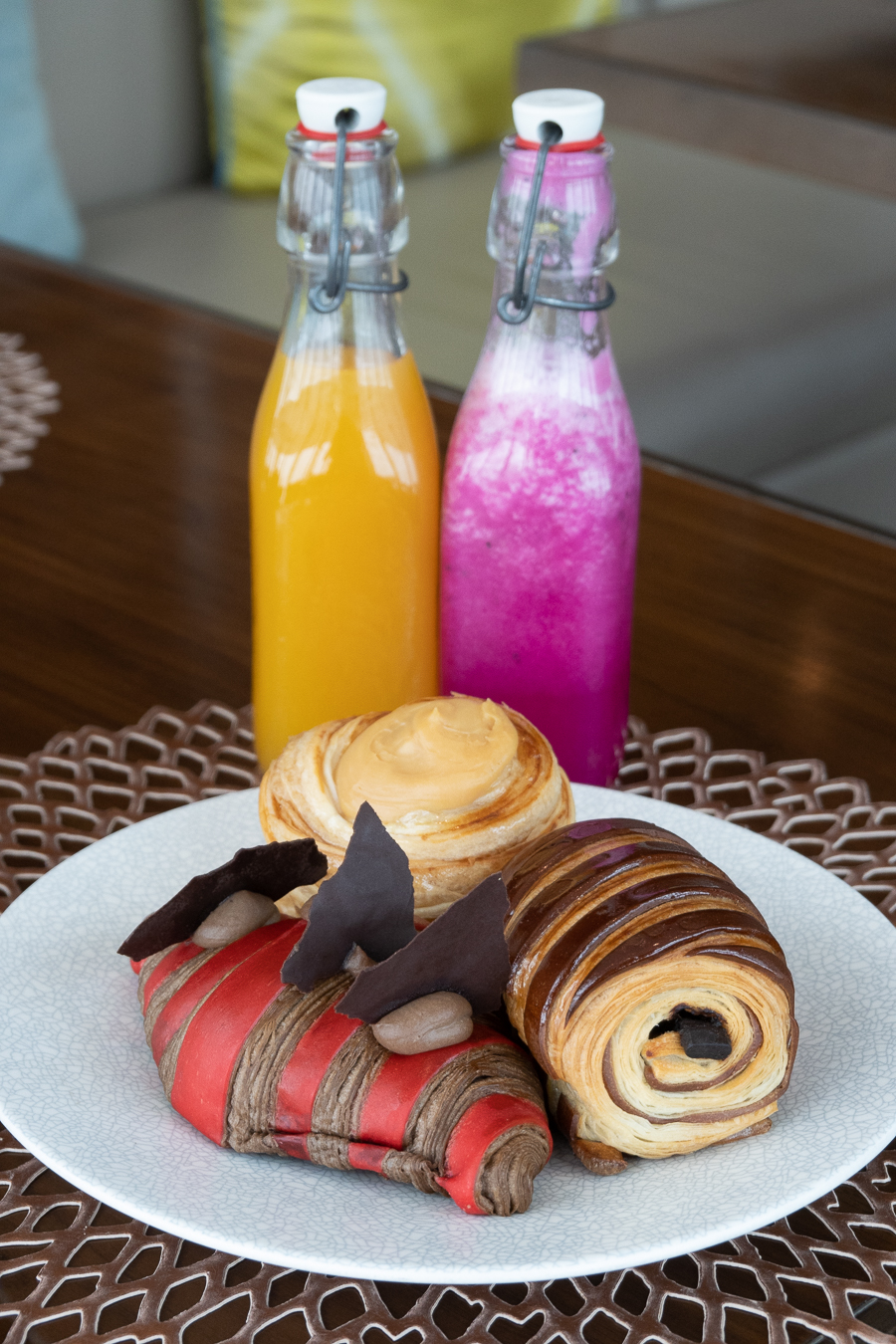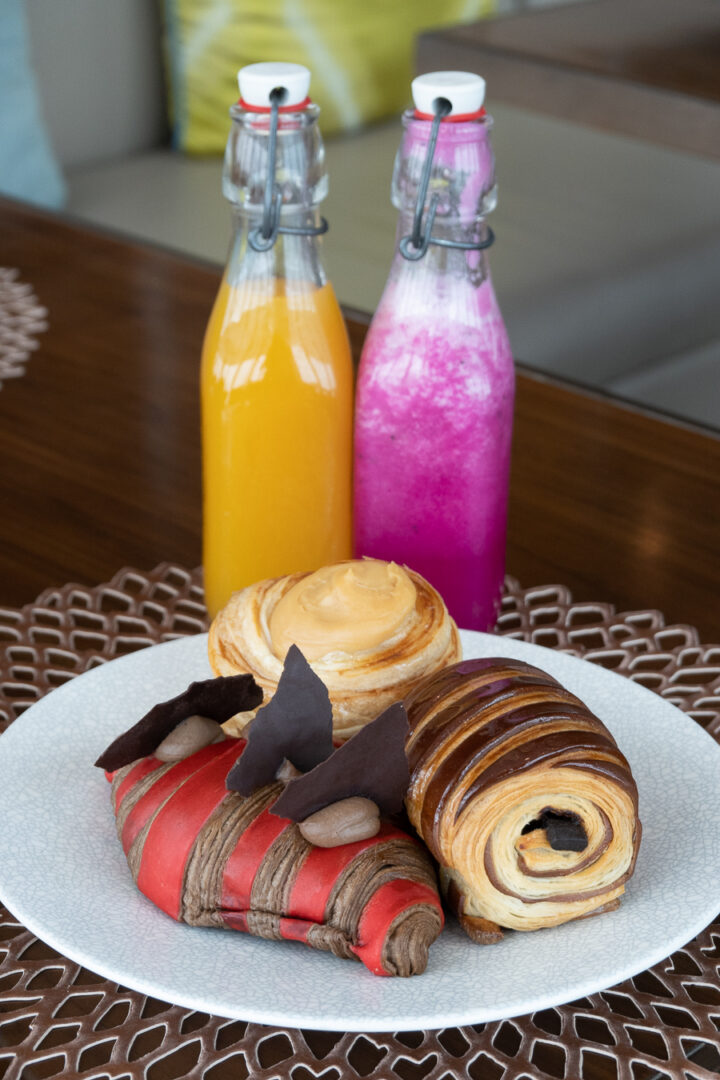 The InterContinental Hanoi Landmark72 pays attention to details. When we checked in I mentioned I loved chocolate and I was craving it because we hadn't had much chocolate or desserts during our 4-week trip. When we came back from a tour, we found a plate of gourmet chocolates and freshly baked chocolate cookies waiting for us!
Please note there are two InterContinental hotels in Hanoi. If you want to stay in the tallest building in Hanoi like we did, be sure to book at the InterContinental Hanoi Landmark72.
---
Questions about Hanoi?
Do you have any questions about traveling in Hanoi? Let me know in the comments! We want to make your trip as easy as possible, so we'll do our best to help.
---
Like this post? Save it on Pinterest!