If you're planning a trip to Vietnam, here is a 2-week Vietnam Travel Itinerary that will make sure you see all the best things to do in Vietnam. Use this guide to help plan your trip so you don't miss anything!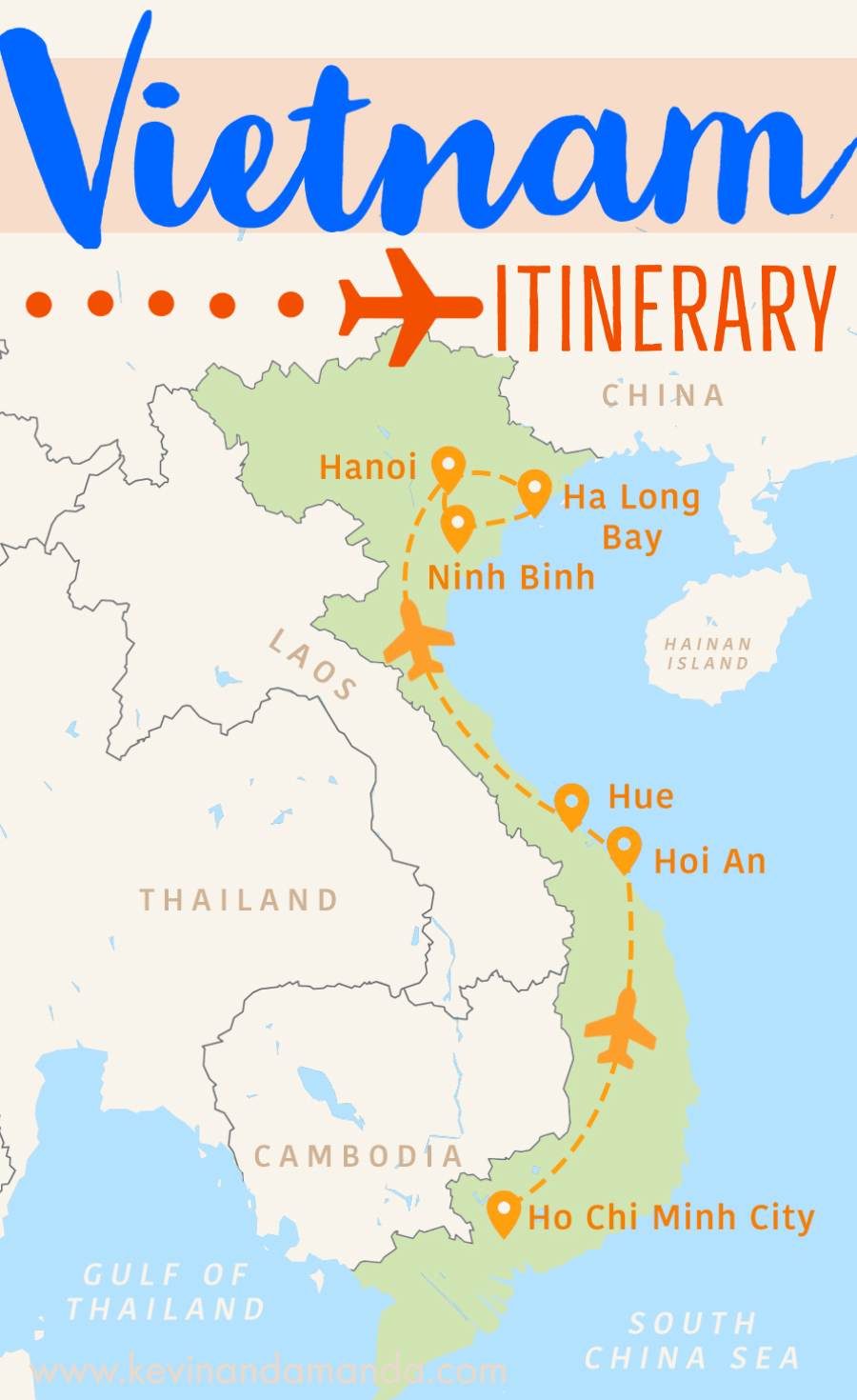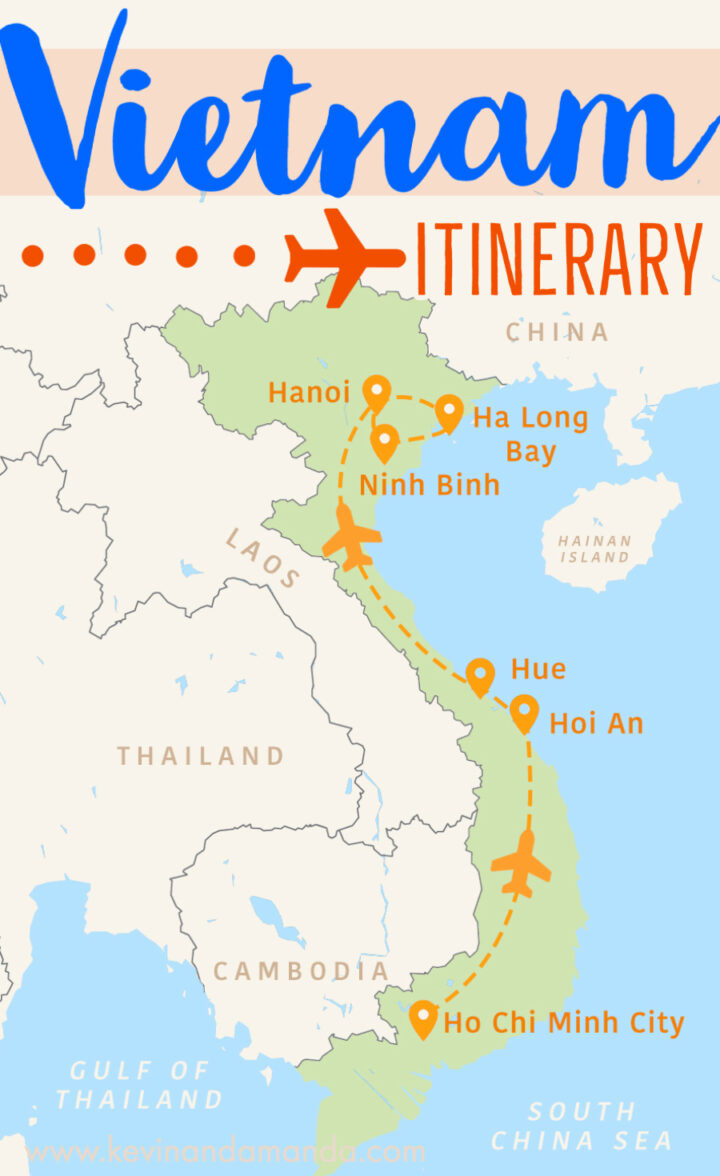 Where is Vietnam?
Vietnam is a country in South East Asia. It shares a border with China, Laos, and Cambodia. Vietnam is south of China, east of Thailand, and west of the Philippines.
What is Vietnam famous for?
Vietnam is most famous for its breathtaking natural landscapes, traditional street food, delicious coffee, and war history.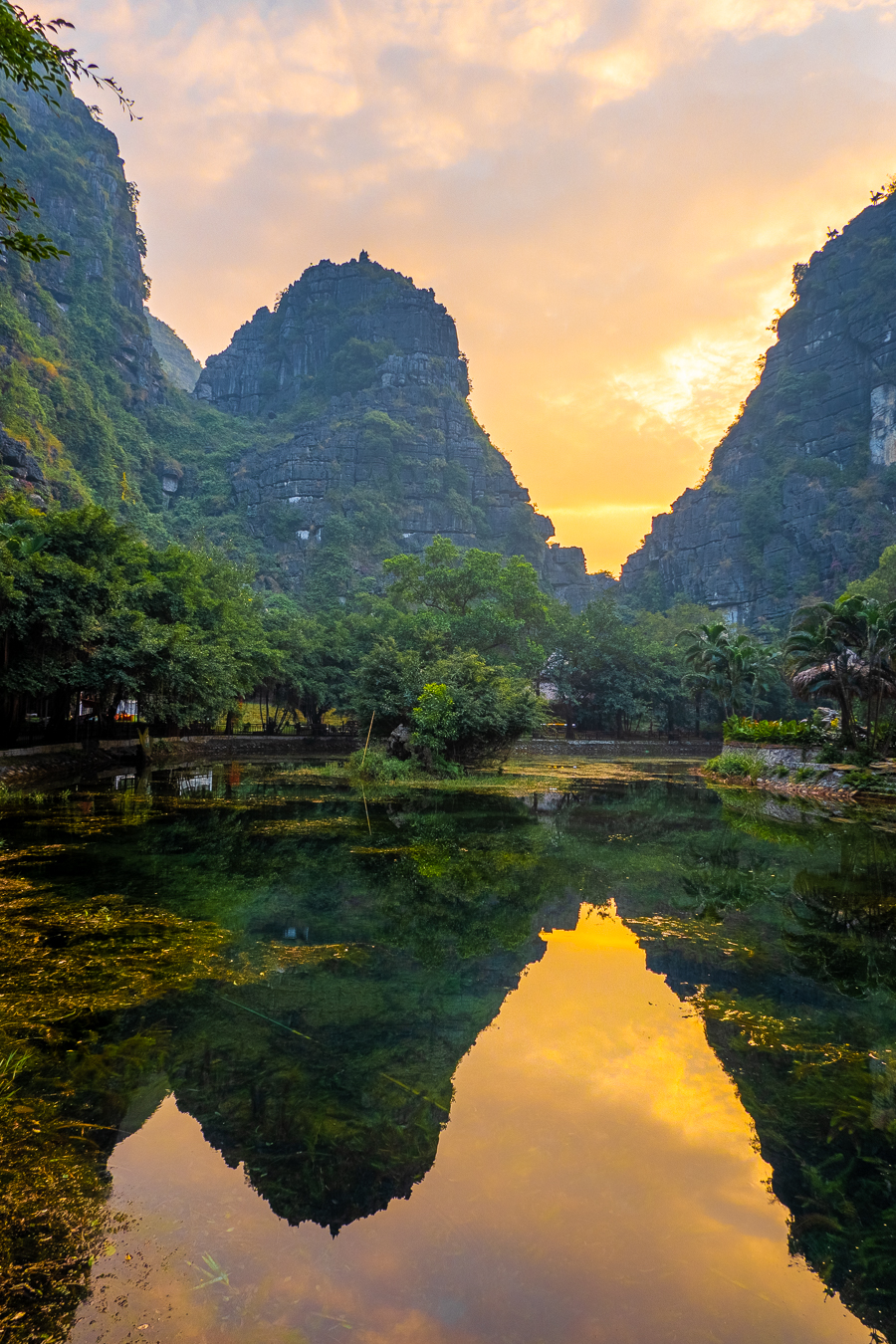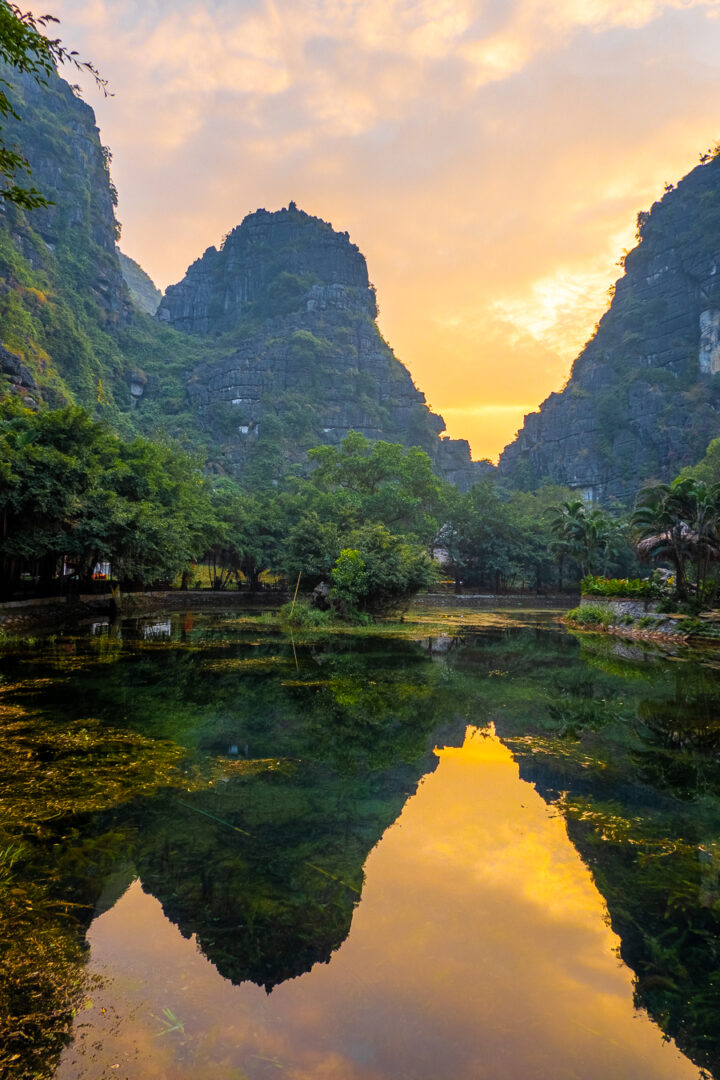 Is Vietnam safe for tourists?
Yes, Vietnam is an extremely safe country to travel in, and there are rarely reports of muggings, robberies, or sexual assaults. Vietnam is listed as one of the safest travel destinations in the world.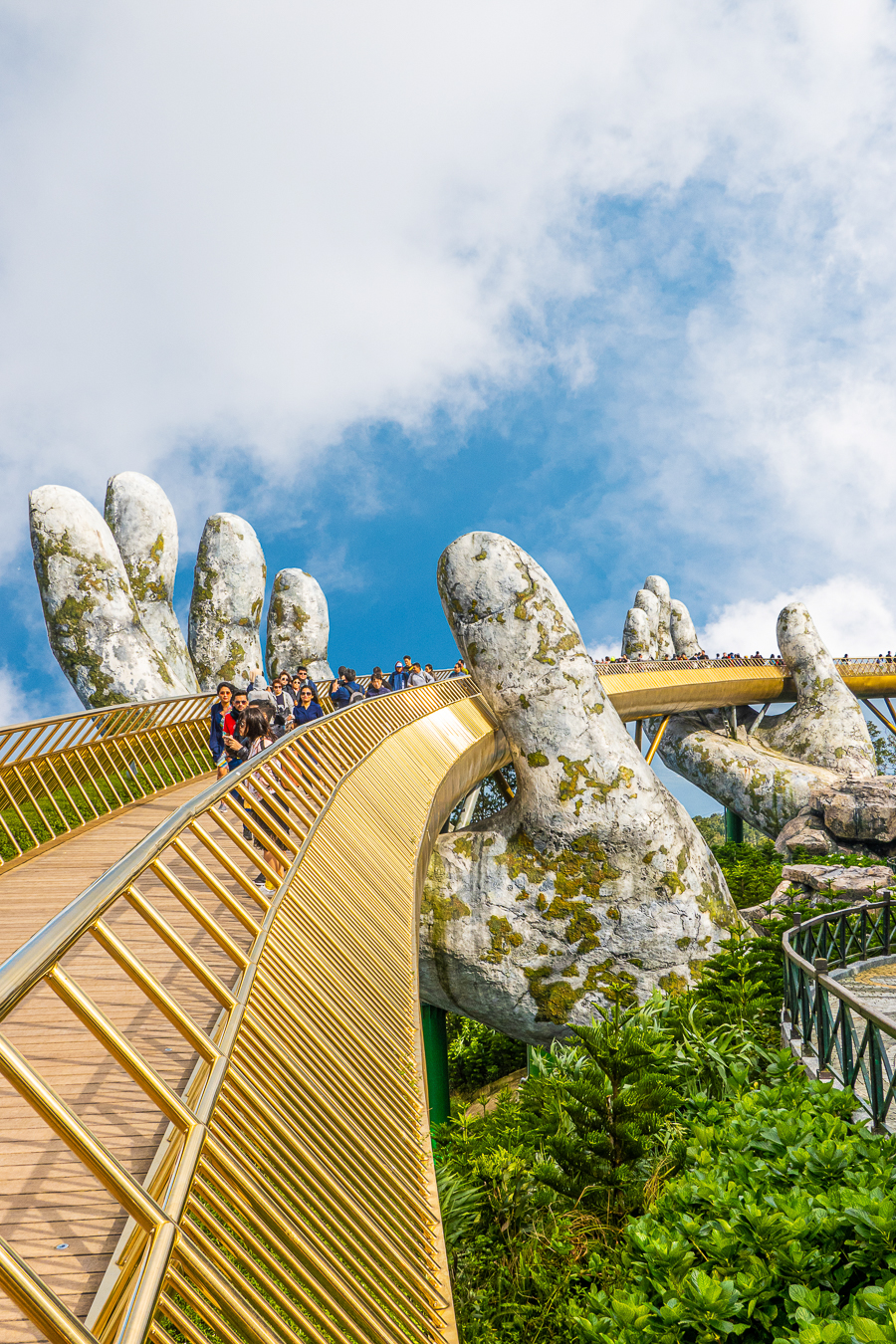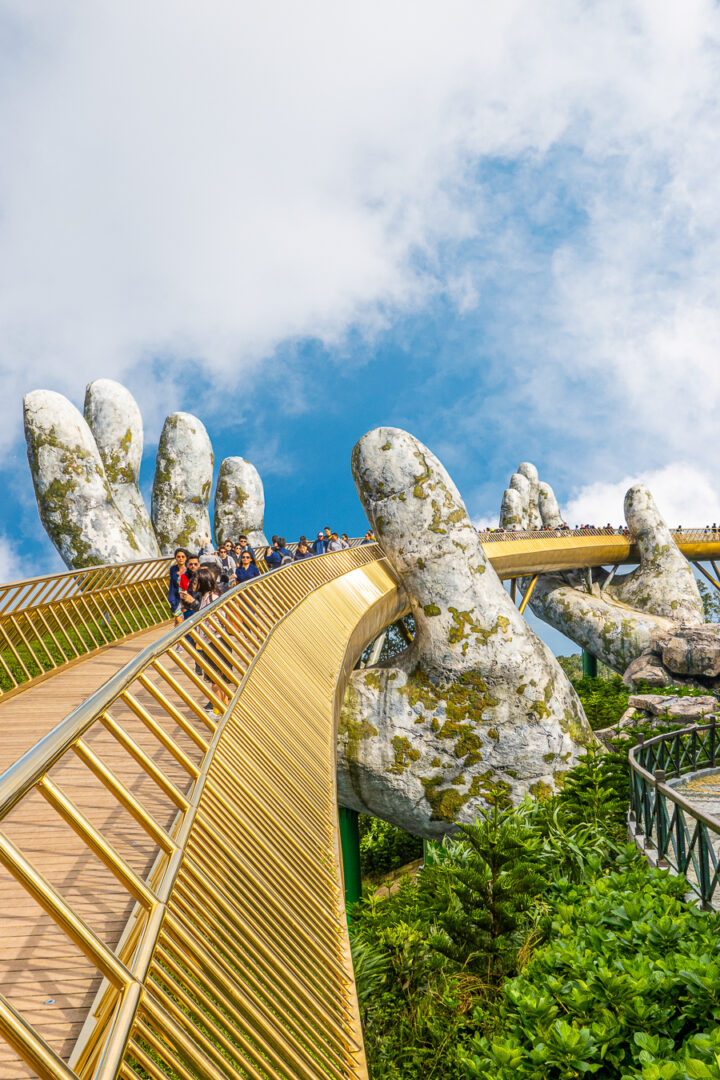 How much does it cost to travel in Vietnam?
Travel in Vietnam is fairly inexpensive. You can book a deluxe 2-week private tour with 4-star hotels, daily private guide, all sight-seeing tickets, and all local transportation included for less than $1,800 per person.
If you want an easy, stress-free trip where you'll see the best of Vietnam and not miss any of the highlights, I highly recommend booking a tour with Indochina Voyages. We emailed several tour companies, but Indochina Voyages was the most responsive, gave the most information about what our trip would be like, and were the most willing to work with us to customize our itinerary. There are sample itineraries on their website, but they are also happy to customize a tour to your desires.
When you consider all the taxis, hotels, flights, and entry tickets you'll have to book yourself, it's really not that much more expensive to have a private driver and guide in Vietnam. And your trip will be so much easier and stress-free knowing there is someone there to make all the arrangements for you.
Indochina Voyages is a local, family-owned business who love sharing their country with foreign visitors. They will pick you up at the airport and you will have your own private guide and driver who will be with you your entire trip. You're not just another client, you're a new friend. They will make sure you see all the best things to do in Vietnam because they are excited to share it with you.
In fact, when President Jimmy Carter went to Vietnam in 2009, he chose Indochina Voyages to be his guide!
Tell Tuan Kevin and Amanda sent you!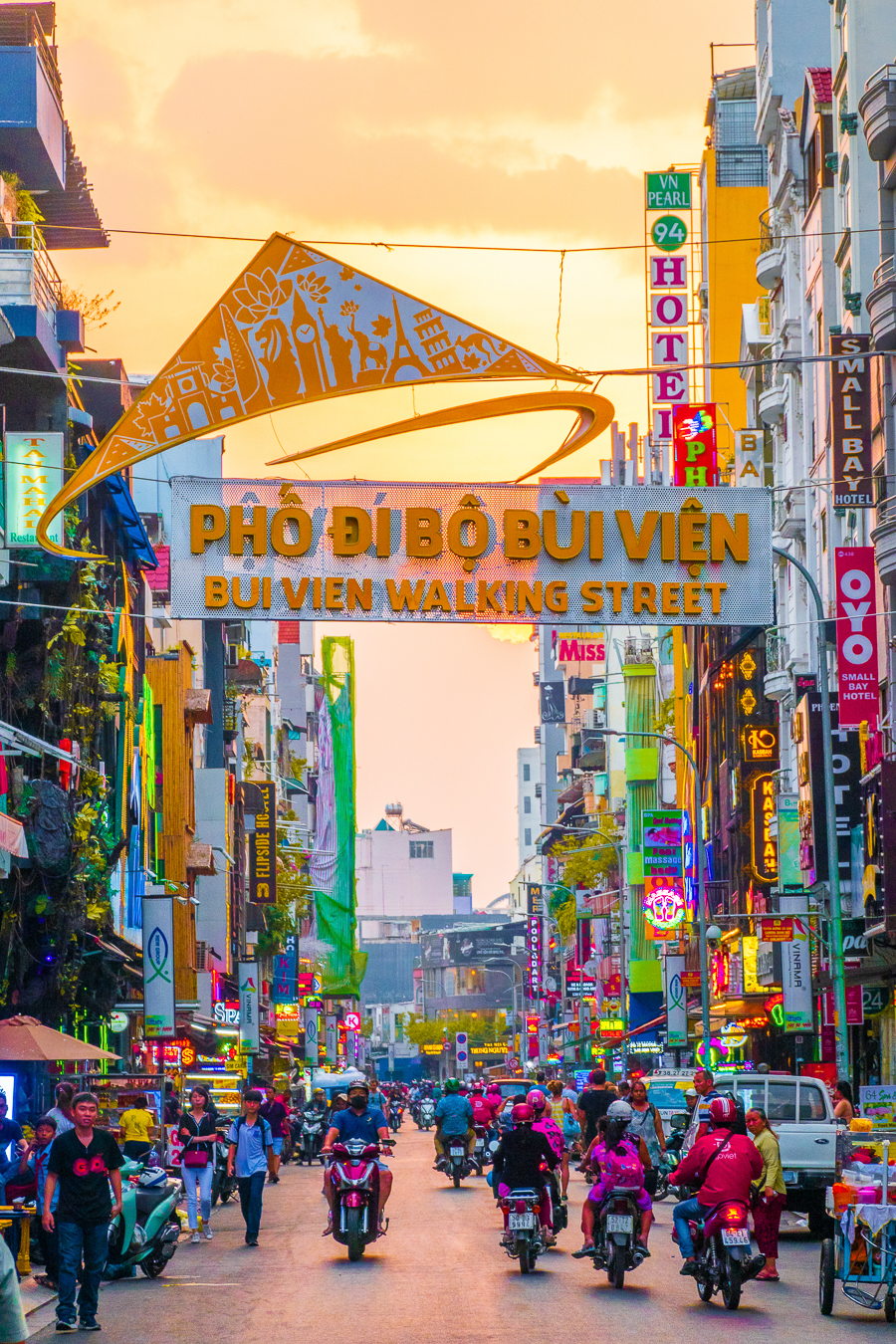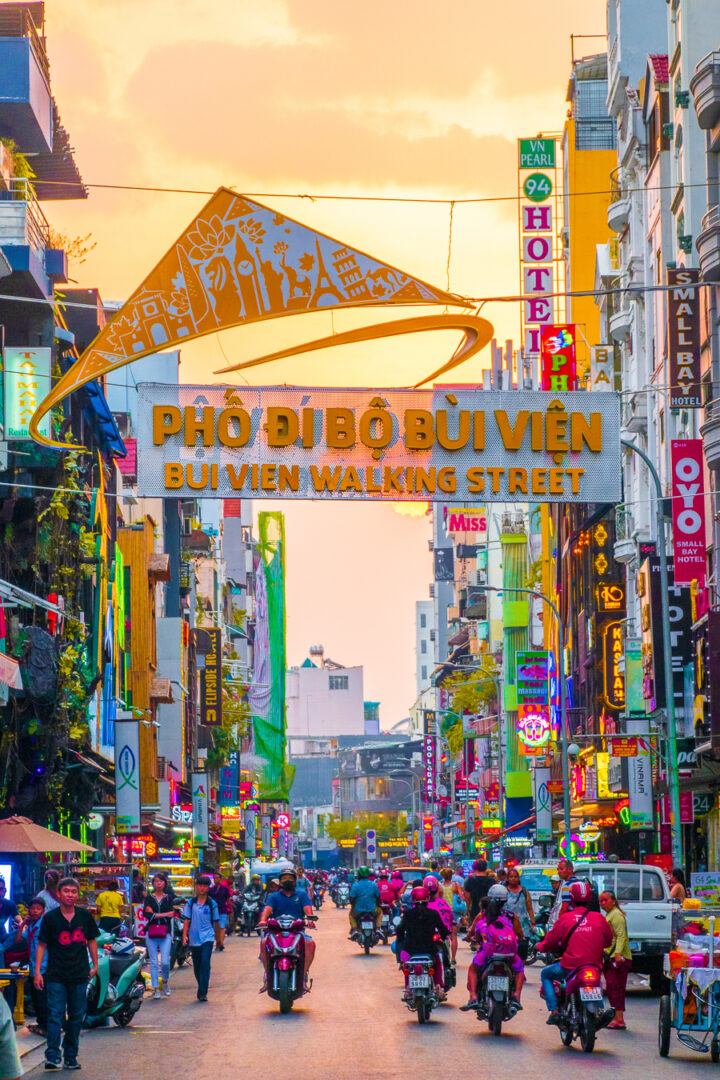 Do I need a visa for Vietnam?
Yes, if you are a US citizen, you need a visa to enter Vietnam. You must apply for your visa before you go to Vietnam, because unless you have an approval letter, you cannot get a visa on arrival at the airport in Vietnam. Here's the link to apply online at the Vietnam Embassy official website. You'll have to fill out a form, send a copy of your passport, and a recent passport style photo.
However I found the process to be a bit confusing, so I contacted ItsEasy Passport & Visa Services. If you want the quickest, easiest way to get a visa for Vietnam, I highly recommend using ItsEasy. They were extremely helpful and always responded right away with any questions I had.
To get a visa for Vietnam, you need a recent passport-style photo (taken within the last 6 months). ItsEasy has their own app you can use that makes taking a new passport photo SO quick and easy. The app shows you exactly what to do (and what not to do!) I snapped a selfie, sent it to ItsEasy, and they did the rest. I had my Vietnam visa less than a week later. It was so easy, painless, and hassle-free. I didn't even have to send off my passport. I will definitely use them again the next time I need a visa.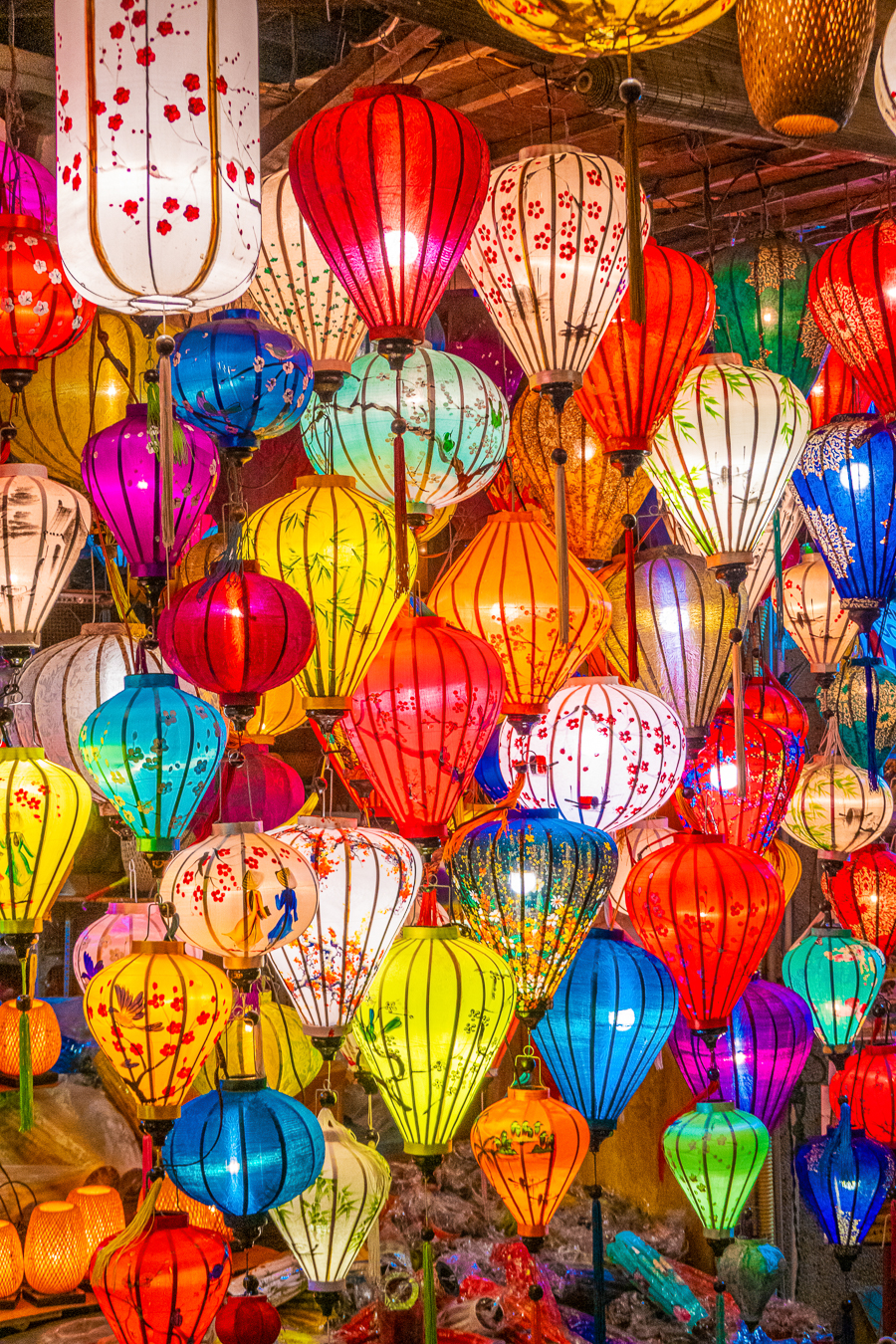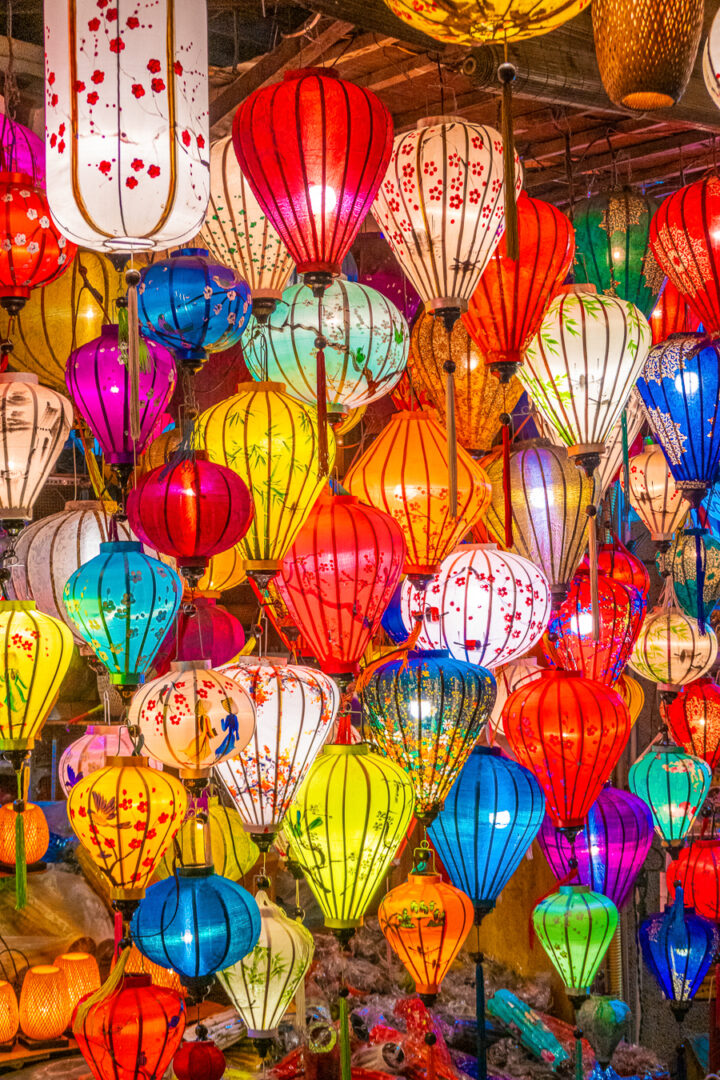 What are the best things to do in Vietnam?
The best things to do in Vietnam are visit the major cities of Hanoi and Ho Chi Minh City, the imperial city of Hue, the charming, lantern-filled city of Hoi-An, and see the incredible unique landscape of Ha Long Bay and Ninh Binh.
Below is a sample 2-week itinerary that will take you from south to north where you'll see all the best things to do in Vietnam.
Vietnam Travel Itinerary
Days 1-3
Ho Chi Mihn City (Saigon)
Ho Chi Minh City is the largest city in Vietnam. Formerly known as Saigon, it was once the capital of South Vietnam. The largest airport in Vietnam is in Ho Chi Minh City, so this is a great place to start your trip since there are many international flights here.
If you want to see all the best things to do in Ho Chi Minh City, plan to spend 2 full days in the city. Here are the most important things that you absolutely don't want to miss in Ho Chi Minh City:
Cu Chi Tunnels — A base during the Vietnam War where you explore the actual tunnels and learn more about the history of the war.
War Remnants Museum — Military equipment, photos, and exhibitions relating to the war.
Independence Palace — Also known as the Reunification Palace, this was the home and workplace of the President of South Vietnam during the Vietnam War. It was also the site of the end of the Vietnam War when a North Vietnamese army tank crashed through the gates.
Notre Dame Cathedral — A French colonial landmark made entirely of materials imported from France in the 1800s.
Central Post Office — Grand post office from the 1800s.
Ben Thanh Market — One of the first and most iconic buildings from the former capital of Saigon.
Jade Emperor Pagoda (Ngoc Hoang Pagoda) — Colorful Taoist pagoda built by the Chinese community in 1909. President Barack Obama visited this temple during his state trip to Vietnam in 2016.
Pink Church (Tan Dinh Church) — A beautiful pink Roman Catholic church. Visit the cafe across the street for the best view.
Ba Thien Hau Pagoda — A vibrant Chinese-style temple dedicated to the Chinese sea goddess Mazu.
Backpacker Street (Bui Vien Walking Street) — A long street lined with bars, restaurants, cafes, small shops and cheap souvenirs. At night it comes alive with loud music, bright neon lights, dancing, street vendors and entertainers. A lively area for people-watching.
Vietnam Travel Itinerary
Days 4-5
Hue
After Ho Chi Minh City, your next stop is Hue (pronounced like Whey). Hue is famous for its historic Citadel surrounded by a deep moat and thick stone walls. Inside the citadel is like stepping back in time to a Imperial City with palaces, shrines, a royal theatre, and the former home of the emperor — all built in the 1800s.
The best way to get to Hue from Ho Chi Minh City is by plane. You can get a direct flight (about 1.5 hours) for around $20-30 US dollars.
You only need one day to see all the best things to do in Hue, Vietnam. Here are the most important things that you don't want to miss in Hue:
Best Things To Do in Hue, Vietnam:
Dragon Boat to Thien Mu Pagoda — Take a Dragon Boat cruise on the Perfume River to visit one of the most ancient and historic Buddhist pagodas. Try a local sugar cane juice drink from one of the vendors nearby!
Imperial City — Plan to spend around 3 hours exploring the Imperial City and admiring the well-preserved royal monuments.
Tomb of Emperor Tu Duc — A large complex with temples, palaces, koi ponds, a lake, an island, and monuments for the emperor. Plan to spend about 2 hours here.
Tomb of Emperor Khai Dinh — A large, imposing monument with 127 steps up to a magnificent room covered in floor-to-ceiling ceramic and glass mosaic with a life-size bronze statue of Emperor Khai Dinh.
Truong Tien Bridge — The main bridge in the center of Hue that crosses the Perfume River. Every night the bridge lights up in a spectacular, colorful light show. It's nice to walk along the river at night and watch the bridge and its dancing lights.
Ganesh Indian Restaurant — If you're a fan of Indian food, I highly recommend the Butter Chicken here! Honestly the BEST butter chicken I've ever had (outside of India!).
Vietnam Travel Itinerary
Day 6
Golden Bridge (Hand Bridge)
The road between Hue and Hoi An is known as the Haivan Pass, and is one of the most scenic drives in Vietnam. If you drive straight there, it would take about 3-4 hours. But on the way you'll definitely want to stop at Ba Na Hills, a unique Disney-like theme park in Vietnam. The park's theme is "French Village" and features Disney-style French castles, a Notre Dame Cathedral, Alpine slides, even a recreation of Moulin Rouge. But the main attraction is the Instagram-famous "Golden Bridge", high up in the mountains of Vietnam.
Plan to spend most of the day traveling between Hue and Hoi An and visiting the bridge. The bridge is so high, you need to take a cable car to get there!
Vietnam Travel Itinerary
Days 7-8
Hoi An
Hoi An is a charming, colorful village famous for it's well-preserved historic district, Venice-like canals, and thousands of colorful lanterns.
Plan for at least one full day to see all the best things to do in Hoi An, Vietnam. Here are the most important things that you don't want to miss in Hoi An:
Best Things To Do in Hoi An, Vietnam:
Assembly Hall Of Fujian Chinese — An assembly hall built in the late 1600s, now a UNESCO World Heritage Site. The hall is most famous for its photogenic ornamental gate.
Hoi An Ancient Town — Take some time to just wander around and explore this well-preserved ancient port city with a melting pot of architecture and colorful lanterns.
Japanese Covered Bridge — Built in the 1700s, this bridge is the most iconic site in Hoi An.
Old House of Tan Ky — Take a tour of this historic house and see what a typical merchants house from the 1700s would look like.
Hoi An Market — Stroll through this typical, bustling market with street food, fresh produce, traditional clothes, souvenirs, silk products, and more.
Night Gondola Cruise on the River — At night the main river in Hoi An comes alive with hundreds of gondolas decorated with colorful paper lanterns. The "Bridge of Lights" is the perfect place to watch the sunset and all the brightly colored boats.
Vietnam Travel Itinerary
Days 9-11
Hanoi
Finally we have reached Hanoi, the capital of Vietnam. Hanoi is one of the oldest capitals in the world, and is famous for its historic district, temples, pagodas, museums, and street food.
The best way to get from Hoi An to Hanoi is by plane. You can get a direct flight (about 1.5 hours) for around $20-30 US dollars.
You need at least one full day to see all the best things to do in Hanoi, Vietnam. Here are the most important things that you don't want to miss in Hanoi:
Best Things To Do in Hanoi, Vietnam:
The Temple of Literature — The first national university in Vietnam, built in the year 1070.
Ethnology Museum — Features the 54 ethnic groups in Vietnam, tribal art, artifacts and everyday objects gathered from all across the country, as well as life-sized examples of traditional village houses that you can go in and explore.
Ho Chi Minh Mausoleum — Probably one of the most weird/interesting things I have ever seen. Ho Chi Minh (the former President of Vietnam) died over 50 years ago, but his body is still preserved like he just died yesterday — and you can visit the mausoleum and see it.
Presidential Palace — Located right next to the mausoleum, this 3-story yellow building was intended to be Ho Chi Minh's official residence. Surrounding the palace is a large garden with a pond. Be sure to notice the roots on the trees around the pond sticking up out of the ground like fingers!
Eat Authentic Bun Cha in the Old Quarter — The Old Quarter in Hanoi is a maze of hidden alleys and sidewalks lined with food stalls and family-owned restaurants. We highly recommend the Bun Cha at Chien Loan and an egg coffee at Cafe Giang. Bun Cha is one of the most traditional dishes in Hanoi. When President Barack Obama visited, Anthony Bourdain took him to get Bun Cha. Egg Coffee is another one of the most traditional drinks found only in Hanoi.
Temple of the Jade Mountain — A colorful gate, pagoda, and bridge on the lake near the Old Quarter.
Hanoi Train Street — A unique location in Hanoi. Twice a day a train speeds through a narrow alley only inches from the houses in this neighborhood.
Read More: Best Things To Do in Hanoi
Vietnam Travel Itinerary
Days 12-13
Ha Long Bay
Famous for its bright emerald waters and thousands of towering limestone islands, Ha Long Bay is one of the most iconic landscapes in Vietnam. One of the best things to do in Vietnam is a 1, 2, or 3 night cruise in Ha Long Bay.
The bay is just a 3 hour drive from Hanoi, and most cruise operators will provide transportation to and from Hanoi. We recommend Indochina Voyages for booking your cruise.
We booked a 1-night cruise, but if you have more time you could book a longer cruise.
Vietnam Travel Itinerary
Day 14
Day Trip to Ninh Binh
The final place you need to see before you leave Vietnam is Ninh Binh. You can easily take a day trip here from Hanoi, it's less than 2 hours away by car. Ninh Binh has one of the most unique landscapes in all of Vietnam.
You can book a train to visit Ninh Binh on your own, but in my opinion, the best way to experience Ninh Binh is on a private tour. The tour includes a private boat ride through the striking landscape of the Tam Coc region and a hike to the Hang Mua Peak.
Booking a tour is definitely the easiest option, and isn't too expensive when you consider the train tickets, entry fees, and taxi fees to visit all of these places would add up quickly if you do it by yourself. Plus you'll save yourself a lot of hassle and have a much more enjoyable trip. We recommend booking a tour with Indochina Voyages.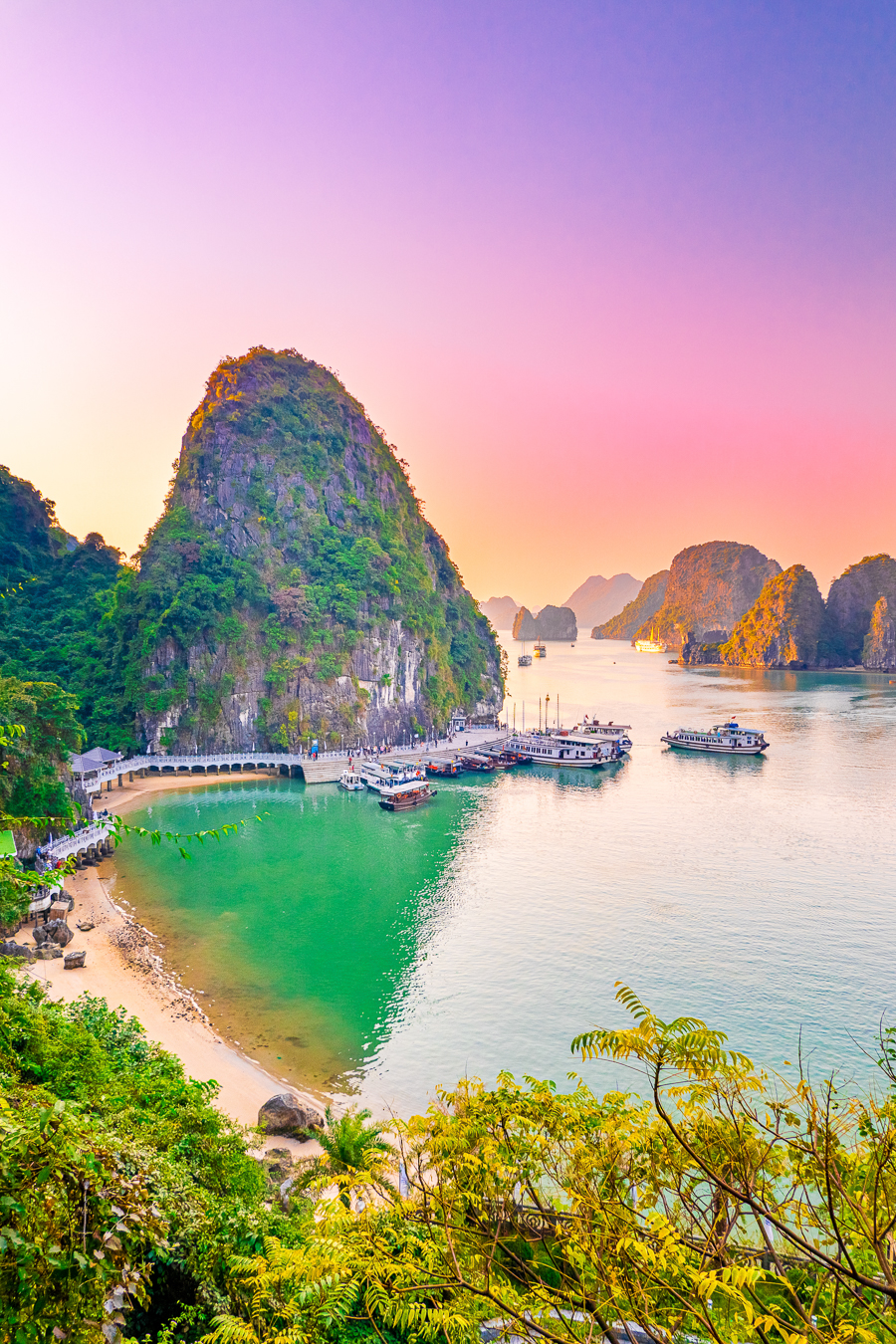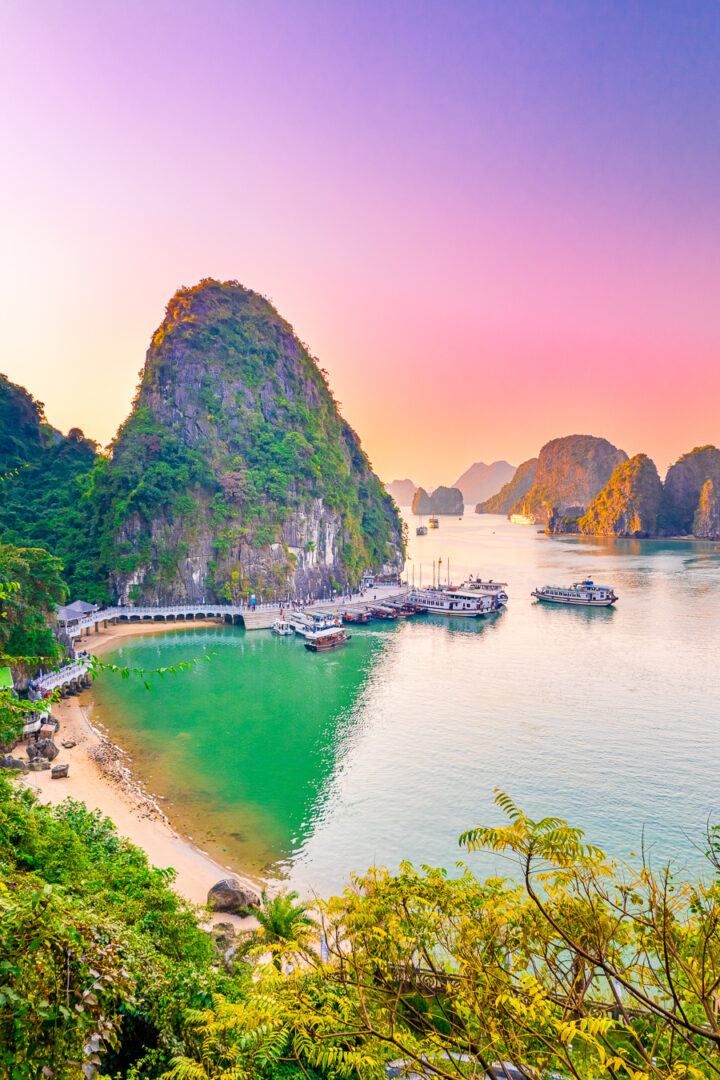 Vietnam Travel Itinerary
Day 15
On your last day in Vietnam, you will fly out of Hanoi. Hanoi has the second largest airport in Vietnam, so it's very easy to book an international flight from this airport.
Questions About Vietnam Travel?
Do you have any questions about traveling to Vietnam? Ask me anything in the comment section below. We'll do our best to help!
---
Like this post? Save it on Pinterest!