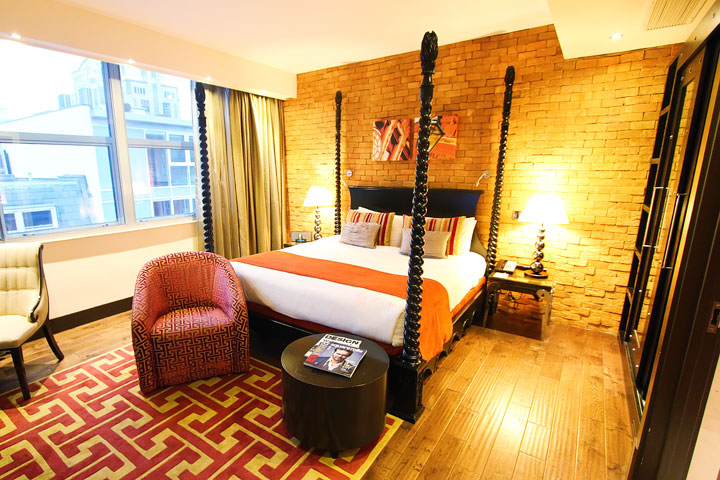 Many of you asked where we stayed in London, and since I loved our hotel so much, I thought I'd share it with you today! Here are some photos of our fun room. :)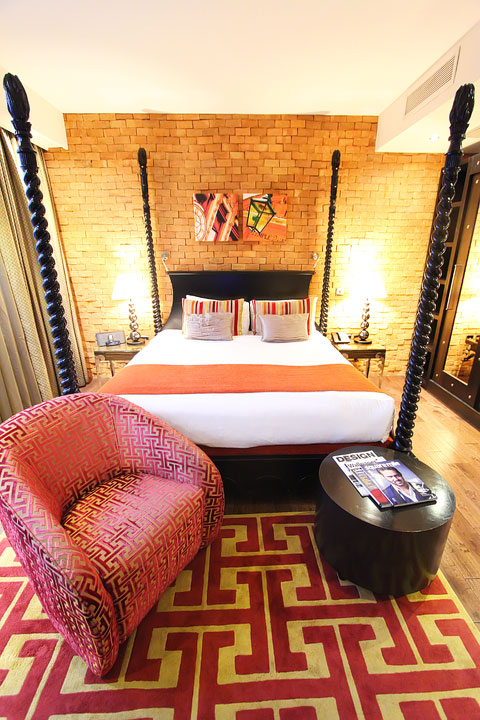 We stayed at the Hotel Indigo Tower Hill in London.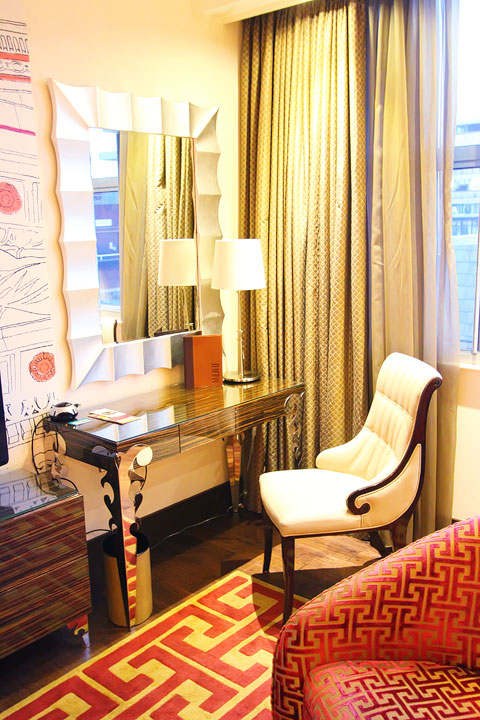 There was plenty of space in the room and it was easily accessible to nearby public transportation. There was an underground entrance just one block up, and there was a bus stop right in front of the hotel. We got an Oyster Card and used public transportation to get around everywhere in London! It was so easy to use and figure out, especially with the Google Maps app. You just type in where you want to go, and it tells you exactly what bus or train to get on, where it is, and when to get off.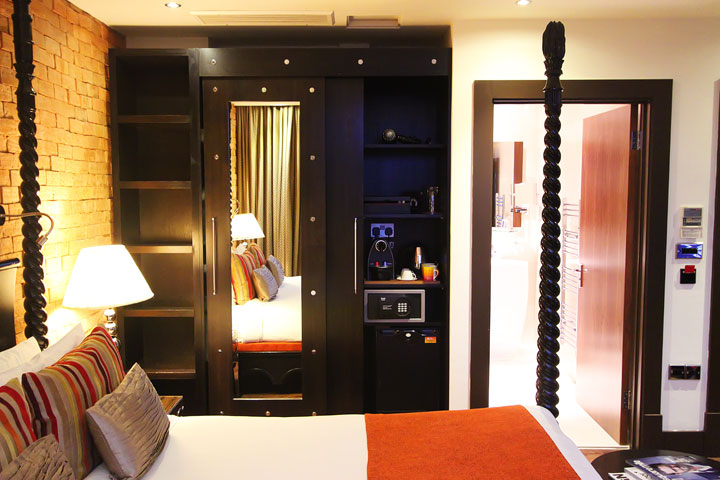 Since we changed rooms almost every single night in Scotland, it was nice to get to London and stay in the same place for 5 nights. It gave us a change to settle in and reorganize our suitcases! Loved all the open shelves right by the bed so we could unpack a bit.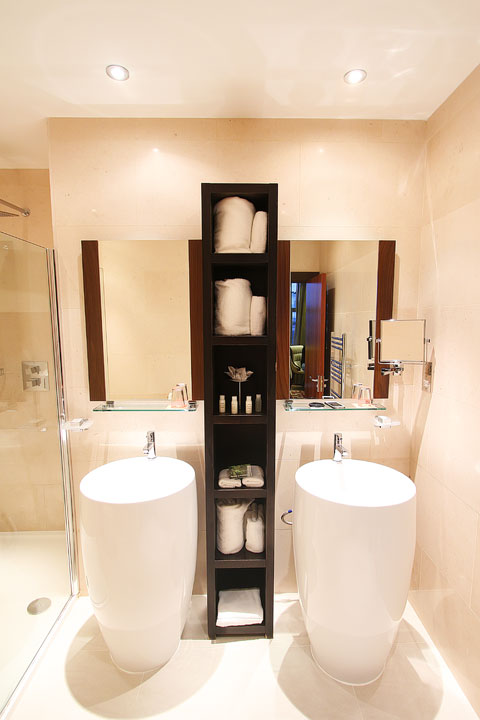 The shelves in the bathroom were awesome for all of our toiletries. I loved the open shelves so we didn't have to worry about forgetting anything in closed drawers.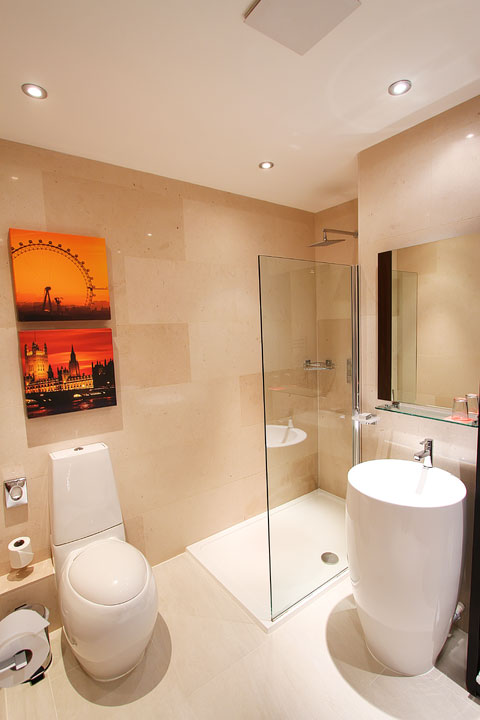 It was a very futuristic Loo. ;)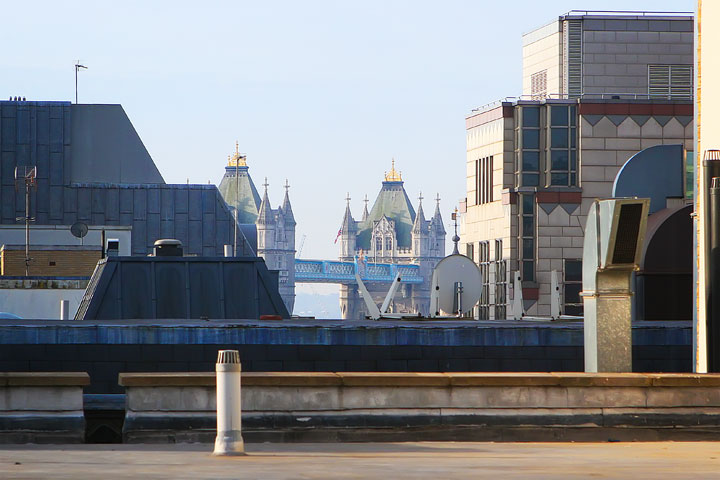 This was our view out the window. We could just see the top of the Tower Bridge.
Here's a link to their webpage for more information: Hotel Indigo London – Tower Hill

View London in a larger map
And here's a map of everything we did in London, so you can see where everything was in relation to our hotel. The Hotel Indigo is the green icon on the right. We could've chosen a more central hotel, but we liked the more affordable price of the Hotel Indigo. ;)
Click here to see this map on a larger screen along with a list of all the places we went.
More to come soon!! Next up is everything we ate in London and then… Paris!!!! :) Stay tuned!! Be sure to subscribe to our email update list so you never miss a post. :)
Follow along on our Scotland, London, and Paris Vacation!
Scotland
Scotland Day 1 & 2 — Inverness, Loch Ness, Skye, and Talisker Bay
Scotland Day 3 — Skye, Fairy Pools, The Highlands, and Oban
Scotland Day 4 — Islands of Scotland: Mull, Iona, and the Cave of Melodies
Scotland Day 5 — Fa'side Castle, Edinburgh
Scotland Day 6 – Edinburgh & Castle Driving the Coast of Scotland
Everything I Ate In Scotland
London
London Day 1: Notting Hill, Seven Dials, and The London Eye
London Day 2: Tower of London, Borough Market, and Big Ben
London Day 3: Trafalgar Square, Piccadilly Circus, Fortnum and Mason
London Day 4: Bakery Hopping, Harrods Food Hall, and the London Tower Bridge
London Day 4: Sunset at The View from The Shard
Where We Stayed In London: Hotel Indigo Tower Hill
Everything I Ate In London
Paris
Paris Day 1: Sunrise and Sunset at the Eiffel Tower
Thanks so much for looking!!