Hot diggity dog, folks! There were 420 entries in the weekend giveaway! That's a new record here on kevinandamanda.com! :) The last record-breaking giveaway had 282 entries… With this giveaway's 420 entries, that's almost DOUBLE the the amount of entries from last time!!
Since ya'll doubled the amount of entries- Crystal and I decided to double the amount of winners!!! :)
That's right! Instead of 2 winners for this giveaway, there will be 4! :) Are you ready to find out who won?? Here we go!
The August Kit Winners are…
And the September Kit Winners are…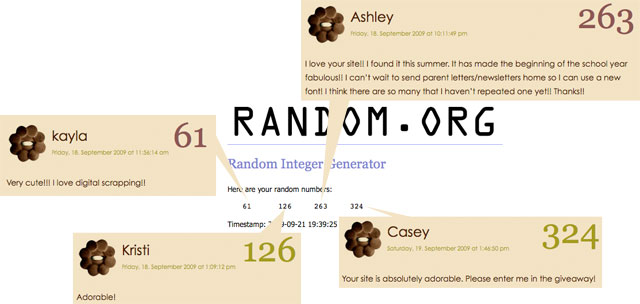 Not only did we double the winners… But as a thank you for the tremendous turnout for this giveaway, Crystal is offering a special "Double Your Money" Deal on ALL her kits!! Just for kevinandamanda.com readers!!! :)
Here's how it works… Head on over to Crystal's store at JessicaSprague.com. Whatever amount you spend in her store, Crystal will MATCH that amount- essentially doubling your scrapbooking money!! For example, if you spend $5 in her store, you get an additional $5 to spend- for free! If you spend $50, you get an additional $50 to spend!! For free!! :)
But hurry, this offer is only good through the month of September!
After you purchase your kits from JessicaSprague.com, all you have to do is forward Crystal your reciept at creativitybycrystal@yahoo.com and let her know how you what kits you want to get- and how you want to spend all that moolah! :)
Is that not an awesome deal or what?? :) Head on over to Crystal's store and see what all she has to offer! Like her newest kit, the September 2009 Collection! You only got to see a teeny tiny sneak preview last Friday, but here's the entire kit in all it's glory! :)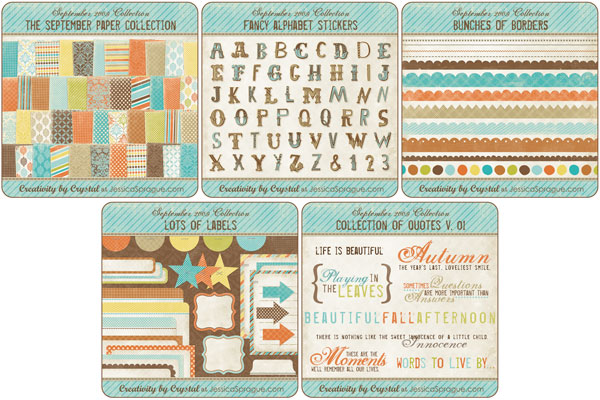 Look at that adorable alpha! And those borders!! And all that paper!!! Mondo mega kit, baby! If you've never digital scrapbooked before, now's a great time to start. Just look at the incredible layouts Crystal was able to make with her September 2009 kit just from using  a template!!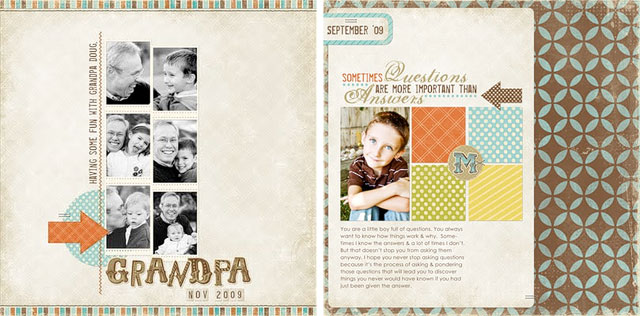 She whips out those pages lightening fast! Crystal even has a video tutorial on her blog, walking you through step-by-step on how to make your first digital scrapbooking page using a template.
Oh, and guess what. Crystal and I are already hatching up a plan for next month's October 2009 Kit giveaway if ya'll double the amount of comments from THIS giveaway. Hehehe. So get those commenting fingers ready and stay tuned!! :)
Thanks so much everyone!!! :)