For the digital scrapbookers in the house!
This giveaway is for another amazing installment in the monthly Project 365 kits from Crystal Wilkerson. If your're just joining us here at kevinandamanda.com and this is your first Crystal Wilkerson giveaway- let me just tell you… These kits are huge. And awesome. And huge!!! There are tons of papers, tons of elements, brushes, borders, templates galore… just lots and lots of digital scrapbooking goodies! Much more than what would come in your average kit. These are MEGA MONSTER kits if you will! ;)
And every new design Crystal comes out with is my new absolute favorite. :) Not only are these kits huge and awesome, but I also think they're great for beginners- especially if you've never digitally scrapbooked before. Crystal has awesome tutorials on her site to help you make your first page! And you don't even need the full version of Photoshop, you can also use Elements. :) And … (as you can see on my blog :D) her kits make awesome blog layouts! So if you've been thinking of giving your blog a makeover… go ahead and enter! You might just win the perfect kit to do it with!
So! What kit are we giving away this month? Wellll…. There are TWO kits! And that means there will be TWO winners for this giveaway! :)
The first winner will get Crystal's August 2009 Collection– the entire collection! This is just a few of the elements from the collection- the full kit includes much more! Check out all the pieces in her store.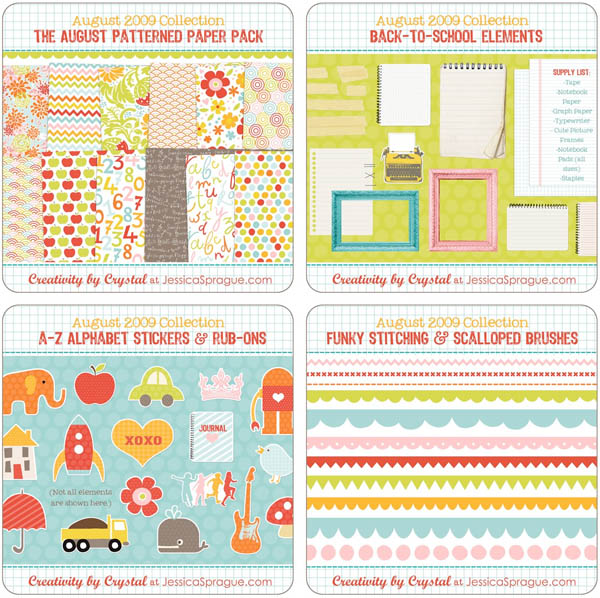 Isn't it so cute?? :)
The second winner will get Crystal's brand new, not even released yet, September 2009 collection. This kit is so brand-sprankin' new, I can only post this one, teeny tiny, sneak preview teaser!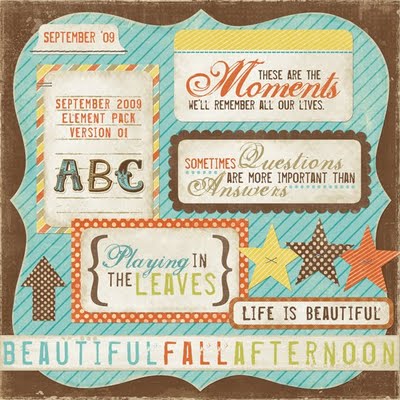 But! You can see a little bit more on Crystal's blog! So hurry over there and check it out! :)
And while you're there, if you'd like a second chance to win this kit, Crystal has the same giveaway running on her blog right now, so you can enter over there too! :)
And don't forget to check out the awesome charity kit Crystal has on her blog right now! Just look at this gorgeous thing!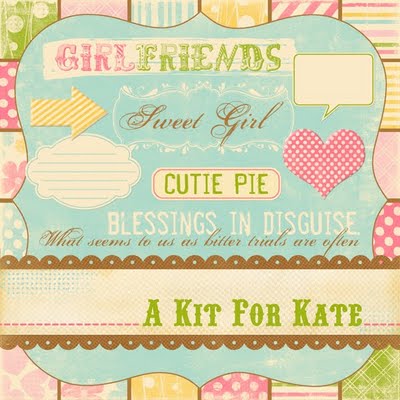 You can read about Kate's cause on Crystal's blog, and for a minimum donation of just $5, you can get that entire kit. That whole thing! Awesome deal! :) And all the proceeds go to a good cause! Aww… :)
Okay, so! To to be entered to win the August 2009 & September 2009 Project 365 Collections from Crystal Wilkerson, all you have to do is leave a comment on this post. One entry per person, please! :) The two winners will be chosen by their comment numbers which will be picked by Random.org's number generator. This contest will end on Sunday, September 20, 2009, at 11:59 pm.
Thanks so much for looking and GOOD LUCK!!! :)