Because it's rainy, and because all I want right now is a hot, creamy bowl of chicken and dumplings, and because it's really starting to feel a lot like fall around here…
Let's talk about fall. Let's talk about new, crisp, fall clothes. I love this time of year- bundling up in layers of corduroy, sweaters, and scarves. I'm completely in love with the delicious berry colors that are oh-so-popular right now.
Here are some fun new fall pieces I picked up this weekend with my mom- we headed out to the mall and shopped that place out! ;)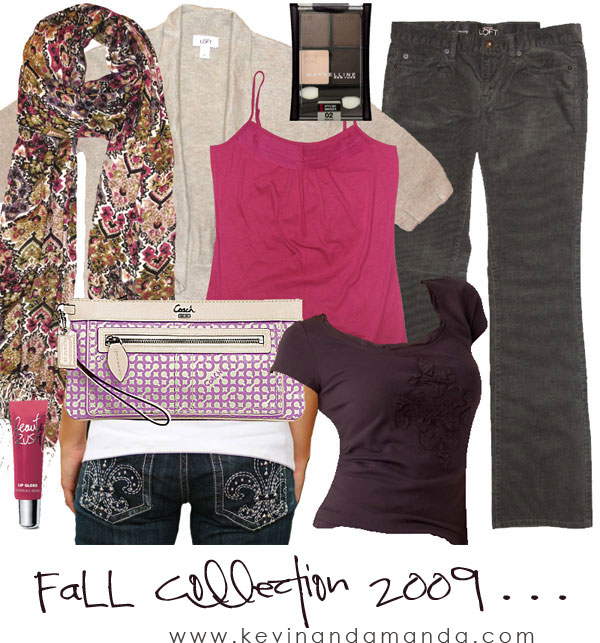 Ok, it was mostly Ann Taylor Loft that we shopped out. I love that place! :) I stuck mainly with layers I could mix and match- more bang for the buck! ;) Tank tops under sweaters, cute tees that can be worn now while it's still warm, then layered over a long sleeved white tee when it gets cooler, and warm, gray corduroys that go with everything.
Here's a closer look…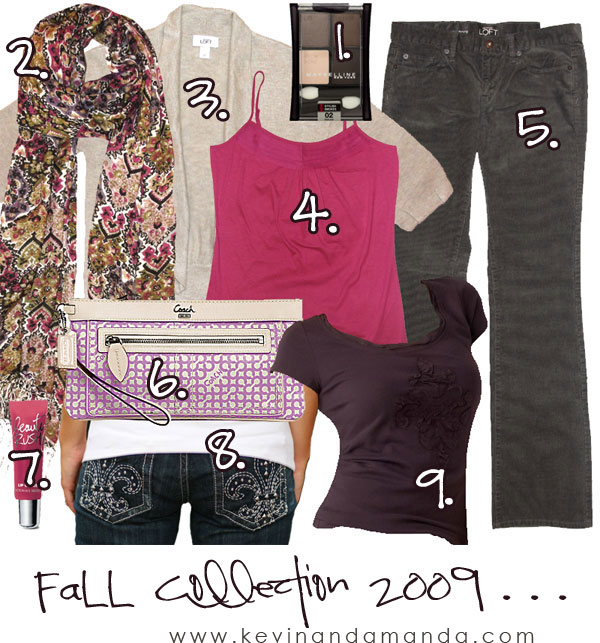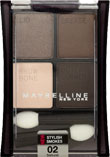 1. Maybelline Expert Wear® Eye Shadow Quads (Natural Smokes)
I saw an ad for this in InStyle while flipping through the magazines the last time I got my hair cut. I instantly fell in love. Let me tell you. I know NOTHING about makeup. Literally. Nothing. Especially eye shadow. For the past 5 years I have been wearing blush, YES blush, as my eye shadow. I just threw it on. The lid, the crease, the brow bone, everything. I longed for those smoky, sultry eyes, that just popped (Jennifer Love Hewitt's look on Ghost Whisperer, anyone?). I even watched a youtube video on how to get that look. It helped a little. But this. This eye shadow. It does everything for you. It comes with four coordinating colors and it tells you exactly where to put them: lid, crease, brow bone, and corner. It even shows you a picture on the back of EXACTLY where to put each color! Just what I needed! I need someone to hold my hand and walk me through every baby step when it comes to makeup. Sure, I can dive into pages of of gnarly CSS, HTML, Javascript and PHP when it comes to blog makeovers. But makeup?? Real live makeup? Hold me. This eye shadow does just what I need.
2. Folklore Paisley Scarf from Ann Taylor Loft
Love this scarf! Love it! Fell in love with it immediately. Everything I bought for fall goes with this scarf. People are going to get sick of me wearing this scarf! :D I even wore it to dinner with friends last night, even though the temperature outside was a balmy, 75 degrees. Help me.
3. Bolero Dropped Shoulder Cardigan in Cedar Heather from Ann Taylor Loft
Sooo soft and cozy for layering over tank tops and tees! Goes great with jeans and cords.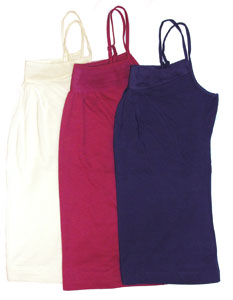 4. Chiffon Trim Cami from Ann Taylor Loft
Very comfy, and the pleating across the chest is actually very flattering. I got a couple of these in different colors for layering.
5. Corduroy Modern Boot Leg Pants in Shadow Grey from Ann Taylor Loft
I like corduroy, but what I loved about these was the COLOR! It's a really warm gray- immediately draws you in- and it goes so well with the pinks, creams and purples. These pants will definitely be getting their wear this fall!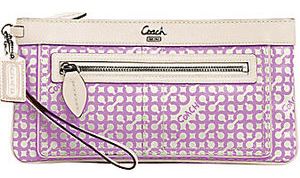 6. Coach Penelope Op Art Clutch – from the Coach Outlet store in Foley, AL
Kevin's mom bought this for me over the summer when we went to the Foley Outlet Stores. Now talk about shopping that place OUT. We spent eleven hours there one Saturday. Yes! ELEVEN HOURS!! :) I went there specifically to go to the Coach outlet store- I knew I wanted a small clutch, just big enough for my keys, cell phone, and monies. I LOVED this one, but I wasn't so sure about the color. I wanted something to go with everything. I'm not one of those trendy, chic gals that changes my purse with every outfit. Although I wish I was. I really wanted it in just the classic, Coach brown. But this purple was what they had. And it was on sale. And it matched the outfit I was wearing that day. And I really, really, liked it. And Kevin's mom offered to buy it for me. :D It didn't take much to convince me. :D And you know what I discovered? That purple really does go with just about everything I own. It looks warmer with warm colors and cooler with cool colors. And I was just tickled pink (purple??) when I realized how well it would match my new fall getup!
7. Victoria's Secret Beauty Rush Lip Gloss
I hardly ever wear anything on my lips, and only lip gloss when I actually do remember to throw something on before running out the door. But I got a free sample of this lip gloss at the store one time and I really liked it! It gives my lips just a hint of color and a shimmery, glossy sheen. Not clown like. Not ultra fakey wet dripping supermodel like. Just right. And after flipping through the catalog at Ann Taylor Loft, and seeing how *every single one* of their models was wearing that berry pink lipstick color (that matches the tank top), I decided to follow the fashion trend- I got this gloss in Cupquake- the perfect pink to match my fall colors. Plus, I had just gotten a pedicure with OPI's Pink Flamenco, which totally also matches! ;)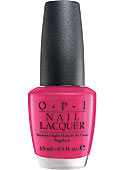 I needed a new pair of fall jeans, and the ones at Ann Taylor Loft fit me really well, but… Well. The design on the back of the jeans was… Well to be honest. They were butt ugly. *snicker* Get it? Butt ugly?? Ahem. Sorry… I just crack myself up sometimes. *SNARF!* Get it?? CRACK?? *wiping tears* Okay, I'm back. Anyway. Yeah, I really liked these jeans. Hey, if they gotta have a design on the back, might as well be cute right?? ;)
9. Fleur Applique Graphic Tee in Vintage Plum from Ann Taylor Loft
Love the color of this shirt, love the pattern, and hey! It matches my new jeans. ;) Can be layered over a scoop neck, long sleeve white tee for cooler days, or under a warm cardigan for even colder days! :)

Okay. That was fun. :D If you made it this far, thanks for sticking with my fall fashion rambling! ;) But what I really want to know is… What are YOU wearing this fall??! :) Or what do you WISH you were wearing this fall?? I would LOVE to see a blog post of your favorite fall pieces! :) Polyvore.com makes it super-easy to put together ultra-stylish collections. Hope over there and check it out- and if you post your collection on your blog, leave me a link! Pretty please? I wanna see!! :)