I recently went to Seaside, Florida with friends and we had an amazing time eating all kinds of food and hanging out at the beach. Here is all the best information on Seaside so you can plan your next weekend vacation!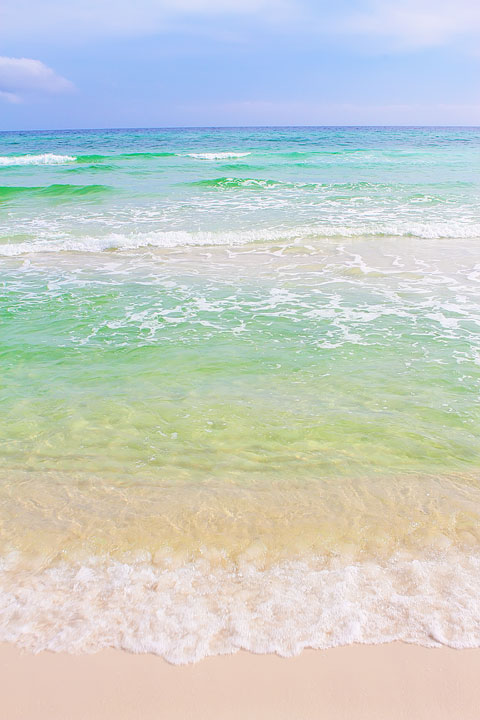 Weekend Vacation In Seaside, Florida Part 2
Welcome to Part 2 of our Girls Weekend Getaway to Seaside! Here's Part 1 if you missed it. :)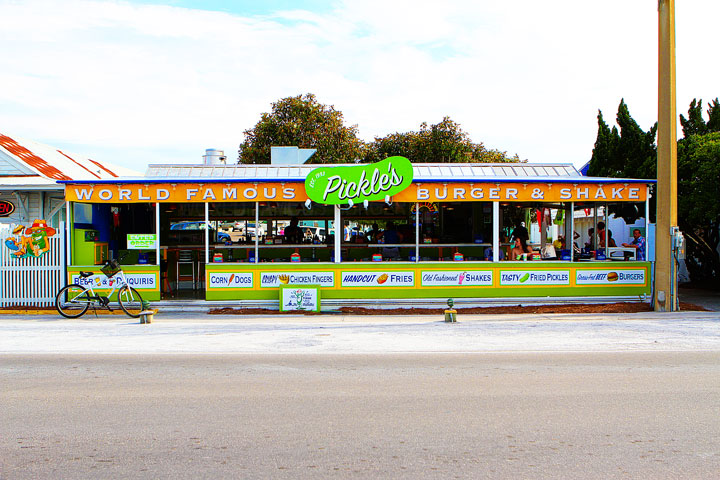 On Saturday morning we started our day with breakfast at Pickles. This is the cutest little diner right on the beach and right next door to our cottage!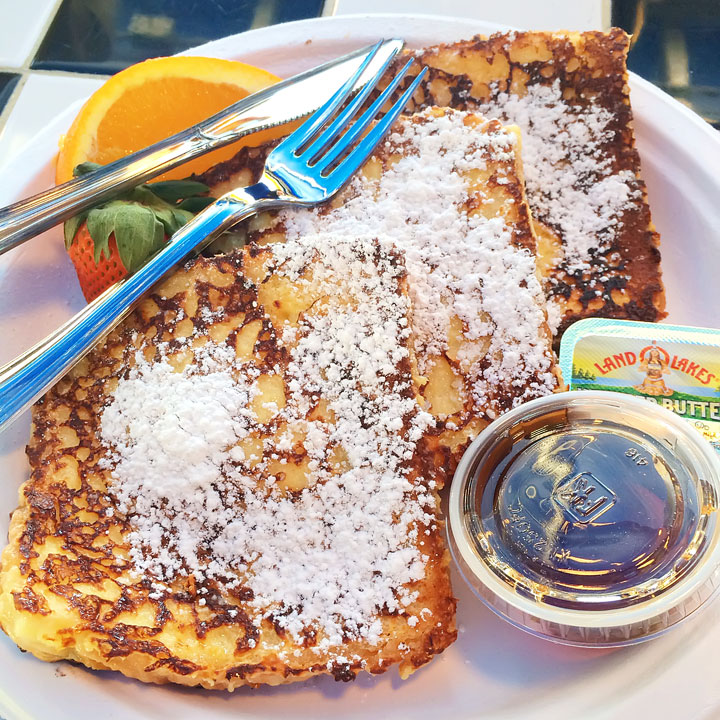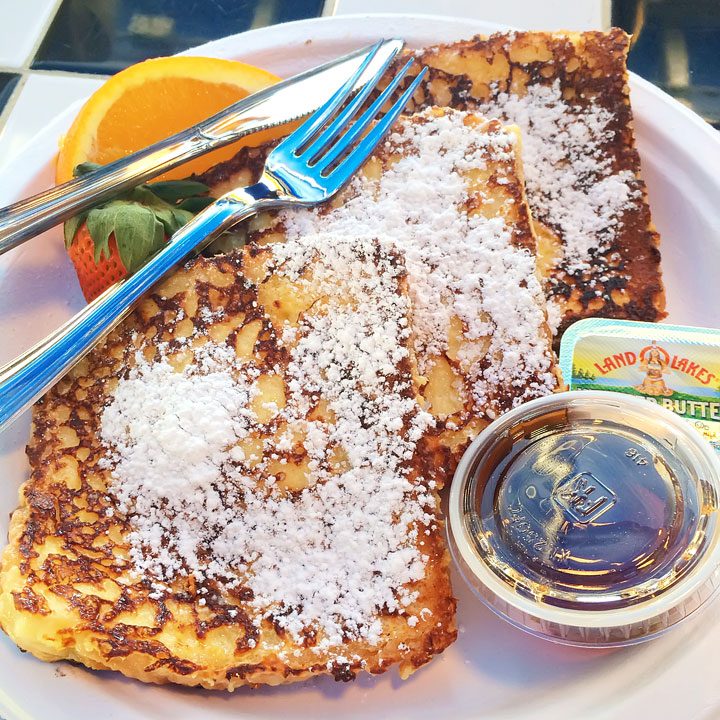 This French Toast Is A Must Try For Breakfast
You guys. This french toast. We were all dying over this french toast. It was soft, sweet, and delicious. The sweet owner, Heavenly Dawson, told us her secret. The french toast is dipped in a melted ice cream based custard before it is grilled on the griddle!! Melted Ice Cream French Toast!! Of course, lol!! This is a must try if you are a foodie in Seaside! :)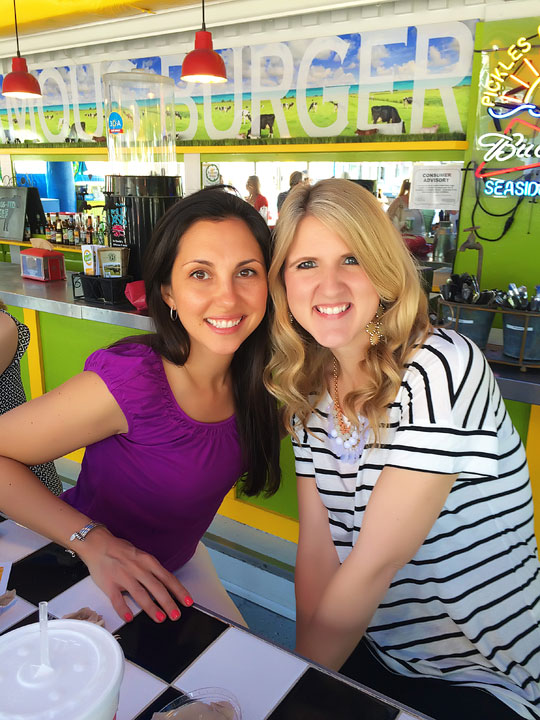 Sitting next to cute Gina from SkinnyTaste for breakfast! Gina's new cookbook, The Skinnytaste Cookbook, was just released for pre-order and within the first day it already shot up to the #2 bestseller on Amazon!! Congrats beautiful friend!!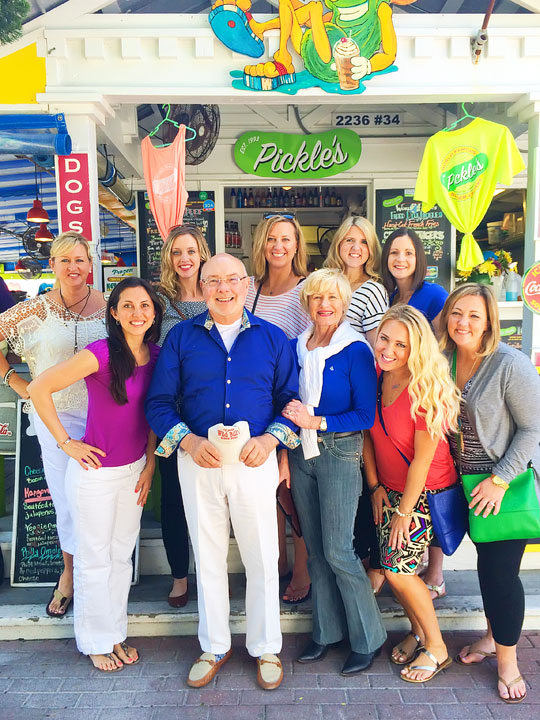 The owners Bill and Heavenly Dawson were just the cute, cute, cutest couple ever. It was such a pleasure getting to meet and chat with them over breakfast!! :)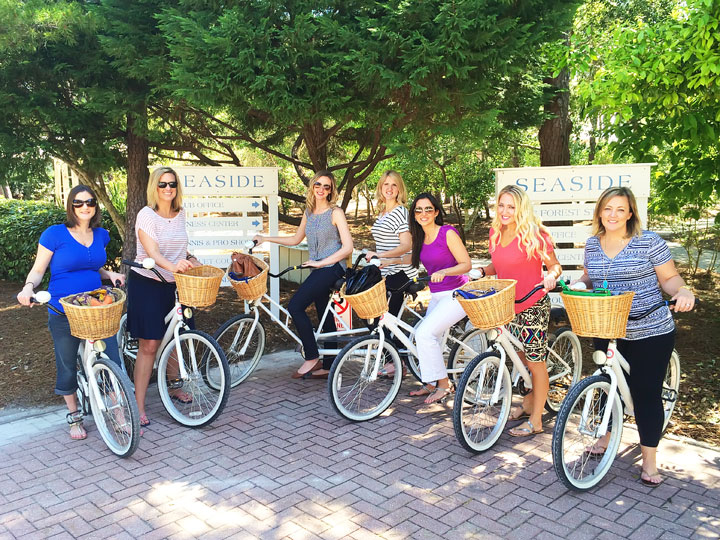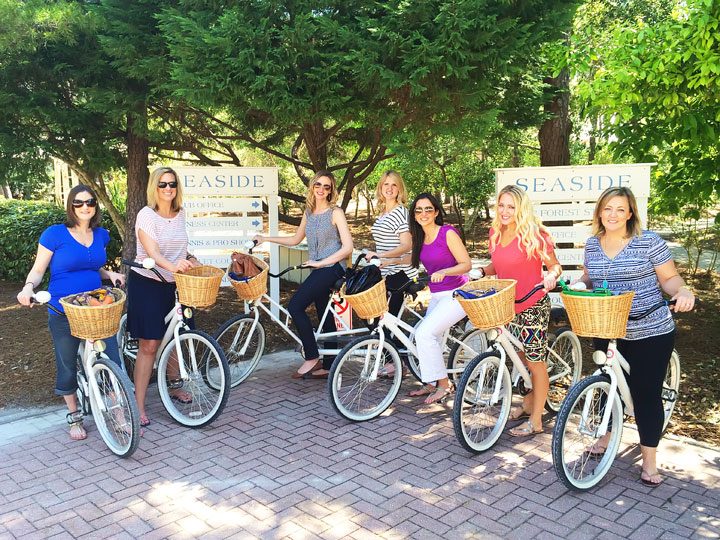 Riding Bikes Is A Fun Thing To Do In Seaside
After breakfast we all decided to hop on our beach cruisers and take a bike ride through the charming community of Seaside.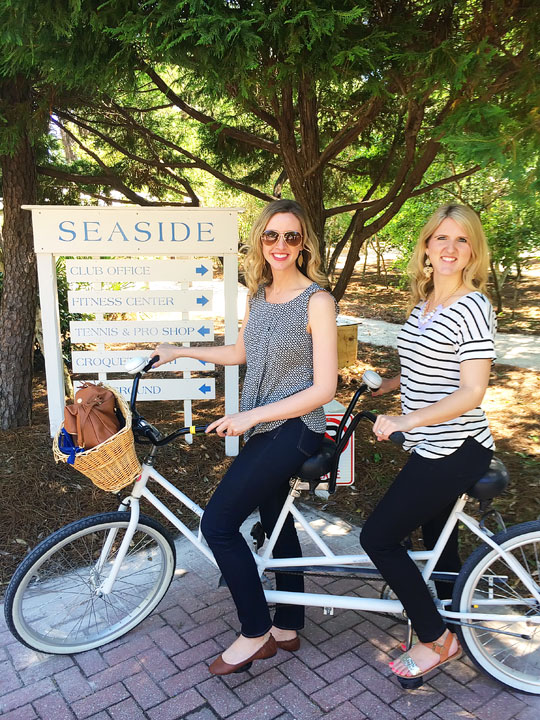 Ali and I were dying over this cute tandem bike and totally wanted to give it a try! I had never ridden a tandem bike before, but it is actually a little harder than it looks, lol! We eventually got the hang of it, but I was kind of expecting to just be able to sit back and enjoy the ride since I was on the back, lol!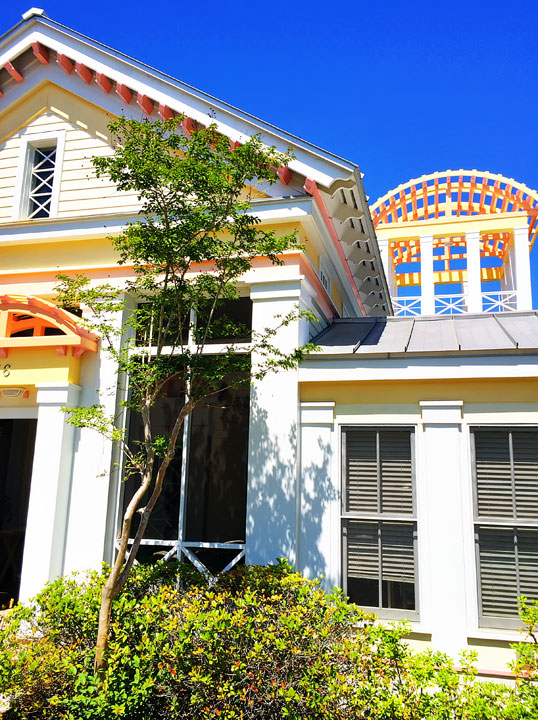 The Truman Show House Is Located In Seaside
We rode by The Truman Show house! The Truman Show was filmed in Seaside, and after our spending a few days there and getting a feel of the community, I can totally see why they picked it. Seaside really is just like it's portrayed in the movie — a beautiful, charming, super friendly place to call home.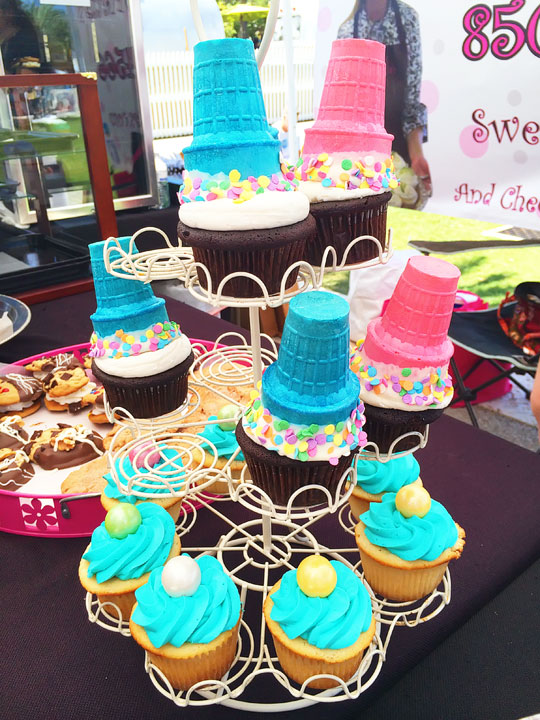 After our bike ride, we came back to town and stopped by the Seaside Farmers Market. If you are in Seaside on a Saturday, the farmers market is a must see!!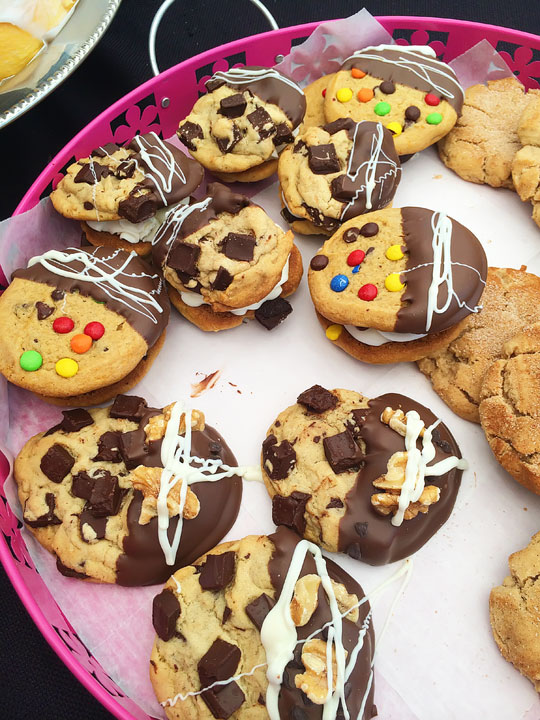 There were so many cute vendors with delicious treats!!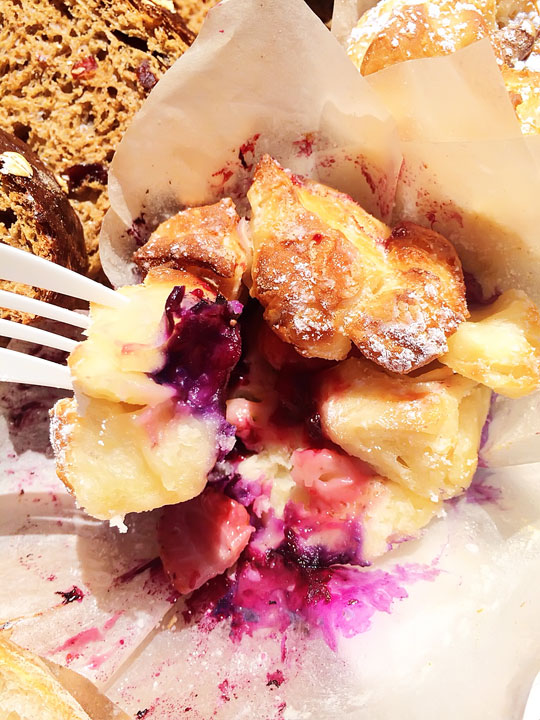 Loved these berry-stuffed doughnut croissants!!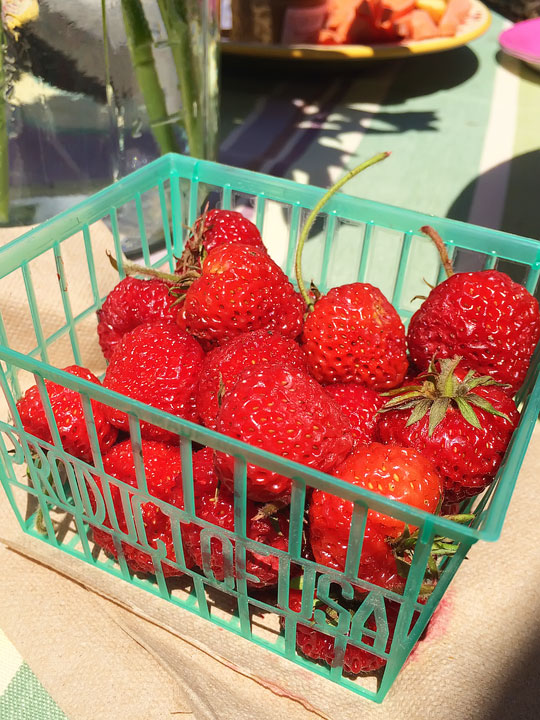 Sweetest strawberries ever!!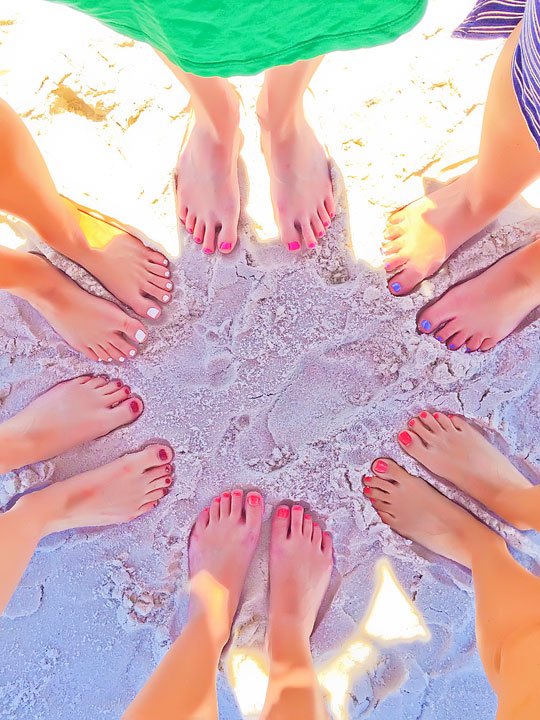 The Beaches In Seaside, Florida Are So Beautiful
After thoroughly stuffing ourselves with sweets and strawberries, we just wanted to nap in the sun with our toes in the sand.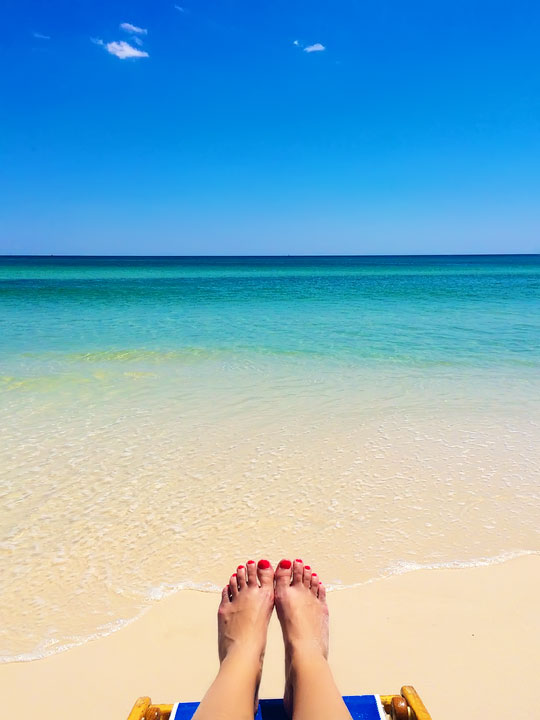 Totally the life!!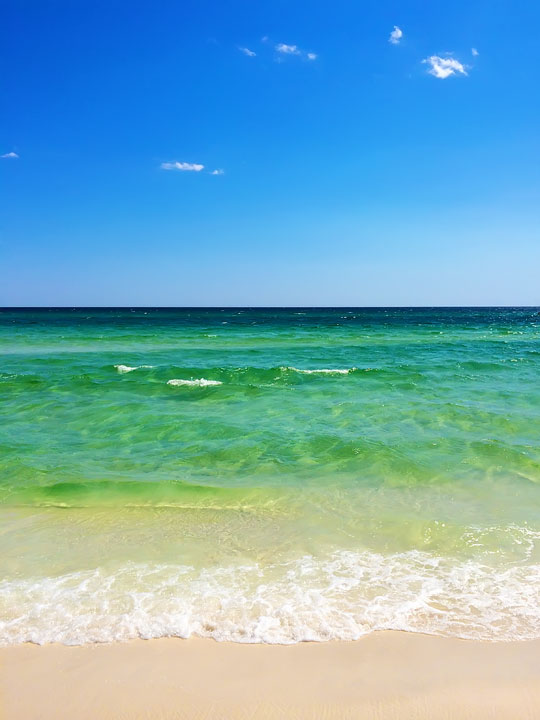 I love Seaside's gorgeous turquoise waters! The sand is sugar white and the waters are crystal clear. You can see all the way down to the bottom even when the water is over your head.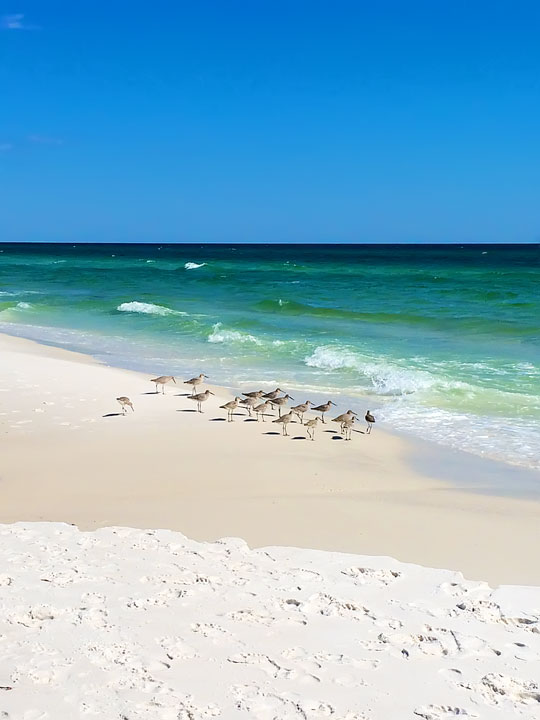 This cute little gaggle of birdies seemed to be totally loving their afternoon at the beach, lol!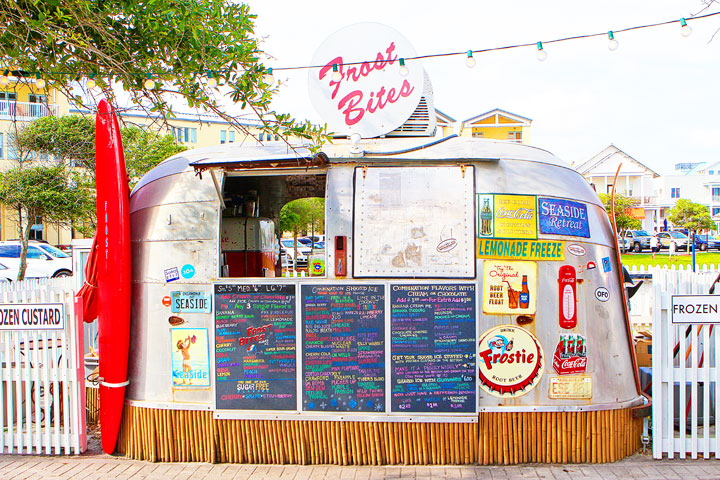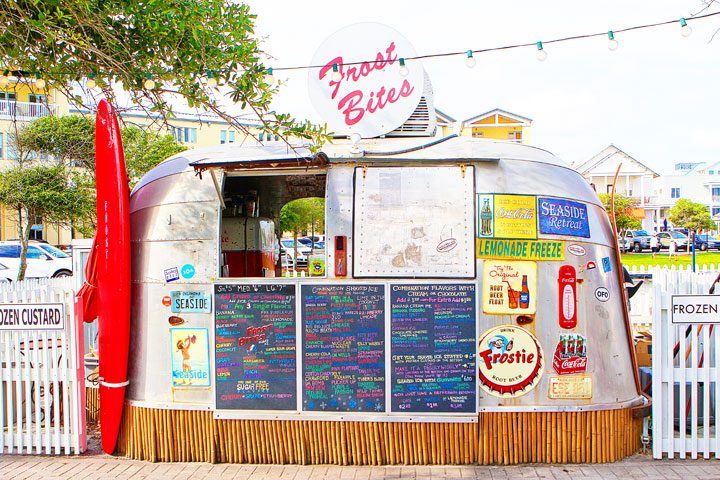 This Was One Of My Favorite Places For Food In Seaside
Okay. This was one of my favorite things we had in Seaside!! This cute little shaved ice airstream truck serves shaved ice and frozen custard. Perfect treat for a hot day after an afternoon of sun bathing!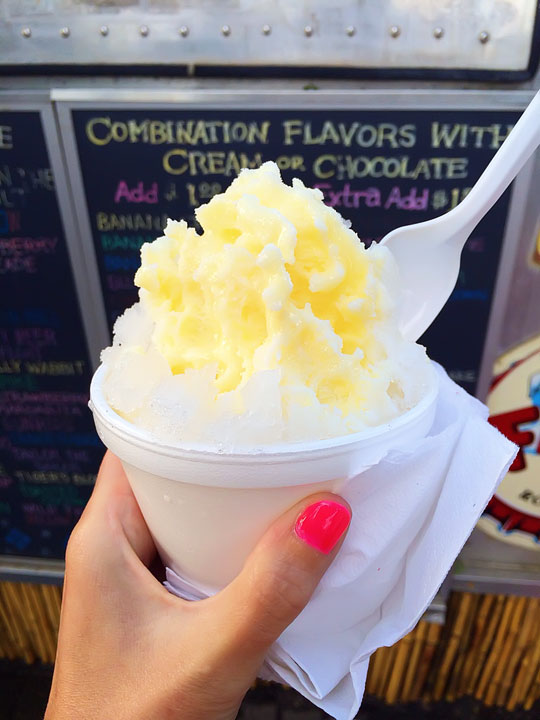 This is what they call the "Piggly Wiggly." It's frozen custard on the bottom, shaved ice on the the top, and drizzled with sweetened condensed milk. I got vanilla frozen custard with Wedding Cake flavored shaved ice. You must try this one!! It is so, so good! There are a million different flavors to choose from, so if you can't decide, pick this one!! :) This was hands down the favorite of all the ones we tried. :)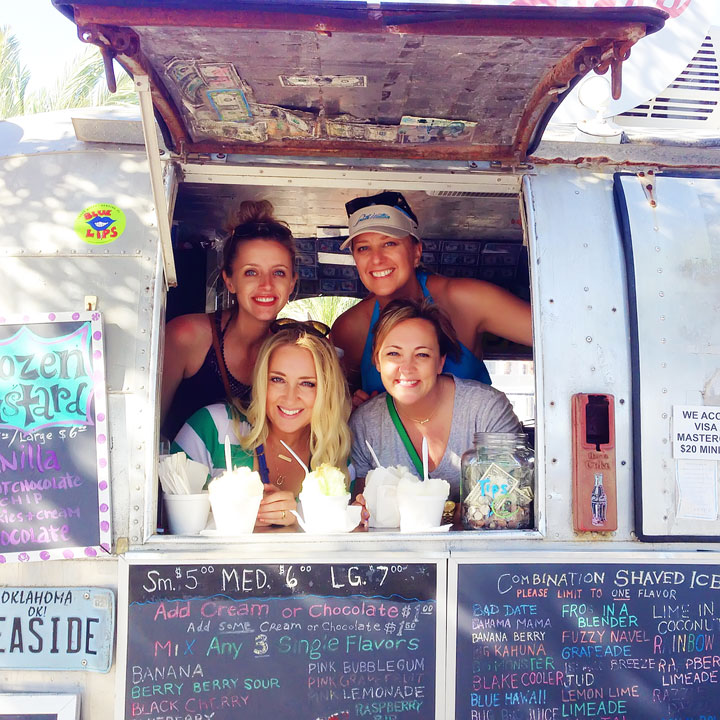 Photo via Heidi
We heart Frost Bites in Seaside!!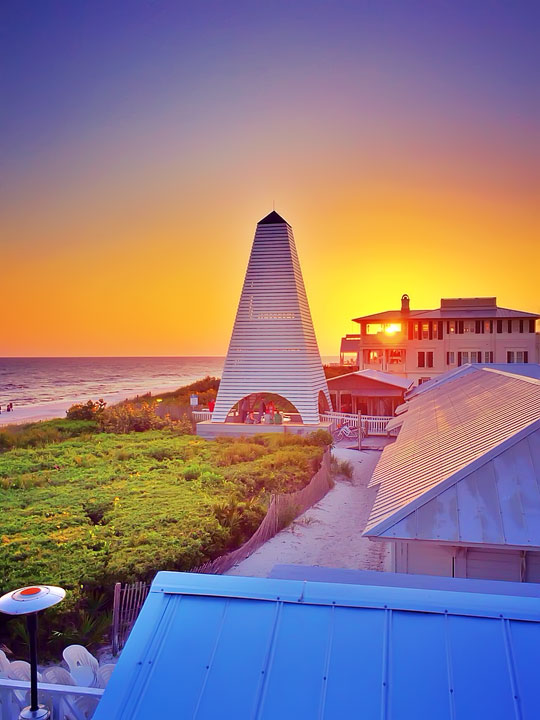 On our last night in Seaside we had a sunset dinner at Bud and Alley's.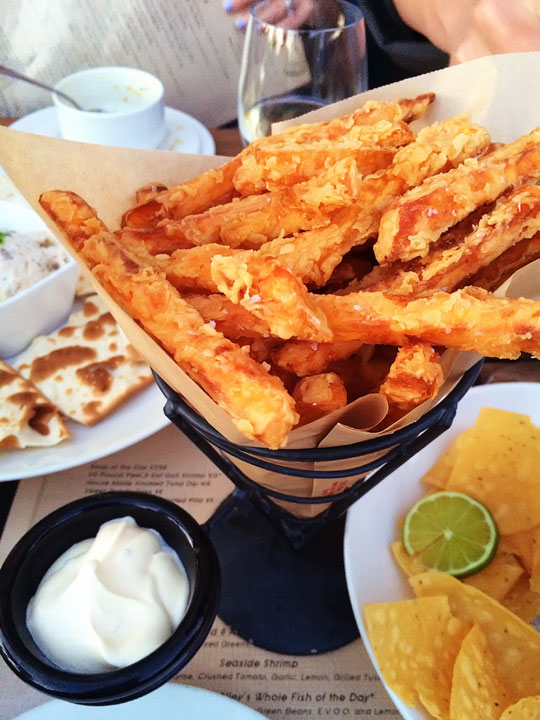 Would you look at these sweet potato fries?? :) Such a great atmosphere for dinner at the beach.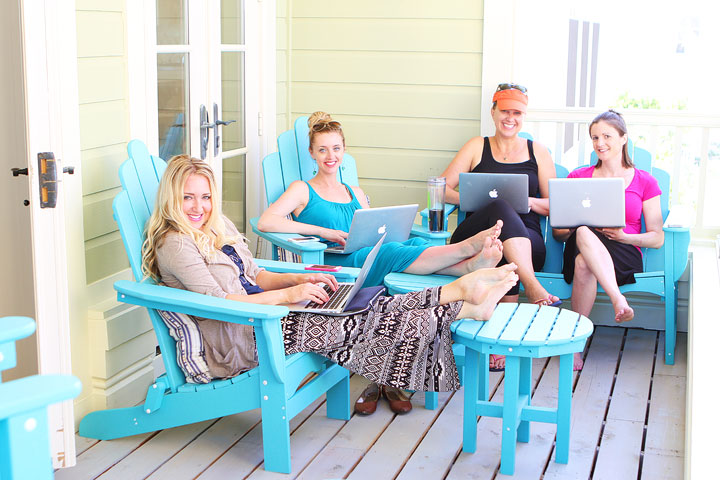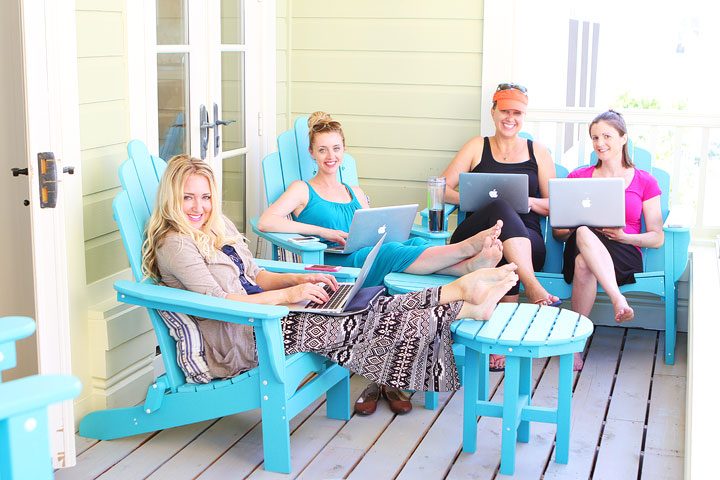 The next morning, our last day in Seaside, we all totally took it easy. We stayed in PJs, sat out on the deck, and did a little catching up on our blogs.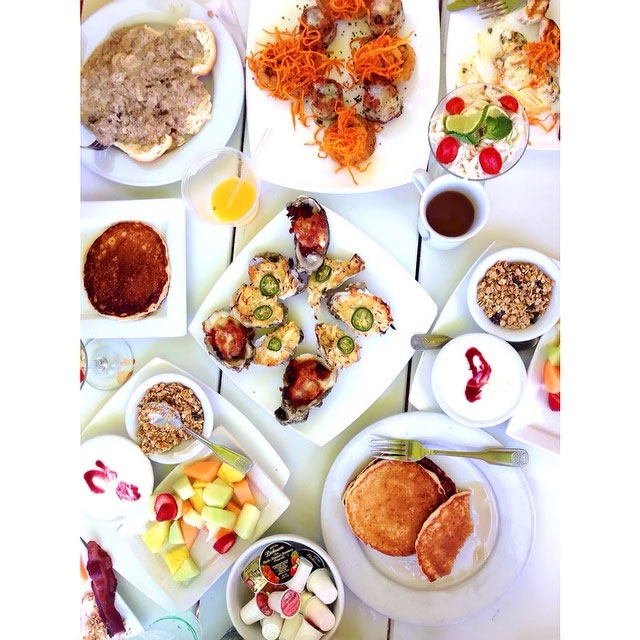 Photo via Maria
We Loved This Cafe For Brunch
Later we had a late brunch at Great Southern Cafe. Delicious food here!! We loved the Grits a Ya Ya, Biscuits and Gravy, Pancakes, Eggs Benedict, and more!!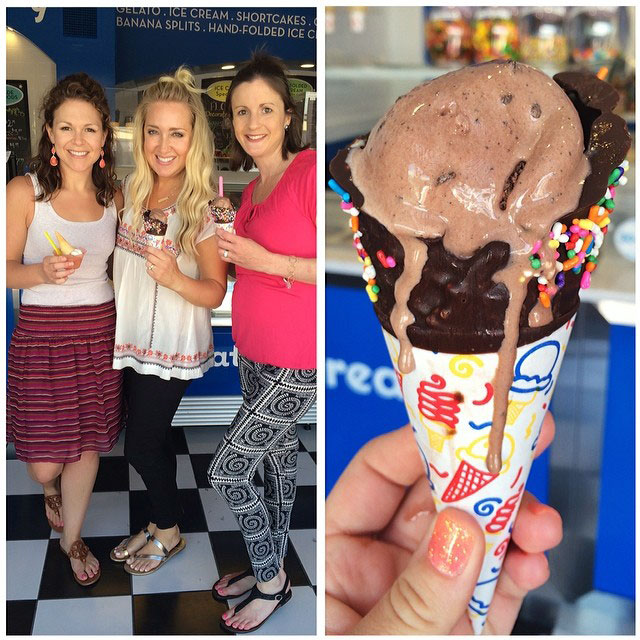 Photo via Jenny
After a little after-brunch shopping (Seaside has the cutest boutiques ever!!) we popped into "It's Heavenly" for some some decadently delicious gelato.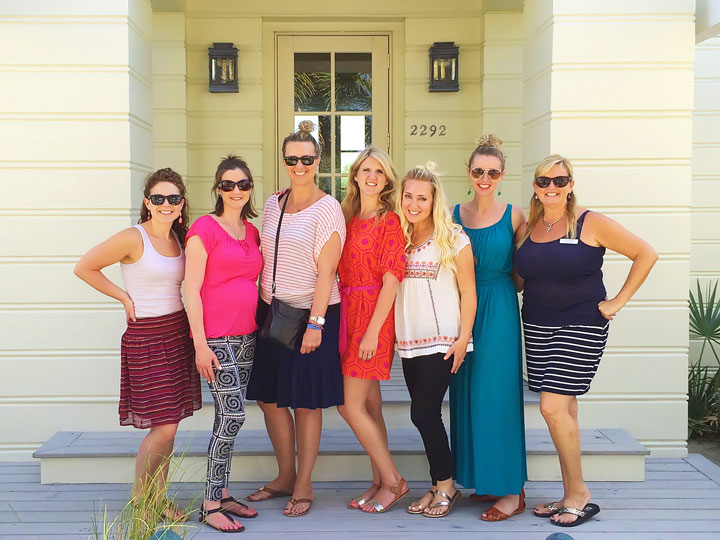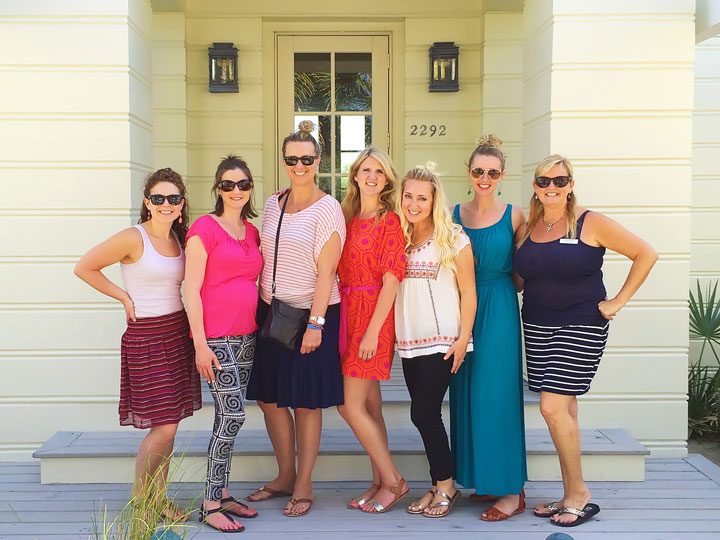 So glad that Molly from Duchess of Fork got to come over and join us on our last day in Seaside!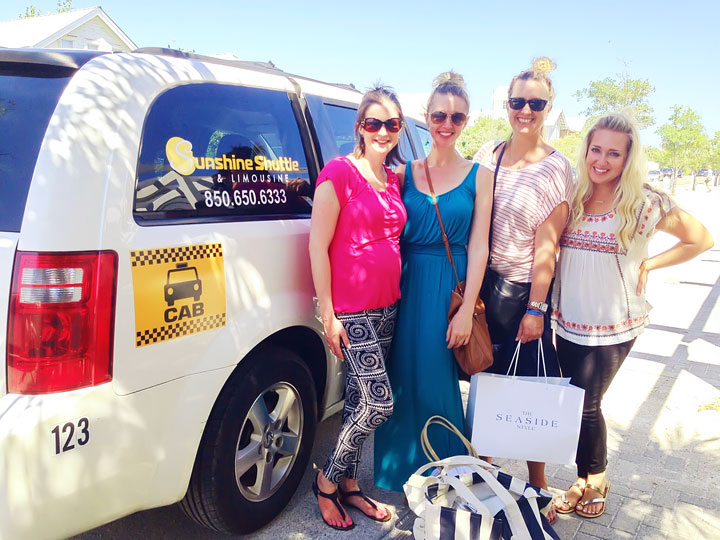 When it was time for everyone to head back to the airport, the wonderful folks at Sunshine Shuttle came and took everyone to the Panama City airport.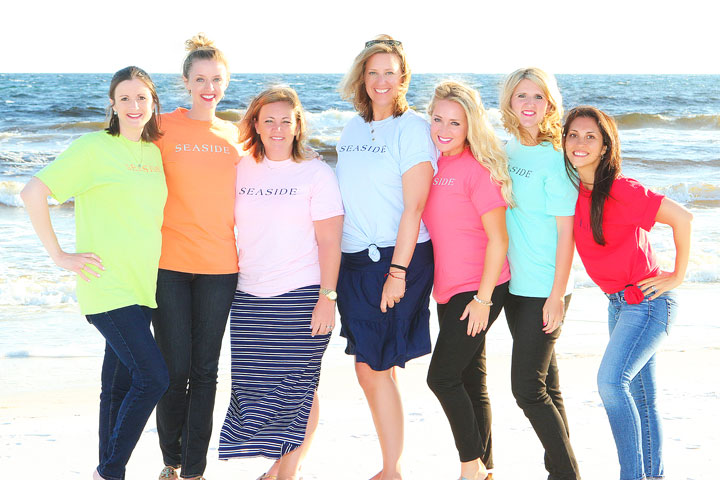 I feel so lucky to have spent the weekend in such a beautiful place with this amazingly talented group of ladies. Click on the links below to check out their Seaside posts below for more pictures from our weekend! :)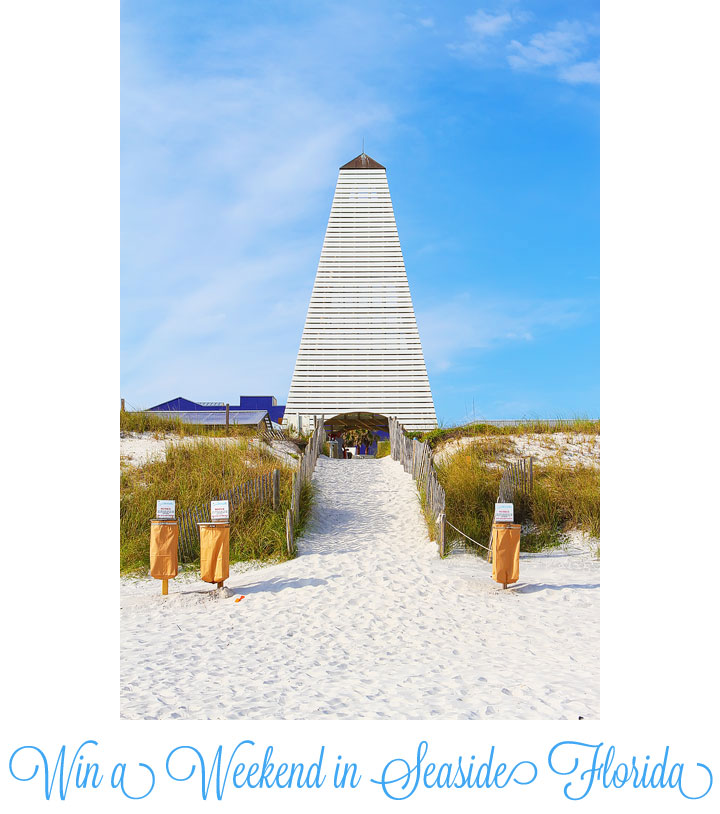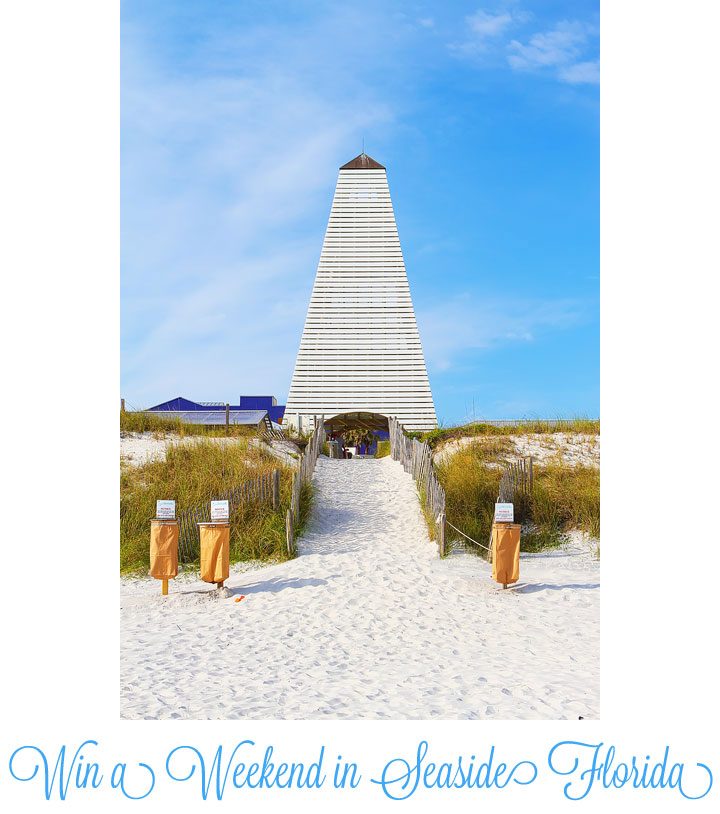 How To Win A Weekend In Seaside, Florida
Now we want to give YOU your own chance at a weekend getaway in Seaside!! Today we are partnering with Seaside and Cottage Rental Agency to send you and your friends on your own 3 day, 2 night getaway to Seaside!!
The Seaside, FL Giveaway
One lucky winner will receive a 3-day, 2-night stay in a 3-bedroom Cottage (sleeps up to 5) from Cottage Rental Agency in Seaside, Florida.
How to Enter This Florida Vacation Contest
Use the PromoSimple Widget below to enter.
Contest ends June 1, 2014 at 11:59 pm CST. Winner will be contacted via email.
*Lodging certificate valid 8/17/14 – 12/20/14. Subject to availability; not available during major holiday or major event weekends; additional restrictions may apply.