I recently went to Seaside, Florida with some friends and we had the best time eating delicious food, seeing the sights, and hanging out at our gorgeous rental cottage. Here is all the information you need to plan your next trip to Seaside!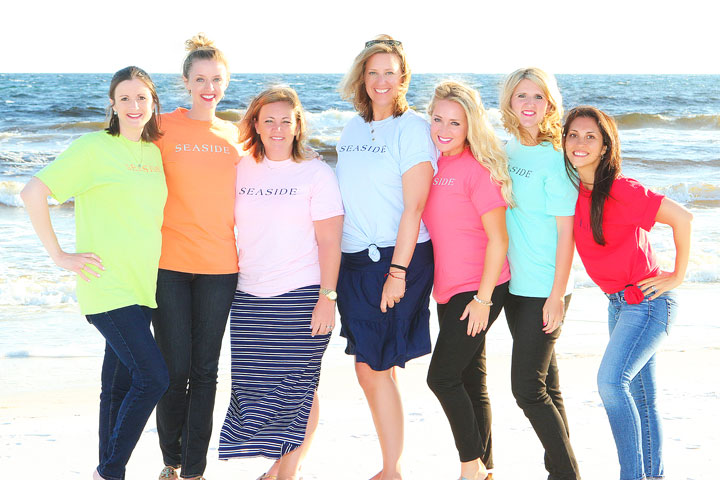 Maria, Ali, Shelly, Heidi, Jenny, Amanda, Gina
Seaside Florida Is Perfect For A Quick Weekend Trip
Hi friends! I am interrupting the Scotland / London / Paris posts really quick to bring you some fun photos from the beach! :) A few weekends ago I met up with some girlfriends in Seaside, Florida for a quick girlfriend getaway.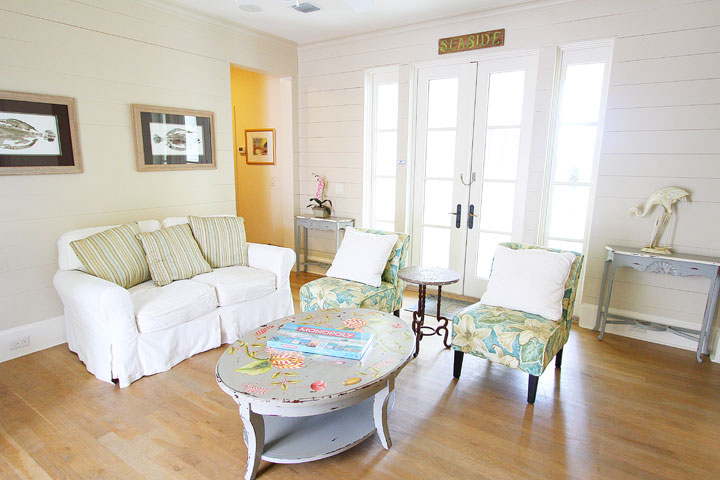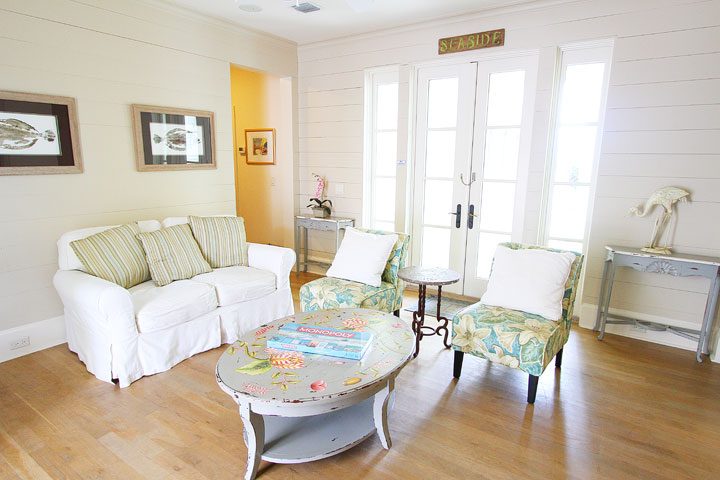 I drove down from Alabama, and Ali, Shelly, Jenny, and Heidi all came in on the same flight. Blogger party in the ATL airport! ;) Maria and Gina flew in and met up with us later. :)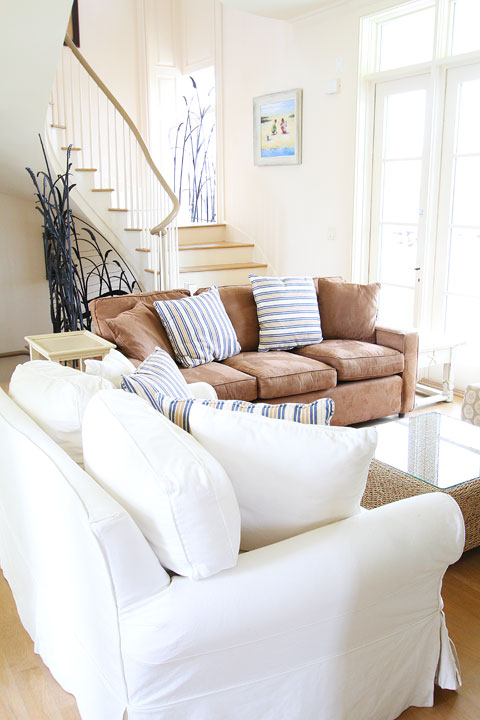 This Gorgeous Rental Cottage Is Right On The Beach
We all stayed together in a gorgeous 5-bedroom cottage right on the beach. The name of the rental was the See Ya Cottage from Cottage Rental Agency in Seaside. In the photo above is the living room right as you walk in the front door. To the left is a bedroom with 2 sets of bunkbeds, full bath, a butler's pantry with mini fridge, and a laundry room. To the right is a bedroom with 2 double beds, en suite bath, and the staircase to the second floor.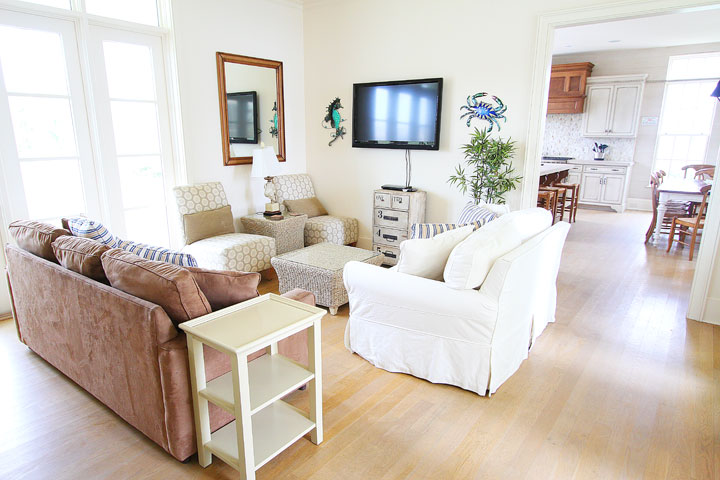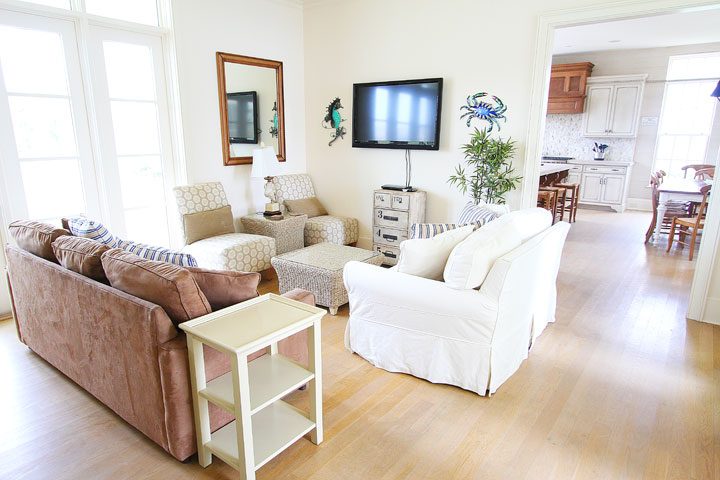 The Rental Cottage Was Huge And Has The Best Views
I had seen pictures of the cottage on their website, but I had no idea what a treat we were in for until we got there. There were 3 floors, 5 bedrooms, 5.5 baths, and a small kitchenette with fridge on every floor. There was even an elevator! Each floor also had it's own large private balcony with a seating area facing the ocean. We were in hog heaven running up and down the stairs oohing and ahhing over every room! Each floor had high ceilings for days and tons of natural light. The only time I have ever been in a house this big was our cottage last year at Seaside and at the Better Blog Retreat in Park City.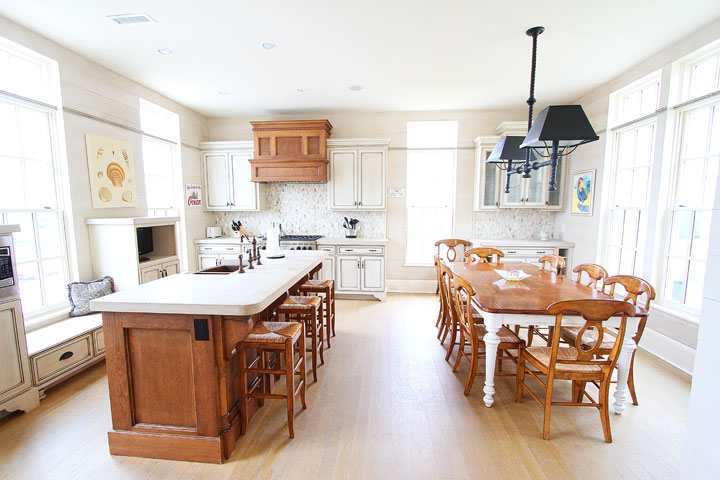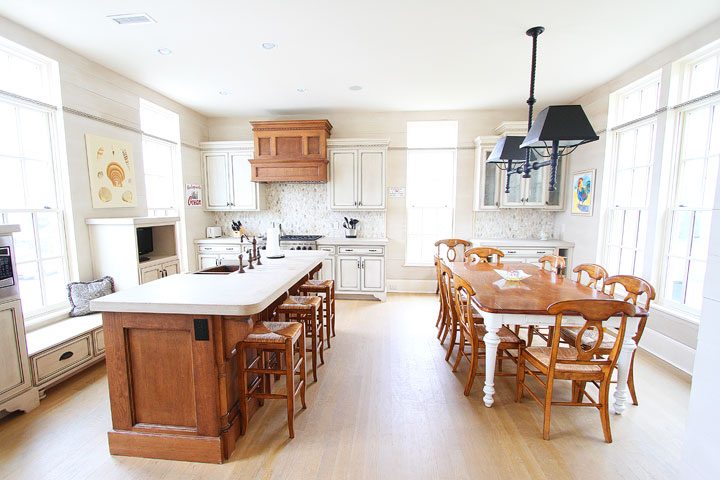 Here's a view of the second floor. Behind me is a king bedroom with en suite bath. To the left and right are outdoor balconies with seating areas. Beyond this room is the ginormous kitchen and a half bath.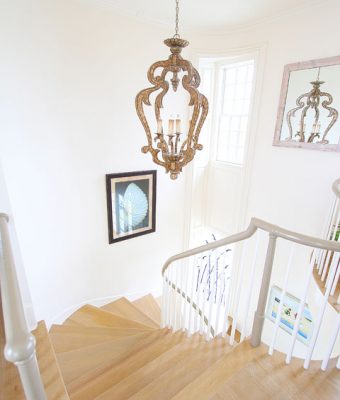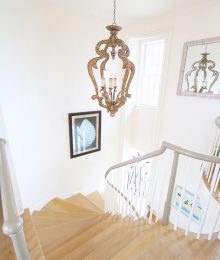 Loved this huge kitchen! How fun is that window seat? :)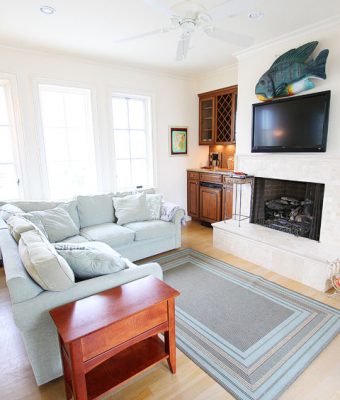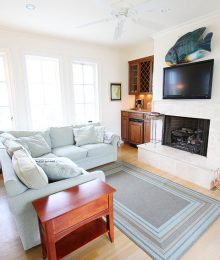 We took the stairs one more time up to the third floor…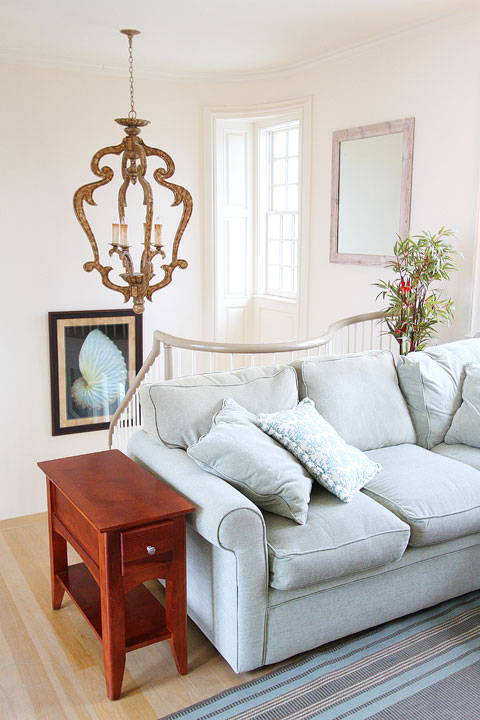 The third floor living room is where we hung out most of the time, curled up on the couch and chit-chatting by the fire at night in our PJs.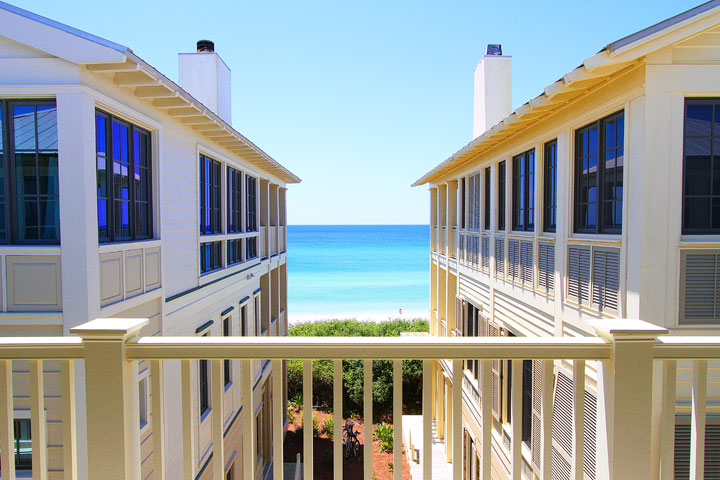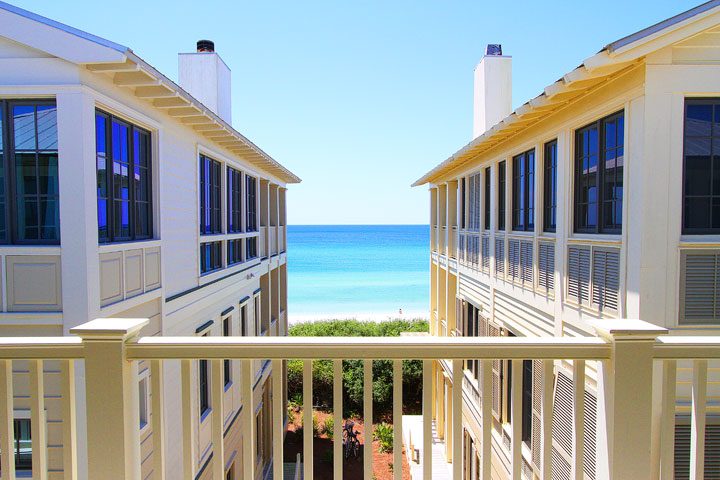 On this floor were two more bedrooms with their own private baths — a king room and a queen room. Jenny, Maria and I all stayed up here.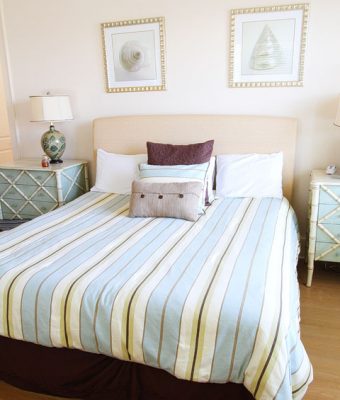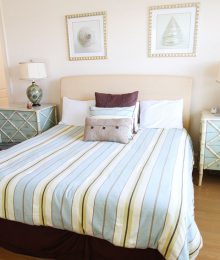 Our gorgeous view of the crystal blue ocean from the third floor balcony.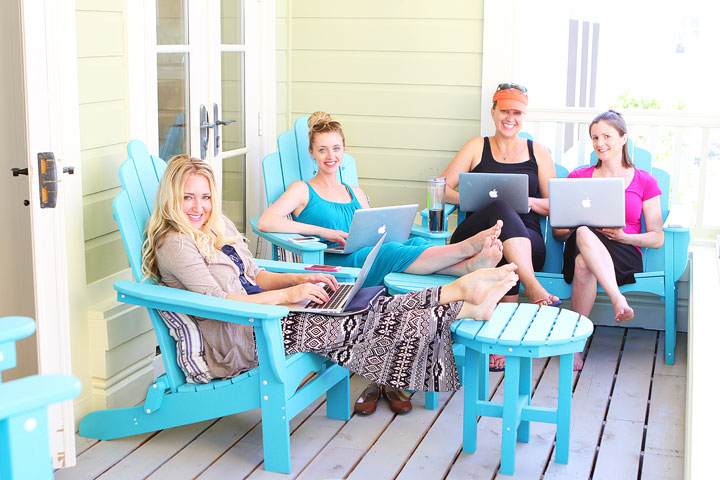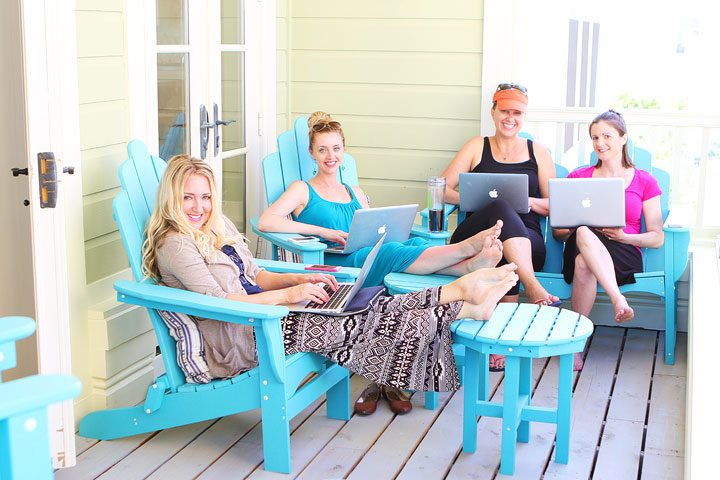 These Vacation Rentals Even Have Housekeeping Services
Here's a peek at the king bedroom on the third floor. Cottage Rental Agency offers housekeeping services, so they will come in and replace your towels, standard toiletries, and make the bed every day for you, just like a hotel. Loved not having to worry about bringing our own towels to the beach!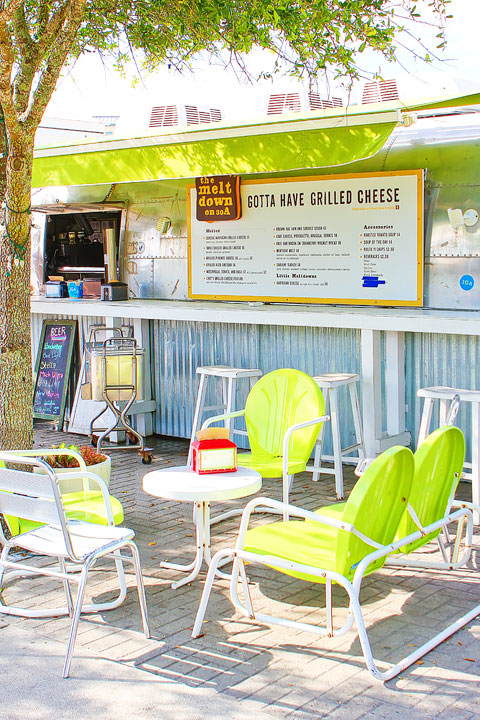 These Are Were Some Of Our Favorite Places To Eat In Seaside
As soon as we arrived, we were all starving. So the first thing we did was head for Seaside's famous Airstream Row — a colorful line of delicious food carts all along the main drag facing the beach. We immediately set our eyes on the gourmet grilled cheese food truck, The Melt Down.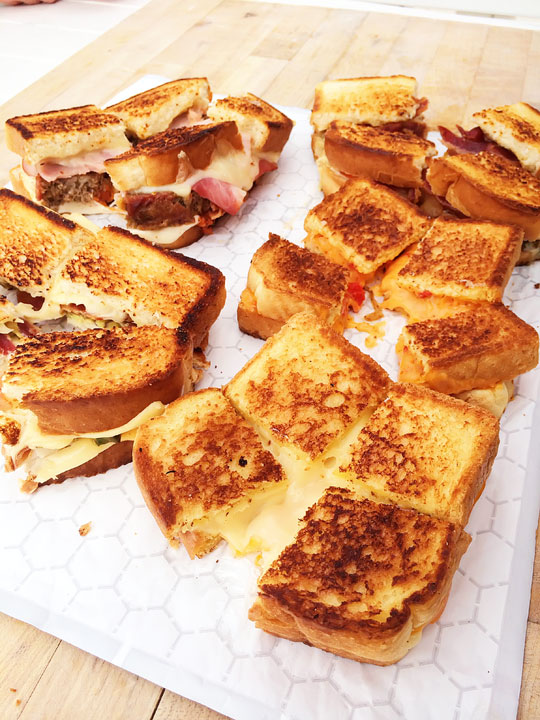 The Melt Down has so many decadent varieties of gourmet grilled cheese sandwiches. We got one of each and shared so we could try them all. My favorites were the Three Cheese, the Smokin' Turkey (with bacon, avocado, and jack cheese), and the Strawberry Goat Cheese. Seriously need to recreate that last one at home! I am still dreaming about it! :)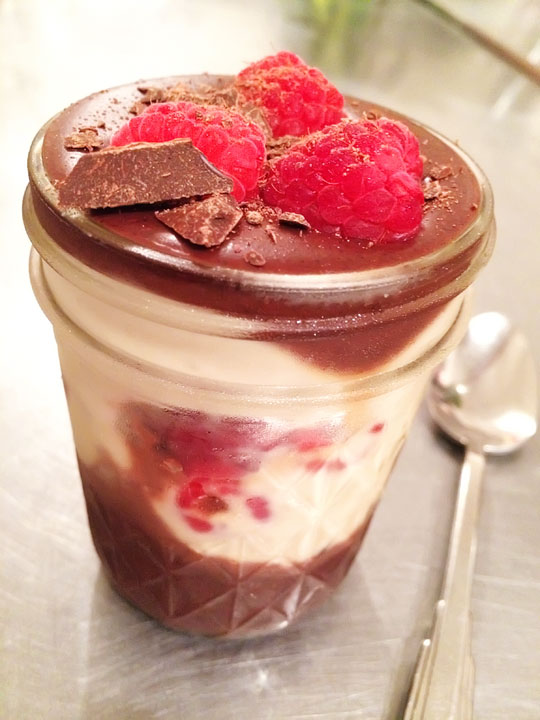 One of the other food trucks is Raw & Juicy, a raw vegan food cart. I don't think I've ever been to a raw vegan restaurant before, but that night we were treated to a private dinner at the Raw & Juicy kitchen for a full raw vegan dinner and dessert. I was a huge, huge fan of this chocolate raspberry parfait we had for dessert!! I have never had chocolate like that before — so rich and decadent — and I am still dreaming about that vanilla bean cream!! Unfortunately I don't think this is an item on the menu at the food truck, but everyone should start requesting it immediately so they'll add it to the menu. And so I can have another one. ;)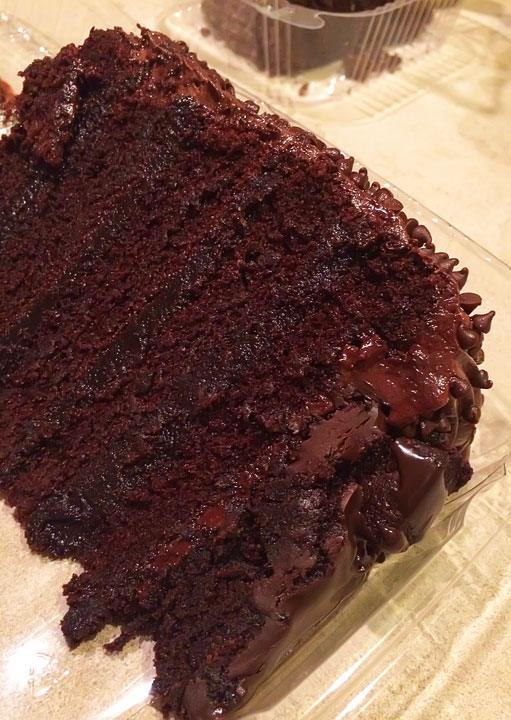 The good thing about having a raw vegan dinner? You totally don't feel guilty about splurging on dessert! ;) Earlier in the day we hit up Seaside's charming Modica Market for a slice of their legendary chocolate cake. We stashed it back at the cottage for a midnight snack after dinner.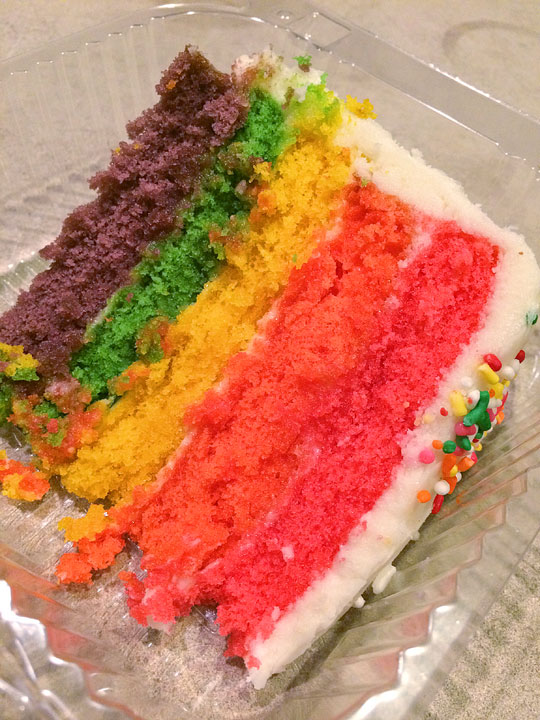 Of course we couldn't decide on just one cake, so we also got the Rainbow Cake…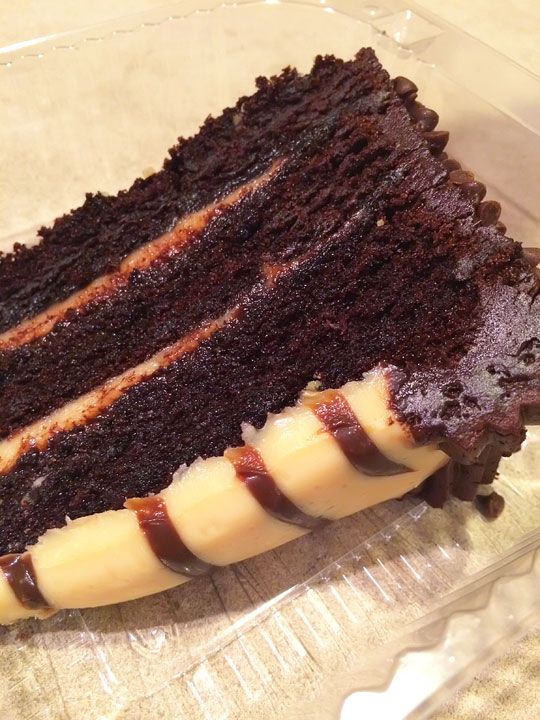 And a Milky Way cake! ;) We all grabbed a fork, gathered around the kitchen island, and totally destroyed these cakes. ;) The chocolate was our favorite!!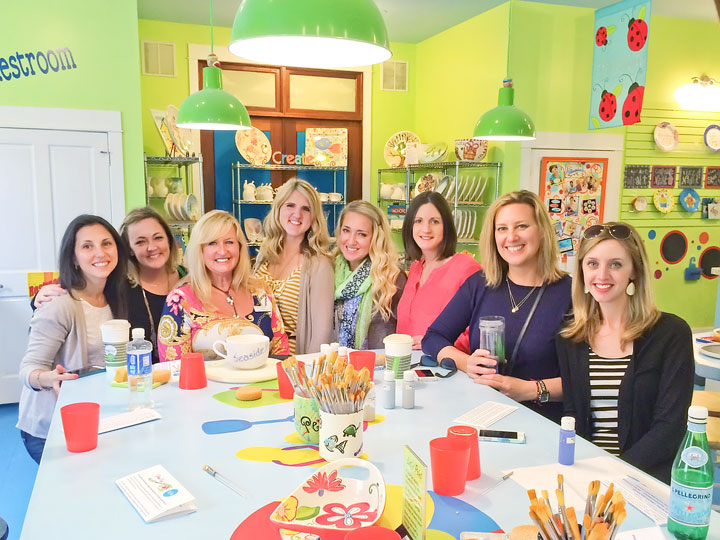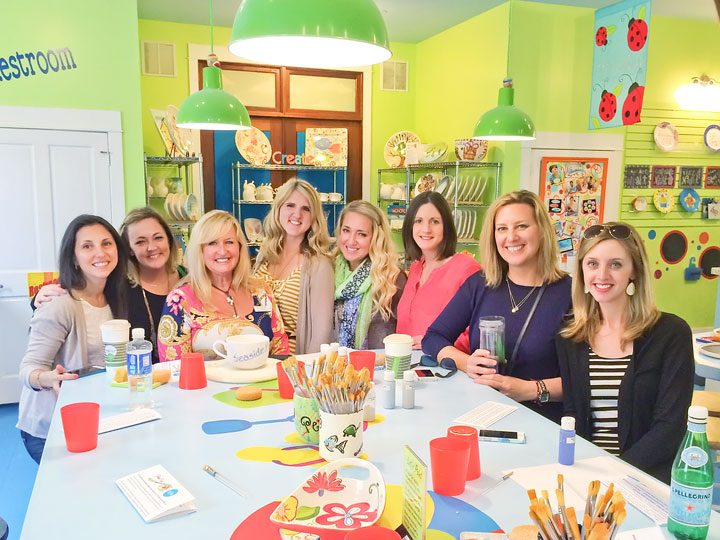 The next morning we walked down to Fired Up, Seaside's paint-your-own pottery establishment. We all picked out our own piece from a wide variety of choices and set to work creating and painting.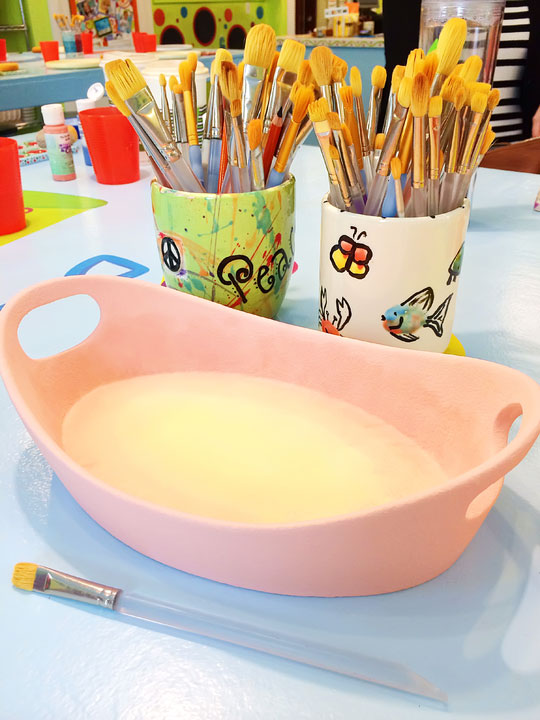 I chose this little oval baking dish and attempted a colorful ombre finish. There were so many different techniques and colors to choose from!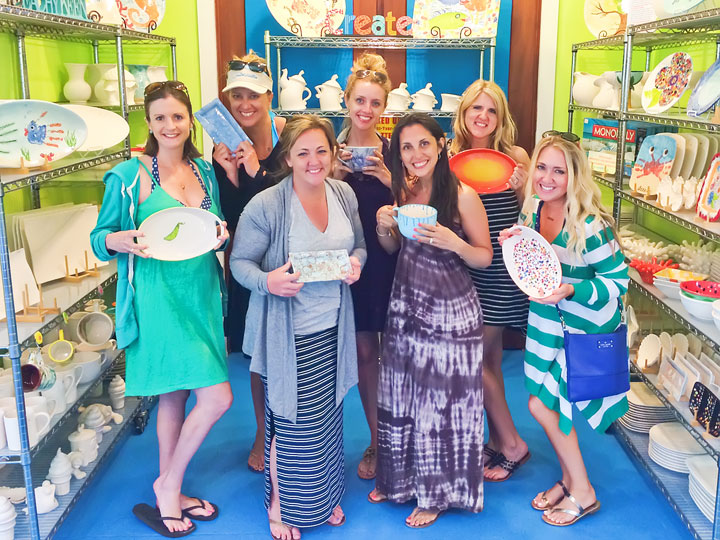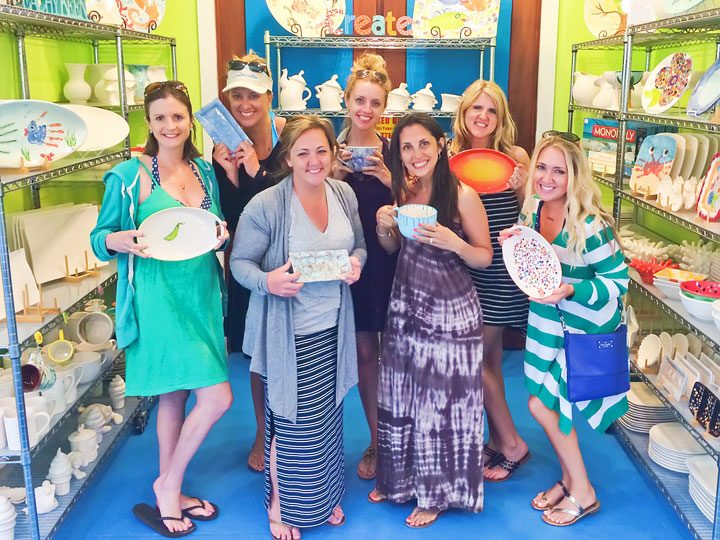 And here we are with our finished projects! Such a fun morning with friends!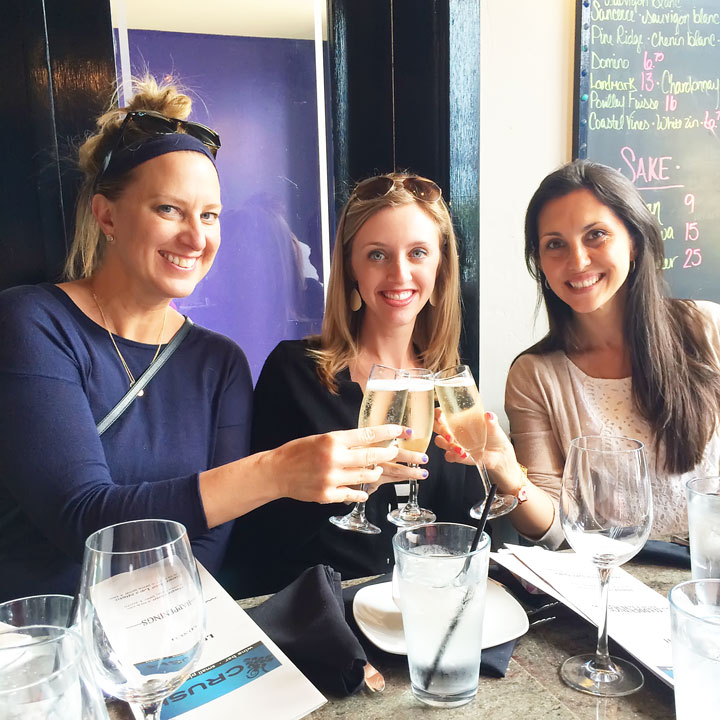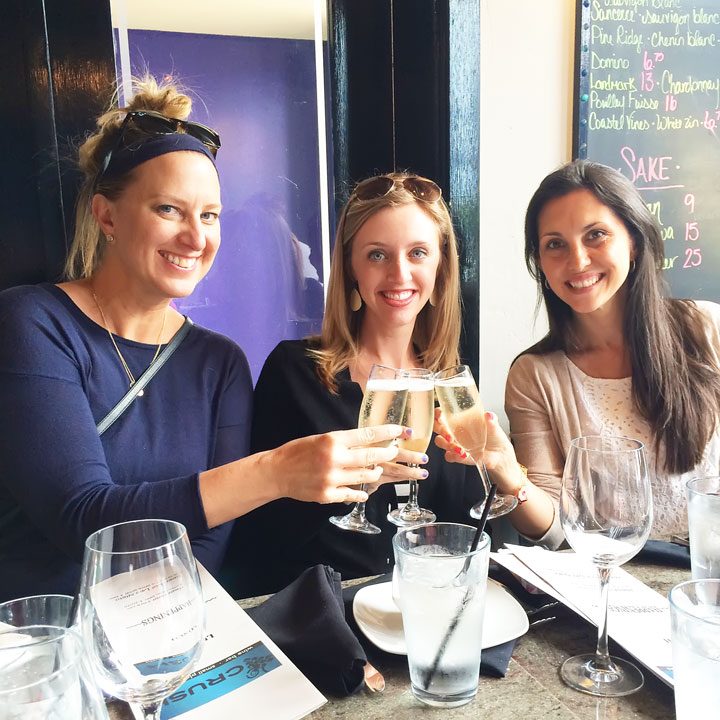 That day was Ali's birthday, so we celebrated our sweet friend with champagne at CRUSH for lunch.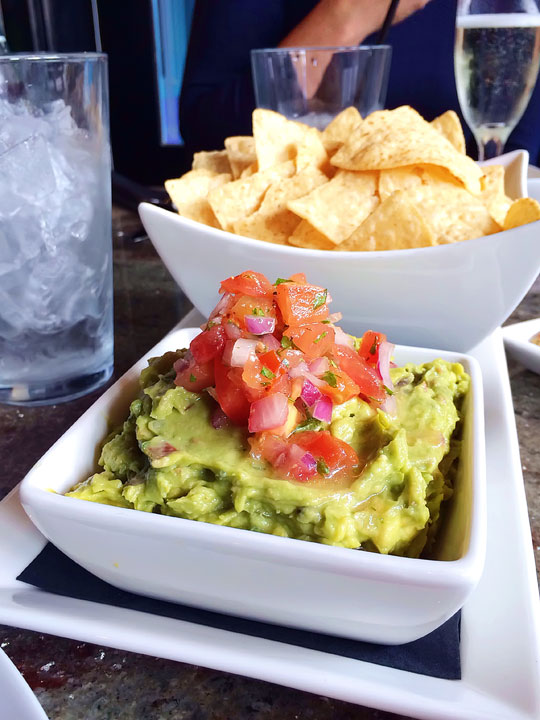 I Love That Everything In Seaside Is Easy To Get To
What I love about Seaside is that everything is within walking distance. We walked from our cottage that morning to the coffee shop next door for breakfast. Then we walked over to Fired Up. Then we walked to lunch, where we had this dreamy applewood smoked bacon guacamole.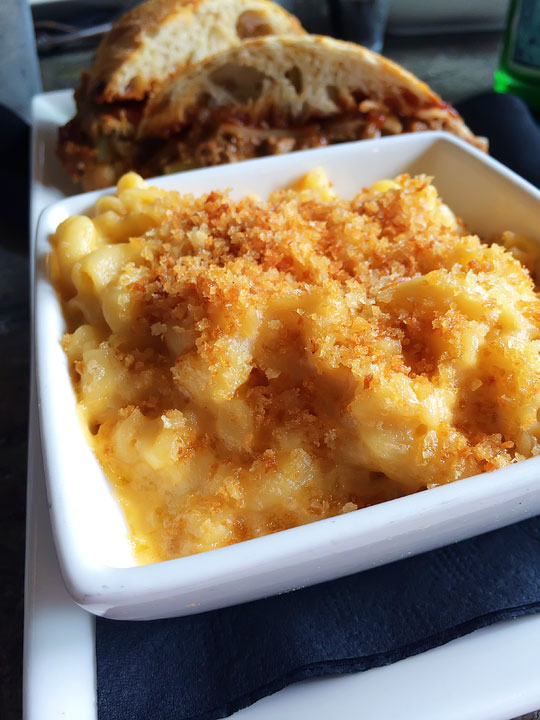 All the walking makes up for this decadent mac and cheese, right?? ;)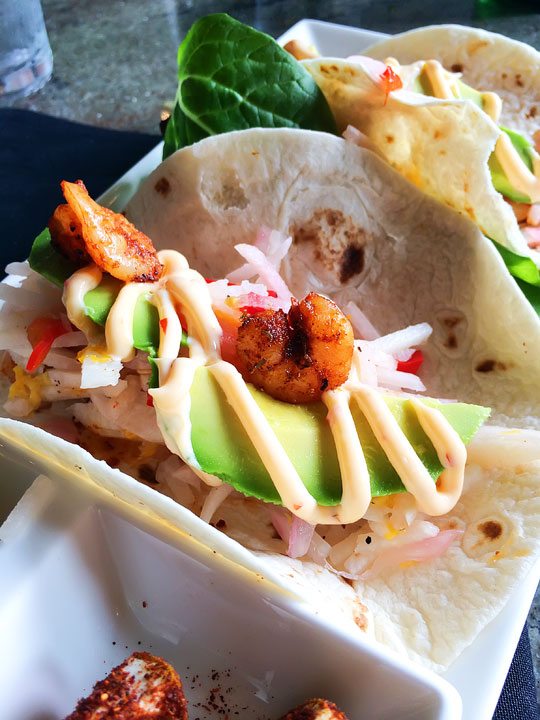 Loved these fresh shrimp tacos!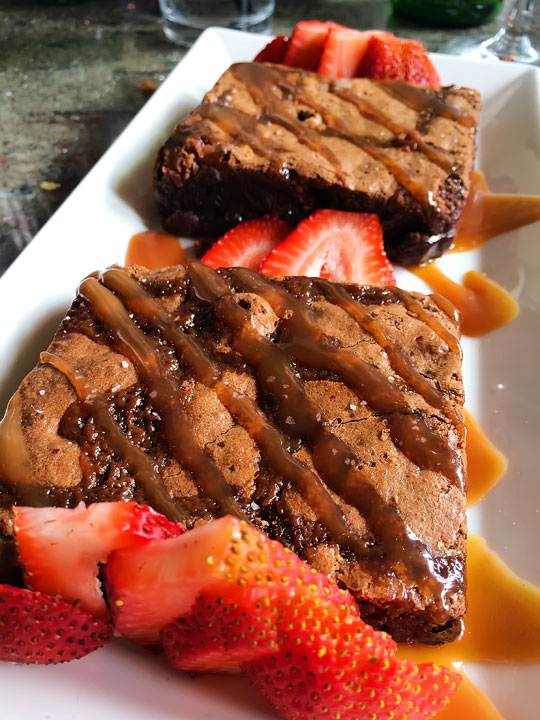 We couldn't pass up the brownie for dessert. ;) It had had a very distinct smoked flavor, like bacon, and we all keep trying to decide if it had bacon in it or not. If you like smokey / bacon desserts, you will love this brownie!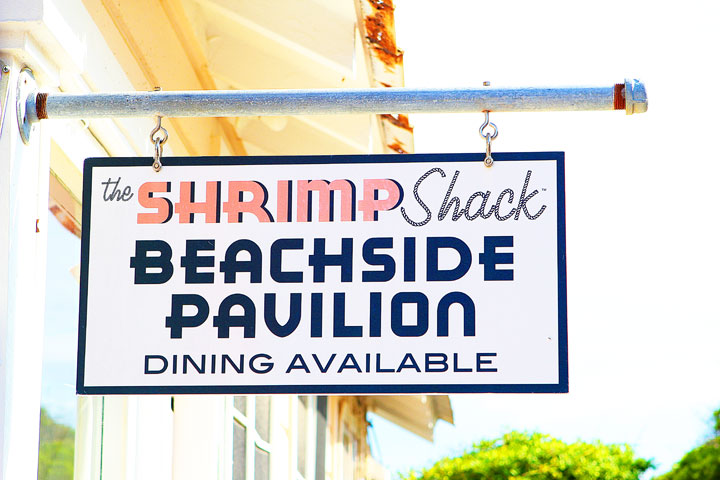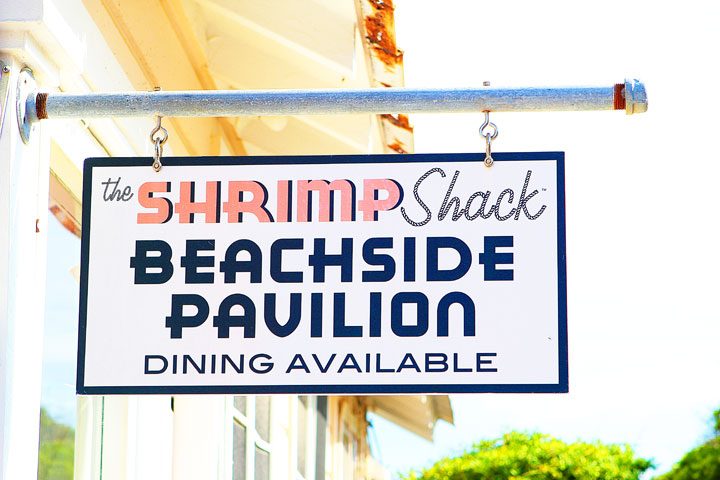 After a quiet afternoon taking it easy and doing nothing but laying out at the beach, we had dinner beachside at The Shrimp Shack.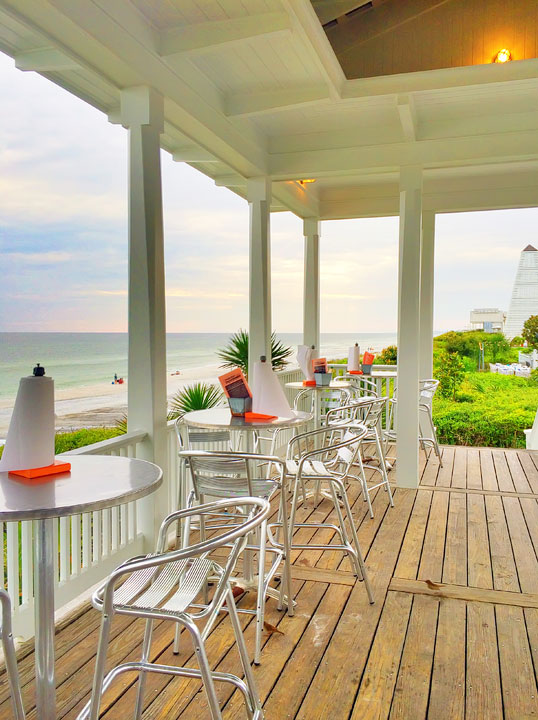 Our dreamy dinner view!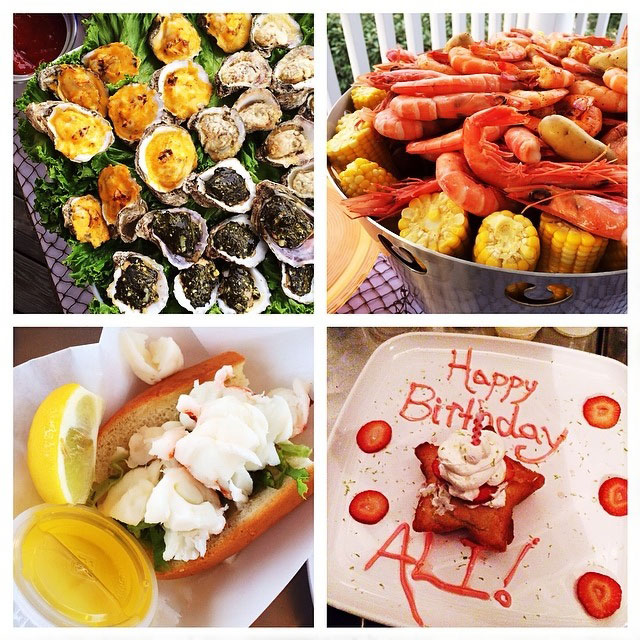 Photo via Ali
The owner of The Shrimp Shack, Heavenly Dawson (yes, that's her real name! And she truly lives up to her name. She is heaven-sent!) knew it was Ali's birthday and prepared a special birthday treat just for her. She went to Ali's blog, looked at all her favorite things, and created a Strawberry Margarita Shortcake based on Ali's love for Strawberry Margaritas. :) It was such a special dinner for us all, so thrilled we could be a part of Ali's day.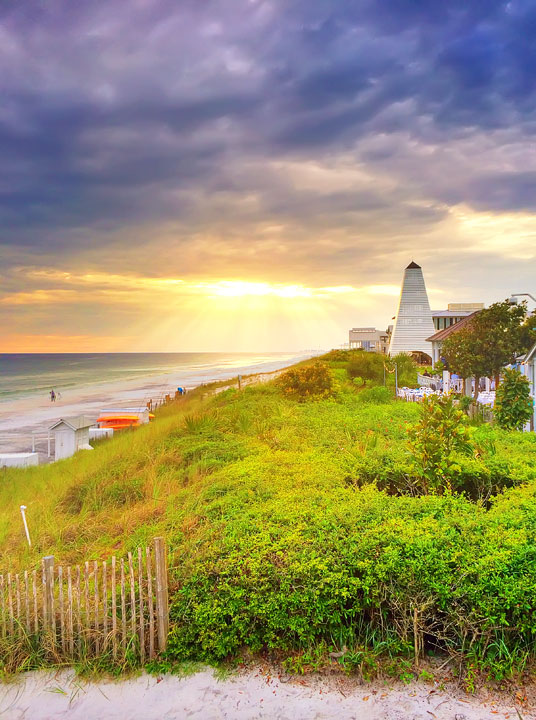 As we feasted, chatted, and celebrated, we had a perfect view of the sunset over the beach.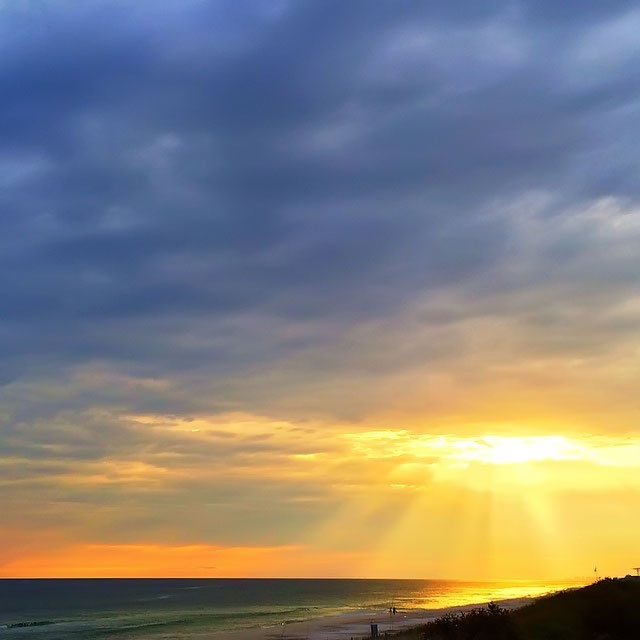 Photo via Ali
Loved these golden rays sparking over the water, marking the end of our second day at the beach together.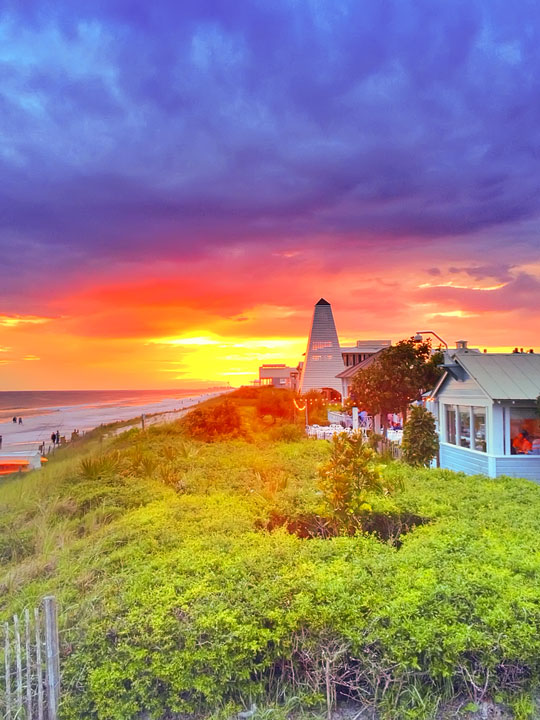 Learn about some more awesome places to eat and see in Seaside in my post Part 2 of our Seaside Girls Weekend! Have a great weekend!! xoxo