Looking for the best restaurants in San Francisco? If you only have a short amount of time and want to make sure you try the best food in San Francisco, here's our guide to the best places to eat. This guide includes restaurant recommendations for breakfast, brunch, lunch, dinner, and of course dessert!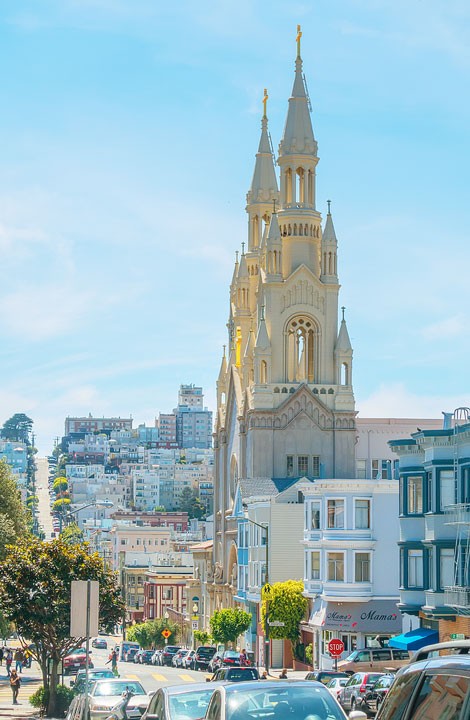 Best Restaurants in San Francisco for Breakfast & Brunch
San Francisco is obsessed with brunch — and so am I!! We scoured the city for the best restaurants in San Francisco for brunch. Here's what we found!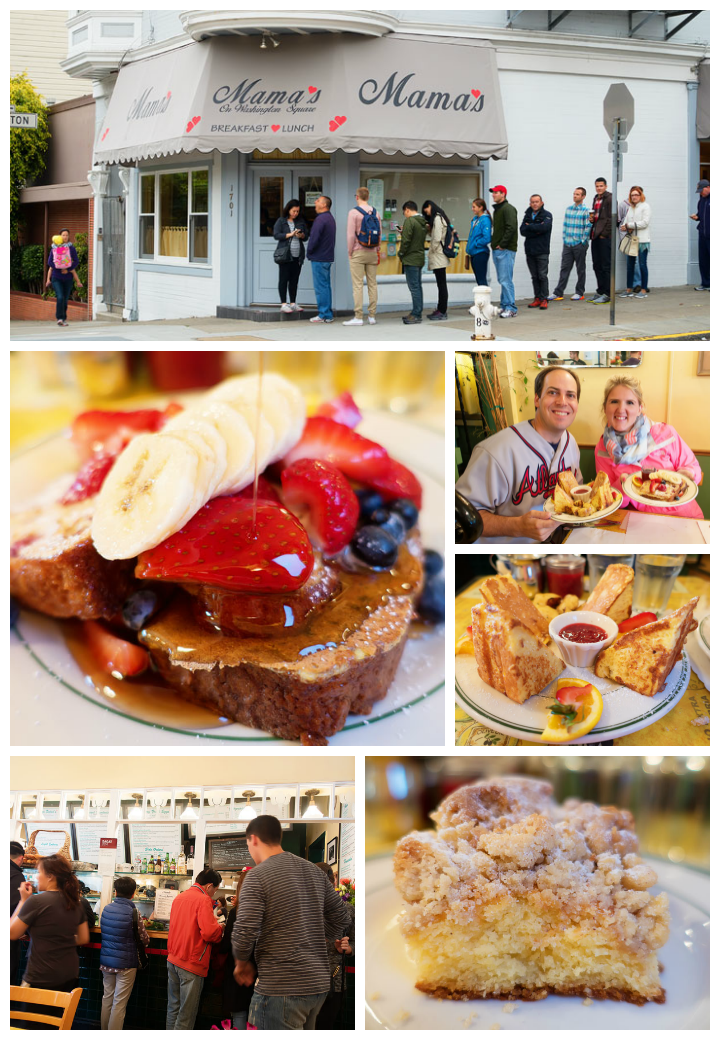 Mama's on Washington Square
No food tour of San Francisco is complete without brunch at Mama's on Washington Square! They are open daily from 8am-3pm for breakfast and brunch. We heard this place was super popular and there was often a line out the door, so we got there at about 8:30 am on a Thursday morning. As you can see, there was already a decent-sized line, just on just a random Thursday!
Our Brunch Experience:
We waited in line about 30 minutes before we made it inside. From there, you order at the counter and then they show you to a table, bring you your food, and wait on you. It's hard to see the menu until you get right up to the register to order, and once we got there, I felt pressured to already know what I wanted and to order right away, since we'd been waiting in line so long and knew there are so many people waiting behind us. Although they didn't make me feel that way or try to rush me at all, I just put that pressure on myself. I was just expecting to sit down and be handed a menu to order, so as someone who likes to pore over a menu, I was just thrown off a bit.
So anyway, if you're like me, you may want to check out their menu online before going. Although there is still a Daily Specials board (with items not on their online menu) that you can't see until right as you get to the register anyway.
What To Order for Brunch:
We heard Mama's is famous for their crumb cake, so we had to get a piece. A brunch appetizer, if you will. Just look at that streusel!! Delicious. We ordered the original, but they had tons of fun flavors like blueberry, apple, carrot, and chocolate. Wish we could've tried them all!
I got the French Toast sampler. It comes with one thick slice each of Banana Bread, Cranberry Orange, and Swedish Cinnamon French toast. I LOVED it. So, so good. Kevin got their Famous Monte Cristo.
We definitely think Mama's is one of the best restaurants in San Francisco for brunch!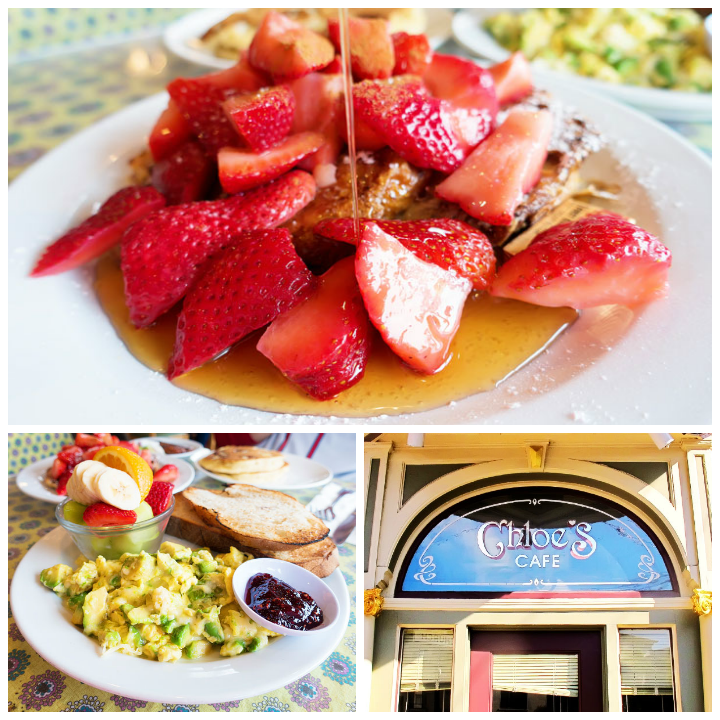 Chloe's Cafe
Chloe's Cafe on Church St is also open daily for breakfast and brunch from 8am – 3pm. We got there right at 8am on a Friday morning, and we were the first ones in. It filled up quickly and stayed busy, but there was never a huge line. I got the Cinnamon Croissant French Toast with strawberries and Kevin got the Avocado And Jarlsberg Cheese Scrambled Eggs. Both were very good!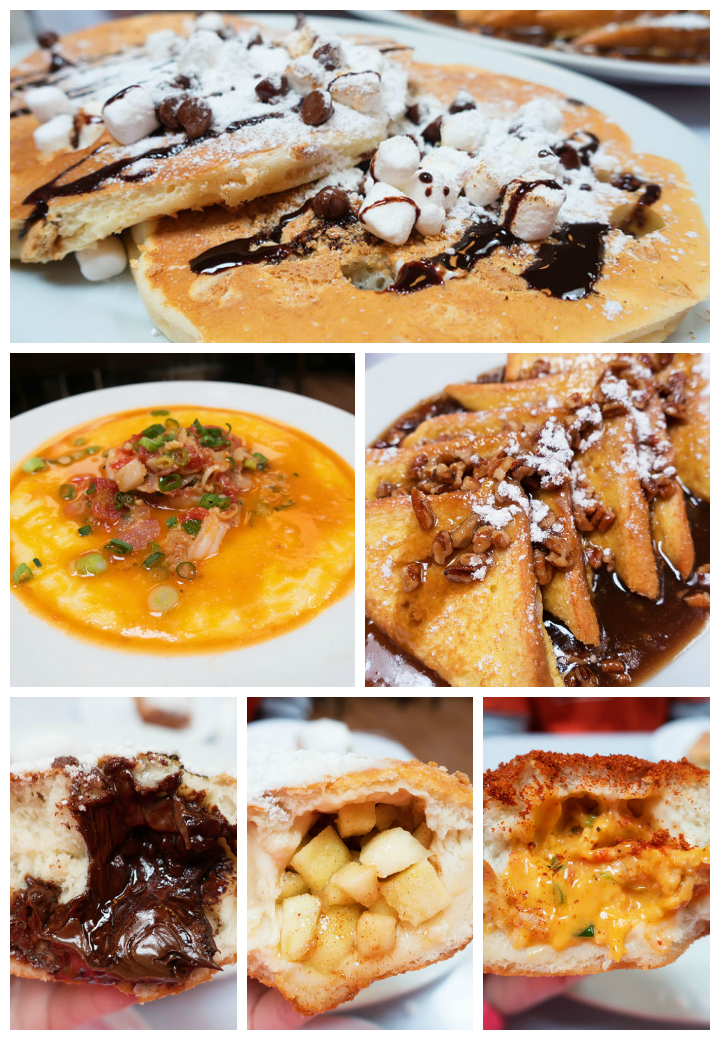 Brenda's French Soul Food
Brenda's French Soul Food was another one of our favorite brunches and definitely one of the best restaurants in San Francisco! They're open daily for brunch at 8am. We got there at about 8:15am on the Tuesday morning after Memorial Day, and we were the first ones there. Brenda's is one of the most popular San Francisco restaurants for brunch. It's well known for having a line out the door, even on weekdays. Even the waitress commented on how lucky we were that we had the whole place to ourselves, so I definitely think this was a fluke. Maybe everyone was tired after a 3-day weekend. A few other people came in while we were there, but it never completely filled up.
What to Order for Brunch:
First, let's talk about the beignets. I love brunch, but you know what makes brunch even more fun? Brunch appetizers. You have to get these brunch appetizers from Brenda's. They are famous for these beignets. They have plain, chocolate (with warm, melty Ghirardelli chocolate), Granny Smith Apple (with cinnamon honey butter) and Crawfish beignets on the menu. You can also get a sampler platter with one of each. They were huge beignets, so definitely big enough for 2 people to share and try some of each. They were fantastic. We loved the chocolate and crawfish beignets!
Now onto the main course. I had taken a look at the menu online before we got there, and had my heart set on the Cinnamon Brioche French Toast with Butter Pecan Sauce. But when we got there, I saw the daily special: S'mores Pancakes. How could I possibly chose between the two?? After several agonizing minutes, I decided YOLO, ya'll. We ended up ordering both. They were amazing. Kevin got the Shrimp and Grits and he loved it.
We would highly recommend brunch at Brenda's French Soul Food next time you are in San Francisco!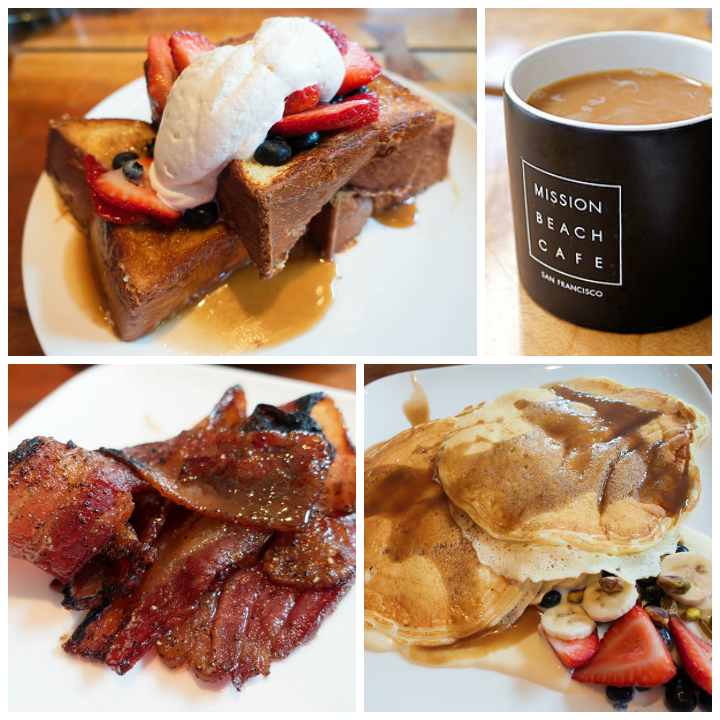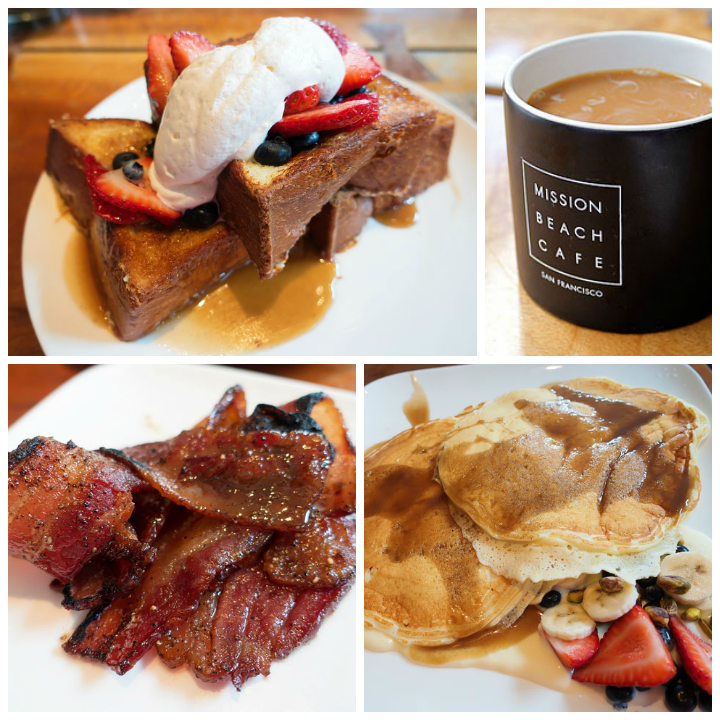 Mission Beach Cafe
We went to Mission Beach Cafe on a Sunday, our last day in San Francisco. They are open every weekday for breakfast at 7am, and at 9am on the weekends. We got there at about 8:30am and were the first ones there. Everyone else started showing up at 8:40, and by 9am, when they opened, there was a massive line down the street. So if you don't want to wait on the weekends, get there at least 20 minutes before they open!
What To Order for Brunch:
I got the Brioche French Toast with Brown Sugar Whipped Cream and their special homemade syrup. Kevin got the pancakes with vanilla cream, fresh fruit, and homemade syrup. Both were delicious, and we would totally order again, but the real star of the show was the Caramelized Pepper Bacon. This bacon is what makes Mission Beach Cafe one of the best restaurants in San Francisco!! We could NOT stop eating it!! I wanted to order a second plate. Do not go to San Francisco without getting the Caramelized Pepper Bacon from Mission Beach Cafe!!
Mission Beach Cafe is one of our favorite San Francisco restaurants for brunch!!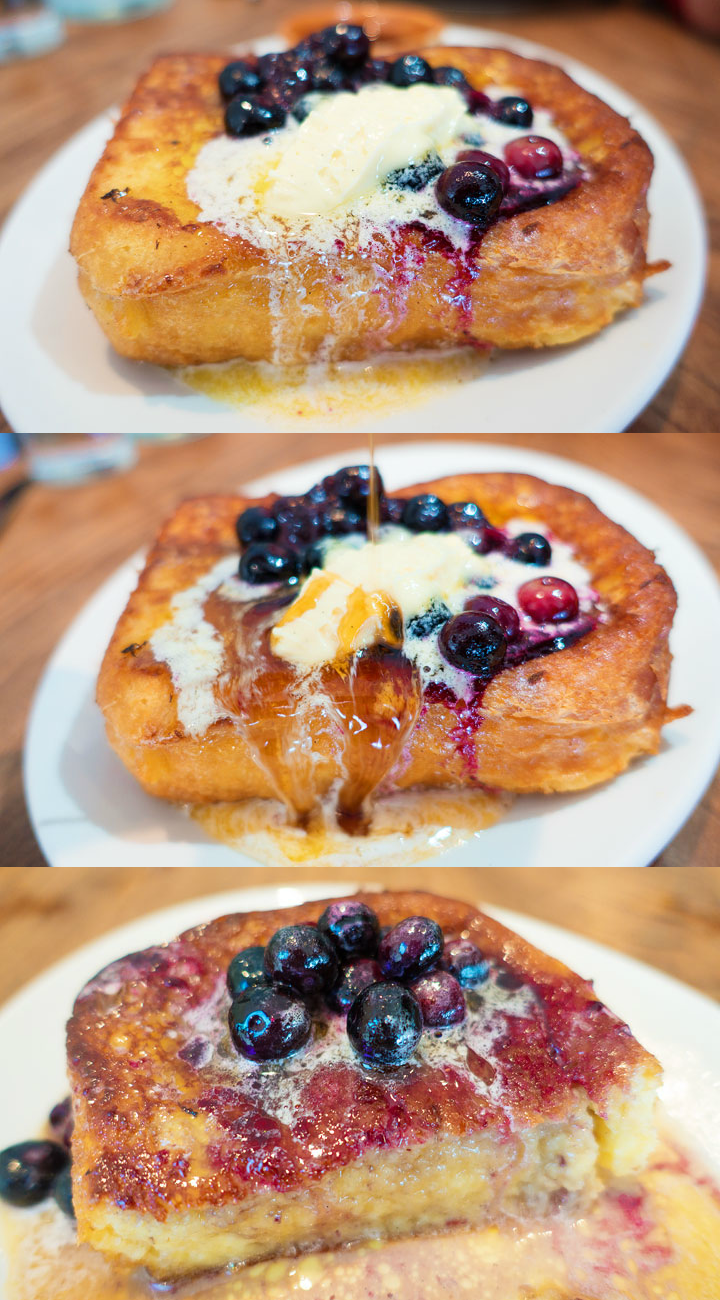 Nopa
Oh mama. We went to Nopa for brunch on Saturday. They serve brunch from 11:00 am – 2:30 pm on Saturday and Sunday only. Although they don't start serving until 11am, they open their doors (and the bar) and start taking names for the waiting list at 10:30am. We didn't know this, so we showed up right at 11am. There was already an hour wait for two people by 11am!
Fortunately, we were not starving (we had stopped by the Farmers Market that morning) and they also said they could take our cellphone number and call us when our table was ready. Nopa is in a really great neighborhood and less than 5 minutes from Alamo Square and the Painted Ladies. So we just walked around and explored until our table was ready. The time flew by and they ended up calling us after only about 45 minutes anyway.
What To Order for Brunch:
I knew exactly what I had to get. The Custard French Toast. Oh my gosh. You guys. It was… surreal. I close my eyes just thinking about it. It was like a little pillow from heaven. It was perfectly crisp on the outside, but SO decadently soft on the inside. I don't even know what Kevin got, because all I could think about was this Custard French Toast.
Would highly recommend brunch at Nopa!! It's one of the BEST restaurants in San Francisco for brunch! Next time we are in San Francisco I want to go here for dinner, too.
---
Best Restaurants in San Francisco for Desserts & Sweets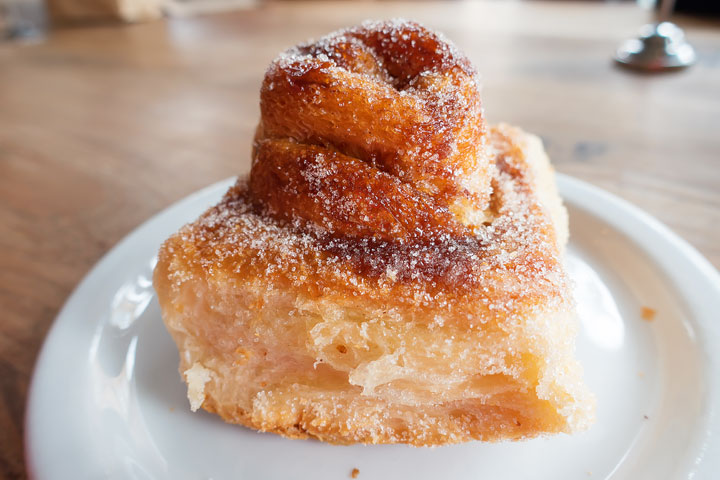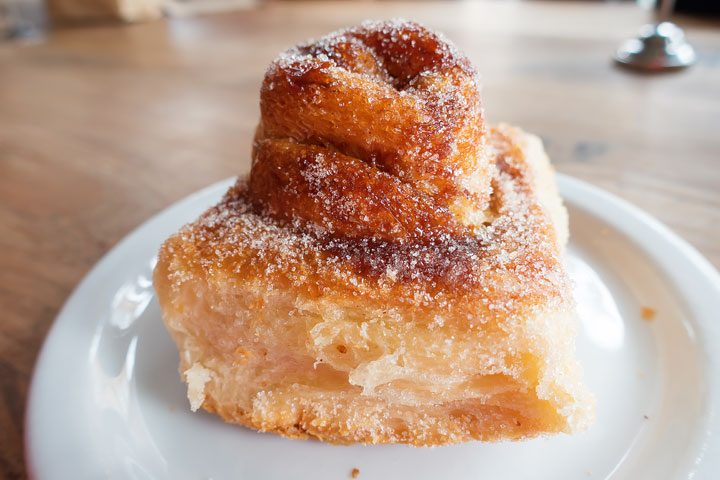 Tartine
Tartine is well-known as one of the best restaurants in San Francisco!! It is a French-style bakery with mouth-watering pastries. They are most famous for their morning bun, pictured above. Tartine opens early every morning (7:30 or 8am on most mornings) and they usually sell out of the morning bun by the afternoon. But if you get there early, you might get one hot out of the oven.
We got there at 11am on a Friday morning, and I was afraid they might already be sold out. Of course there was a line, and we couldn't tell if they still had morning buns left, but we took a chance and stood in line anyway. We only had to wait about 30 minutes before we got to counter, and much to my relief, they still had plenty of morning buns left. So, so good!! Wish I had another one of these right now.
Tartine is also famous for their pain au chocolat, and I really wish I'd gotten one of those as well. Next time for sure.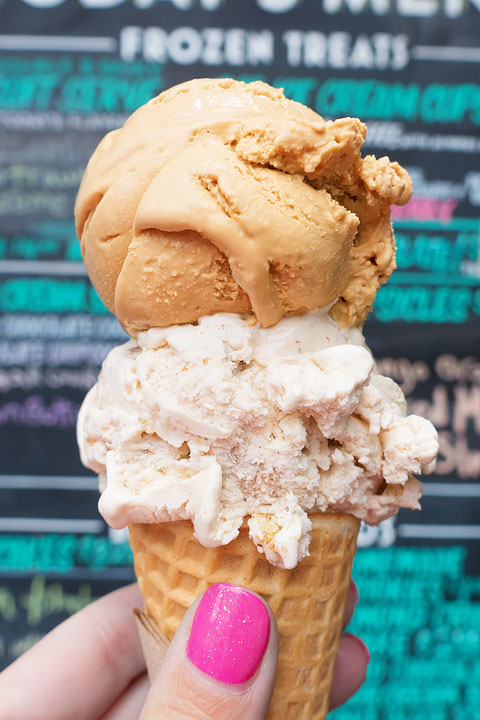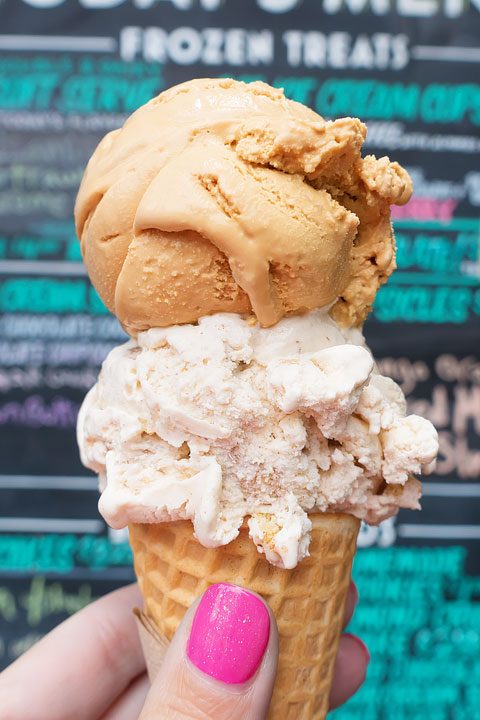 Bi-Rite Creamery
Bi-Rite Creamery is one of the best restaurants in San Francisco for ice cream! Without a doubt they are THE most famous ice cream shop in San Francisco! They are probably most famous for their Salted Caramel Ice Cream. I honestly think they started the whole salted caramel craze!
I got a scoop of the salted caramel and Ricanelas, a cinnamon ice cream with snickerdoodle chunks. Both were fabulous. I would highly recommend them both. But if you can't decide, they were so great about giving samples and letting us try as many flavors as we wanted. Also, if you get your ice cream in a cup, they might give you a wooden spoon, but they have plastic spoons they are happy to give you if you ask. This is great news for someone with a major wooden spoon aversion like me. ;)
Usually there is a line out the door for Bi-Rite, but we got there at about 1pm on a Friday afternoon and there was no line.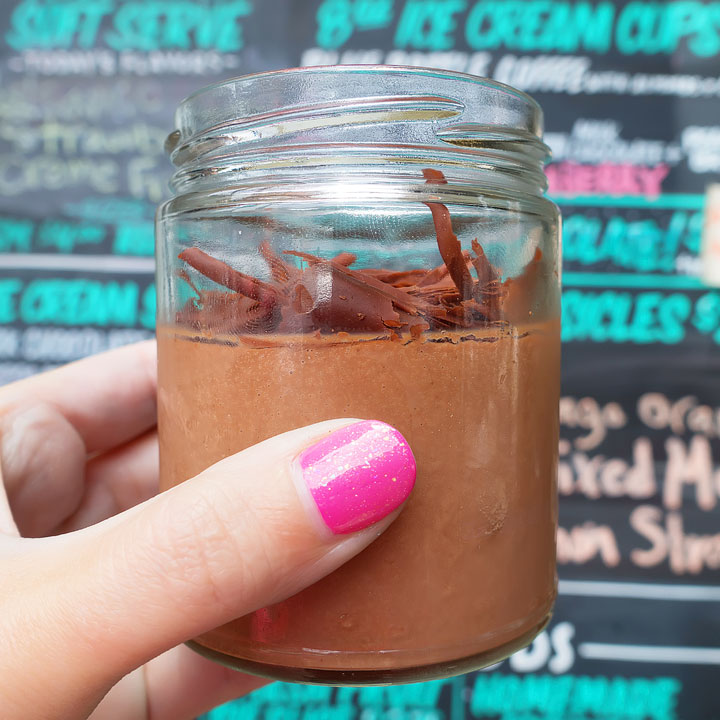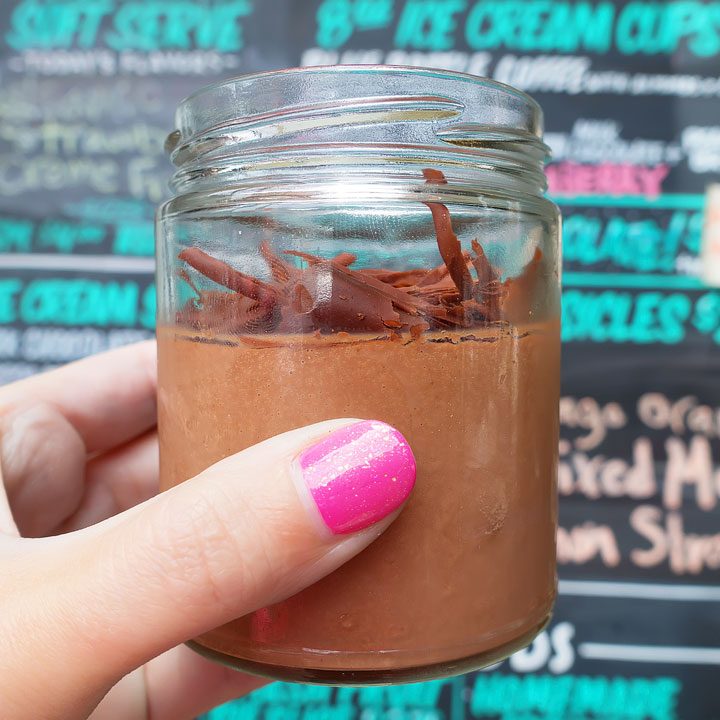 My friend Shelly from Cookies and Cups told us we HAD to get the Pot de Creme from Bi-Rite! It's located in the refrigerated case right as you walk in. If you even remotely like chocolate, this is what you NEED to get at Bi-Rite! It was so impossibly chocolaty and creamy. So, so good. It will knock your socks off.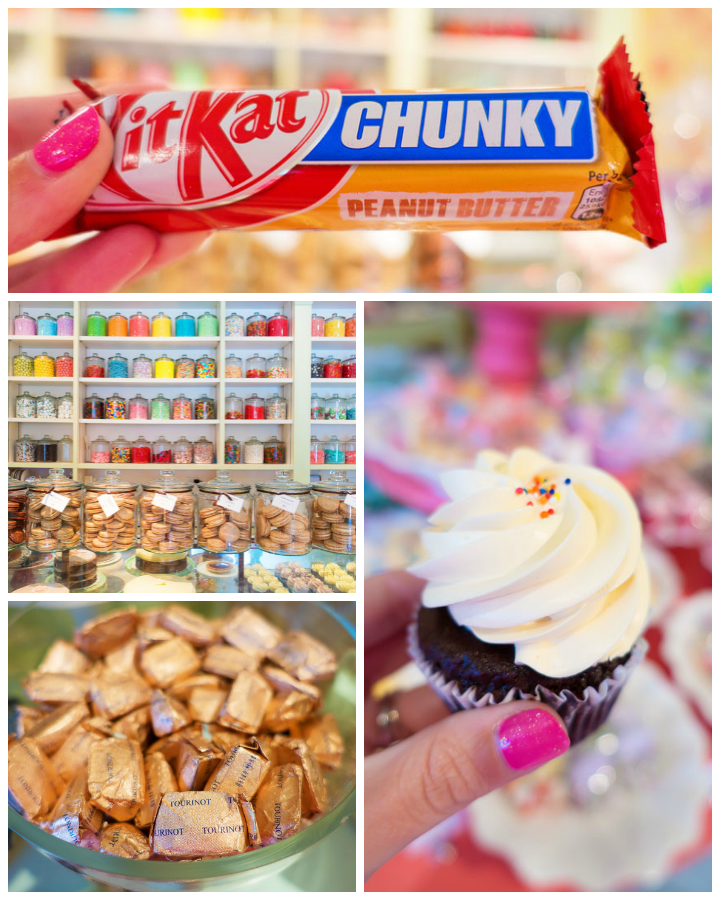 Miette
Miette is the cutest little candy shop / cupcake bakery in San Francisco! In addition to cupcakes and french macarons, they had tons of European candy that I've never seen anywhere else in the States. And believe me, I've looked. One is the Chunky Peanut Butter Kit Kat bars. Anytime I got to Europe I always have to bring some of these back for Kevin. They are his favorite ever!!
And see those little gold-wrapped chocolates? You may remember I brought some back from Paris last year. They are so, so good, but they come at a price! Miette sells these for $1 a piece, and they're about the size of my thumb. I decided to pass this time, but it's nice to know I can get them in the States! It's worth popping into this cute bakery if you're nearby.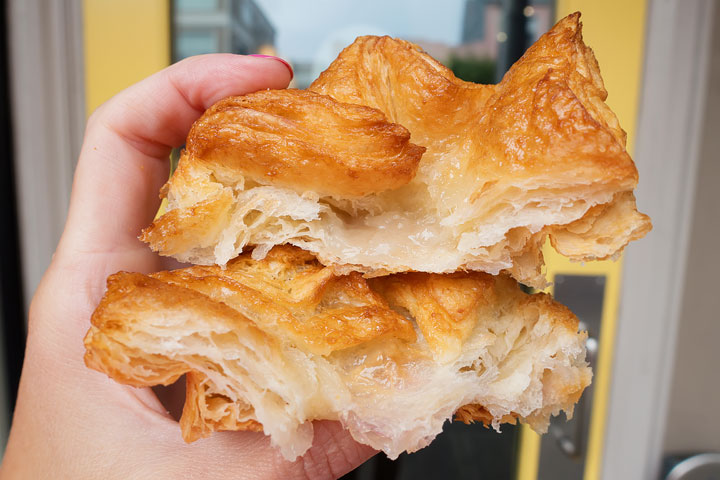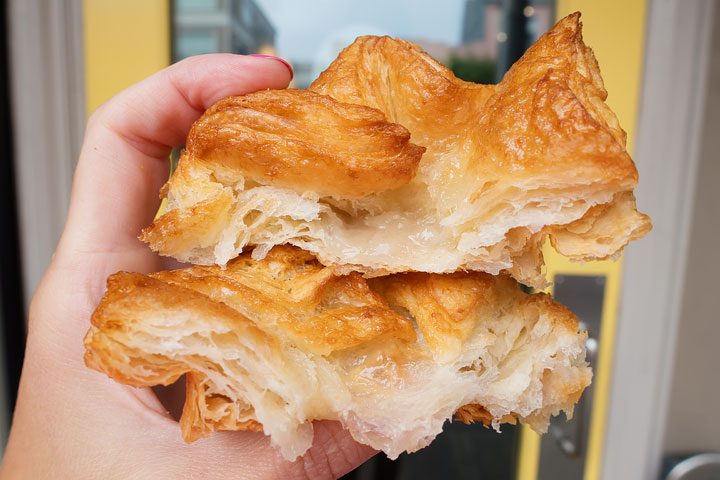 B. Patisserie
B. Patisserie is another French-style bakery in San Francisco. I put them on my must-try list because they have kouign amann. There are only a handful of bakeries in the US that make kouign amann, and if you are ever in a bakery that has it, GET IT.  Like seriously, get it. Your life will be changed. Kouign amann (pronounced Queen Aman) is OUT of this world. It's like nothing you've ever had before. It's probably my favorite pastry ever. Of course you can't get it anywhere near where I live.
Kouign amann is like a super buttery, flaky croissant, with a light spinkling of sugar between the layers. When it's baked, the sugar caramelizes for the most perfectly sweet, crispy, chewy, flaky, gooey texture everrrrrrr. It's phenomenal. Do yourself a favor and get the kouign amann from B. Patisserie ASAP!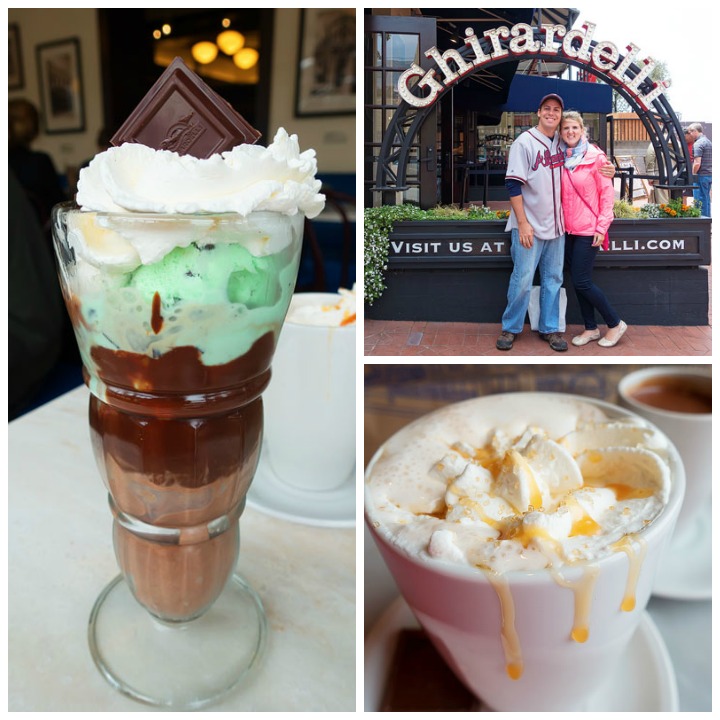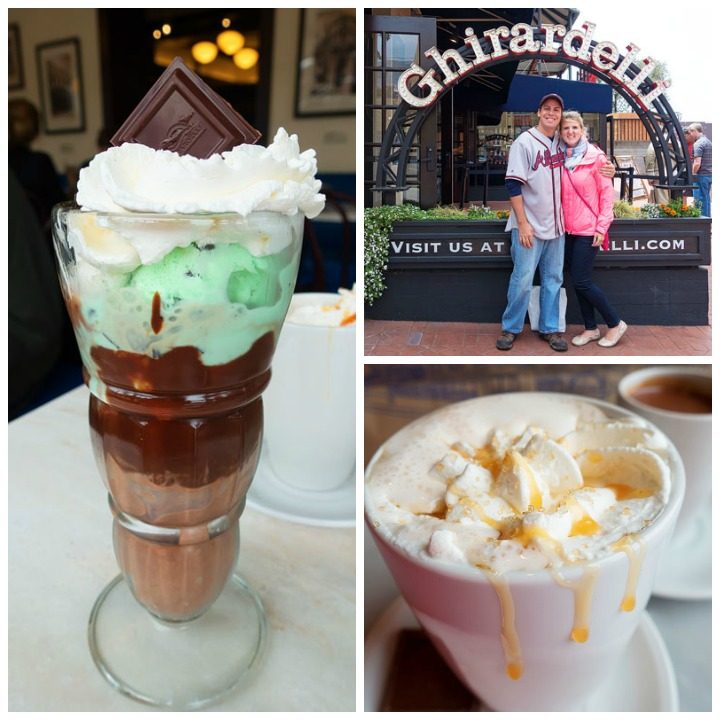 Ghirardelli Square
When talking about the best restaurants in San Francisco, of course we couldn't leave out Ghirardelli Square!! San Francisco is COLD in the summer so I warmed up with their Salted Caramel Hot Chocolate. It was to DIE for. I wanted to go back every night. We did end up going back back a second time because I couldn't leave San Francisco without one more mug!! I also tried their Decadent Drinking Chocolate because I love thick hot chocolate, but it didn't even come close to the Salted Caramel Hot Chocolate. Definitely put it on your must-try list in San Francisco!
Kevin is got the Mint Bliss Sundae with mint chocolate chip and chocolate ice cream, layered with freshly homemade dark chocolate hot fudge and topped with whipped cream. Very good and fudgy.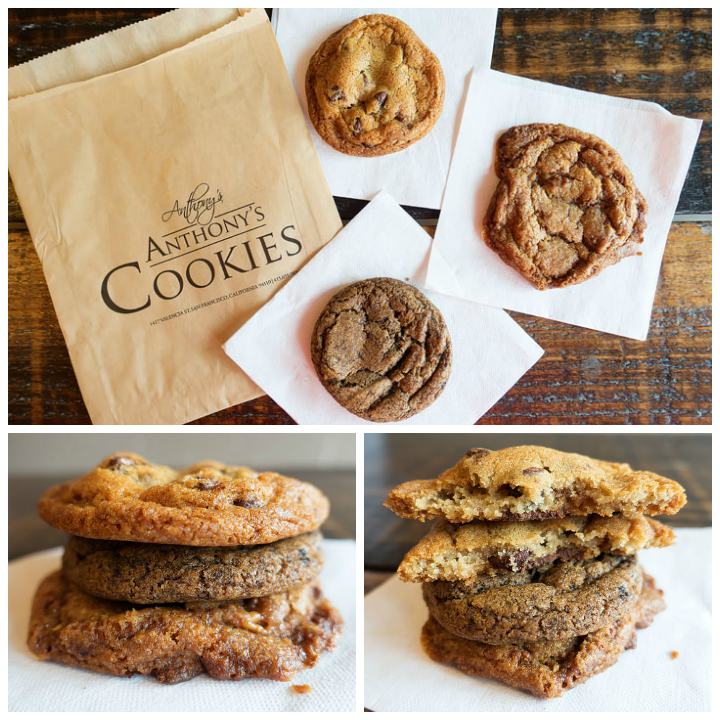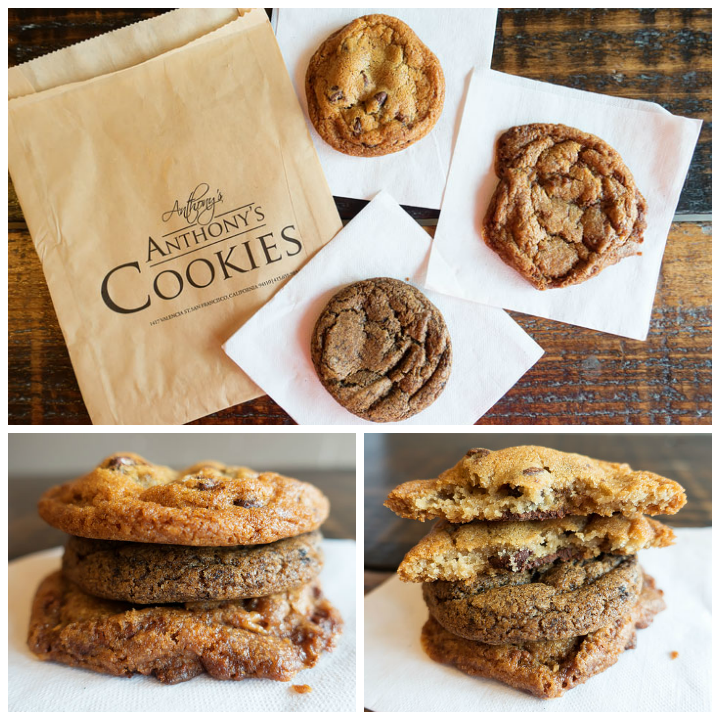 Anthony's Cookies
Anthony's Cookies came highly recommended, and since they are close to Tartine, we decided to check them out. I'll be honest — I wasn't super impressed. We got there right at 10am when they opened, and the cookies were obviously not fresh out of the oven. They were kinda dry and crispy. Crispy cookies aren't my thing. I'll take a warm, gooey, fresh-out-of-the-oven cookie any day of the week!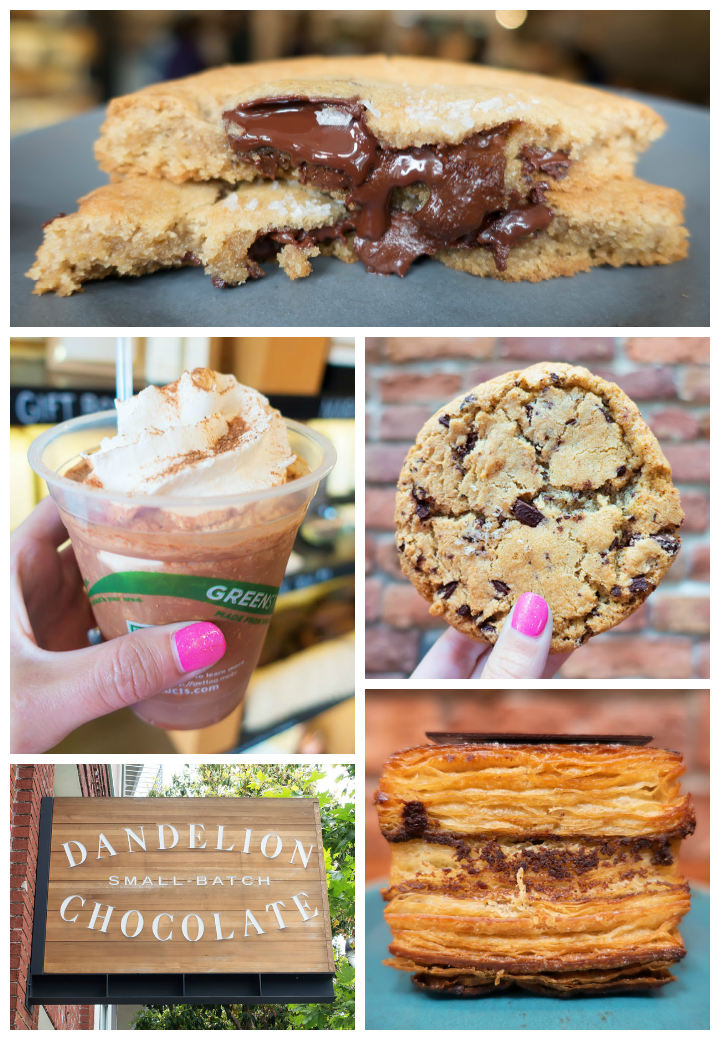 Dandelion Chocolate
Now THIS is what I'm talking about! This collage is actually a combination of two bakeries that are right next door to each other: Dandelion Chocolate and Craftsman and Wolves. They gooey cookie you see at the top is the Brown Butter Nutella Cookie from Dandelion Chocolate. It's a warm, soft, brown butter cookie stuffed with gooey homemade Nutella and lightly sprinkled with flaky sea salt. Quite possibly the best cookie in San Francisco. Make sure they heat it up for you! We also got the Frozen Hot Chocolate. It's not anything like the Frozen Hot Chocolate at Serendipity, but still pretty good. There were so many fun things on the menu at Dandelion Chocolate. I would definitely go back here to try more!
Craftsman and Wolves
The other cookie and the chocolate pastry were from Craftsman and Wolves. They were good, but kinda got overshadowed by the gooey Nutella cookie.
---
Ferry Building Farmer's Market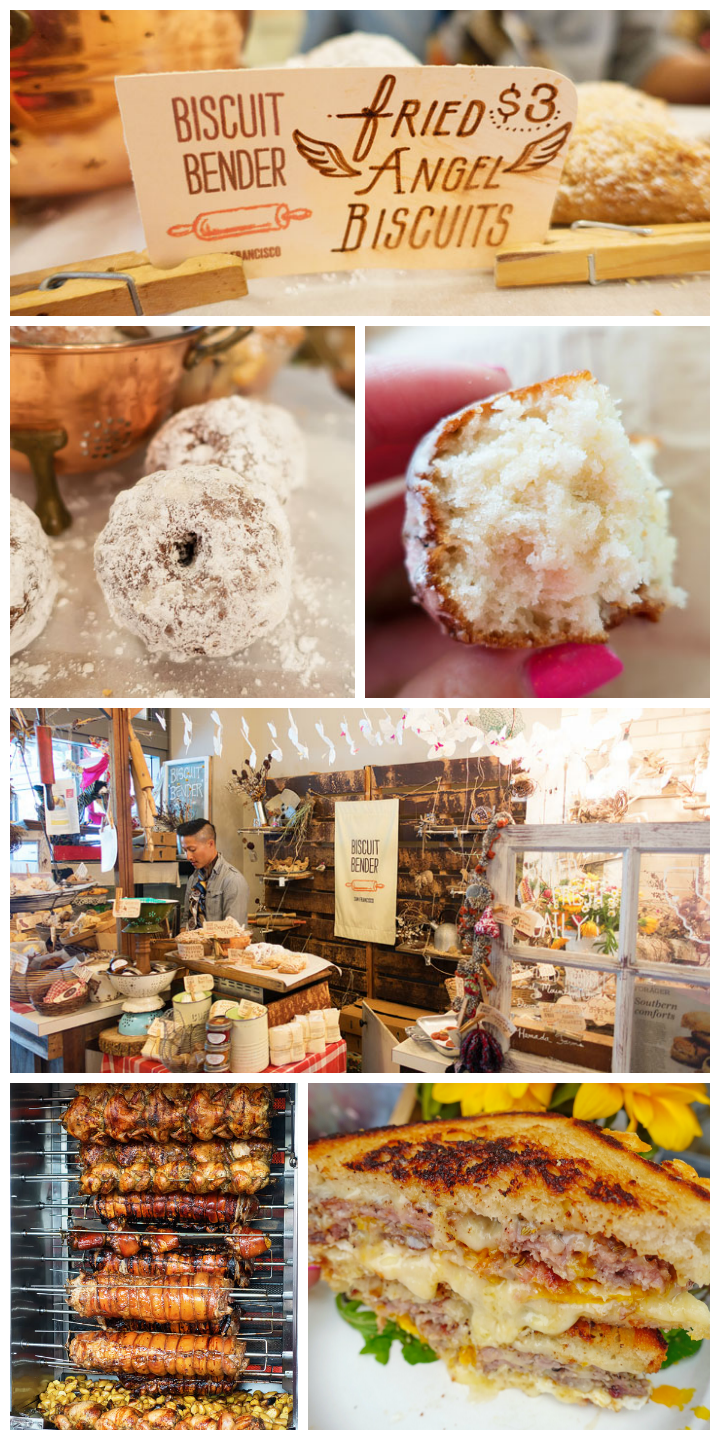 Some of the best restaurants in San Francisco are found at the farmer's market at the San Francisco Ferry Building. The farmer's market is open on Tuesdays and Thursdays from 10am – 2pm, and on Saturdays from 8am – 2pm.
Biscuit Bender
We need to talk about the Fried Angel Biscuits from Biscuit Bender. First of all, Biscuit Bender is not actually part of the farmer's market, so they are open every day inside the ferry building. They're located on the left just as you walk inside the main entrance. The fried angel biscuits are heavenly!! And totally indescribable. I've never had anything like one. You totally need to try it. It's like a super fluffy biscuit on the inside, with a crispy fried shell, then rolled in powdered sugar like a beignet. It was amazing. Would highly recommend.
The Farmer's Wife
We spent a leisurely morning just strolling through the farmer's market. We weren't originally planning on eating anything (since we were going to Nopa later for brunch) but we stopped dead in our tracks and HAD to get this sausage, egg, and grilled cheese sandwich from The Farmer's Wife. I still cannot get over that perfectly crispy bread. It was the perfect grilled cheese bread. I am still dreaming about this sandwich!
Next time I want to come back for some of that roast chicken and crispy potatoes from Roli Roti Gourmet Rotisserie!
---
Little Italy Food Tour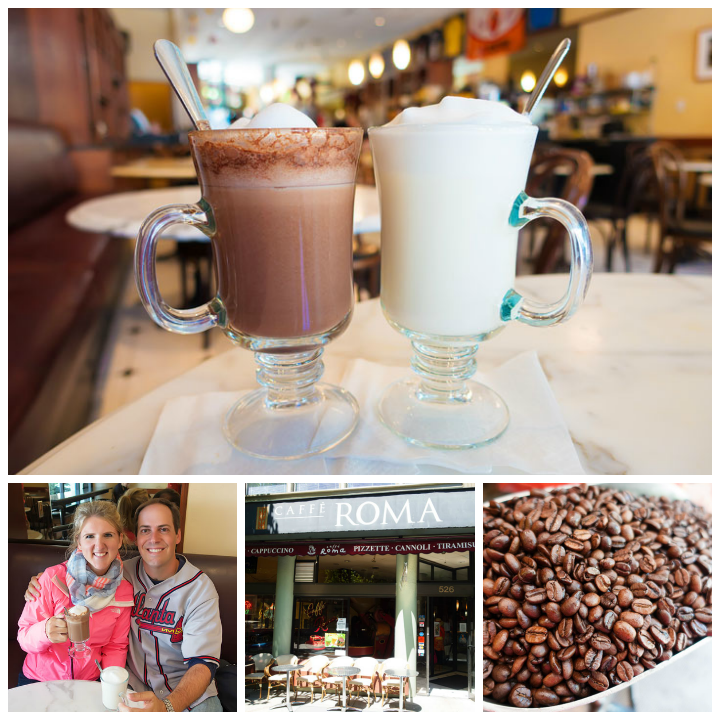 We took a food tour of Little Italy in San Francisco with Local Tastes of the City Tours. We visited some of the best restaurants in San Francisco from this area. Our guide had lived in this area for over 30 years, and was extremely knowledgable of the area, the food scene, and how it's changed over the years. It was a great experience. There was SO much food included on the tour!
Caffe Roma
Our first stop was Caffe Roma, where we each got our choice of drink. They are most famous for roasting their own coffee, but we are not huge coffee people, so we chose the hot chocolate and the white hot chocolate. The white hot chocolate was like a milkshake! So good! They will also mix the two together for you. We ended up trying that, and that was our favorite. If you love hot chocolate definitely check out Caffe Roma and get them to mix the chocolate and white chocolate for you!!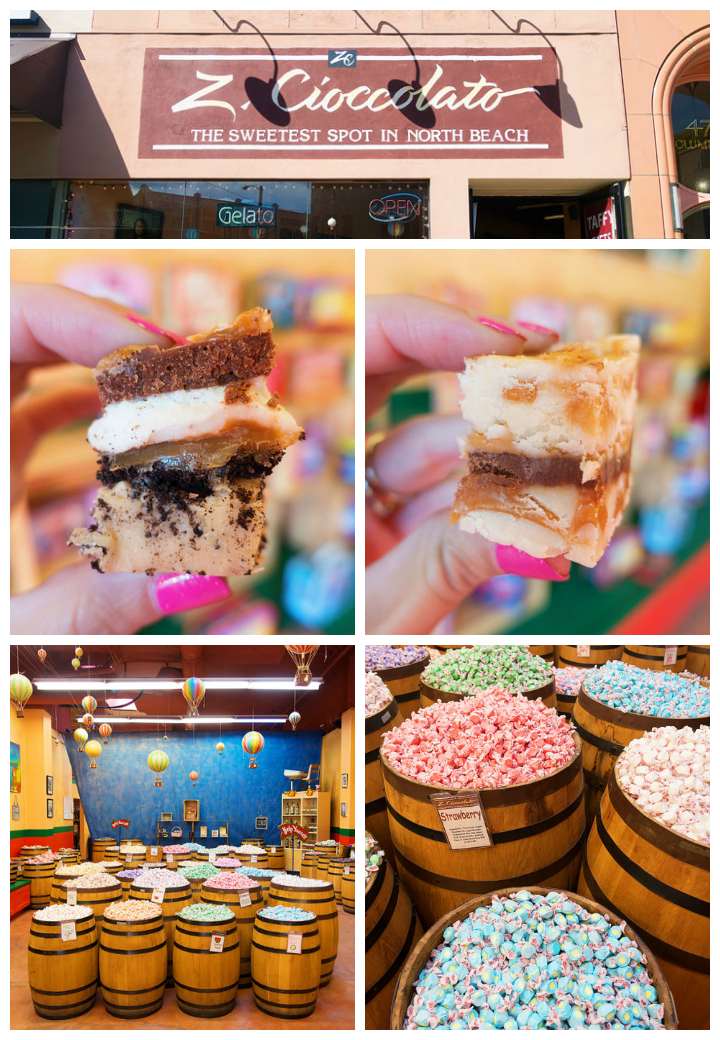 Z. Cioccolato
Next we moved on to Z. Cioccolato. Such a fun and colorful candy and fudge shop. Here we got 3 pieces of fudge each. I can't even remember the names, but that one on the left was a peanut butter, oreo, caramel fluffernutter fudge. Seriously outrageous.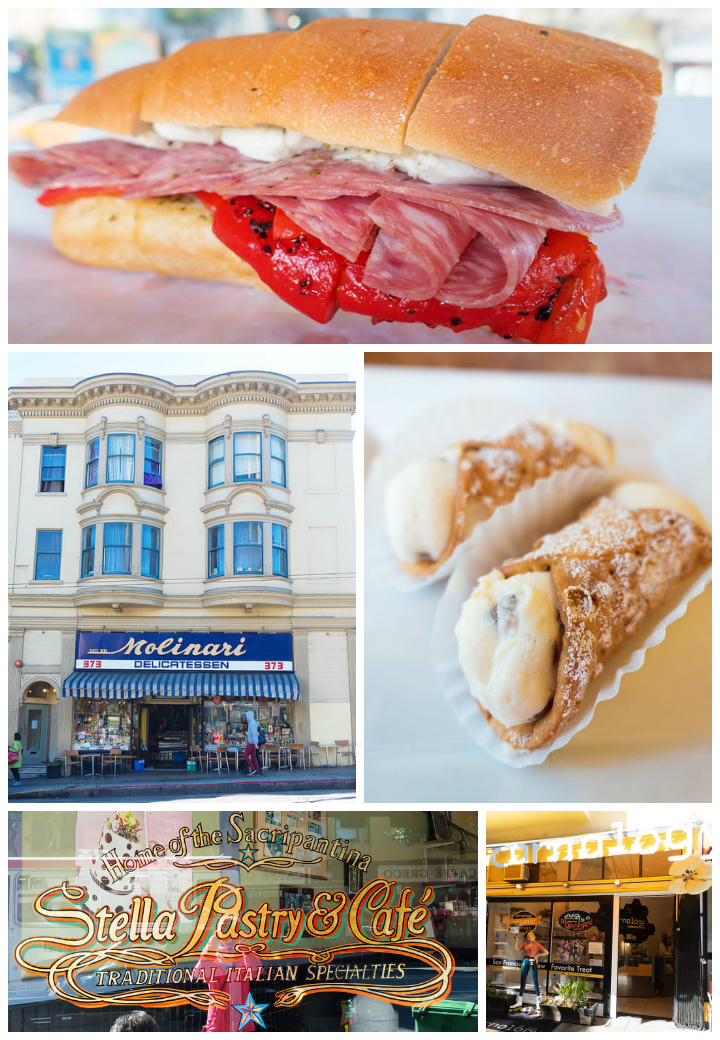 Molinari Delicatessen
For something savory, we got a sandwich from Molinari Delicatessen. This was like a typical Italian deli. I loved looking around in here because they had a small section of Italian groceries for sale as well. For dessert, we had cannoli from Stella Pastry & Cafe.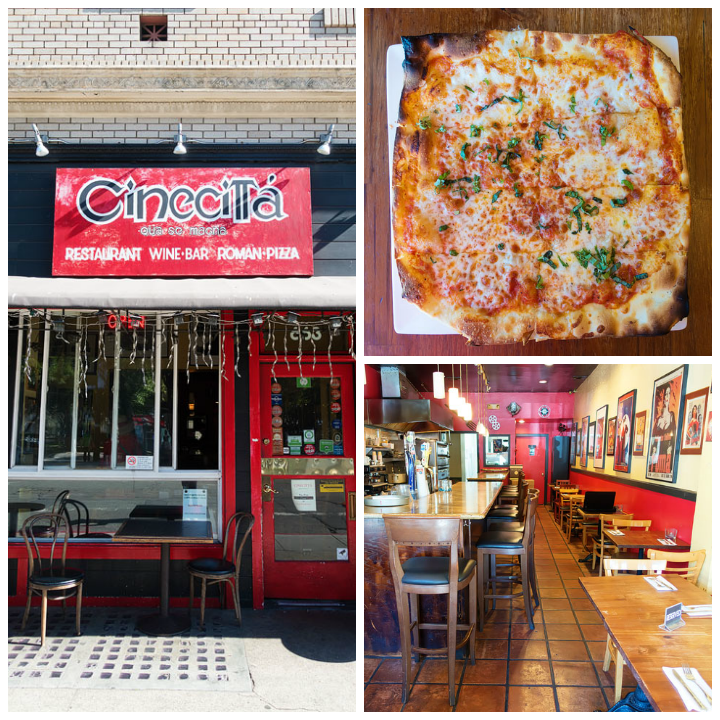 Cinecitta
Our final stop (and where the tour starts) was Cinecitta for pizza. We got the margherita pizza, and even though we were STUFFED from the tour, I couldn't stop eating it. I would highly recommend Cinecitta if you are looking for authentic Italian pizza in San Francisco!
All in all, we had a great experience on our Local Tastes of the City Tour. I would highly recommend them if you are interested in a walking tour of San Francisco.
---
Best Restaurants In San Francisco for Dinner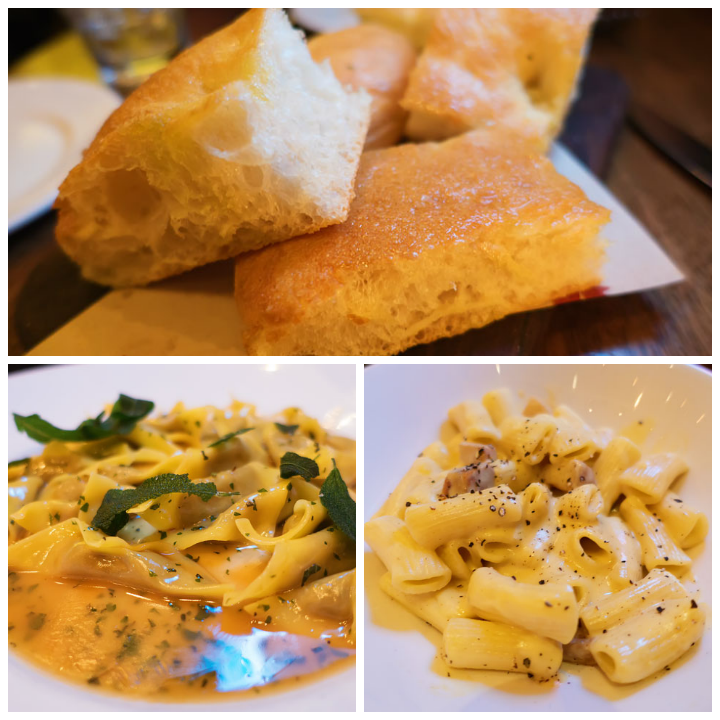 Locanda
We had several very nice dinners in San Francisco. I mentioned the Fog Harbor Fish House in my Things to Do in San Francisco post. The photo above is from Locanda. Reservations are recommended and can be made online. We ordered their famous Pizza Bianca for an appetizer. It's not a white pizza, as the name suggests, but a focaccia bread with olive oil and sea salt. I had the Rigatoni alla Carbonara and Kevin had the Berkshire Pork Saltimbocca with crispy sage. The bacon in my carbonara was amazing! A very nice meal.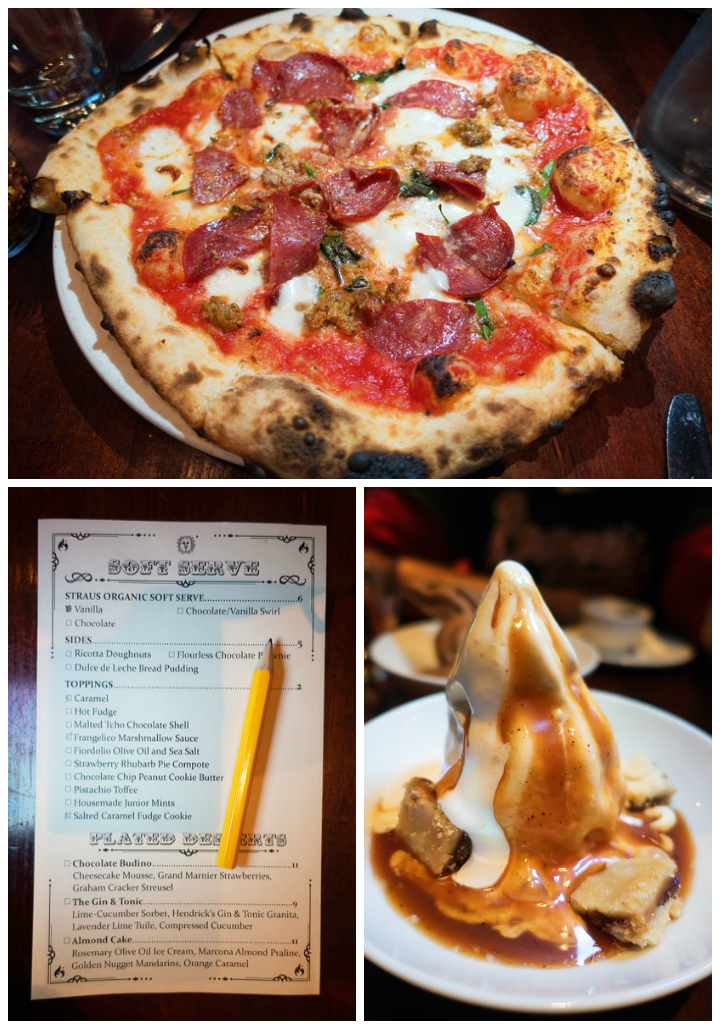 Zero Zero
My favorite dinner in San Francisco was at Zero Zero. We had the Castro pizza with pepperoni, house made sausage, mozzarella, and basil. So good!! For dessert, you HAVE to get their homemade soft-serve ice cream!! They bring you out a little menu card and you can customize your ice cream with toppings and sides. Everything is made in house with local ingredients. I got vanilla soft serve with caramel, marshmallow sauce, and salted caramel fudge cookie pieces. SO SO good!!
Kevin got the chocolate/vanilla swirl with  Chocolate Chip Peanut Butter Cookie Butter. The name is kind of confusing, but it ended up being like a chocolate/peanut butter/Biscoff magic shell. It was incredible. I would LOVE to go back and try the Olive Oil and Sea Salt!!
Zero Zero is definitely one of the best restaurants in San Francisco for dinner!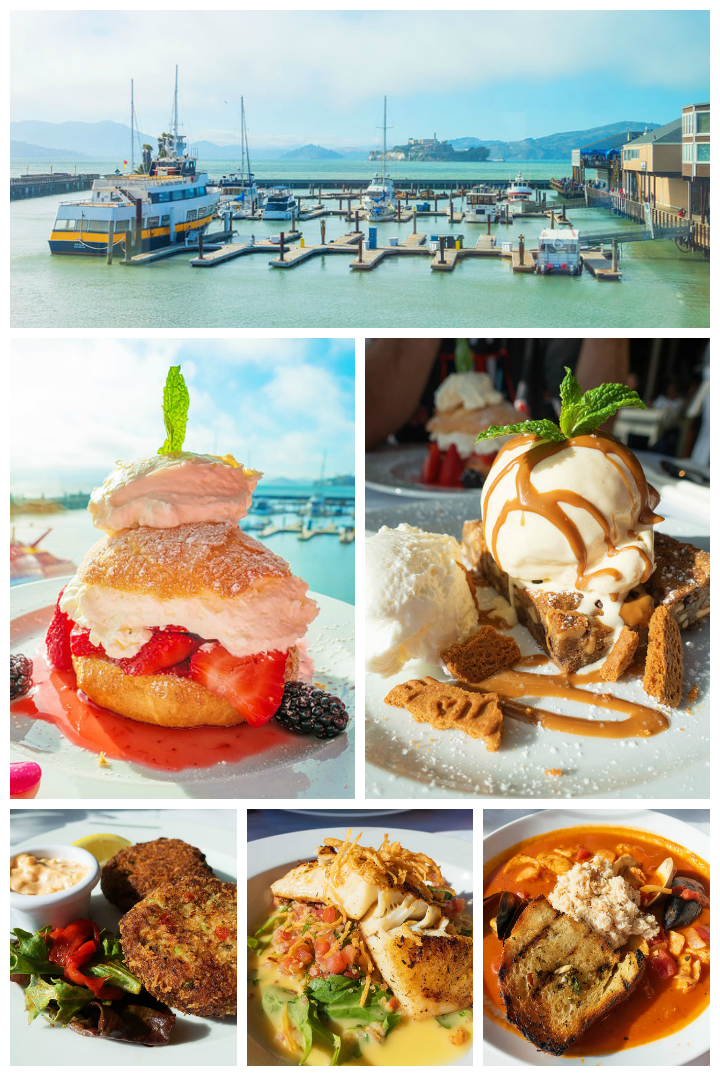 Fog Harbor Fish House
We had an amazing dinner at Fog Harbor Fish House. Above you can see our view of Fisherman's Wharf and Alcatraz! We split the crab cakes for an appetizer, and I had the Alaskan Halibut served over quinoa with toasted pine nuts, arugula, dried cranberries, cilantro, and basil topped with a citrus beurre blanc. Seriously fabulous. And Kevin loved his cioppino! If you go, you HAVE to get the Blondie dessert topped with vanilla ice cream and a warm Biscoff drizzle. SO good!! You can't go wrong with the Strawberry Shortcake either!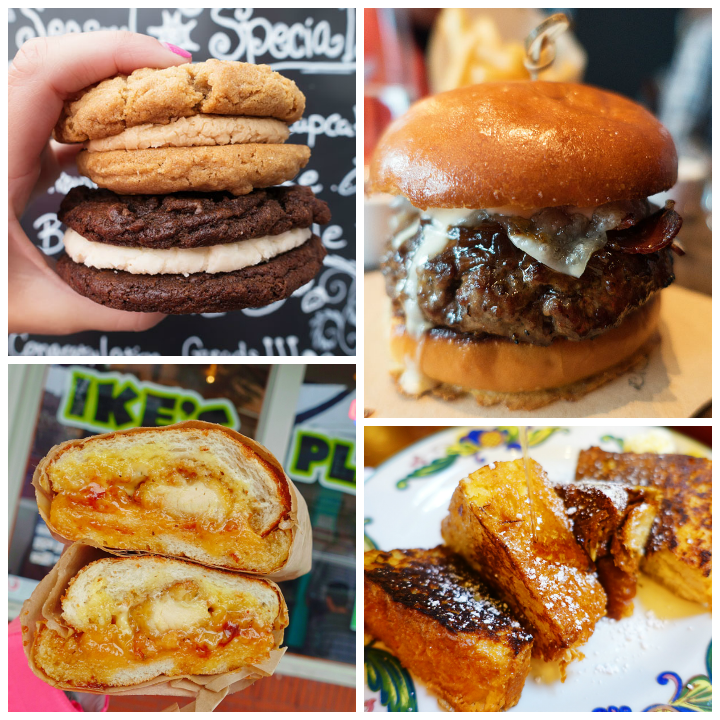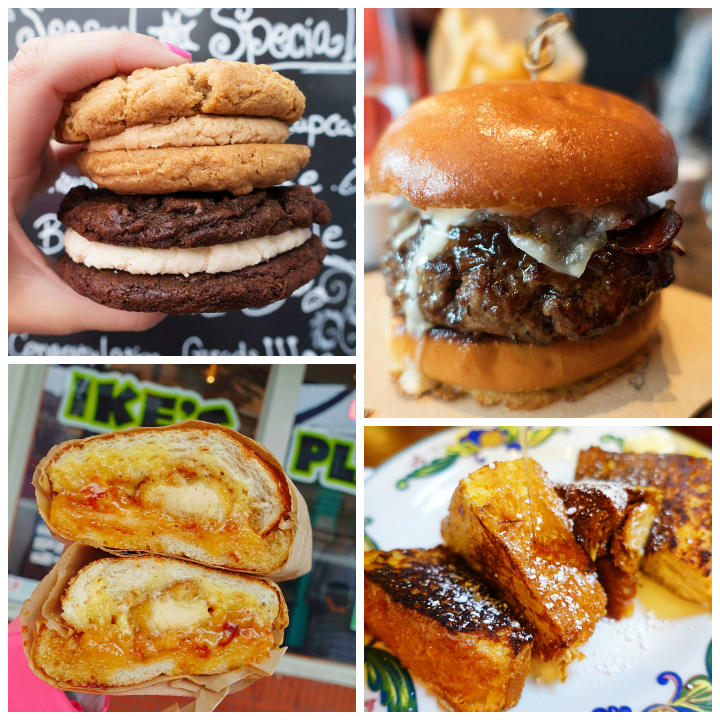 Best Restaurants In San Francisco — 4 More to Try!
A whole day in one picture! Here's the perfect breakfast, lunch, dinner, and dessert in San Francisco! Starting at top left and going clockwise…
Dessert
Cookie sandwiches at Susie Cakes!! SO good! I love Susie Cakes!!
Dinner
Burger at Wayfare Tavern. Very nice meal. Would love to go back.
Breakfast
Challah French Toast with orange cinnamon batter from Zazie. Another famous brunch spot in the Haight-Ashbury neighborhood. Get there early to avoid the line!!
Lunch
BBQ, Cheddar, Fried Chicken, Honey Mustard, Pepper Jack, Honey, and Swiss cheese sandwich from Ike's Place. This place has insane sandwiches and there's always a line out the door! I knew it'd be packed, so we got there around 4pm, thinking it would be on off-time. No luck. There was a huge line. However, it was Memorial Day, so that may have had something to do with the crowd. We waited in line for about 45 minutes before we placed our order.
There's no tables or anything at Ike's Place, but there is a large bench that wraps around the small storefront. Fortunately we found a place to sit, and waited about 15 more minutes before they called our name indicating our sandwiches were ready. Ironically enough, when we got our sandwiches around 5pm, there was no line at all. It was a very good sandwich if you can catch them at a time when there isn't a huge line!! Also be sure and get some of the Voodoo chips!! Amazing!!
---
San Francisco Giants AT&T Park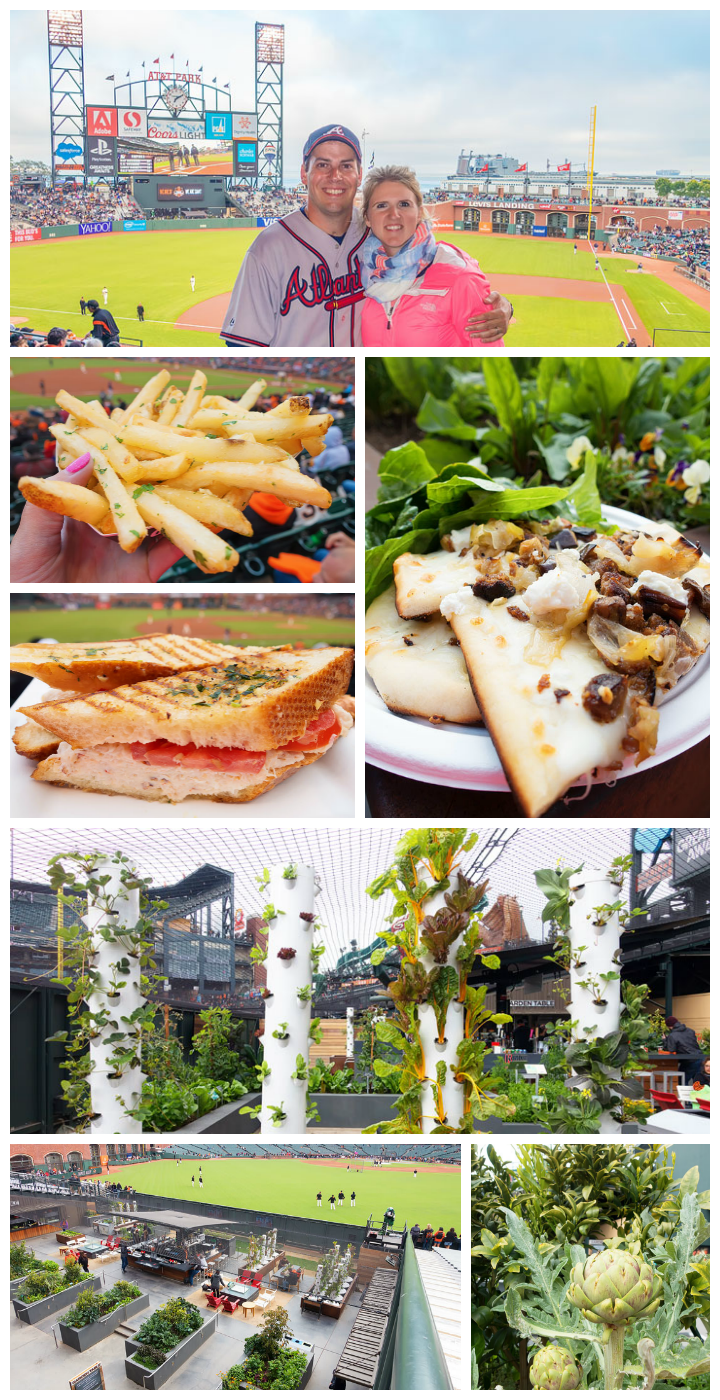 Finally, one of our favorite things we did (and one of our favorite culinary experiences!) in San Francisco was a Giants baseball game at AT&T park. The San Francisco Giants have partnered with Bon Appétit Management Company to bring fans an extraordinary ballpark dining experience. It's WAY beyond hot dogs and popcorn. Together they opened the Garden at AT&T Park, a year-round herb and vegetable garden built into the outfield. The harvest from the garden is used not only in the bistros where you can order fresh, healthy fare, but also to teach kids about healthy food and cooking. We got a flat bread made with cauliflower from the garden, olive oil, parmesan cheese, chive mascarpone, and truffle oil. So good!!
And of course we had to try the Giants famous Crazy Crab Sandwich, with dungeness crab sandwiched between slices of garlic butter sourdough and the much-acclaimed Garlic Fries. They were SO crazy good. I could not stop eating those fries!!
No food tour of San Francisco is complete without a visit to the Garden and AT&T Park!
---
Transportation in San Francisco
We loved walking, biking, and taking the cable cars everywhere we could, but sometimes you just need a taxi. We've started using Uber to quickly call our own private car service. Have you heard of Uber?? It's your own personal, private driver for usually cheaper than a taxi. When you open the Uber app, it will show you where drivers are near you, and tell you how long it will take for a car to get to you. Just click Set Pick Up Location and your private car is on it's way. You can even watch it on the map as it gets closer to your location. It will send you an alert when your car gets close so you know when to go outside.
No more waiting outside in the freezing cold or rain for a taxi! You add a credit card or Paypal account to your Uber account, and you never to worry about paying the driver. It's all done through the app. You get in the car, the driver takes you to your location, and you get out. No fumbling with paying, you can just get out and leave! You don't even have to tip! It says so on their webpage — it's built into the price of the service. Uber is seriously the fastest and best way to get where ever you need to go!
Use this link to sign up with Uber to get your first ride free!
---
San Francisco Hotels — Where to Stay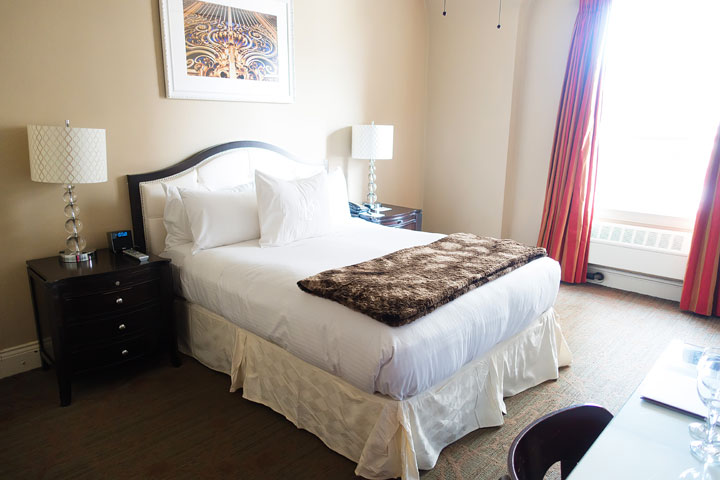 Our last 3 nights in San Francisco we stayed at the Kensington Park Hotel, a Personality Hotel in Union Square. It's conveniently located on the Powell Street Cable Car Line.
Our room was elegant and the bed was divine. But my FAVORITE thing ever about this hotel was the SHOWER!! Oh my gosh, it was heaven!! I love a good, powerful shower and this was honestly the best shower I have ever had in my entire life — I am seriously considering moving in. I am still dreaming about it — I would die to have this shower at home!! If a good shower is important to you, the Kensington Park Hotel is the place to be!!