Ultimate Halloween Peanut Butter Oreo Brownie Bar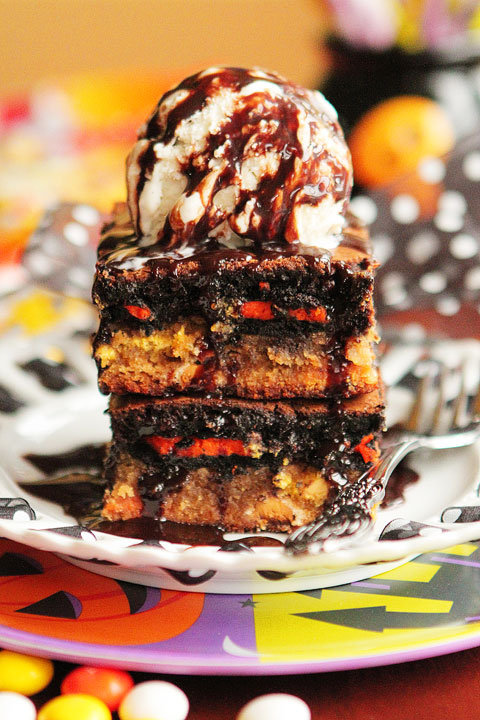 AKA The OMG Illegal-in-48-States Ultimate Insane Brownie.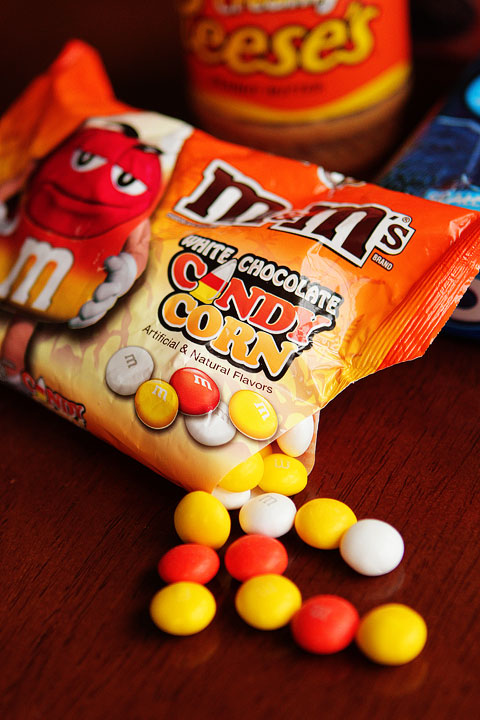 I've been seeing these new white chocolate candy corn Halloween M&Ms pop up all over my favorite food blogs recently, and I knew I had to get my hands on some! I had no idea what to expect. Did they taste like white chocolate? Candy corn? M&Ms? I was totally intrigued, so at 10 pm on Friday night, Jenny and I decided on the spur of the moment to go on the hunt all over Nashville in search of these mysterious candies. Just another a day in the crazy life of two sweet shoppers! (Make sure you check out Jenny's yummy dessert with the same M&M's today too!)
Let me save you a little bit of time. We found out these special Halloween treats are a Walmart exclusive, and we eventually found them not in the Halloween section and not in the candy aisle… but in their own display in the produce section. Well that should have been a no-brainer, right?
They're slightly larger (and more irregularly shaped) than plain M&Ms and they taste like white chocolate chips. I'm guessing the candy corn name comes from the fun colors of the M&Ms. I love peanut butter and white chocolate and I knew exactly what I was going to do with these…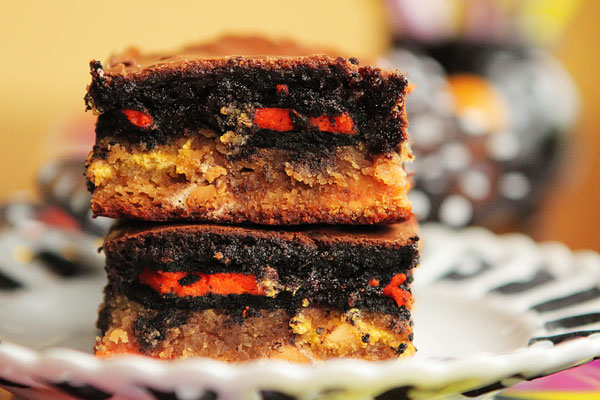 I recreated my Ultimate Chocolate Chip Cookie n' Oreo Fudge Brownie Bar with a peanut butter cookie & white chocolate candy corn M&M base and Halloween Oreos.
It's a warm, gooey peanut butter cookie topped with a soft, fudgy brownie, with a sweet double stuffed Oreo nestled right in the middle. It's the ultimate chocolate peanut butter treat!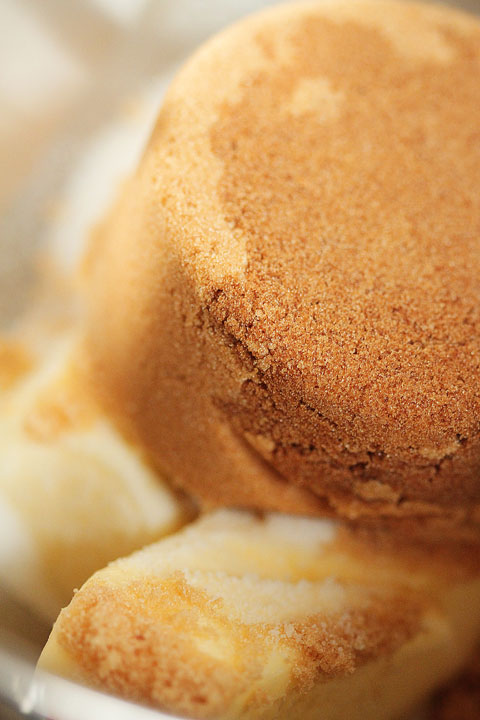 This peanut butter cookie recipe is insane, it tastes just like peanut butter ice cream. Love it!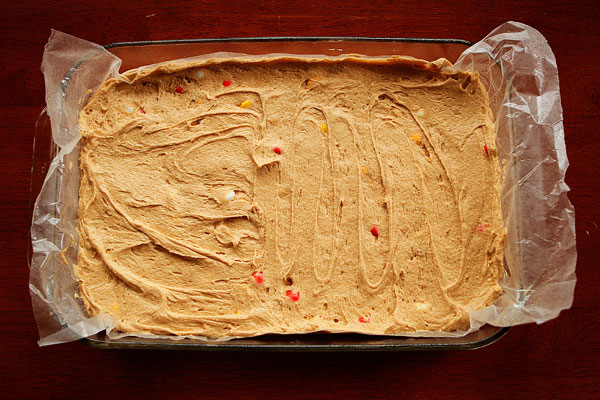 If you can't find the white chocolate candy corn M&Ms, I think Reese's Pieces would be incredible in these cookies. Or just leave it plain! I seriously cannot say enough good things about this cookie dough.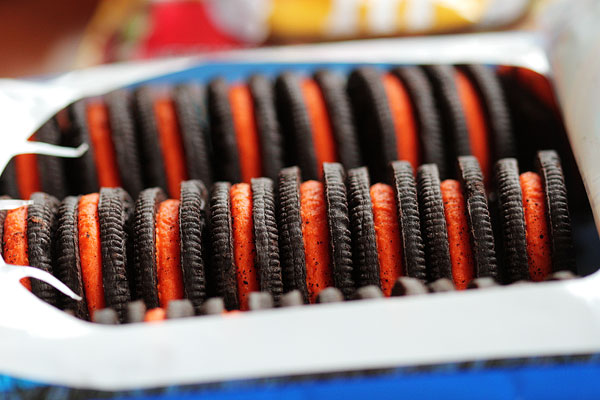 Break out the fun Halloween Oreos…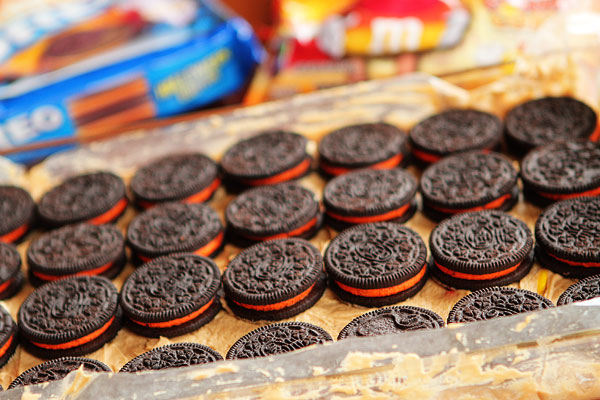 And layer them over the cookie dough. I push my Oreos to the middle because I usually cut off just a little bit of the edges for bar treats. I'm a no-edge girl.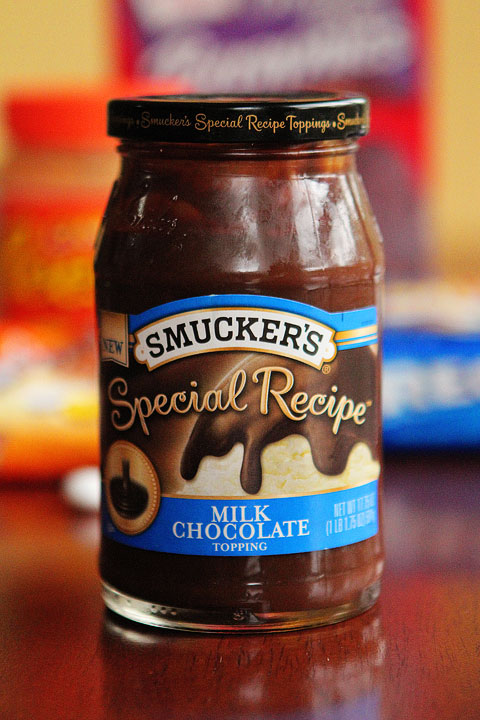 Now here's a little secret I learned from Picky Palate. I always add 1/4 cup hot fudge topping to all boxed brownie mixes. It makes them so gooey and fudgy!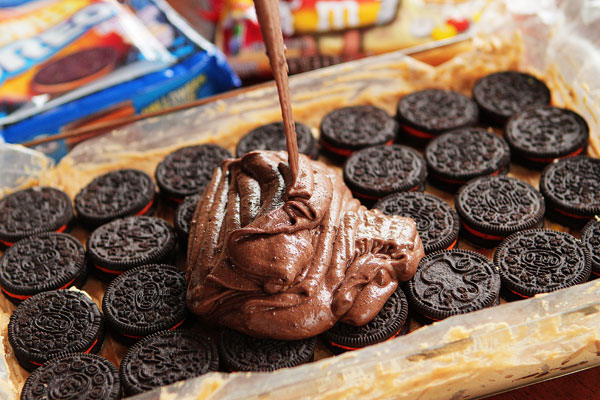 Whip up a 9×13 Family Size brownie mix and add in some hot fudge topping. Or dang. What about caramel topping?? Someone please try this and report back.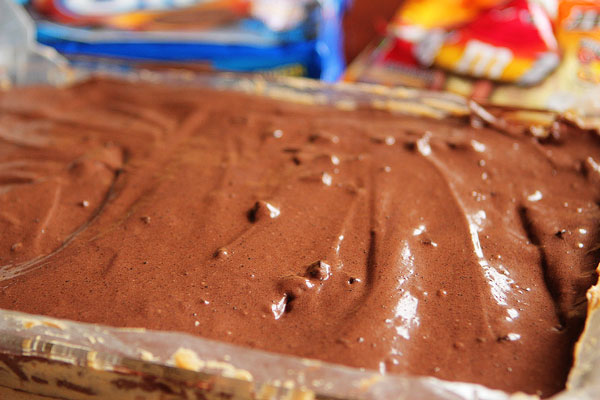 Here's our gorgeous layers, ready for the oven!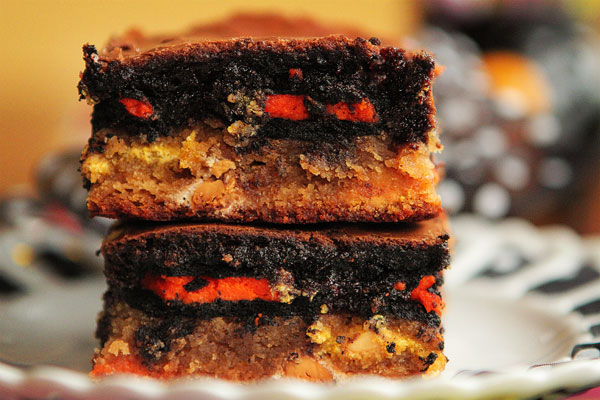 Really, what more can you say about this warm, gooey, fudgy, peanut buttery delight?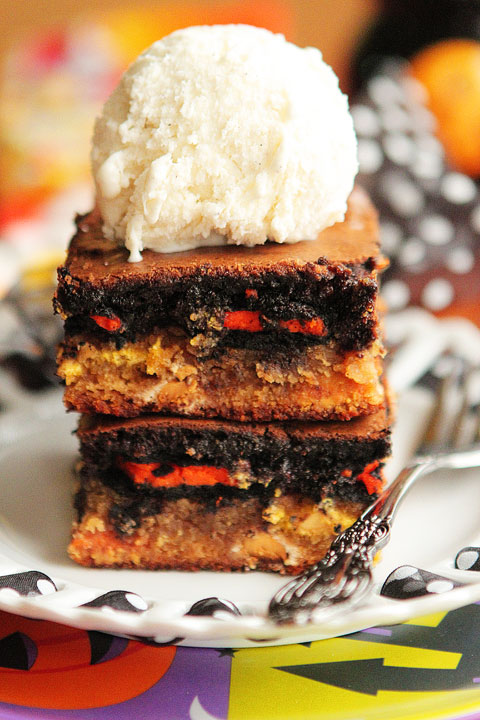 Oh yes. You can say, Ice Cream please!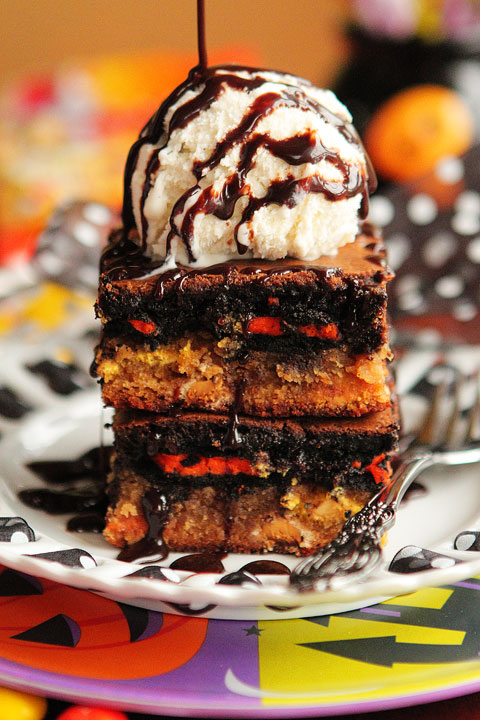 This bar is so dangerously delicious… it's scary.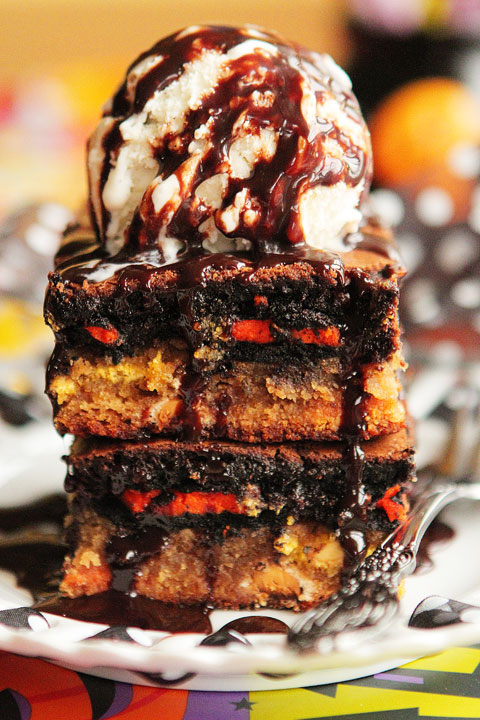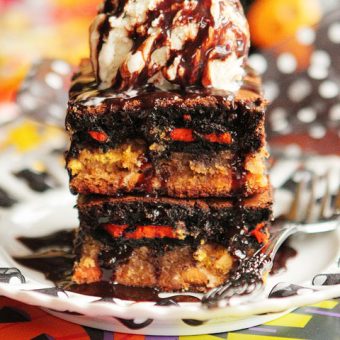 Ultimate Halloween Peanut Butter Oreo Brownie Bar
Ingredients:
1/2 cup butter, softened
1 cup peanut butter
1/2 cup white sugar
1/2 cup brown sugar, packed
1 egg
3 tablespoons milk
1 teaspoon vanilla extract
1 1/4 cups all-purpose flour
3/4 teaspoon baking powder
1/4 teaspoon salt
1 (9.9 oz) pkg white chocolate candy corn M&Ms or 1 cup Reese's Pieces
1 pkg Halloween or Double Stuffed Oreos
1 Family Size (9—13) Brownie mix
1/4 cup hot fudge topping
Directions:
Preheat oven to 350 degrees F. Cream the butter, peanut butter, and both sugars in a large bowl with an electric mixer on medium speed for 3-5 minutes. Add the eggs, milk and vanilla and beat until dough is light and fluffy.
In a separate bowl, whisk together the flour, baking powder and salt, then slowly add to the mixer until the flour is just combined. Stir in M&Ms.
Spray a 9×13 baking dish with cooking spray, line with wax paper, and spray with cooking spray again. Spread the cookie dough in the bottom of the dish. Top with a layer of Oreos.
Mix together brownie mix, adding an optional 1/4 cup of hot fudge topping to the mix. Pour the brownie batter over the cookie dough and Oreos.
Bake at 350 degrees F for 45-55 minutes, until a toothpick inserted 2″ from the edge comes out with moist pieces clinging to it.