The Ultimate Brownie Crazy Milkshake!!!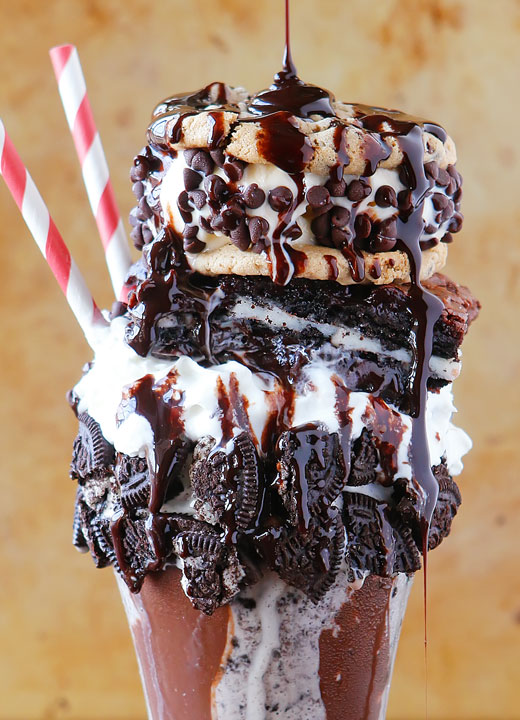 Crazy milkshakes are all the hype right now in New York, London, and Australia. Now you can skip the long flight and the 4-5 hour wait in line and make them right at home!!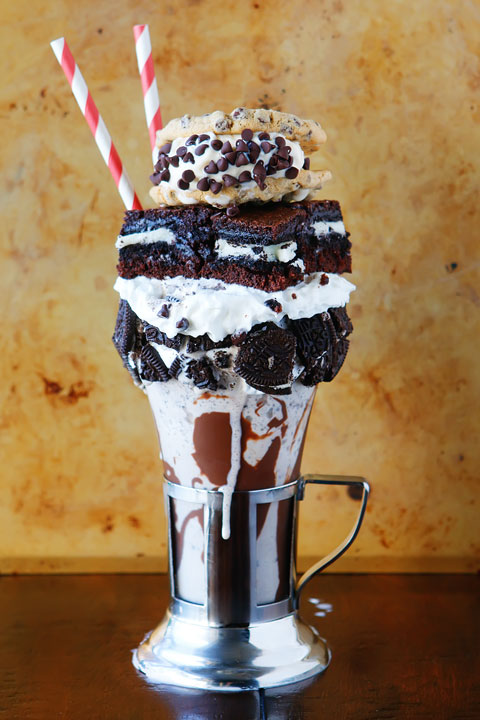 You guys may remember these amazing milkshakes we had in New York. I got to spend my birthday in NYC indulging in these fabulous milkshakes with three of my favorite friends. It was such a fun experience and we seriously cannot stop thinking about those darn milkshakes! We decided to recreate the memory by inventing our own crazy milkshakes.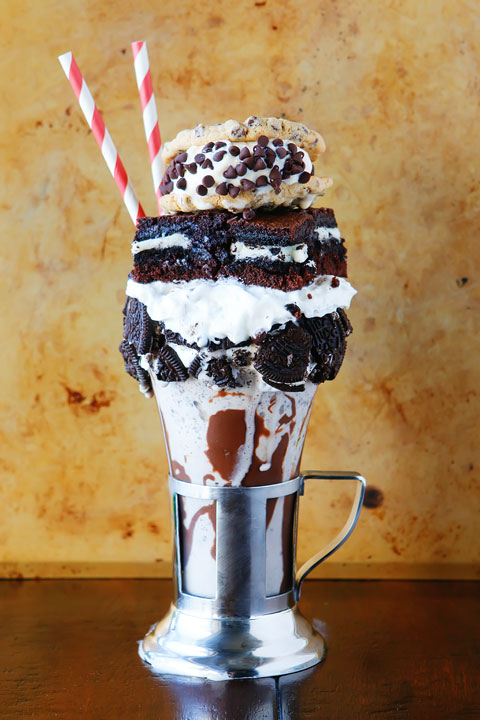 Crazy milkshakes are so much more fun when you make them at home. You can experiment, be creative, and add all your favorite toppings! It's so much easier than you might think. I'll show you!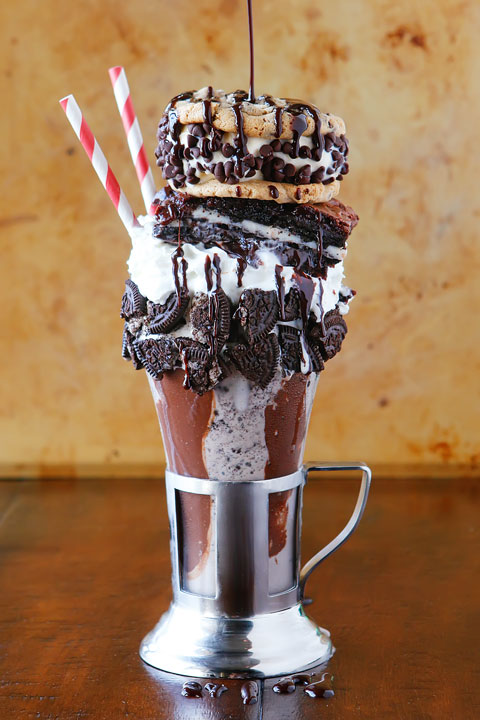 Today we are all going to share our crazy milkshakes with you!! For my crazy milkshake I decided to do a tribute to my Ultimate Brownies (the cookie dough, Oreo, brownie ones!) and create… the Ultimate Brownie Crazy Milkshake!!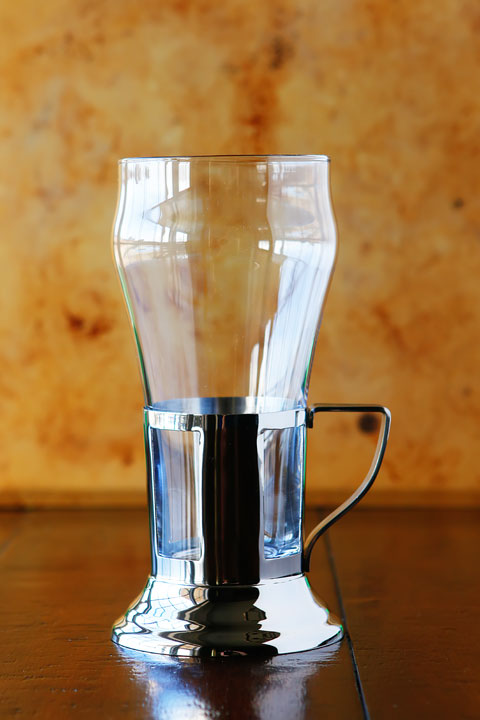 Jenny found us the exact same milkshake mugs from Black Tap NYC on Amazon. Love these! A large mason jar would also look awesome.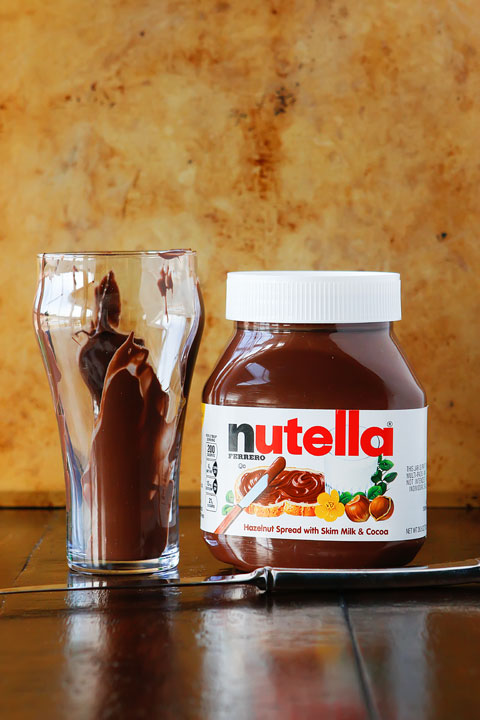 First you'll want to spread the inside of the mug with Nutella.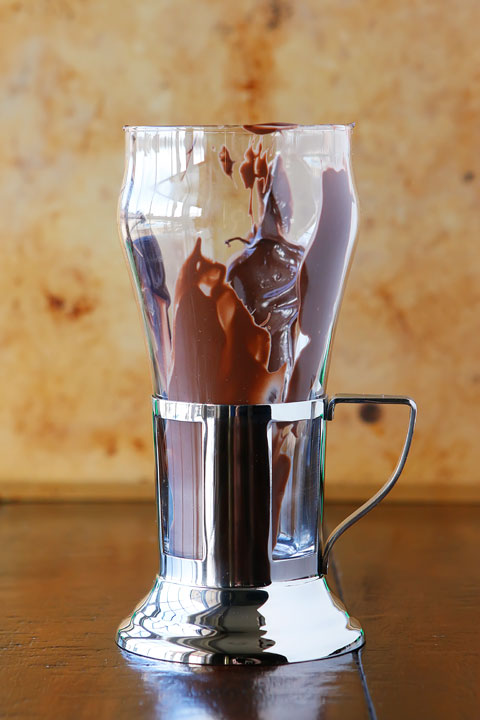 You could also use hot fudge or chocolate syrup instead of Nutella if you like.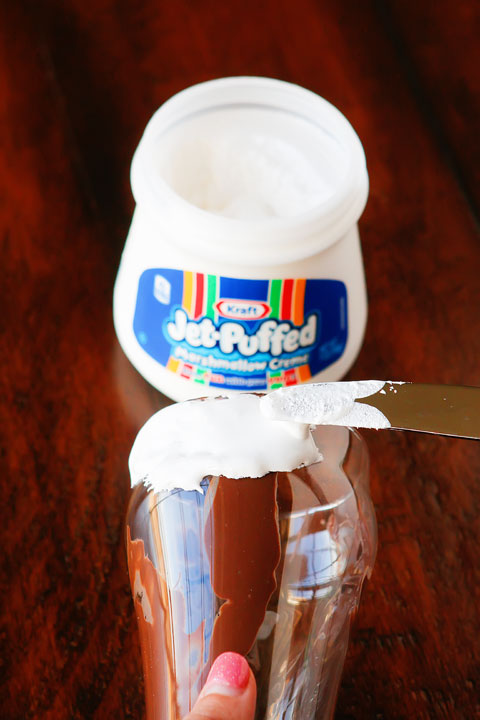 Next, spread the rim of the mug with Marshmallow Creme.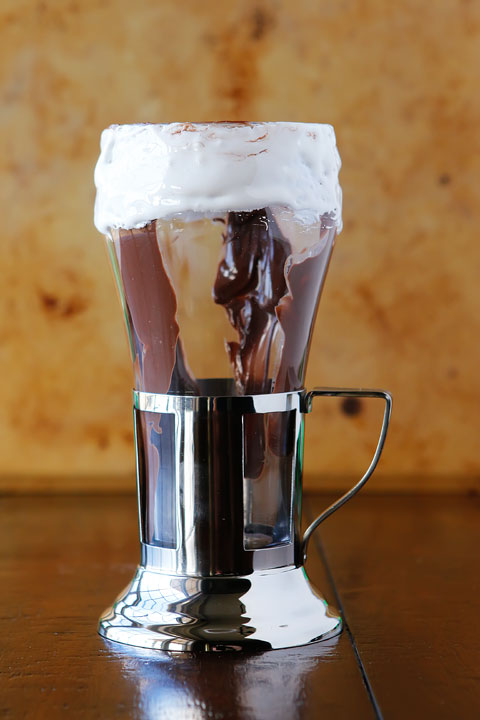 My marshmallow creme layer is about 1.5″ tall.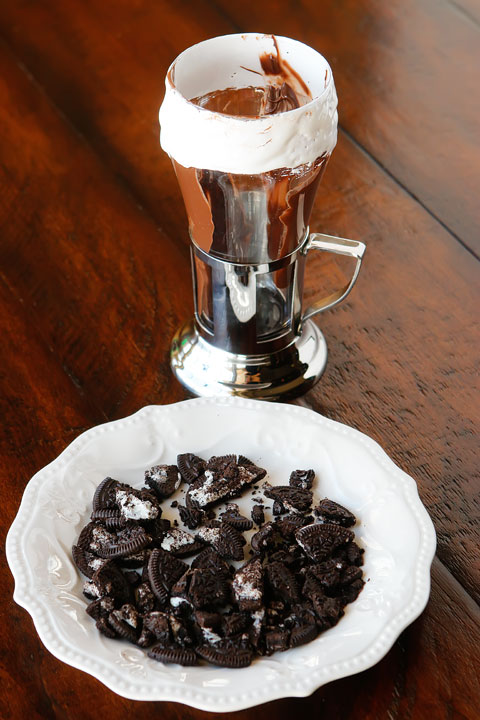 Now take some crushed Oreos….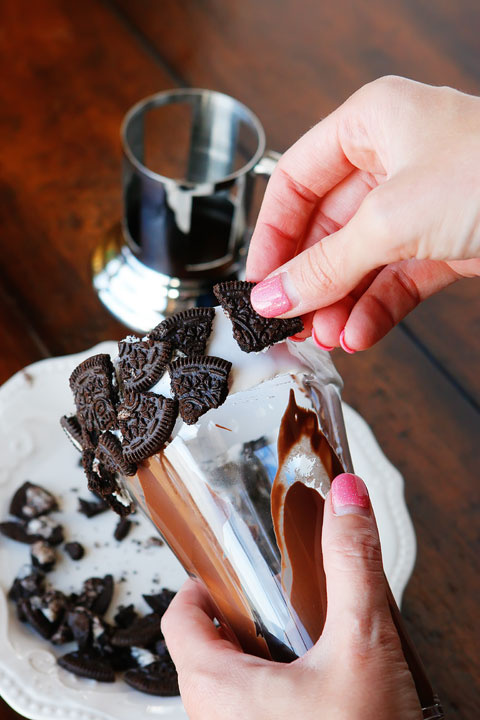 And press them into the marshmallow creme.
Ta da!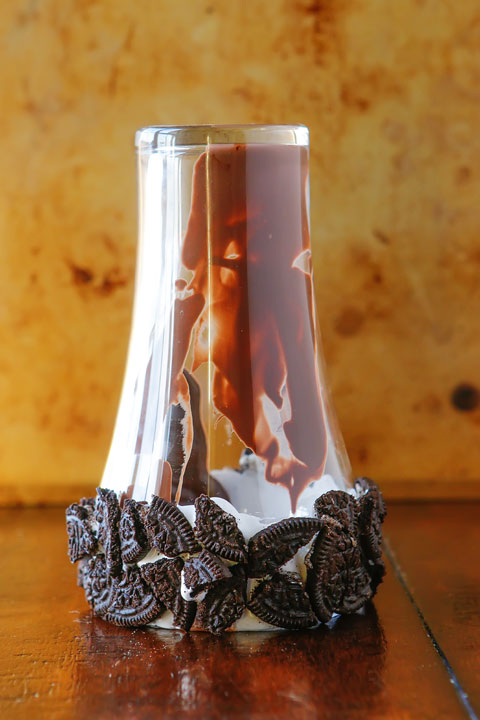 You can store the glasses upside down until you're ready to make the milkshakes. I recommend putting them on a cookie sheet lined with wax or parchment paper. Keep somewhere cool and dry. If you're going to wait longer than an hour to make the milkshakes, you might want to store the mugs in the fridge or freezer so the marshmallow creme hardens up so the Oreos don't fall off.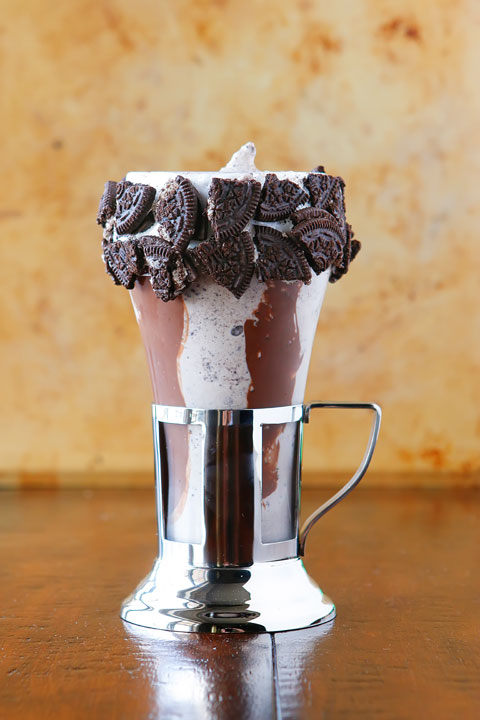 Next, make your favorite milkshake. I made the milkshake in a separate glass and poured it into the fancy mug. Since we had leftover Oreos, we went with a Cookies and Cream Milkshake!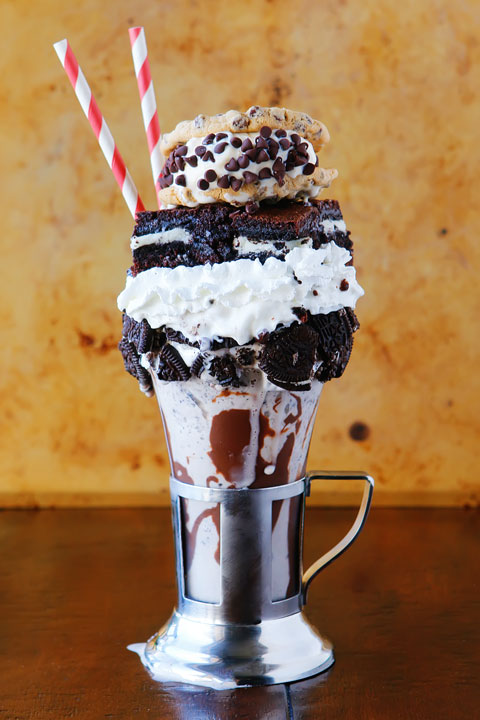 Top with an Oreo Brownie (or an Ultimate Brownie!) and a Chocolate Chip Cookie Ice Cream Sandwich.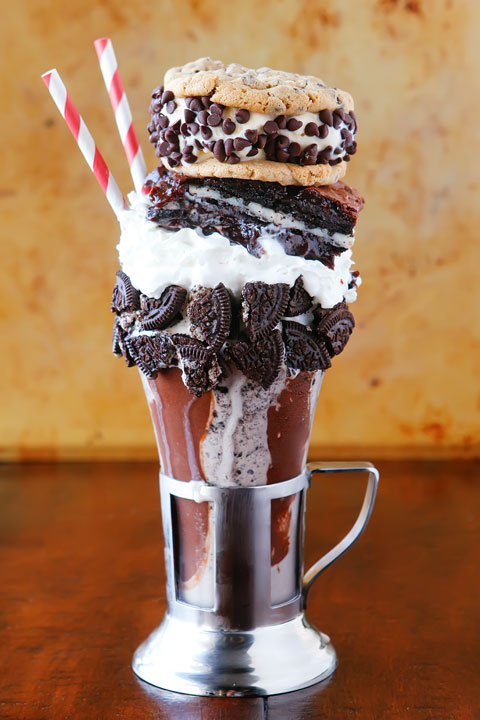 Garnish with whipped cream and fun stripy straws.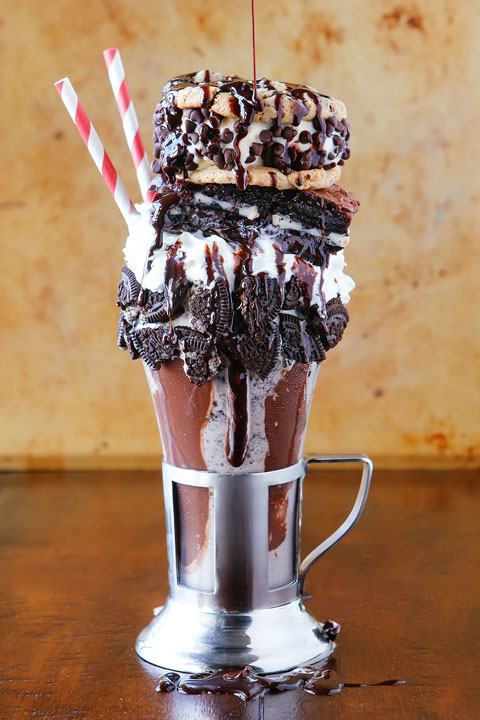 Don't forget lots of chocolate syrup. ?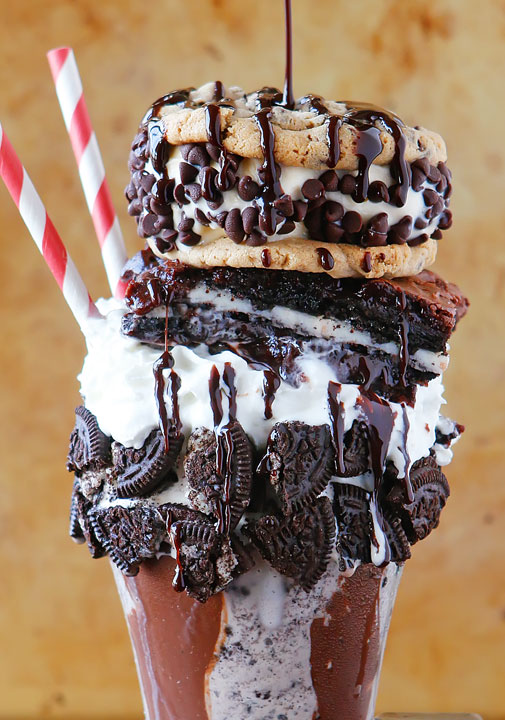 I recommend making the brownies the night before, so they have plenty of time to cool.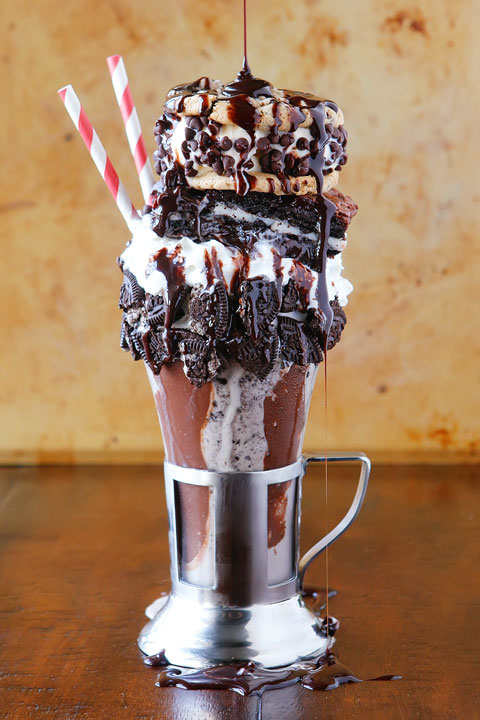 You can also make the ice cream sandwiches ahead of time and freeze until ready to use.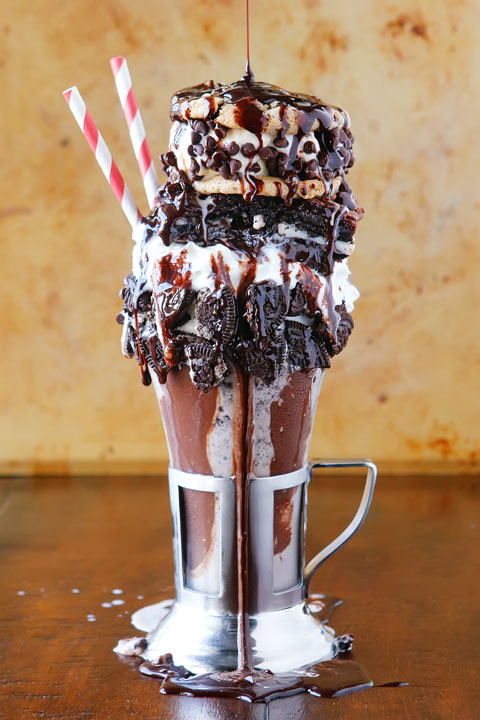 Basically you can make everything ahead of time (the brownies, ice cream sandwiches, and the mugs) and have it all ready, then all you have to do is make the milkshake and decorate!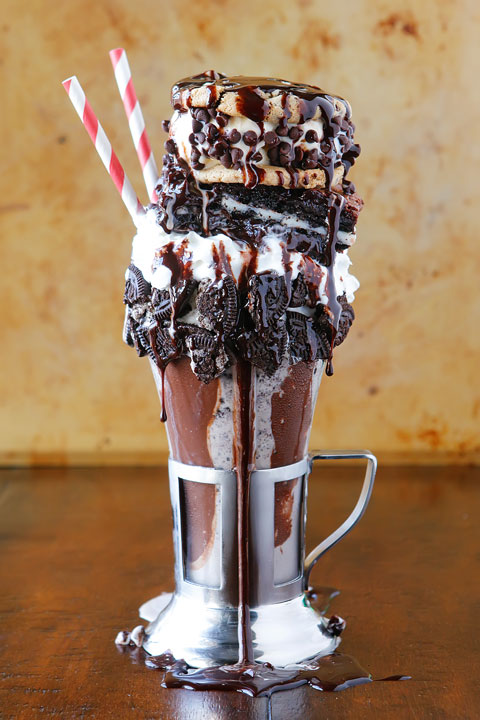 Set out whipped cream, straws, chocolate syrup, the brownies, the ice cream sandwiches, some extra Oreos, and maybe some cherries and let everyone decorate their crazy milkshake. So fun! What else could you put on a crazy milkshake?? ?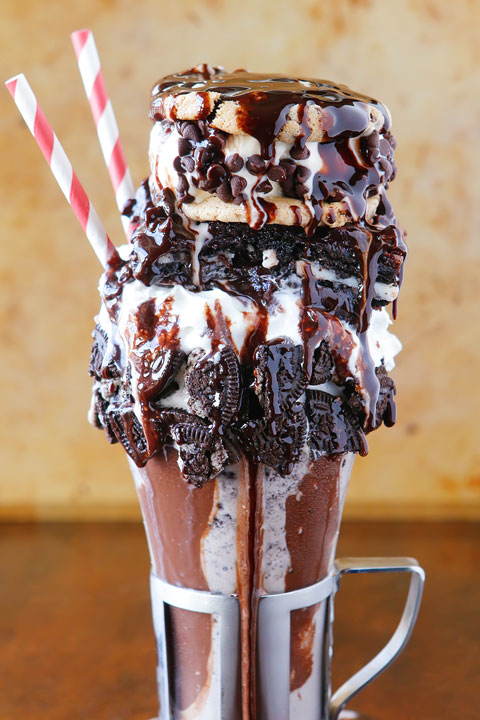 Be sure to take lots of pictures of the finished milkshakes! I would LOVE to see your crazy milkshakes. Upload them to Facebook, Twitter, or Instagram and tag them #kevinandamanda or @kevinandamanda so I can see!! :)
More Crazy Milkshakes!!
Be sure to check out these other outrageous crazy milkshake inventions today!!!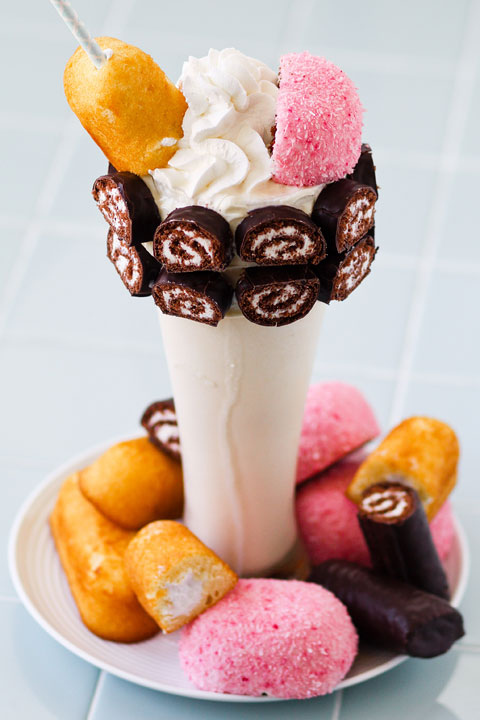 Seriously how fun is this gorgeous milkshake with TWINKIES, HOHOS, AND SNOWBALLS!!!
Oh my word, what could be better than a caramel milkshake with a GIANT CINNABON on top??!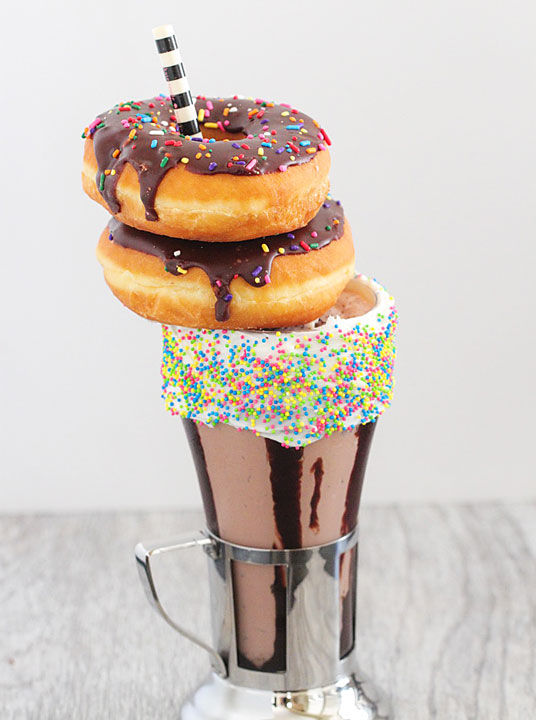 This is the sweetest milkshake ever!! Donuts AND sprinkles!! Swoon!!
Click the photos above for more details!!
What kind of crazy milkshake would YOU invent??!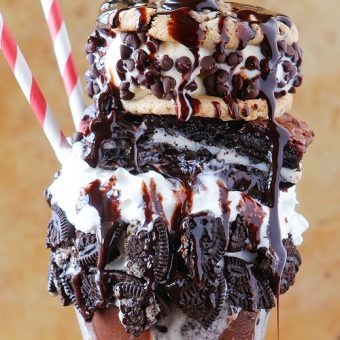 The Ultimate Brownie Crazy Milkshake!!!
Ingredients:
3 tablespoons Nutella
3 tablespoons Marshmallow Creme
8 Oreos, crushed
1 cup vanilla ice cream
1/4 – 1/2 cup milk
Whipped cream, for garnish
Directions:
Use a spoon or knife to spread Nutella inside a tall clear glass or mug. Spread rim with marshmallow creme. Press about half the Oreos into the creme. Store mug upside down.
Combine ice cream, remaining crushed Oreos (as many as desired) and milk (to desired thickness). Pour milkshake into prepared mug.
Top with an Oreo Brownie and a Chocolate Chip Cookie Ice Cream Sandwich. Garnish with whipped cream. Enjoy!!!
More Decadent Chocolate Recipes!