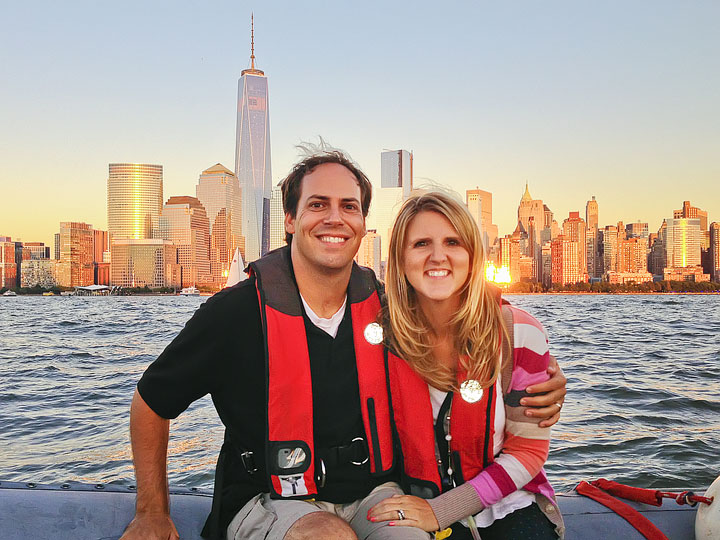 Last weekend Kevin and I spent a few quick days in NYC together. We had so much fun this trip! Whenever we travel together, I usually pick where we eat, and he picks what we do. It works out great! :) He always does his research and finds the neatest things for us to do. And likewise, I'm obsessed with food, so I pour over Yelp reviews before narrowing down a restaurant. :)
Below is a review of what all we found in NYC this trip. :) If you're planning a visit, maybe  you'll find a few new things to add to your list, or maybe some things you want to skip, lol! :)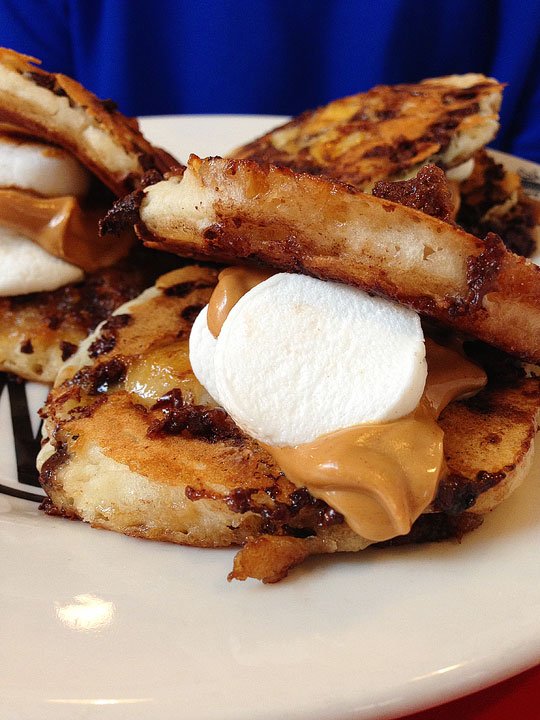 We started with breakfast at Shopsins in Essex Market. Kevin ordered the Chocolate, Peanut Butter, and Banana Pancakes with Marshmallows. No surprise there, lol!
Here's what I thought about Shopsins:
I had heard a lot about Shopins before going. It came highly recommended, so I decided to check it out on Yelp. When choosing a restaurant, I usually look at the photos on Yelp to get a visual idea of the menu. I am much more visual than just reading a description on a menu!
First of all, the Shopsins menu is like, infinity big. Second, it's all crammed and crowded onto one sheet of paper. Third, I'm suspicious that it might be written in another language. So basically, I had no idea what to order. Yelp saved the day with user-submitted photos and descriptions of dishes and what they ordered.
But then, I started reading some of the other reviews. Apparently, there are some pretty strict rules about being granted the privileged of eating at Shopsins.
First of all, they don't seat parties bigger than 4. No exceptions.
Second, it sounded like from the reviews they frown on cell phone use (like, even just playing on your phone, not talking on it) and taking pictures of food. (Sorry. I had to do it.)
Third, I read multiple reviews of diners being unceremoniously thrown out for "no reason at all".
Evidently, I risked my breakfast for that photo, ya'll. I was, however, much more quick and discreet than usual, lol!
Oh, fourth! You can't order too much food. Seriously. If you want to try a bite of a few things and share, I read reviews of customers being refused service because it was "too much food". I'm just telling you what I read!
So anyway, all that to say, we went and dined pretty much without incident. We were seated basically immediately, but our waiter came over let us know, very unapologetically, that they have a very small kitchen and it's full with other orders right now, so he would not be taking our order for at least 30 minutes, and if we were in a hurry, we should leave. Lol. Fortunately, I needed every second of that 30 minutes to comb my way through their massive menu!
Final thoughts: Kevin's pancakes were good (too banana-y for me, but very yummy otherwise) and my S'mores French Toast (not on the menu, but I saw it on Yelp and asked for it) was just okay. Too eggy for my liking. I would like to go back if I knew exactly what to order!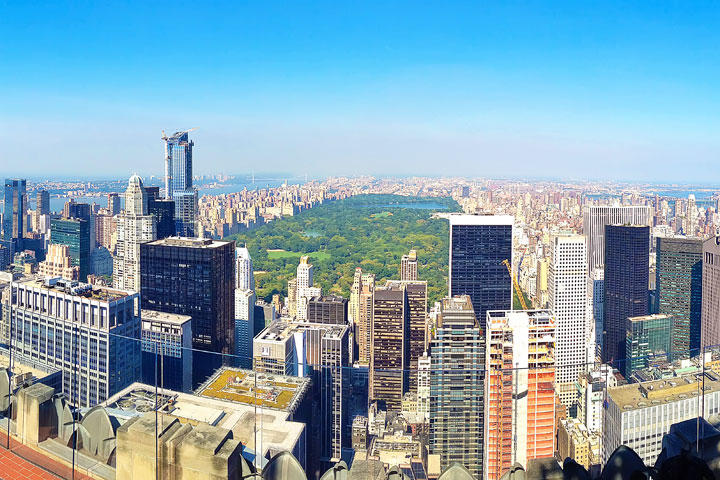 We then made our way to Rockefeller Center and got tickets for "Top of the Rock", the observation deck at Rockefeller Center. I had been before a few years ago and loved it!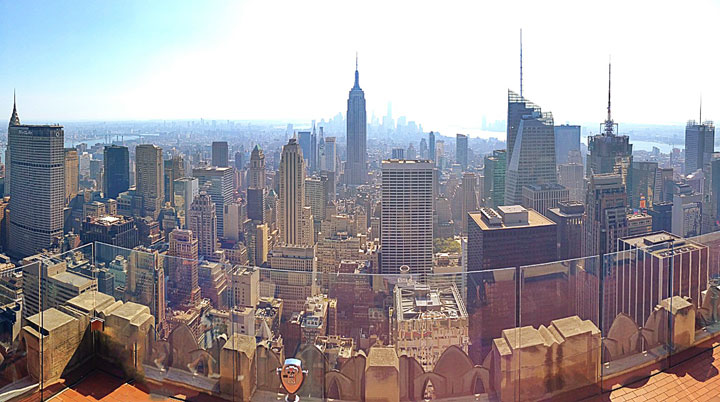 We also went to the top of the Empire State building, and I'll share those photos in another post. But here's what I thought about Top of the Rock compared to the Empire State Building.
Top of the Rock vs. Empire State Building
First, the line to Top of the Rock is much shorter (there is basically no line) and moves much quicker.
Second, looooooooved that it was so much less crowded at Top of the Rock. You can see, there's hardly anyone in our photos. There's no one pressed up against the glass. At the Empire State Building, there were crowds three people deep all the way around pressed up against the glass, with no room to "inch" in. Once you made it to the top, you then basically had to wait in line for a spot to see out. And then again every time you wanted to move to another spot for another view. It wasn't that bad, but it was so much nicer at Top of the Rock.
That said, the view is amazing from Empire State Building. You can see all the way around, North, South, East, and West. You can only see North (Central Park) and South (Empire State Building) from Top of the Rock.
I'm glad we got to do both at least once! :)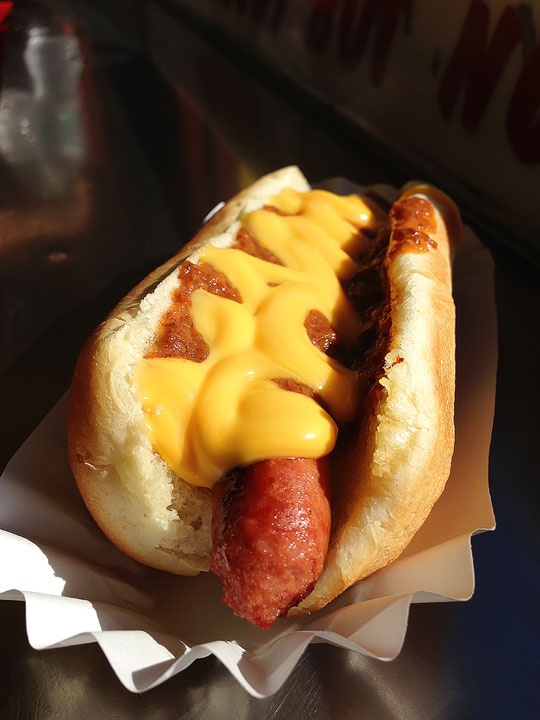 Kevin realllllllllllllllly wanted a street vendor hot dog, so I went on the hunt for the best hot dog in NYC. Everything lead to Gray's Papaya. It's not exactly a hot dog cart, but only slightly one-half step up from one, lol! :) So for lunch on our first day in the city, we headed straight there.
Kevin loved it, but I didn't really think it was anything special, lol!
We went to FAO Schwartz and saw a giant minion!!! :) Such a fun store for kids and grownups alike. :)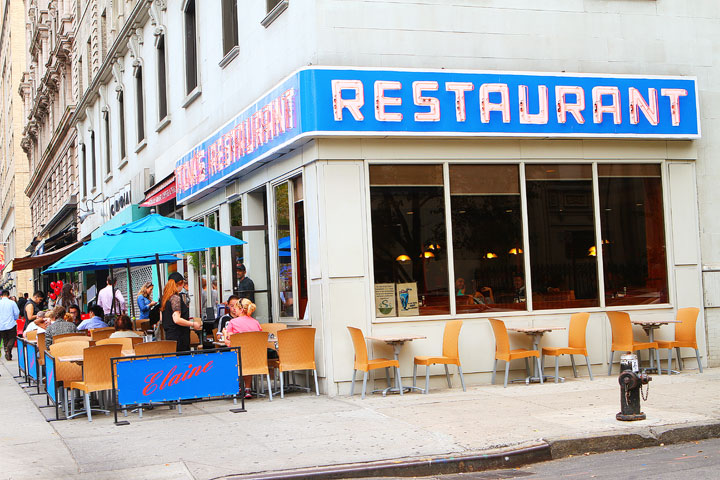 Kevin wanted to see some "famous sites" around NYC, so of course we started with the cafe from Seinfeld! :) It was so neat walking up the street seeing it right there in person! :)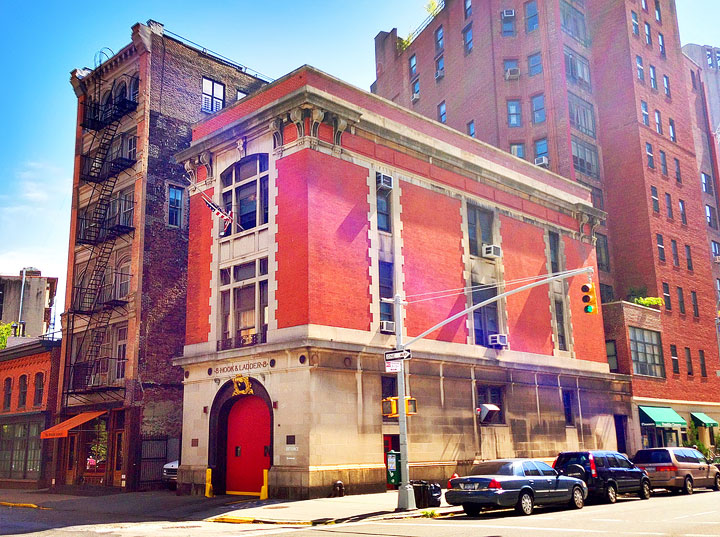 Okay, so, funny story about the next place. Now, Kevin usually plans what we do, but since I'm familiar with the city and very comfortable taking the subway, I am usually the navigator.
On our first day in, on the way to our boat tour, we walked right by the Ghostbusters Fire Station. I knew I recognized it from something, but couldn't really place it, so I pointed it out to Kevin.
He said "uh huh" in that way I knew he really wasn't listening.
Oh well! I thought it was neat! :) Two mornings later, he was making his list of the tv and movie scenes he wanted to see and asked if I knew where the Ghostbusters Fire Station was. I replied, "Is it Hook and Ladder 8?"
…And he said yes.
"We walked riiiiiiiiight byyyyyyyy there the other day! I pooooooooointed it ooooout to you!"
"But you didn't say Ghostbusters!!!"
*facepalm*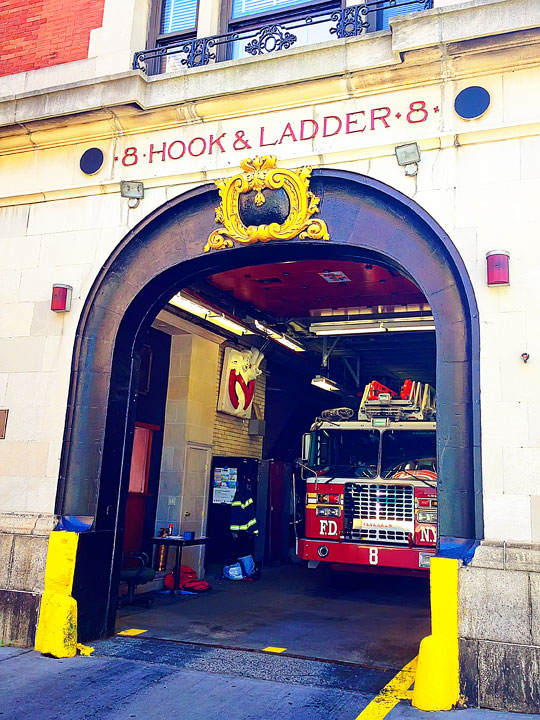 Oh well! :) We got to see it again, lol! :) And now, anytime I want to see if he's listening, I'm going to randomly yell "GHOSTBUSTERS!!!!!" :)
This time they opened the doors and we could see the Ghostbusters sign inside. How fun is that? :)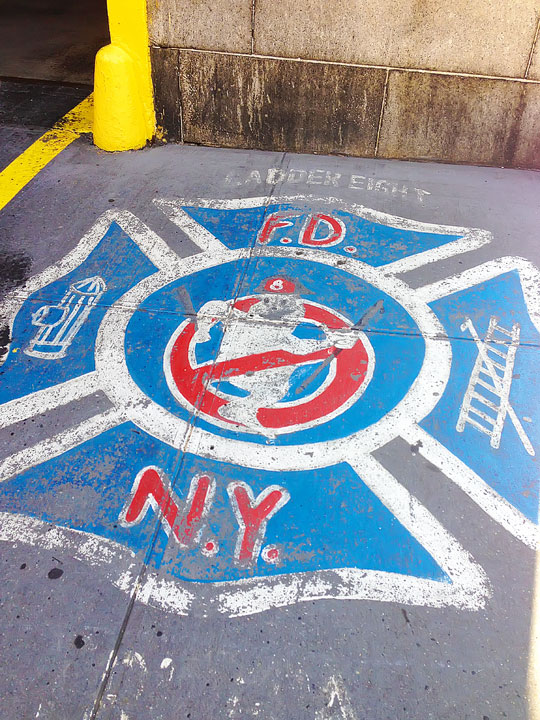 There's also the Ghostbusters insignia on the sidewalk in front, so you don't miss it. If we'd been walking on that side of the street, we would've known for sure! :)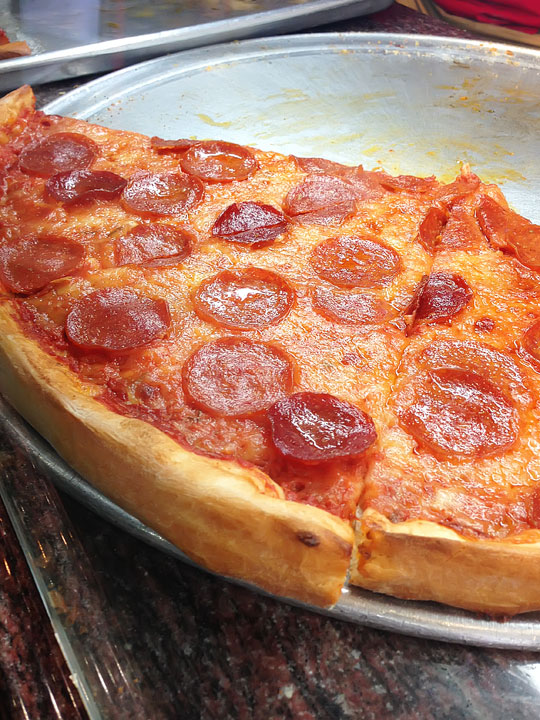 On Saturday afternoon, we made our way over to Bleecker Street Pizza in Greenwich Village. I looove Greenwich Village, and if I lived in NYC, that would be my dream neighborhood! It is also where the Friends building is. I can totally see myself living across the hall from Joey, Chandler, Monica and Rachael and running around Greenwich Village! :) It is such a gorgeous neighborhood. And Bleecker Street Pizza is constantly voted as "NYC's Best Slice" so it's a great place to grab an authentic slice of New York pizza. It's thin, but the bottom has this wonderfully soft-crisp crust. It's chewy and crisp and thin and unique and perfect and not soggy at all. I love it!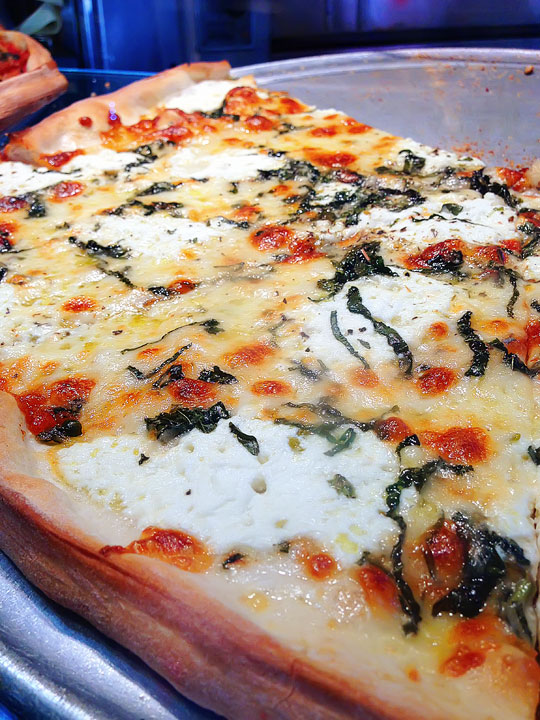 Had to try this white pizza too! Yum! They have several different pizzas available and you can just get a slice of whichever one you want. Or you can get a whole pie! Definitely add Bleecker Sreet to your restaurant list in NYC! :)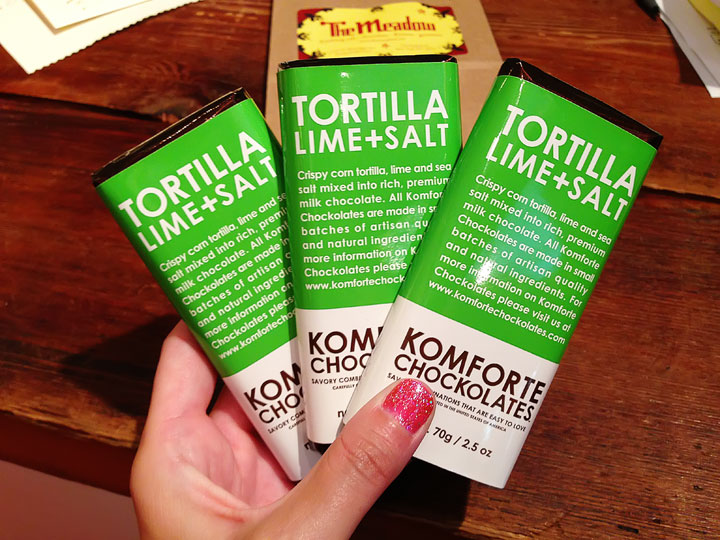 After lunch we walked over to The Meadow and picked up my favorite Tortilla Lime Salt chocolate bars. These are great to bring back as souvenirs! Even if you don't think you'll like it, try one — I promise it will be your new favorite! :)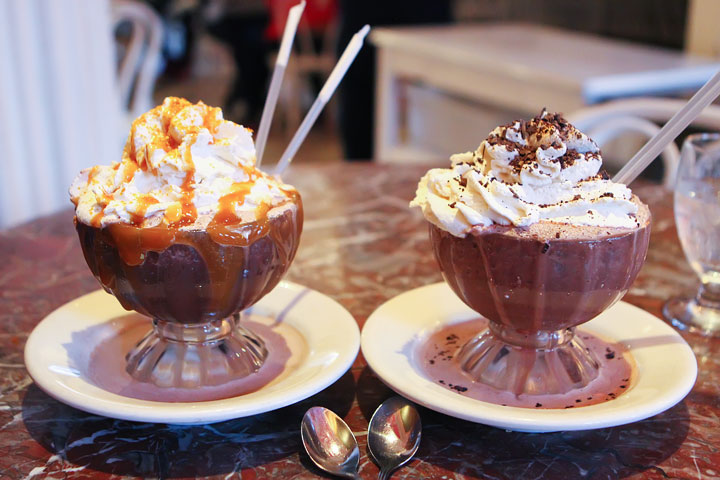 Serendipity III is always one of my favorites in NYC!! :) I love their Frozen Hot Chocolates!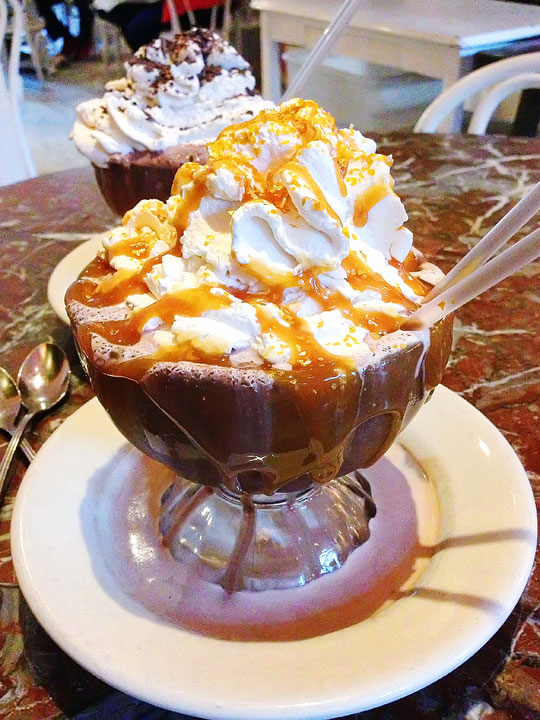 They always have fun new flavors, and this time I tried their Frozen Salted Caramel Dark Hot Chocolate.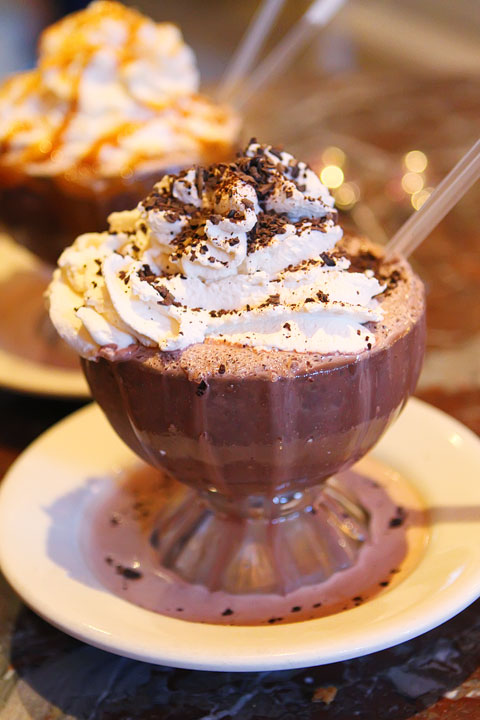 It was yummy, but my favorite is still the Frozen Peanut Butter Hot Chocolate! :) You have to try this one! :)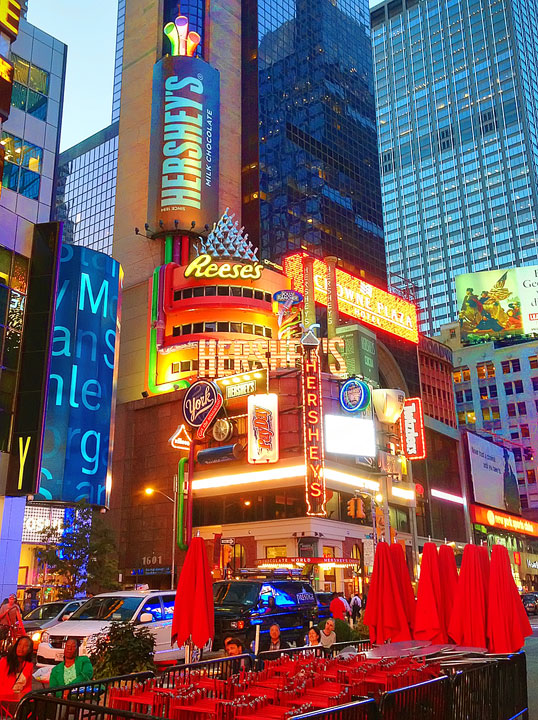 I always love going to the Hershey's Store and the M&M store in Times Square! It is such a madhouse, but they also give free samples of all the fun new M&M flavors. So… priorities. Obviously. ;)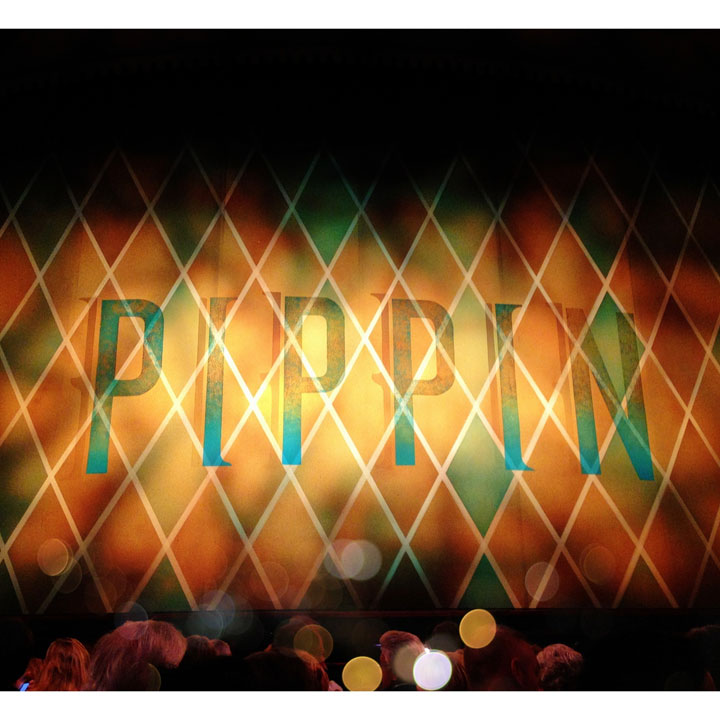 This time we chose Pippen as our Broadway show.
Our review of Pippen! :)
Okay, I will just say, it is a thrill to watch — so fun and so funny!!
But the ending… (without spoilers)
The ending was just not how I wanted it to end. You're on such a thrilling high the entire show, you expect it to go out with a BANG!! A huge number and the curtain drops and the stage goes black and everybody leaps out of their seats in applause!!
But the ending gets kind of sad. And… uncomfortable to watch. And it doesn't go out with a bang.
So when Pippen says "Is that it?"
Yeah. That's it.
So, if you see it (which, I think it was worth seeing) just go in prepared for that!
If you've seen it, what did you think about the ending? Did you love it? Hate it? I would love to hear your thoughts!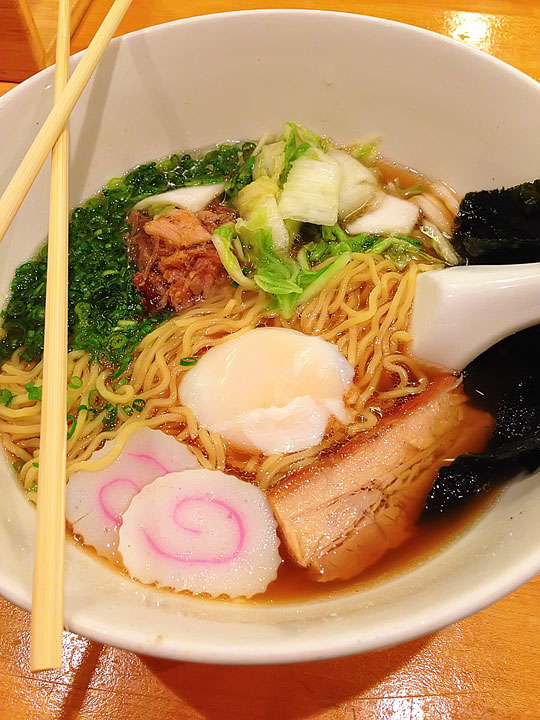 After Pippen, I was literally starving and I've been dying to try Momofuko Noodle Bar, so since it was our last night, we made our way there for some midnight ramen. First of all, ramen noodles + pulled pork + a runny egg on top is genius. Momofuko Noodle Bar, what took me so long to try you??! :)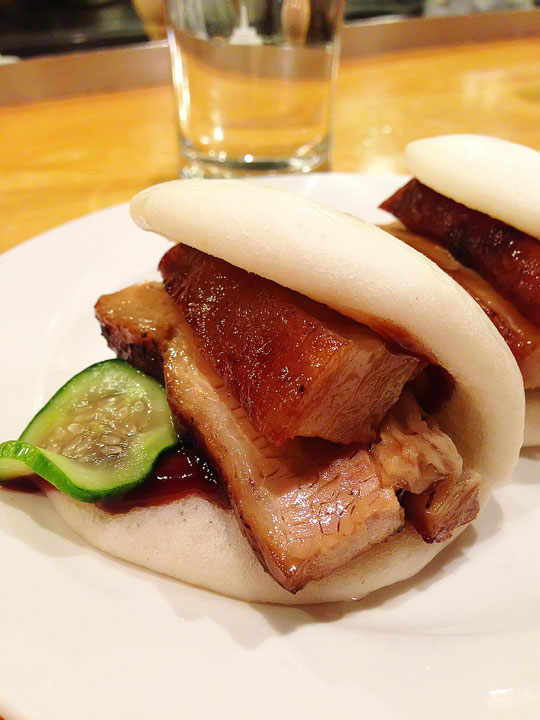 But this. The pork bun.
This was life changing.
This has been haunting my dreams since we left. I could've eaten like 20 of these.
So, so, so, so, so good! I will be going back for more pork buns, for sure!!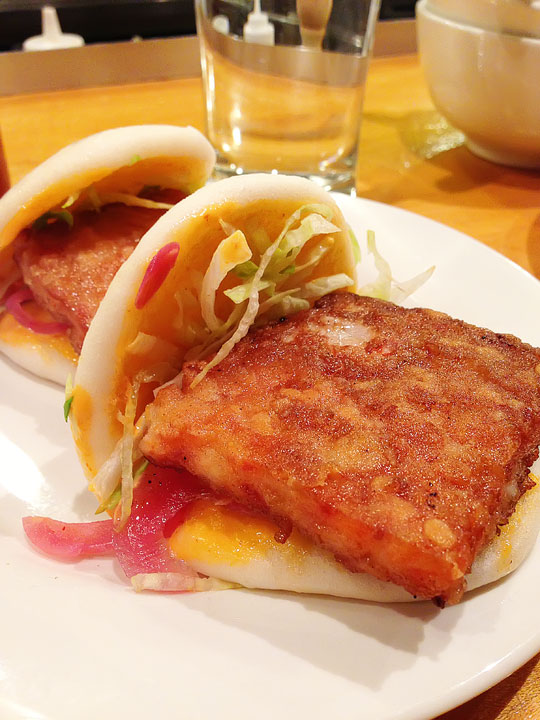 The shrimp bun with spicy mayo, pickled red onion, and iceberg lettuce was also yummy. I actually thought I'd like this one the best, but the pork bun stole my heart!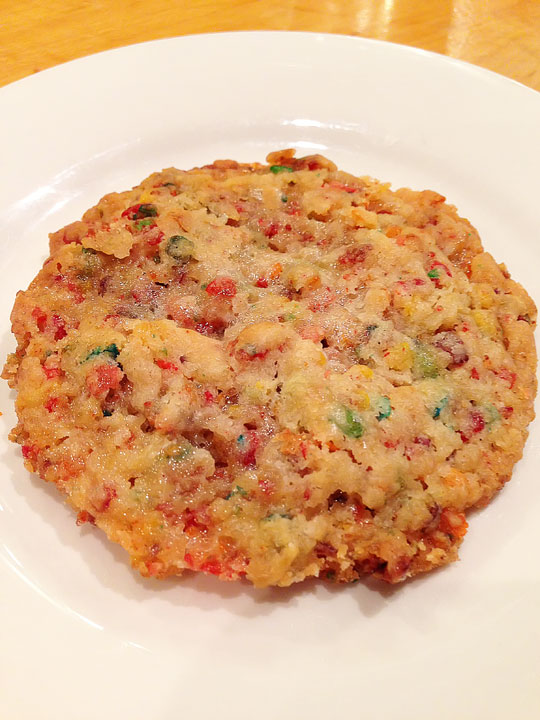 And of course, we had to end the meal with a cookie from Momofuko Milk Bar. :) This is the Fruity Pebbles & Marshmallow Cookie. Very interesting! And very fruity, lol! It was like a fruity pebbles rice krispy treat married a gooey cookie.
And then we went home! :) Well, Kevin went home, and I spent a few extra days for the Hellmann's Birthday Party. More on that coming soon!! :)
If you're planning a trip to NYC, here are a few more posts you might find helpful:
Sunset Boat Tour of NYC
My Guide to NYC Sweets
NYC – Where to Eat and Where to Stay
What are some of your favorite things to do in NYC?? I would love to get some new ideas for next time! :)
Thanks so much for looking!! :) xoxo