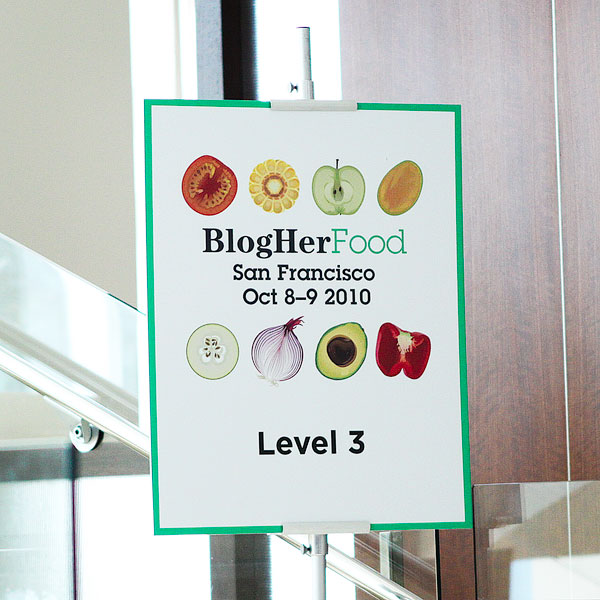 Photo via Jenny
What an absolute blast this past weekend has been! I just got back from a whirlwind trip to San Francisco for the BlogHer Food conference. I got to meet so many fun recipe bloggers – loved hanging out with these sweet girls all weekend!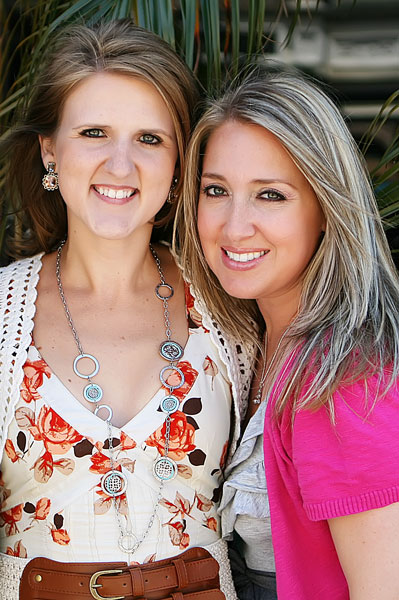 You guys remember Jenny, my LA & NYC travel buddy, right? Last year I tried one of her recipes and loved it so much I posted about it over here. She found the post and left a very sweet comment. I kept trying her recipes and loving them. We kept commenting. When I was invited to LA with Bertolli, the first thing I did after hanging up the phone (and picking my jaw up off the floor!) was email Jenny and ask if she was going! And she was!
We had so much fun getting to know each other in LA. She told me about this food blogging conference in October that she was attending, and how fun would it be to go together?! I had no idea what it was, but food, friends, & San Francisco definitely sounded like something I'd be into. When I got back home – it was the longest I had ever been away from Kevin – I talked all about LA, the sweet girls, and all the food on our ride home from the airport.
I mentioned the San Francisco thing.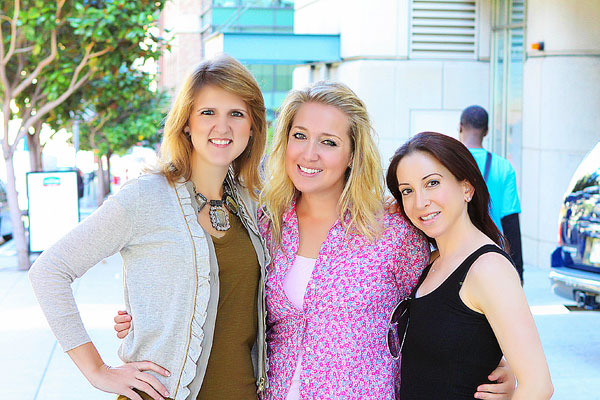 Photo via Jenny
Kevin must've enjoyed his peaceful week at home because the very next day he secretly emailed Jenny for more info on this SF trip! Did I mention I had just gotten back from the longest we had ever been apart? The two of them schemed, and even though the event was sold out, Jenny found a ticket for me in less than 12 hours. This girl has connections! :) On our anniversary trip the next weekend, Kevin gave me a little fake plane ticket he'd made and said… "You're going to San Francisco!"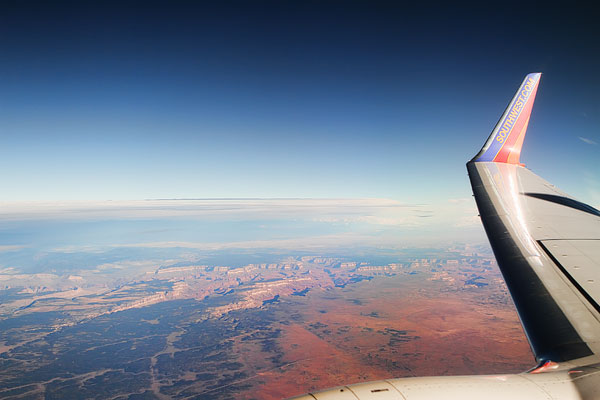 So that's how less than 5 short months later, I ended up on a plane flying over the Grand Canyon… headed back to California! :)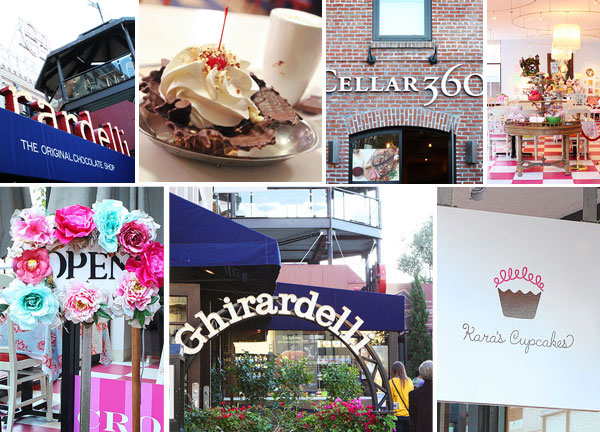 Photos via Jenny
Every minute of the trip was packed with excitement. Immediately after landing we had parties to attend! The first one was held in Ghirardelli Square. What a cute place! They had a darling cupcake bakery, a very posh dog boutique, and several swanky shoppes & restaurants. And of course, Ghirardelli! Another sweet blogger I met on the trip, Shanna, split a waffle bowl sundae with me. And she let me have a sip of her salted caramel hot chocolate.. Oh my goodness, I am totally craving another one of those right now! Salty. Caramely. Chocolaty. Whipped creamy on top. Delicious!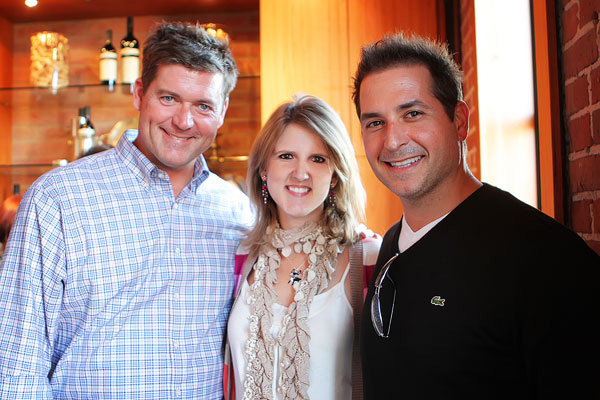 At the party we got to meet Paula Deen's boys. What cutie pies!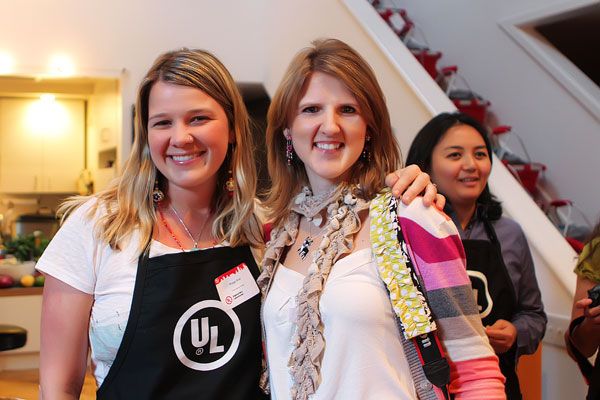 The next event was a fun Iron Chef type cook-off event for a small group of the talented food bloggers… Here I got to meet the fabulously fun & sweet Maggy from Three Many Cooks. Love this girl! She is so full of life and energy. That's the precious Erika from Ivory Hut behind us with her sweet smile.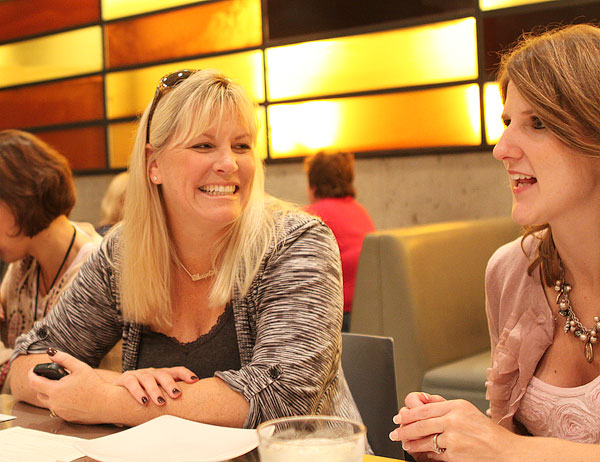 Photo via Jenny
The next morning was the first day of the conference. I took a photography class from the White On Rice Couple which I can't *wait* to tell you more about! For lunch we ran down the street to Out the Door. Here I am with the super fun & sweet Lori from Recipe Girl.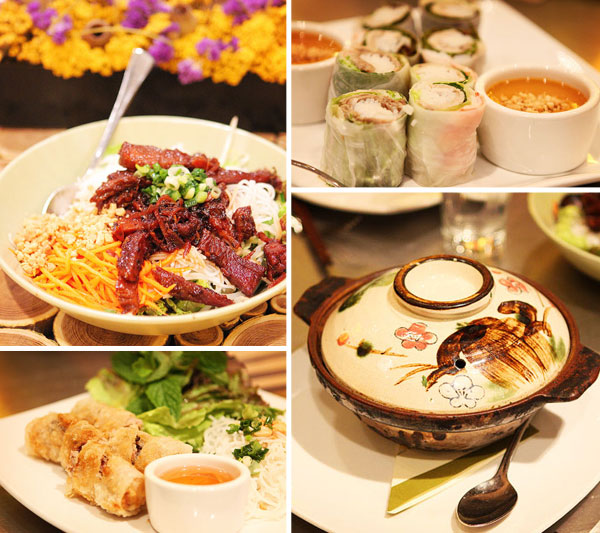 Our lunch was gorgeous! Can you tell we just got out of a photography class?? :) The top left photo is mine, the rest are Jenny's beautiful pics.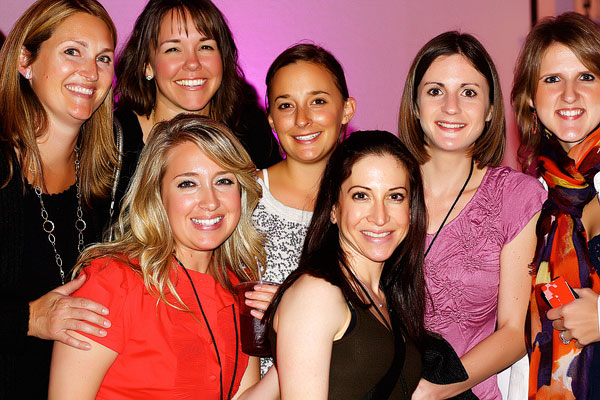 Photo via Maria
After our afternoon classes, we hurried back to the hotel to get ready for more parties! Here we are at the La Petite Soirée. Seriously amazing food here!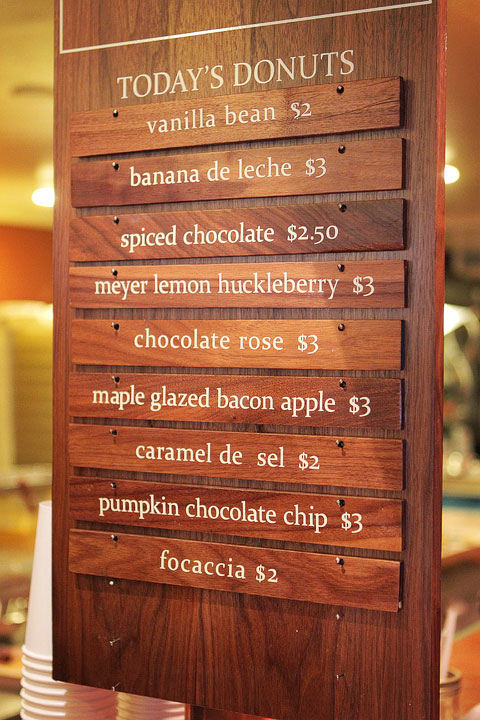 On Saturday, Jenny and I finally got to run around San Francisco and do some bakery hopping! Our favorite thing in the world – I love traveling with this girl! :)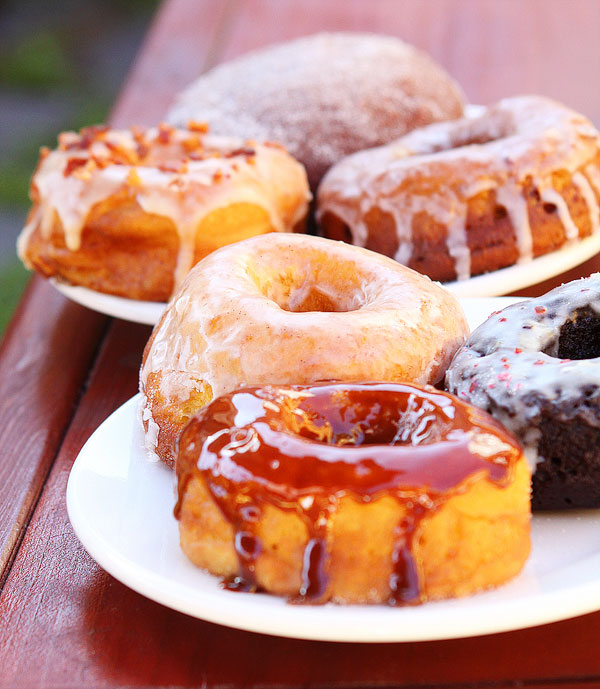 Photo via Jenny
Our first stop was Dynamo Donuts. Goodness gracious, this place was delicious!!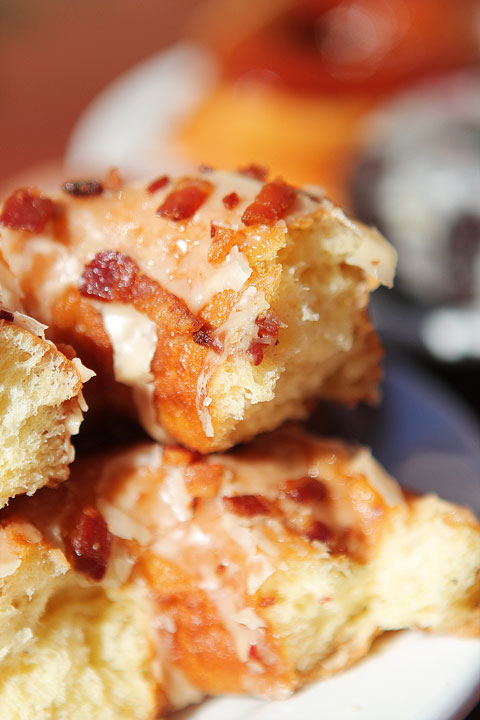 Their maple glazed bacon apple donut was to die for. This one was my favorite!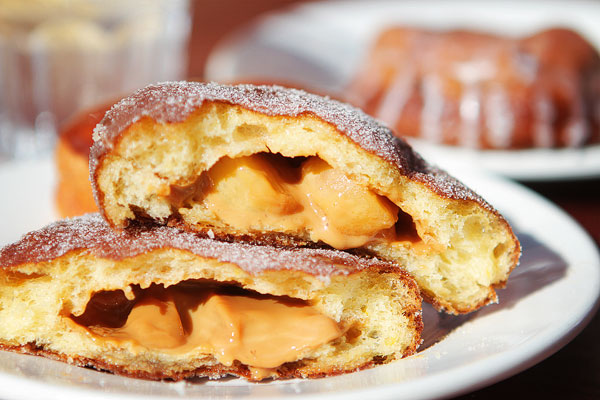 But the caramelized banana stuffed donut was also seriously impressive!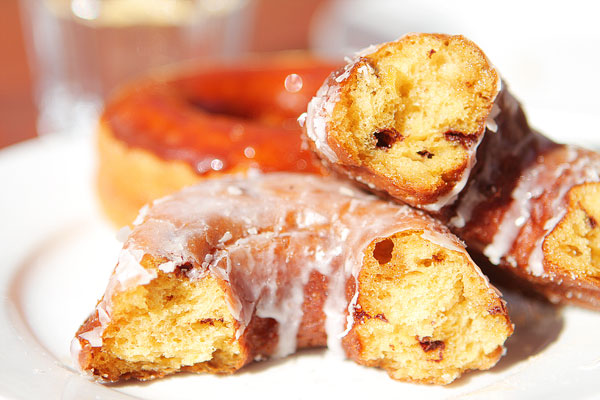 Loved the pumpkin chocolate chip.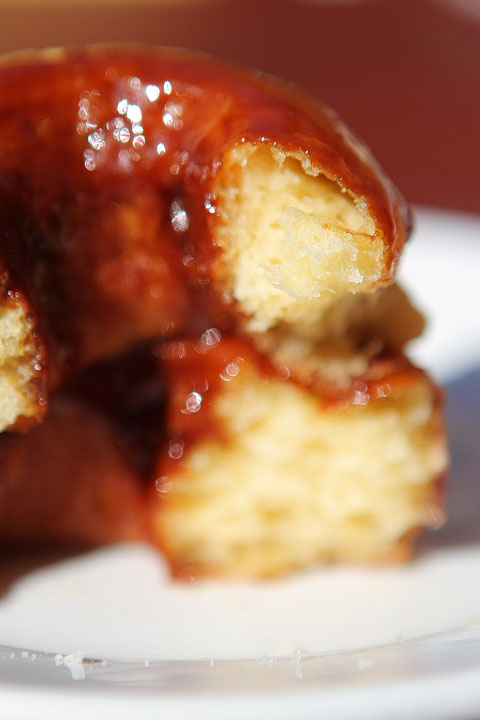 And this salted caramel donut! So pretty.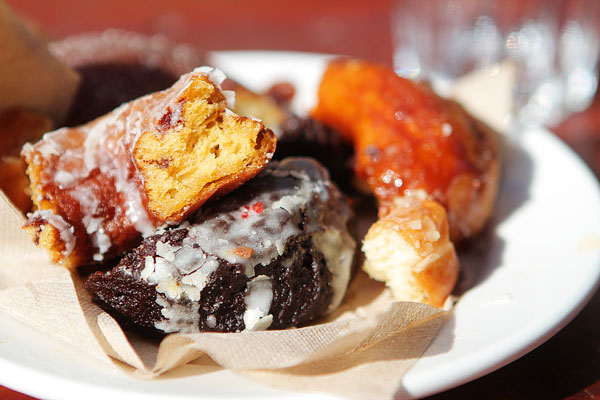 Donut carnage!
We also tried the chocolate rose (the glaze on top is made with rose water!) and vanilla bean donut. That one was another fav! So light and fluffy.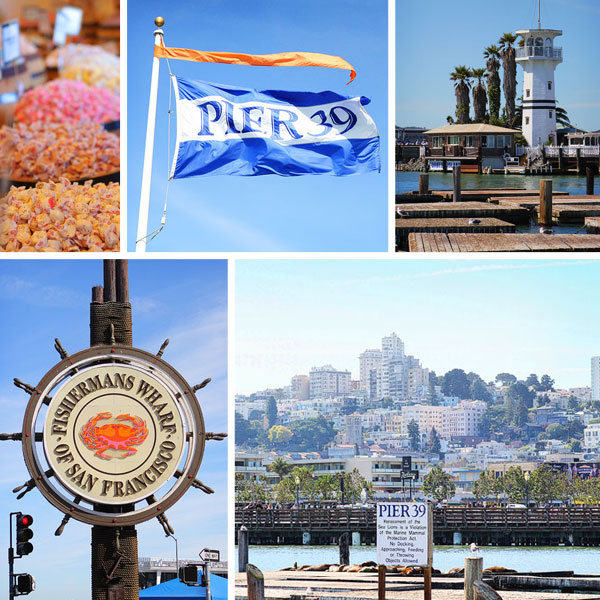 Time to walk!! We headed up to Fisherman's Wharf and took in the beautiful sights around the bay.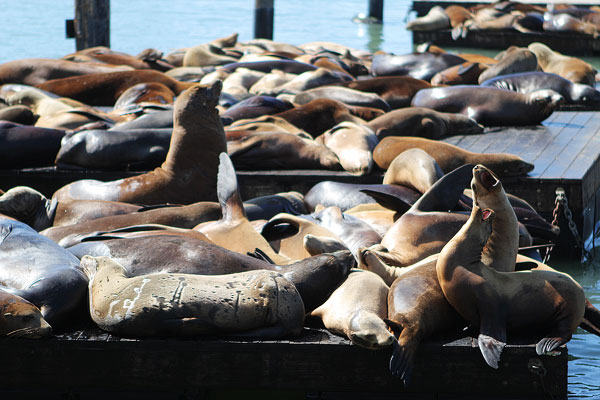 Hung out with some cute sea lions.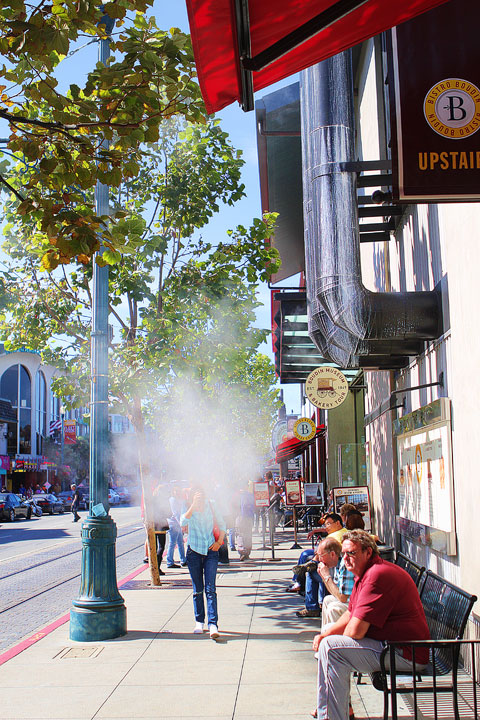 Had to stop at Boudin for lunch! They were pumping delicious sourdough-scented cloud puffs into the air. We couldn't resist! :)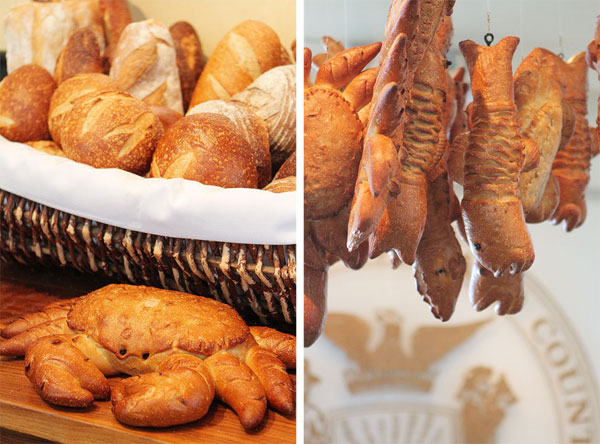 Too funny, all the decorations in this place were made of sourdough bread! :)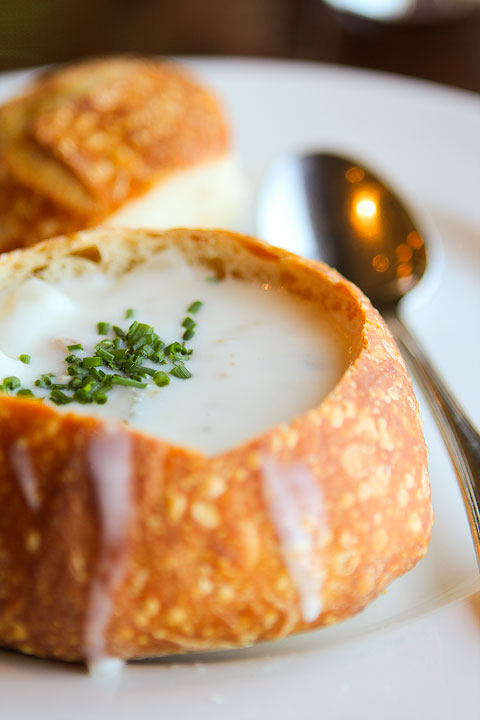 My clam chowder was delicious.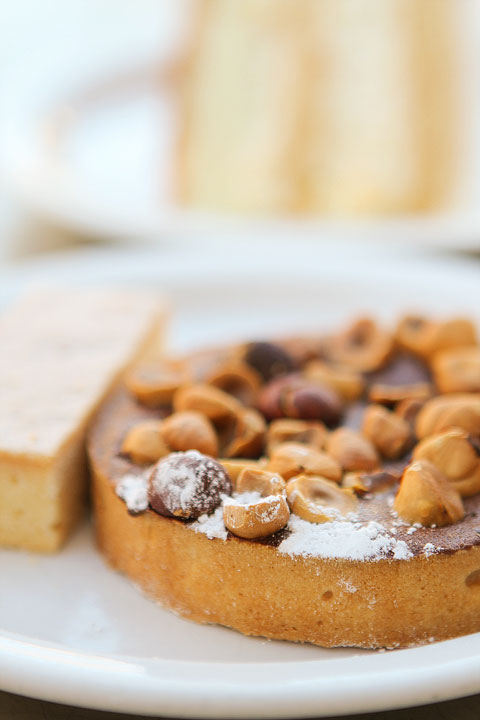 Time for more desserts! :) This is a hazelnut tart and shortbread. The shortbread was heavenly, as all shortbreads are. I make it a habit of not discriminating against shortbreads. But it doesn't hold a candle to Jenny's shortbread. Make hers today! :)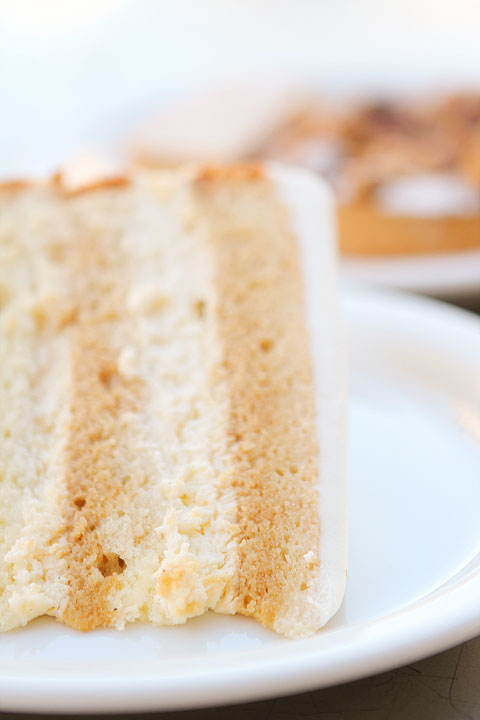 Ooh, light and creamy Tres Leche cake. Loooved this.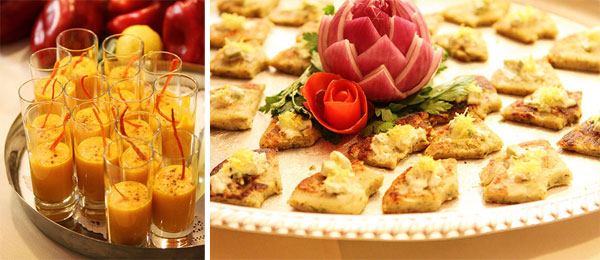 Photo via Jenny
The final party of the weekend was hosted by Ree, The Pioneer Woman, Jaden from Steamy Kitchen, and Elise from Simply Recipes.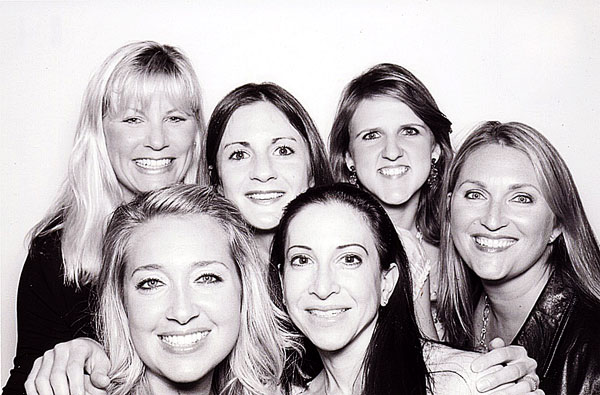 Finally got a pic with all the sweet girls I hung out with all weekend! :)
Lori @ Recipe Girl, Maria @ Two Peas and their Pod, Jenny @ Picky Palate, Marla @ Family Fresh Cooking, and Shanna @ My Favorite Everything.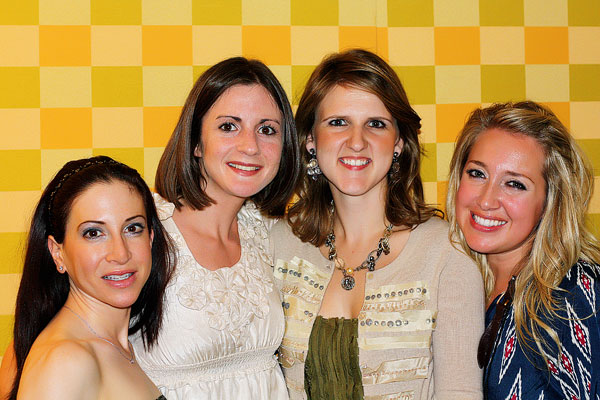 Photo via Maria
Marla, Maria, me, & Jenny. Love these ladies! What a treat to spend such a fun weekend with them in this beautiful city.
***
Definitely run over to Picky Palate and check out Jenny's recap of the event. Beautiful post!
And there might be a few embarrassing pics of a certain blogger that uh, conveniently got left off this blog. ;)