Hi friends! I'm running around San Francisco this weekend, trying to keep up with Jenny at Picky Palate at the BlogHer food event! :) While I'm away, my other friend Jenny is taking over my blog for a fun fall tutorial. Take it away, Jenny!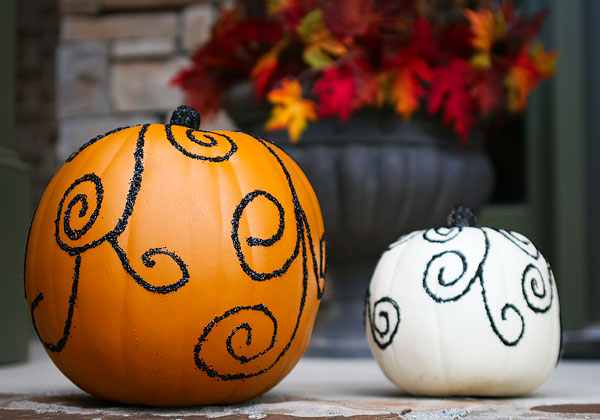 I am so excited that Amanda is trusting me to take over her blog today. I was the lucky winner of the L.A. trip contest and was taken on a whirlwind vacation with Amanda. We had such a great time in L.A. together; I don't think words can describe it. Our trip started our friendship, and it continues to grow daily. A couple of weekends ago we had another adventure together in Atlanta. We hit up all the eatery hot spots, shopped, got pampered and ended the day with a fun double date with our hubbies.
During our countless conversations, I was telling Amanda how I enjoy recreating items I see in magazines or stores for less. When I was telling her this, I could see the wheels turning in her head… then she asked if I would do a tutorial for her blog. At first I was tempted to say, "Are you crazy? NO!" but then, how can you say no to someone as sweet as Amanda. So here I am, my very first blog post ever and I'm nervous… so bear with me!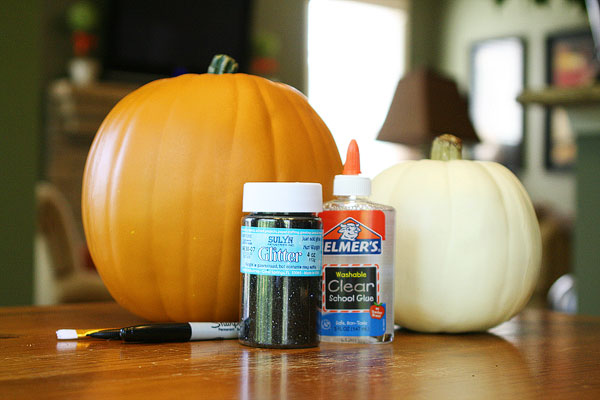 Fall is my absolute FAVORITE season. How could it not be? Pumpkins, leaves changing color, cool crisp air, being outdoors… what's not to love? I normally make pumpkins that are completely glittered in different colors, but this year I thought it would be fun to make a design on the pumpkins. I got this idea from a magazine, but they wanted over $100 for these pumpkins! I don't think so! With my frugal mind I figured I could make them for a lot less and just as cute.
For my pumpkins I used:
Elmer's Glue
Black Glitter
Plastic Pumpkin (found at Michaels)
Paint Brush
Sharpie Pen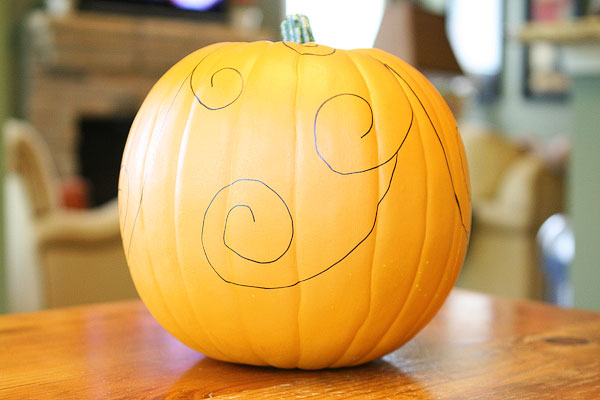 The first thing I did was draw swirls on my pumpkin with a sharpie pen.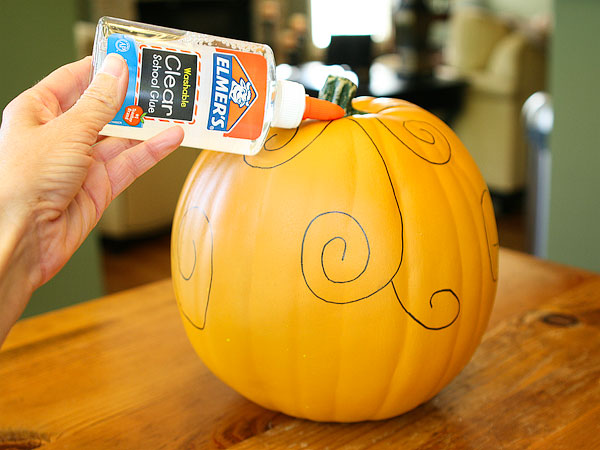 Then I went back over the sharpie with Elmer's Glue.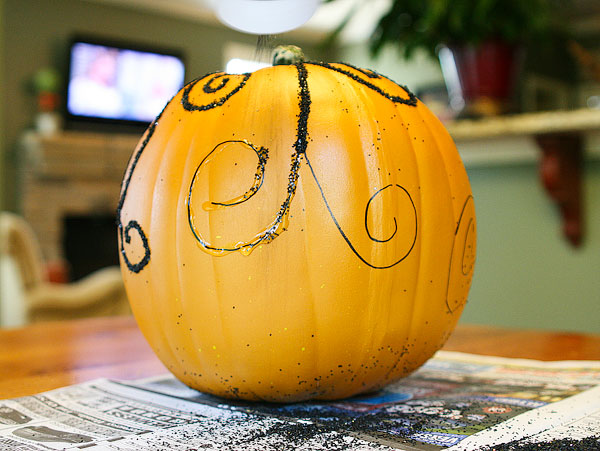 Be warned… it starts to drip so you better work fast!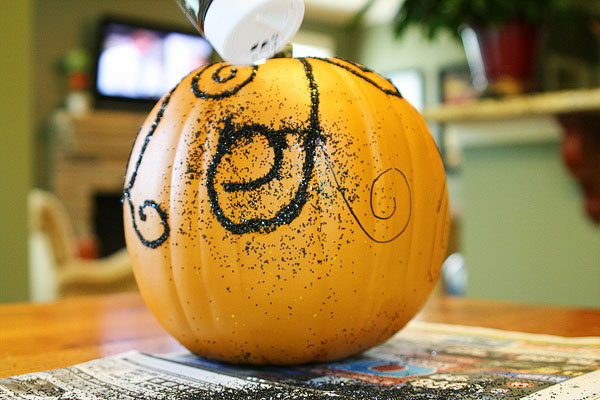 Take your glitter and pour it all over the glue. (I only did one swirl at a time.)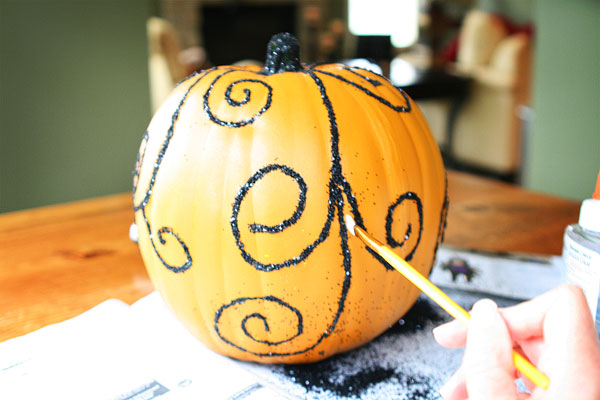 Since my swirls didn't come out perfect at first, I used a paintbrush to brush away glue and glitter, and clean up the lines.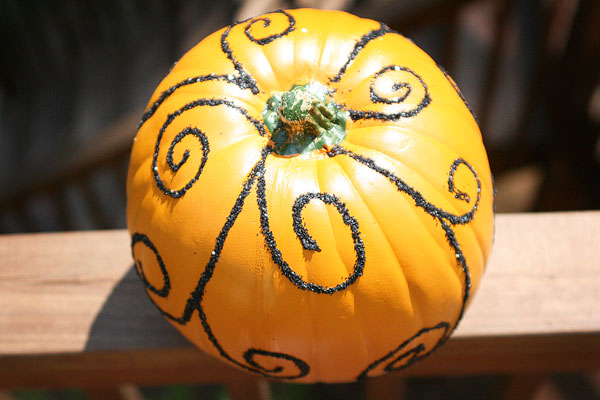 I think the top of the pumpkin looks really cool with the glitter design.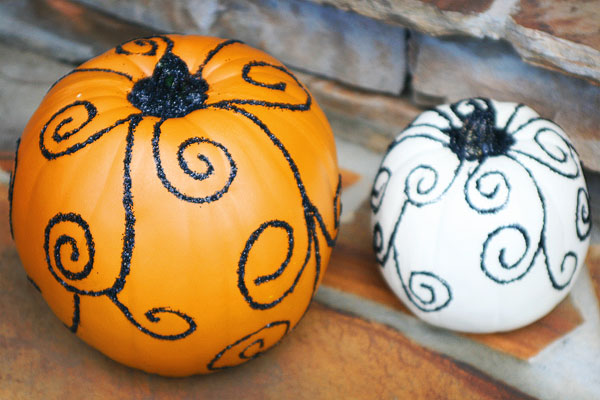 Once all the swirls are dried, I put glue all over the stem and glittered.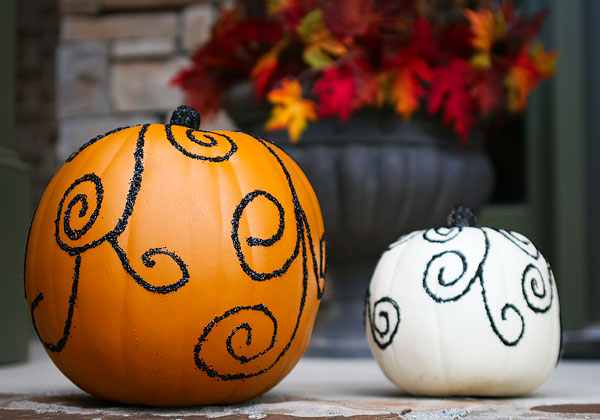 I probably spent a total of $15 on both of these pumpkins. That's a lot better than $100 for the ones I saw in the magazine, that's for sure!
I hope everyone enjoys making these pumpkins as much as I did!
Jenny has a brand new blog at The Box and the B where she blogs about her love of decorating and DIY projects, as well as cooking, traveling, and hiking with her boston terrier Bella. Thanks for sharing this darling fall project, Jenny!
_____________________________________________
Keep up with me while I'm in San Francisco on Twitter and Facebook – I'm posting live updates along the way. Have a great weekend! :)