S'mores Cupcakes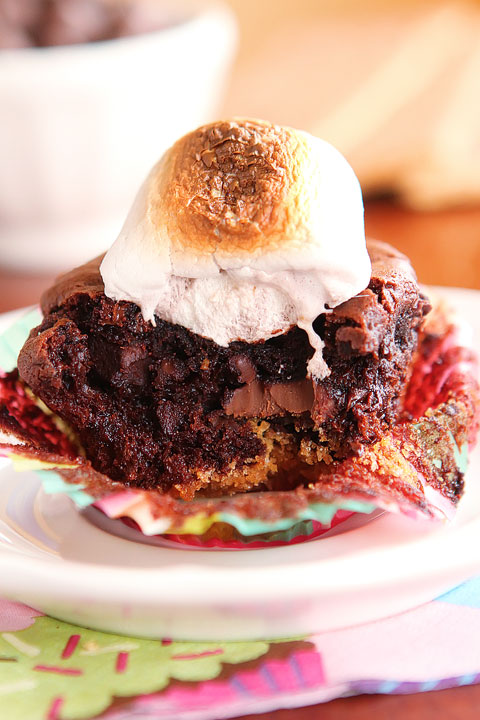 My goodness, am I in love with this cupcake. This chewy, gooey, chocolaty, sweet toasty cupcake. From the buttery graham cracker crust, to the soft, fudgy middle, to the gooey toasted marshmallow on top — it's everything you love about a S'mores — in a cupcake! Oh and guess what? It's also stuffed with a Hershey bar.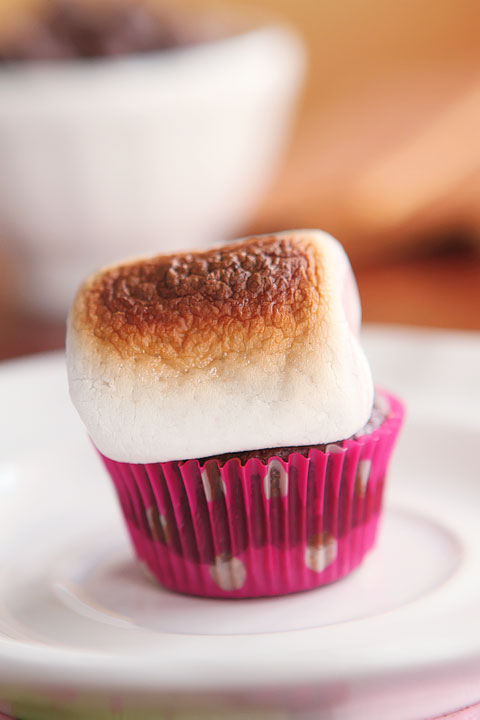 And my favorite part about it? You don't even have to make a frosting! Just top with a giant pillowy marshmallow!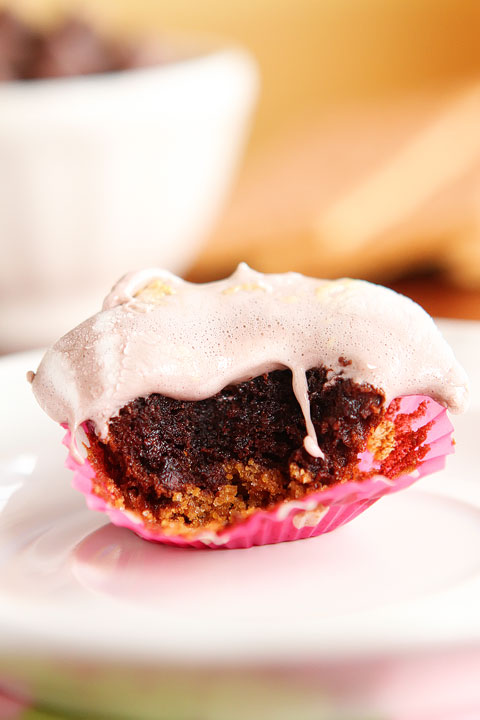 Whether making standard or mini cupcakes, just top with one big marshmallow, place on a baking sheet, and broil in the oven until golden brown and perfectly toasty. The marshmallows are best when served warm and gooey, but if you need to broil the cupcakes earlier in the day and serve later, just reheat for about 10-15 seconds in the microwave — just until the marshmallow gets big and puffy and looks like it's about to explode. :) That's when you know it's just right! They are just as good reheated in the microwave as when made fresh.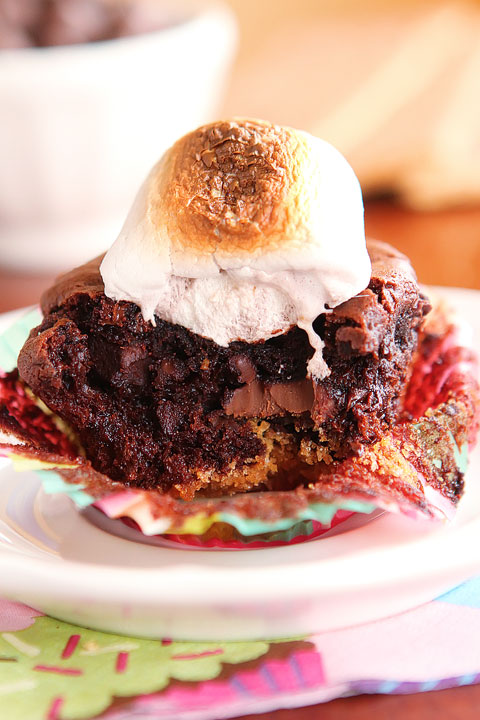 For the standard sized cupcakes, I added a layer of graham cracker crust, a layer of chocolate cake, a layer of Hershey chocolate bar, and a final layer of chocolate cake. Goodness gracious, have I mentioned how much I love this cupcake??
Enjoy this one, guys! Just one more cupcake recipe left!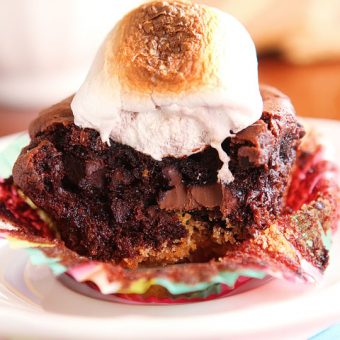 S'mores Cupcakes
Ingredients:
Graham Cracker Crust
1 1/2 cups cinnamon graham cracker crumbs
1/4 cup sugar
5 tbsp butter, melted
The Best Chocolate Cake Ever
1 box Devil's food cake mix
1 small pkg Jello instant chocolate pudding mix
1 cup sour cream
1 cup vegetable oil
4 eggs, beaten
1/2 cup milk
1 tsp vanilla
2 cups mini chocolate chips
Cupcake Assembly
4 Hershey's Bars
1 bag Jet-Puffed Marshmallows
Directions:
For the Graham Cracker Crust
Process cinnamon graham crackers in a food processor until they are fine crumbs. In a small bowl, stir together the graham cracker crumbs, sugar, and melted butter until well combined.
For the Chocolate Cake
In a very large bowl, mix together everything except chocolate chips until well combined. Batter will be thick. Stir in the chocolate chips.
Cupcake Assembly
Preheat oven to 350 degrees F. Grease and line muffin tin with cupcake liners.
For MINI cupcakes, add 2 teaspoons of graham cracker crust to the bottom of each cupcake liner. Press down with the back of a spoon to flatten, and bake at 350 for 5 mins. Fill the prepared cupcake liners with chocolate cake batter until 2/3 full. Bake at 350 for 8-10 minutes.
For STANDARD cupcakes, add 1 tablespoon graham cracker crust to the bottom of each cupcake liner. Press down with the back of a spoon to flatten, and bake at 350 for 5 mins. Add a heaping 1 tablespoon of cupcake batter to the prepared cupcake liners, top with two pieces of a Hershey's chocolate bar, and press down. Top with another heaping tablespoon of cupcake batter. I used cookie scoop, found at Target. Bake at 350 for 18-22 minutes.
Top with a marshmallow and broil in the oven until golden brown, watching the entire time to avoid burning. To reheat, warm in the microwave for 10-15 seconds.
Enjoy!!