Caramel Toffee Latte Cupcakes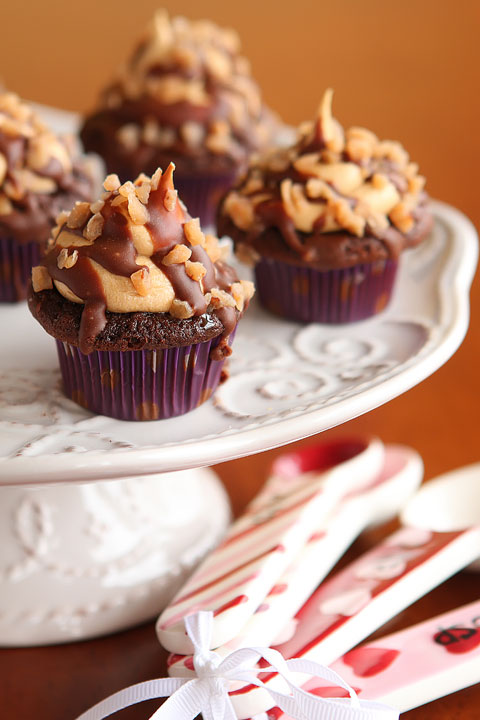 You guys. This cupcake is an absolute triumph. I'm just going to go ahead and tell you. This frosting rocks my face off. This cupcake was the hands down winner at our cupcake taste-testing party last week. We'd sampled three other cupcakes at this point, and fullness was starting to set in, but this was the one that had everyone's eyes lighting up.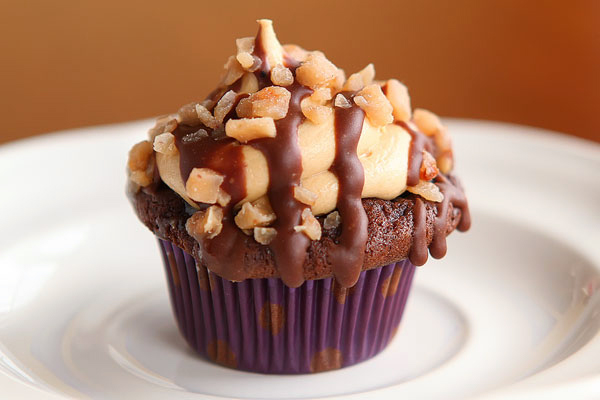 It's a super soft, ultra rich, supremely decadent devils food cake cupcake, topped with a simple coffee caramel buttercream. Then it's drizzled with chocolate and topped with Heath Toffee Bits. When I introduced this cupcake at the party, I just called it the "coffee caramel cupcake." But the taste-testers renamed it the "Caramel Toffee Latte" cupcake, because they wanted me to assure you guys that it was a light, pleasant, creamy hint of coffee. It has almost a surprise element to it. The frosting is so good, and then wow! A whole other flavor comes at you. Anyway, this frosting just works, and personally, I believe it's why cupcakes were invented. To get this frosting in my mouth as soon as humanly possible.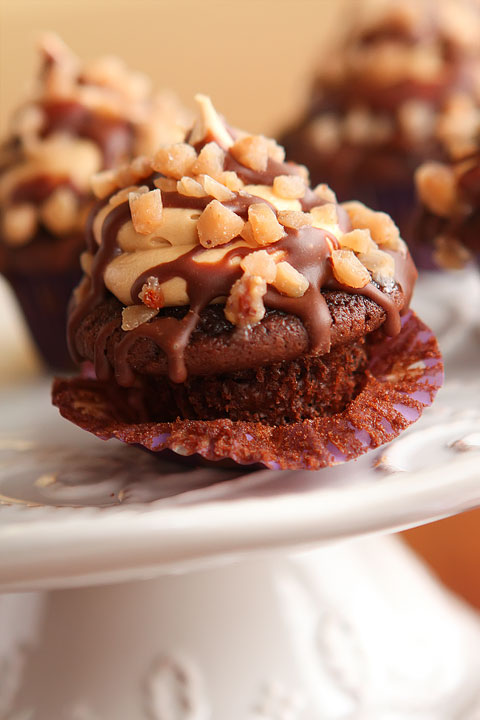 Two more cupcake recipes left! Hope you love this one, guys!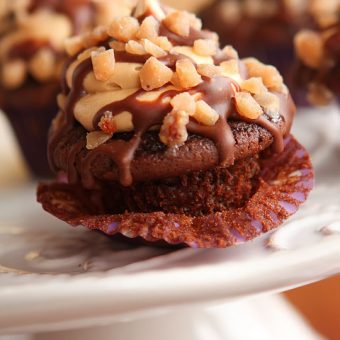 Caramel Toffee Latte Cupcakes
Ingredients:
The Best Chocolate Cake Ever
1 box devil's food cake mix
1 small pkg Jello instant chocolate pudding mix
1 cup sour cream
1 cup vegetable oil
4 eggs, beaten
1/2 cup milk
1 tsp vanilla
2 cups mini chocolate chips
Coffee Caramel Buttercream
5.5 oz (1/2 bag) Kraft Caramel Bits – I weighed mine, but I just measured it out and it's exactly halfway between 3/4 cup and 1 cup over here.
1 tbsp instant coffee
1/4 cup heavy cream
1/2 cup (1 stick) butter, softened
3 cups powdered sugar
2 tbsp milk
2 teaspoons vanilla extract
Chocolate Pouring Sauce:
2/3 cups milk chocolate chips
2 tablespoons heavy cream
1/4 cup powdered sugar, sifted
4-5 tablespoons water, warm
Directions:
For the Chocolate Cake
In a very large bowl, mix together everything except chocolate chips until well combined. Batter will be thick. Stir in the chocolate chips.
For the Coffee Caramel Buttercream
Stir instant coffee into heavy cream to dissolve. Over medium-low heat, cook caramel bits and heavy cream in a heavy-bottomed saucepan for 3-5 minutes until the caramel bits are completely melted, stirring constantly. Set aside to cool. Place the butter, sugar, milk, coffee caramel and vanilla in a large mixing bowl. Beat on medium speed until smooth and creamy, about 3-5 minutes.
For the Chocolate Pouring Sauce:
Place chocolate and heavy cream in a glass or heat-proof bowl over set over simmering water. Let stand for 2-3 minutes without stirring to allow chocolate to melt. Whisk to combine, then add powdered sugar and whisk until smooth. Add water 1 tablespoon at a time, whisking thoroughly after each addition until pouring consistency is reached.
For the Cupcake Assembly
Preheat oven to 350. Grease and line muffin tins with cupcake liners. Fill each liner 2/3 full with cupcake batter. For STANDARD cupcakes, bake at 350 for 18-22 minutes. For MINI cupcakes, bake at 350 for 8-10 minutes. Pipe frosting onto cupcakes, and freeze for 10 minutes. Drizzle pouring sauce onto cupcakes and top with Heath Toffee Bits.