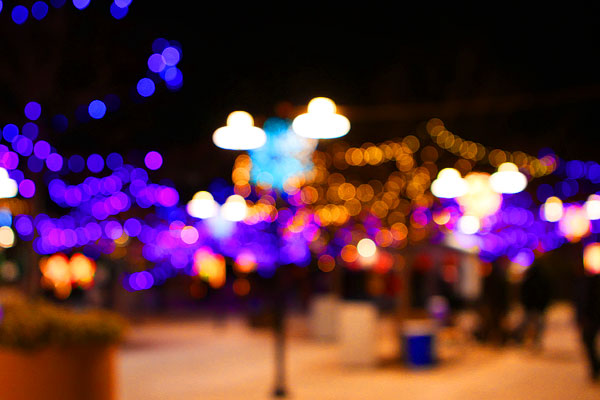 I love looking at Christmas lights. There is just something so magical about all the glowing, brightly colored lights that shine in the brisk winter night air, taking it all in, breathing out puffs of white air, and sipping hot cocoa. We were so excited to check out the dazzling displays of thousands of twinkling lights for the River of Lights holiday show at Albuquerque's Botanic Gardens.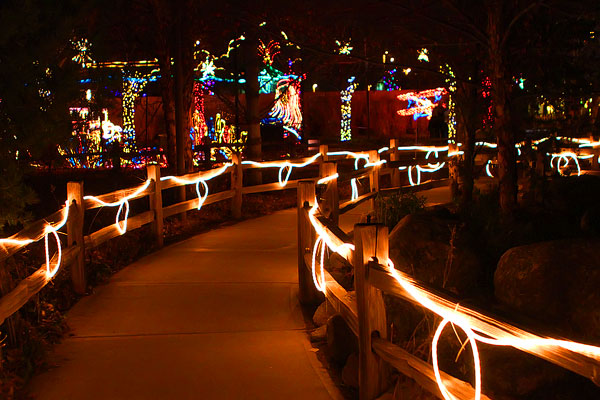 We've got a holiday lights show at our Botanical Gardens back home as well, and I grew up going to the massive Callaway Gardens light show at Christmas, but this was my first walk-through holiday lights experience.
I had too much fun snapping photos and wandering through the cozy twinkling paths.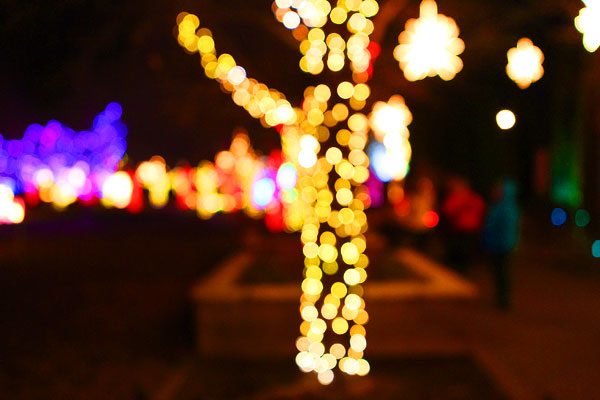 It was also a great place to play with bokeh! For these I just switched my lens to manual focus and twirled the focus ring on the lens until I got something I liked. I usually didn't have to take the picture much of out focus at all — too much blurriness created one massive light blob!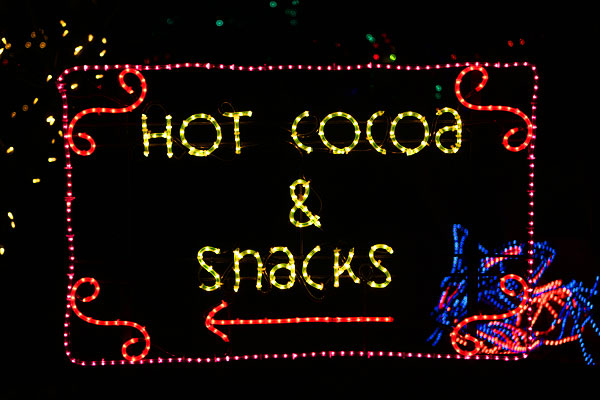 So snuggle up, grab some hot cocoa and enjoy these festive holiday lights with me. :)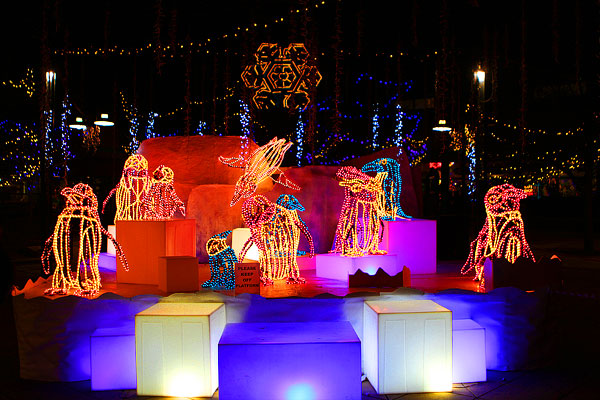 Dancing penguins!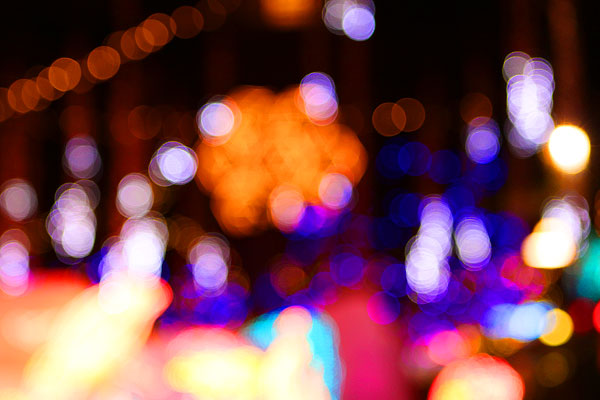 These guys made some fun bokeh. If you're wondering about my settings for these nighttime shots, you can click on any photo to see the camera, lens, and settings I used. You'll notice most of these have a pretty slow shutter speed, usually around 1/25 to 1/30. I handheld the camera for all the photos here, but I have a pretty steady hand. This shutter speed might be too slow if you have a shaky hand! :)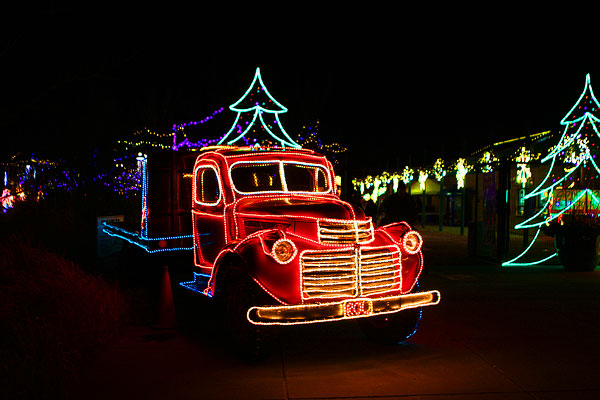 Who wants to take a ride on Mater down Route 66??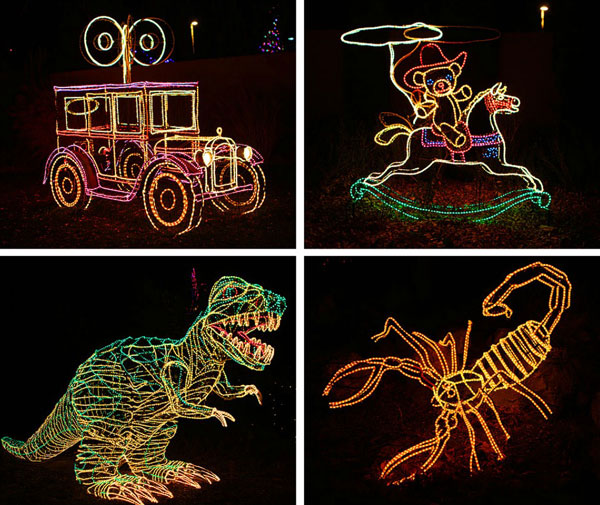 Loved this dinosaur! He was trying to get us with his moving arms and jaws. :)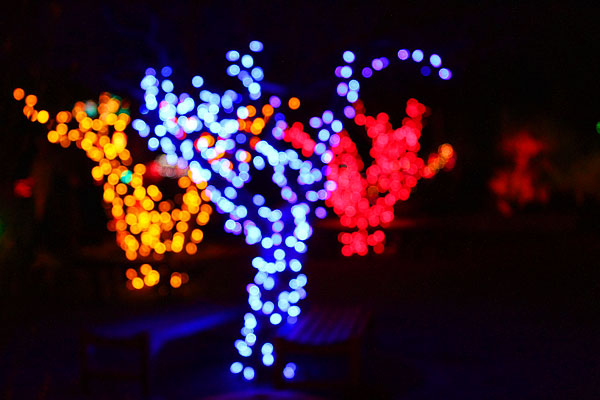 Colorful trees and benches to stop and watch the lights.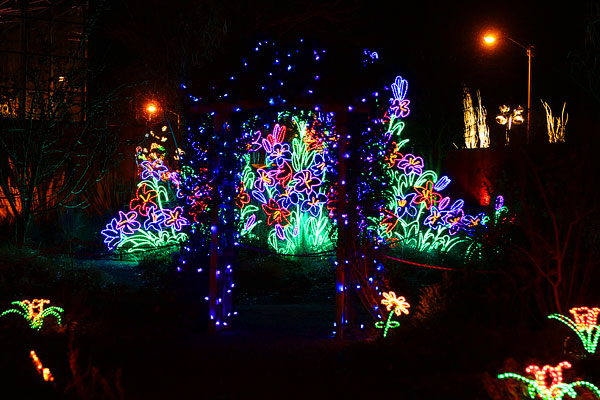 Beautiful garden archway.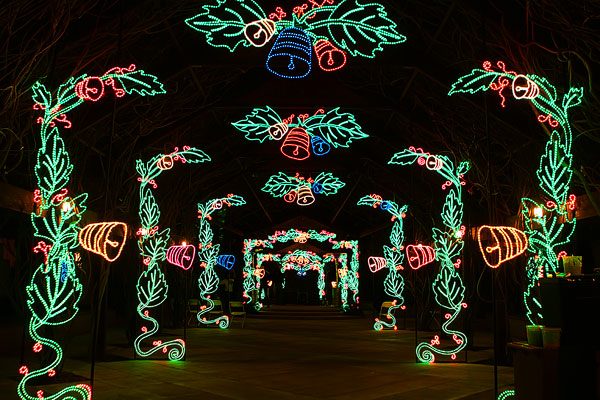 You could also get married in the wedding bell chapel! Well, I don't know about for real, but it sure was pretty.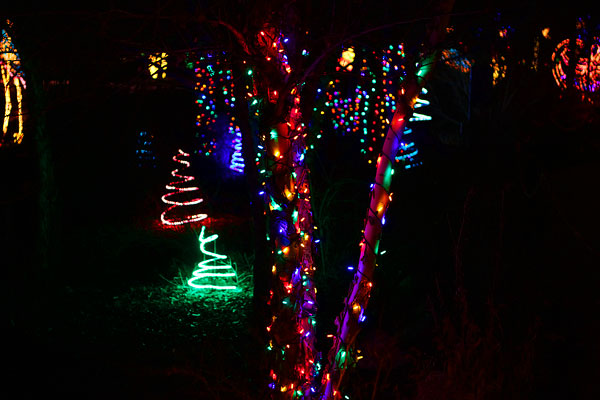 I loved these rainbow lights.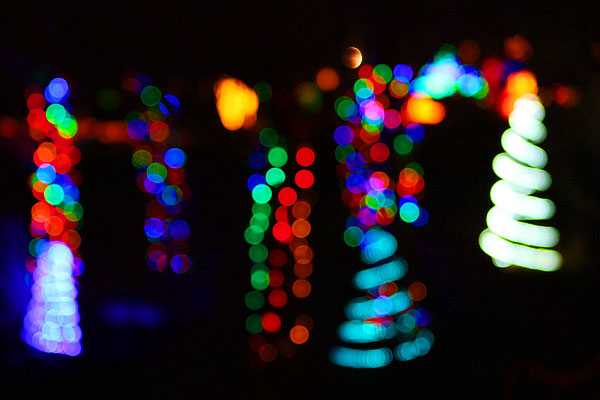 And spiral trees!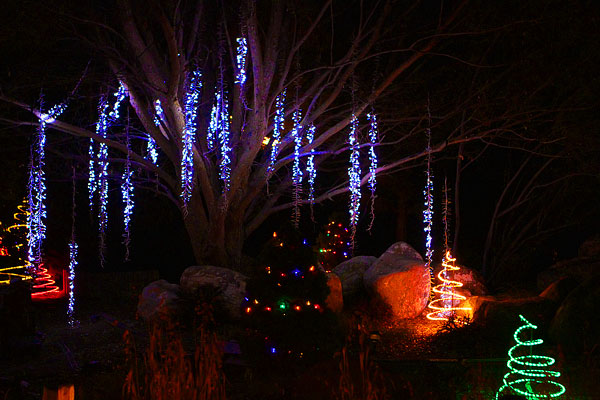 This tree was raining chilly, twinkling icicles.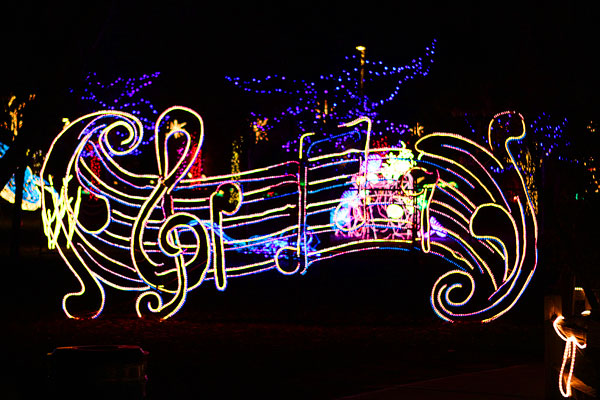 The giant musical display was gorgeous!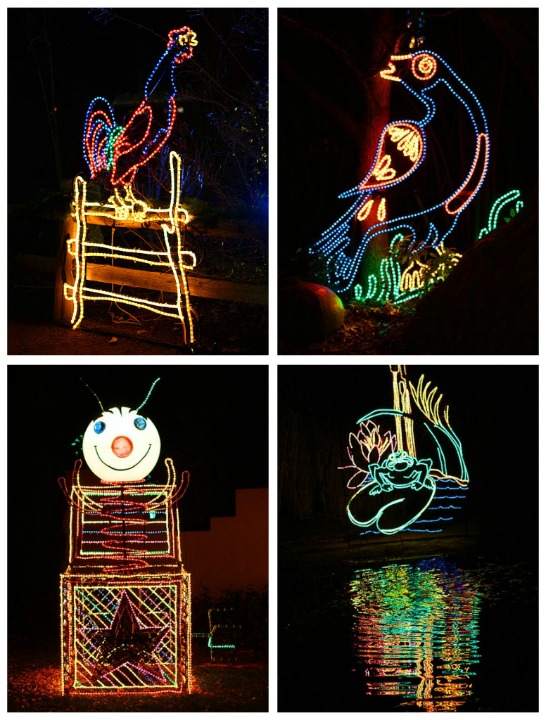 Cute little rooster! I love roosters and chickens, I've always wanted a french country style kitchen decorated with the cute little roosters and chickens.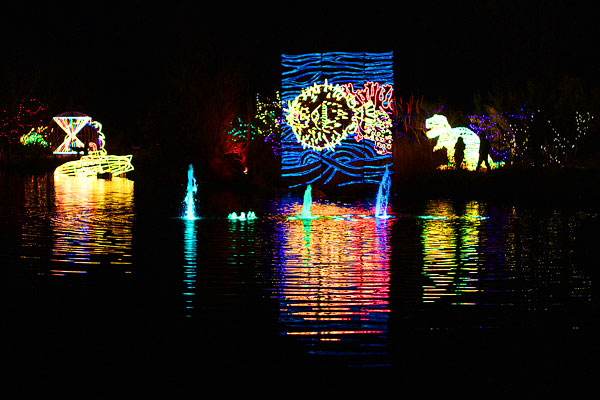 There was a pond in the middle of the gardens, and I loved the light displays on the water.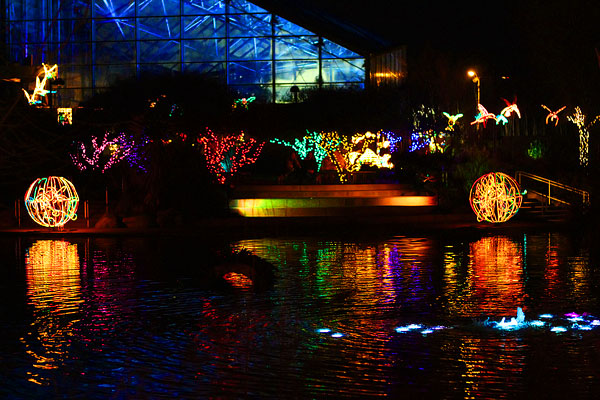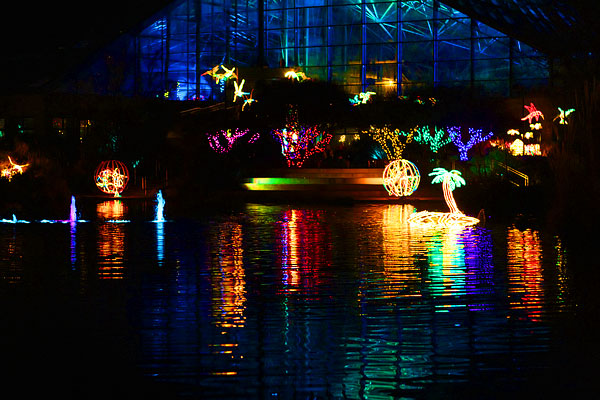 The colorful reflections were so beautiful.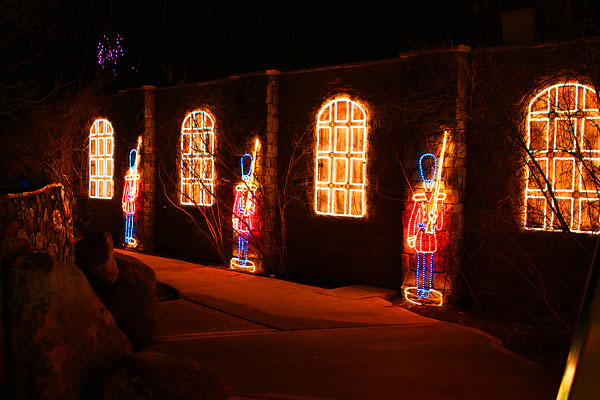 Near the end, we came across these toy soldiers…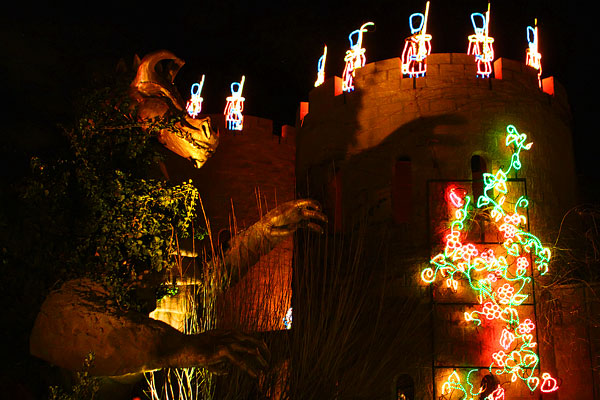 They were guarding the castle from the dragon!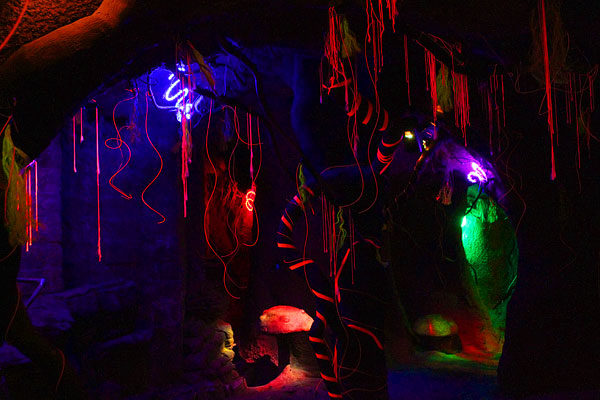 We had to take a peek inside the mysterious toy soldier castle.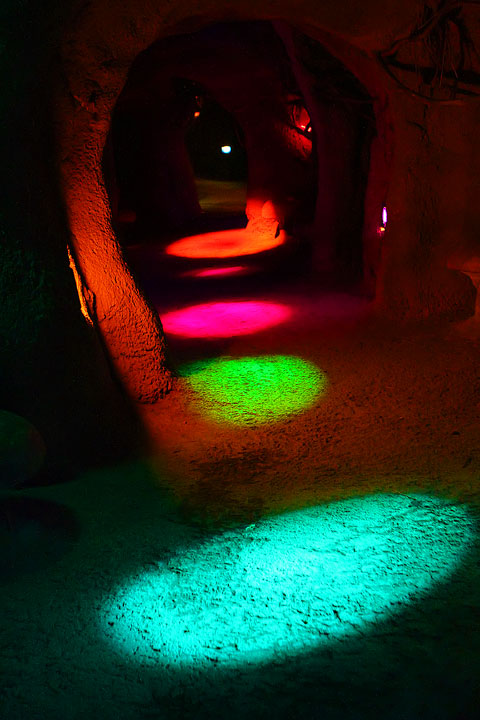 How fun and spooky were these glimmering castle corridors?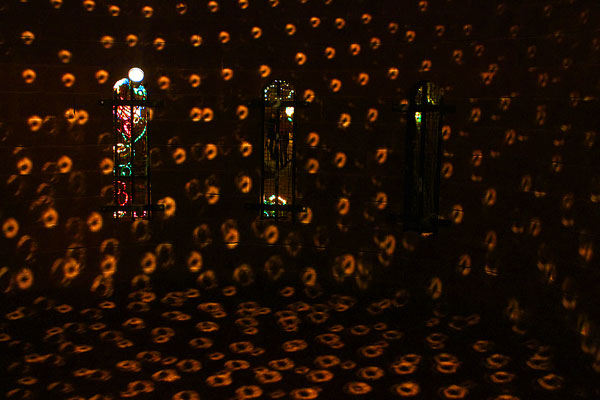 Disco ball room!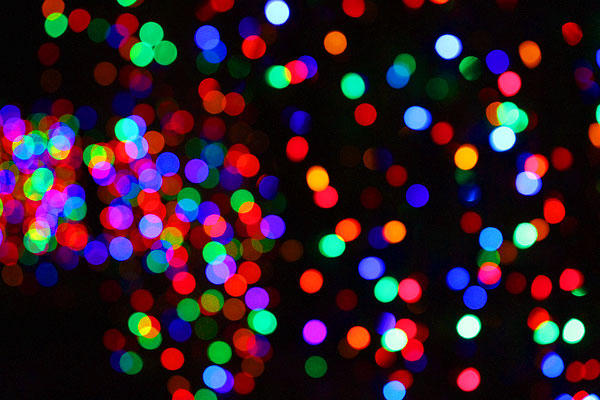 The last room in the castle was the courtyard, a maze of dazzling rainbow lights as far as the eye could see. I think I could've stayed here all night!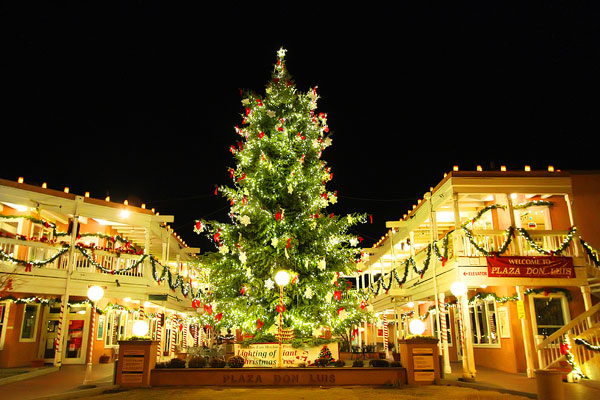 On our last night in Albuquerque, we also made our way over to the the Plaza Don Luis in Old Town to check out the giant Christmas tree.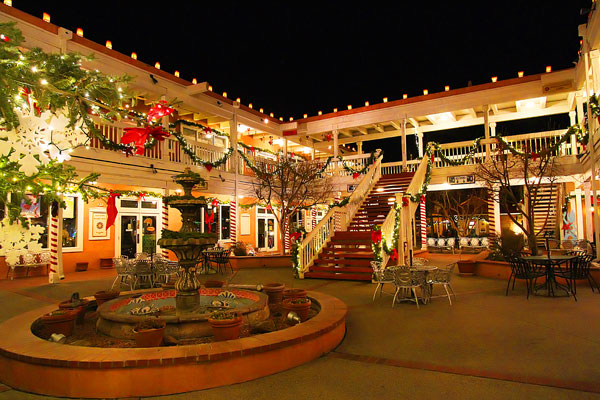 The square was so beautiful all decorated for Christmas.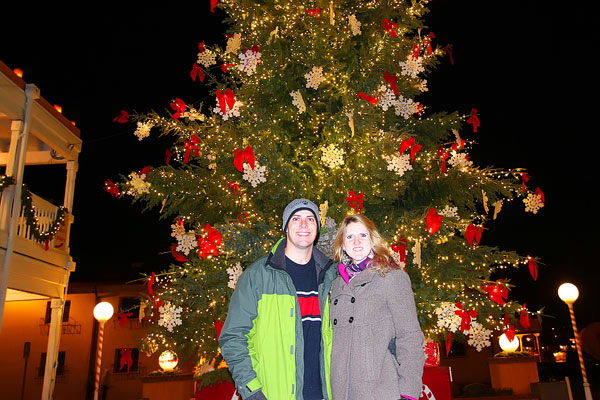 You wanna know something cool about this tree? It's actually not one giant tree… It's 135 regular-sized trees hanging horizontally to form one massive Christmas tree! How awesome is that??
Stayed tuned for more fun things we found in Albuquerque. I cannot wait to show you the ranch where we stayed! Have a wonderful, beautiful, merry, merry Christmas!