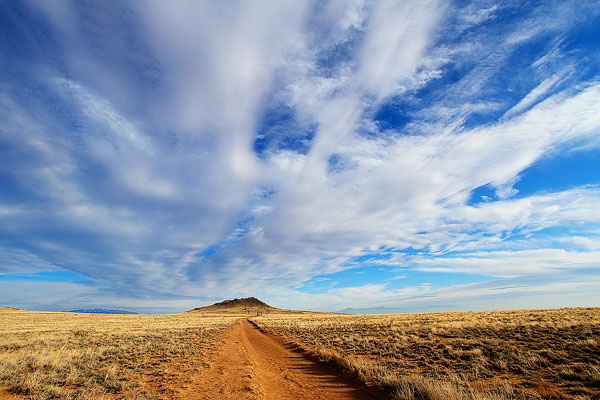 This past weekend Kevin and I spent four fantastic, festive, and peaceful days in gorgeous Albuquerque, New Mexico. A few weeks ago we were so humbled and thrilled to have the Albuquerque Convention & Visitors Bureau extend us a gracious invitation to experience the adventure, culture, beauty and magic of Albuquerque for the holidays. I could not imagine a more perfect weekend than how ours turned out. When we got home on Sunday night, Kev and I eagerly went through our photos and he insisted I share these with you first, and I have to agree. I've been to Albuquerque once before, so I knew it'd be beautiful, but I don't think I realized just how stunning and breathtaking it'd turn out to be.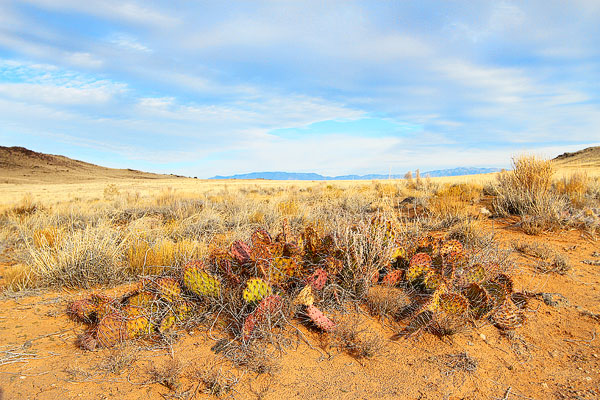 On Saturday afternoon we made our way to the Petroglyph National Monument Volcano area. We were up for a tranquil hike and were told this would be a beautiful spot to watch the sun set.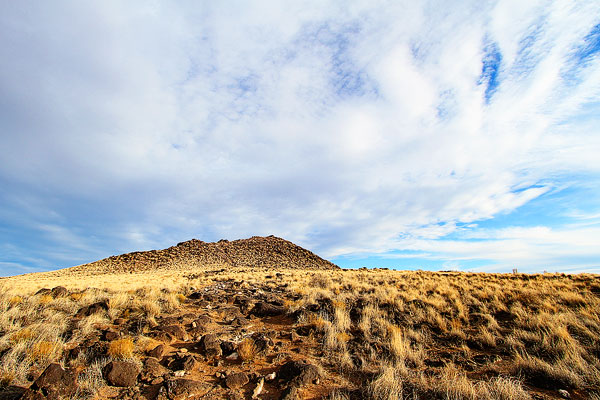 Here's the first little volcano we hiked up! It's not that tall, but at the time it felt a lot bigger than it looks. :)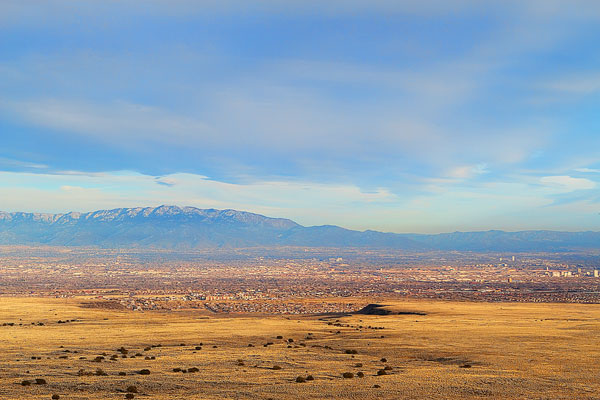 We scrambled up the rocks and were rewarded with this gorgeous, expansive view of the city.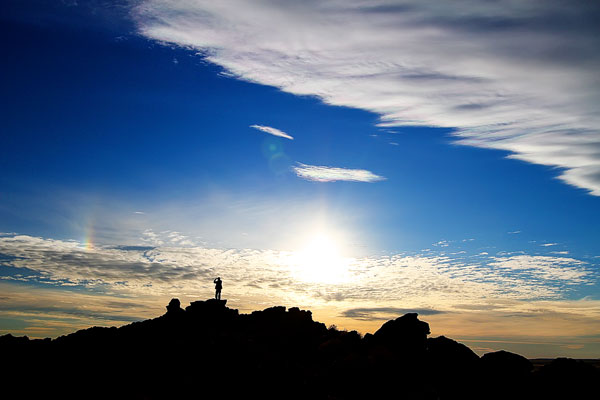 Kev's perched precariously at the top of the volcano, taking photos of our view. He played around with a new Samsung point and shoot this weekend, the SH100. He loves it because it's got WiFi built right in and he can upload pictures to Facebook and email straight from the camera. It's pretty neat. I thought he got some great pictures, check out the two he took below.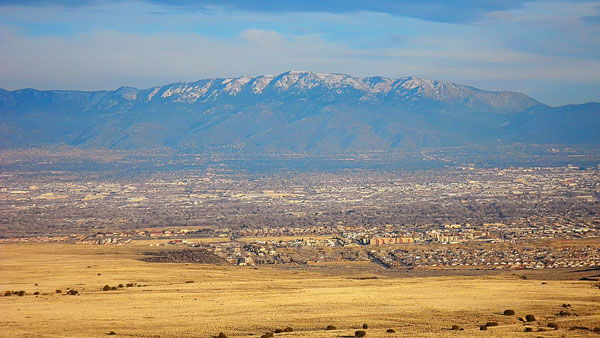 Photo via Kevin
Here's his first shot of the magnificent Sandia mountains overlooking Albuquerque.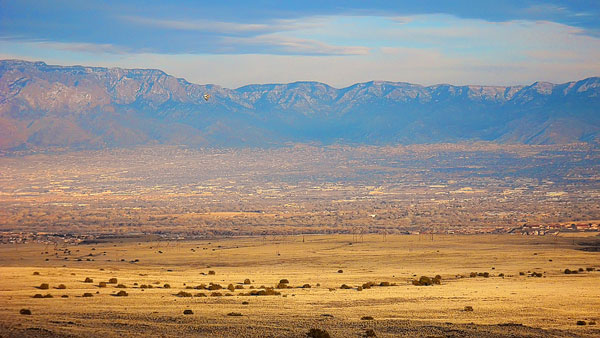 Photo via Kevin
See the tiny hot air balloon he caught here? :)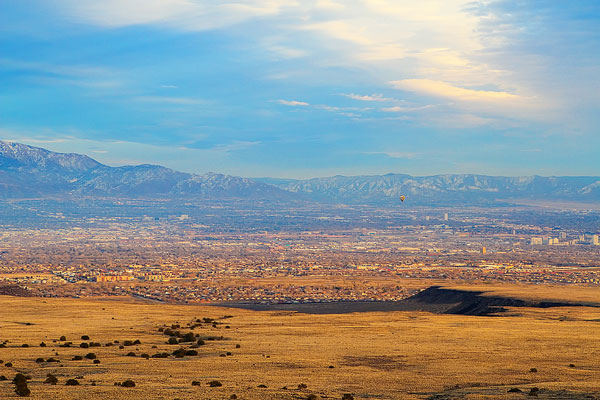 I got one too. :) Did you know Albuquerque's famous for their hot air balloon festival in October? They have a showcase of all kinds of themed and character balloons, like the Macy's Thanksgiving Day Parade. :)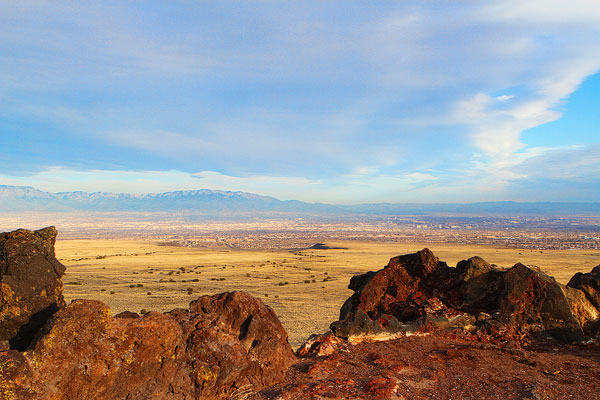 How fun would that be to watch up here, as the whole city is filled with balloons?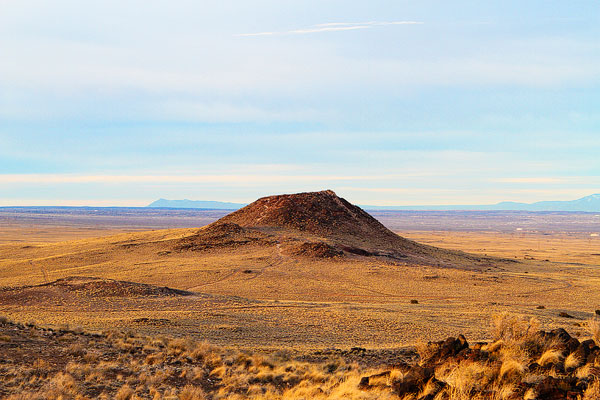 To our left was another volcano, and just before sunset we made our way down and back up over to the large plateau at the top of this volcano.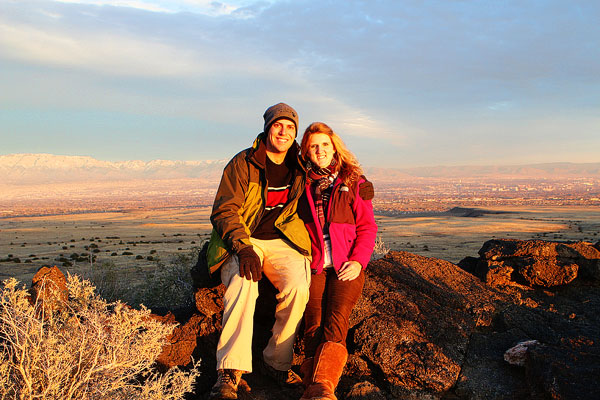 I didn't get a chance to do Christmas cards this year, but I think if I did, this photo would have made it on the card.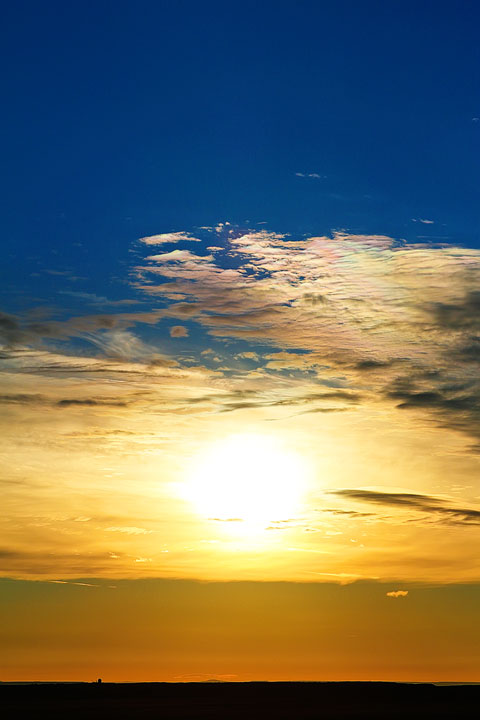 Behind us were the beautiful Sandia mountains bathed in warm sunlight, and in front of us was this.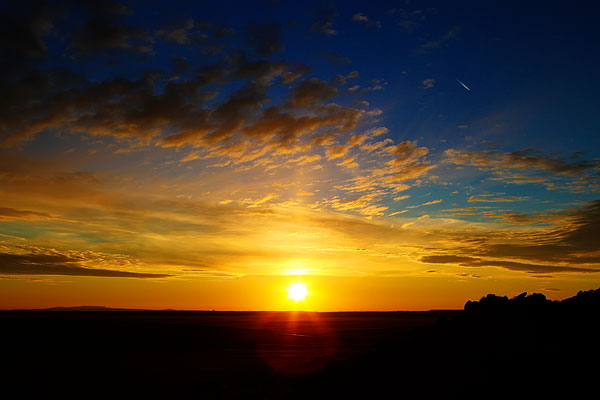 Which quickly turned to this.
Sandia means watermelon in Spanish, and is a reference to the vibrant pink hue the mountains radiate at sunset.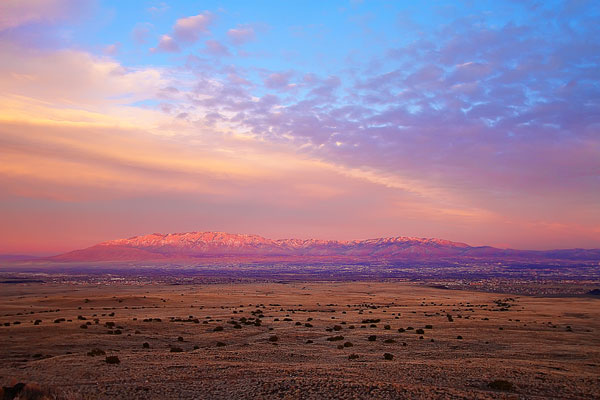 They weren't kidding.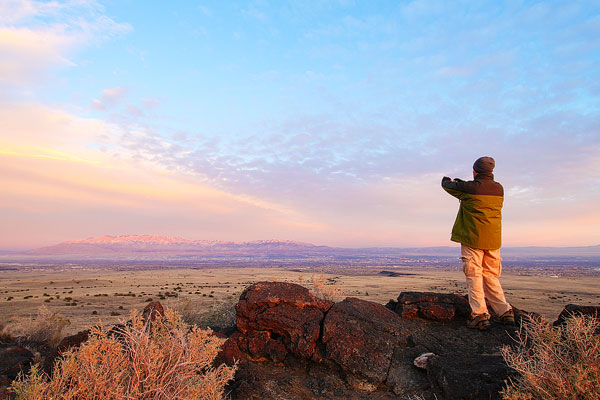 We kept alternating between watching the sunset in front of us and mountains turn pink with intensity behind us as the sun went down.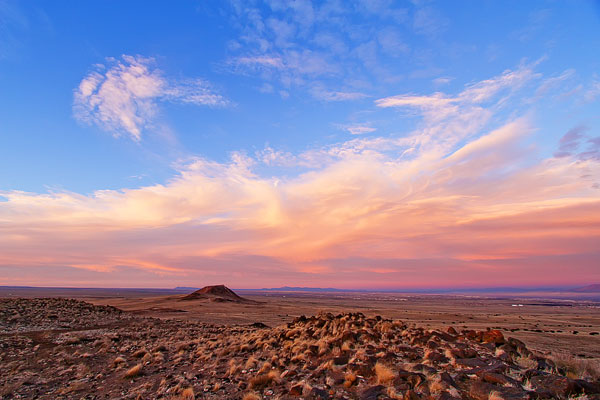 To the north was another volcano, the tallest of the three, and we contemplated hiking over there for one final view of the city.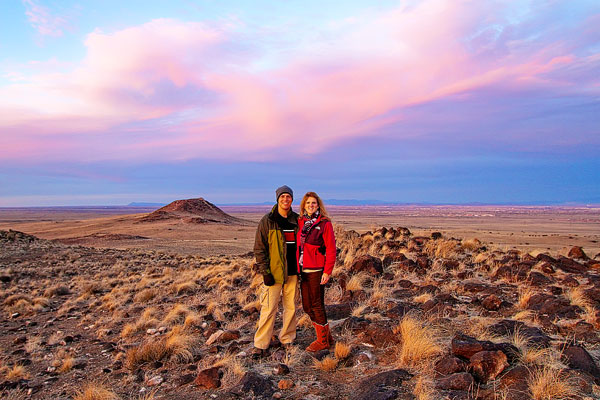 But as sunset was quickly approaching, we decided to stay put and grab a few more photos right where we were. :)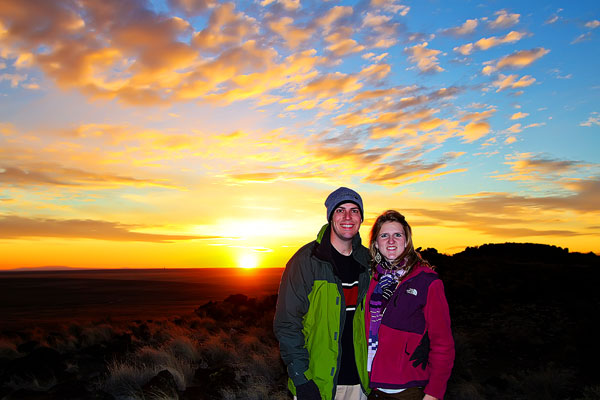 I have on about 27 layers of jackets here. Oh! We brought our tripod along for the hike. Thanks babe for carrying that thing!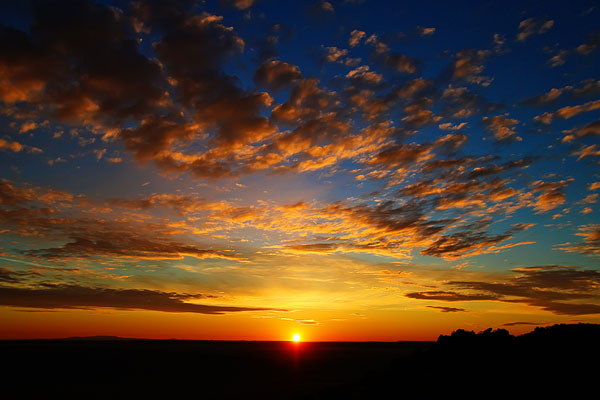 Southwest sunset.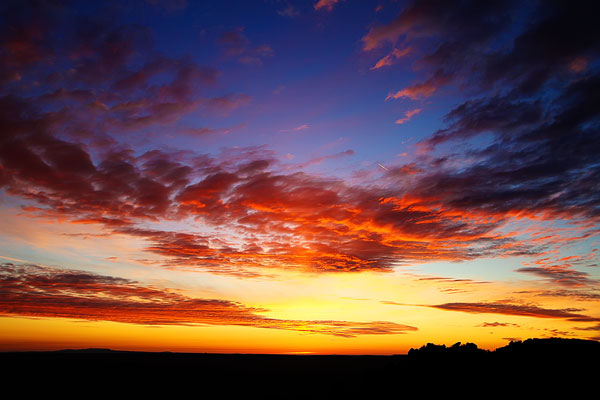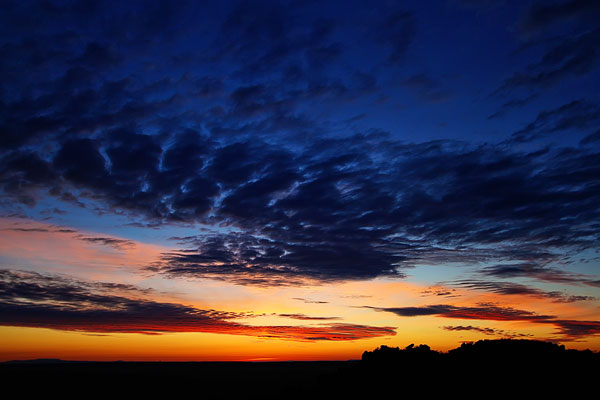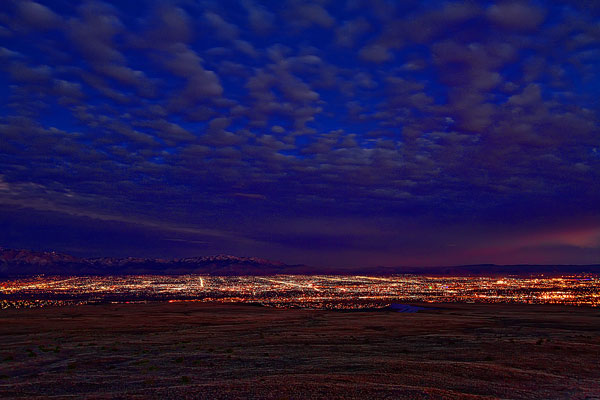 As we made our way back down the volcano, brightly colored street lamps and signs were just starting to illuminate the city.
Here's a Google map to the Petroglyphs National Monument Volcanoes parking area. The gate locks at 5pm, so if you plan to watch the sunset, park in the parking area outside of the gate, and walk up the street to the trailheads and restrooms.
Stayed tuned for more fun things we found in Albuquerque, I can't wait to share the ranch where we stayed with you! Thanks so much for looking, hope you have a beautiful rest of your day!