Mini Funfetti Cupcakes with Sprinkles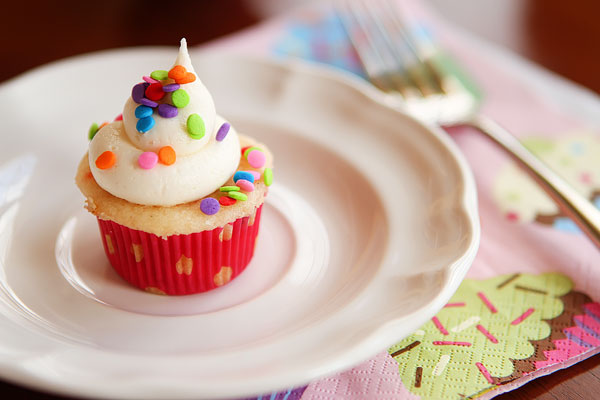 Ahh, who can resist a cute mini cupcake with colorful confetti sprinkles?? A simple vanilla cupcake with vanilla buttercream frosting is my absolute favorite kind of cupcake. I knew I had to make this fabulous little cupcake for our Cupcake Taste Testing Party, and it's the perfect recipe to kick off Cupcake Week!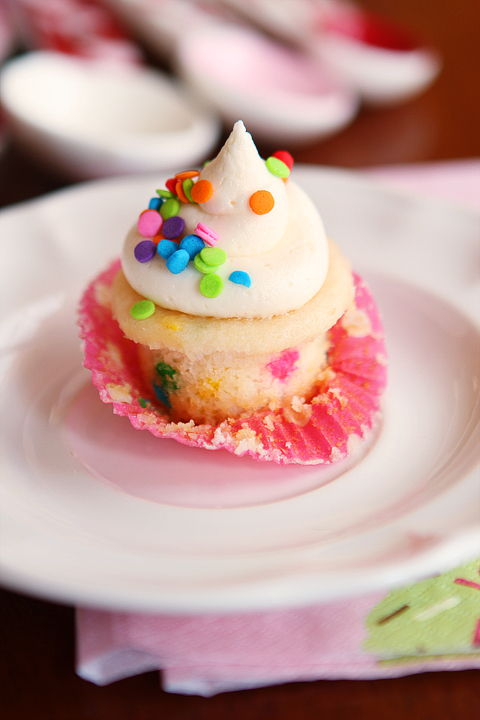 I used Sweetapolita's Fluffy Vanilla Cake recipe for these cupcakes, and I'm going to just send you over there to get it. The cupcakes were gorgeous, light, airy, fluffy, and impossibly moist. Everything I want in a vanilla cupcake. Even when made mini — and that's hard to do! A perfect vanilla cupcake.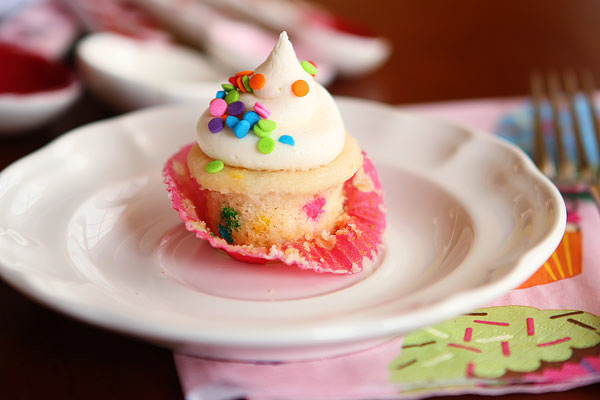 I topped them with my favorite vanilla buttercream frosting recipe (posted below). You can use any vanilla extract for this buttercream, but if you'd like to give your frosting a little WOW factor, I absolutely love Tahitian vanilla extract! This special vanilla extract is specifically for use in recipes that are not cooked or heated, and results in a pure, simple, delicious vanilla flavor.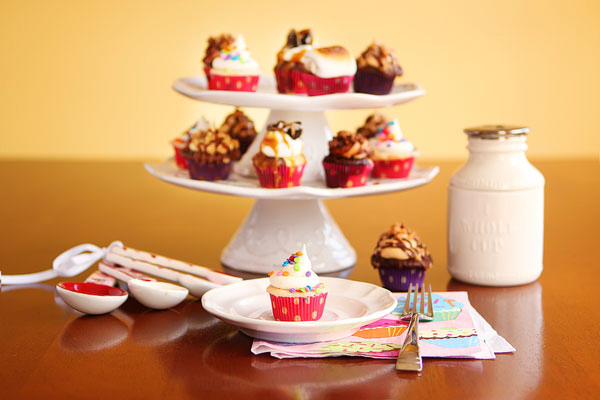 Here are the two recipes below. Enjoy these, guys! Five new cupcake recipes are coming at you next week. Have a great weekend!
Click HERE to get the recipe for Fluffy Vanilla Cake!
NOTES
I weighed all my ingredients.
I used Egg Beaters Egg Whites in place of the egg whites, so I wouldn't have leftover yolks. So easy and worked PERFECT!
 I used 1 tablespoon vanilla extract.
Just before pouring the batter into the cupcake liners, I stirred in 1/4-1/2 cup confetti sprinkles. I didn't measure exactly, I just kept adding until the batter looked colorful and sprinkly :)
For MINI cupcakes, bake at 350 for 8-10 minutes. For STANDARD cupcakes, bake at 350 for 18-22 minutes.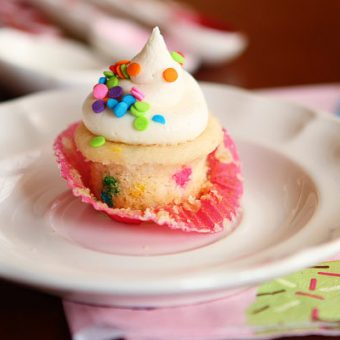 Vanilla Buttercream Frosting
Ingredients:
Directions:
Place the butter, sugar, cream and vanilla in a large mixing bowl. Beat on medium speed until smooth and creamy, about 3-5 minutes. If necessary, add more cream, one tablespoon at a time, beating for 1-2 minutes after each addition until desired consistency is reached. Pipe onto cupcakes and top with confetti sprinkles!