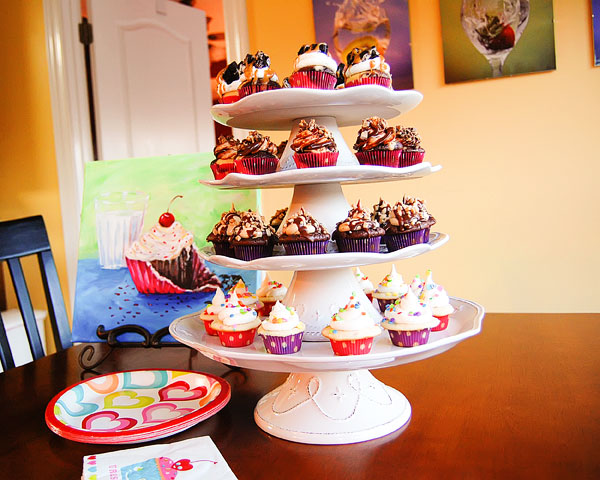 One evening last month, I invited a few girls over to help me eat the enormous amounts of chocolate I amassed in New York over my birthday weekend. We drank hot chocolate, made s'mores, and stuffed ourselves silly with french truffles and 14 different kinds flavored chocolate bars. In between all the chocolate tasting and sugar-induced giggling, my dear friend and neighbor Stephanie taught us how to paint a cute little chocolate macaron in a giant cafe-style coffee mug. You can see a recap of our evening here. It was a seriously perfect night, and we knew right then we couldn't stop there. We'd simply have to do it again. Soon.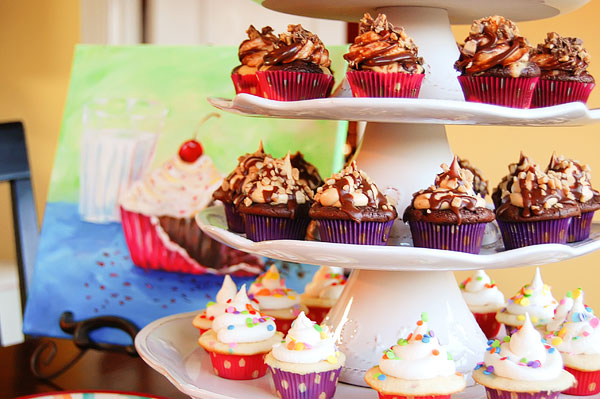 So this Tuesday we got the gang together again, along with some new gals, and this time our theme was cupcakes! Stephanie created a fabulous pink cupcake for us to paint, and I came up with six fun flavors of mini cupcakes for us to sample.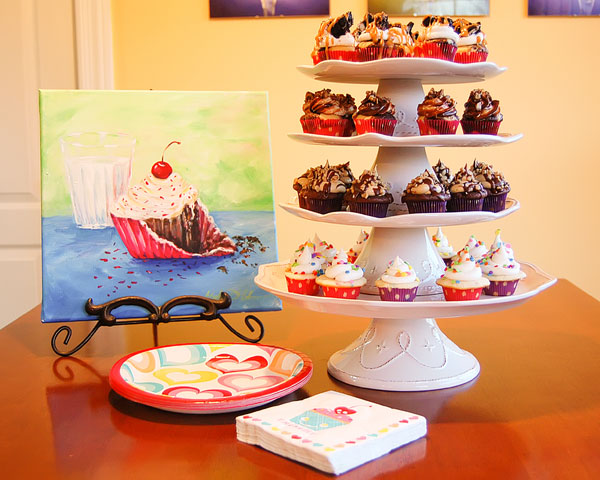 I had way too much fun coming up with all the different flavors of cupcakes! I drew inspiration from my most favorite and unforgettable cupcakes I've tasted and photographed over the years. I made the frostings the night before the party, but on the day of the party I baked, frosted and decorated all six batches of cupcakes. I felt like I had been training for this my whole life! I was humming the Rocky theme song all day. And I am not lying when I tell you that when Stephanie arrived, thirty minutes before the other guests were to arrive, she found me still in my pajamas, flour on my face, my hair in a sock bun, and without a stitch of makeup. I yanked her in the house and handed her a bag of frosting while I ran to the back to throw on clothes and mascara. Thank goodness for BFFs arriving early. We literally put the last sprinkle on the last cupcake just as the first guest arrived. Whew!
By the way, thank you so much to Stephanie for taking the first four photos here! It wasn't until this point in the evening that I'd collected myself enough to pick up a camera. I didn't even have my iPhone with me. I can't believe I didn't start to twitch!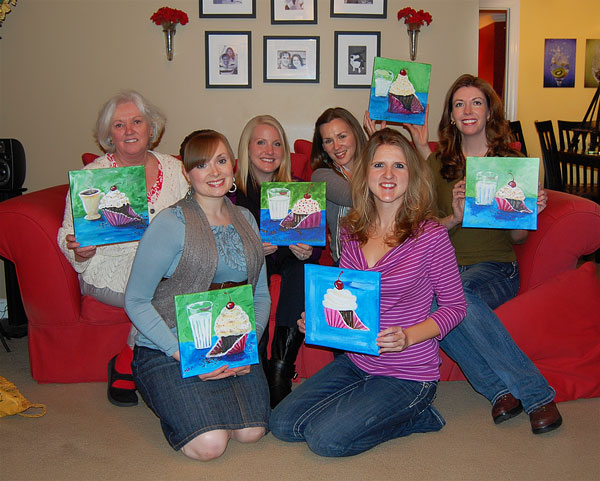 Anyway! Here's our fabulous group of ladies! From left to right we have Dolly (Stephanie's Mom), Myra @ My Blessed Life, Brekke @ My Sweet Home, Erin @ The Pigbear, yours truly, and Stephanie @ All Artful. An amazingly talented group of Alabama bloggers all under one roof — I felt so incredibly lucky to be this close to this much talent!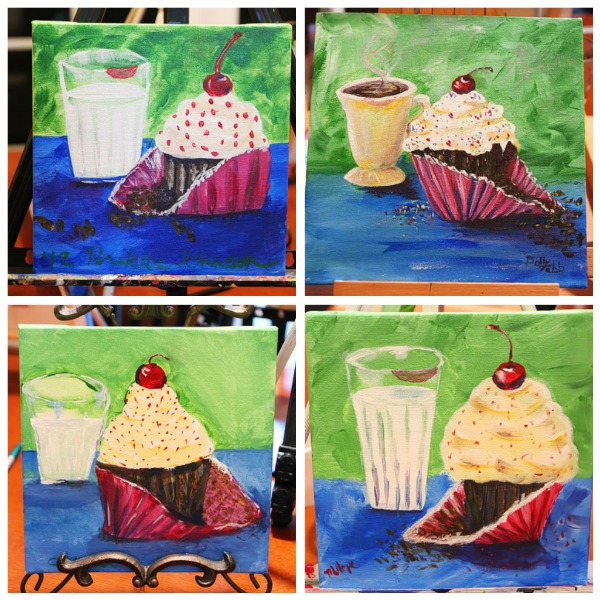 You can see it in their paintings too. Clockwise from top left are Brekke, Dolly, Myra, and Erin's paintings. How talented are these gals?? I love how each and every one of their sweet personalities shines through their artwork.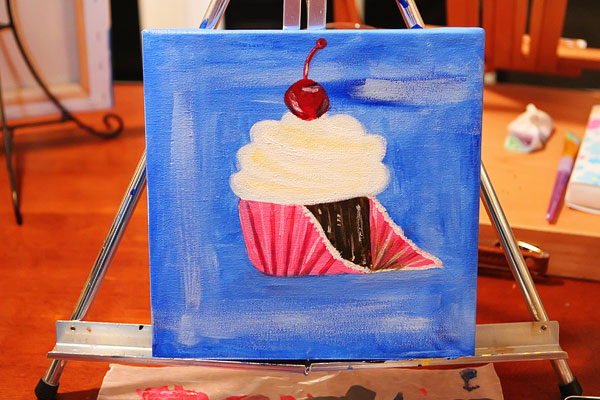 Oh yah, and here's my little pink cupcake :)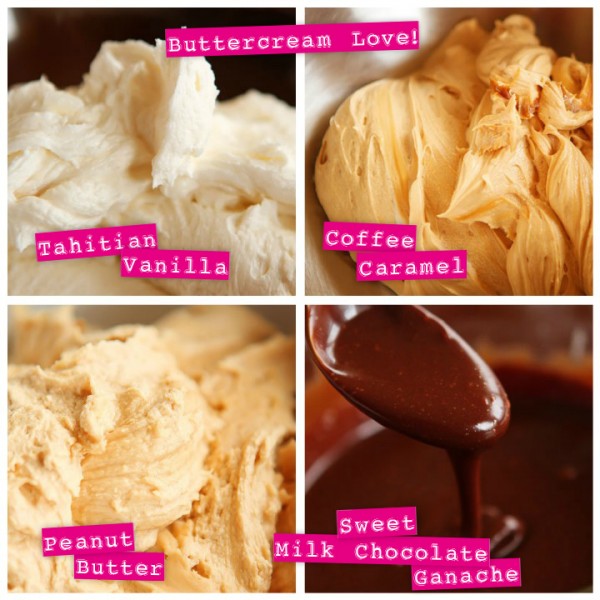 The day before the party I shared this photo on Facebook with you guys. These are the four frostings I used for our cupcakes. They're my absolute favorites and they are out of this world ridiculous.. Can I tell you how hard it was not to eat these with a spoon?? :)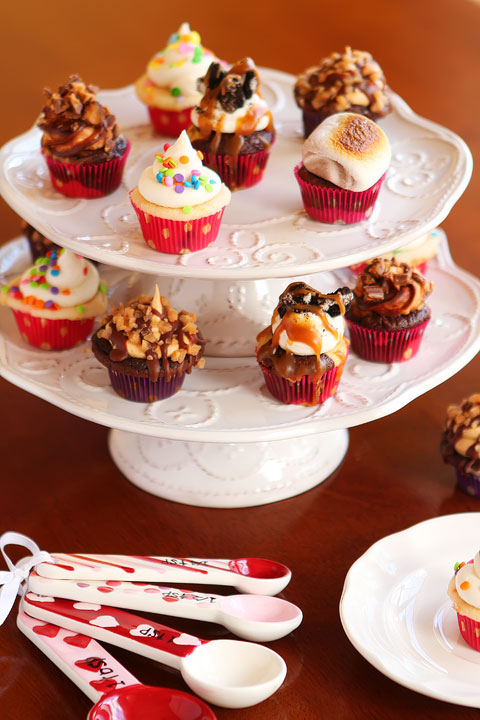 I would love to share these cupcake and frosting recipes with you guys next week. They're decadent, rich, dreamy, and naughty. You have to try 'em. Since there are six recipes, I'll post the first recipe tomorrow to kick us off, and then I'll post a new cupcake recipe every day next week. We'll decree it hence be known as Cupcake Week, officially!
See you tomorrow with the first cupcake! xoxo