Mini Peanut Butter Oreo Chocolate Fudge Swirl Cupcakes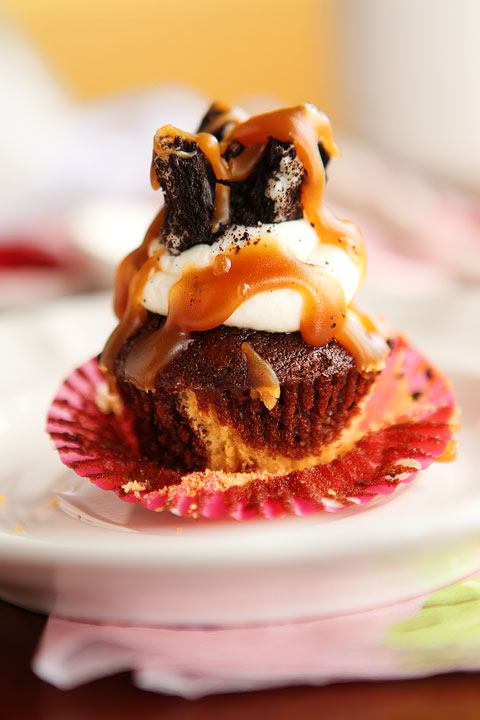 Hi guys! Welcome to Cupcake Week! I'll be posting a brand new cupcake recipe every day for the next five days. I'll be sharing the cupcake recipes we taste-tested at the Cupcake taste-testing party last week. I can't wait to share these fun cupcakes with you guys!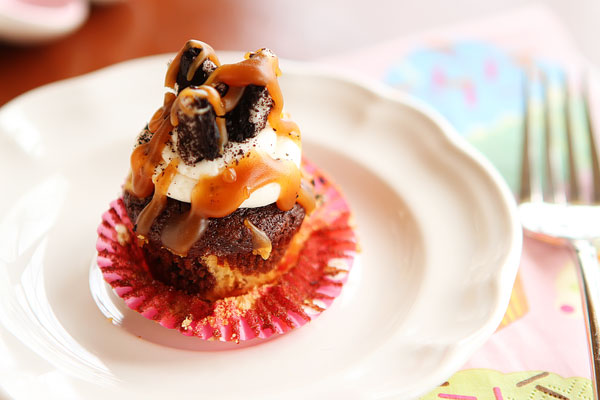 I'm kicking off cupcake week with this ultra dreamy Oreo Peanut Butter cupcake. I am absolutely in love with this cupcake. The crushed Oreos nestled in a pillow of buttercream frosting, drizzled with creamy peanut butter — the flavors are just perfect together!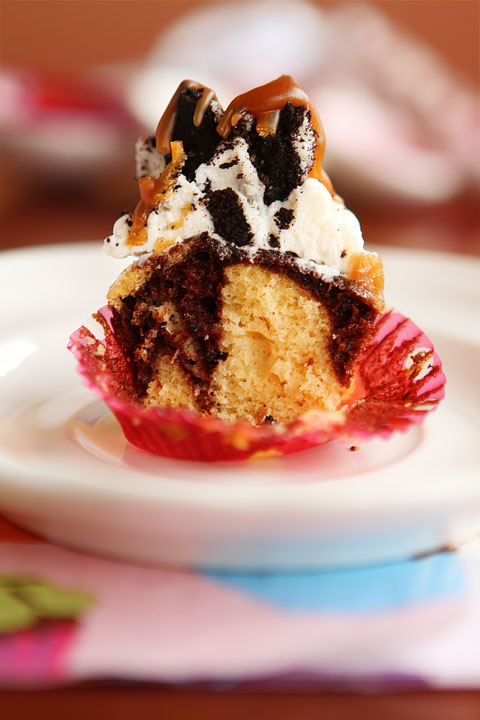 The cupcake itself is a swirl of chocolate and peanut butter cake. Yes, you heard me right! Peanut Butter cake! This was actually a happy accident as I had planned for this cupcake to have just a simple chocolate cake for the base, but ended up absentmindedly swirling more chocolate and peanut butter cupcakes than I had planned on for the party. So if you'd like, feel free to make this one with just the chocolate cake base recipe posted below. Either way, it's fabulous!
New cupcake recipe coming tomorrow. Enjoy!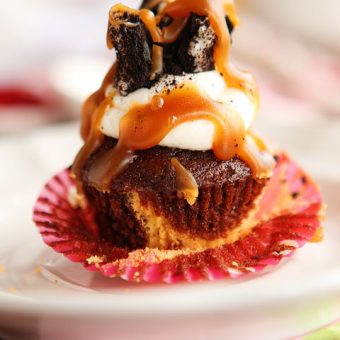 Mini Peanut Butter Oreo Chocolate Fudge Swirl Cupcakes
Ingredients:
The Best Chocolate Cake Ever
1 box devil's food cake mix
1 small pkg Jello instant chocolate pudding mix
1 cup sour cream
1 cup vegetable oil
4 eggs, beaten
1/2 cup milk
1 tsp vanilla
2 cups mini chocolate chips
Peanut Butter Cake
1/2 cup creamy peanut butter
1/2 cup butter, softened
4 eggs
1 box butter cake mix
2/3 cup water
Vanilla Buttercream
1 cup (2 sticks) butter, softened
3 cups powdered sugar
1/2 cup heavy cream
2 teaspoons Tahitian vanilla extract
Peanut Butter Drizzle
2/3 cups creamy Peanut Butter
2 tablespoons heavy cream
1/4 cup powdered sugar, sifted
1-4 tbsp milk
Directions:
For the Chocolate Cake
In a very large bowl, mix together everything except chocolate chips until well combined. Batter will be thick. Stir in the chocolate chips.
For the Peanut Butter Cake
In the workbowl of a mixer, combine 1/2 cup peanut butter and 1/2 cup butter. Beat on medium speed until light and fluffy, about 3-5 minutes. Add eggs one at time, mixing well after each addition. Add approximately 1/3 of the cake mix and 1/3 of the water, and mix on low speed until just combined. Repeat 2 more times with remaining cake mix and water.
For the Vanilla Buttercream
Place the butter, sugar, cream and vanilla in a large mixing bowl. Beat on medium speed until smooth and creamy, about 3-5 minutes. If necessary, add more cream, one tablespoon at a time, beating for 1-2 minutes after each addition until desired consistency is reached.
For the Peanut Butter Drizzle
Melt peanut butter, sugar, and heavy cream in microwave for 30 seconds. Stir to combine. Add milk, 1 tbsp at a time, mixing after each addition until pouring consistency is reached.
Cupcake Assembly
Preheat oven to 350. Grease and line mini muffin tins. Add approximately 2 teaspoons of peanut butter cake batter first, then 2 teaspoons of chocolate cake batter to each tin. I used this 2-teaspoon scoop from OXO, found at Target. Use a spoon or knife to gently fold and swirl cake batter. For MINI cupcakes, bake at 350 for 8-10 minutes. Pipe frosting onto cupcakes, sprinkle with crushed Oreos, and drizzle with peanut butter sauce.
For STANDARD cupcakes, add approximately 2 tablespoons of each batter to muffin tins, and bake at 350 for 18-22 minutes.