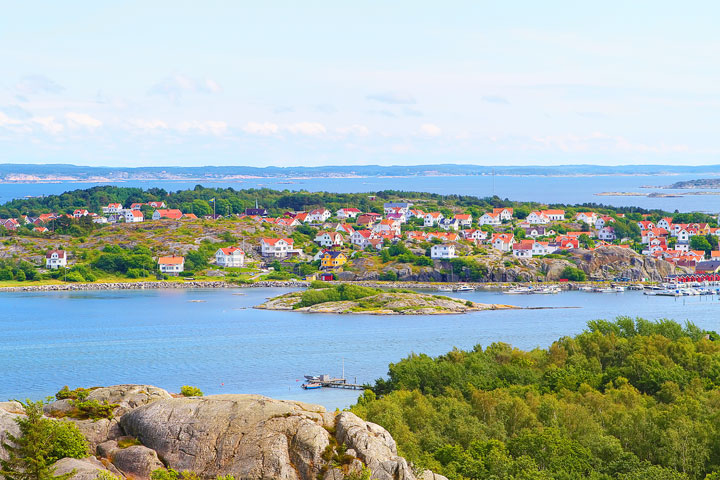 So, so grateful for this once-in-a-lifetime experience of a roadtrip through Sweden with my dad! What a true gift. The second day of our adventure took us to the tiny, tucked-away island of Styrsö in the vast archipelago near the gorgeous city of Gothenburg.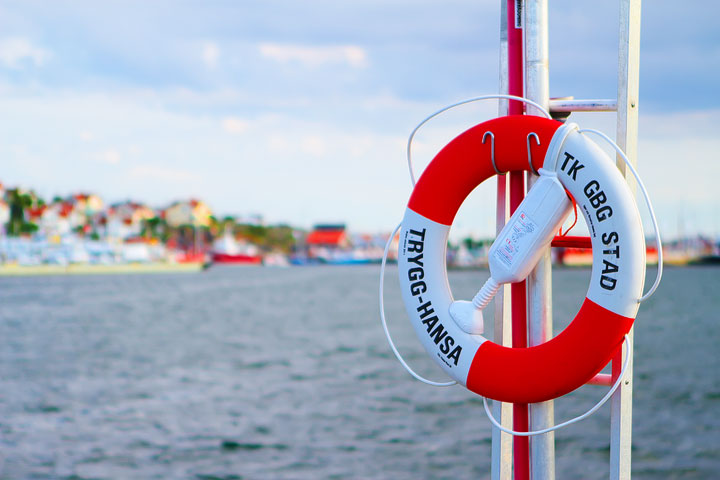 We hopped on a ferry and with the wind whipping through our hair, took a refreshing 45 minute ride out into the salty, sapphire waters of the North Sea to the storybook island of Styrsö. There are no cars here on this cozy island, just bicycles and golf carts to cruise the paths from one spot to the next.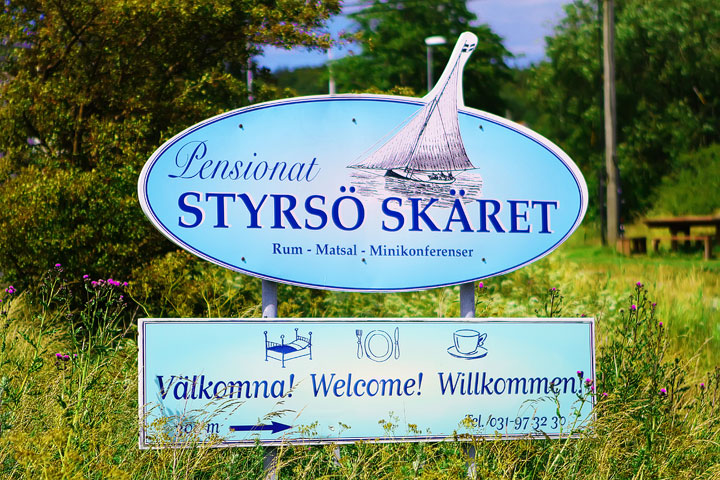 Our first order of business was to get some transportation! :) We paid a visit to the Pensionat Styrsö Skäret, an incredibly charming bed and breakfast on the island.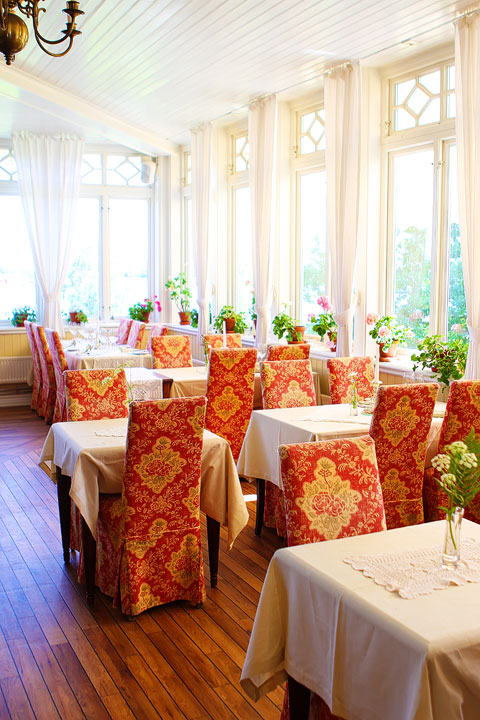 All I could think about was Gilmore Girls here. AKA, my dream locale. The small, close-knit community, the charming inn, the walk-everywhere-you-need-to-go aspect. I fell in love with this dreamlike village immediately. This is the lovely dining room at the Pensionat. Can you imagine having breakfast in here every morning??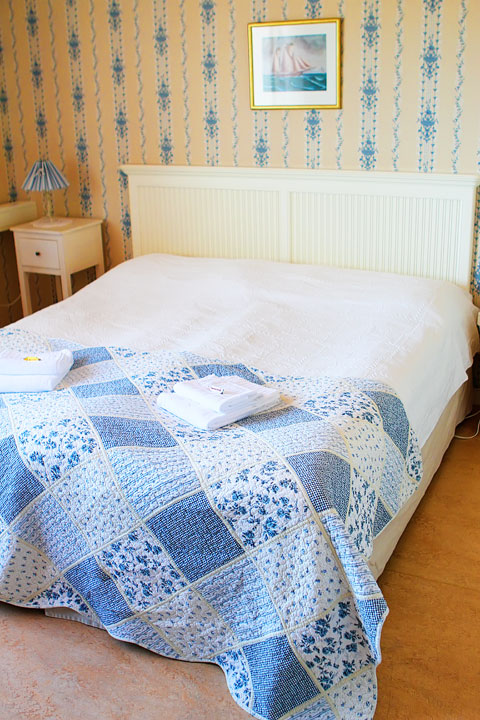 We took a peek in one of the airy, beach-like cottage rooms.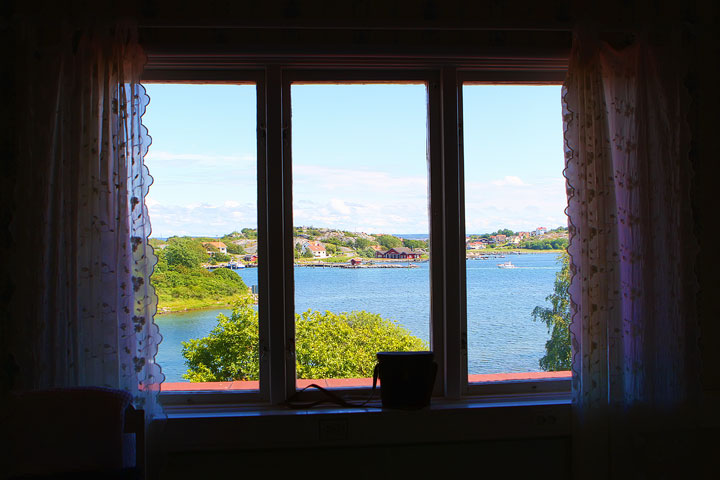 I cannot imagine how exhilarating it would be to wake up to this view!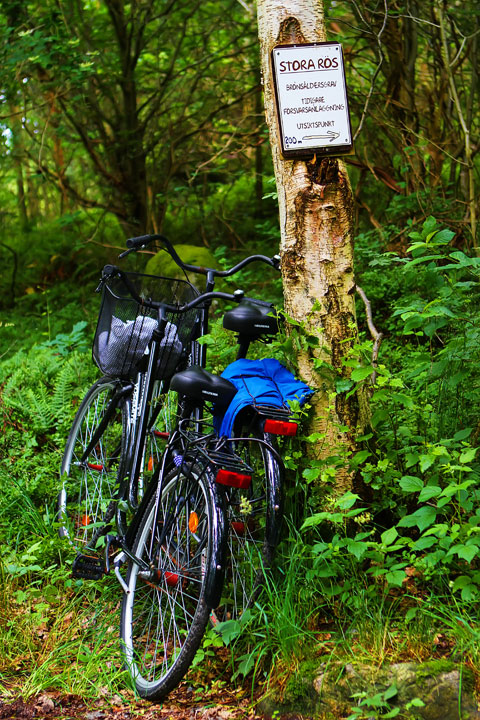 We rented a couple of bikes from the Pensionat, and they set us up with a map marked with all of the must-see, scenic spots on the island, as well as a homemade picnic lunch — including freshly baked chocolate chip cookies! What a sweet surprise! :) Ola at the Pensionat told us there was a breathtaking 360 degree view from the island, and I definitely wanted to see that first. We parked our bikes at the trail and walked up the easy path to the overlook.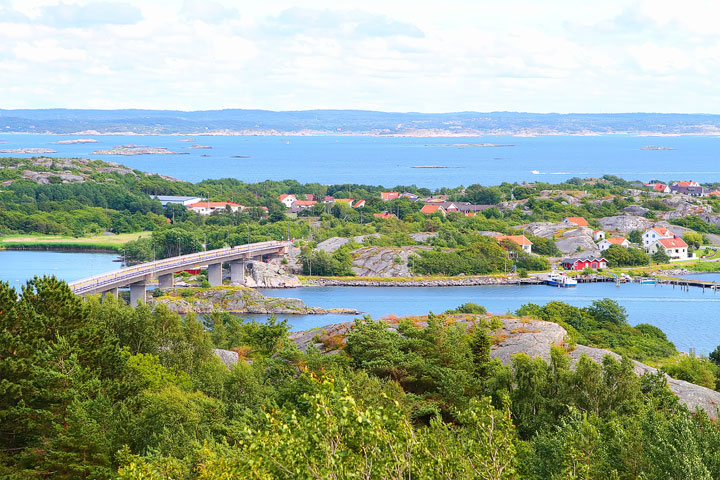 Oh, how incredible was the view up here.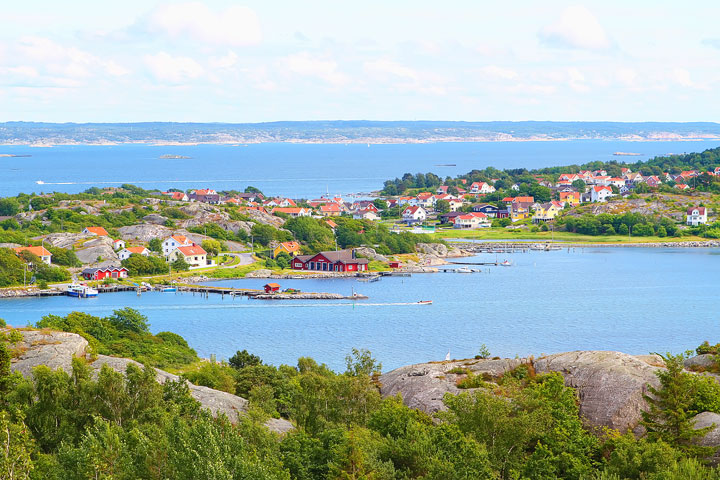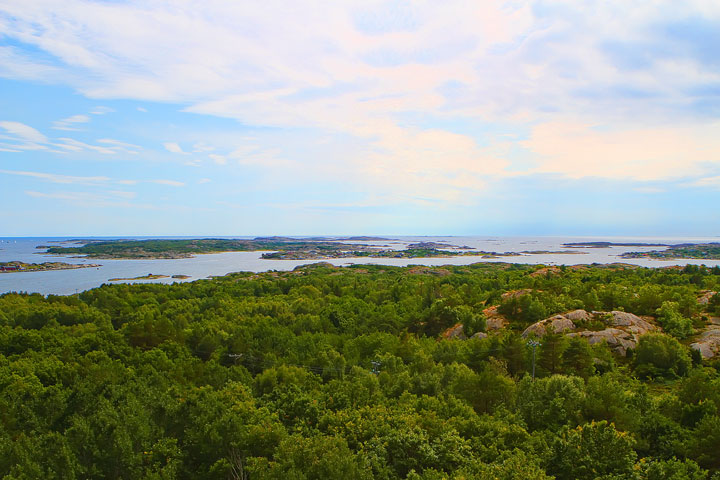 Our picnic lunch view. There were picnic tables up here and everything.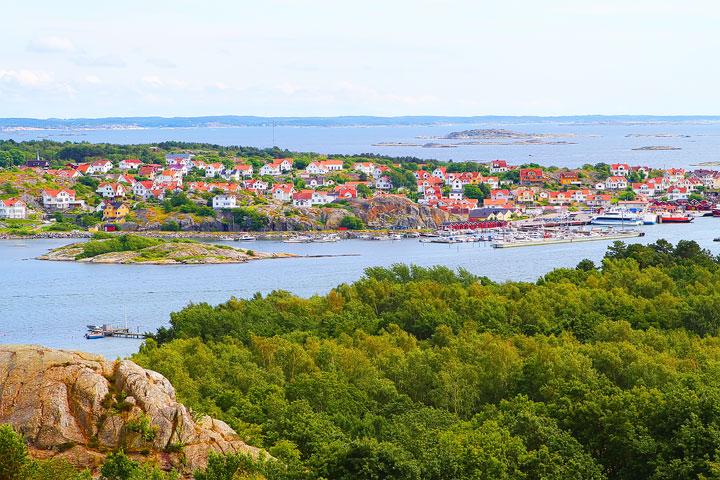 Love, love, love these colorful islands. The small communities. The quiet remoteness. The utter utopian gorgeousness of it all.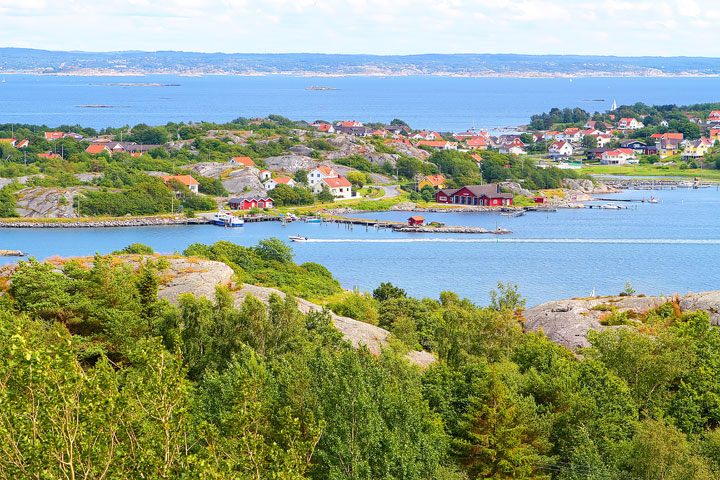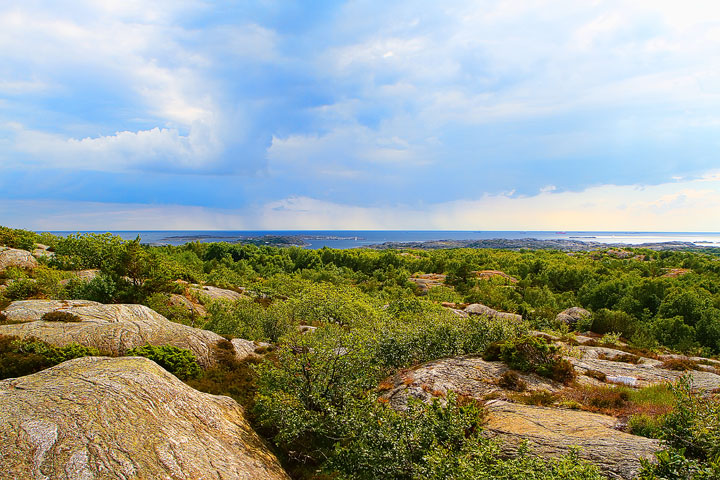 Storms in the distance.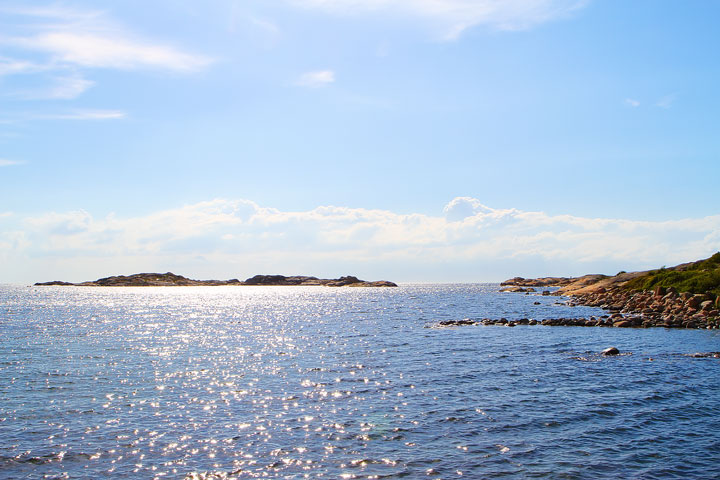 We cruised all over this striking island.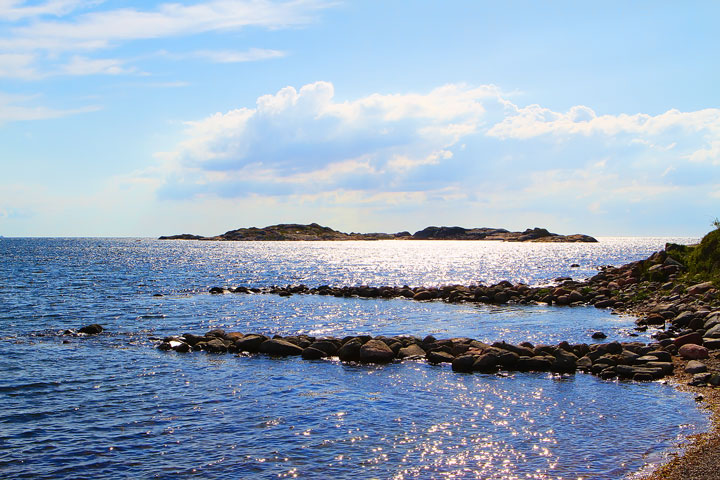 Down by the beach.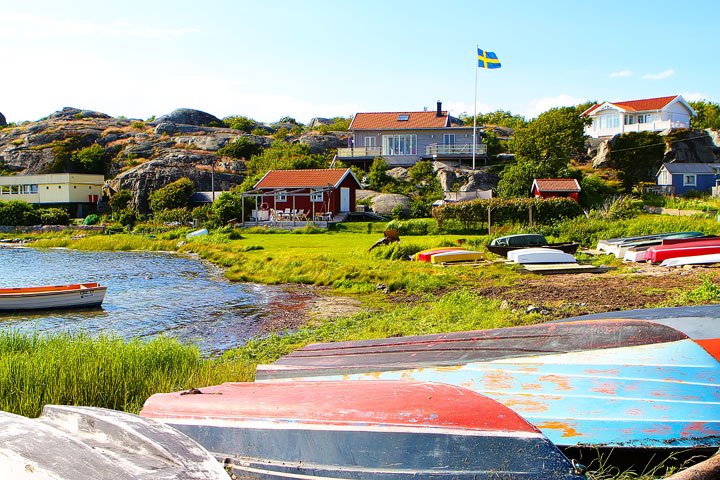 Through the neighborhoods.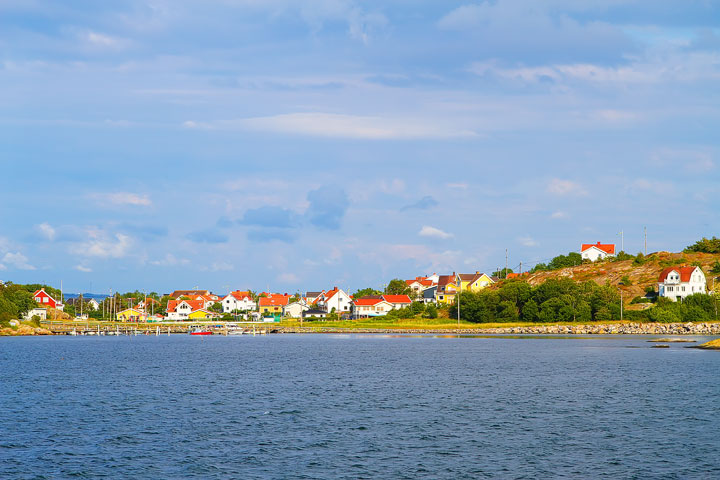 We covered almost 7 miles around this picturesque little town.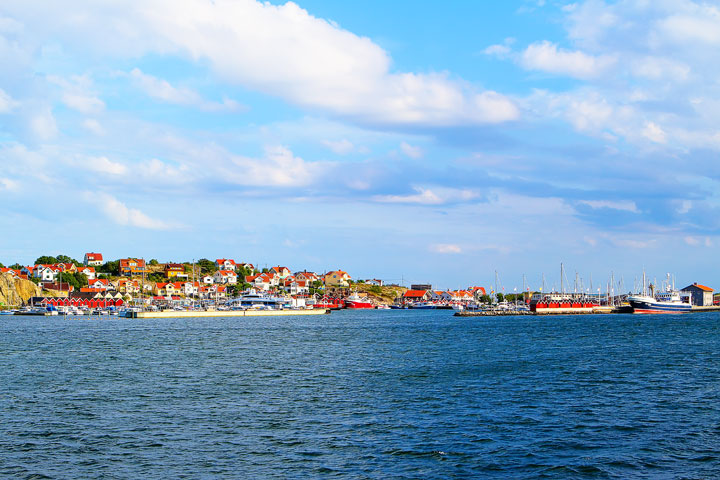 As we waited for the ferry to take us back to Gothenburg, we watched the storms rolling in.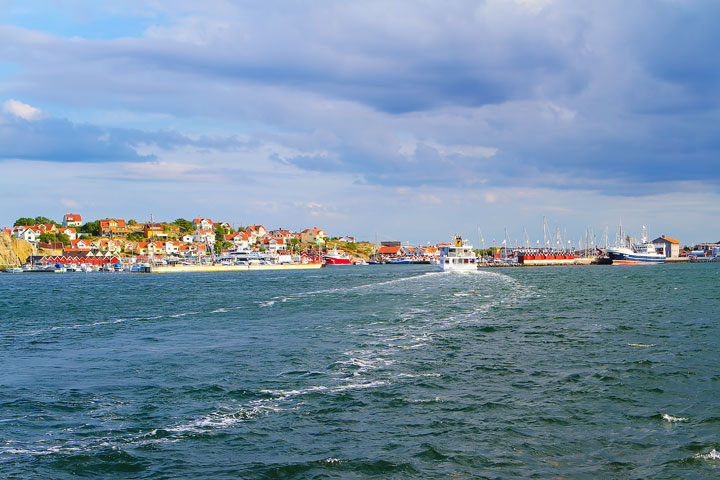 Almost here.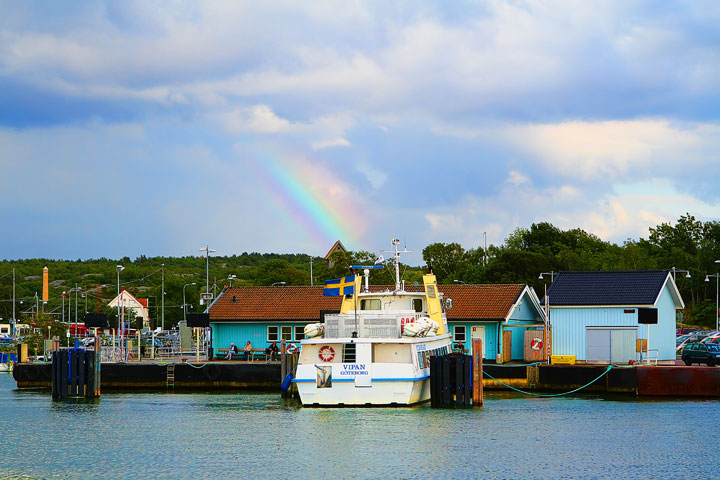 They managed to stay just far away from us, but we did catch this rainbow just before arriving at the teal ferry station in Gothenburg.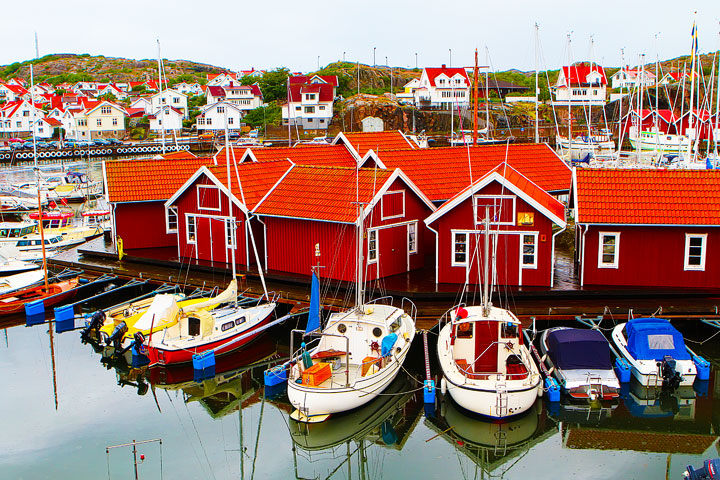 While driving down the coast on our way to Styrsö that morning, we made a slight detour at this colorful harbor in Kalavägen. It was actually raining when we got here — I so wished I could've seen it in sunshine and blue skies! — but the harbor was so stunning I pulled out my camera in the rain anyway.

Panoramic view of the harbor. Click image to see a larger version.
Although it's probably a good thing it was rainy. I think I could've spent all day here taking pictures.

View Sweden Road Trip — Day Two in a larger map
Here's a map of our second day in Sweden. If you zoom in, you can even see the biking path we took around Styrsö! Click on the colored markers for more info, or click here to see a larger map with a list of all the points of interest.
Check out CarPlusVacation.com to find out more about the Volvo Overseas Delivery Program. You can even use their interactive trip planner to plan your virtual roadtrip Sweden. Choose your car, where you'll stay and what you'll do, and you can  submit your itinerary to their Roadtrip of a Lifetime sweepstakes to be entered to win the roadtrip you just planned. How awesome would that be?? :) Contest ends on August 15th.
Thanks so much to Volvo, the West Sweden Tourism Board, and SAS Airlines for making this priceless experience possible.