Decadent Snickers Cupcakes with Chocolate Mousse Filling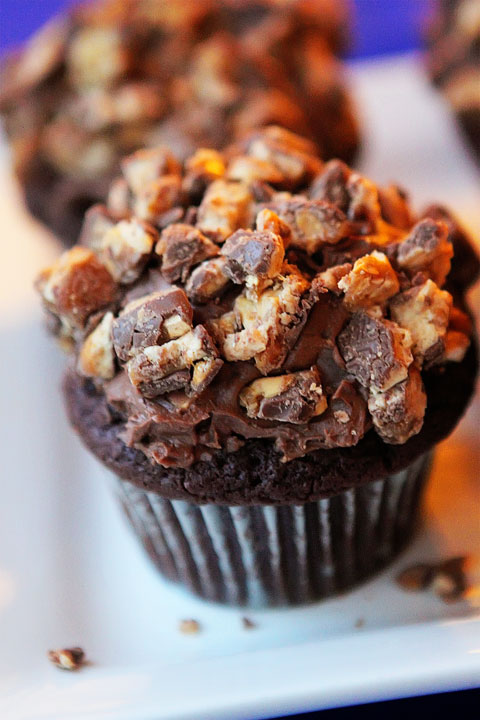 After our cupcake taste-testing extravaganza at Disney, Jenny and I headed back to the Picky Palate kitchen to create some cupcakes of our own. Talk about being in the happiest place on earth! :) We were inspired by our absolute favorite cake from Joan's on Third, the Snickers Cake (I posted about how in love I was with this cake the first time I went to LA). It's rich, decadent layers of chocolate cake and chocolate mousse topped with a chocolate buttercream frosting and crushed Snickers. Heaven! Here's how our tribute cupcakes turned out…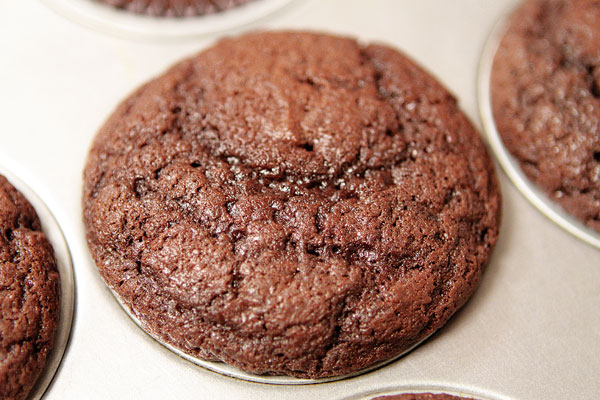 We started with The Best Chocolate Cake Ever recipe and turned it into some fabulously fudgy cupcakes.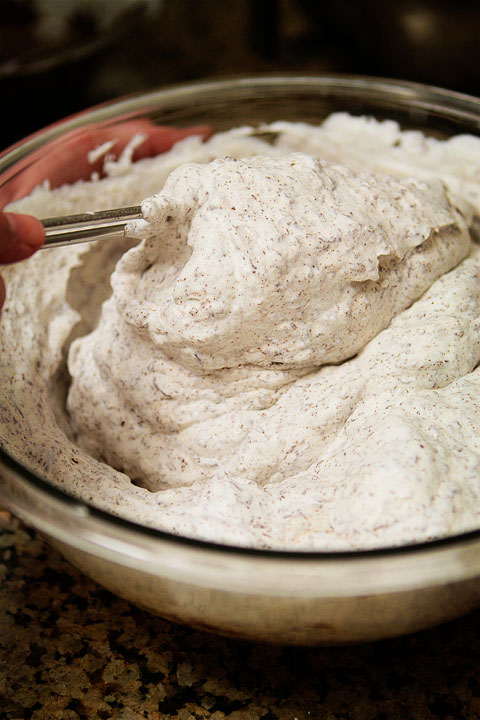 Next we whipped up a super easy, two-ingredient chocolate mousse filling. Good thing it made a lot, because I could not stop taste-testing this mousse!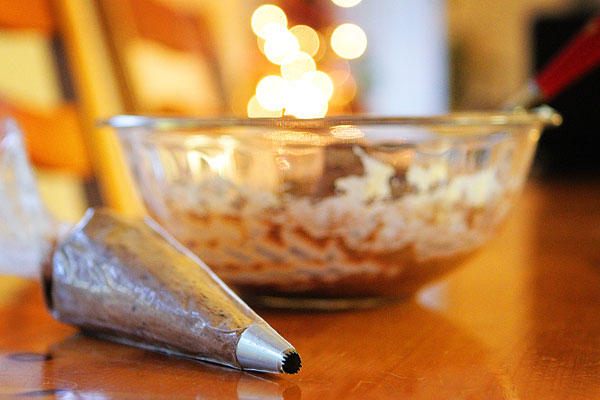 Here it is in the piping bag, almost ready to fill up the cupcakes.
You'll have to excuse my inconsistent lighting in these photos.. We talked and gabbed and ate so much chocolate that we ended up losing the light before we finished our cupcakes! :)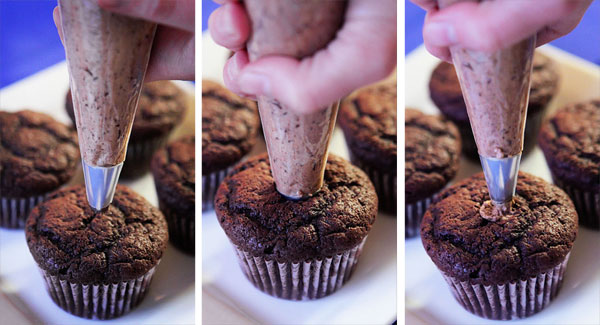 When the cupcakes have cooled, insert the tip of the piping bag about 1″ into the middle of the cupcake. Squeeze the mousse into the cupcake while pulling the tip out.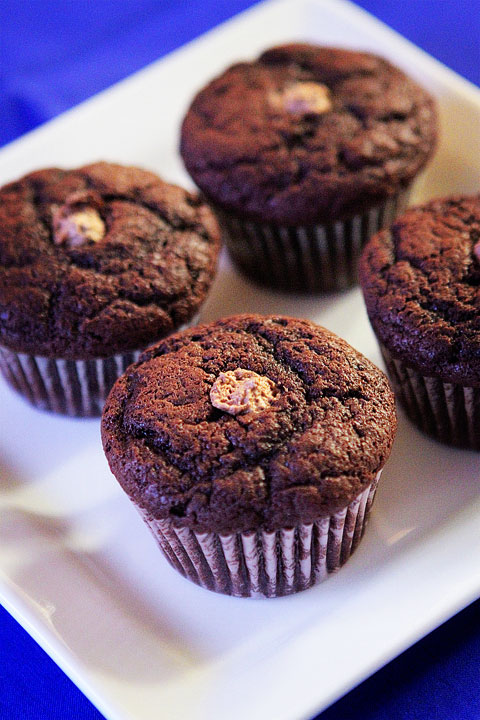 Perfect!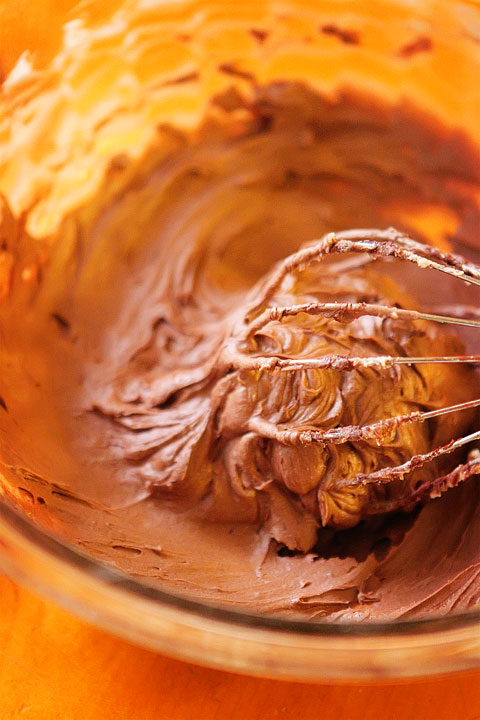 You will *love* this fabulous chocolate buttercream frosting… Jenny whisked it together by hand and I definitely think this was the secret to this frosting. It was so deliciously rich!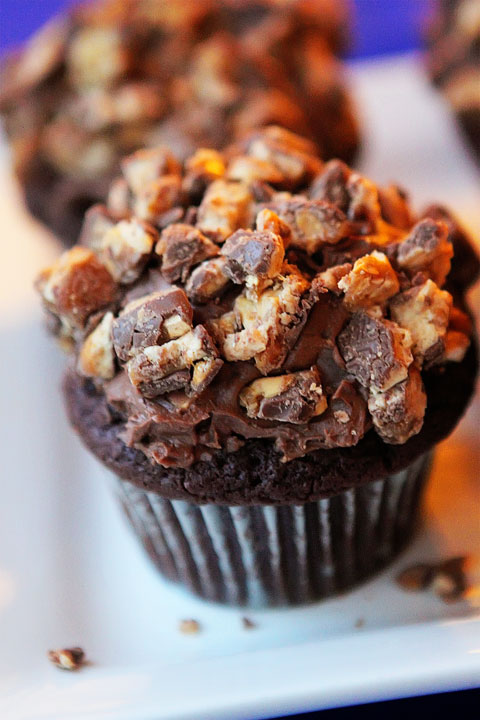 To finish, top with a handful of crushed Snickers. To die for!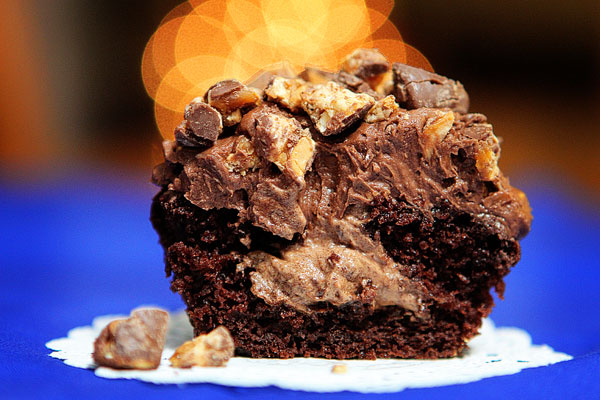 Isn't that chocolate mousse gorgeous?? I can't wait to make these again. You will love these over-the-top cupcakes! :)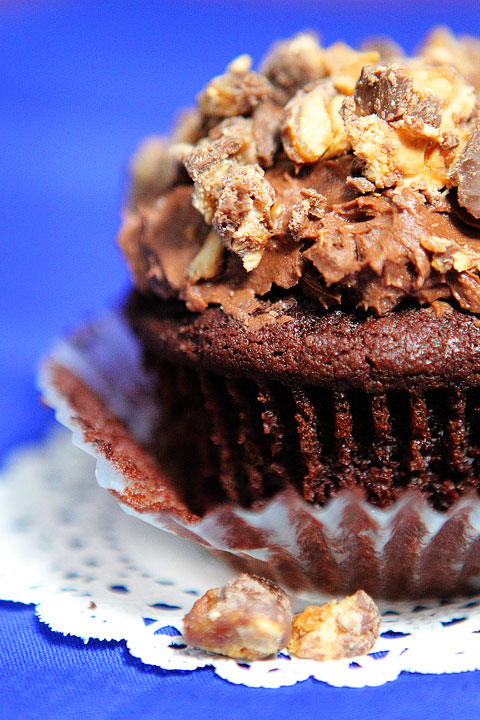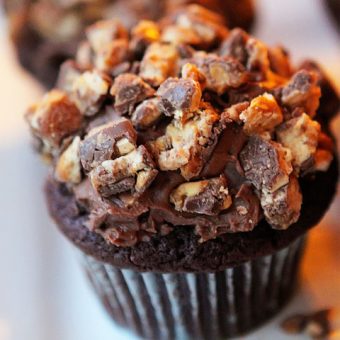 Decadent Snickers Cupcakes with Chocolate Mousse Filling
Ingredients:
1 box Devils Food Cake Mix
1 small box Jello Chocolate Fudge instant pudding mix
4 eggs
1/2 cup vegetable oil
1 cup milk
1 cup sour cream
Chocolate Mousse Filling
2 cups heavy whipping cream
2 cups milk chocolate chips
Chocolate Buttercream Frosting
1 stick softened butter
2 1/2 to 3 cups powdered sugar
1/4 cup cocoa powder
1/2 teaspoon vanilla
1 bag mini Snickers
Directions:
Preheat oven to 350 degrees F. Line 24 cupcake tins with liners. To prepare the cupcakes, place the cake mix, pudding mix, eggs, oil, milk and sour cream into stand mixer. Beat until well combined, about 2 minutes. Scoop the batter evenly into the cupcake liners. Bake for 20-25 minutes or until cupcakes are cooked through and a toothpick comes clean from center. Remove the cupcakes from the tin and let cool.
To prepare the mousse, melt the milk chocolate chips in the microwave, stirring every 30 seconds. Set aside to cool. Meanwhile, whip the heavy cream with a stand or electric mixer until it looks like whipped cream and stiff peaks form. Fold melted chocolate chips into whipped cream until well combined, then transfer batches into a piping bag. When cupcakes have cooled, press the tip of the piping bag into the center of the cupcake, about 1 inch deep. Squeeze the mousse into the cupcake while pulling the tip out. It doesn't take much, just one firm squeeze is perfect. Continue filling all the cupcakes.
To prepare the frosting, beat the butter, powdered sugar, cocoa and vanilla until well combined and a nice frosting consistency. Spread over cupcakes then top with chopped Snickers.