One of the things we loved about visiting Seaside, Florida that made us feel so immediately at home was where we stayed. Seaside is not like other commercialized beach towns. There are no skyscraper hotels or giant condominiums.
An escape to Seaside will simply find a quiet cluster of cobblestone streets, pastel-colored homes, and white picket-fenced cottages. It's a simpler way of everyday life at the beach.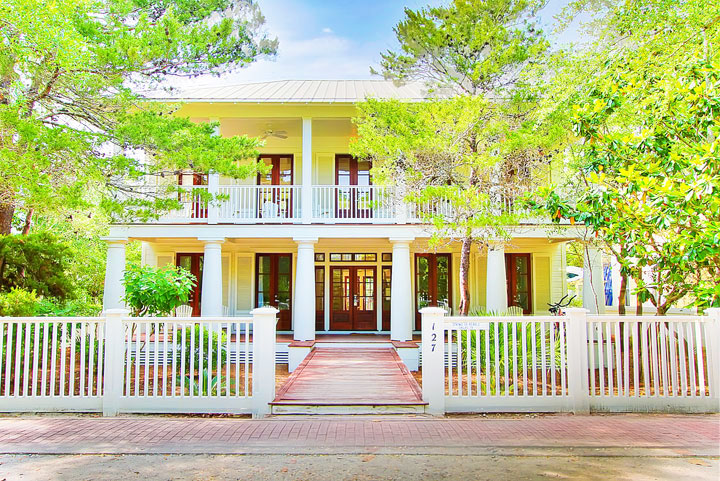 These Are Some Of The Best Vacation Rentals In Florida
The Cottage Rental Agency is the premier on-site rental provider in Seaside, and last weekend they hosted us in one of their available homes. The Cottage Rental Agency offers over 200 vacation rentals in Seaside from private one-bedroom beachfront hideaways to spectacular homes that sleep 14 or more.
This is where we called home for the three short days we were in South Walton. This striking cottage is known as the String of Pearls, a picture-perfect 4 bedroom / 4 bathroom southern-style home complete with its very own white picket fence, two story wrap-around porch, and stately columns.
I wanted to move in.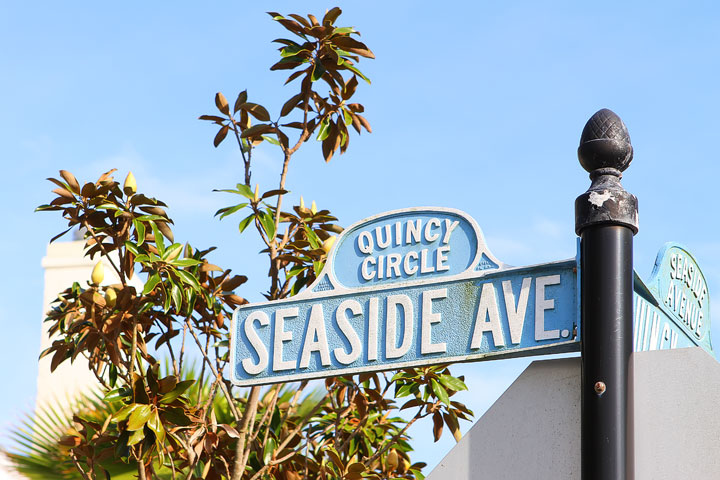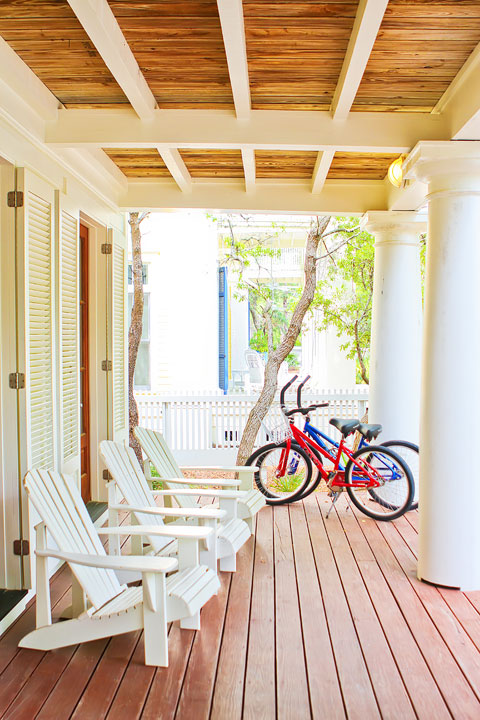 Our Seaside Vacation Rental Had Some Great Amenities
All Cottage Rental Agency guests receive the following amenities:
Two (2) Complimentary Bike Rentals
Complimentary bottle of wine
Welcome Beach Tote with Souvenir
Unlimited DVD Rentals with Popcorn
Business Center with Internet Access
Complimentary Use of Beach Toys Including Boogie Boards
On-site Check-in and Management Services
On-site Housekeeping Services Available
Concierge to Assist you Planning your Day
Golf Voucher for One (1) Complimentary Round of Golf when you Buy One (1) Round at Baytowne, Raven or Links Golf Courses in Sandestin (includes cart rental)
South Walton is a very pedestrian and bicycle friendly community. We loved cruising all over the beach on our bikes!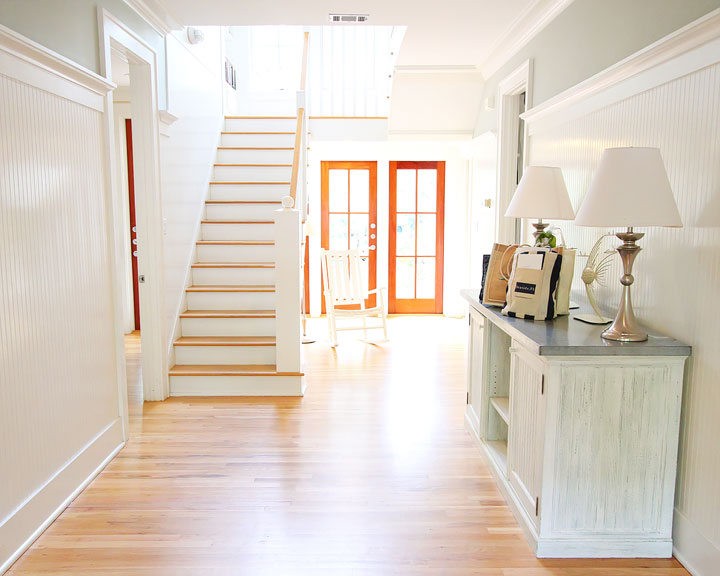 Come take a peek inside with me. :) Here was the foyer.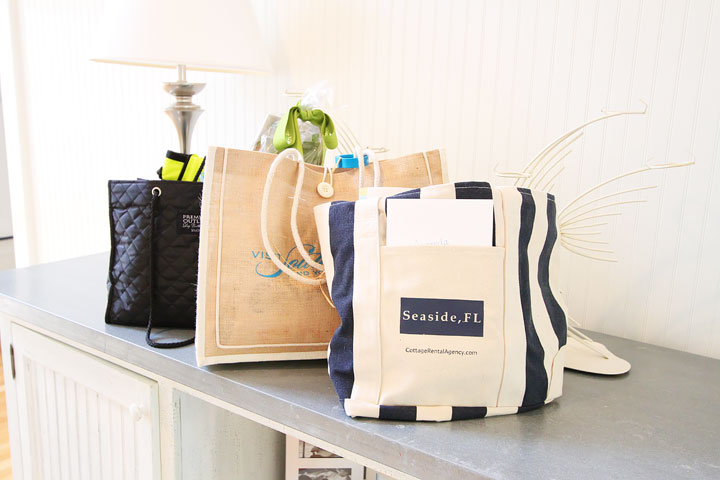 So fun to find our Welcome Beach Tote and souvenir waiting on us, along with a few other goodies from the South Walton folks and the Silver Sands Factory Outlet stores in nearby Destin.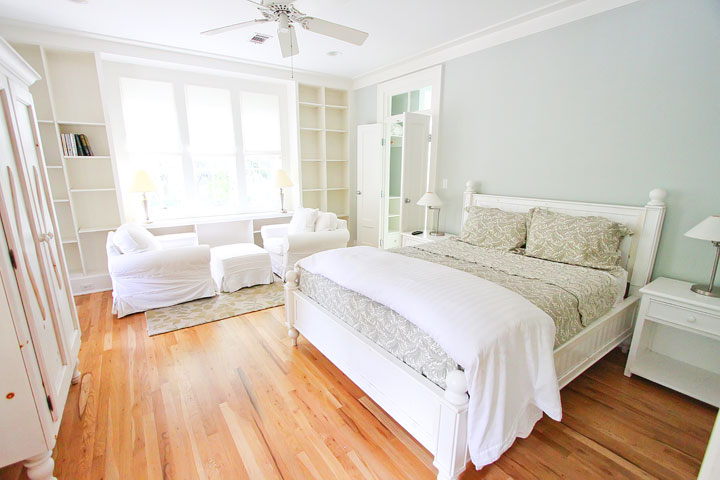 There were two queen bedrooms downstairs. We picked this one because I loved the little sitting area! For some reason I didn't get a picture of the other room! Doh!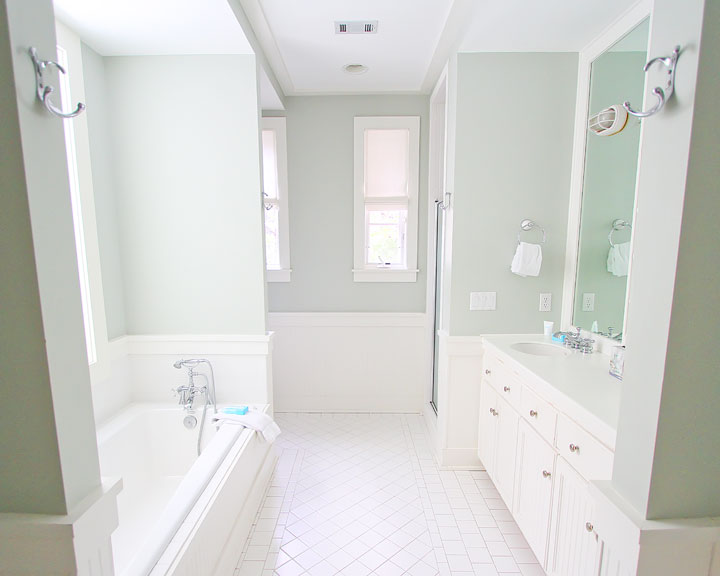 The beautiful, bright bathroom. Okay, I just have to say, this shower had the BEST water pressure of any shower I have ever had in my entire life. It was amazing! I just wanted to wrap this shower up in a box and take it home with me!! I would never get out if I had an amazing shower like this at home, lol!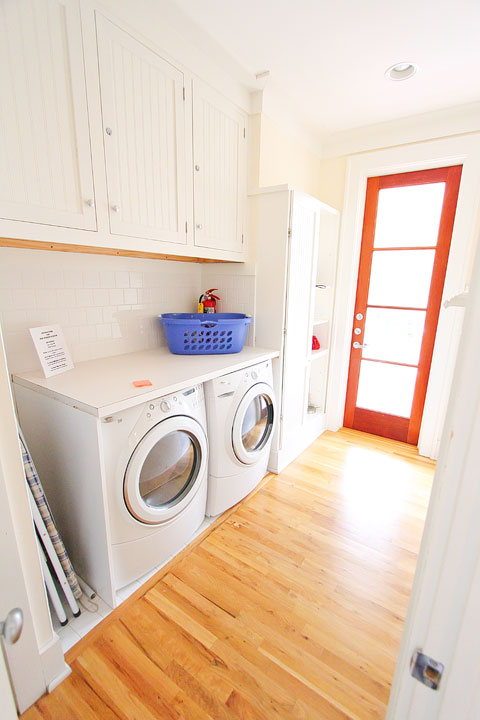 No need to go to the laundromat on your beach vacation! The String of Pearls has everything you need to do wash those sandy clothes right in the comfort of your own cottage before you take them back home.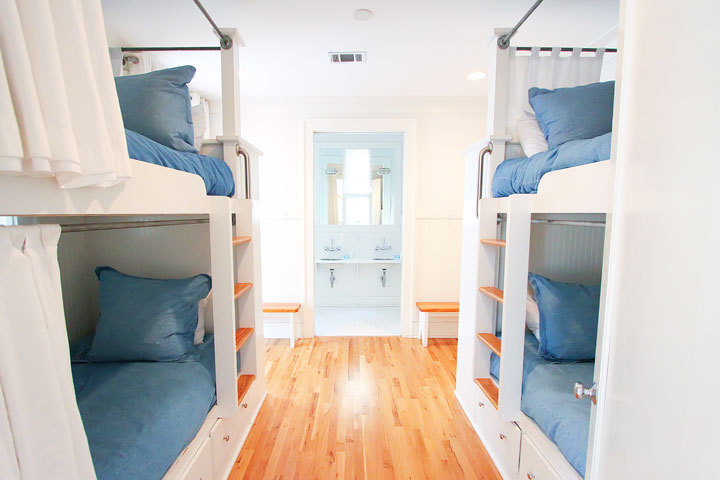 How FUN is this cute kids' room??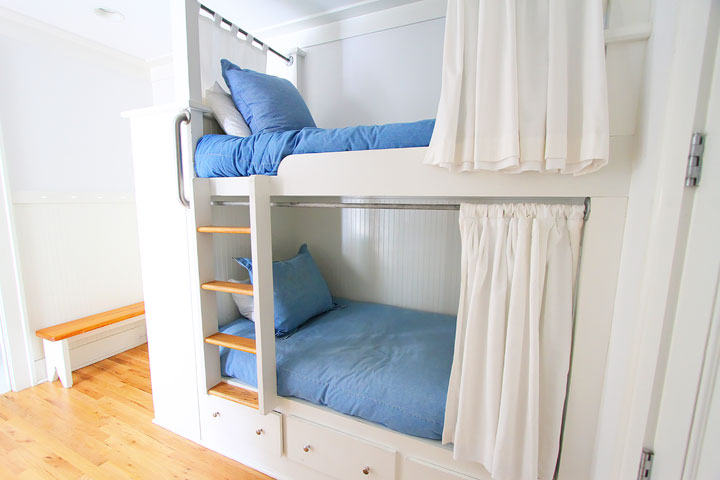 I love these bunk beds! I just wanted to get in with a good book and pull the curtain shut. Each bunk even has it's own reading lamp and light switch built. Too fun.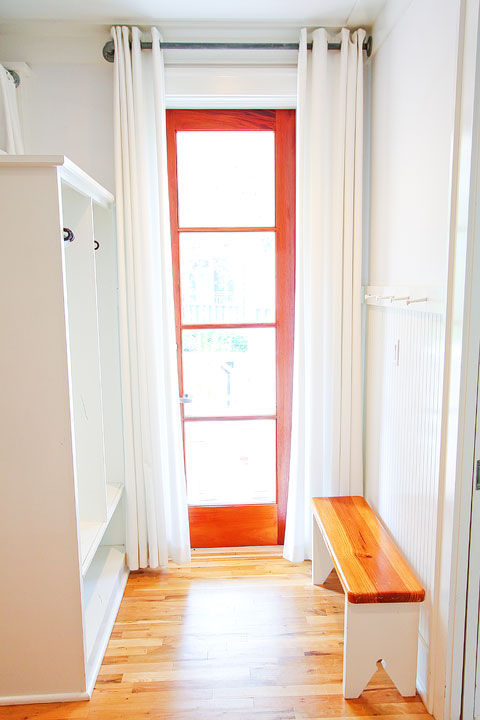 Lots of cubby, hanging, and storage space for each kiddo.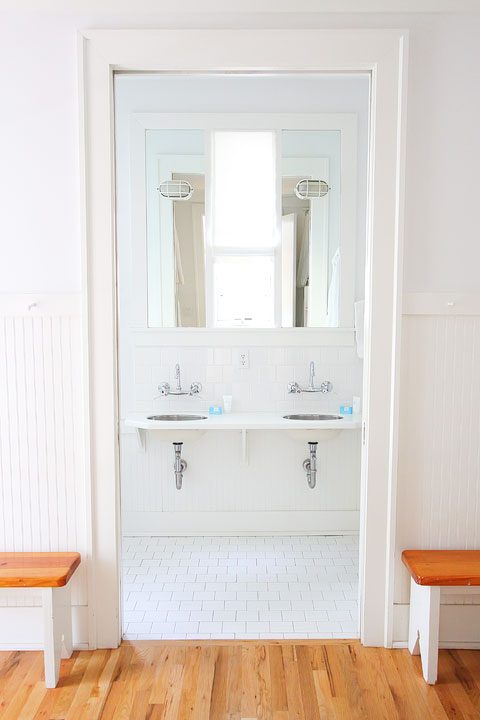 I don't know if you can tell, but even the sinks are lowered in here. Such a fun room for kids!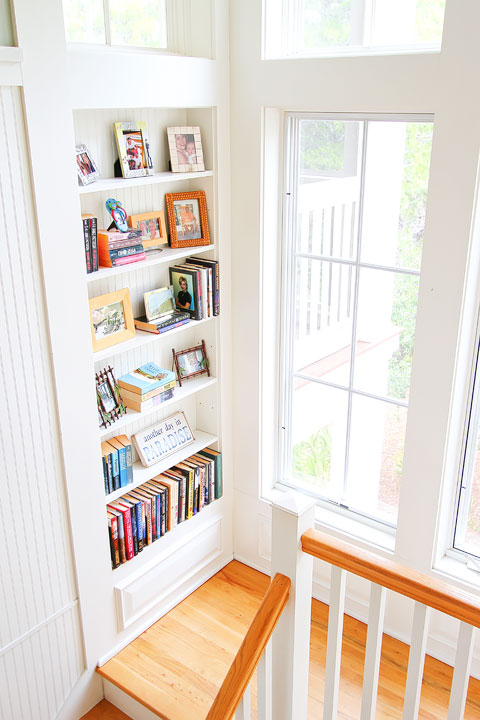 Loved this built-in bookcase going up the stairs.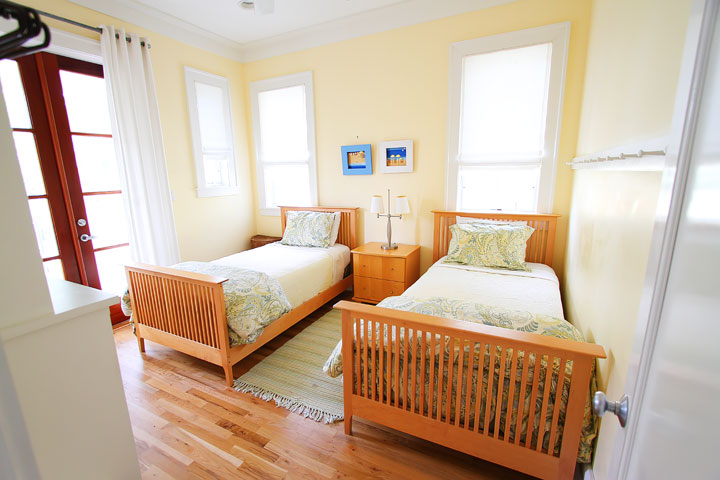 And one more bright, airy room upstairs. Love the yellow.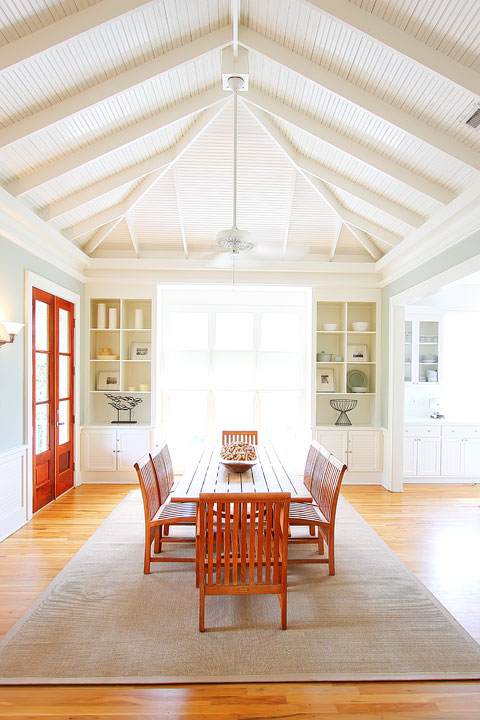 I am in love with all the light in this house!!! We curled up on the couch and watched The Truman Show our first night here. :)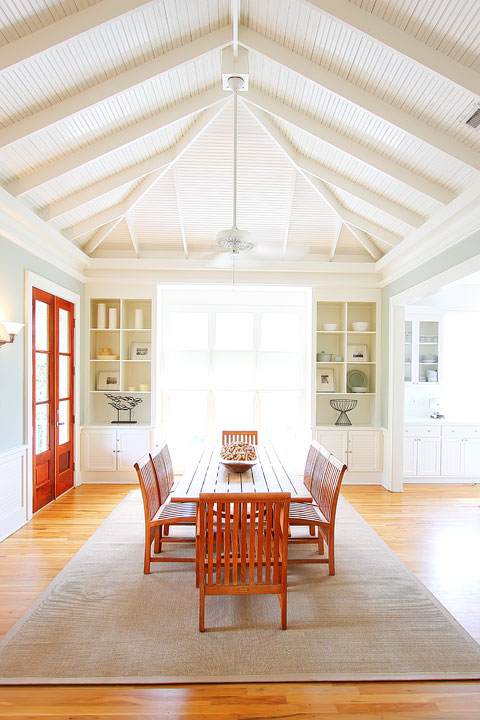 I'm never leaving.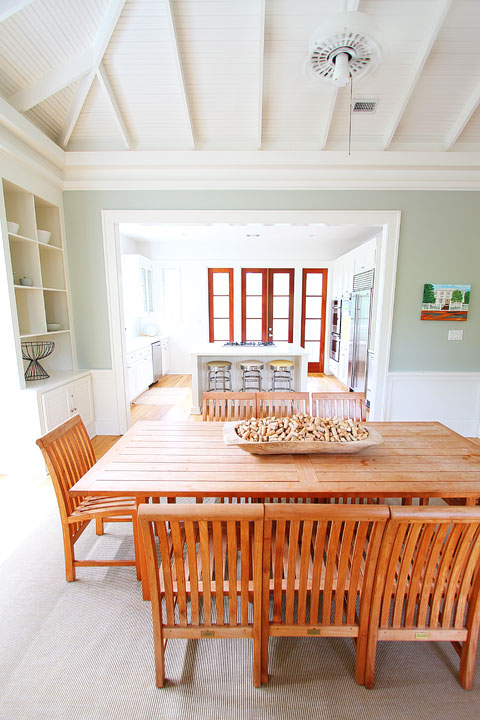 Seriously, I'm never leaving.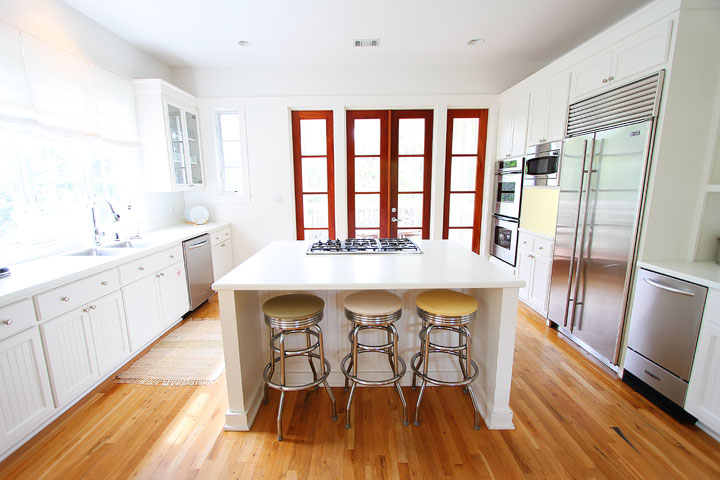 I could totally blog from this kitchen.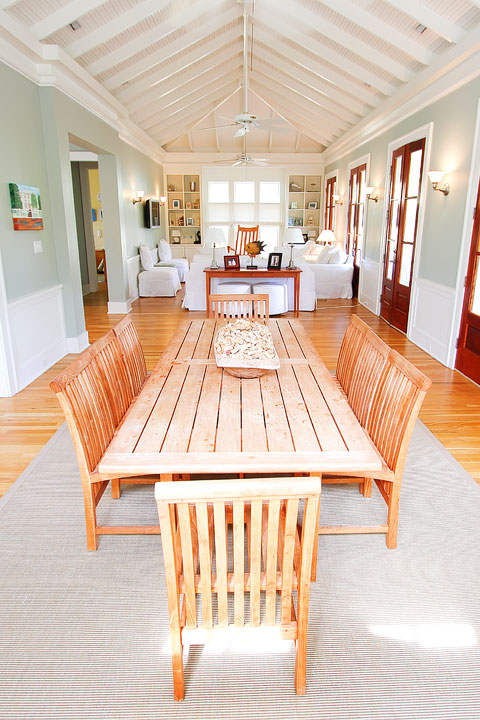 I loved how open, airy, and bright everything was.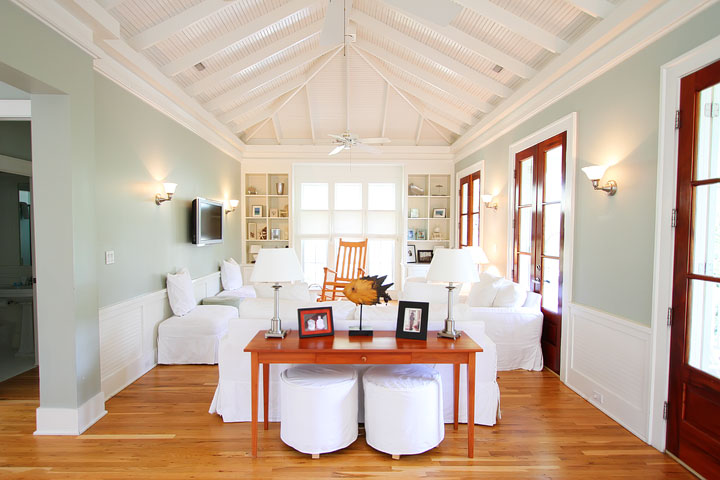 Another view of the living room. This would be such a fun house for a big group!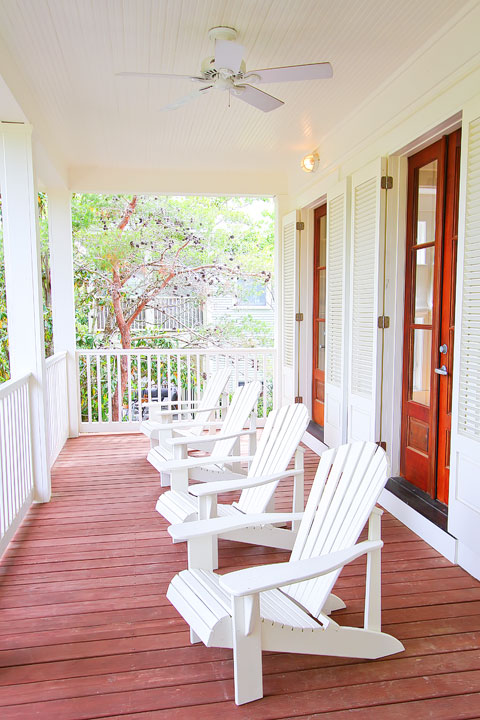 View of the second-story porch. Miley and Howie would have so much fun out here napping on the porch all day and watching the squirrels in the trees!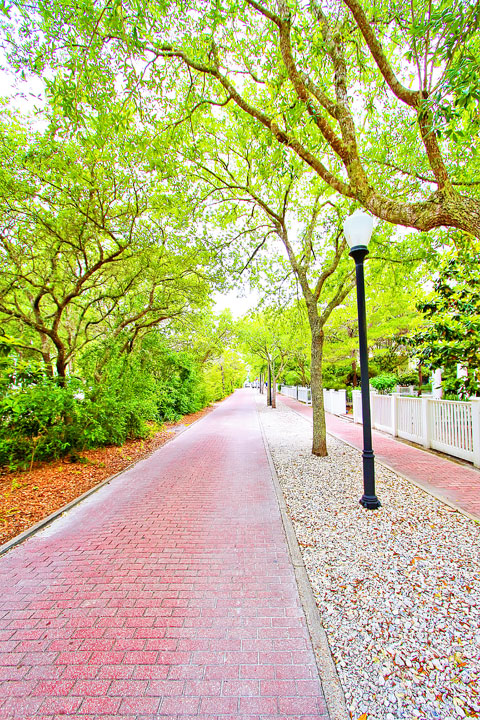 Our quiet, cobblestone street. Sigh!
Thanks so much for looking, friends! Have a beautiful weekend! :) xoxo