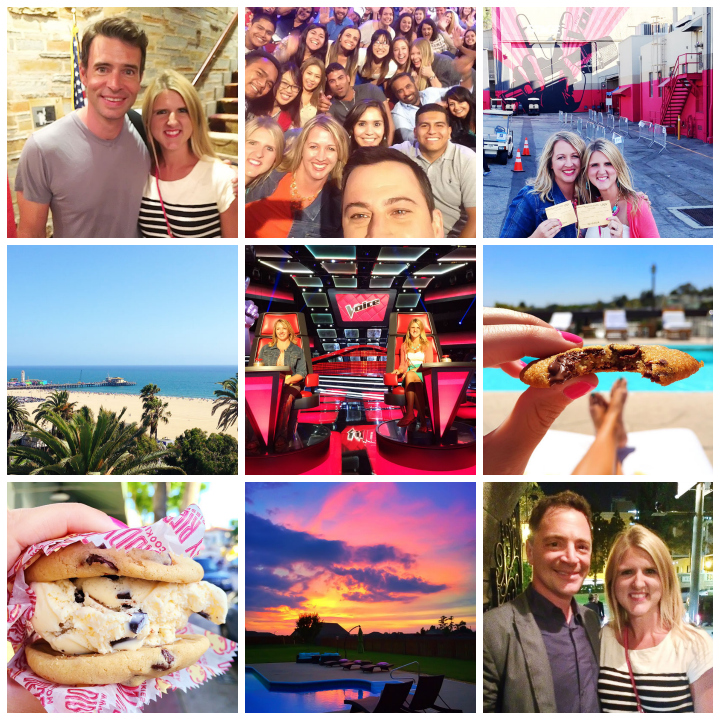 Oh my goodness. You guys. I don't even know where to begin. I am so excited to finally tell you this story. I feel like I'm finally getting to sit down at the kitchen table and chat with a girlfriend I haven't seen in forever. And I have a good one to share today. :) It involves going backstage at The Voice, meeting Adam Levine, being in a selfie with Jimmy Kimmel, hugging and chatting with Scott Foley, Gwenyth Paltrow, Ben McKenzie, (Ryan from The OC!!) Joshua Malina, (The DA from Scandal!) and more.
It was honestly one of the most amazing few days of my entire life. Kristen said it best… "It was like we had some kind of magic wish granting dust sprinkled on us… everything we wanted to happen (even if we didn't know we wanted it) happened!"
Hang on, because this is a ride. :)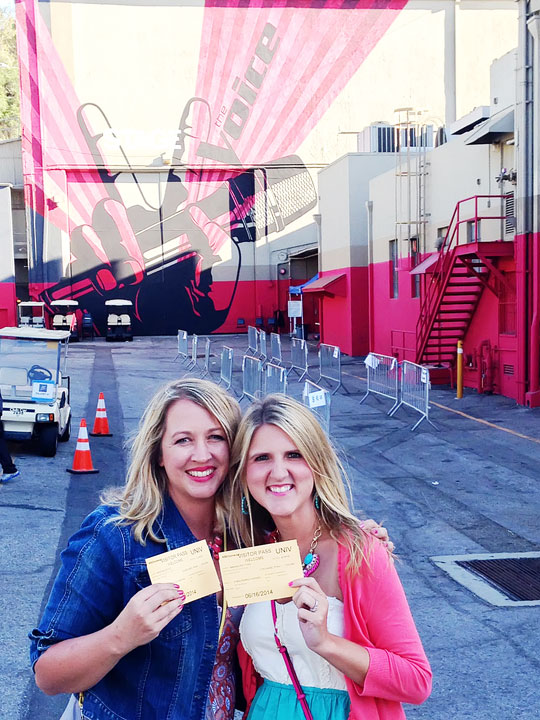 It all started when a friend of mine in LA randomly offered me two tickets to go backstage at The Voice. It was just kind of a "Hey, if you want some, I've got them… No big deal…" kinda thing. Now, I will admit, I don't watch The Voice. :) I was familiar with it, but I'd never seen it before. And being that I'm in Alabama, and The Voice is filmed in LA, I almost said no… But when I checked the dates, I saw that Kevin was going to be out of town for two weeks for work anyway. And a fun girls trip to LA would definitely be better than sitting at home alone. And I knew my friend Kristen was the PERFECT person to take with me. She is a HUGE fan of Adam Levine and The Voice, and I knew she'd make it fun, just getting to hang out with her, even if I didn't really care about the Voice! :)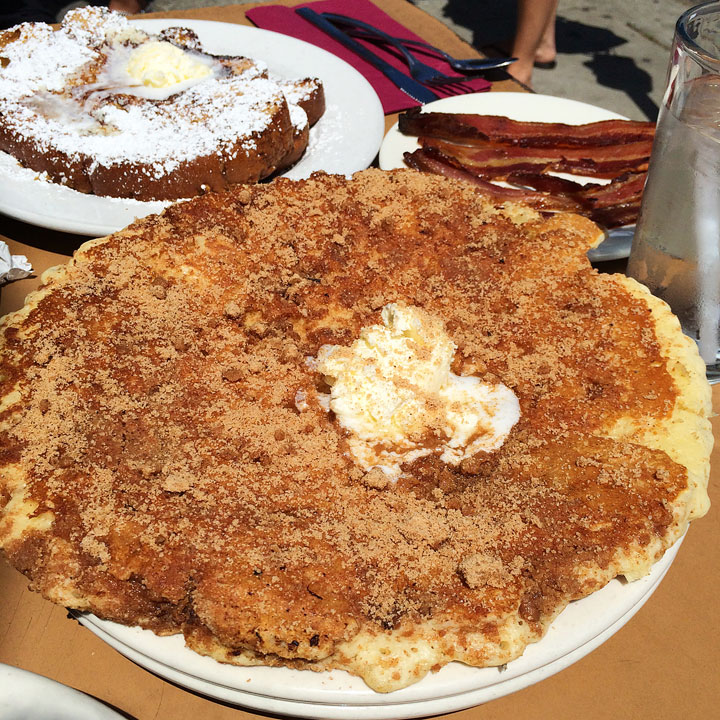 But first things first… :) Whenever I'm anywhere NEAR Los Angeles, you know I have to make a trip to The Griddle Cafe happen!! We started the day with their life-changing cinnamon streusel pancake (that is the size of my head) and their famous "Mom's French Toast." If you ever get the chance to go, be sure to order one of each!! :)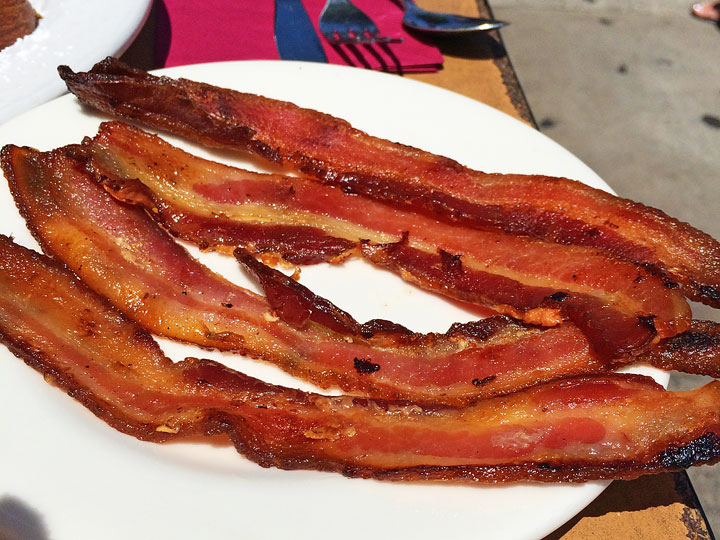 And don't forget a side of bacon. :D It's super good!!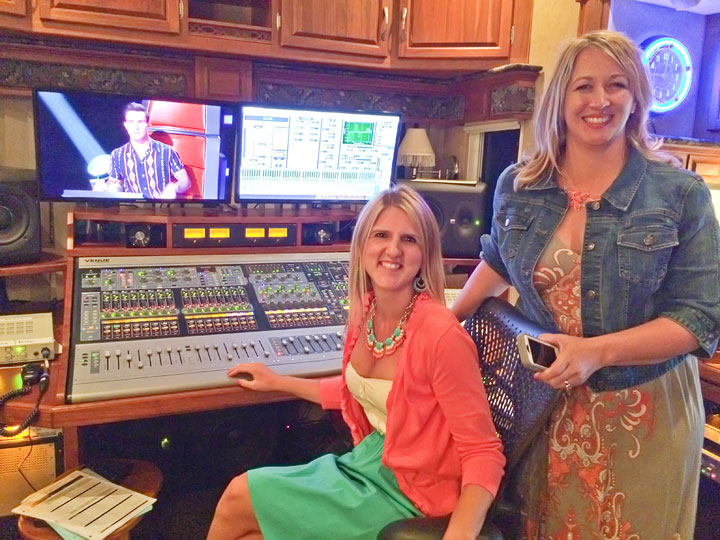 That afternoon, we made our way to the set of The Voice where they were filming the Blind Auditions.  We first got a peek at some of the behind-the-scenes action in the sound studio. It's actually a huge RV camper that's been converted into a studio with huge flat screen TVs, speakers, and sound boards everywhere. There were three different sound feeds coming in at all times: from the producers, the judges, and the contestants. It was really neat hearing all the behind-the-scenes chatter from the producers, and hearing what the judges were actually saying when they weren't being filmed! ;) Another behind-the-scenes detail I thought was interesting, if you watch the show. You know during the auditions, when the judges are trying to woo the contestants to be on their team? On TV, Kristen told me it looks like it all happens in a few minutes (and a commercial break of course! ;)). But in reality, it could actually take up to an HOUR for one single contestant, especially if the judges really liked that contestant.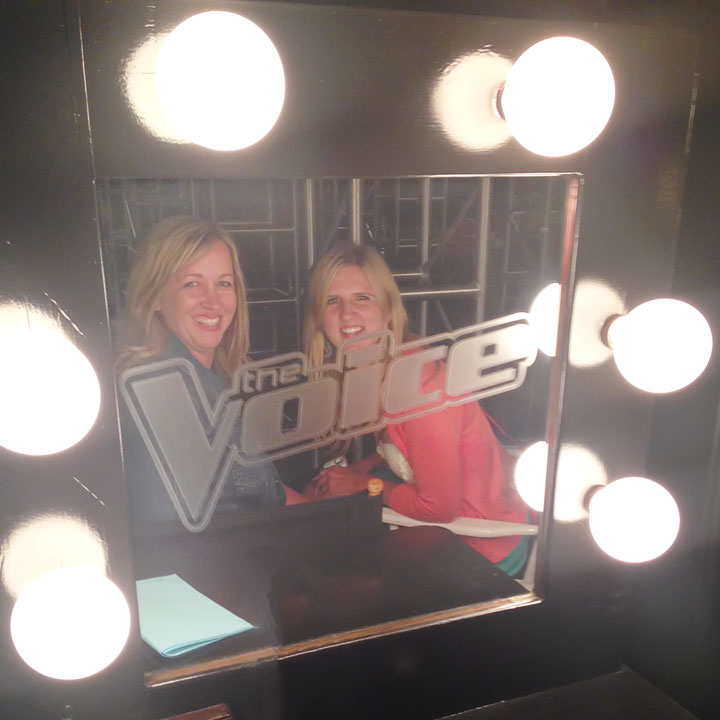 Next we went inside the studio where all the action was taking place. The audience was cheering, and the four judges were all onstage doing their thing. The stage seemed so small in real life! We got dinner from the craft services table and coffee from the actual Starbucks booth on set that is shown on TV.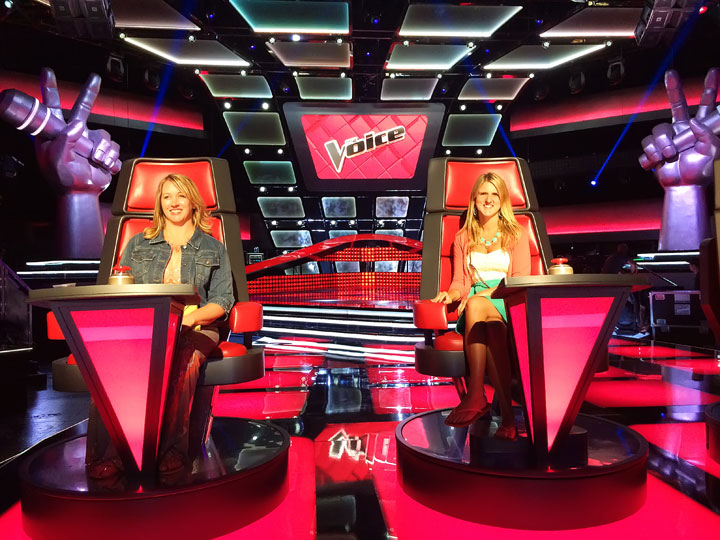 We got to see several of the auditions before they called it for the night. It actually got me really excited about the show, and I definitely want to watch this season!! :) They had been taping for 12 hours and only got through maybe 10 auditions. They said they were taping all week, and the judges wore the exact same outfits every single day to make it look like the auditions were all taped in one day. After everyone cleared out of the studio, we got to go back inside and sit in the famous red judges' chairs. We were hoping there would still be some judges hanging around, but alas, there were none in sight! Still we were on cloud nine just being there.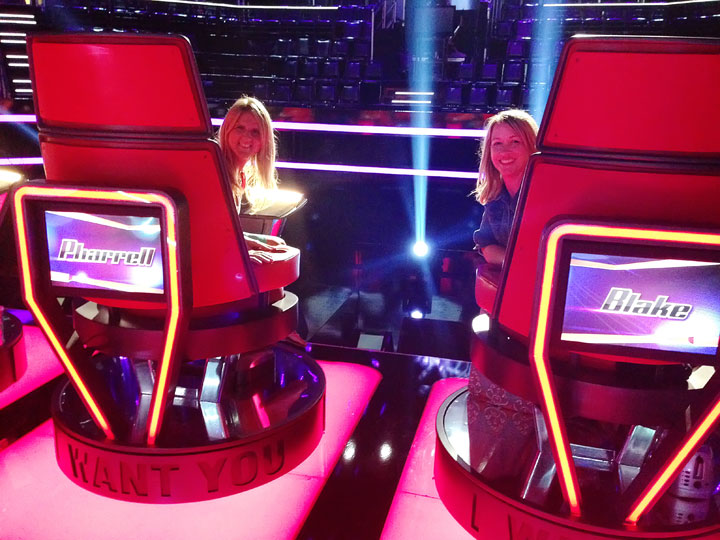 As we were leaving the studio, we came out the back door into the alley we had been coming and going from all night. But this time there was a huge black Escalade pulled right up to the door with an even HUGER body guard standing by. "Hold up…" I said to Kristen… "That car belongs to somebody. They're not here for just anyone." I don't think she really believed me, but she humored me when I said, "Let's just hang out right here for a sec."
And I'm not even kidding you, not even five minutes later, who walks out the door in his classic jeans and white t-shirt… But Adam Levine. Her dream man.
Of course we were giggling like school girls, locked arms, and started slowly approaching him. I was dying, but we had to give it a shot! :) Of course as soon as we got close, his body guard was like, "I'm sorry girls!" but Adam Levine stepped in and said, "No, no, it's okay!" Of course we just about melted into a puddle. He shook our hands, (yes, we touched!!) graciously talked to us for a bit while we fan-girled, and then blew us a kiss as we were leaving. Blew us a kiss while we were leaving. We were on top of the world.
By the way, I really loved what I got to see of Pharrell during the taping. He was so genuine and inspirational. I kind of love him now!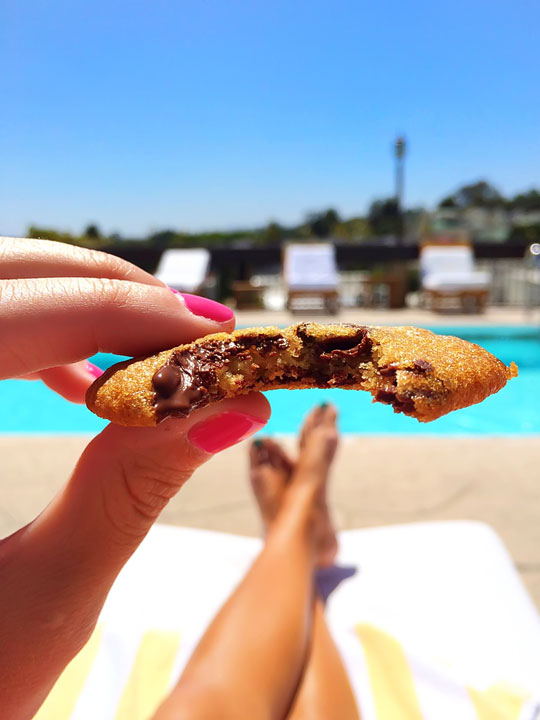 The next day we hung out on our rooftop pool and indulged in gooey, sun-warmed chocolate chip cookies from Joan's on Third. Not a bad way to spend a Tuesday!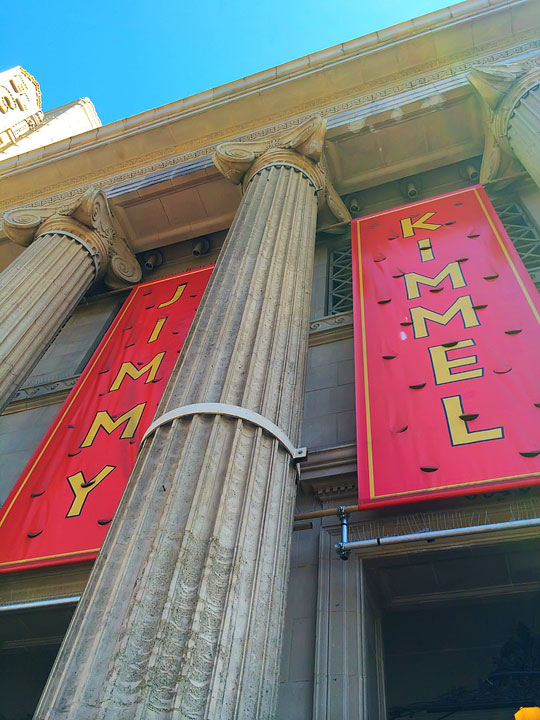 That night we were supposed go to a taping of Jimmy Kimmel, arranged by my same friend who set us up with The Voice passes. But that morning, my friend called me, apologizing profusely, saying he'd mixed up the dates, and they weren't expecting us that night. I was bummed, but assured him it was okay. He said if we really wanted to go we could go stand in line with everyone else, and that they usually start lining up about four hours before the show. I said, No, really, that's okay, lol! :)
But then he said, you know what, let's just go and give it a try. Let's just see what happens. So we get there and show up about 15 minutes before they start letting people in. There is a line all the way down the street and wrapped around the corner, all people all wanting to get in to see the show. My friend goes up and starts talking to one of the bouncer/crowd control dudes, and I thought for sure we were about to get kicked out, lol! But the next thing I know, I'm hearing, "Yeah, absolutely, just wait right here, we'll get ya'll some wrist bands." I had NO idea what was going on. We they seriously going to let us in??!
The next thing I know they are ushering us inside, ahead of everyone else, and they put us right in front of the doors to the studio. At point they start letting everyone else in. We got a peek into the studio, and there are only 200 seats, so I was figuring that no matter where we ended up sitting, we'd have good seats. But then again, the next thing I know, the bouncer starts saying, "All right everybody, we're gonna let these three in first, then we're going to start seating everyone." I looked around, and they're talking about US!! They opened the rope, ushered us inside, and closed the rope to the onlooking crowd. Then they sat us on the front row.
I have NO idea what my friend said to that bouncer, lol!!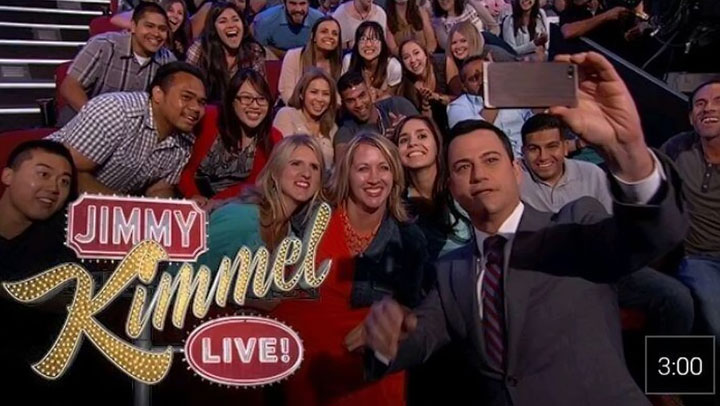 When Jimmy was doing his act, he was just a few feet in front of us. It was such a fun experience. But we could've never in a million years guessed what would happen next. The next thing we knew, Jimmy's doing a bit about about taking a selfie with his audience, and then he walks right up to me and Kristen, kneels down, and snaps a selfie.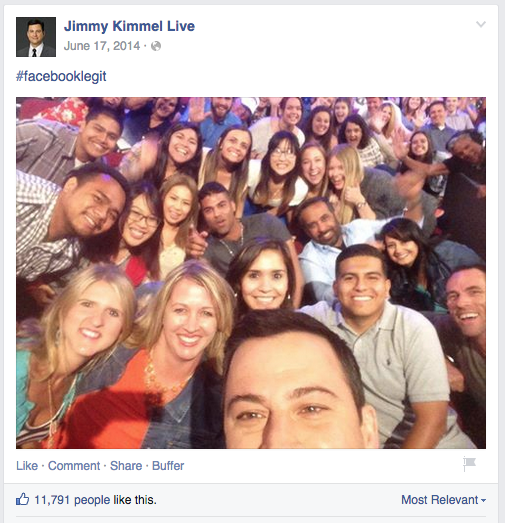 And then uploaded it in real time to his Facebook page.
You have to see it to believe it. :) Press play to see the whole thing happen on the show. Skip to 1:28 to just see the selfie!! :)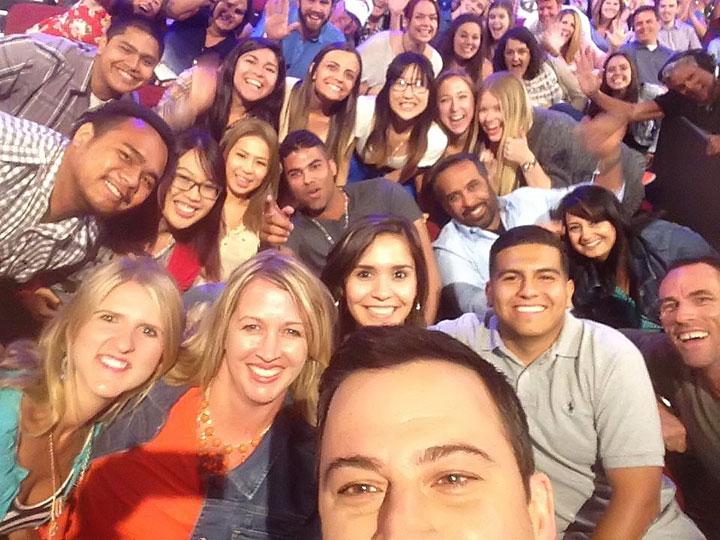 How fun is that?? :)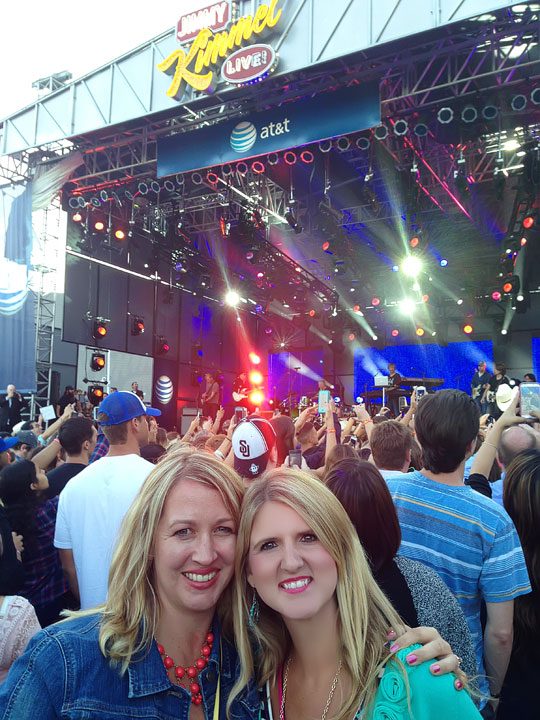 After the show, Braid Paisley was hosting a private 5-song concert for the Jimmy Kimmel audience. So much fun!! He is a really talented guitar player!!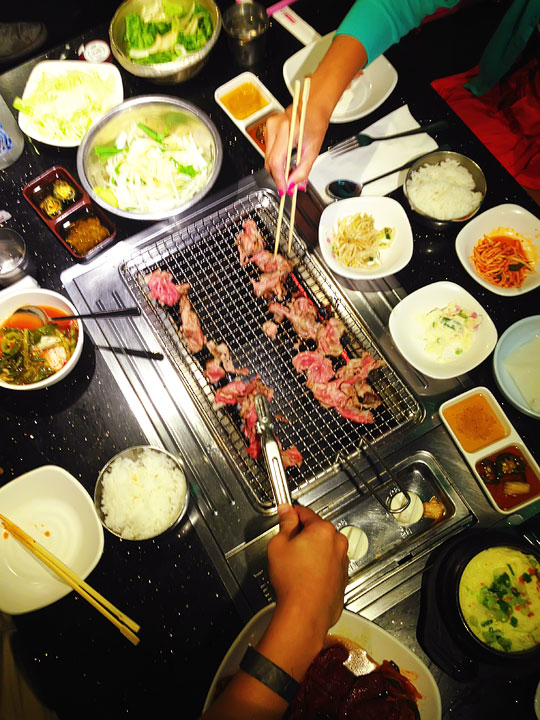 That night my LA friend took us all out for the full Korean BBQ experience. It's all-you-can-eat and you grill your own meat right at the table. There are tons of different meats to choose from — or, it's all-you-can-eat! You can try them all! Plus it comes with tons of delicious sides. Such a fun and unique dining experience.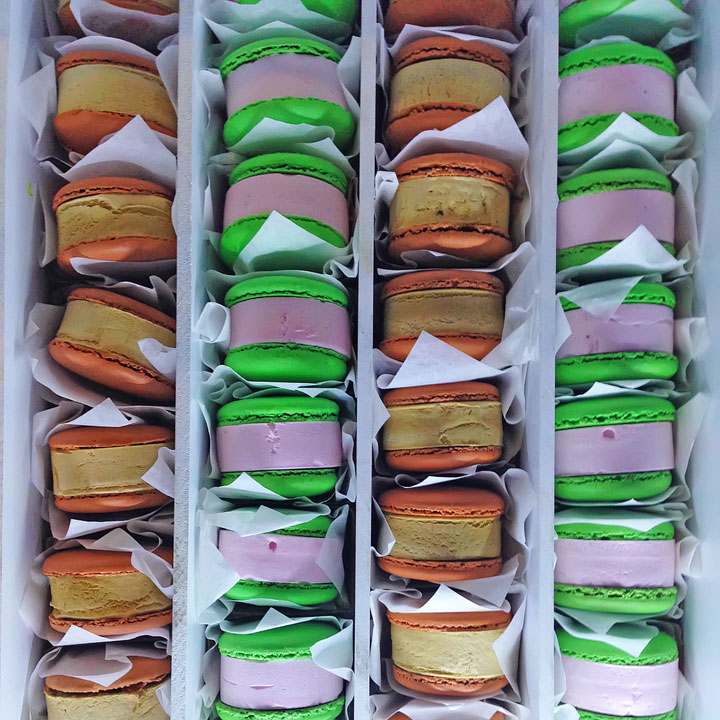 Then he took us to a dessert-lovers PARADISE… the IOTA Brew Cafe. There were desserts and pastries GALORE!! How fun are these colorful ice cream macaron sandwiches?! :)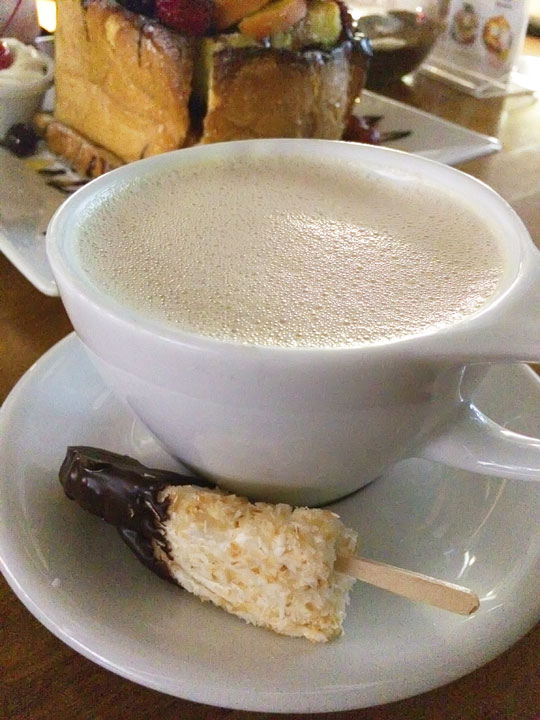 They also had Biscoff and Nutella lattes!! We tried the Biscoff one and it was delicious!! Seriously like drinking liquid Biscoff. To die for!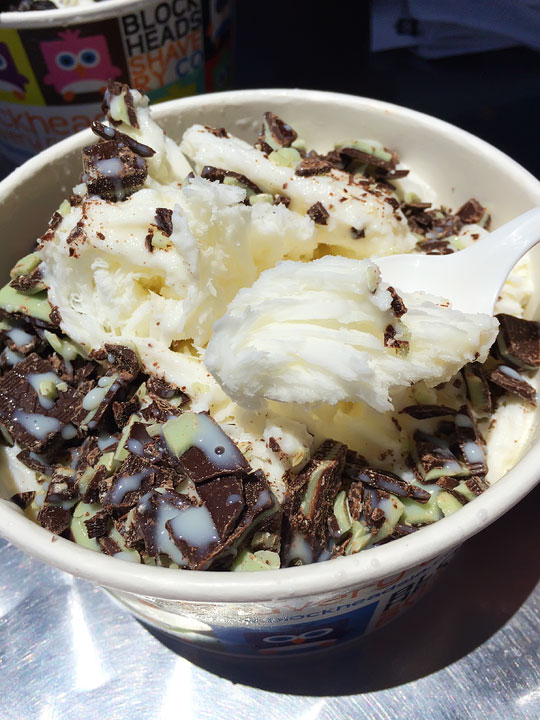 The next day I experienced another first: Snow Cream, from Blockheads in LA.  It's like superfine Hawaiian shaved ice, but it's shaved ICE CREAM. And you can add toppings like fro-yo. It was one of the most unique things I have ever had, and I absolutely LOVED it!! If you ever are in the area, definitely put this on your must-try list!!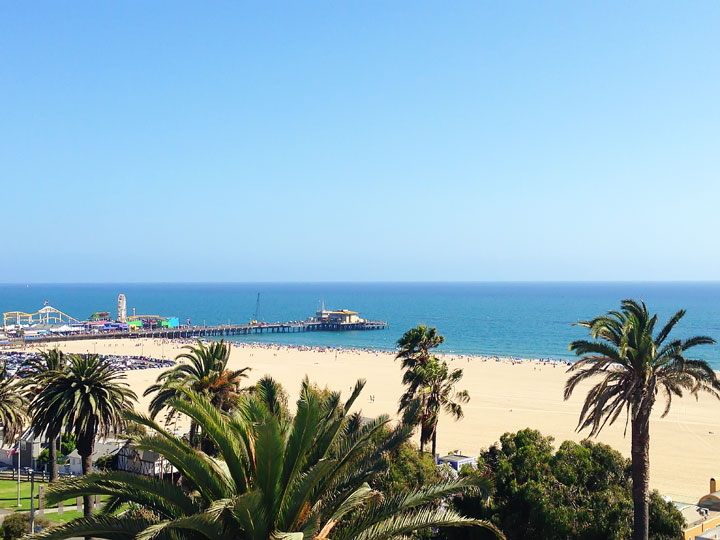 That afternoon we just chilled at a rooftop pool in Santa Monica overlooking the pier and the Pacific Ocean. Sigh!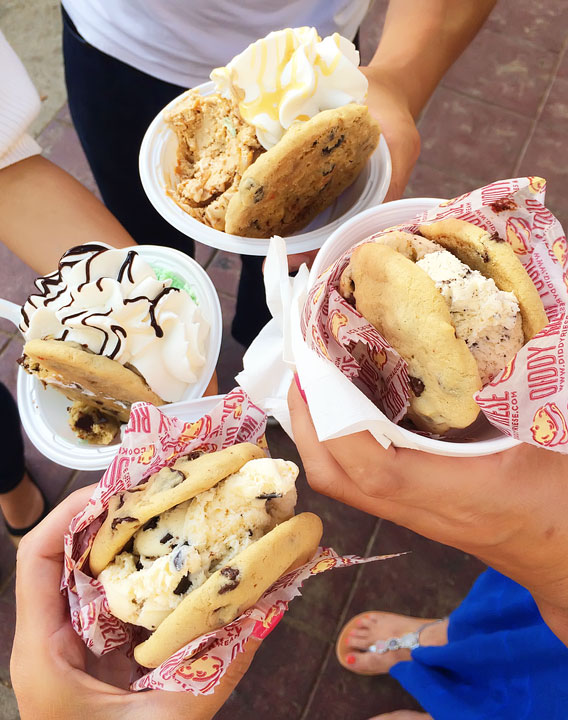 Next we headed over to Westwood, where we had tickets to see a play that night. We got these fun ice cream sandwiches from Diddy Riese. They were recently one of BuzzFeed's 27 Ice Cream Shops You Need To Visit Before You Die.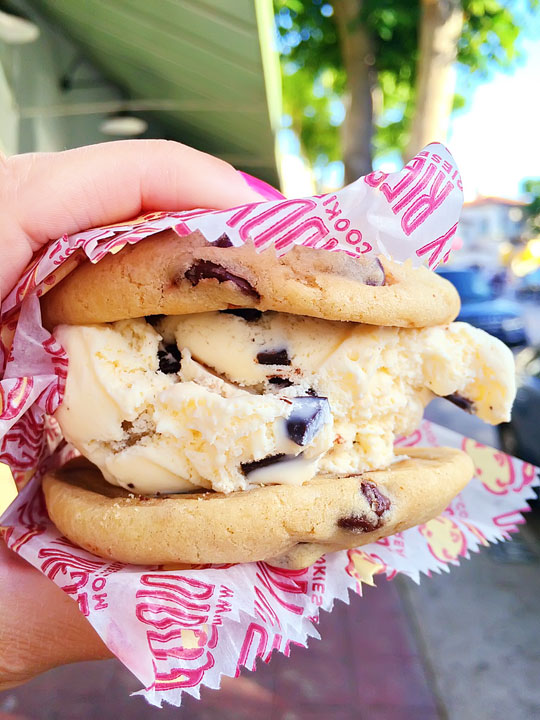 Warm chocolate chip cookies with cookie dough ice cream. Love!!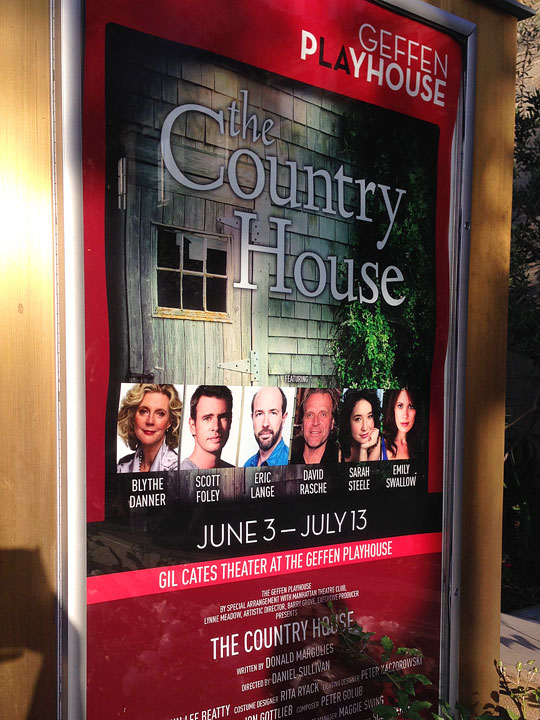 It had been such an incredible couple of days, but we still had one more amazing experience to go. :) Kristen had read that Scott Foley (Noel from Felicity, Jake from Scandal…) was one of the stars in a play called The Country House. Since we are both huge Scott Foley fans, Kristen got us tickets. We both love live theatre, and were excited to see a play with a star-studded cast!
The play was SO good and we both loved it. After the play was over, the lobby cleared out super quickly. Kristen and I were walking out when we noticed one of the stars of the play coming down the stairs. Since there was practically no one else there, we stopped to tell him how much we enjoyed the show and his performance. While we were chatting with him, another one of the stars came down the stairs. We decided to scoot a leeetle bit closer to the stairs and see who else would come down. :)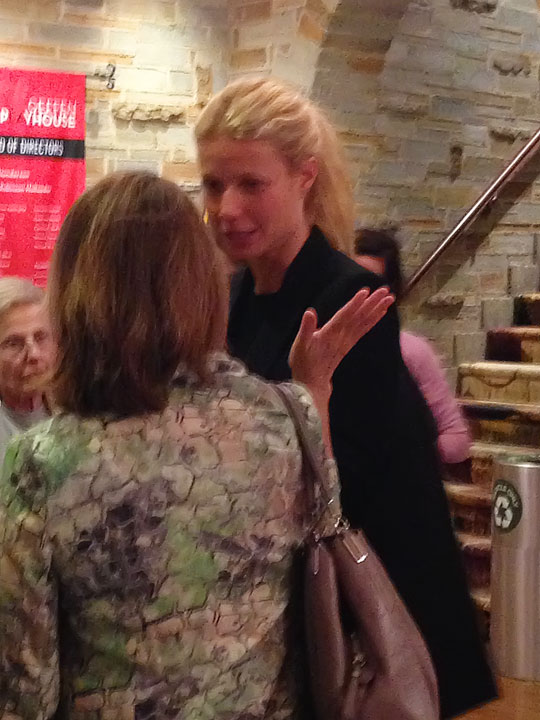 The next thing we know, not even kidding, Gwyneth Paltrow herself comes floating down the stairs. Her mom, Blythe Danner was one of the stars of the play, and she'd come to watch her mom's performance. I feel like this photo absolutely does not do her justice, she was absolutely flaw. less. in real life. Gorgeous and tall and just stunning. We were close enough to brush past each other. I just grinned like a dork and nearly fainted. She graciously smiled back.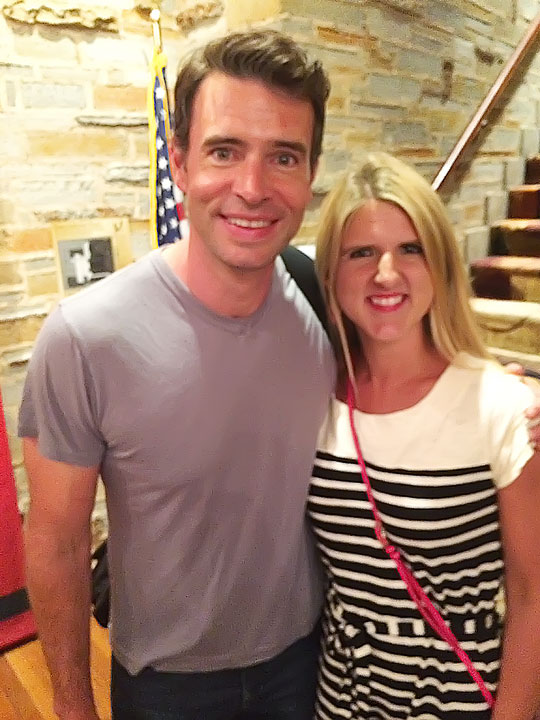 The next thing we know Scott Foley is coming down the stairs and starts walking right towards us and says hi. To us. We told him how much we loved the show, And he smiled and laughed and chatted with us like we were BFFs. He was so gracious and nice and was more than happy to take pictures with us.
I turned around, and who do I see across the room, but Ben McKenzie… aka Ryan from The O.C. He was there to support one of the other stars of the play. I told him how much I loved his work, and I kid you not, he blushed and grinned the cutest shyest grin ever. So wishing I had asked for a picture!!! :) He was just the cutest.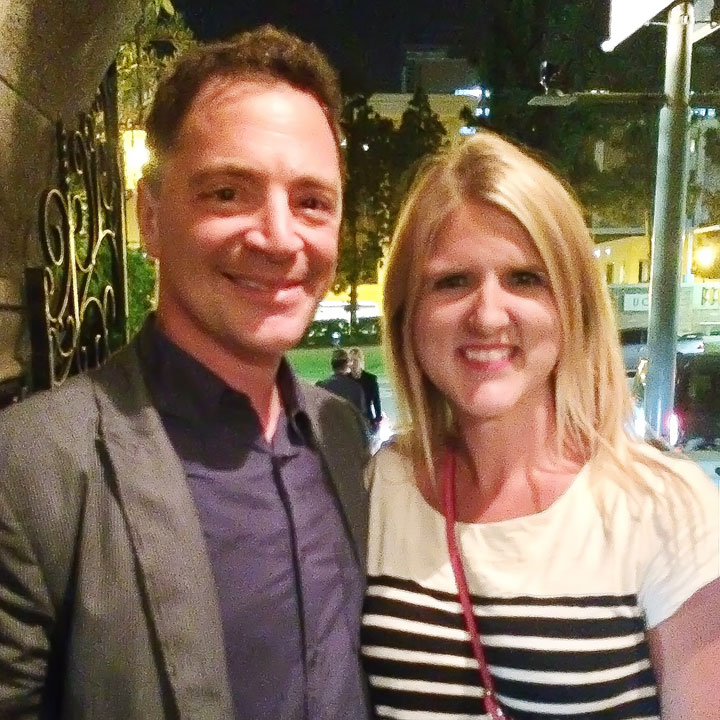 I feel like I need to say, all of the stars were just so incredibly nice and genuine and just seemed so happy to be there. When we were finally making our way out for the second time, Scott Foley called after us to say goodnight. Like, that's my life now. Scott Foley notices I'm leaving a room, interrupts his conversation, and calls after me to say bye. Am I Felicity??! Not even real life. But as we turned back to say goodnight, we see Joshua Malina standing with him!!!! Of course we run back. As cooly as possible. Josh was hilarious and so fun and I was a dork. Obviously. Oh, and that would be Gwyneth Paltrow photo-bombing us back there!! She was showing her mom her new car.
When we finally made our way out, for real this time, we were honestly on the highest high I have ever been on in my entire life. What a surreal three days we'd had. We had to just sit down and catch our breath for a few minutes before we could even have a coherent thought!!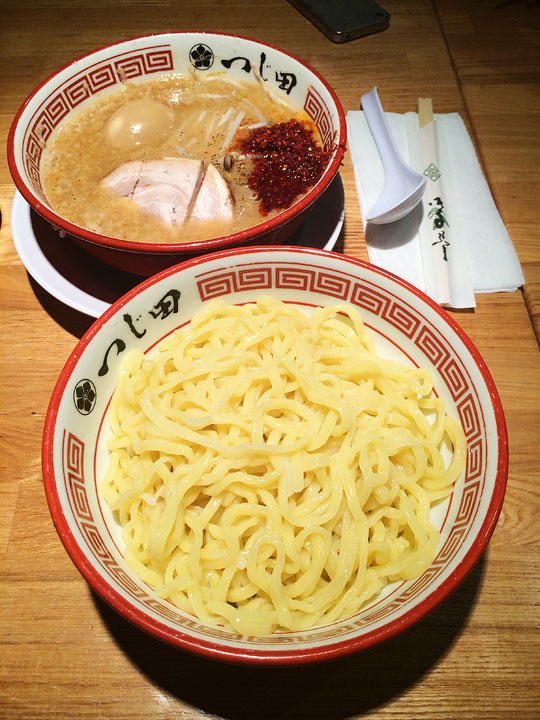 It literally took us at least an hour to calm ourselves. Afterwards, we met up with our friend for dinner. We had AMAZING ramen… The dish was called Tsukemen (Dipping Noodle) from Tsujita in LA. Omg. The noodles were so thick and amazing and fabulous!!! One of the best things I've ever eaten. Definitely put this on your must-try list for sure!! I would die for another bowl of this ramen right now!!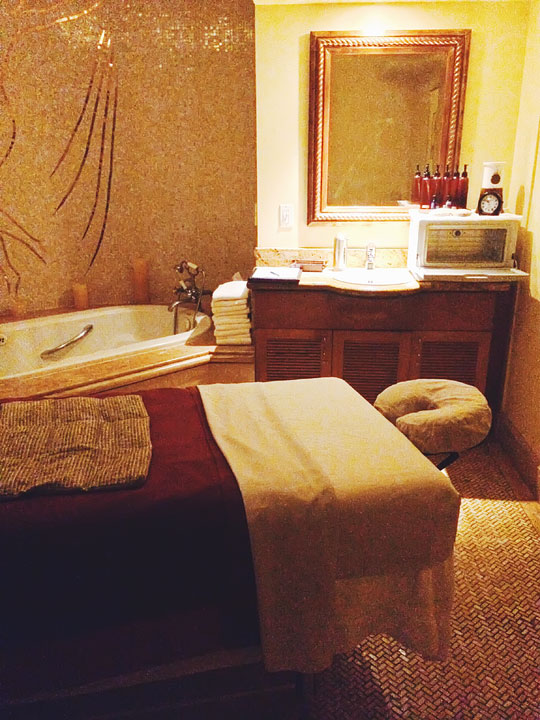 The finishing touch of the dream week in LA was a 60-minute massage at the Four Seasons in Beverly Hills before boarding the plane back to Alabama the next day.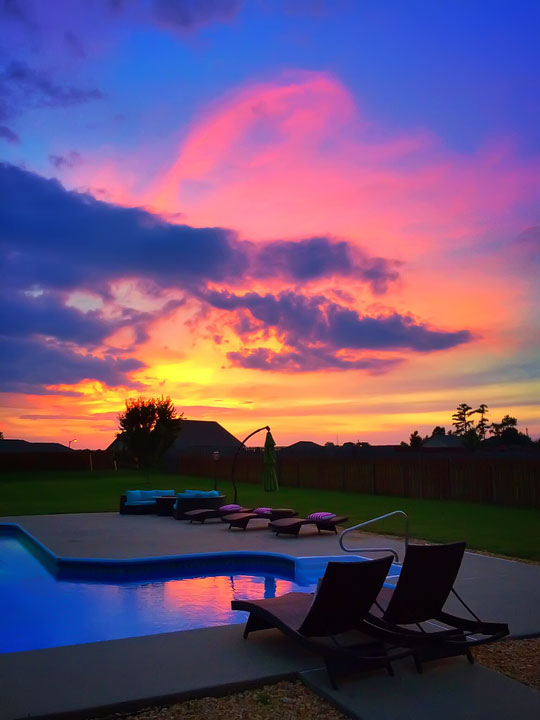 Although Alabama's pretty great too. :)
Be sure to also check out Kristen's recap of our week in LA!!
Thank you so much for reading. Have a wonderful Monday!