Chocolate Swirled Peanut Butter Blast Cupcakes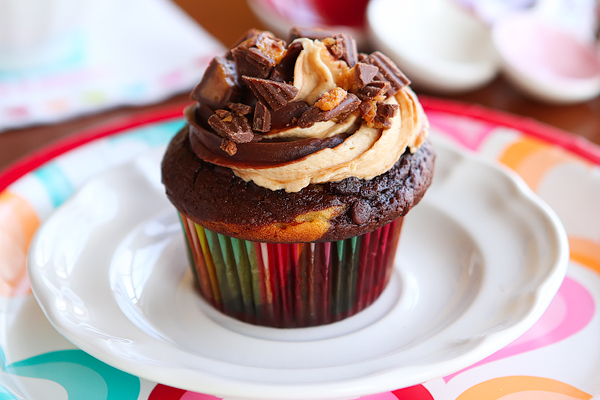 Welcome to day two of Cupcake Week! In honor of Valentine's Day, I have just one thing to say.
Chocolate + Peanut Butter = True Love.
Forever.
Amen.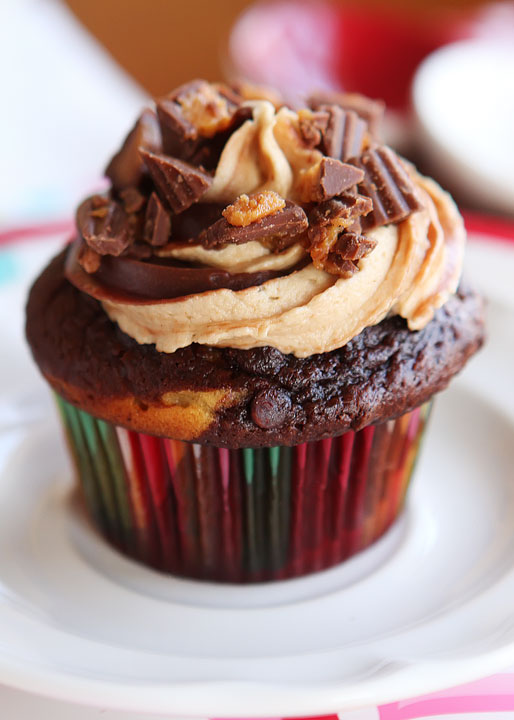 This chocolate and peanut butter fudge swirled cupcake is topped with two of my absolute favorite frostings ever: Peanut Butter Buttercream and Sweet Milk Chocolate Ganache.
I love this sweet milk chocolate ganache frosting. It's rich, fudgy, and I love that it stays super dark in color.
It's indulgent, decadent, and very, very naughty.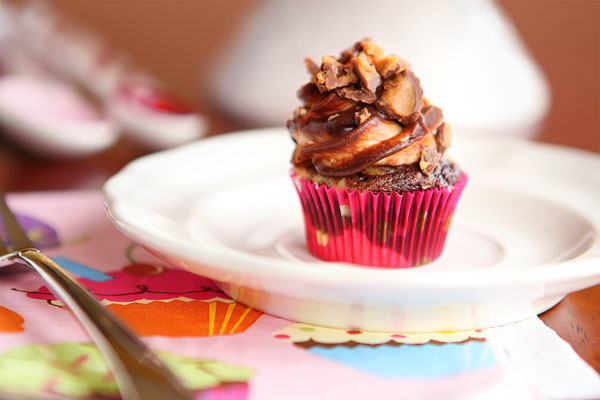 These make super cute mini cupcakes, too!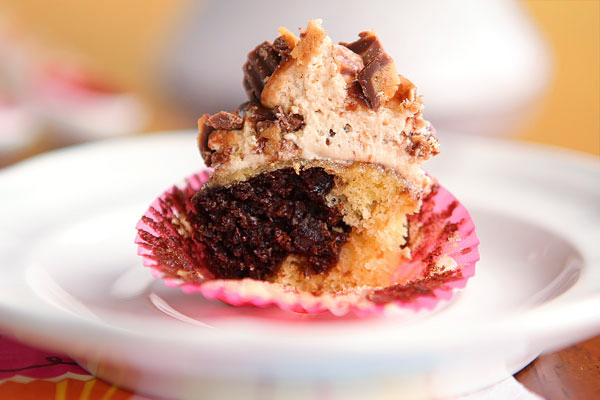 Here are the four recipes you'll need below for the chocolate cake, peanut butter cake, and both frostings, along with a link to instructions on how to pipe swirled frosting.
Happy Valentine's Day, dear friends! Enjoy!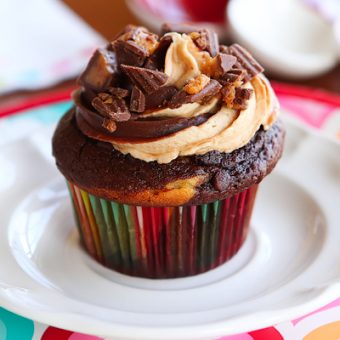 Chocolate Swirled Peanut Butter Blast Cupcakes
Ingredients:
The Best Chocolate Cake Ever
1 box devil's food cake mix
1 small pkg Jello instant chocolate pudding mix
1 cup sour cream
1 cup vegetable oil
4 eggs, beaten
1/2 cup milk
1 tsp vanilla
2 cups mini chocolate chips
Peanut Butter Cake
1/2 cup creamy peanut butter
1/2 cup butter, softened
4 eggs
1 box butter cake mix
2/3 cup water
Peanut Butter Buttercream Frosting
1 cup peanut butter
1/2 cup (1 stick) butter, softened
4 cups confectioners' sugar
1/2 cup heavy cream
1 tbsp vanilla extract
Sweet Milk Chocolate Ganache
1.5 cup milk chocolate chips
1 cup heavy cream
1 tsp vanilla extract
1/2 cup powdered sugar
Directions:
For the Chocolate Cake
In a very large bowl, mix together everything except chocolate chips until well combined. Batter will be thick. Stir in the chocolate chips.
For the Peanut Butter Cake
In the workbowl of a mixer, combine 1/2 cup peanut butter and 1/2 cup butter. Beat on medium speed until light and fluffy, about 3-5 minutes. Add eggs one at time, mixing well after each addition. Add approximately 1/3 of the cake mix and 1/3 of the water, and mix on low speed until just combined. Repeat 2 more times with remaining cake mix and water.
For the Peanut Butter Buttercream Frosting
Place the peanut butter, butter, sugar, cream and vanilla in a large mixing bowl. Beat on medium speed until smooth and creamy, about 3-5 minutes. If necessary, add more cream, one tablespoon at a time, beating for 1-2 minutes after each addition until desired consistency is reached.
For the Sweet Milk Chocolate Ganache
Place chocolate chips in a glass or heat-proof bowl. In a medium saucepan, whisk the heavy cream, vanilla, and sugar and bring to a simmer. Pour over the chocolate chips, let sit for 5 minutes, then whisk until completely smooth. Chill in the fridge for 1 hour or until the ganache reaches a thick, frosting consistency.
Note: I warned you it was sweet :) I absolutely love it and think it's perfect the way it is — plain or when paired with the peanut butter buttercream above. But you can leave out the sugar and/or use a darker chocolate if you've ever not liked a dessert because it was "too sweet". Me, personally, that's never happened! :)
For the Cupcake Assembly
Preheat oven to 350. Grease and line standard-sized muffin tins. Add approximately 2 tbsp of peanut butter cake batter first, then 2 tbsp of chocolate cake batter to each tin. I used this cookie scoop from OXO, found at Target. Use a spoon or knife to gently fold and swirl cake batter. For STANDARD cupcakes, bake at 350 for 18-22 minutes. For MINI cupcakes, add approximately 2 teaspoons of each batter to mini muffin tins, and bake at 350 for 8-10 minutes.
How to Pipe Swirled Frosting
Katie at Good Life Eats has a fabulous tutorial for this neat swirled frosting technique:
Top with crushed mini Reese's cups.
Enjoy!