This easy 4 ingredient Brown Butter Blueberry Cobbler is one of my favorite desserts of all time. Soft cake, crispy streusel and fresh blueberries topped with vanilla ice cream!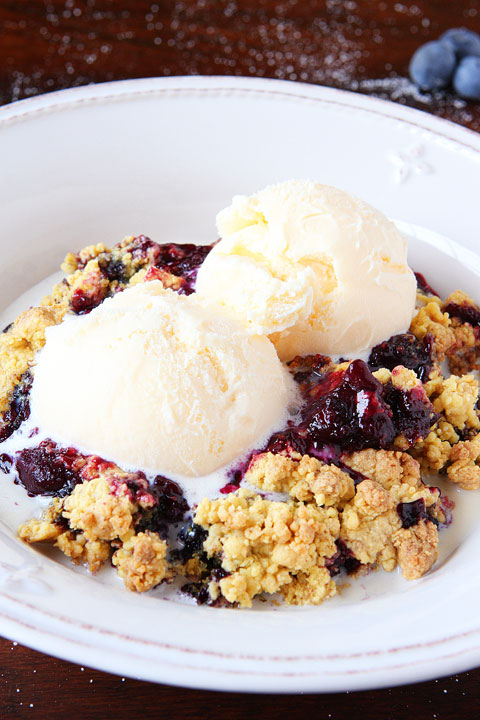 Brown Butter Blueberry Cobbler
To say I am obsessed with this recipe would be a massive understatement. I go crazy for this darn cobbler. I love, love, love it. Like I could eat an entire pan in one sitting. I can honestly say it is one of the best things I have ever eaten in my entire life. Sweet blueberries, soft cake, and crunchy streusel comes out of the oven all warm and gooey and bubbly and is topped with the perfect accompaniment: creamy vanilla ice cream. The brown butter in the cake just sends it all over the top!!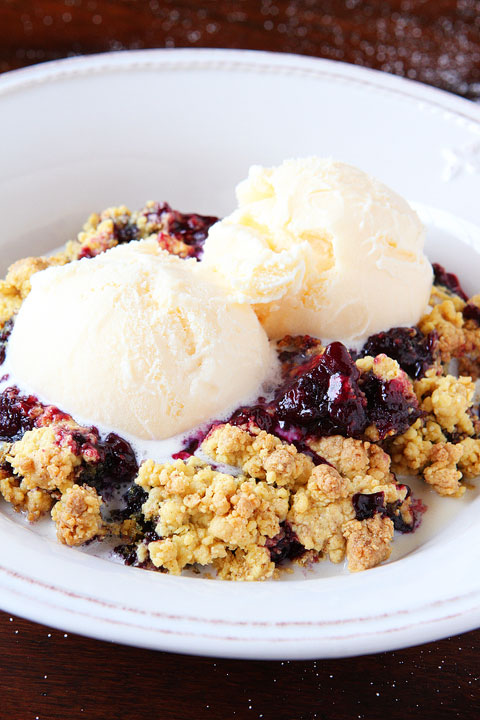 If you've got blueberries on your hands this summer, you've literally got to make this RIGHT now. You'll be glad you did!!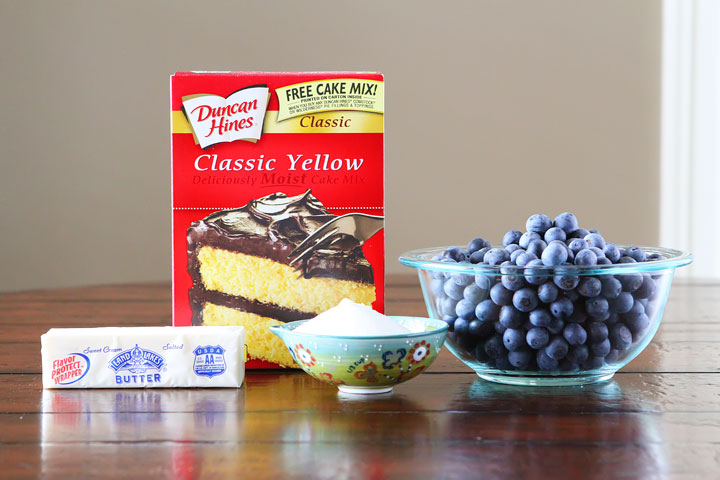 It's so ridiculously easy. Just four ingredients. Yellow cake mix, butter, sugar, and blueberries.
Berries Galore!
I make this cobbler with 3 cups of blueberries. But if you want to branch out, you could definitely use any combination of berries to get three cups of fruit. For example, 1.5 cups blueberries plus 1.5 cups strawberries. Or 1 cup blueberries, 1 cup raspberries, and 1 cup blackberries. The fun thing about this recipe is that you can totally experiment and make it your own.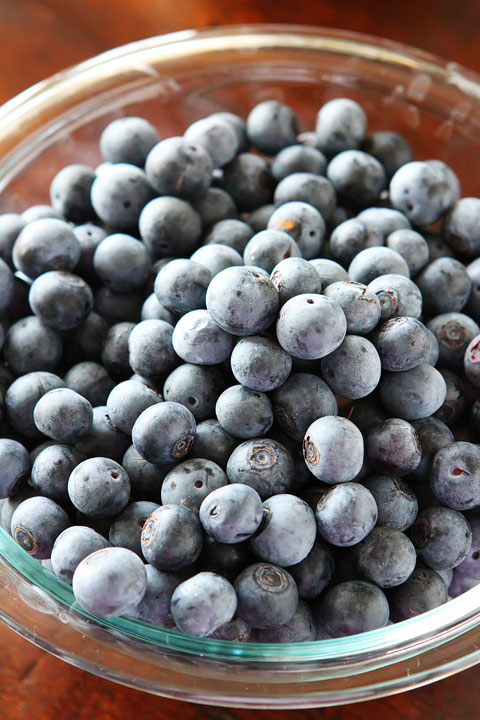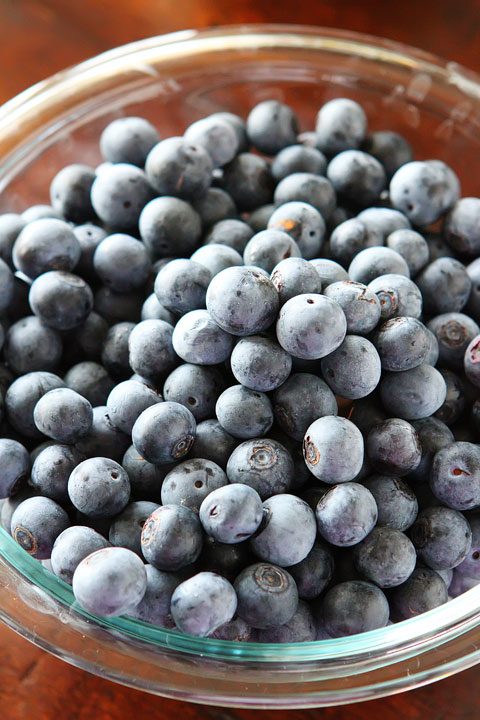 When I wanted to make this cobbler for my parents who were visiting this weekend, I realized I already had dinner in the oven, and it was baking at a different temperature than the cobbler calls for. This cobbler is super easy, but it does take 40 minutes to bake, and I really kind of wanted dessert to be ready right after dinner, and not have to wait almost another hour for it.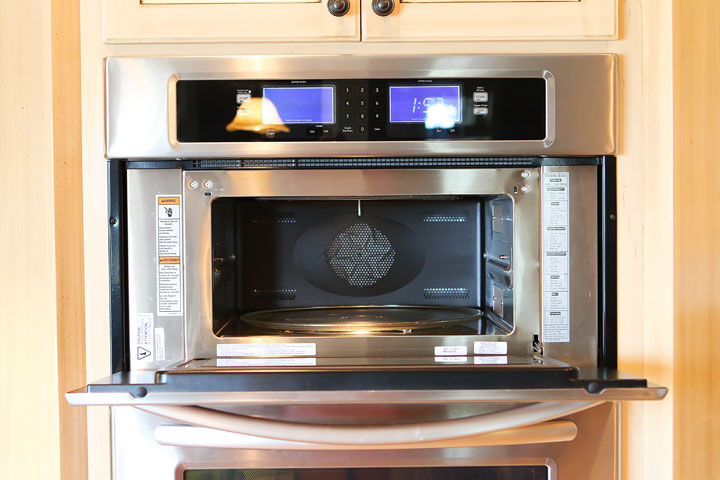 Now I don't have a double oven. As you can see, up top is a microwave! So I wasn't sure what I was going to do. But my microwave is a convection microwave. Which basically means, when I put this baby in convection mode, this microwave literally transforms itself into a regular baking oven!!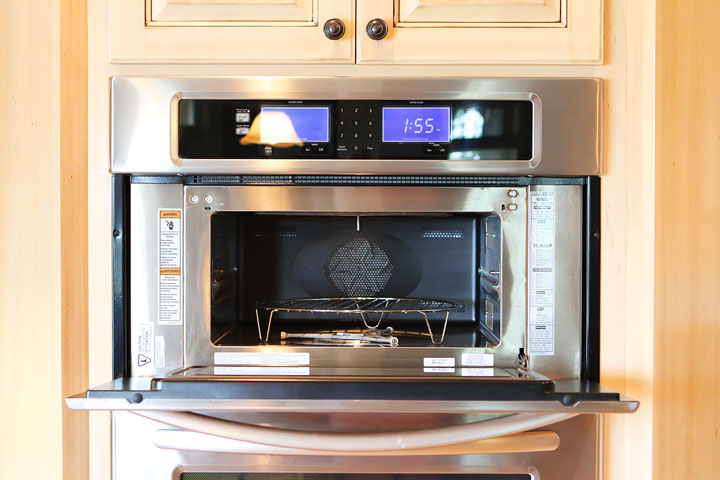 All you do it take the glass turntable out, and replace it with a metal baking rack. This all came with the microwave.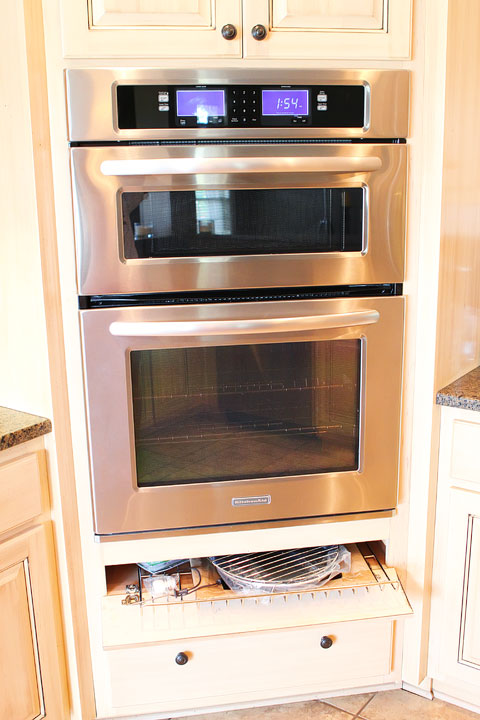 We built in a little shelf under the oven to store all the accessories that came with the oven and microwave, like extra baking racks, the meat thermometer, etc.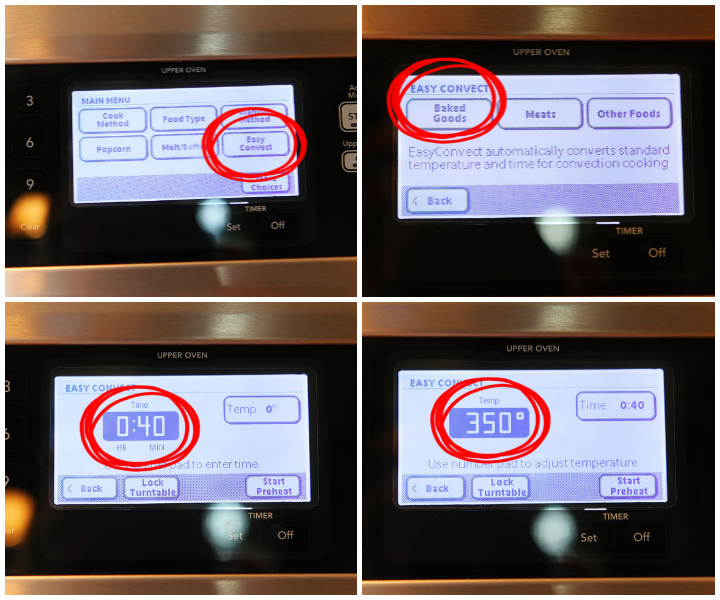 With a convection microwave, you can bake in it the same way you would in an electric oven. All I did was touch the screen to start, then chose EasyConvect, Baked Goods, then set my time for 40 minutes and my temperature for 350 degrees. Then I pressed Start Preheat.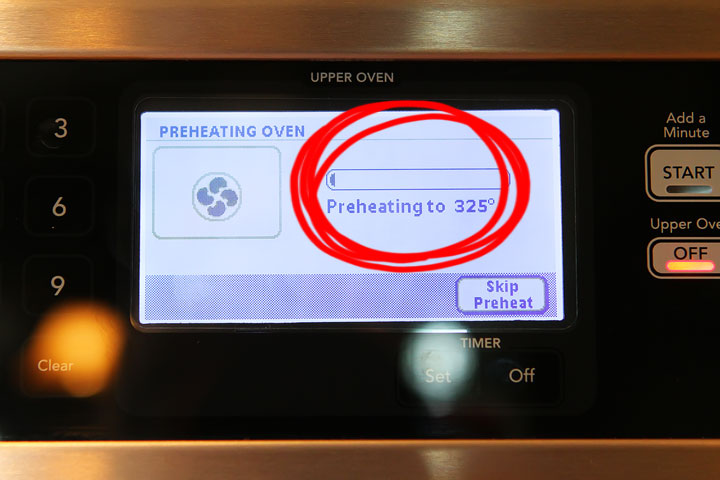 With KitchenAid's EasyConvect™ feature, it automatically adjusted the temperature for me since it's baking in convection mode. I didn't have to do any guesswork. The awesome thing about this convection microwave is that it preheats WAY faster than a regular oven!! It took less than 60 seconds for my convection microwave to preheat. Perfect for those times when I'm baking cookies and forget to preheat! This would make them ready much faster.
You could totally make this in a regular oven too of course, but this convection microwave completely saved the day on this particular day when my regular oven was already in use. I love it and I'm so glad we decided to go with this convection microwave wall oven combo since we didn't have room for a double oven. It performs exactly like a double oven AND it's a microwave too!! Genius.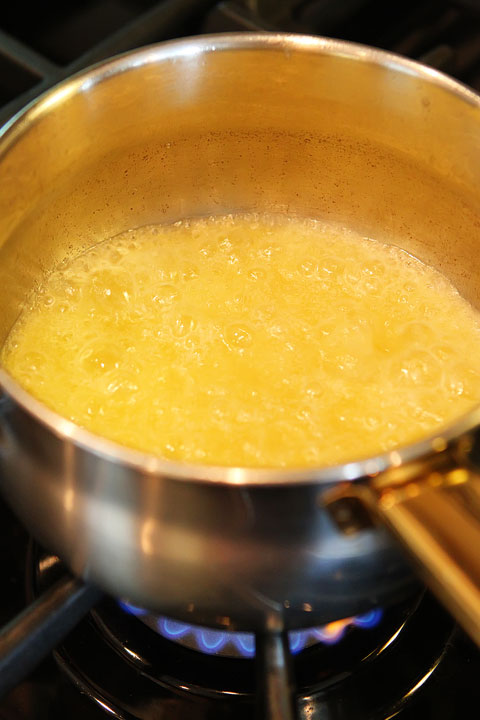 Anyway! Let's finish making this cobbler!! :) Melt one stick of butter, and while I'm at it, I usually just go ahead and brown it too. Browning the butter gives it a richer, more intense flavor. It totally sends whatever you're adding it to over the top. If butter is good, brown butter is better. Exponentially.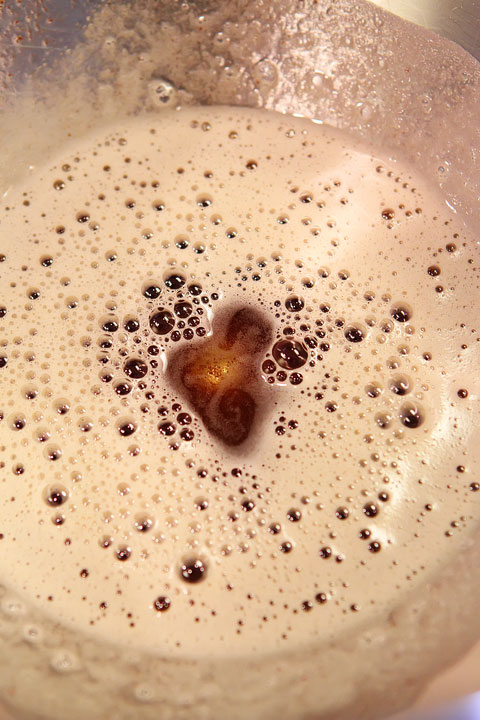 How to Make This Delicious Blueberry Cobbler
Basically you just melt the butter until it starts to turn brown, whisking constantly when it starts to get darker in color. Here is my step-by-step guide on How to Brown Butter for more information.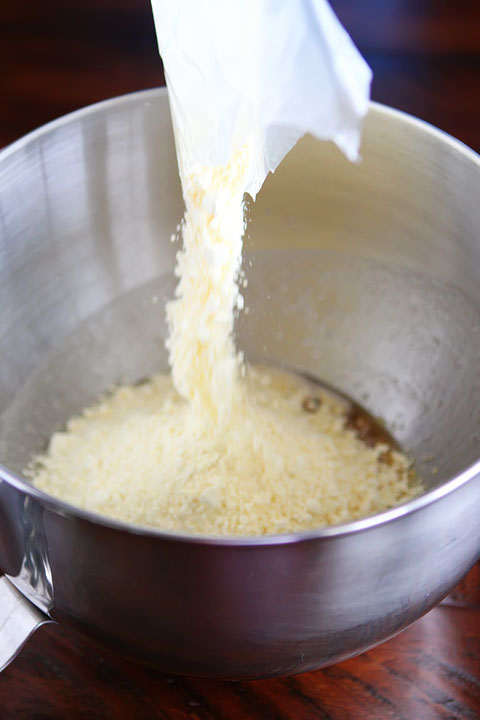 Add the cake mix to the melted butter…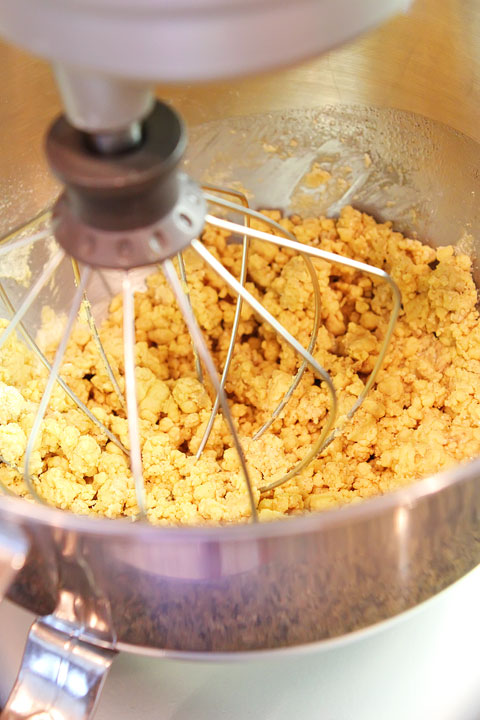 And whisk to combine until you have a dry, crumbly mixture. I used my KitchenAid mixer for this.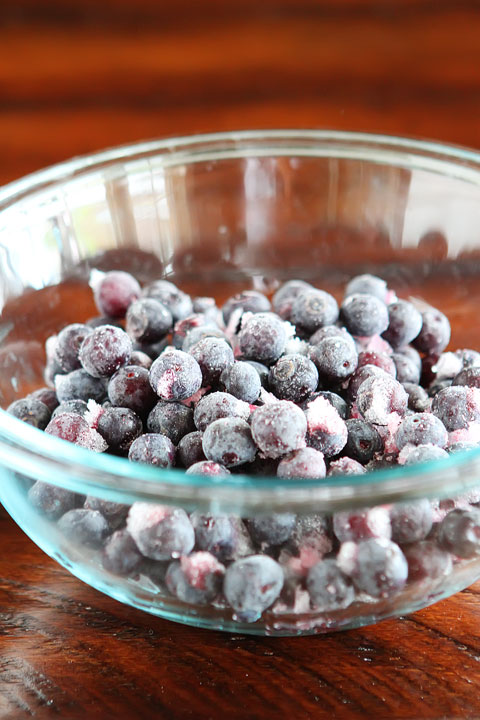 Next add 3 cups of blueberries to a large bowl. You can use fresh or frozen blueberries here. I'm using frozen because my mom has two giant blueberry bushes in her garden and she is always supplying me with gallons of blueberries in the summer. I freeze them in ziploc bags so I have sweet, ripe blueberries all year round.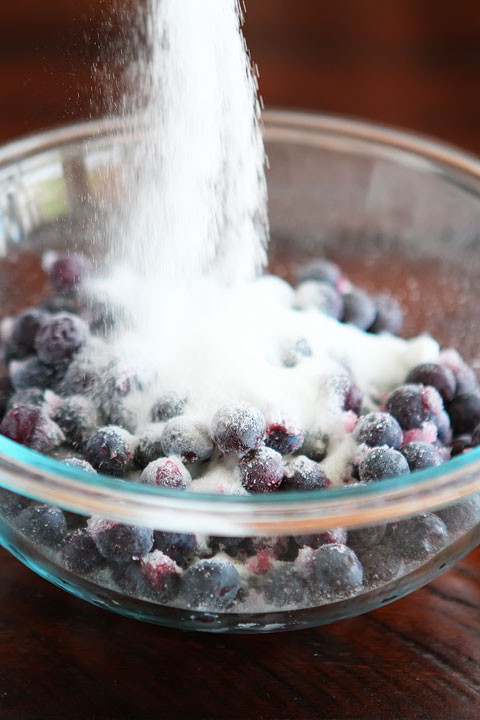 Add 1/2 cup sugar and stir to combine.
Pour the blueberry / sugar mixture into the bottom of a greased baking dish…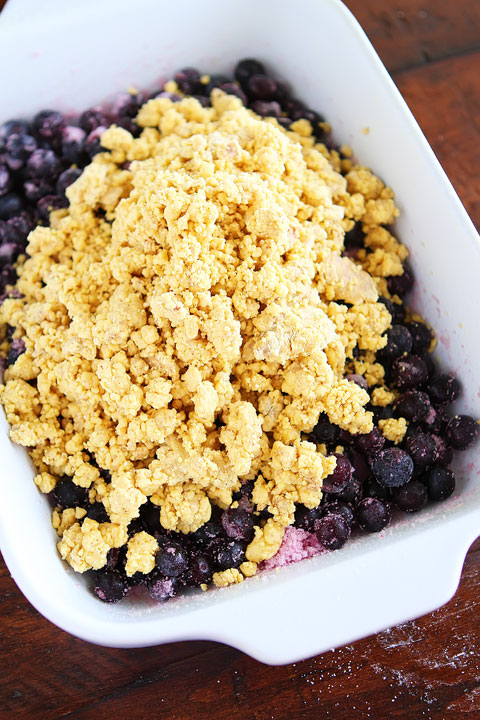 And top with the butter / cake mix mixture. Remember what I said about experimenting? What if you used a lemon cake mix here? Or raspberries and strawberries and a chocolate cake mix? The possibilities are endless!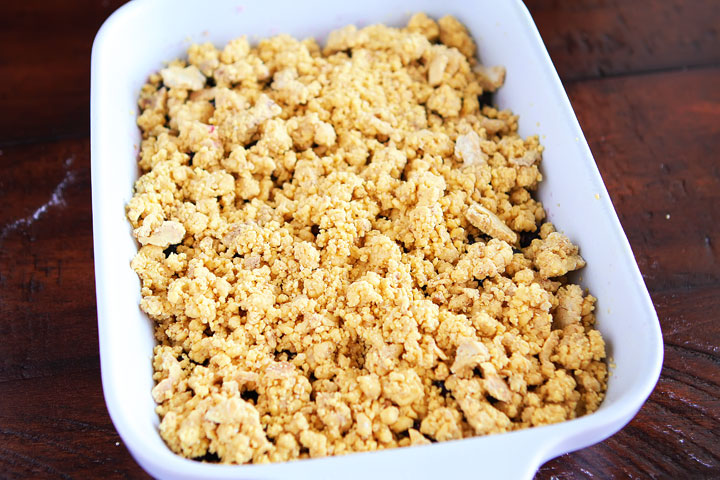 Evenly distribute the cake mix mixture over the blueberries. I am using a 9×11 baking dish here. You can definitely use a regular 9×13 dish, but I prefer this slightly smaller pan.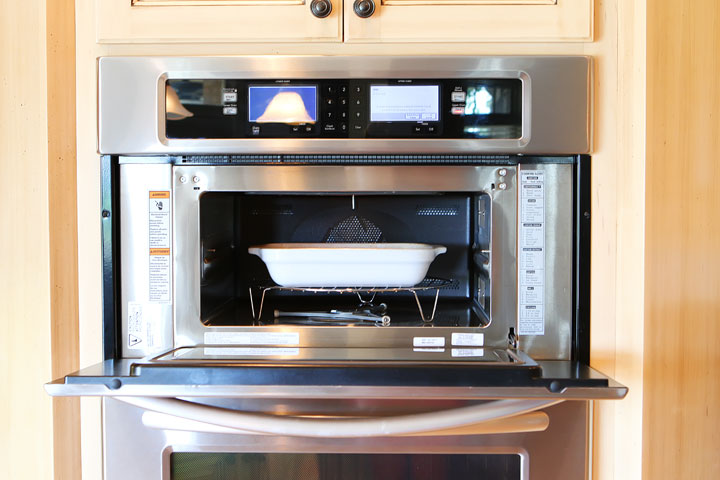 Now bake at 350 for 40 minutes.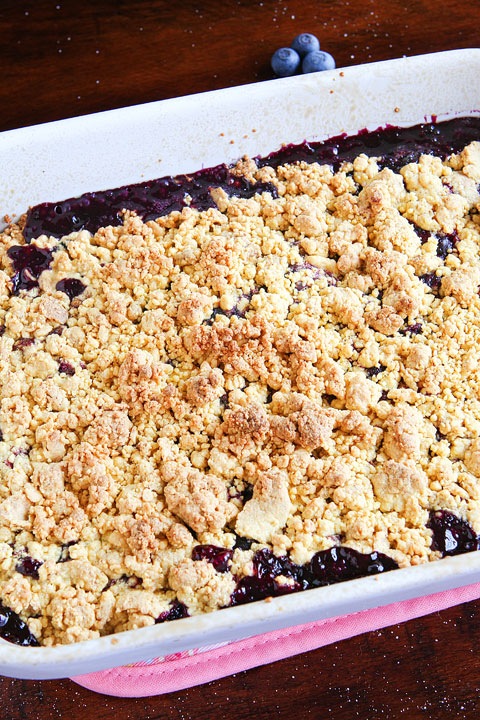 Until it's deliciously bubbly and browned on top.
Be sure you have ice cream on hand…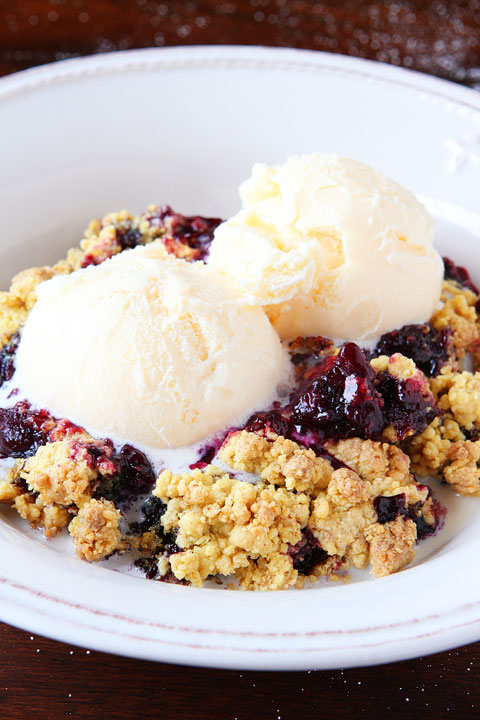 This warm, gooey, bubbly blueberry cobbler is just screaming for it.
Just 4 ingredients, and so easy to make. But more than that, it is knock your pants off delicious. One of my favorite desserts ever.
Make this ASAP. Enjoy!!
Print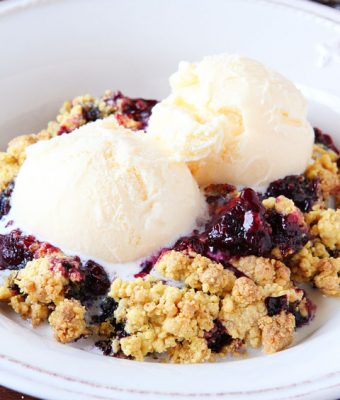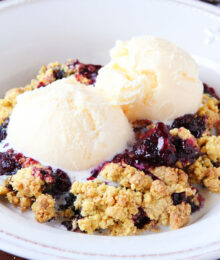 Brown Butter Blueberry Cobbler
Prep Time:

10 minutes

Cook Time:

40 minutes

Total Time:

50 minutes

Yield:

8

servings

1

x
Category:

Dessert

Method:

Oven

Cuisine:

American
Description
This easy 4 ingredient Brown Butter Blueberry Cobbler is one of my favorite desserts of all time. Soft cake, crispy streusel and fresh blueberries topped with vanilla ice cream!
Scale
Ingredients
3 cups

blueberries, fresh or frozen

1/2 cup

sugar

1

box yellow cake mix

1/2 cup

(

1

stick) butter, melted
Instructions
Preheat oven to 350 degrees F.
Spray a 9×11 or 9×13 dish with nonstick cooking spray. Mix the blueberries and sugar and pour into the bottom of the prepared dish. Whisk together butter and cake mix. Crumble over blueberries.
Bake at 350 degrees for 40 minutes, until bubbly and browned on top.
Keywords: cobbler recipe, blueberry cobbler recipe, easy blueberry cobbler, blueberry cobbler cake mix, easy cobbler, easy cobbler recipe, blueberry dessert, blueberry dessert recipe, easy blueberry recipe